How to Export Customers in WooCommerce?
How to Export Customers in WooCommerce?
You have no idea of how to export customers in WooCommerce?
This post is exactly for you!
In fact, WooCommerce and WordPress enable users to export the data of customers from the database. However, it is not easy, people are required to have a certain base of coding to complete it. So, in this post, we would like to introduce to you a much simpler option via plugins.
The importance of exporting customers
When you move to a new eCommerce store, exporting customer data can help you easily migrate content, customers, and user base. By doing that, instead of rebuilding the customers' list, you can exploit the existing list for your new shop and develop it.
Exporting customer data is essential for people who run more than one business at the same time. Exporting data from each group then gather them together and they will have a full list of customers to nurture.
Another benefit of customer data is that it can be a helpful source for store owners to build dedicated email lists or set up a CRM. Hence, exporting the data from your WooCommerce store and you can take advantage of it for email marketing and provide your customers with better service.
How to Export Customers in WooCommerce?
In this section, you will see the way to export customer data by a plugin named WooCommerce Customer / Order / Coupon Export.
Step 1: Install & activate the plugin
Download the plugin for exporting customers in WooCommerce.
Log in to your WordPress account and go to the dashboard. There, navigate to Plugins and select Add new.
In Add new, click on Upload to upload the zip file of the plugin you have just downloaded.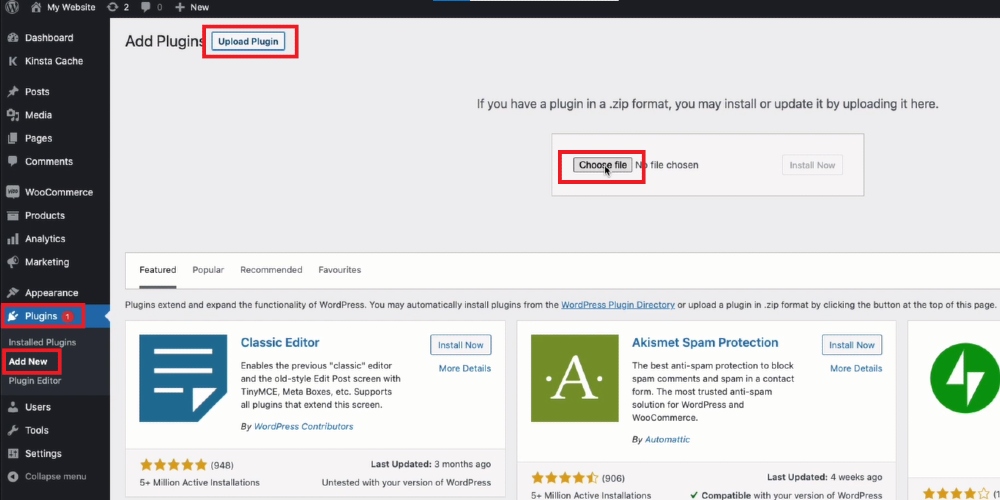 Then, choose Install to install the plugin. When the install process is done, come back to Plugins and open Installed plugins. Scroll down to search for the exporting customer's plugin for WooCommerce, and select Activate to activate it.
Step 2: Open export
Come back to the WordPress admin panel and navigate to WooCommerce. Afterward, open Export and you can start exporting the customer data from your WooCommerce store.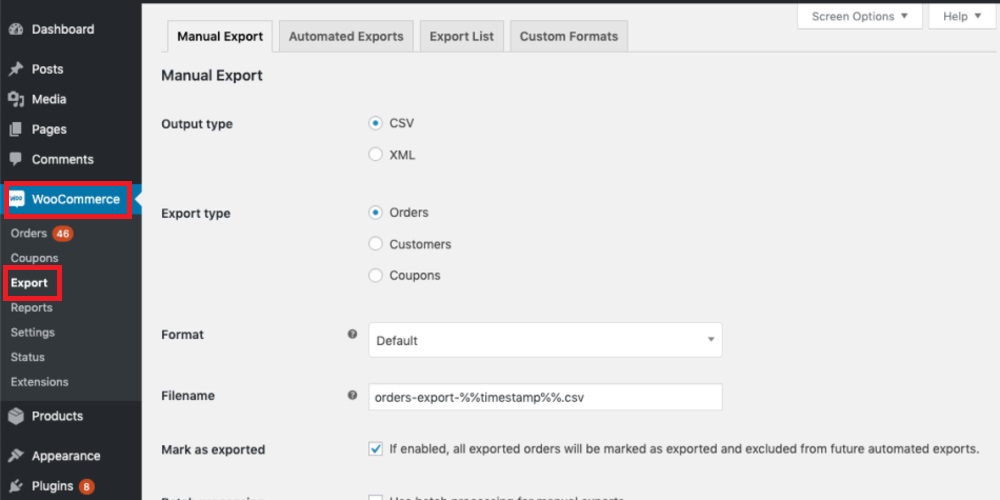 Step 3: Export customers in WooCommerce
There are two ways for people to export customer data with the exporting plugin: manually and automatically.
Export customers manually
In Export, open Export List and you can export the customer data. Besides, remember that the export list only stores exports for 14 days.
The second way is to export customers in bulk. To do this, come back to WooCommerce and select **Manual Export. There, you need to enter your options in Output type, Export type (in this field, select "Customers"), Format, Filename, Mark as exported, and Batch processing.
When you finish, click on Export to download the customer data.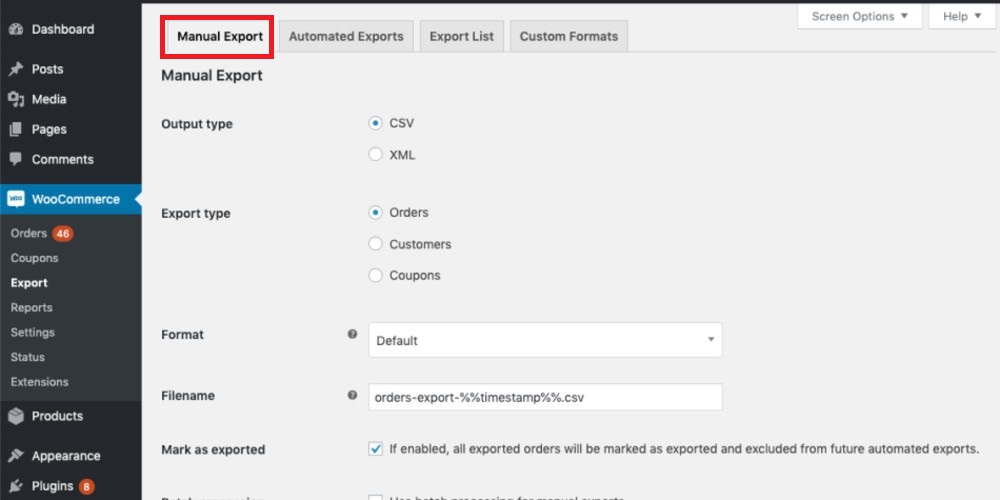 Customer data can also be exported from the user list, which can be done by going to Users in the WordPress dashboard.
Then, select the customers you want to export and click on Bulk Actions on the left top of the screen and select one of three options to export your customer data: Download to CSV Download to XML Export and send (the data can be sent via FTP, HTTP POST, or email)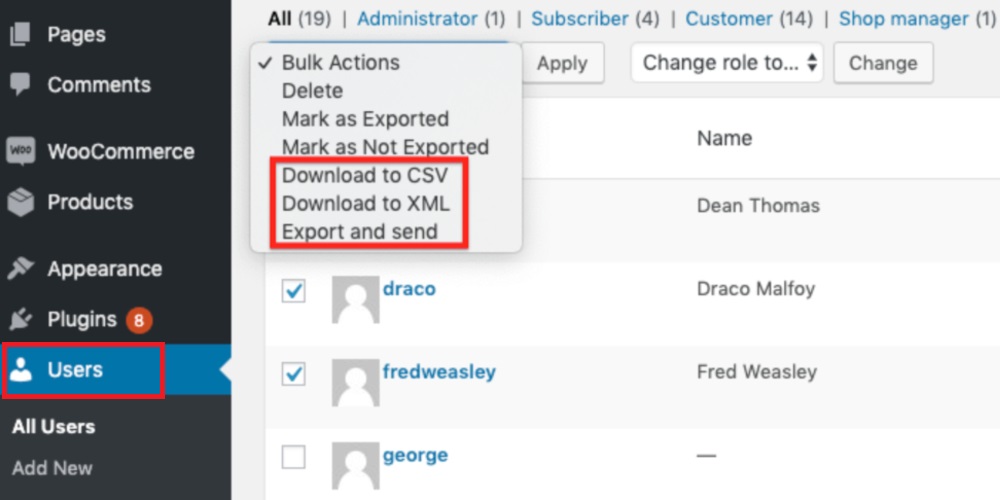 Choose Apply to get the customer data. If you select the first two options, the file will be downloaded to your device immediately, but if you choose Export and send, there will be an additional step that allows you to choose the transfer methods and then send them to you.
Export customers automatically
In WooCommerce, open Export then select Automated Export. There, click on Add New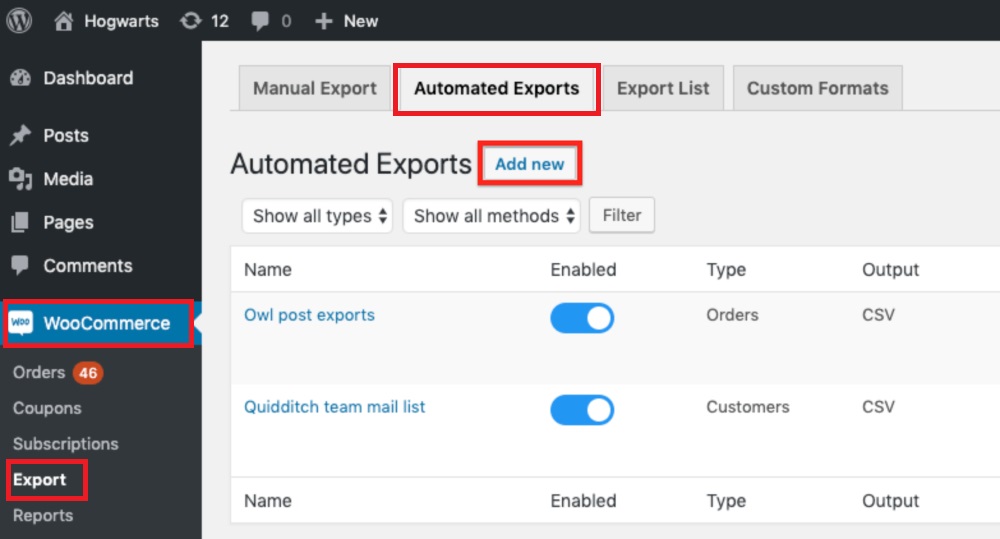 After that, you need to enter your necessary information to each field to export data. Tick on the box of Enable and select "Customers" in the Export type section. With the rest, select based on your desire.
Set the intervals so that the system will automatically send you the customer list.
Don't forget to click on Save to save the changes.
3 Best plugins for Exporting customers in WooCommerce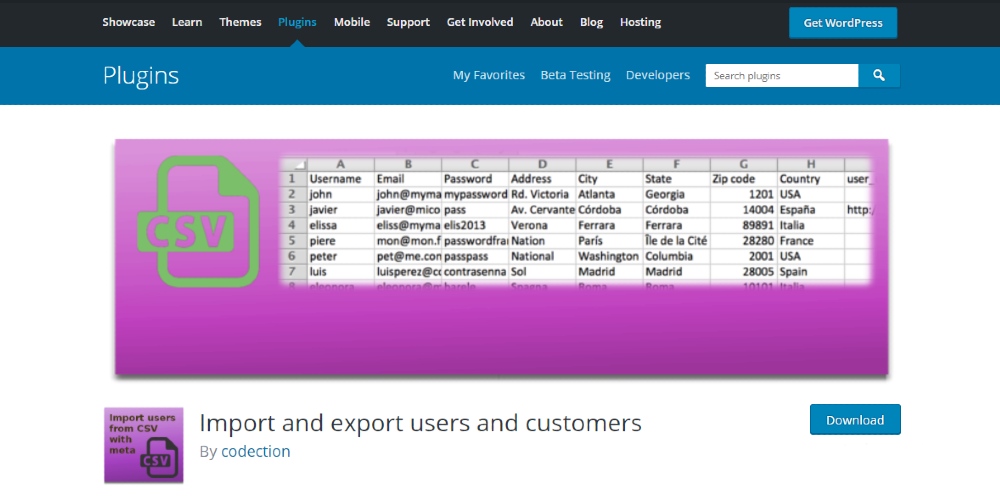 The first plugin in this list is Import and Export Users and Customers. This extension enables users to export the data of their customers to WooCommerce with ease. Via it, you can export the customer data in the form of CSV files and then import it to any WordPress site in a couple of minutes. More than that, it offers multiple additional features like sending email to each user imported, or editing user profile, etc.
Key features:
Export customers and users data via CSV file
Export data based on the role and registered date
Import data to WordPress rapidly
Import data in bulk
Assign user role while importing
Price: Free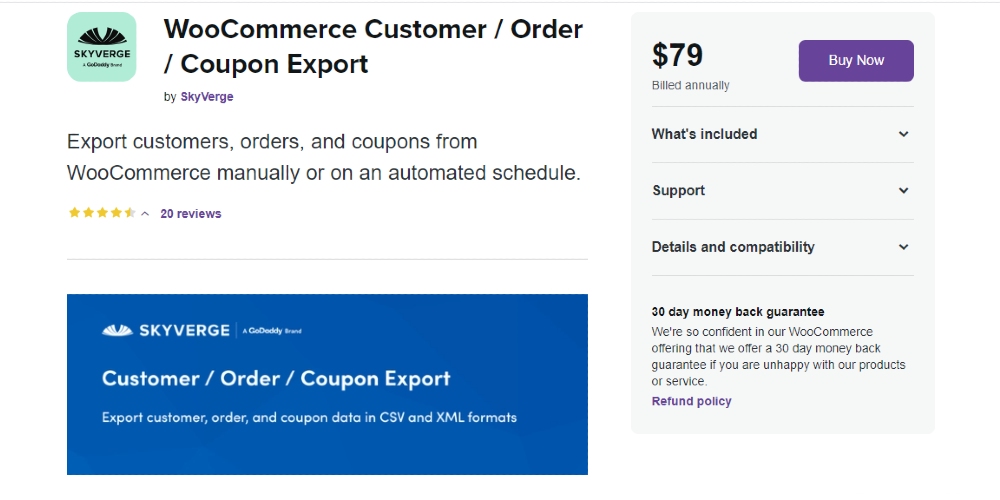 Developed by SkyVerge, WooCommerce Customer / Order / Coupon Export is a powerful extension for exporting data from WooCommerce stores. With it, you export plenty of data manually or automatically at any time with no difficulties. In fact, this extension allows users to not only export but also import and manage data in their eCommerce store. Additionally, users are able to migrate customer data via three methods: HTTP, FTP, and email.
Key features:
Export data in multiple forms of CSV or XML
Offer two options for export data: manually and automatically
Create a custom export format
Export and transfer data via HTTP, FTP, and email
Export data in bulk
Price: $79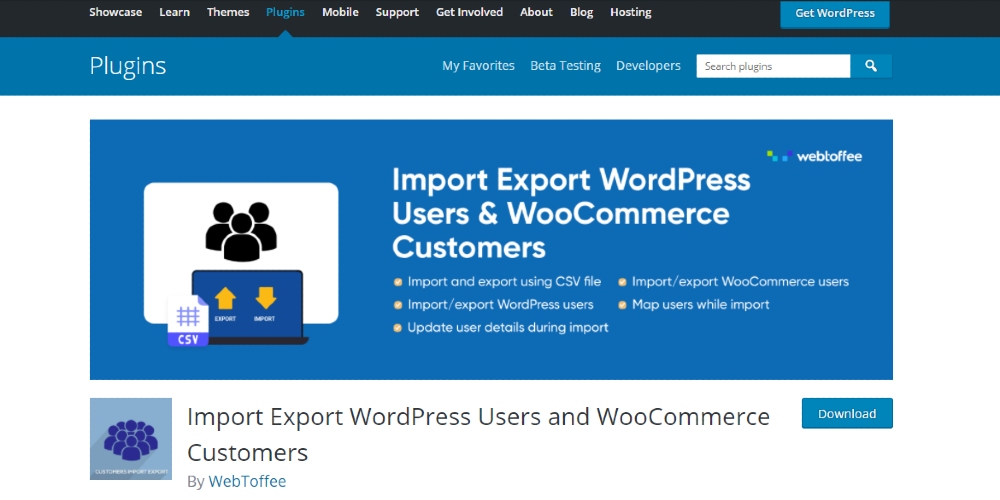 Import Export WordPress Users and WooCommerce Customers is a mighty plugin for WooCommerce store owners to import and export data about their customers. This extension from WebToffee empowers users to import and export data via the filter, create different customer data, and even change the values without humane control. More than that, it is equipped with the ability to export multiple data at the same time, depending on the evaluation fields.
Key features:
Export and import users using CSV file
Export and import data in bulk
Map and transfer field during the import process
Change values during the import process
Import and export data based on user role, email address, and date range
Price: Free
Final thoughts
Even though it is impossible to export customers to WooCommerce directly, there is a simple way to get the customer data from your eCommerce store. It is via the plugin. With it, anyone can export the data about customers in a couple of seconds, so read the guide carefully, and you will export the data of your store successfully.
New Posts
Subscribe
Stay in the know
Get special offers on the latest news from AVADA.
40k
subscribers has been joined!
Earn $10 in reward now!