10 Best Tax Exempt Plugins For WooCommerce Stores
Last updated: December 01, 2023
Starting an online store means that there are a lot of things to consider and handle in mind to ensure everything runs well. Inventory, product administration, payment and shipping, and much more are all part of running a WooCommerce store. However, one of the most daunting tasks that we overlook is tax management for your WooCommerce site. Sales tax is subject to a slew of government rules and regulations.
As a result, we put up this article to walk you through the process of attaining a deeper insight into sales tax, managing it on your online business, and automating the process by introducing to you 10 best tax-exempt plugins for Woocommerce stores.
Why should you integrate a tax-exempt plugin for the WooCommerce store?
Entrepreneurs will be supplied with various choices of features and tools to collect and manage taxes while selling in a WooCommerce store. This platform, on the other hand, lacks built-in solutions that allow retailers to exclude the tax for a single customer. This implies that people must utilize a third-party plugin to exempt customers from paying tax, which can leave people perplexed as to which option is best for them.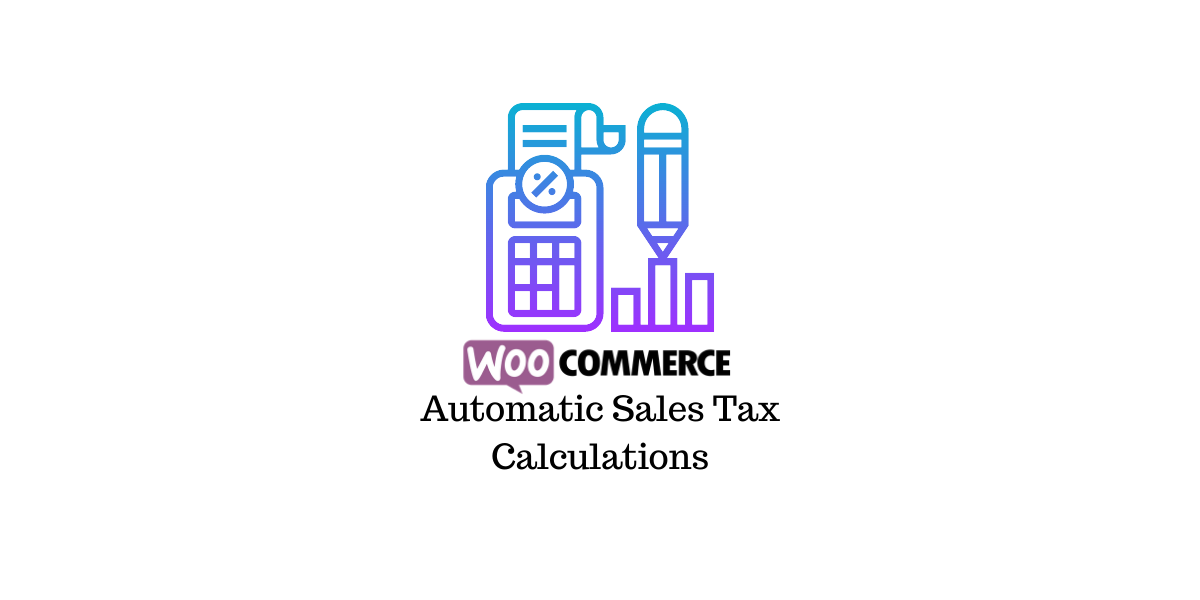 Let's quickly step through some reasons why you might consider doing this in the first place.
Making the process of transaction smoother
During the execution of a transaction, it is inevitable that a customer's tax exemption may be granted for a variety of reasons, including geography, tax status, and so on. Whatever the reasons might be, tax-exempt plugins can assist you in an effective way.
Several tax-exempt technologies offer tax elimination functions for specific reasons. Furthermore, if necessary, some of these plugins offer manual or automatic tax exemption.
Being the best choice for not having much program knowledge
If you don't have a lot of coding experience but want to make modifications to your WooCommerce store. The tax-exempt tools can be quite valuable because they supply both store admin and customers with a lot of information about the exemption options.
Some tax-free tools also allow some automated operations, or you can easily set a tax-exempt form for your users effortlessly. In short, it provides a lot of utilities that you make you follow with ease.
10 Best Tax-Exempt Plugins for WooCommerce Stores
1. Tax-Exempt for WooCommerce
Tax-Exempt for WooCommerce lets you enable a tax exemption for specific customer and user roles by customizing the tax exemption form on the My Account page, allowing customers to enter the relevant files and other necessary information in order to claim tax exemption. The store admin can analyze the submitted information from the back office and reject or authorize tax exemption requests. Customers can use a checkbox on the checkout page to request a tax exemption once it has been granted.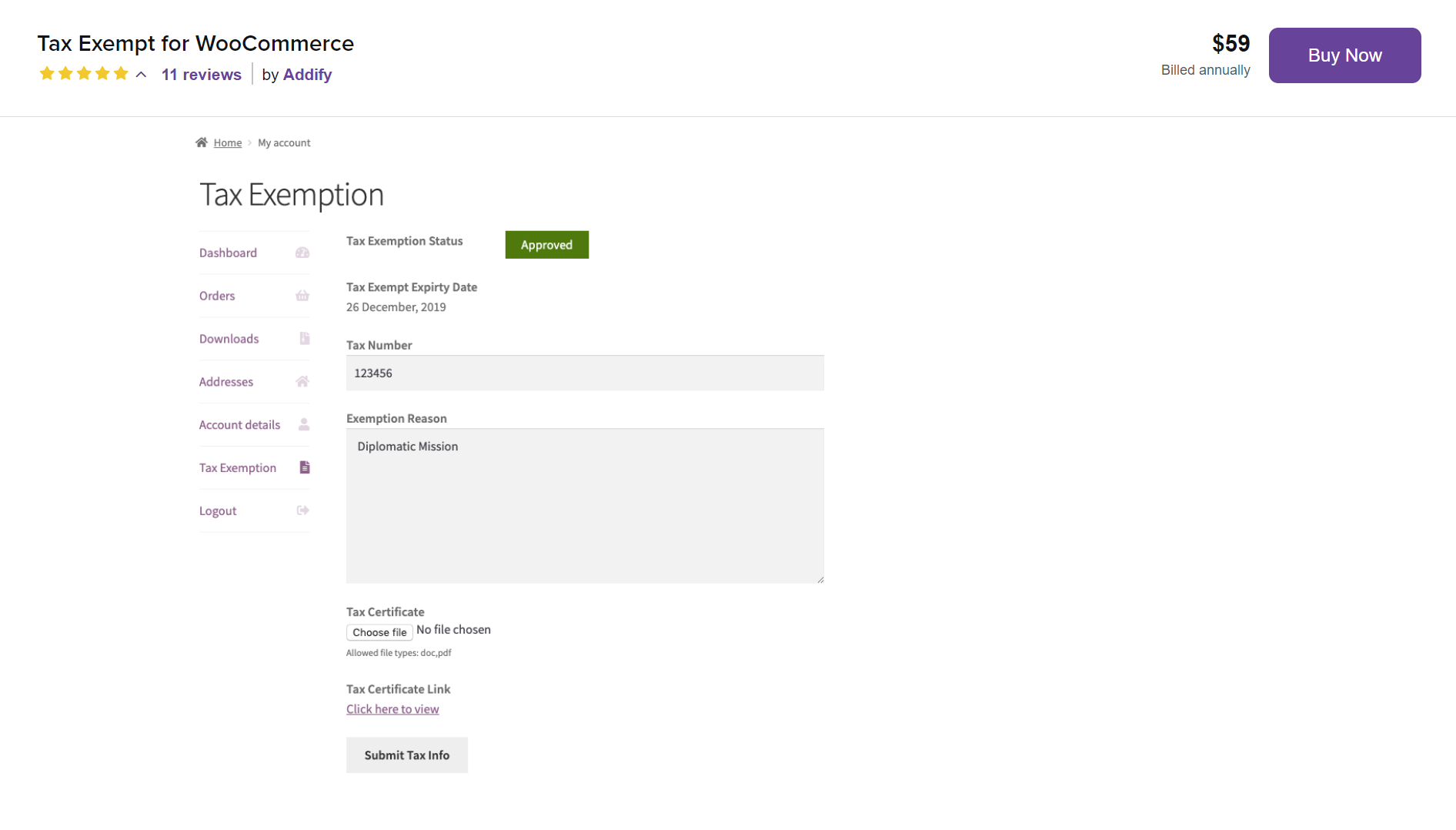 Outstanding features:
Allow all or elected customers to claim tax exemption on your store
Display tax exemption form and status on My Account page
Send email notifications for tax exemption submissions and requests
Include a date when the tax exemption reaches expiration
Provide tax exemption for guest users on your store
Price: $59 including a 30-day money-back guarantee and one year of support and updates
2. WooCommerce Tax Exemption
WooCommerce Tax Exemption enables you to remove taxes for your customers. Customers can request tax exemption, and the admin can reject or accept the requests. This plugin informs store admin and customers about tax exemption requests and status. Customers that are tax-exempt can checkout orders without having to pay tax.

Outstanding features:
Allow users to request tax exemption from admin
Send notification for admin and customers of tax-exempt requests
Drag and drop file upload file for the tax-exempt form
Collect information by adding custom fields in the tax-exempt request form
Tax-exempt for specific users
Price: $29 including 6 months of updates and supports
3. Disability VAT Exemption
Disability VAT Exemption allows you to exempt disabled customers or charity organizations from paying VAT during the checkout process. The plugin makes use of a basic checkout form that allows customers to enter their exemption information and avoid having to pay VAT.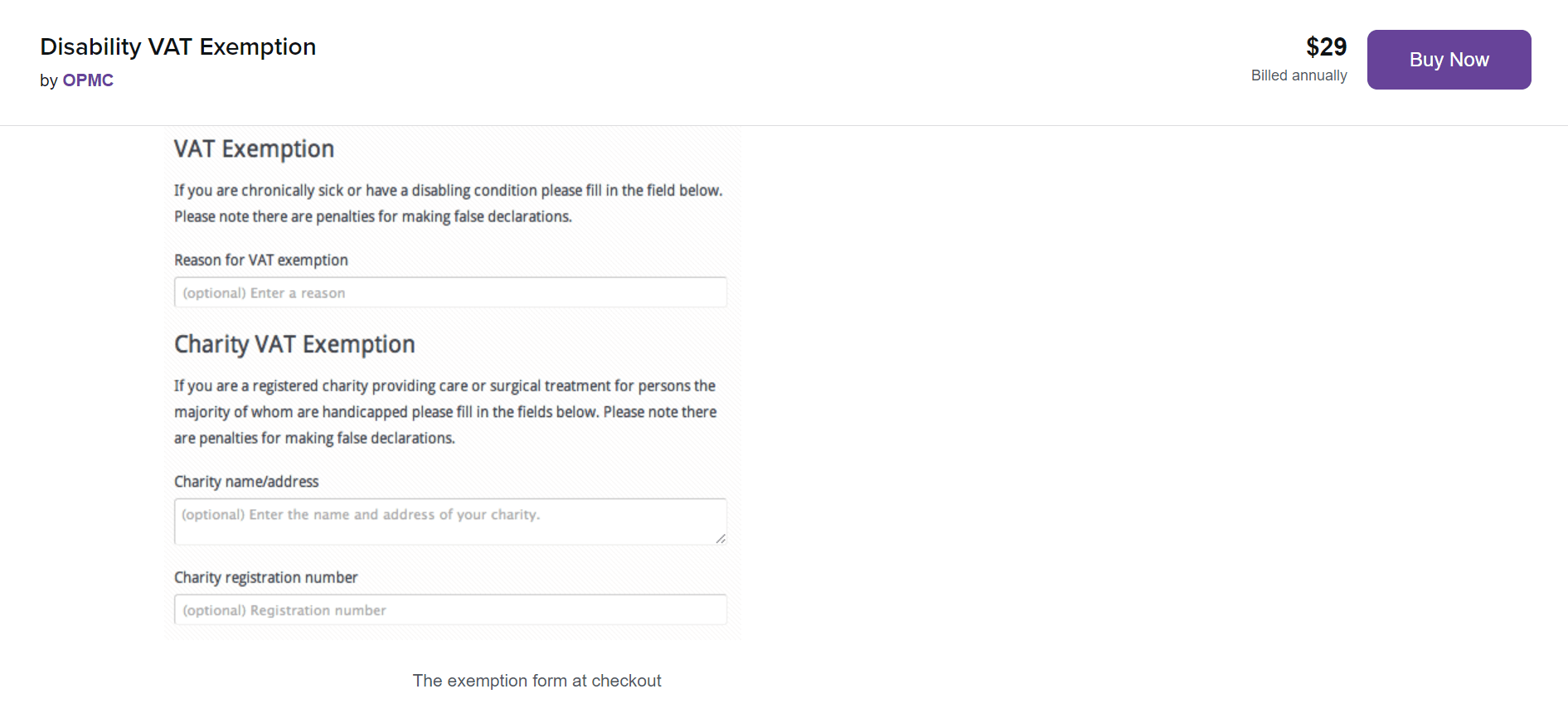 Outstanding features:
VAT and tax exemption for disabled customers
Provide charity VAT exemption form for registered charities
VAT exemption form in checkout for disability VAT exemption
Be fully compatible with WooCommerce and WordPress plugins
Price: $29 including a 30-day money-back guarantee
4. WooCommerce EU VAT and B2B
This plugin allows you to add an EU VAT number field on your store, including tax-exempt features that allow users with specific tax numbers to be excused from paying VAT. Only if the billing nation is a member of the European Union, WooCommerce EU VAT and B2B will be dynamically shown during the checkout process.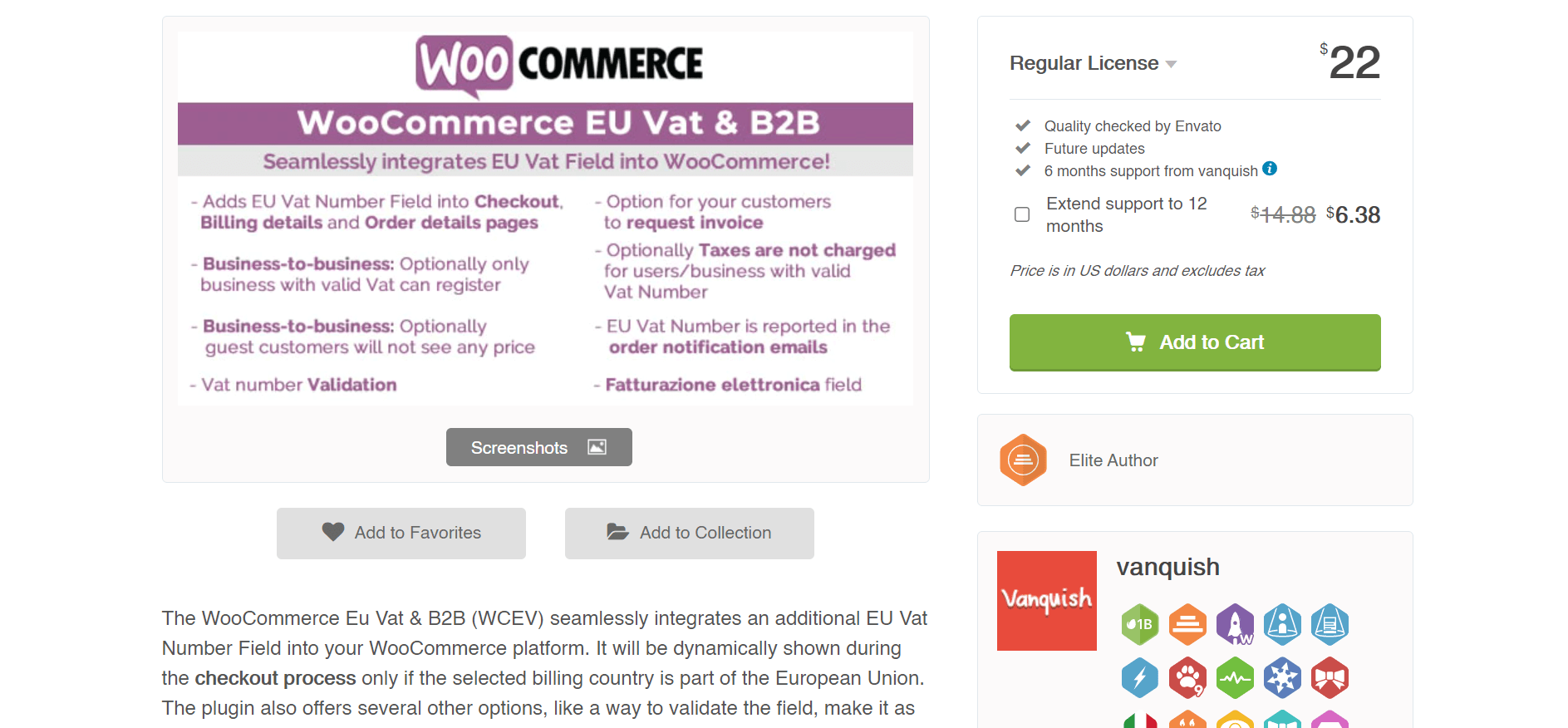 Outstanding feature:
Tax exemption for customers with valid VAT numbers
Remove tax optionally for users with the same billing addresses
Support WPML multilingual plugin
Additional tax-removal customisation options
Price: $22 including 6 months of support and updates
5. WooCommerce Tax Exempt: VAT Exempt Customers and Role Plugin
This Woocommerce Tax Exempt enables you to tax-exempt specific customers and user roles. Merchants can either remove the tax automatically for these customers or include a checkbox on the checkout page for them to remove the tax manually while placing orders.

Outstanding feature:
Tax-exempt for specific customers and user roles
Include a tax exemption checkbox on the checkout page
Remove VAT from orders for exempted customers and user roles automatically
Price: $29 including 6 months support and updates
6. EU VAT for WooCommerce
On the WooCommerce checkout page, EU VAT for WooCommerce assists in collecting and validating EU VAT numbers. It also aids in the automatic exemption of tax for certain VAT numbers and customizing a form that appears on the checkout page to collect VAT information. The plugin also provides a number of validation settings, such as checks for billing country code, company name, and IP address. You can also limit the tax exemption code's visibility to specific user roles or locales.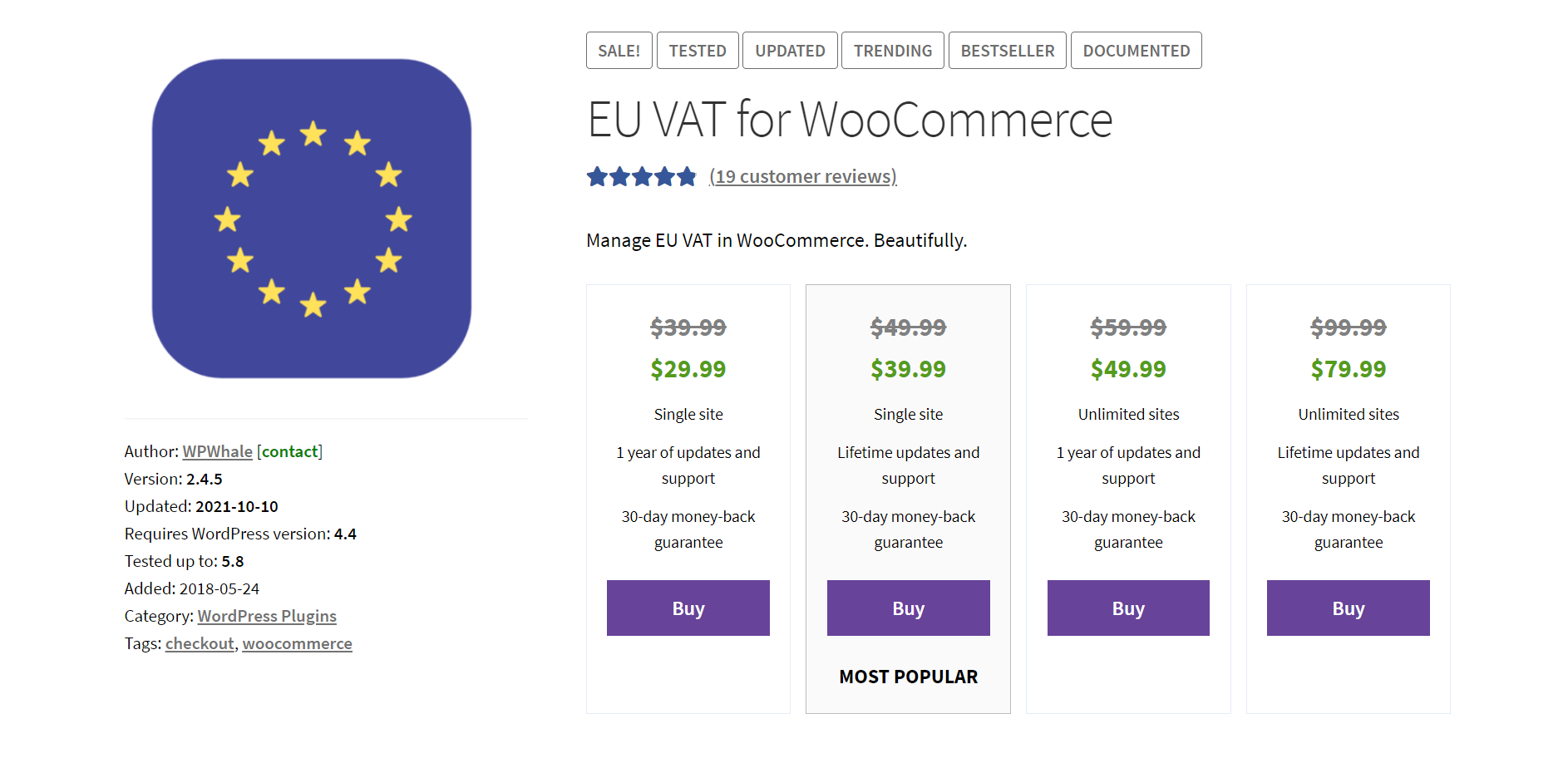 Outstanding features:
Include EU VAT report
Various frontend options: field label, placeholder, description, position, and more
Multiple validation choices
Price: You can purchase the single site subscription of the plugin at the price of $29.99. In addition, you can refer to more packages at EU VAT for WooCommerce
7. WooCommerce EU-UK VAT IVA Compliance
With a simple click, you can add all EU VAT rates to your store. WooCommerce EU-UK VAT IVA Compliance allows you to save all of your EU tax compliance information in one place. Furthermore, it has advanced reporting features. For greater compliance, the plugin confirms the customer's location by taking into account the IP address.

Outstanding features:
Ensure tax compliance in accordance with the latest EU VAT rules
Separate VAT from other taxes
Update tax rates on your WooCommerce store with ease
Download tax data into a CSV file
Based on GeoIP information, show product prices with precise tax data
Price: This plugin offers a cost of £55.00
8. TaxJar for WooCommerce
For WooCommerce businesses and developers, TaxJar for WooCommerce enables sales tax calculations, reporting, and filing. Get precise sales tax estimates and return-ready reports. TaxJar for WooCommerce handles all of your sales tax requirements.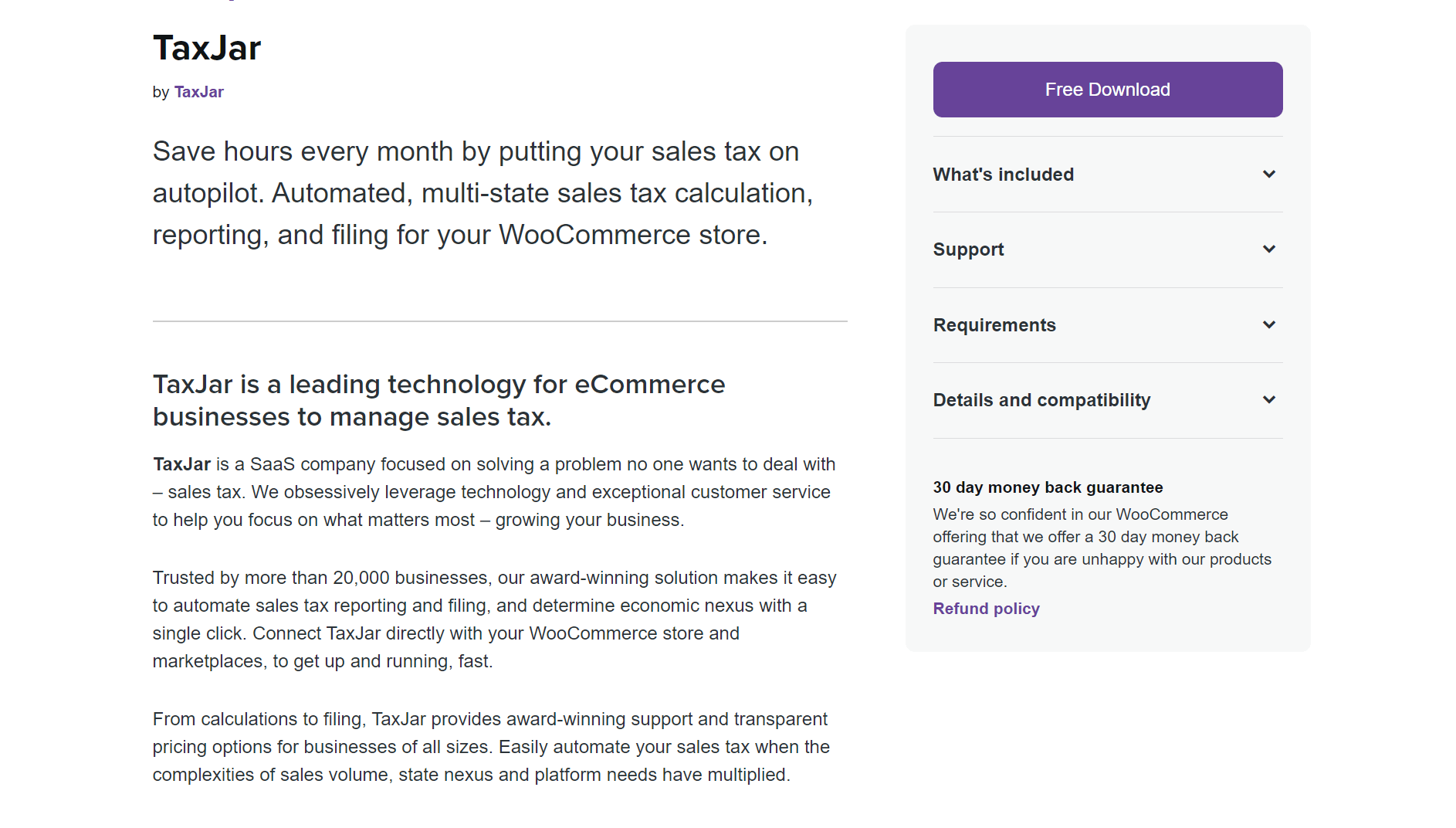 Outstanding features:
Enter your returns automatically and make sure you never miss a deadline
Arrange sales data into easy-to-read reports
Calculates sales tax rate accurately by TaxJar API
Receive instructions on sales tax compliance in any new state
Price: Offer no setup fees, connector fees, or service filing fees/Transparent, order-based pricing
9. WooCommerce Taxamo
This plugin allows you to link your WooCommerce store to Taxamo, a service that calculates VAT for European Union businesses. The plugin also aids in the gathering of proof and the registration of payments. You will also be able to generate returns and audit files with ease. WooCommerce Taxamo could be quite useful if you need help receiving proper tax information depending on the products in the basket and the customer's location.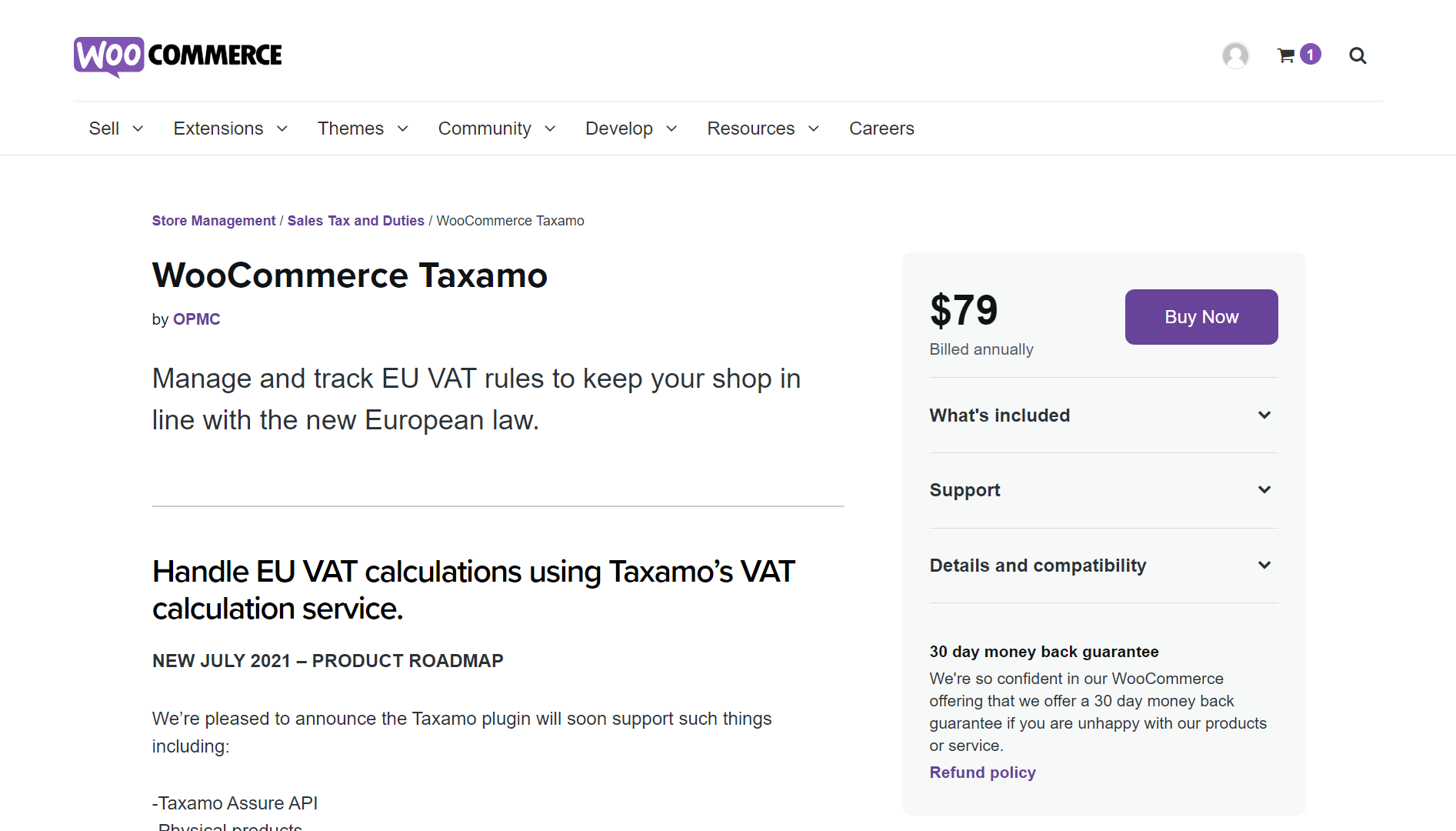 Outstanding features:
Assists in the creation of downloadable returns and audit files
Combine EU VAT service, Taxamo with your store
Navigate customers' locations to return an accurate tax value on the checkout page.
Easily captures evidence at a specific spot
Price: The cost of the plugin is $79
10. WooCommerce AvaTax
WooCommerce AvaTax assists you in integrating Avalara AvaTax with your WooCommerce store. You can calculate sales tax automatically for each purchase made on your WooCommerce site. This plugin also offers exceptional assistance with tax filing and returns. The plugin is extremely simple to set up and will make tax management for your WooCommerce store a breeze.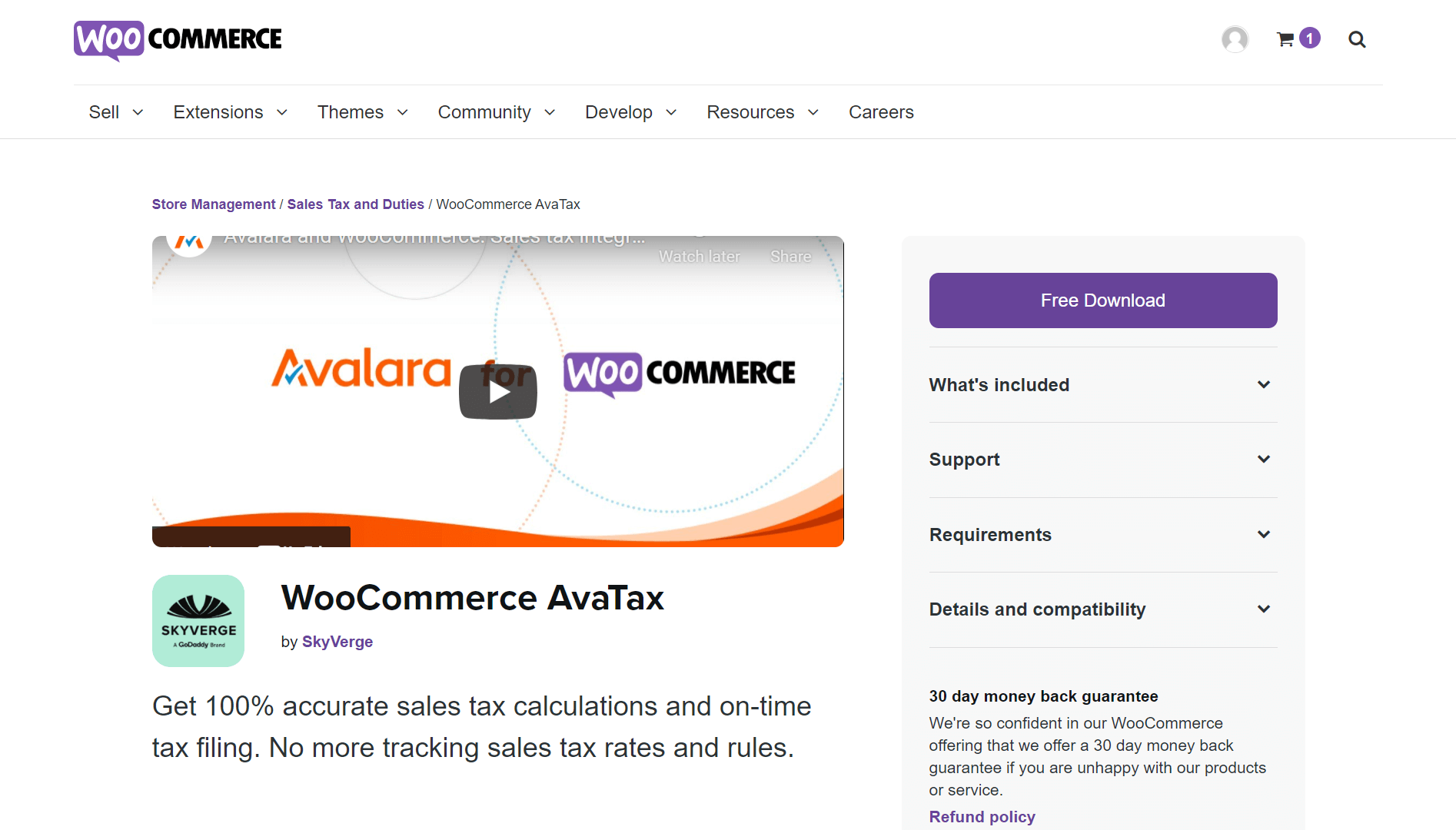 Outstanding features:
Automate the sales tax calculation for your WooCommerce store
No need to manually enter various tax rates
Validate certain nations' addresses
Detailed documentation and dependable support
Minimal setting procedures and seamless interaction with WooCommerce
Price: download the plugin for free from the WooCommerce marketplace
Final words
Hopefully, these 10 Best Tax-Exempt Plugins For WooCommerce Stores can assist you to have a deeper understanding of several key points. They are all the great tax-exempt plugins for you to keep and grow your online business. Moreover, we especially look forward to making your tax compliance effortless. That would be better to have a well-advised approach to pick out the suitable one to go well with your allocation, regions, and customer types.
We hope you have found your own choice through the 10 Best Tax-Exempt Plugins For WooCommerce Stores we listed above. Your experiences in using these tax-exempt plugins will be really valuable to us. So let us know by leaving us a comment with your feedback.
---
Sam Nguyen is the CEO and founder of Avada Commerce, an e-commerce solution provider headquartered in Singapore. Sam aims to support more than a million online businesses to grow and develop.