12 Best Social Share Plugins in WooCommerce
12 Best Social Share Plugins in WooCommerce for your inspiration
In this day and age of social media and technology, it's rare to find someone without a social media account. For the most part, everyone has at least one social media account on a network like Facebook or Google. In fact, there are many social media profiles on various platforms that aids in boosting your social standing within the community. However, users quickly discover that having several accounts on various social networking sites is a huge hassle. Because of this, WooCommerce social share plugins came to be more useful than ever.
That will also be the main topic of our article today. We will be guiding you through a list of Top 12 best WooCommerce social share plugins for your inspiration. In this way, finding the perfect match for your website is no longer a difficult task. Keep reading to find out more!
Why should you use WooCommerce social share plugin?
If your marketing plan does not include social media, you may believe that WooCommerce social share is not that important. In fact, social sharing buttons may help your company establish a presence on social media sites while also giving additional advantages. The initial social media were email; thus you should always include a share by email option on your website. Here are the reasons why a WooCommerce social share button is necessary for every online store:
Better shopping experience: Having an excellent website includes making sure your site's visitors have a positive experience. This includes things like publishing material on social media, which you may not do on a regular basis—increasing the chance that your visitors will share your pages or blog posts will enhance the speed and convenience with which you make it possible for them to do so. Because sharing is essentially an endorsement, be sure your material is deserving.
Reach a wider audience: You've put in a lot of time and effort to create useful and entertaining content for your website or blog, but that's only half the fight won. It's another scenario to get your material in front of the proper people. You can quickly and affordably contact new potential consumers by using your current customers as a target and outreach tool. Customers who find something fascinating but don't want to post it on their social networks may instead email it to a family member, coworker, or a few close acquaintances for their consideration and approval. Providing sharing buttons opens the door to gaining new clients since direct messaging is the only thing people do online more than social networking.
SEO-related advantages: It is possible to improve organic traffic by including share buttons on your website. Google uses many ranking signals to determine search results listings, including the number of times a piece of information has been shared, tweeted, liked, or posted to social media. Social sharing seems to be helpful, even though Google has long acknowledged correlation rather than causality.
Improve popularity: There's a very little chance that a follower of a website visitor has ever been to your website before, so when they share your material with their social network, it's reaching an entirely new audience. Some of your followers may not be interested in the user's material, but you never know whether they may take this as a chance to check out your website and discover something interesting. Sharing buttons on your website will help you get new visitors and, ultimately, new customers.
Top 12 WooCommerce plugins for sharing your products via social media
In terms of social media plugins, most of them are included with multiple functions: sharing plugins, social logins, and more. There are many plugins out there, but they all have the same goal: to help you expand your customer base, increase sales, and make your shop more popular. However, we have narrowed the list down to the top 12 WooCommerce social share plugins based on the customer reviews, features, and popularity.
No more beating around the bush, let's get started!
YITH WooCommerce Share for Discounts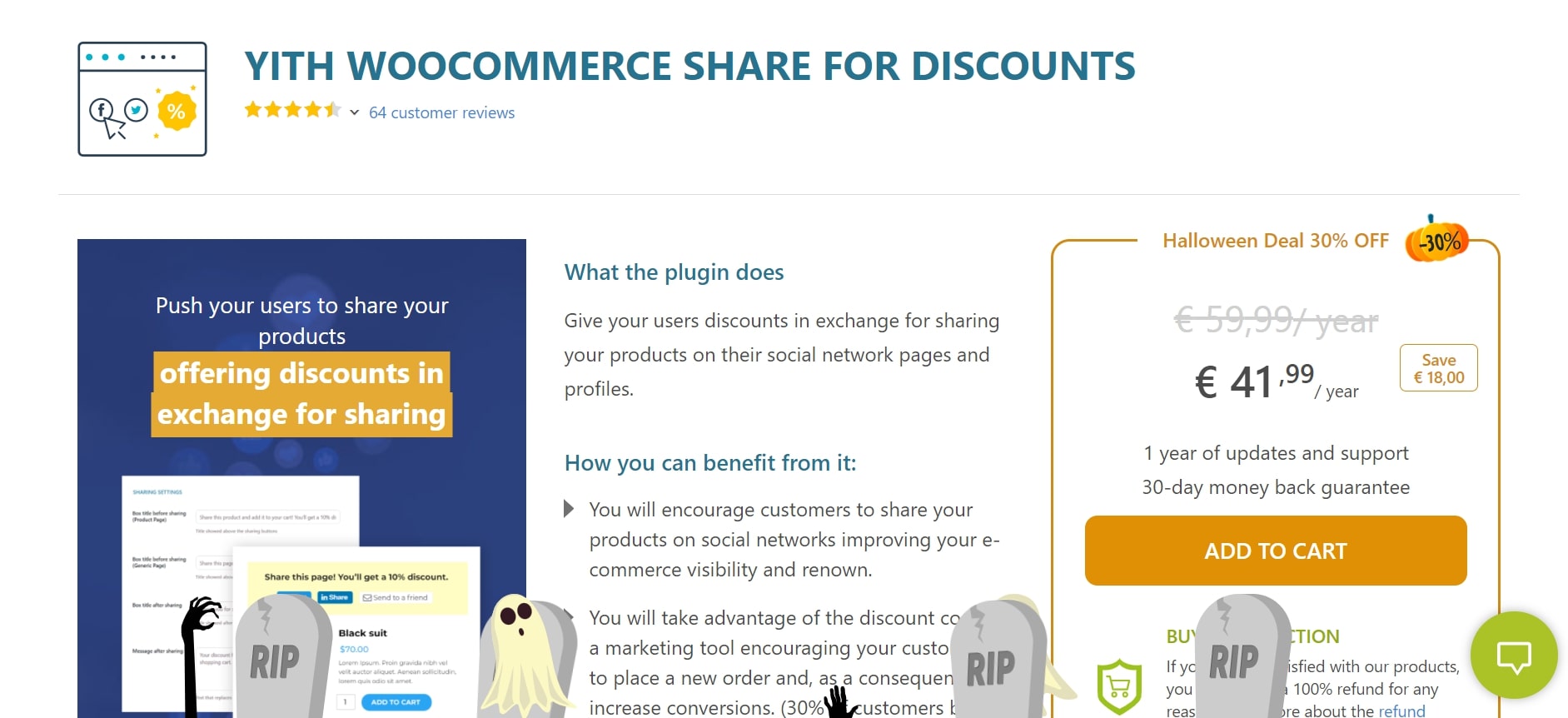 To reward your customers for sharing your items on social media, you may use the YITH WooCommerce Share for Discounts plugin. Your WooCommerce shop will be more visible as a result, which will lead to increased sales and customers. One-click is all it takes to share the page you're on with your social media networks. The discount code will be sent to customers who have shared their items on social media. The customer's cart will be instantly updated with the discounted price.
Outstanding features:
You may choose between several discount types, including a flat % off.
Automates the discount for customers who have shared your items on social media.
The checkout page, the shopping cart page, or all three may display social sharing buttons.
Share items with a simple click for consumers.
Allows you to put share buttons on any website using shortcodes.
Price: $59.99/year
Social Share For WooCommerce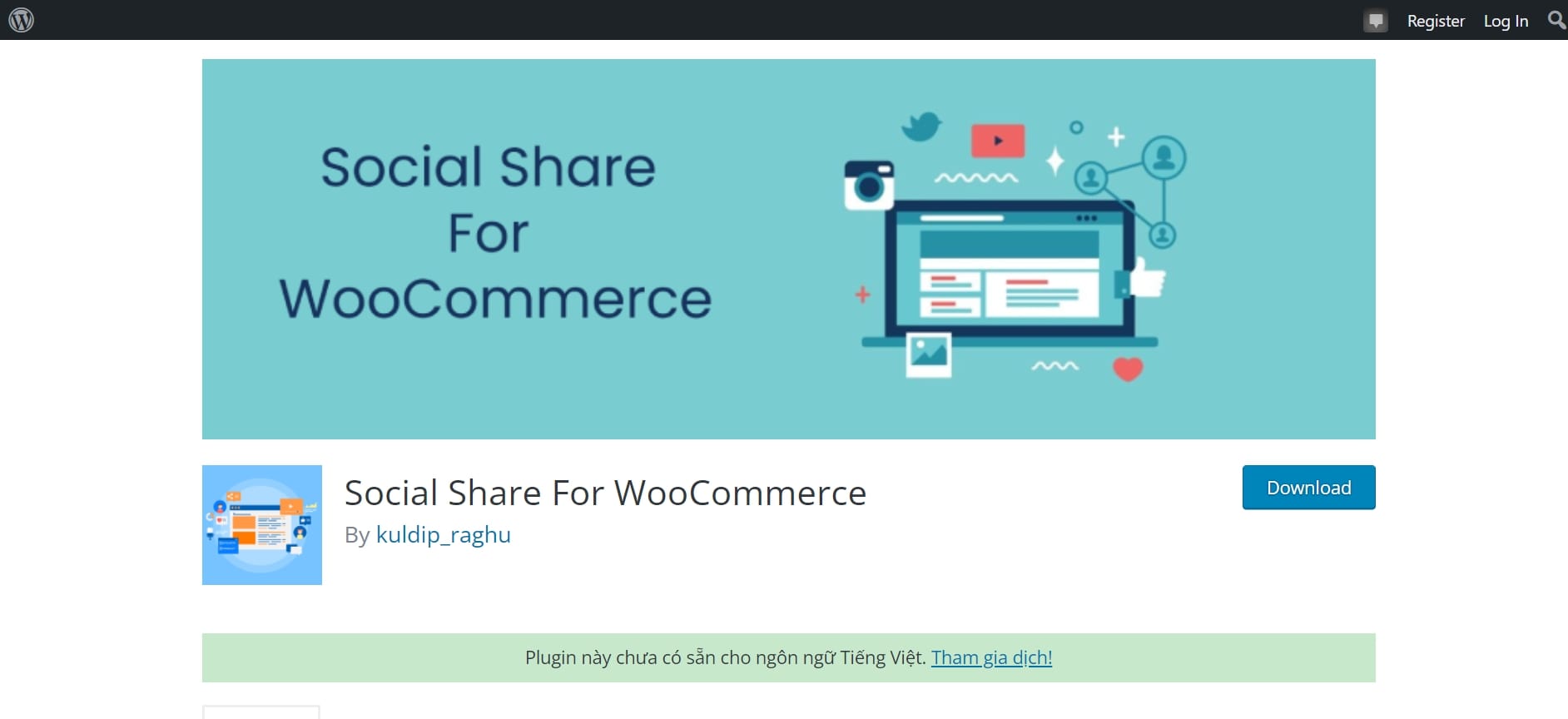 With Social Share For WooCommerce, feel free to add Facebook Recommend, Google+ +1, Tweet, Pin It, Digg, and Reddit buttons to your WooCommerce product pages. Add this to the product pages of your WooCommerce store. A unique feature of this plugin is that each social media share button includes text that may be clicked on to take action. Allowing consumers to post your WooCommerce product pages on their social media accounts is an excellent approach to get them to do more of your marketing for you.
Outstanding features:
Lets customers share their purchases on social media.
Support major social media platforms, including Facebook and Twitter.
Let you write a custom text that will show up in the share.
Let you add your Twitter username and Twitter hashtags.
User-friendly interface, simple to set up.
Price: no money will be charged using this WooCommerce social share plugin.
Share Your Purchase for WooCommerce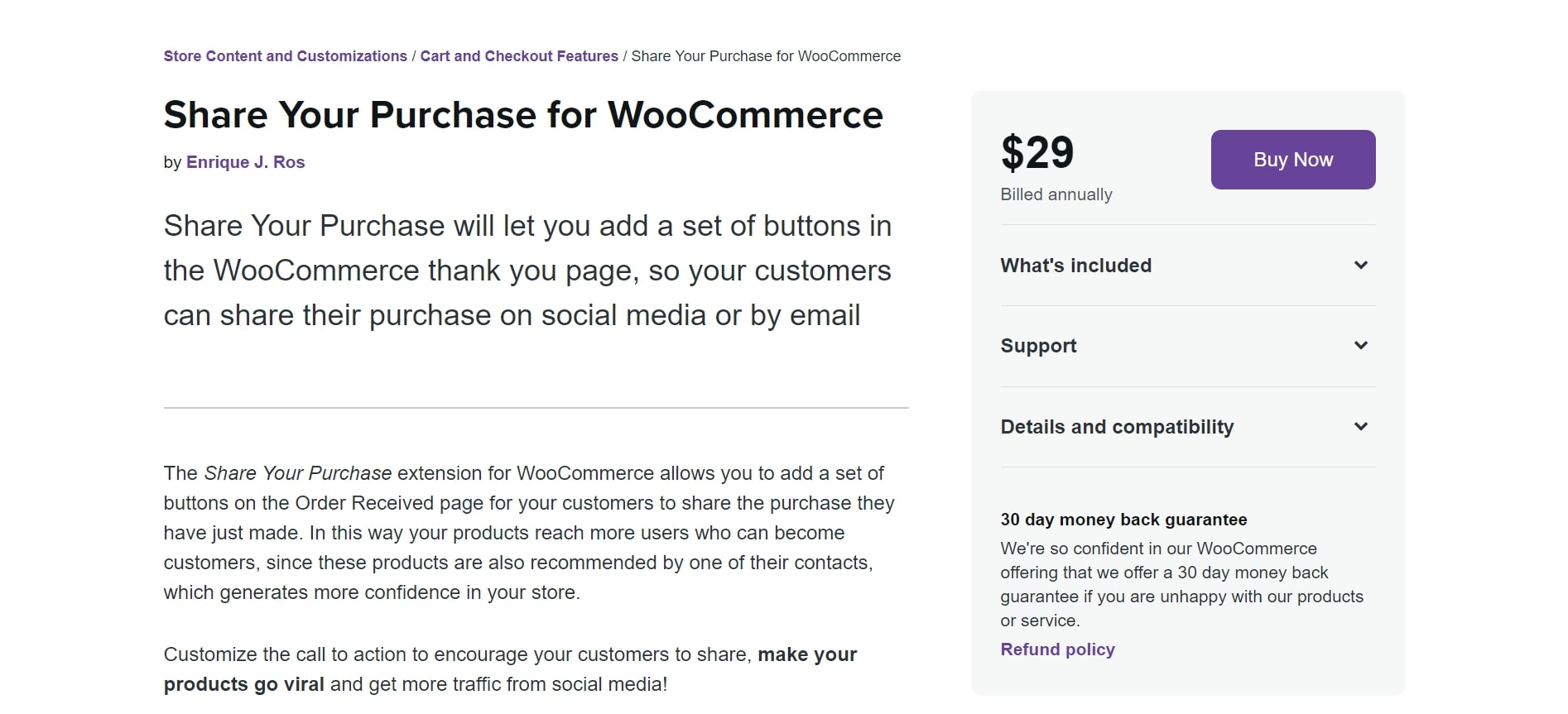 Up to five social networks may be shown on Thank You page of your WooCommerce shop with the Share Your Purchase for WooCommerce plugin, including Facebook, Twitter, Pinterest, Tumblr, and Google+. Also, you can add social sharing buttons to the Thank You order confirmation page after the plugin has been installed and configured. Customers will be able to tell their social media followers about their purchase of your items when they buy them this way.
Outstanding features: Six main social media networks are supported. Button colors may be changed as well as the labeling for buttons. Simple to set up and utilize "Order Received Page" now has social sharing icons included in it. Ready for translation
Price: $29/year with updates and customer support.
WordPress Social Share, Social Login, and Social Comments Plugin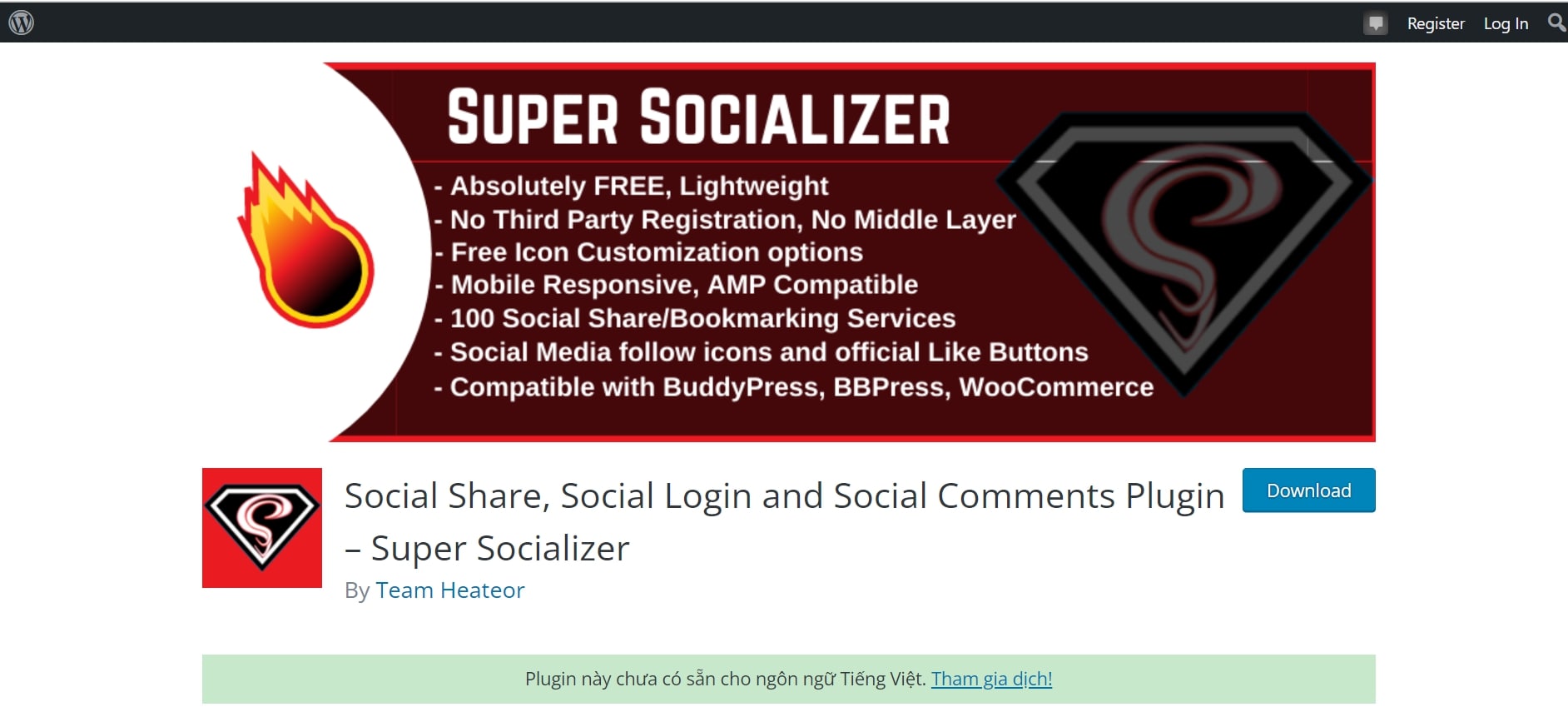 WordPress Social Share, Social Login, and Social Comments Plugin is AMP-compatible and lets you choose between a vertical or floating sharing interface when sharing content. Social share/login/comments integration on your site has never been easier or faster than with this fantastic WooCommerce plugin.
Outstanding features:
You'll find it works with WooCommerce well, plus there are many more choices to explore!
Customer service is available round-the-clock, seven days a week.
WooCommerce social sharing is compatible with more than a hundred different social networks
Share numbers across a variety of well-known social media platforms
Installing and configuring is a breeze, easy-to-use interface
Price: free.
YITH WooCommerce Wishlist
You may allow consumers to share their wishlist with their social media following by using YITH WooCommerce Wishlist without paying a penny. This feature is particularly beneficial for online companies that wish to provide their consumers with the opportunity to create a gift register or a wedding registry.
Customers may configure their wishlists to be public, private, or shared with the plugin. Another feature is that users may ask for an estimate on the things they want to buy by pressing a built-in button on the website.
Outstanding features:
Customers' wishlists may be observed by store managers, who can then use that information to determine which goods are the most popular and give discounts accordingly.
Wishlist items may be selected and added to the shopping cart directly by users.
Wishlist data may be used to show the most popular goods on the front end of your online shop.
The wishlist may be shown on any page using the shortcodes provided.
Allow your clients to get an estimate from your business.
Offers a number of wishlist layouts to choose from.
Price: $89.99/year, including one-year support and updates.
AutomateWOO: Refer A Friend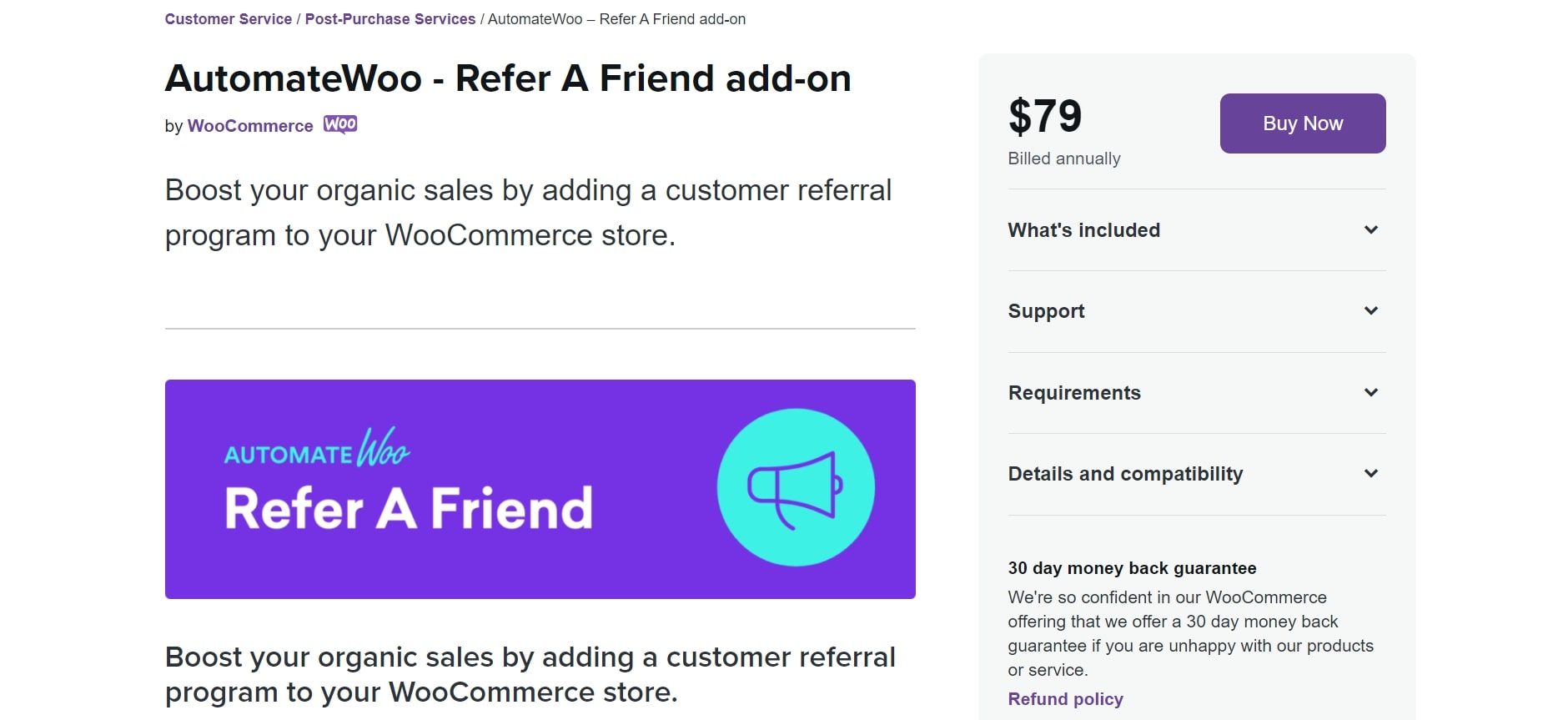 You can rapidly set up a referral program for your WooCommerce shop by using the AutomateWOO: Refer A Friend plugin, which automates the process. Using this plugin, you can set up a referral program for online stores right from the backend settings. Moreover, the plugin gives you the option of approving referrals automatically or manually. Referrals that are legitimate and not fraudulent will be authorized automatically if you pick this option.
Outstanding features:
Referral procedure that is easy to understand
Widget for post-purchase statistics on referrals
Easy handling of referrals
Referral program fraud may be prevented by using the measures provided.
Price: $79/year.
WordPress Social Sharing Plugin: Sassy Social Share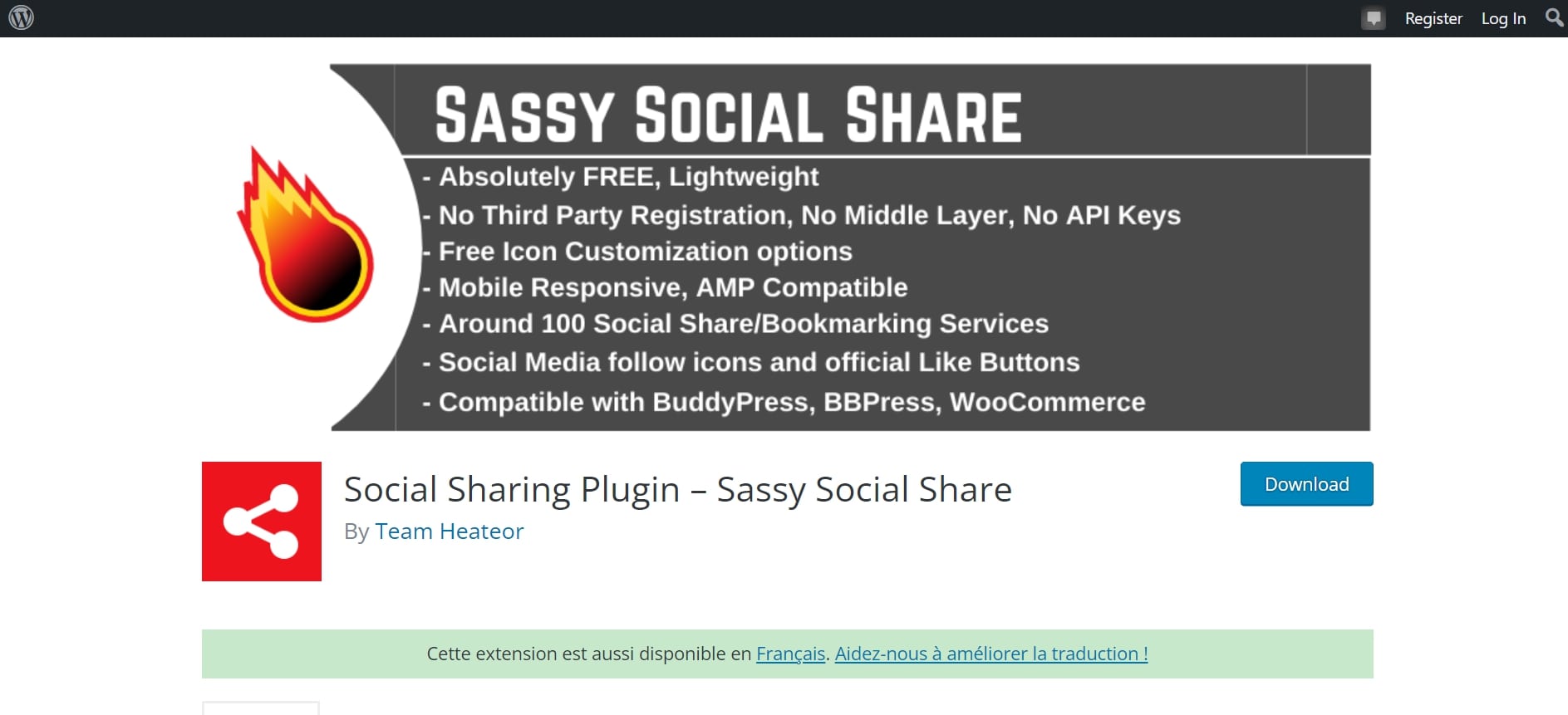 WordPress Social Sharing Plugin: Sassy Social Share is the greatest WordPress social network plugin enabling users to share your site's content on many prominent social networks, including Facebook, G+, Twitter, Tumblr, Reddit, and more than 100 social sharing and bookmarking services. Sassy Social Share. This social sharing plugin seems to be the simplest and most effective on the market, with clean, well-designed vector icons.
Outstanding features:
Over 100 social sharing and bookmarking services are provided.
Supports HTTPS-enabled websites
Shortcodes and widgets that are mobile responsive should be supported.
There is no need to register for a new account
Price: free plugin.
WooCommerce Instagram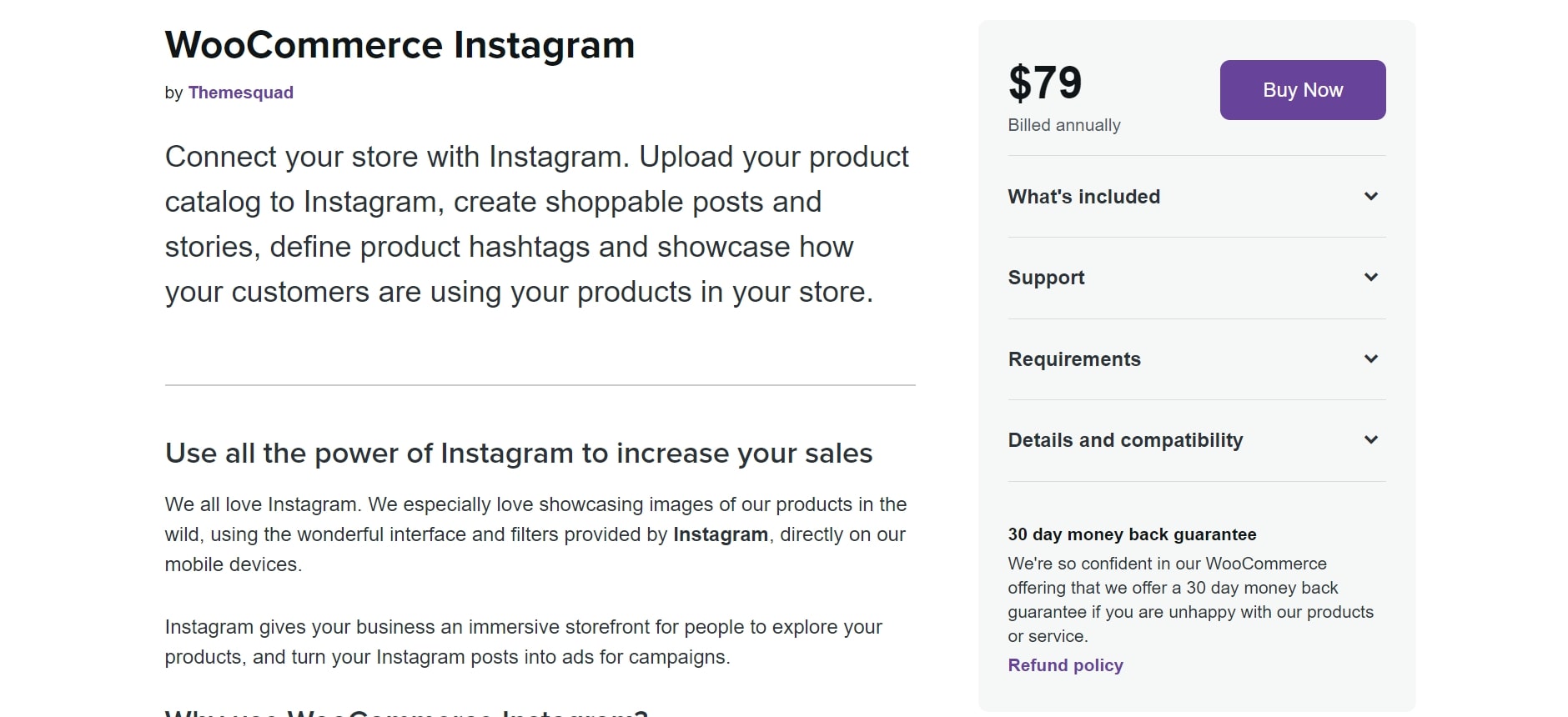 The WooCommerce Instagram plugin is certainly worth trying if you use Instagram promotion for your items. This plugin allows you to show Instagram photographs of your items in your WooCommerce shop by using hashtags. Choosing a hashtag and displaying product images immediately on your WooCommerce shop are the only steps required.
Outstanding features:
It just takes a few minutes to get everything set up.
Enable Instagram photographs in your WooCommerce shop using this plugin.
Includes a simple-to-use dashboard
Price: $79/year with a 30-day guarantee pack.
Around.io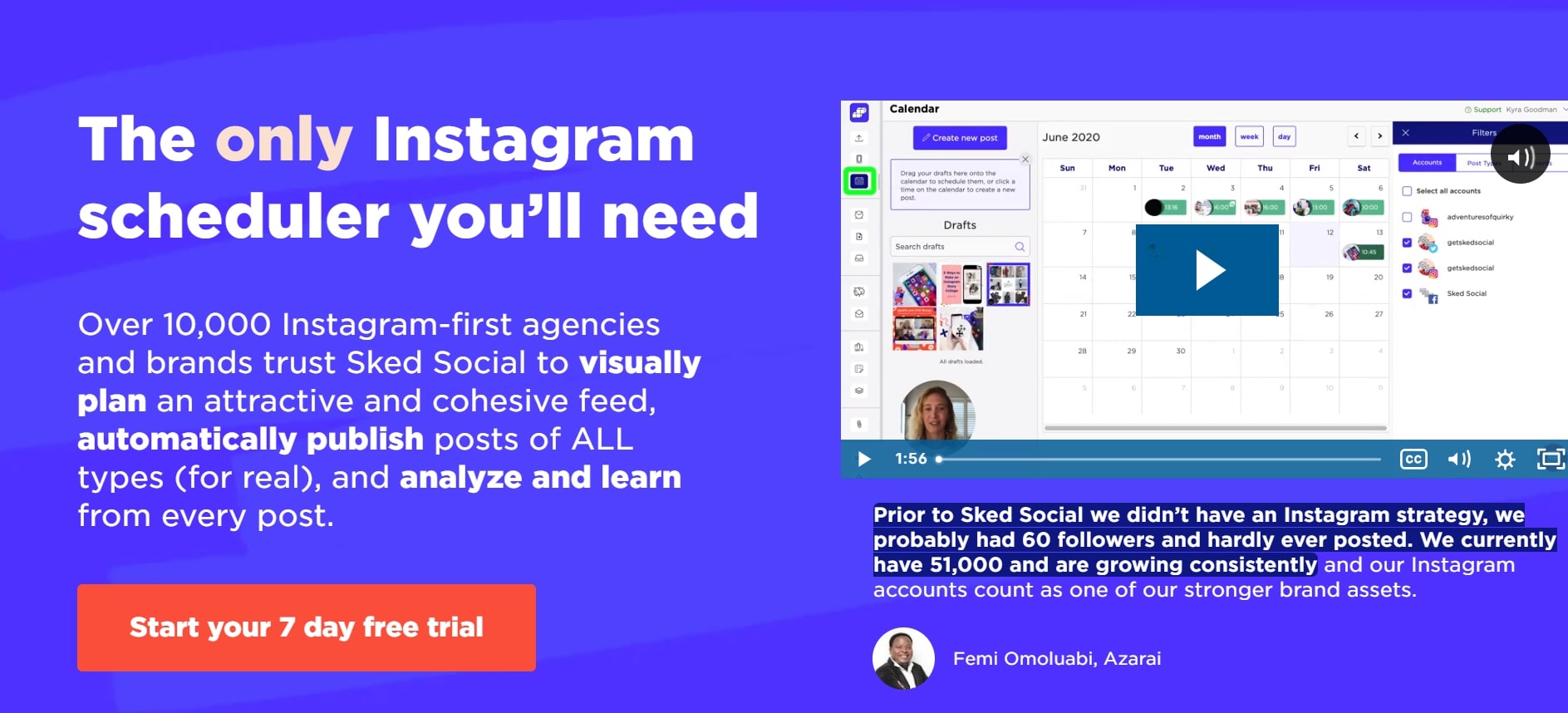 In order to automate your store's social media promotion, you may use Around.io, a WooCommerce Social Media plugin. By using this plugin, you will be able to save up to 30 hours per month while also increasing traffic from social media.
Outstanding features:
Products may be posted or scheduled in advance.
Draft an article for publication on your social media accounts
Provide day/week planner assistance
WooCommerce social shares are available on multiple platforms
Affordable price and easy-to-use features
Price: starting from $14.99/month along with a 7-day free trial.
WooCommerce Social Login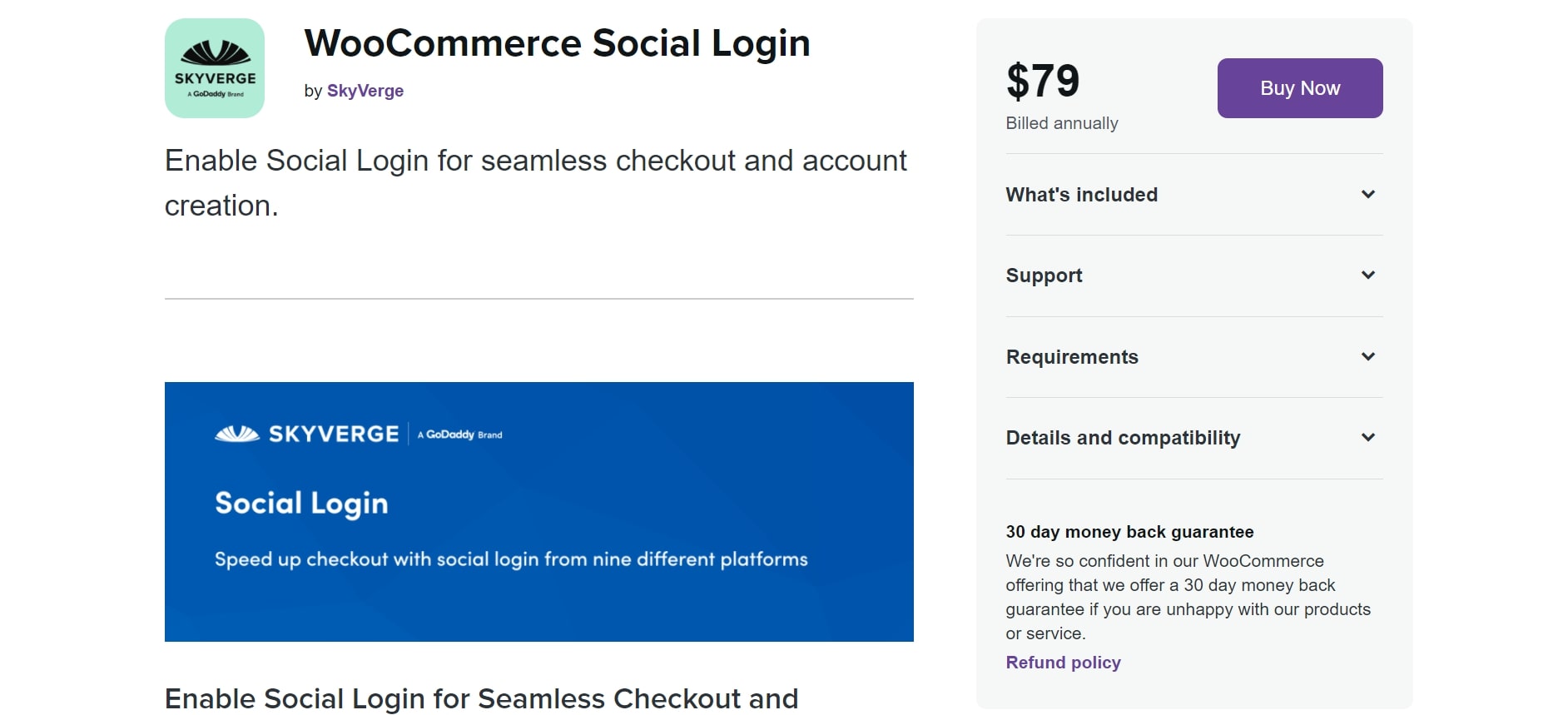 WooCommerce Social Login is perfect for making your checkout and account creation procedure as simple as possible. As a result, your total sales and conversions will increase along with a smooth checkout process. Additionally, even creating or connecting the social accounts are secured using this incredible plugin, which boosts brand credibility.
Outstanding features:
Account management options are available via this vendor.
Ensure that popular social media sites are supported.
Simplifies and secures the checkout process
Users will have a more enjoyable purchasing experience.
Keep track of social media trends
Price: $79/year.
StoreYa: WooCommerce Facebook Shop Plugin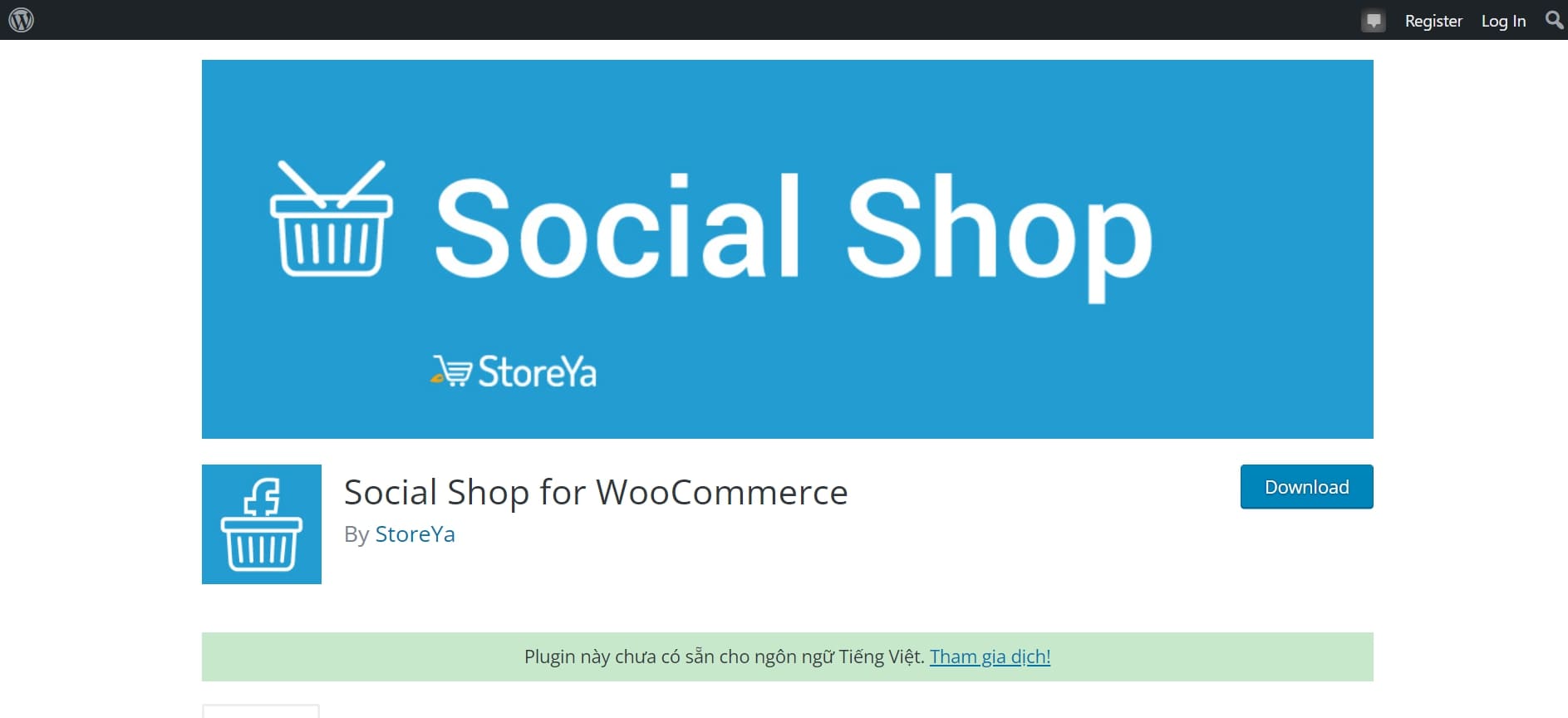 At the present time, StoreYa: WooCommerce Facebook Shop Plugin is one of the most popular WooCommerce social share plugins. With its awesome features, your WooCommerce shop is immediately imported to your Facebook fan page. In order to increase sales and conversions, you can totally add a new shop option to your Facebook fan page.
Other than that, it is possible to adapt your WooCommerce shop to match the Facebook arena as well as your business's brand once it has been migrated to Facebook. You may begin marketing your items to your Facebook followers as soon as you've finished creating the page. Your Facebook shop will be ready in minutes if you use StoreYa. For this reason, if you are planning to operate the brand on Facebook, you cannot miss out on StoreYa!
Outstanding features:
Supportive customer service team
There's no requirement for specialized expertise; everyone can perform the task using StoreYa
Imports that are quick and simple to use
Instantly set up a Facebook store within a few minutes
Maintain synchronization when customizing your shop.
Price: free with a premium version starting from $9.99/month
Blog2Social: Social Media Auto Post & Scheduler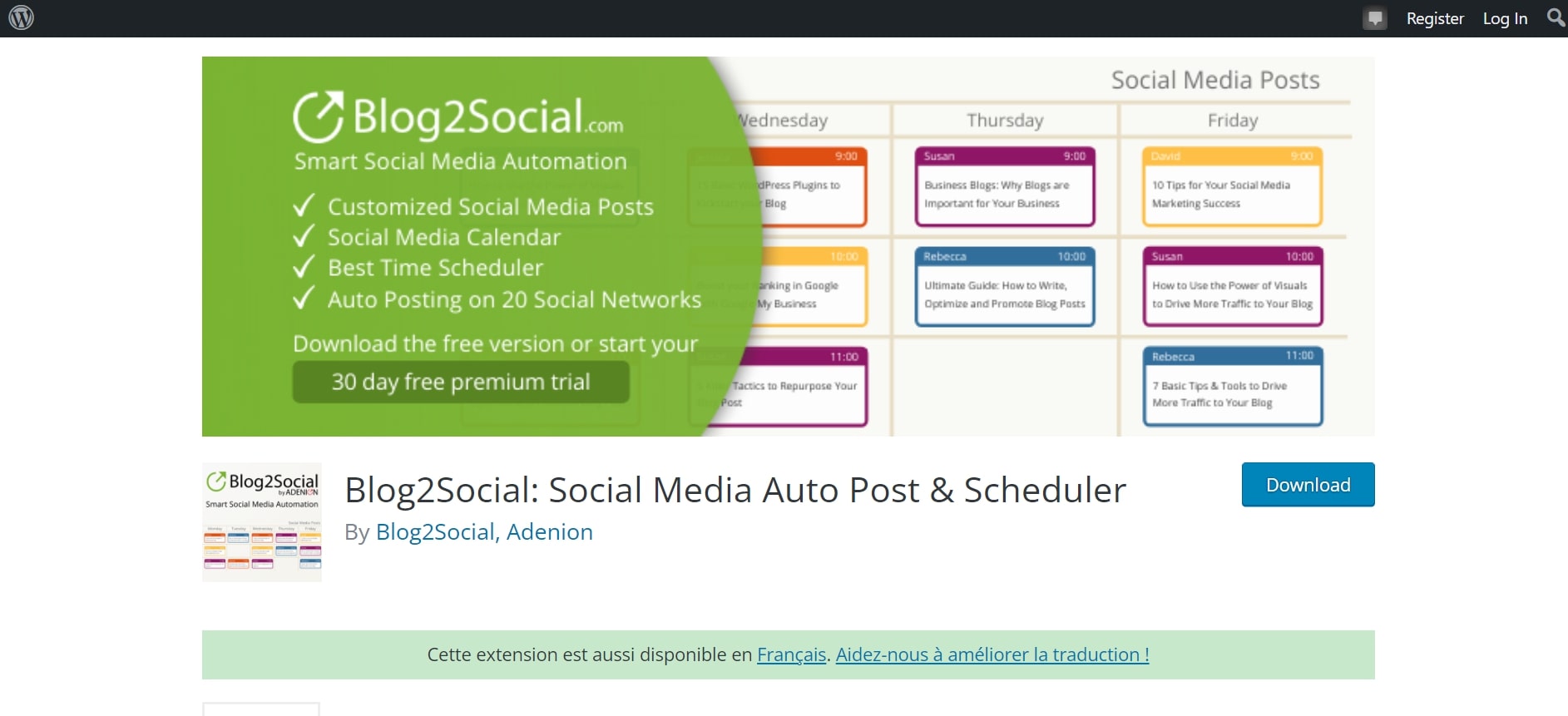 Last but not least, the one and only - Blog2Social: Social Media Auto Post & Scheduler. This WooCommerce social share plugin provides you the ability to publish to social networks like Twitter, Facebook and Google My Business. The great thing about Blog2Social is that it not only allows you to post to Instagram and other photo-sharing sites like Tumblr but also automatically uploads your material to social media and produces social media posts for you.
Outstanding features:
Personalize your online postings.
Organize the posts and pages of every user.
Completely rewrite the HTML source code
Create hashtags on demand and the ability to share your products directly to connected social media accounts.
Price: free and open source.
Conclusion
To sum up, we hope that our top 14 WooCommerce Social Login plugins will help you find the best one to work with. From then on become the best to assist you in creating a better shopping experience for consumers. If you have any questions, please leave them in the comments section below.
New Posts
Subscribe
Stay in the know
Get special offers on the latest news from AVADA.
40k
subscribers has been joined!
Earn $10 in reward now!