7 Best WooCommerce Sequential Order Number Plugins for Your Store
7 Best WooCommerce Sequential Order Number Plugins for Your Store
It is critical to distinguish one order from the others in an e-commerce store when thousands of orders are received each day. If these order numbers are assigned randomly, it will be really challenging for you to manage your store.
Unfortunately, order numbers in WooCommerce stores are created at random. In fact that WordPress treats all of its data (orders, products, pages, posts, etc.) as posts and assigns a post Id to all.
Therefore, in this article, we'll share with you our list of 7 best WooCommerce sequence order number plugins for your store. Let's check them out!
Benefits of Sequential Order Numbers Plugins for WooCommerce
As you may know, WordPress has an ID system for posts, pages, and media assets. Order numbers are also assigned to the same ID by WooCommerce. When a new WooCommerce order is generated, the ID may already be used by another post or page; therefore, it may not always get the next order in the sequence.
With the help of a sequential order number plugin, you will always get sequential numbers for your WooCommerce orders. Therefore, you can quickly re-arrange or format your current and new WooCommerce order numbers in a linear or sequential format. Managing your orders will thus be a lot easier.
Top 7 WooCommerce Sequential Order Numbers Plugins
1. Sequential Order Number for WooCommerce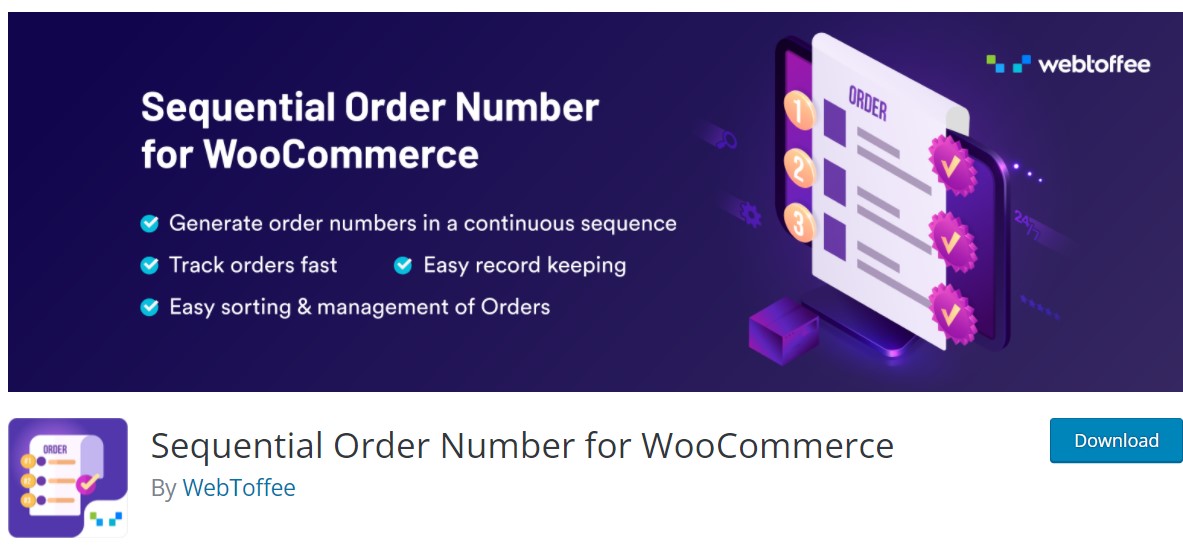 Sequential Order Number for WooCommerce allows you to assign custom order numbers to orders in your WooCommerce shop. For all or new WooCommerce orders, you can specify a custom prefix, starting number, and order number length.
Shortcode-assisted order tracking and custom order search functionality make it simpler and more efficient to manage your online store.
Features
Set custom sequential order numbers for WooCommerce orders
Add custom prefix, starting number, and order number length
Set custom order numbers for all orders or new orders only
Add order date prefix
Choose order template
Supports subscription order numbers
Order tracking by custom order number
Pricing
Free
2. Custom Order Numbers for WooCommerce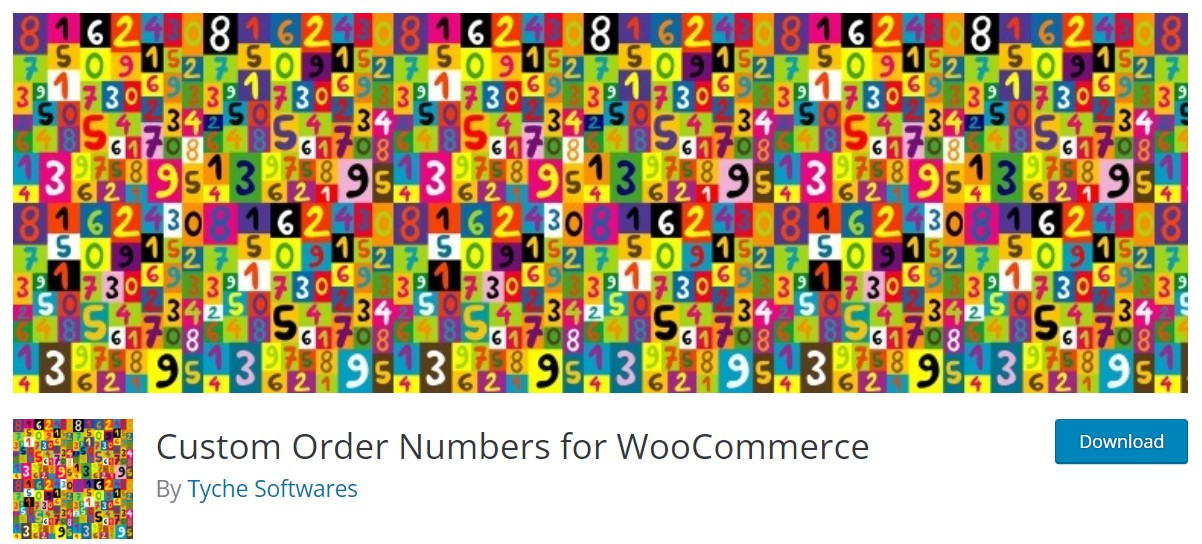 WooCommerce Custom Order Numbers allows you to customize order numbers in your store to your preferences. It can be sequential, order ID, or random. This plugin will automatically issue a custom order number to new orders. Simply by clicking the button remunerate, all of your existing orders will be numbered sequentially, starting with the number you entered.
This plugin also makes it simple to automatically reset your store's order number daily, monthly, or yearly. Because this plugin supports order tracking in your store, you will not have any difficulty tracking orders.
Features
WooCommerce order numbers can be sequential, random, or by order ID.
Sequential counter can be set to automatically reset on a daily, monthly, or yearly basis.
Custom numbers will be assigned to new orders automatically.
Add prefix to order number.
Order tracking by custom number.
Enable admin order search by custom number.
Pricing
Free
3. Woo Custom and Sequential Order Number
Woo Custom and Sequential Order Number allows your store to generate sequential order numbers automatically, helping you to avoid the inconvenient store administration procedure that random order numbers cause.
Features
Provide Custom and Sequential order numbers rather than display ID and random numbers.
Auto manage all order numbers.
You can select the value manually, setting the ID from which you want to start the numeration.
Any custom text or prefix or suffix or mixed value possible.
Unlimited Order number length.
Unlimited Order number possibilities.
Pricing
Free
4. Sequential Order Numbers for WooCommerce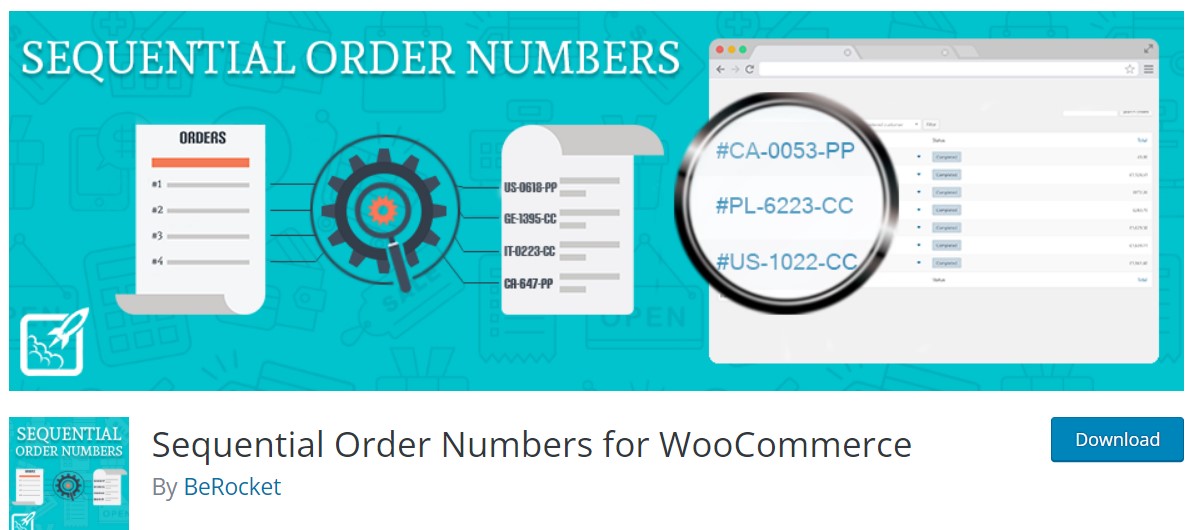 Sequential Order Numbers for WooCommerce is a solid option as a free plugin. It provides tools that make order management simple, with a number of features that allow you to create a unique ID for each order placed in your business.
You could use this plugin to create an order ID with a custom prefix, postfix, and number start for free orders. The ID can also include information such as the current date, time, etc.
Features
Custom order number text
Possibility to use a lot of data in order number text:
ID – Custom ID, start number can setup in option
ID WC – WooCommerce ID, order ID that WooCommerce provides by default
Date Time – Day, Month, Year, Hour, Minute, Second from order date
Total price – order total price
Product count – count of products in order
Post meta – you can display any post meta from order
Pricing
Free
5. YITH WooCommerce Sequential Order Number
YITH WooCommerce Sequential Order Number improves and facilitates the management of orders in your e-commerce using sequential order numbering.
You can choose to exclude free orders from this numbering and record them in a different order. As a result, your shop will be even more user-friendly, and completely customized.
Features
Select the starting ID for your numeration.
Use a progressive numbering system for your orders.
Add prefixes and suffixes in the values
For free orders, choose a different numeration.
WPML compatibility
Pricing
€ 49,99 per year
6. Sequential Order Numbers Pro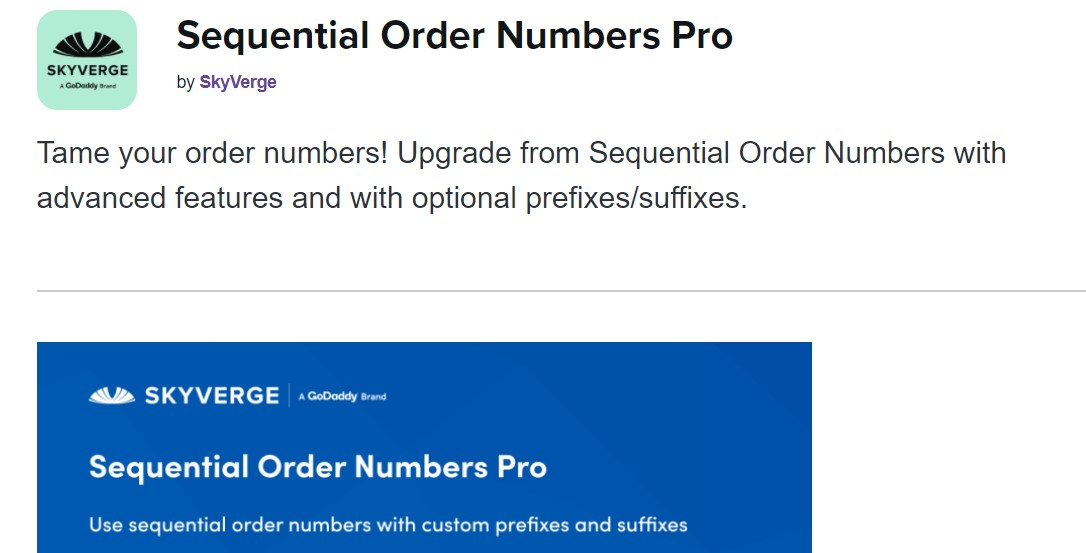 Sequential Order Numbers Pro allows you to use sequential order numbers instead of random ones in your store. To tailor your order numbers, you can also define a starting number, order number length, and custom prefixes and suffixes. Instead of 15, 16, 17, your order numbers may now be WT-01000-UK, WT-01001-UK, or whatever format you like.
Features
Generate sequential order numbers for your shop
Set a custom order number prefix, suffix
Include the current day, month, or year in your custom order number prefix or suffix
Order number length can be set automatically by adding as many zeroes to the beginning of the order number as needed
Orders with only free products can be excluded from the paid order sequence for accounting purposes, and assigned their own custom prefix
Pricing
$49.00 per year
7. WooCommerce Sequential Order Numbers

WooCommerce Sequential Order Numbers is a WooCommerce plugin that adds the ability to automatically assign sequential order numbers to new orders. If orders have already been placed at the time of installation, the sequential order numbers will begin with the most recent order number. If you don't have any orders in your store, they'll start counting from order 1.
Features
Automatically setting sequential order numbers for new orders.
No configuration is needed
The plugin is so easy to use, there aren't even any settings
Pricing
Free
Final Words
The way you manage your store's orders has a big impact on its efficiency. Sequential order numbers plugins are excellent tools for accelerating and smoothing your company's growth.
Thank you for taking the time to check out our list of the 7 best WooCommerce sequential order numbers plugins. In case you have any questions or comments, please do not hesitate to leave them in the comments section. We'll see you in the next article soon.
New Posts
Subscribe
Stay in the know
Get special offers on the latest news from AVADA.
40k
subscribers has been joined!
Earn $10 in reward now!