13 Best Product Filters plugins for your WooCommerce Store
13 Best Product Filters plugins for your WooCommerce Store
Hundreds of goods and product variations may be found in most WooCommerce stores. They'll swiftly go on to a competitor's website if they don't locate what they're looking for on your site within minutes. Including a product filtering option on your website helps users to swiftly search for and locate what they're looking for. In this article, we will look through 13 best product filter you can install for your WooCommerce Store.
Why do you need product filters for your WooCommerce Store?
Product filters are critical to the success of any online business. Visitors to the site will often have to wade through dozens, hundreds, or even thousands of product options if they don't use the filters. That should be enough to scare them away. Online retailers that employ effective product filters, on the other hand, improve the entire customer experience.
Product discovery is one of the finest benefits of filters. Visitors on the site can also locate things that are comparable to what they've been researching or looking for. It's yet another approach to boost sales and income.
If you want to gain customers' experience, you have to notice some points:
Use filters to improve user experience
If they like, they may enlarge those selections by clicking on them. You may also provide filter types for product attributes that aren't immediately apparent. For example, if you know that clients have requested specific usability characteristics, you might include such terms in your filter options. Filters are also necessary for items that require special compatibility.
Provide all the obvious filter options
It's crucial to include all of the necessary elements in your filter choices so that your consumers can quickly locate exactly what they're looking for. If each product category has many characteristics, you should consider providing category-specific filter options. You may also make your own filter choices by creating your own themes. In these themed filters, you may incorporate all of the typical consumer demands.
Quick loading times
Nobody wants to visit a website and have to wait for pages to load. When a consumer applies a new search filter, the results should show very instantaneously. Visitors are more inclined to buy elsewhere if your website takes time to refresh the page every time a filter is applied. Some of the Ajax-based plugins discussed later in this article are excellent at assuring speedier product search page load times.
Filters should not be used excessively
When setting search filters, you may have certain specific product features in mind. Just make sure you're not making filters that do nothing at all. Take some time to go over your filtering choices. It's pointless to keep using filters for goods that have been phased out. Creating filters that you know will produce assured outcomes is an effective technique to handle this challenge.
Let customers apply a combination of filters
Your clients may wish to search for numerous values in the same filter type at times. For example, a customer would expect to see a variety of formal clothing produced from specific materials. Because most individuals want to use numerous alternatives simultaneously, this is a smart method to work.
13 Best Product Filters plugins for your WooCommerce Store
The majority of store visitors want to locate what they're searching for as fast as possible. They'll probably go somewhere else if they can't find the things they desire in seconds. Product Filters for WooCommerce eliminates the hassle of having to go through hundreds or thousands of products to locate the item you're looking for.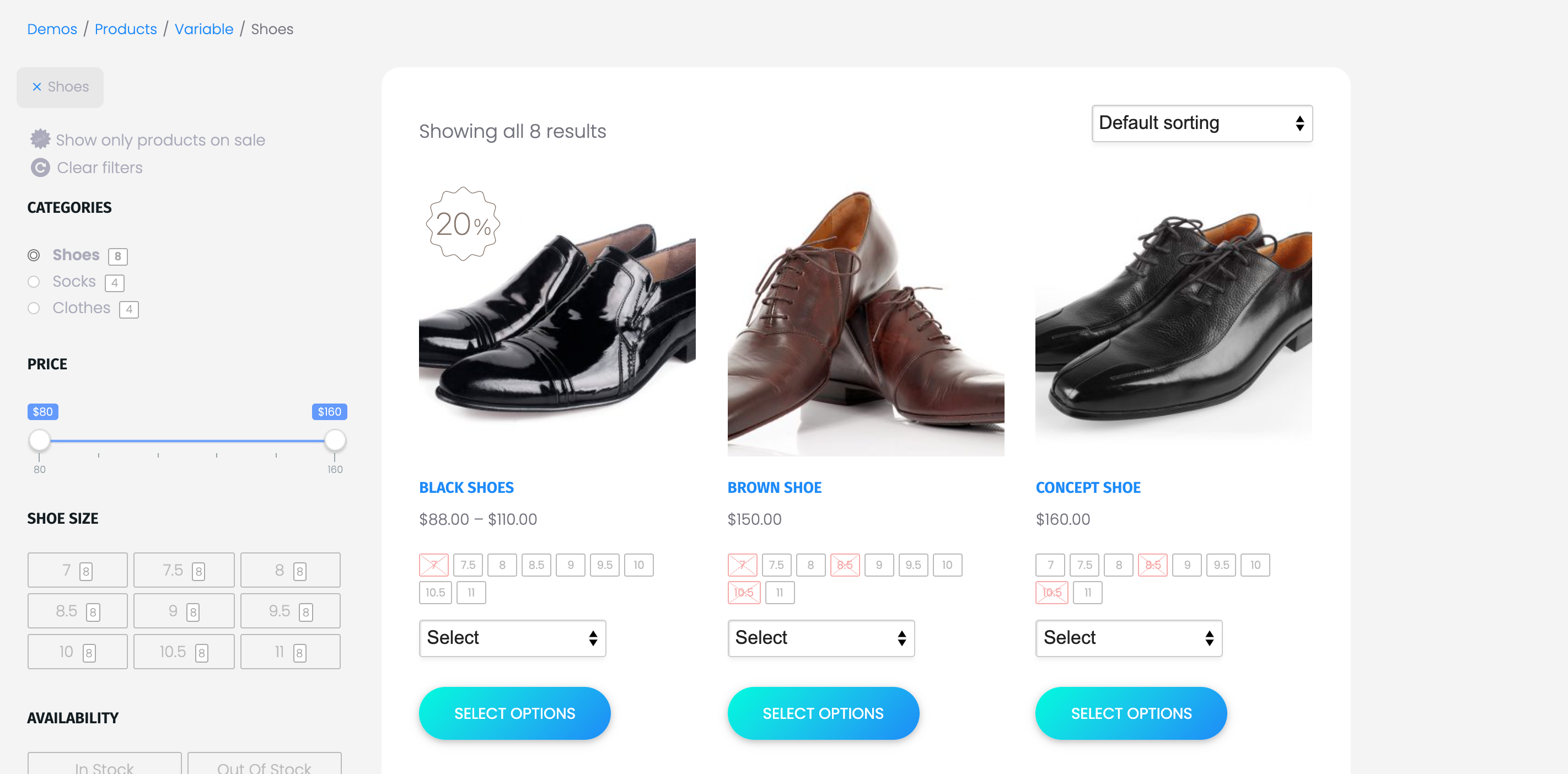 Features
Filtering with Ajax to speed up the process. It is not necessary to reload the web page in order to load products.
Box lists, checkbox lists, color lists, drop-down menus, price sliders, radio lists, text lists, and other interactive components These features give your website a more professional appearance.
Multiple criteria, such as characteristics, categories, pricing, tags, and taxonomies, can be used.
Shortcuts and widgets for displaying filter options and other interactive components in your WooCommerce shop.
Price
Single-site: $79/year
Five-site: $129/year
25 site: $179/year
The best-selling book WooCommerce Product Table is a product filter plugin for WooCommerce that allows you to list items in a front-end table layout using AJAX. Customers may search, filter, and sort goods using the plugin's numerous features. A shortcode may be used to add the product table to any page (or post) on your online store. It also allows you to select which columns should be displayed in the product table.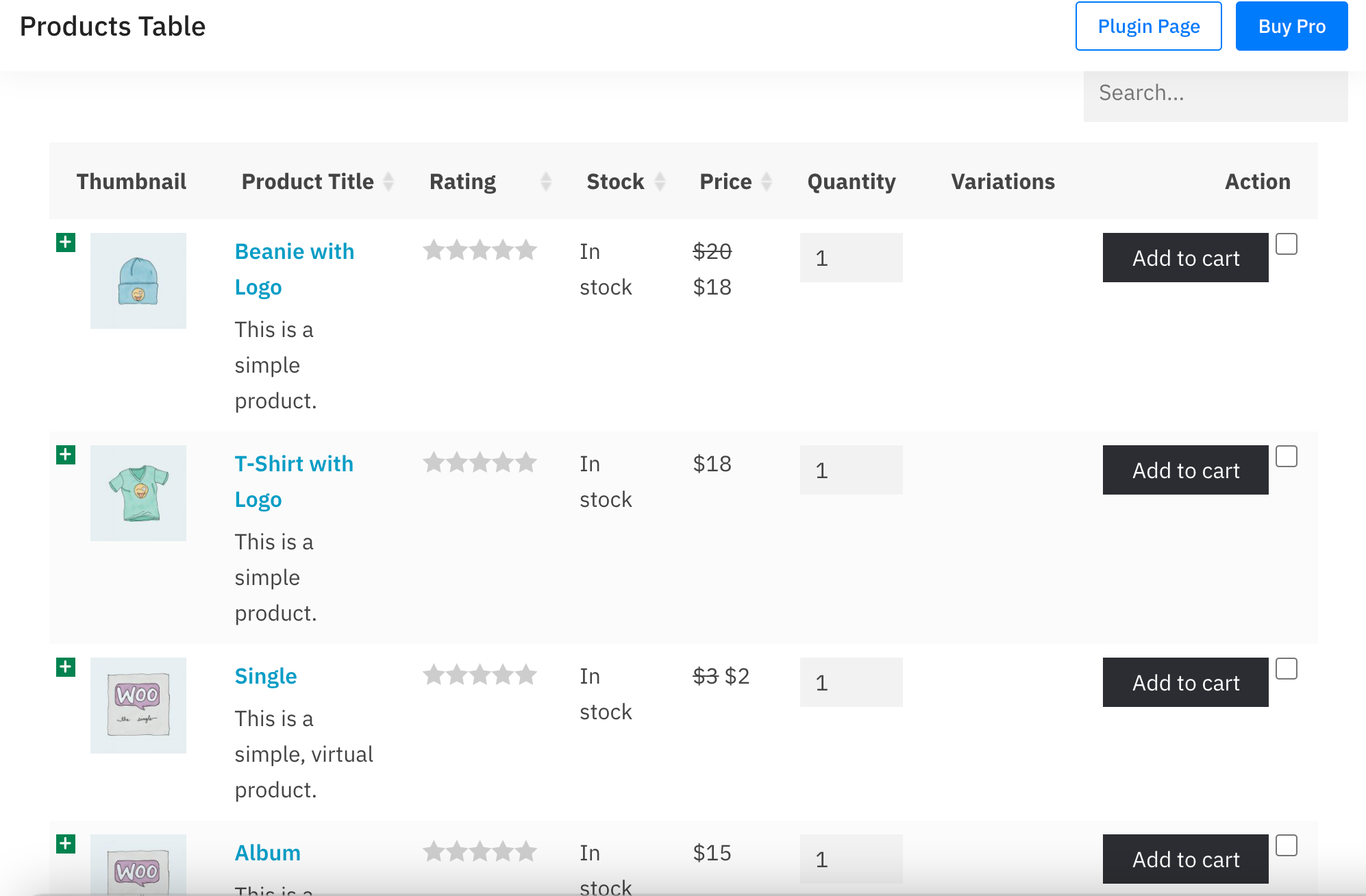 Features
Customers may filter products by price, characteristic, or rating using custom widgets.
Customers can filter goods by category, attribute, tag, or taxonomy by adding search filters above the table.
Customers can use a sidebar widget or a dropdown list to filter products by characteristics.
Price
Regular: $38/year
Extended: $126.75/year
### JetSmart Filters
There are several methods for making your website more user-friendly. It's also critical to organize your items and enable clients with simple navigation. We created JetSmart Filters to do this. With this set of filters, your clients may get exactly what they want in just a few clicks.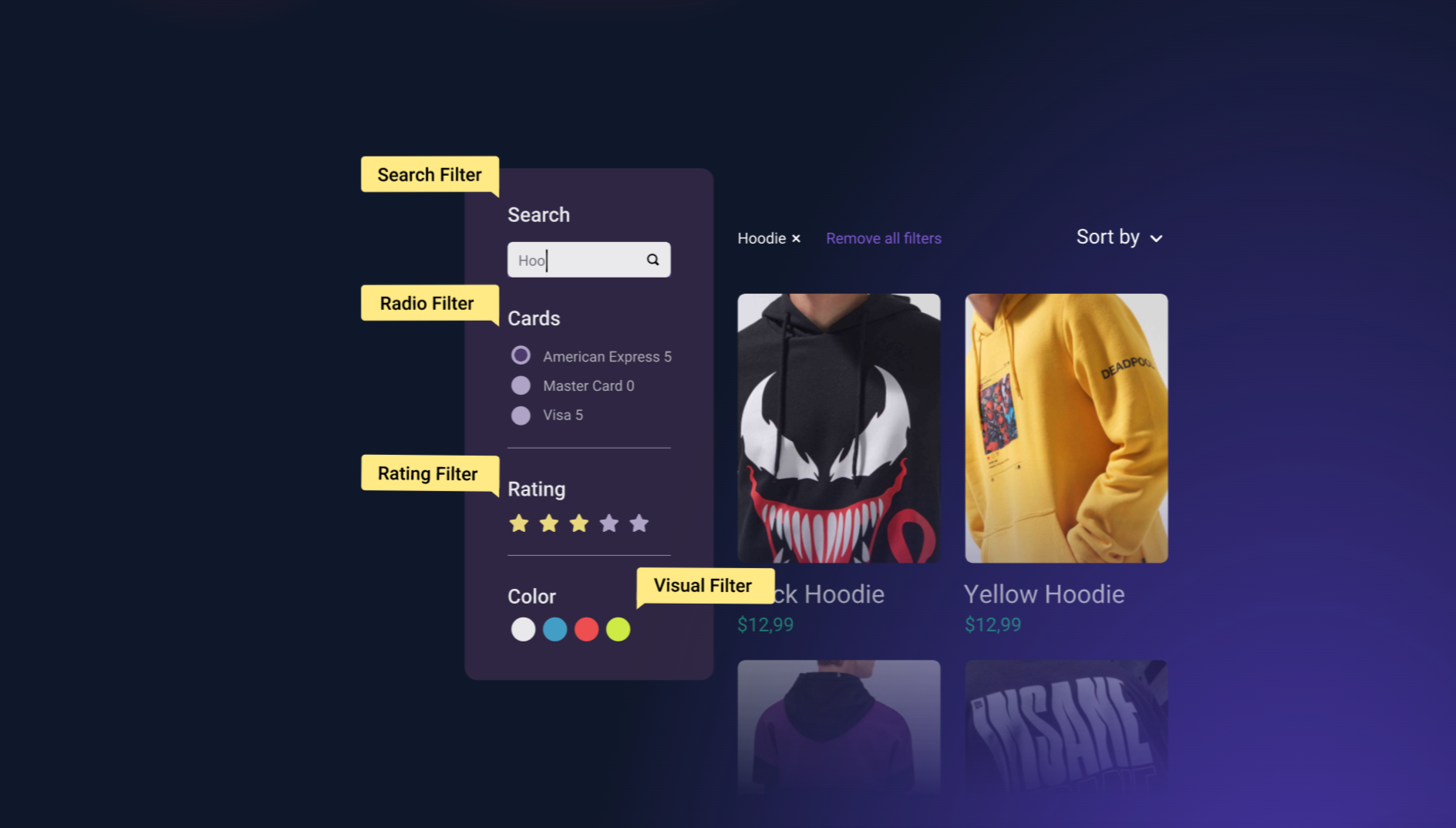 Feature
There are nine different types of filters.Use them to apply filters to Elementor-built product archive pages and publication archives.
For faster performance, use the AJAX technique. The filtered results appear in a matter of seconds, with no need to refresh the page's content.
Product or custom post types can be filtered. Filters may be applied to WooCommerce items as well as custom post types.
The ability to apply many filters at the same time. To locate the information you need at all times, use many filters at the same time.
Price
Single site: $24/year
All-inclusive set: $130/year
This is a free version of the WOOF plugin that makes adding product filters to your WooCommerce store simple. The plugin comes with a number of shortcuts that you can use to customize the product search form to your liking. With over 80,000 active installs, the plugin has become one of the most popular in the WordPress directory.
Apart from the filter choices available in the free version, the premium version adds a slew of new ones. Search by SKU, picture, color, taxonomy slider, hierarchy dropdown, and statistics are among the choices available. The statistical data will assist you in determining how well your items are performing in the market.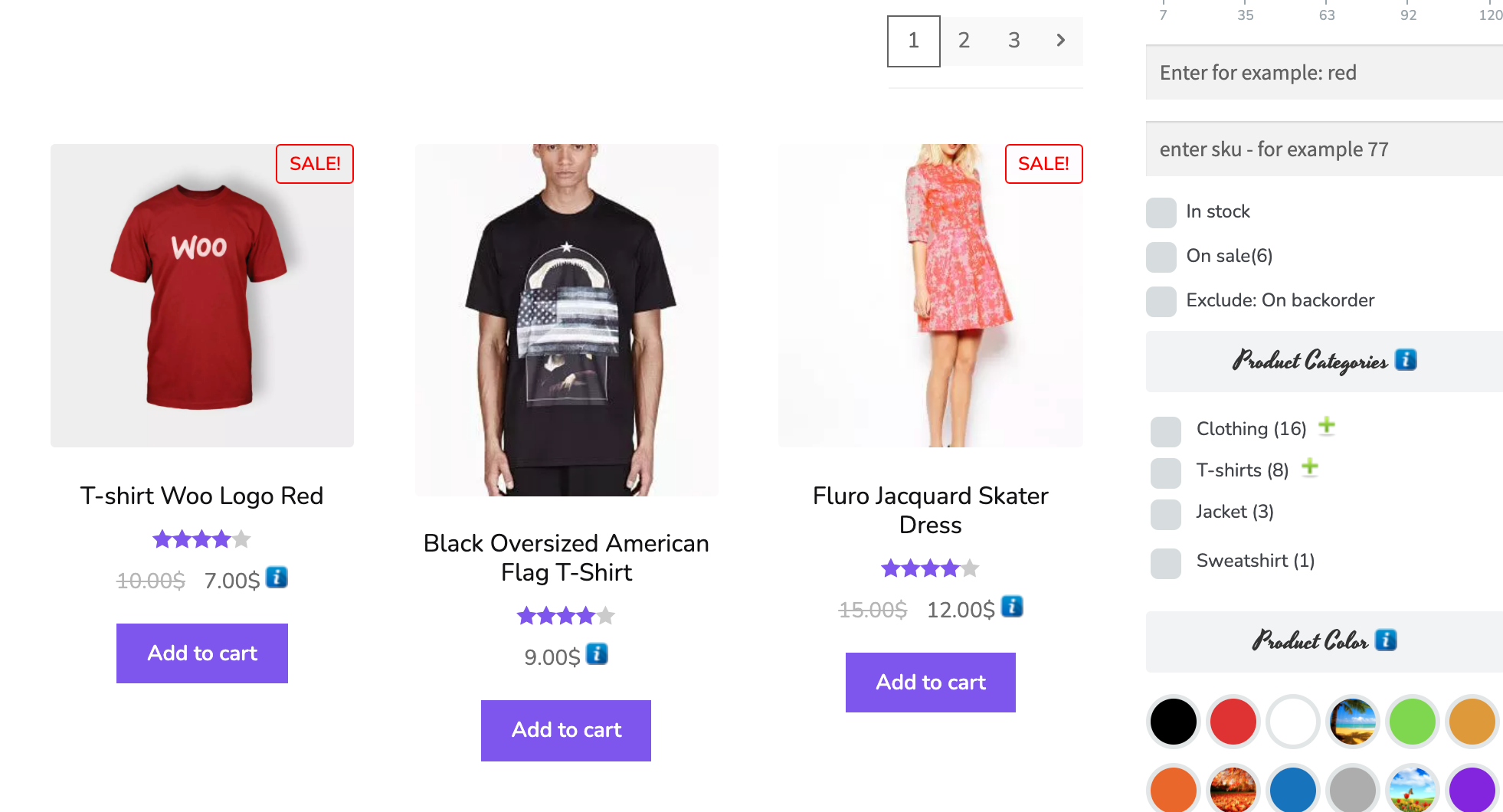 Features
Flexible plugin that allows your consumers to simply search for items by using various filters.
Shortcodes for widgets and products.
Ajax is used to provide a fantastic user experience.
Different field types for displaying taxonomy, such as radio buttons, checkboxes, and so on.
There are other sophisticated features available, such as rapid search, unlimited scrolling, and so on.
Technical assistance that is dependable.
Price
Regular: $39/year
Extended: $51.75/year
Users on an eCommerce site are known to be impatient, according to studies. And, if they are unable to locate the thing they want immediately, they may seek it elsewhere. You can give a terrific alternative for consumers to simply find the items they are looking for with the aid of this plugin. Conversions will improve when the speed of the purchase procedure in your shop is increased. This plugin not only provides conventional filtering choices like category, price, and so on, but it also allows you to combine different filtering options. Advanced filtering options include publishing date, price range, user ratings, number of sales, and so on.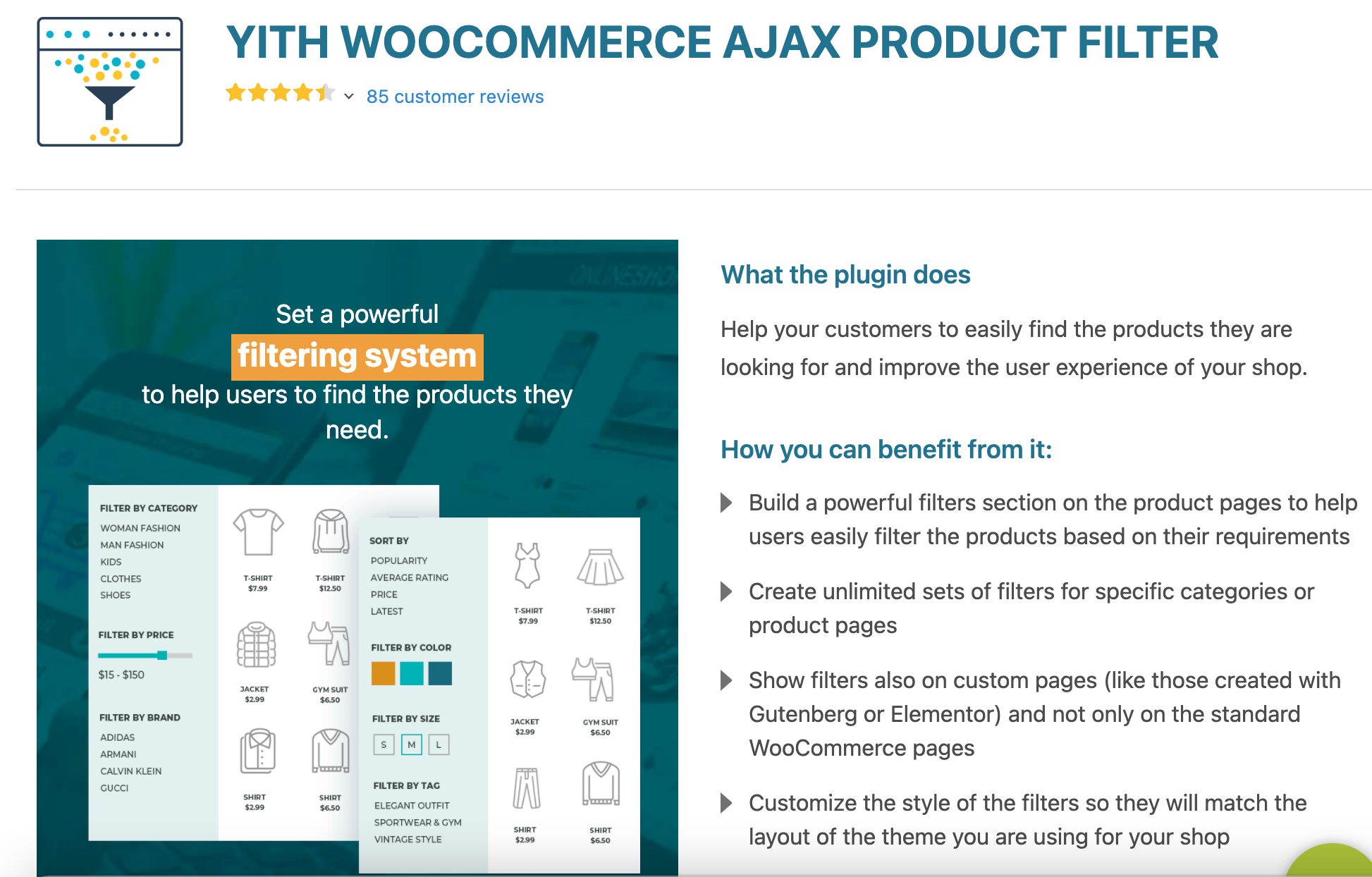 Features
Use the widget to filter products with six different layout choices.
Allow consumers to look for items in a certain category, on sale, or within a specified price range.
Ajax is used to showcase products.
The widget can be customized.
Other YITH plugins are supported.
This plugin is a must-have tool, especially if you have a huge product inventory. Your consumers won't be perplexed trying to locate what they're looking for among all the options. It provides a variety of layout options to assist you in selecting the most appropriate and successful ones for your site. For your site, the filter option to display just on sale goods would be extremely handy.
Price:
Single site: $79/year
With this plugin, you'll be able to construct user-friendly filters for a better customer experience on your WooCommerce store. A huge number of parameters, such as categories, tags, product features, and so on, will be used to filter the data. You may also turn on or off the Ajax-powered search. In addition, the plugin provides you with a variety of sorting choices.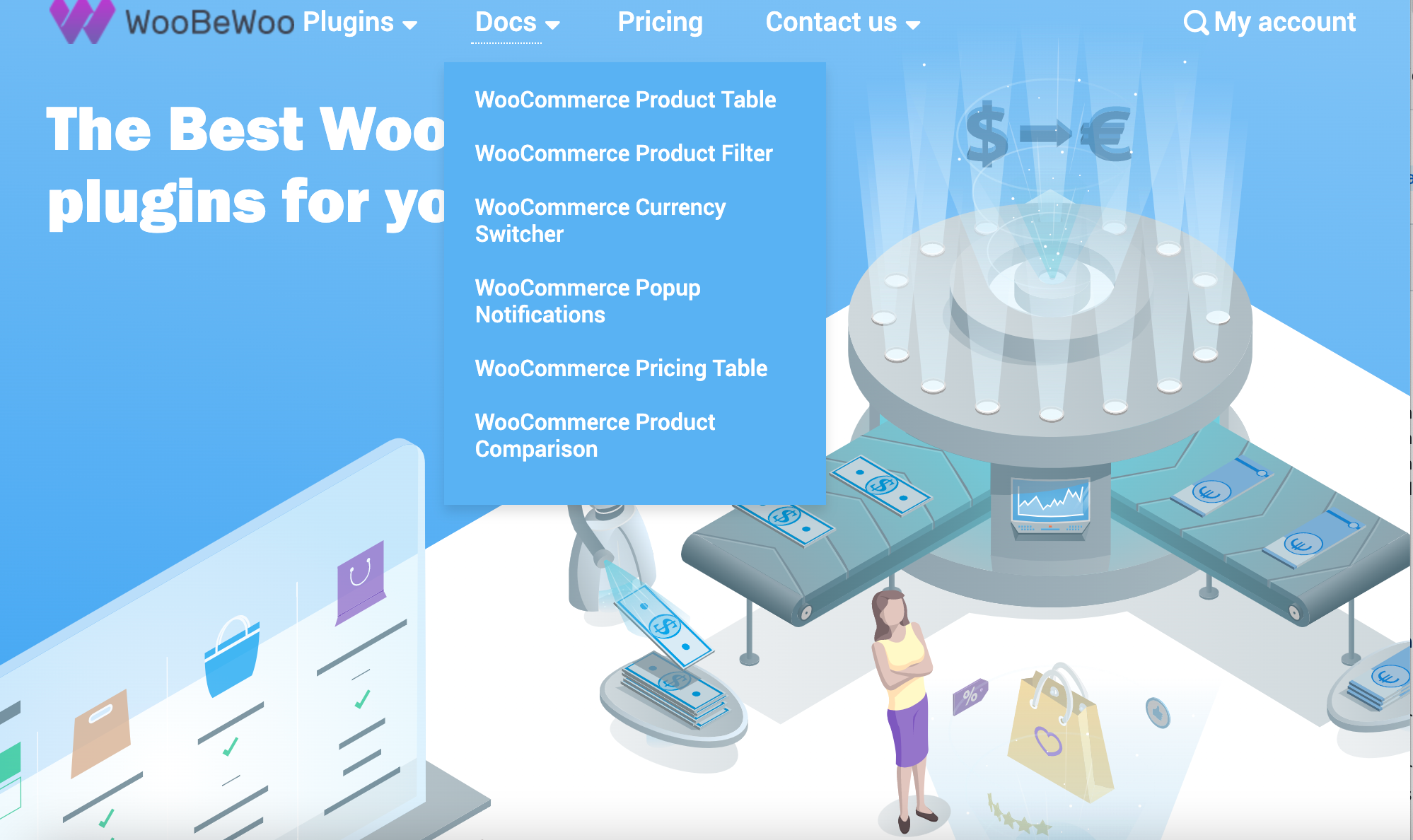 Features
Allow customers to effortlessly filter goods based on categories, tags, price ranges, and other factors.
For a faster page load, use Ajax live search.
A responsive design ensures a positive user experience across all devices.
The Elementor page builder plugin is compatible with this theme.
Configuration choices are simple.
Price
Single site: $49/year
5-site: $99/year
Unlimited site: $199/year
This is another sophisticated WooCommerce product filter plugin that allows you to apply as many filters as you like with just one widget. All of the basic filtering options are available, including categories, taxonomies, price, tags, characteristics, and so on. Checkboxes, radio buttons, range sliders, dropdowns, tags clouds, and other display choices are also available. If you wish to alter the display style of any of these choices, you may do it quickly. It also includes functions such as dynamic product recount.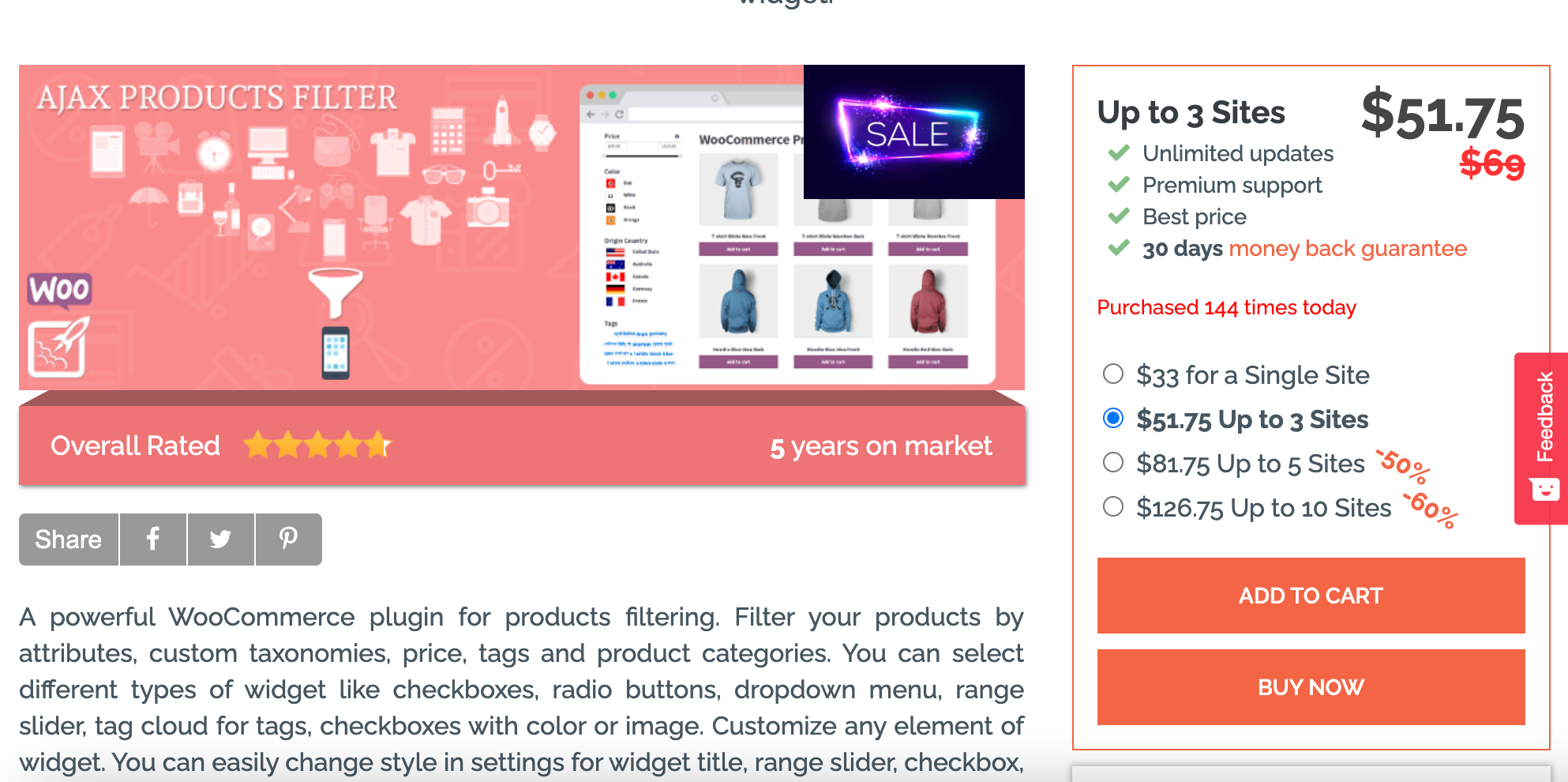 Features
This plugin will assist you in setting up product filters on your WooCommerce store.
Filtering options include categories, tags, characteristics, pricing, and custom taxonomies.
Choose from a variety of field kinds, including checkboxes, radio buttons, dropdown menus, range sliders, and more.
There are a variety of layout options available, including slider color and picture.
The website loads quickly without interfering with the user's experience.
Hide attribute values from the widget on a per-attribute basis.
Price
Single site: $44/year
3 site: $69/year
5 siteL $109/year
If you need a plugin to put up customizable filters on your store, this is a good one to try. Each filter's look may be customized independently using the plugin. You'll also be able to see characteristics beneath thumbnails. The rich customization possibilities set this plugin apart from the competition.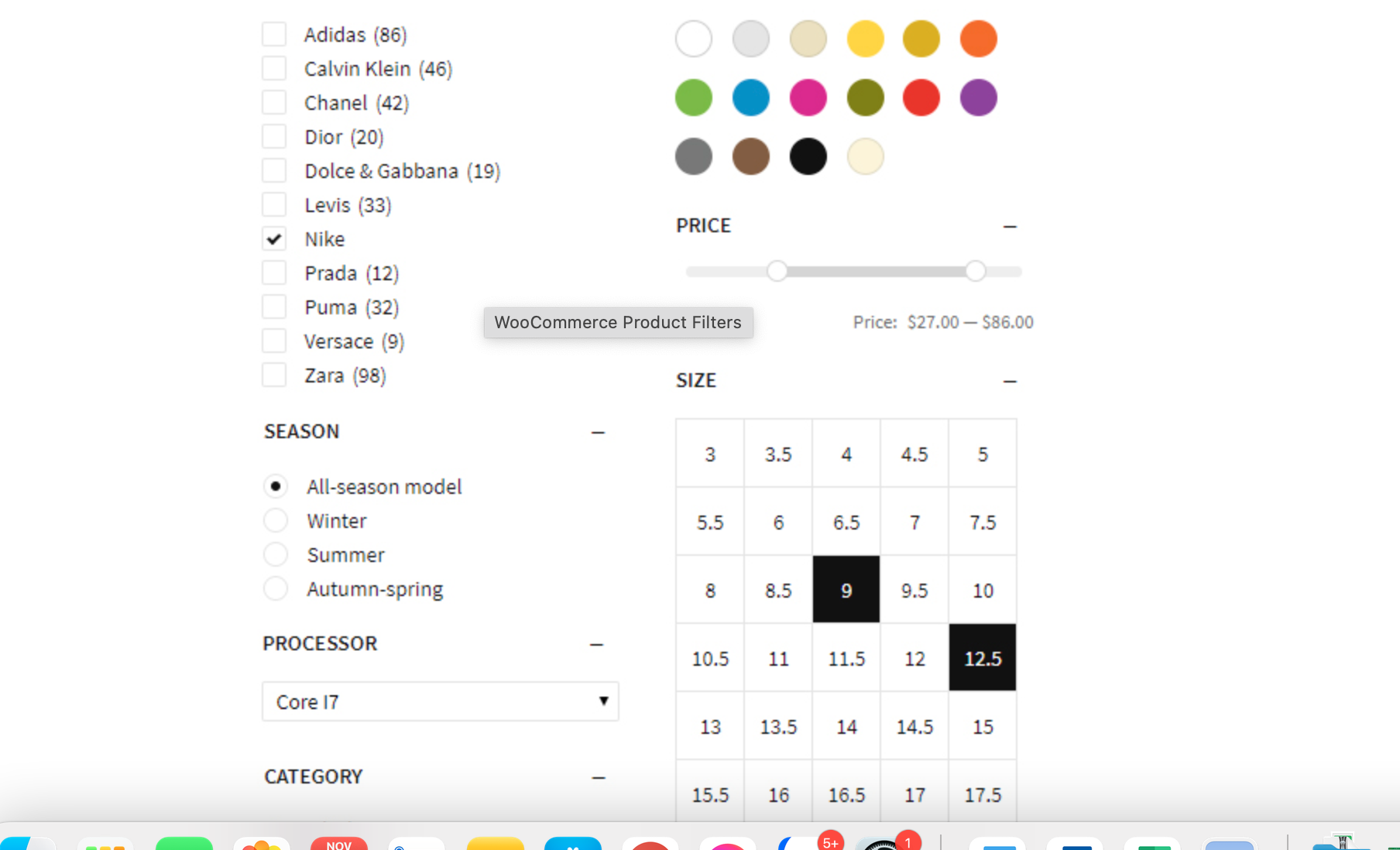 Features
When configuring product filters, you have a lot of customization choices.
Control the widget's appearance.
For customers' convenience, the product attribute information may be presented directly beneath thumbnails.
There are several style possibilities.
Price
Single site: $30/year
WordPress Meta Data Filter & Taxonomies Filter (MDTF) is a WordPress filter plugin that filters metadata and taxonomies. MDTF's main goal is to make your WordPress site's content filterable and searchable at the same time using meta fields and taxonomy.
MDTF allows you to simultaneously filter and search WordPress content – posts and custom post types – using taxonomies and metadata fields.
MDTF is a WooCommerce product filter that is ready to use. Because of its large number of filter components, the plugin provides a lot of versatility!
Customers on your site will be able to filter articles, pages, and custom kinds by meta fields and/or taxonomies at the same time using MDTF.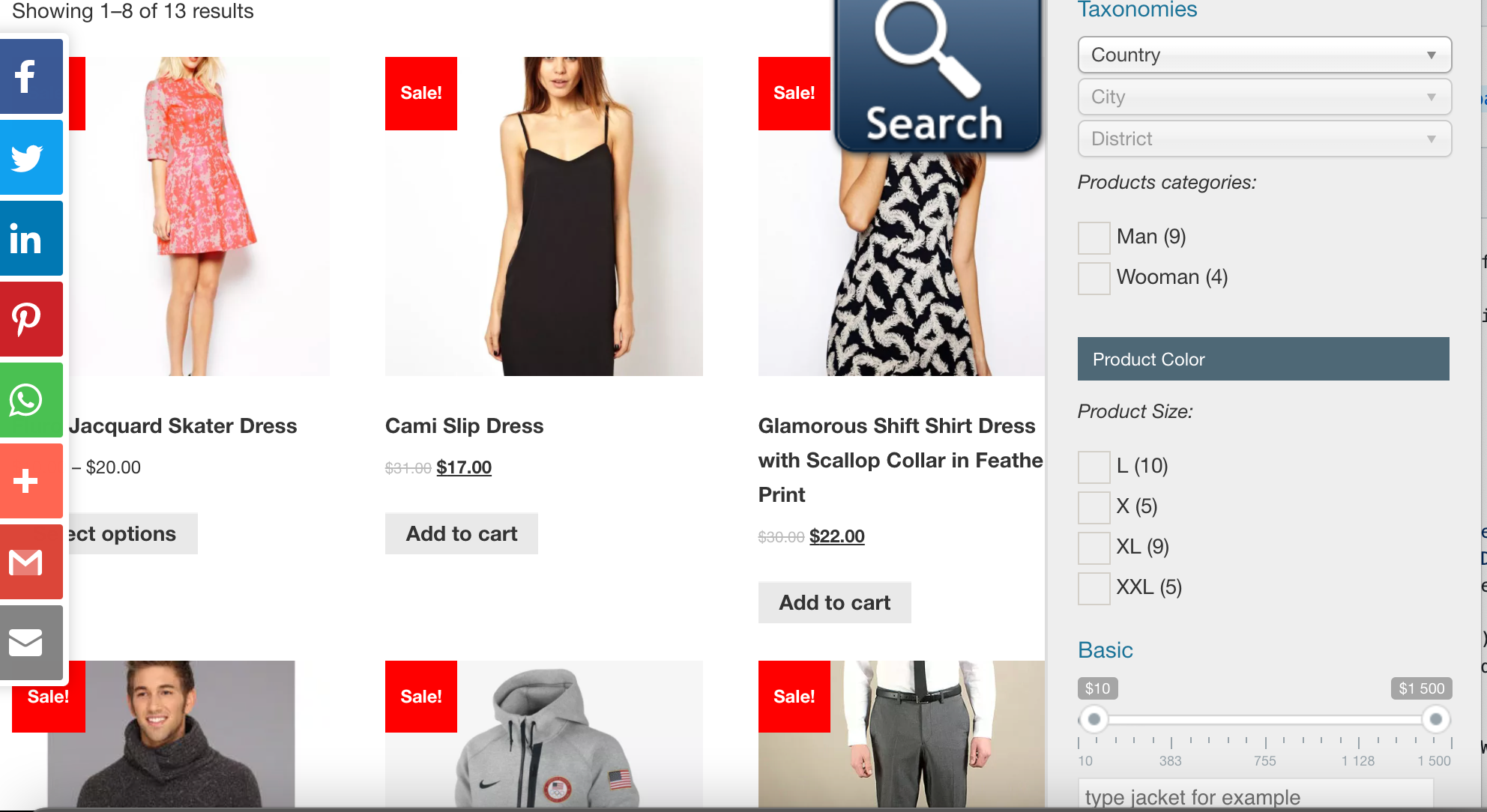 Features
1. Varied Search Option
Users can look for the following content: Posts/pages; Jigoshop products; Custom post types; WooCommerce attributes; Posts/pages; Jigoshop products; Custom post types; WooCommerce attributes.
2. Advanced Search Functionality
This plugin allows you to search for articles, pages, WooCommerce products, and any other product using AJAX without reloading the entire page. It also has an AJAX recounting option for counting webpage elements.
3. Widgets & Shortcodes
It comes with a number of widgets and shortcodes that allow you to customize the search option in your website's articles and pages. This plugin also has multiple instances and specific settings for widgets and shortcodes.
4. Metadata Constructor
It has an in-built metadata constructor that allows you to add additional information fields to your website, such as drop-downs, labels, calendars, and so on. It also generates search-filter shortcodes for various types of content.
5. Searching Aspects
This plugin makes it simple to search and filter material based on specific search criteria: Radio button; Range slider; Text inputs; Checkbox; Post title; Text box.
6. Plugin Adaptability
It works with the WooCommerce plugin to search and filter prices, goods, and related attributes. This plugin also allows you to search for woo items using AJAX.
Jigoshop Product: Jigoshop utilizes this plugin to give a simple search and filter approach for delivering items and services to customers all over the world.
It also supports the simple digital download plugin, which allows you to filter digital items by meta fields and taxonomies.
Price
Regular: $32.5/year
Extended: $162/year
The widget that presents all available filter settings makes the Premmerce filter plugin stand out. The plugin's effective caching technique aids in faster page loading. Users can also use it to refine their search results. It also works well with WooCommerce, which is a plus.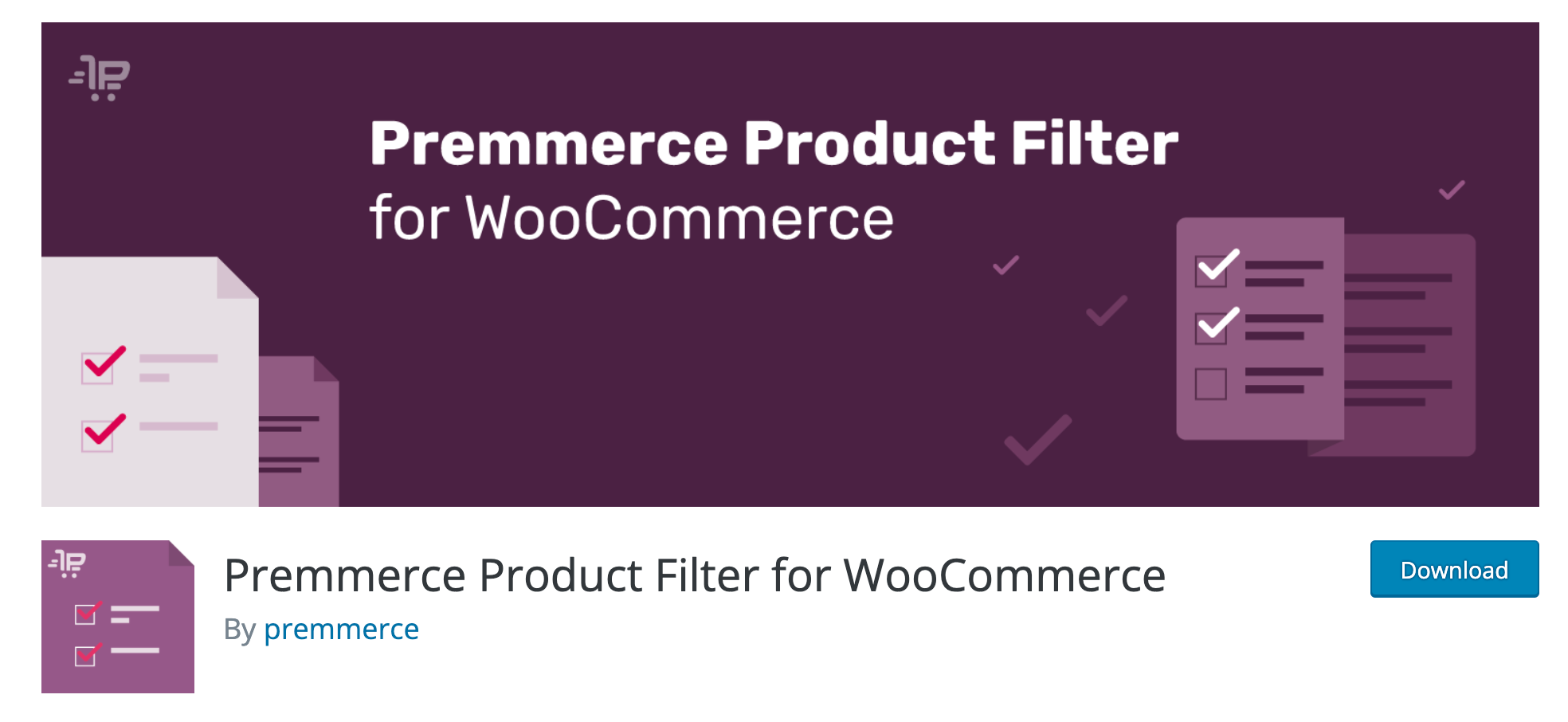 Features
Using a single widget to display all of the available filters
In one spot, you can change the parameters for each filter.
Filter by price
The Premmerce Active Filters widget is integrated with the Premmerce WooCommerce Brands plugin, which improves the caching system by only displaying accessible characteristics based on the category.
Filtering search results is a useful feature.
Price
Single site: $69.99/year
5 site: $179,99/year
Unlimited site: $459.99/year
PickPlugins' WooCommerce Product Filter Plugin is a newcomer to the field, and it's fairly simple to use. With a variety of criteria, this plugin makes searching for goods in your store a breeze for your consumers. The plugin allows you to filter goods on your store page using keywords, product categories, tags, characteristics, price ranges, and SKUs, among other options. You may also use it to filter goods that are on sale.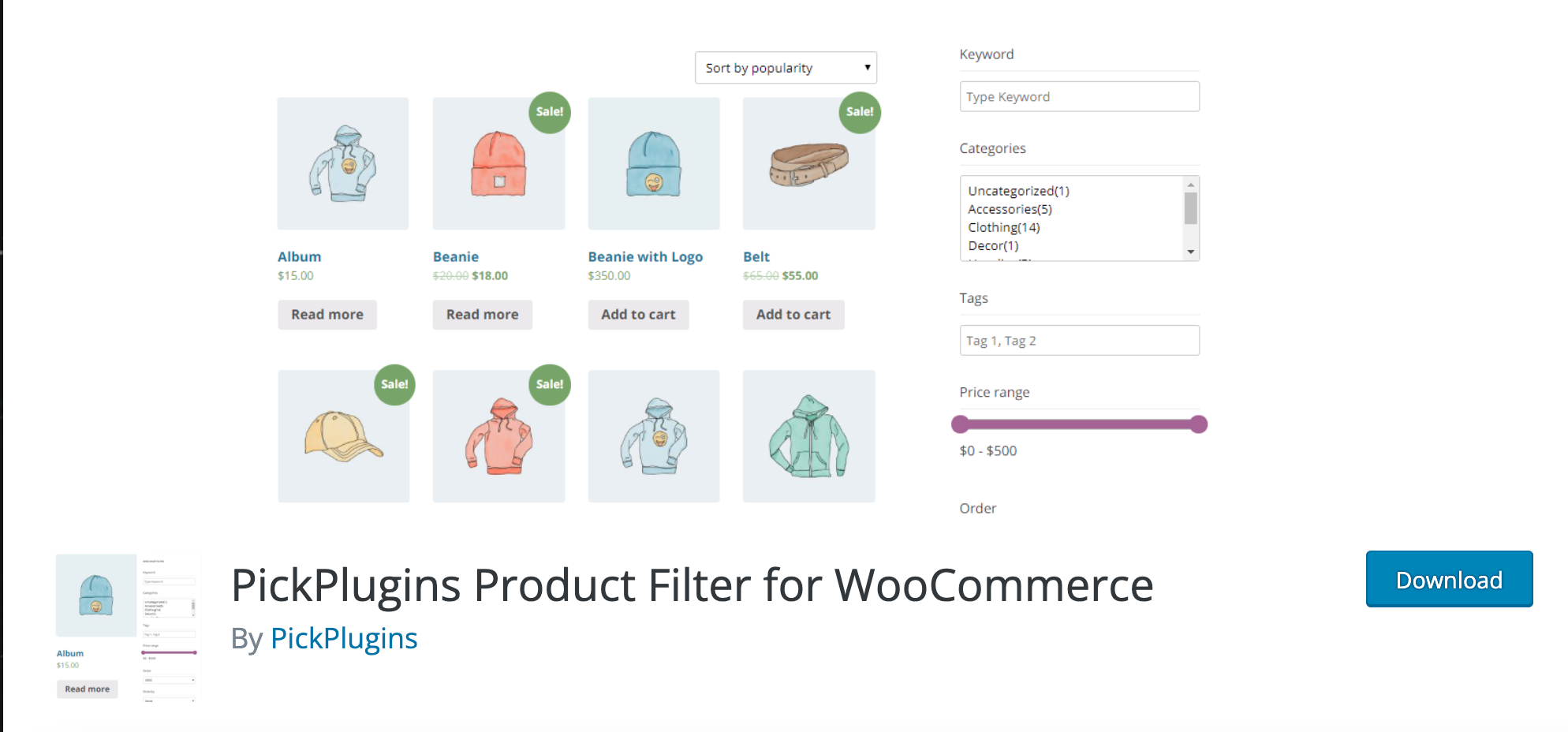 Features
Use keywords to narrow down your search.
Sort the results by product categories.
Product tags can be used to refine your search.
Filter your results by price range.
Filter by order and order by onsale product.
Filter for in-stock items
Filter results by SKU.
Price: Free
It may be tedious to buy online, especially when you have to scan through thousands of things. Customers can find goods in your WooCommerce store in a fraction of the time using Themify's product filter. It's a free application that lets users sort goods by qualities, categories, price ranges, tags, and more to your site. Customers receive live search results for goods on the website whenever a filter is applied. They can also mix and match filters.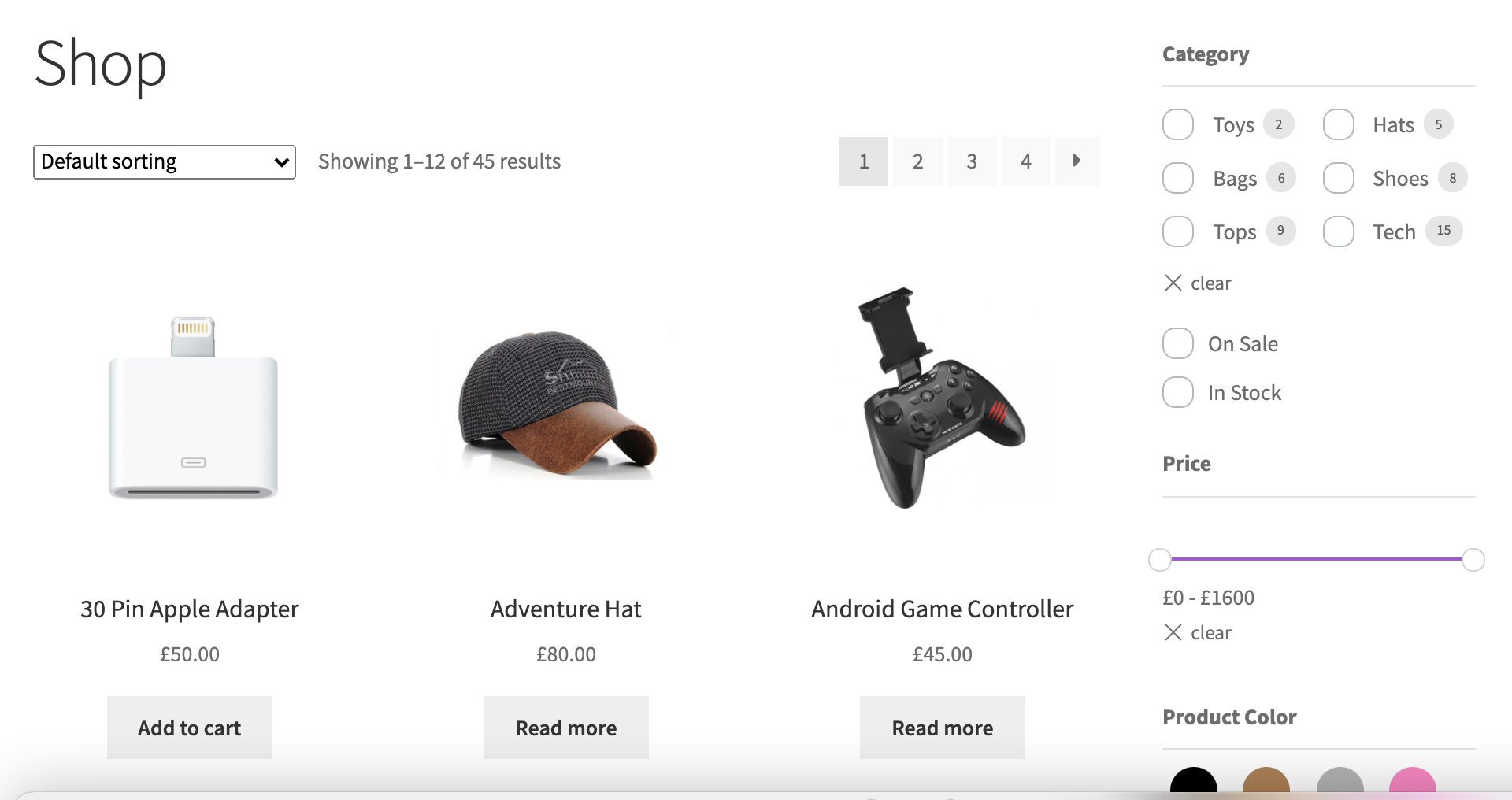 Features
Results from a live search
Form builder with drag and drop functionality
A variety of filter combinations
Works with Divi, Elementor, and Themify Builder product modules in a vertical or horizontal layout
Price: Free
Ultimate WooCommerce Filters is a WooCommerce plugin that lets you filter goods by color, size, attribute, category, or tag. A basic WooCommerce filter widget and WooCommerce filter shortcode make it simple to set up and use.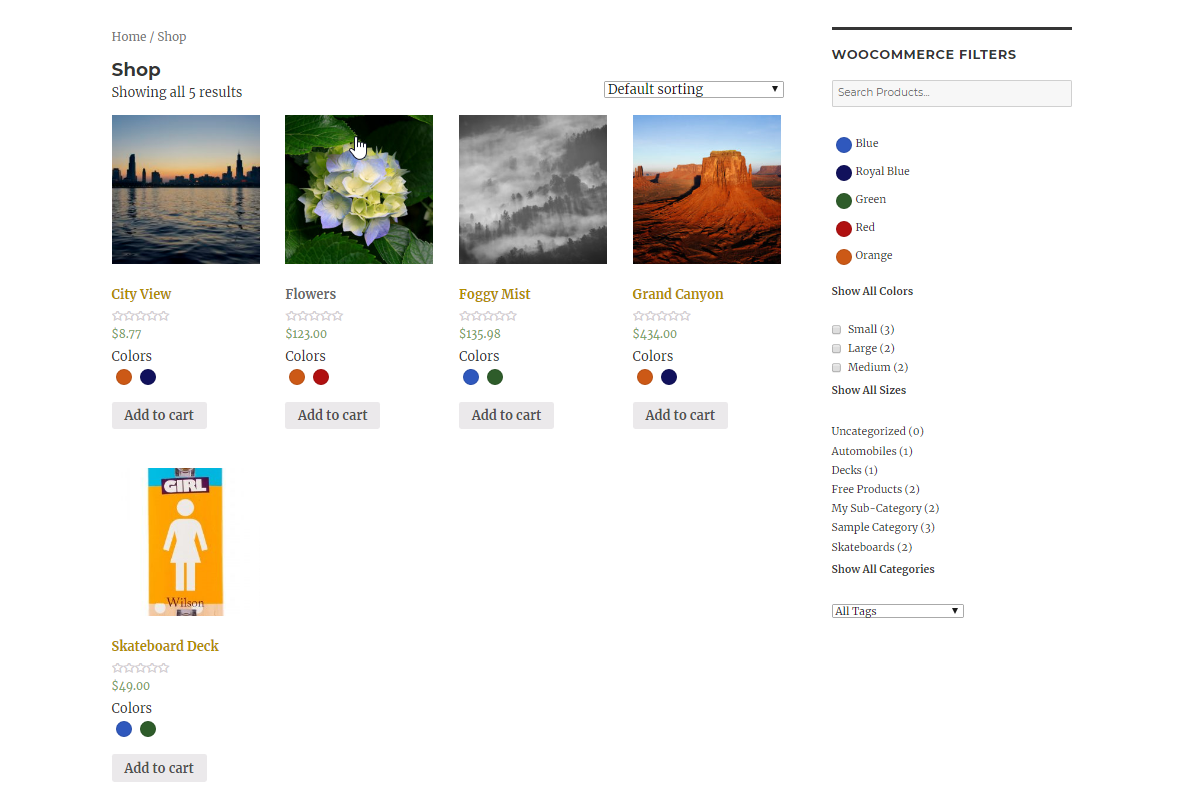 Feature
Color-code WooCommerce items, with actual colors displayed in the widget on your store page.
WooCommerce products may be filtered by size.
Filter products based on any attribute you've defined in WooCommerce.
Products may be filtered using WooCommerce categories and tags.
In the WooCommerce filtering widget, provide a smart product search.
To your shop page, add an intelligent table format/view.
Conclusion
In an eCommerce business, product filters are an essential part of the customer experience. It is the only aspect that allows customers to navigate your site and find the goods they are looking for. Filter options may be imaginatively employed for marketing goals in addition to delivering a superior user experience. You have numerous choices for setting up product filters if
New Posts
Subscribe
Stay in the know
Get special offers on the latest news from AVADA.
40k
subscribers has been joined!
Earn $10 in reward now!