4 Best NMI Gateway Plugins for WooCommerce
4 Best NMI Gateway Plugins for WooCommerce
As you know, using the right WooCommerce payment gateway allows you to increase sales and receive payments more quickly. NMI Gateway is among the best payment gateways nowadays. It is quick, trustworthy, and supports every major payment processor in order to collect payments effortlessly.
To save you time while selecting the right plugin, we have carefully created a list of the top 4 NMI gateway plugins for WooCommerce in this post.
Let's dive right in!
What is NMI Gateway?
The Network Merchants e-commerce payment gateway allows businesses to handle real-time online transactions from anywhere in the world. NMI (Network Merchants) provides merchants with all of the tools and services they need to take almost any type of payment online, making it the ideal option for accepting credit, debit, and electronic payments.
The NMI (Network Merchants Inc.) Payment Gateway is a WordPress plugin that enables the WooCommerce plugin to accept credit card payments without having to worry about the customers' credit card information that is managed by the NMI.
4 Best NMI Gateway Plugins for WooCommerce
1. NMI Payment Gateway For WooCommerce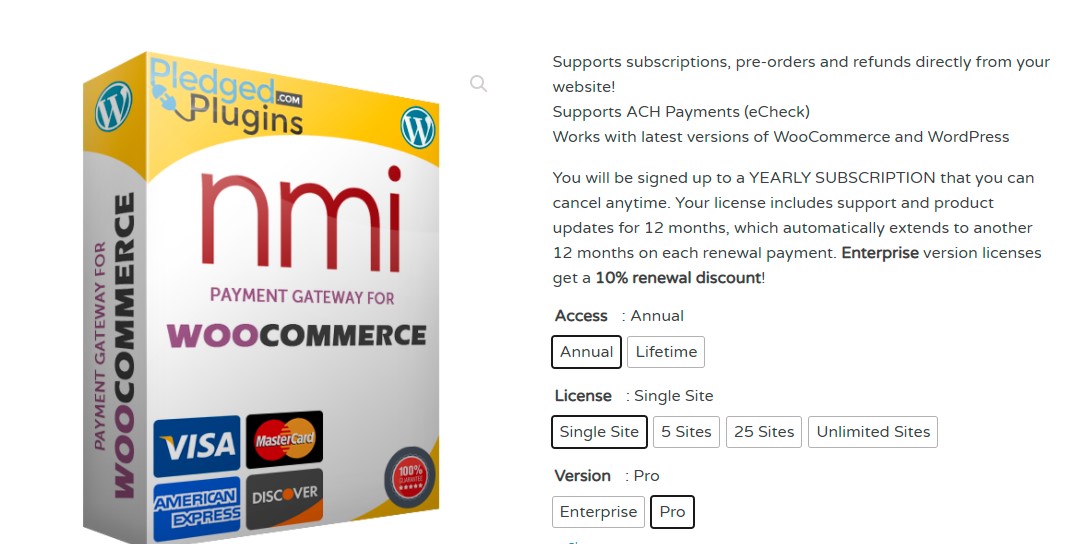 NMI Payment Gateway For WooCommerce , a Pledged Plugins product, allows you to utilize the NMI payment gateway to take credit cards and ACH (eCheck) payments directly on your WooCommerce checkout page without redirecting customers to the gateway website.
Features
Authorize Now, Capture Later: You can choose to only authorize transactions now and capture them later.
Restrict Card Types: You can choose to restrict specific card types, in which case the plugin will hide its icon and display an appropriate error message at checkout.
Refund through Dashboard: Refunds can be processed either full or partly right from your WordPress dashboard! There is no need to look for orders while logging in to the gateway.
Gateway Receipts: You can send receipts from your merchant account if you want to.
Logging: Enable logging so you can troubleshoot any difficulties that emerge.
Process Subscriptions (Enterprise plan): Use with the WooCommerce Subscriptions plugin to build and manage products with recurring payments – payments that will provide you with predictable residual revenue.
Setup Pre-Orders (Enterprise plan): Use with the WooCommerce Pre-Orders plugin to allow customers to order products before they are available by entering their credit card information. When the pre-order is ready, the card is automatically charged.
Pricing
You can pay for this plugin in two ways: annually and lifetime. The annual price of the Pro plan is $39.99. Meanwhile, the Enterprise plan costs you $79.99 per year.
Regarding the lifetime option, the Pro and Enterprise plans are charged at $149.99 and $249.99 respectively.
2. XL NMI Gateway for WooCommerce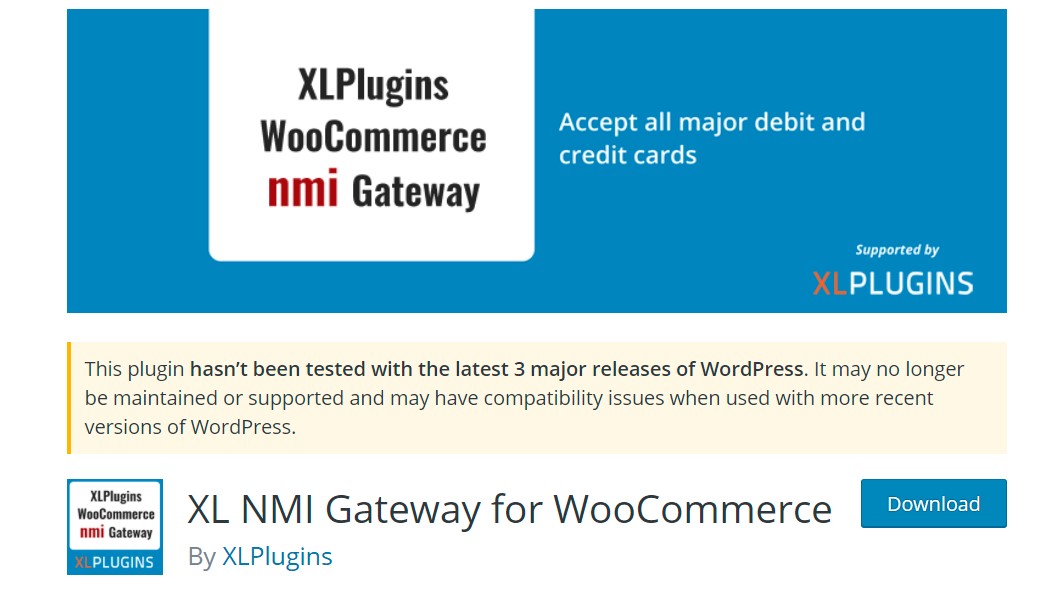 XL NMI Gateway for WooCommerce is a free plugin made by XLPlugins. It enables you to take Visa, MasterCard, American Express, Discover, JCB, and Diners Club credit card directly on your WooCommerce store.
Features
Secure Credit Card Processing: Use Collect.js to process payment information from your customers using a PCI compliant process.
Tokenization or Customer Vaulting.
Compatible with the official WooCommerce Subscriptions plugin.
Add/ Remove Saved Cards
Refunds from WooCommerce Single Order Screen
Pricing: Free
3. WP NMI Gateway PCI for WooCommerce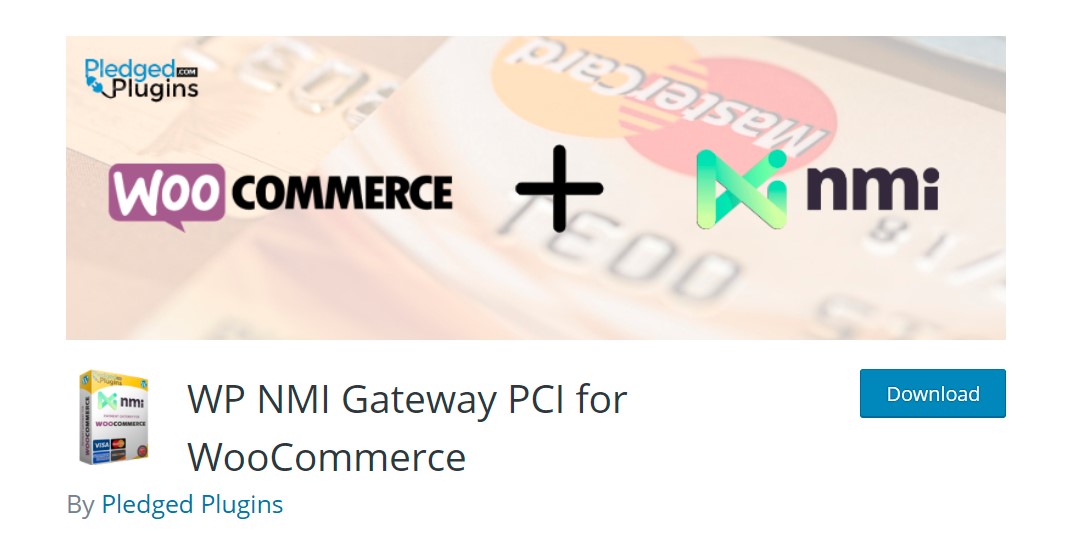 WP NMI Gateway PCI for WooCommerce is a product of Pledged Plugins that offers business owners all the tools they need to accept nearly every kind of payment online.
Features
Secure credit card processing
Refund via dashboard
Restrict card types
Gateway receipts
Logging to debug issues
Pricing: Free
4. Network Merchants Payment Gateway for WooCommerce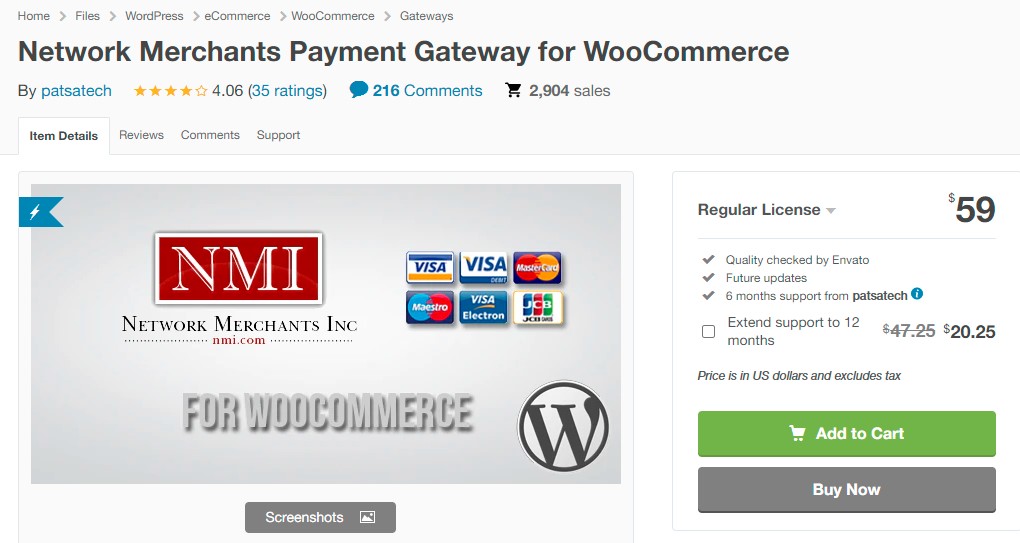 Network Merchants Payment Gateway for WooCommerce allows your WooCommerce business to accespt credit card payments without having to worry about the information of customer' credit cards.
Features
Customers stay on your site while purchasing
Add a custom title for gateway
Add custom description for gateway
Support Refunds from Edit Order Page
Can choose between Authorize Only and Sale Transaction Type
Select the card types supported by your account
Pricing
The regular and extended licenses cost $59 and $179 respectively.
Final words
So this is our list of the four best NMI gateway plugins for WooCommerce. Hopefully you find this article helpful and please comment down below if you have any questions. Thank you for reading and we'll see you in the next article.
New Posts
Subscribe
Stay in the know
Get special offers on the latest news from AVADA.
40k
subscribers has been joined!
Earn $10 in reward now!