4 Best Nested Category Layout Plugins for WooCommerce Stores
Last updated: September 01, 2023
To add subcategories to a Nested category, utilize the Nested category type. When a category is set to Nested, it also applies to all of its subcategories. The direct parent is the category that has been assigned to the Nested type. To put it another way, it isn't nested within itself. Although WooCommerce's product categories are a great feature, their presentation isn't always ideal. In this post, you'll discover how to use a nested category layout plugin to group product categories and subcategories, as well as how to personalize your category listings. The following introduction of the 4 Best Nested Category Layout Plugins will be beneficial to your WooCommerce Stores.
Why do you need Nested Category Layout Plugins for WooCommerce Stores?
Your customers will experience multi-click navigation if you enable'sub-categories' on the shop and catalog pages of a WooCommerce store by default. Customers first must click on the category, then the subcategory, and lastly the product to go to the product page. That's at least three clicks! That would waste customers' time and decrease their interest in buying at your online store, resulting in lower sales revenue and lower customer satisfaction.
Nested Category Layout Plugins for WooCommerce Stores, on the other hand, address this issue by presenting products in subcategories in a more organized manner. Have a look at: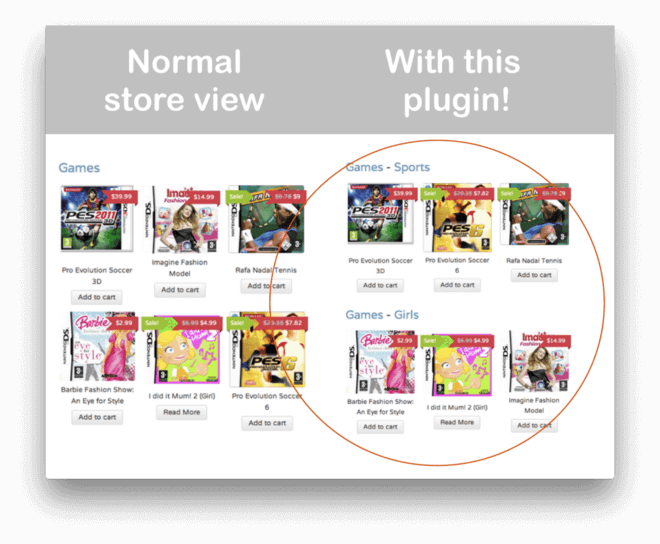 You can reduce the number of clicks and get your product to your customers faster by using Nested Category Layout Plugins. You also can decide which pages (shop and/or category pages) should use the cleaner layout. You may also choose which categories should use the 'nested' style rather than the WooCommerce default.
4 Best nested category layout plugins for WooCommerce stores
You may now display subcategories on the shop page using this plugin. This will make it easier for people to find products and will help you manage your shop page more properly. The plugin will assist you in selecting specific categories for inclusion in the nested layout. Essentially, this plugin improves the customer experience on your WooCommerce site by providing an intuitively navigation option.
Key features:
Easily display products on the catalog with intuitive sub-category groups.

Easily display products on the shop pages with intuitive sub-category groups.

Allow displaying any group of sub-categories and categories

Define how many products will display per category
Price: $25 (Premium support is not included in the single site license.)
Note: Join the WPspring Member Club for an even greater deal. You'll get this plugin and access to every other plugin on wpspring.com for just $15 a month.
SkyVerge's Nested Category Layout allows you to display products grouped by sub-category on the shop and catalog pages.

This plugin creates a simple and appealing catalog display for your clients by splitting products down into subcategories. Here are some images of the shop page before and after utilizing Nested Category Layout: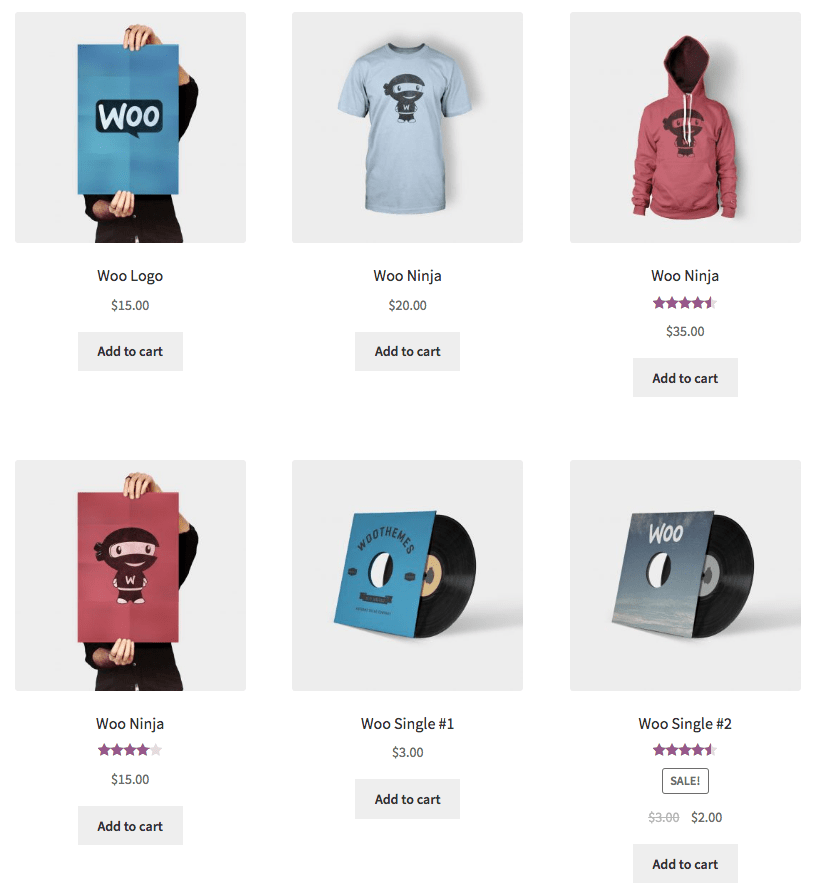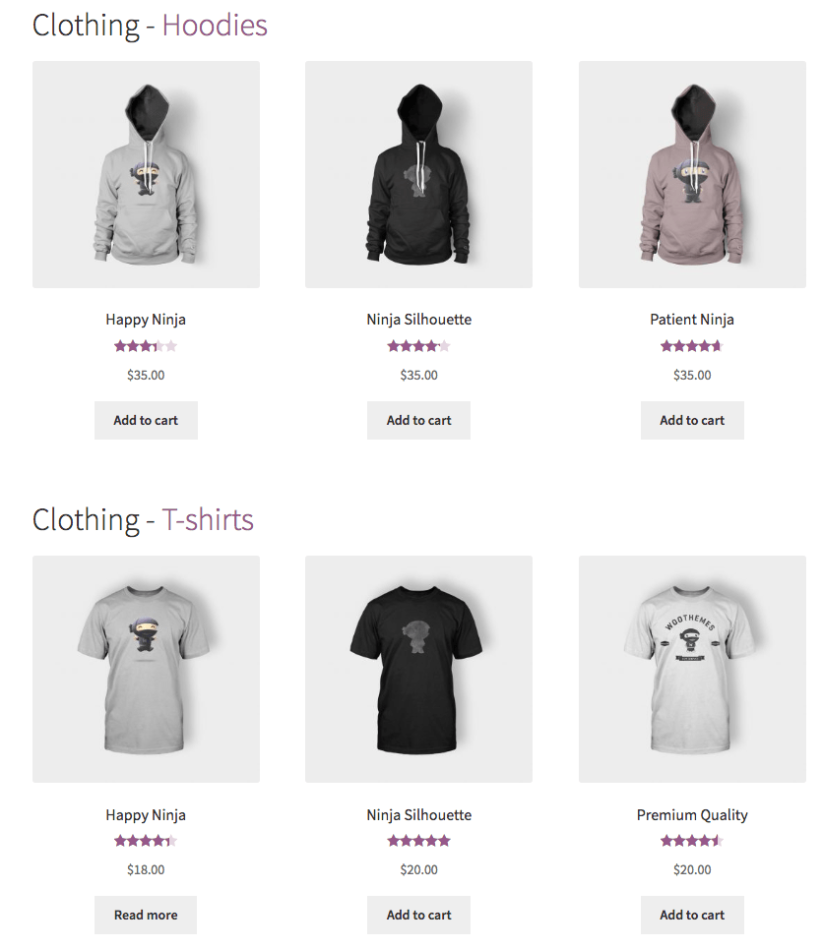 Subcategories are commonly displayed on shop and category pages in WooCommerce (or subcategories and products, but this can look messy). While this is a convenient option, it needs buyers to browse products by clicking on categories, then subcategories, as shown below: Key features:
Provide an intuitive structure that organizes products by subcategory will increase consumer happiness and sales.

Choose which category pages to change and which to leave alone.

Configure the quantity of products displayed per subcategory on the shop and catalog pages with ease.

Compatibility with WooCommerce Themes and the Genesis Framework has been established.
Customizing and supporting additional themes and frameworks is possible thanks to the architecture's flexibility and override ability.
Price: $79.00/year (30-day money-back guarantee)
The YITH WooCommerce Category Accordion plugin allows you to display product categories in a visually appealing and effective manner. This simple and effective plugin will give your users a crystal clear overview of your shop's available items.
This plugin also allows you to quickly construct a widget that lists the categories of products for sale in your e-sidebars commerce's. You'll be able to present all categories and subcategories without visibly dragging down the page, making navigating easier for your shop's clients, owing to the accordion feature. You can easily choose to show how many products a category has, hide empty categories, show the accordion closed or open by default, and many other choices, depending on your needs.

Key feature:
Select a specific number or simply display the categories of a specific hierarchical level.

Choose between customizable menus and tags for your shop's products.

Prevent rewriting the code in order to change the graphics of widgets and shortcodes.

Allow you to add accordions to every page of your site, while the features and options remain the same.

Choose from three alternatives to fulfill your requirements: by ID, by name, or by the number of elements in the category.

Enable you to select which pages or posts you do not want them to show on; additionally, you will be able to conceal all categories with no elements.

Freely use WPML's powerful tool to effortlessly translate the plugin.
Price: € 59.99/ year
1 year of updates and support

30-day money-back guarantee
The WooCommerce Collapsing Categories plugin allows you to build a list of product categories and subcategories that can be expanded and collapsed.
This plugin can be used as a widget or a short-code to highlight the current product's parent category and subcategory.

Key features:
Allow you to adjust the speed and volume.

Toggle the Expand/Collapse option on the accordion.

Provide a widget and a short-code option.

Allow you to hide empty categories, sort, and order.

Provide completely translation.

Provide Multi-site support.

Provide friendly search engine optimization.

Custom selection to override styles without altering the CSS files if necessary.

Support all browsers, including Firefox, Chrome, Internet Explorer, Safari, and others.
Price: $0 (free)
Conclusion
In conclusion, these plugins above allow you to choose which categories should be nested and which should be displayed regularly. This layout can be displayed on both store and category pages, or only on category pages. By utilizing these capabilities, your WooCommerce Store will save time for customers and increase their happiness, resulting in higher sales revenue for your WooCommerce Store.
We hope that our guide to the 4 Best WooCommerce Stores Nested Category Layout Plugins was helpful in categorizing products in your WooCommerce store. If you have any suggestions or concerns, please leave a comment!
---
Roger has over 4 years of experience in SEO. While in college, he started learning about SEO and showed a passion for the field. Right after graduation, he embarked on SEO projects and achieved great success. After years of working, he has learned deeply about SEO. Currently, he is the SEO team leader at avada.io