10 Best WooCommerce Name Your Price Plugins in 2021
10 Best WooCommerce Name Your Price Plugins in 2021
Many e-commerce business owners find pricing to be a difficult task. When you own an online business, you may frequently question if your pricing plan is optimal. There are many pricing models in e-commerce, such as fixed price, bundle pricing, subscriptions, name your own price, etc.
Today's article will focus on the name your price model and give you a list of 10 best WooCommerce name your price plugins in 2021.
Let's dive right in!
What is the "Name Your Price" Pricing Model?
A fixed-price method allows sellers to establish a fixed price for each item. Customers can search for the product online and purchase it if the price is acceptable. On the other hand, if a customer does not agree with the pricing, they will just hunt for alternatives.
The name your price strategy, also known as a reverse auction, in contrast, allows buyers to submit a counteroffer if they disagree with the seller's suggested price. The seller then can choose to accept or reject the counteroffer. The seller can make a new offer to the shopper, and they will strike a deal if both sides agree on a price.
Advantages of the "Name Your Price" Pricing Model
The "name your price" model is a unique technique to test the market for a new product that has not yet been released. You may start by soft-launching the product on a trial basis, allowing users to pay whatever they think it's worth. After you've gathered enough information, you'll be able to produce a more accurate estimate and determine the pricing right for your product.
By selecting the "name your price" option, you increase the possibility of customers making a counteroffer, and you may wind up striking a deal, which is excellent for your business in the end. The most crucial thing is to set your threshold in order to determine how low your prices can be. Ultimately, generating a small profit is preferable to making no profit at all.
Additionally, the "name your price" strategy enables you to accept donations and host fundraisers from your business. In recent years, this has grown in popularity, and many websites now offer a "Donation" button where visitors may donate money to support a cause.
Top 10 WooCommerce Name Your Price Plugins in 2021
In this section, let's check out our list of the top 10 WooCommerce name your price plugins in 2021.
1. ELEX WooCommerce Name Your Price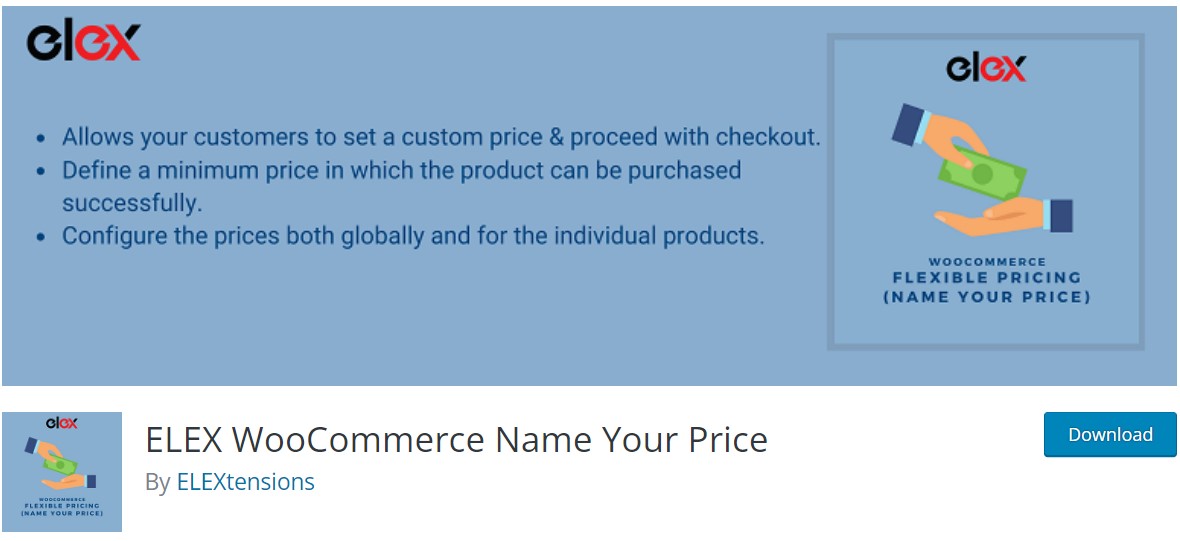 ELEX WooCommerce Name Your Price is a fantastic plugin for setting up WooCommerce name your price on your WordPress site. You may establish a minimum price for a product and let buyers decide how much they want to pay. After entering a price, your consumers will be able to check out from your website. This might be tremendously beneficial for fundraising, contributions, and market research, etc.
The plugin allows you to name your price for each of your products individually or globally for all products. You can opt to show the usual pricing as well as the lowest suggested price.
Features
Allows customers to enter a custom price (name your pricing) and complete the checkout process.
Define the lowest price at which the product may be successfully purchased.
Configure the pricing for all items as well as for specific products.
WooCommerce simple and variable products are supported.
Easy to configure.
Pricing
Free
2. YITH WooCommerce Name Your Price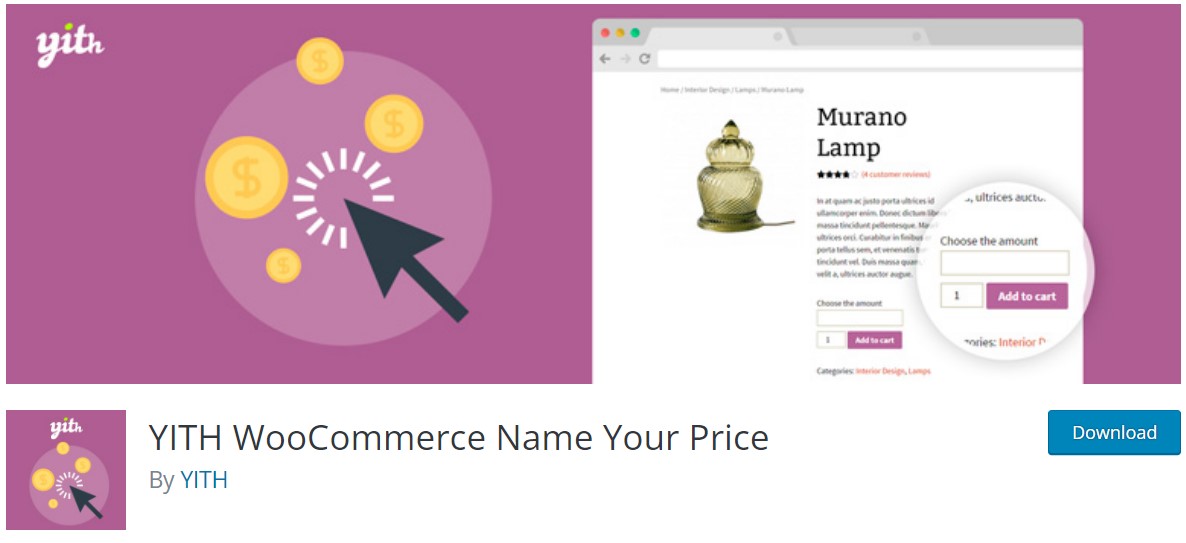 YITH WooCommerce Name Your Price enables your customers to specify their own pricing for your items. You can use this plugin to provide a pleasant customer experience if you're selling personalized items or collecting donations. The plugin allows you to customize the Name Your Price option on your items on a per-product basis.
It also enables you to customize the button's design. To establish minimum and maximum limits for flexible pricing, you'll need the premium version of the plugin.
Features
Allows your consumers to name their own pricing.
From the product settings, you can easily turn on and off the name your price option.
Customize the name your pricing is displayed on the Shop page.
Pricing
Free
3. Booster for WooCommerce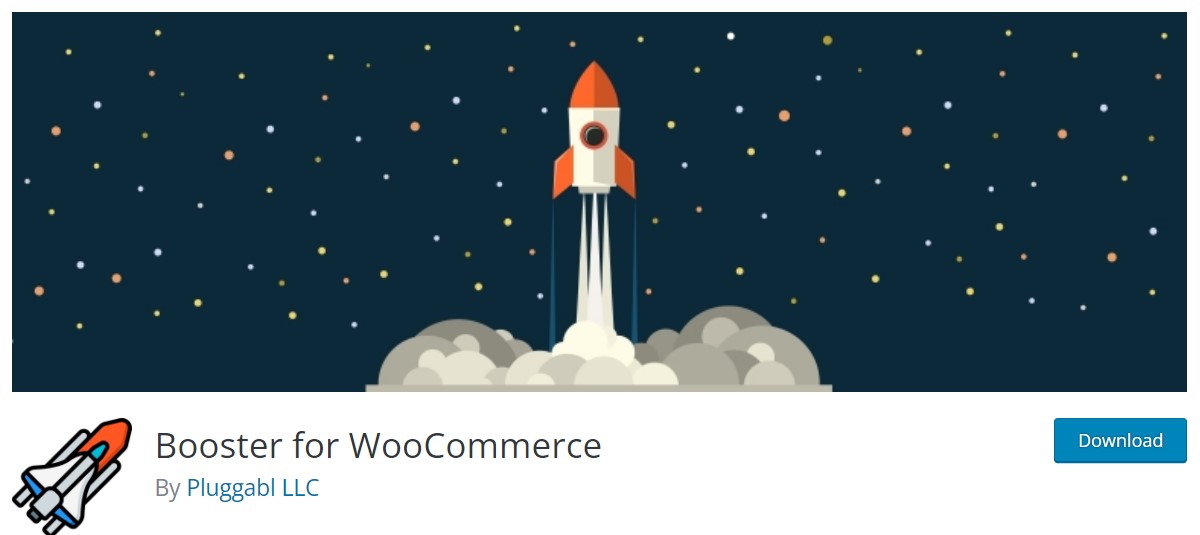 Booster for WooCommerce is an all-in-one plugin for integrating several functionalities into your WooCommerce store. The plugin assists you in setting up the name-your-price option on your store, in addition to numerous capabilities to customize your product characteristics and entities.
The name-your-price option is available for all individual products in this free version of the plugin. But with the premium version, you can alter the appearance of the form and buttons, as well as apply the option globally.
Features
Create a feature on your website that allows customers to offer their own prices for your items.
Apply the option to individual products.
Pricing
Free
4. Product Open Pricing (Name Your Price) for WooCommerce

Product Open Pricing for WooCommerce can be downloaded from the WordPress repository to set up name your price option. This free version allows you to configure this option only for one product.
With this plugin, you can also define a suggested price, as well as minimum and maximum price limits. Furthermore, it provides a number of customization options for customizing the appearance of this feature on the frontend. On the Shop and Category pages, you can choose to show the name-your-price option. It also allows you to adjust the frontend template and display the product's original pricing.
Features
Provide the name your price option on your WooCommerce store.
Set a suggested price as well as minimum and maximum price limits.
Provide a variable price option on the Shop and category pages as an option.
Customize the frontend's appearance.
Pricing
Free
5. WPC Name Your Price for WooCommerce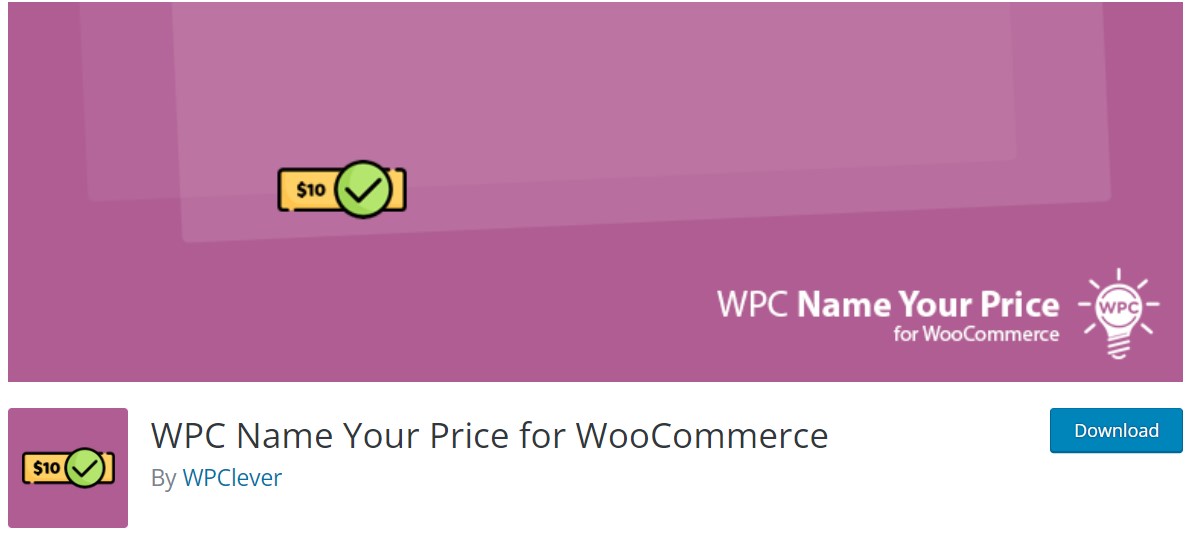 WPC Name Your Price for WooCommerce allows you to set up open pricing on your WordPress e-commerce site. Customers can specify a certain price or make a gift of any amount.
The plugin has an easy-to-use UI that makes integrating the functionality into your website a breeze. It also has customization options, such as a suggested price, a minimum limit, and a name for your price choice.
Features
Simple and user-friendly interface
Two types of pricing choices: default input, select a value
Set up predefined price choices with min/max price & steps
Possibility to use decimal price values
Enable/Disable at the system or product level
Enter separate values or a value range for prices
Customize the text suggested price, price, and minimum price
Pricing
Free
6. Bargain Bot for WooCommerce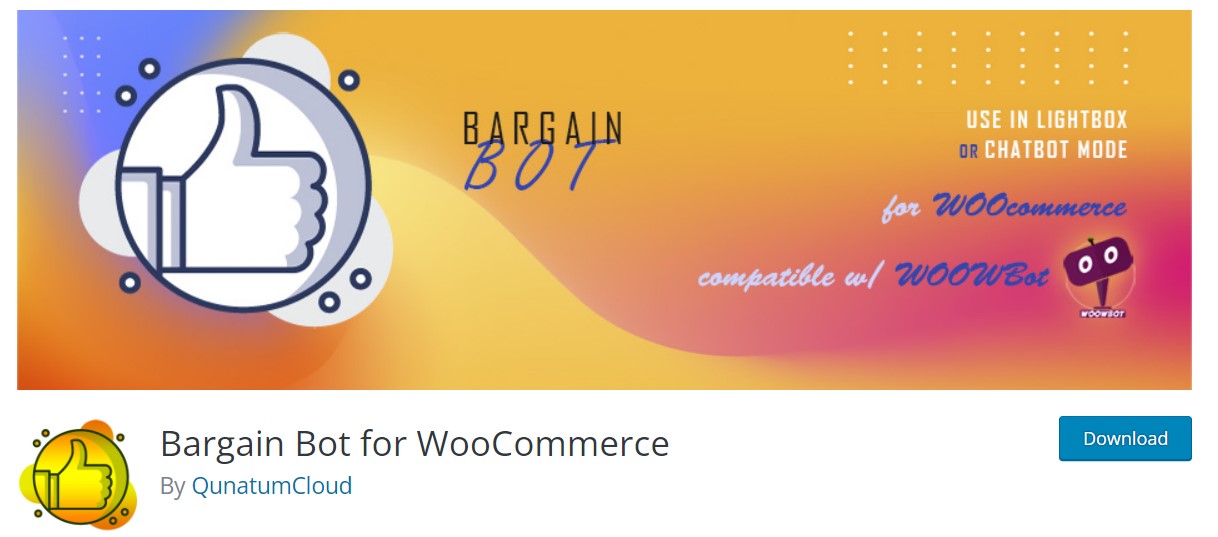 Bargain Bot for WooCommerce allows you to establish a minimum price and allow consumers to bid higher if they like. When customers offer a price, the store owner will receive an email. Customers can proceed to finish the check out at the price they gave after the shop owner accepts it.
You may show the name of your price choice on specific product pages using the free version of this plugin. On the other hand, the premium version enables you to set it up as an exit-intent modal window.
Features
Enable/Disable Bargaining Bot (hide the make your offer button on the single product page)
Enable for specific products/ by adding Minimum Acceptable Prices or enable globally
Change all languages from the plugin settings
Supports both WooCommerce Simple Products and Variable products.
Pricing
Free
7. Name Your Price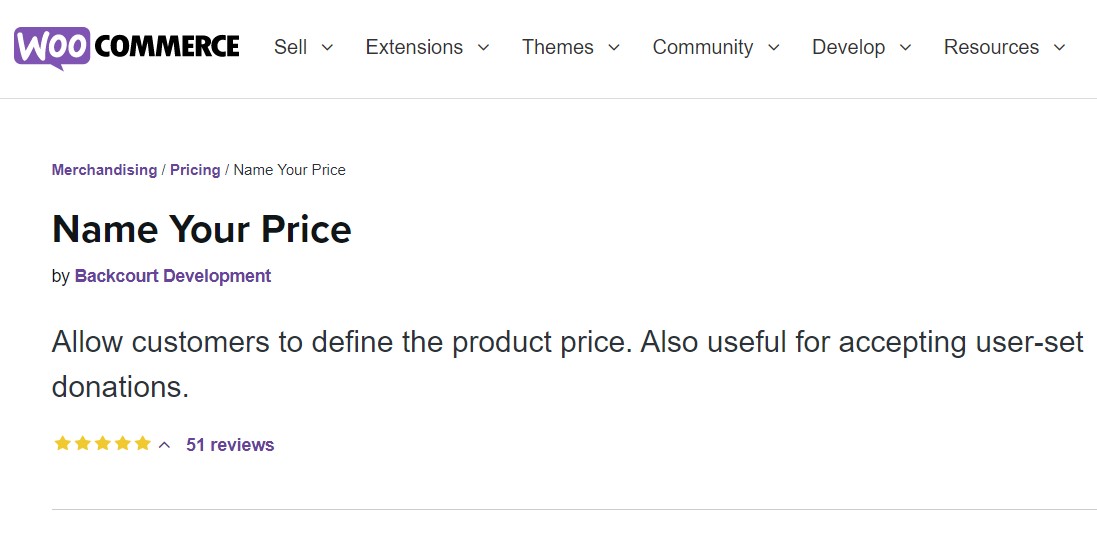 Name Your Price developed by Backcourt Development gives your customers freedom in deciding a price for your products. The plugin is an excellent solution since it allows you to recommend a price for a product that you think appropriate, as well as giving consumers total flexibility over pricing based on their preferences.
This plugin may be of great assistance to you in a variety of techniques. You can collect donations or create a unique pricing strategy that your customers would like. You'll also be able to do market research to determine how much buyers are prepared to pay for a product you haven't yet launched.
Features
Set price for your items, including WooCommerce variable products, based on the preferences of your customers.
Make a pricing suggestion.
Set a minimum price for the item.
Use for subscription products with different billing periods.
Allow consumers to print customized gift vouchers and redeem them in your physical store.
Pricing
$29.40 (on sale)
8. WooCommerce Product Add-ons Ultimate

WooCommerce Product Add-ons Ultimate allows you to charge customers for extra options you add to your product pages. Thanks to this plugin, your customers will be able to personalize items before purchasing them.
Furthermore, this plugin lets customers offer their own pricing for items. You may either give consumers complete flexibility over pricing or set a minimum and maximum range. One of the plugin's highlights is allowing consumers to specify only a portion of the price rather than the complete cost.
Features
Display extra options to allow customers to customize your products.
Allow buyers to choose their own prices for the items they purchase.
Set minimum and maximum ranges to control the price.
Employ conditional logic to display name your price fields.
Allow customers to have partial price control.
Additional fields can be assigned to specific products or the whole catalog.
Pricing
The Basic and Pro versions of the plugin cost $69 and $119 respectively.
9. WooCommerce Pay Your Price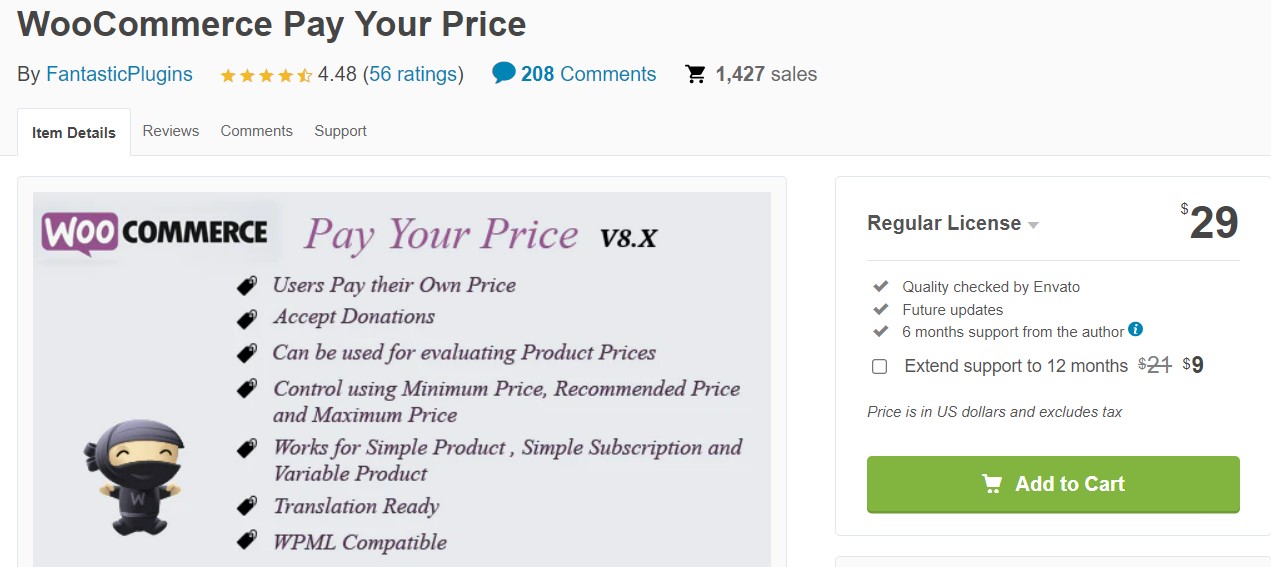 WooCommerce Pay Your Price allows your customers to define the price of your products. It allows you to specify minimum and maximum ranges, as well as pricing recommendations. You have complete control over how much influence your consumers have in deciding your store's pricing patterns. You can also utilize this plugin to accept donations on your website.
Features
Accept Donations using Pay Your Price by setting your price as Minimum Price and the Donation + Minimum Price as Recommended Price.
By letting your users pay their own price you are giving your users more importance which is likely to get you More Sales.
Test the Market to see what Prices your Products command.
Enable Pay Your Price only for the Products of your choice.
You can force users to pay within a range by giving a Minimum and Maximum Price. You can set Recommended Price as guidance.
Pricing
The regular and extended licenses are charged at $29 and $290 respectively.
10. Offer Your Price for WooCommerce

Offer Your Price for WooCommerce is a feature-rich plugin that enables you to do many different things from activating the "name your price" option for consumers to setting a suggested price and a minimum and maximum limit. You can also customize the field labels, button texts, and messages.
Another useful feature is the ability to quickly enable the "name your price" model for all products with just one click. You can also specify a minimum number of offers to consider. Furthermore, the plugin has two distinct features. First, it enables you to create rules that apply to a variety of pricing ranges. Second, by simply returning the original offer, it allows you to deal with multiple offers from a single customer.
Features
Set a minimum and maximum price limit, and if the user does not reach the minimum price limit, send auto-generated offers.
Obtain donations or raise funds through crowdfunding
Set custom messages and customize button text and labels.
Set separate rules for various pricing ranges.
Tackle multiple offers by a single customer
Pricing
The plugin costs $49 per year for a single site and $149 for lifetime use on a single site.
Final Words
As you can see, while the traditional pricing system has been around for a long time and has produced excellent outcomes in some cases, the 'name your price' approach has some distinct advantages. This strategy can be extremely beneficial for businesses who are considering pricing for new products, crowdfunding, or accepting contributions.
We hope you found our list of the 10 top WooCommerce name your price plugins in 2021 useful.
Thank you for taking the time to read this post! And do let us know if you have any questions or want to share with us a plugin you've used in the comments section below.
New Posts
Subscribe
Stay in the know
Get special offers on the latest news from AVADA.
40k
subscribers has been joined!
Earn $10 in reward now!