15 Best WooCommerce Plugins for Real-time Shipping Rates
15 Best WooCommerce Plugins for Real-time Shipping Rates
Product shipping rate has become an integral part of any eCommerce business. It exerts a direct impact on the store's conversion rates as well as customer acquisition. Currently, real-time shipping rates are available in most WooCommerce businesses on account of unlimited benefits. Hence, store owners are also on the way to look for a perfect plugin to set up this kind of shipping rate.
However, there are tons of plugins out there to assist you in setting it up. Then, you might be confused about what you should choose and what perfectly fits your store. As we understand deeply your need and concern, we have helped you narrow down to come up with the 15 best WooCommerce plugins for Real-time Shipping rates. Now, let's thrive in scrutinizing each of them and choose the one that works best for your store.
15 Best WooCommerce Plugins for Real-time Shipping Rates
1. Order delivery date for WooCommerce
Customers are often keen on knowing when they can receive their products after an order on your website. And you should also know that a lot of customers decide to place an order based on their estimated date of delivery. As a result, by displaying your estimated delivery date, coupled with myriad delivery options, you could encourage your consumers to make a purchase. And that is what the plugin Order delivery date for WooCommerce could do.
This plugin can be used to configure or manage the estimated time of delivery, allowing you to display when you deliver products or items. What is more, you can limit your orders and delivery that customers can place per day. Customers could also check when they will get their orders or choose what day they want their products to be shipped on the store's checkout page. Such delivery options promise to provide a unique shopping experience for customers.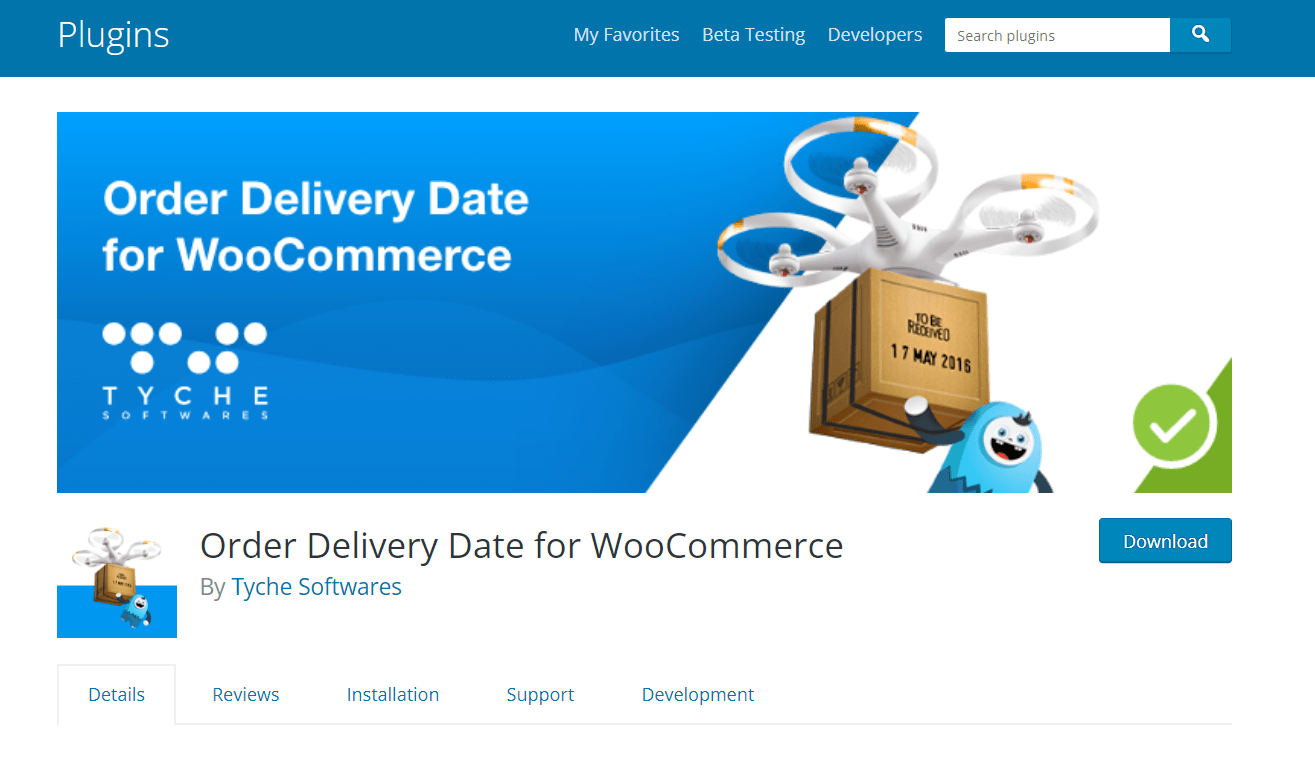 Main features
Be able to check customers' estimated delivery day

Assist store owners in setting up myriad shipping options

Offer the ability to customize the shipping time

Allow store owners to limit orders and shipping that can be placed by customers per day

Disable the shipping options for featured and virtual products
Pricing: Free
2. WooCommerce ShipStation Gateway
When it comes to the best WooCommerce plugins for real-time shipping rates, this list would not be complete without mentioning WooCommerce ShipStation Gateway. As its name indicates, it has become one of the most popular tools to help WooCommerce store owners deal with shipping rates and options. With the ability to streamline the process of order fulfillment for tons of online retailers, this plugin has been a helpful hand for managing, importing, and exporting orders.
Now, use it and integrate your online store with ShipStation services for handling everything, including importing or batching label creation, or communicating with your customers. Moreover, this also helps you to shave numerous hours off the fulfillment process, thanks to the sophisticated automating feature.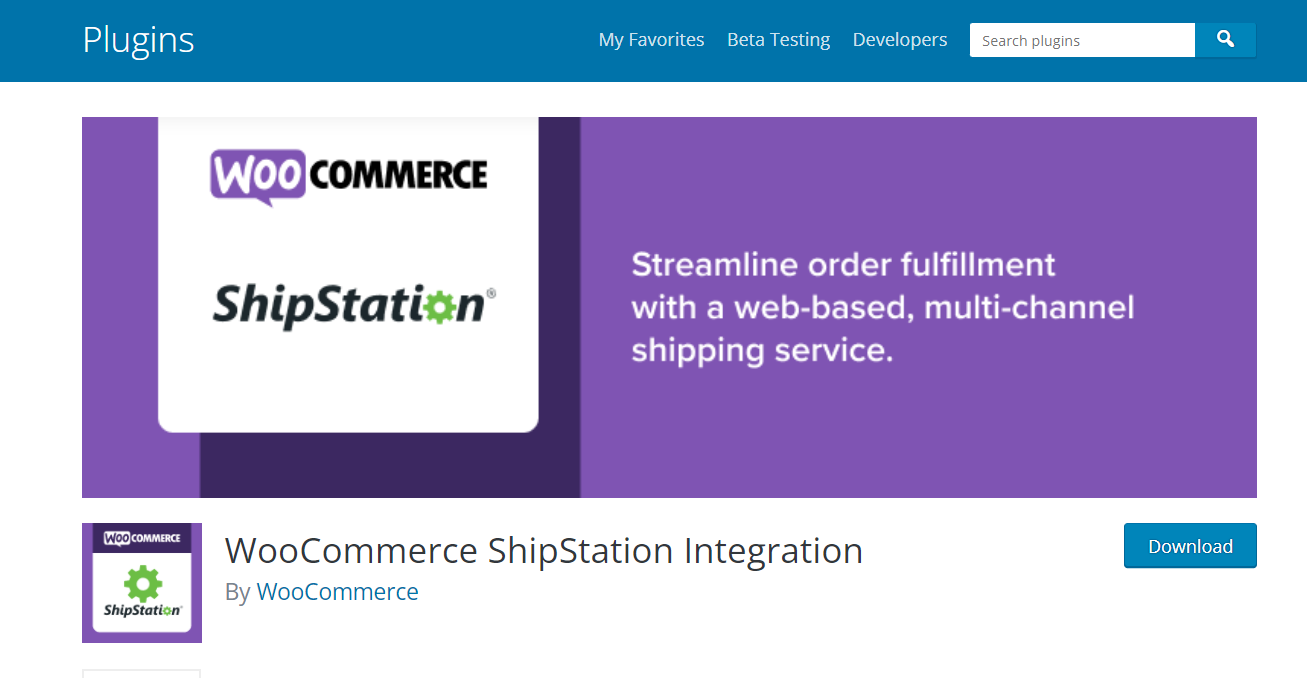 Main features
Offer feasible customization to fit your business regardless of the size

Assist store owners in importing orders, batching label creations, and implement communications with their consumers

Come with the flexibility to use on the mobile app, including both iOS and Android

Provide the ability to integrate your store with ShipStation services for advanced customization
Pricing: Free
3. ELEX WooCommerce USPS Shipping Plugin
In case your WooCommerce store is currently using USPS as the shipping carrier, then you are highly recommended to use the plugin ELEX WooCommerce USPS Shipping Plugin. There is nothing quite like automating your shipment process and displaying real-time costs on the checkout as well as cart page. Furthermore, you could also be able to install the fallback rates. These kinds of rates are useful for displaying your products' shipment cost in case of a failing API.
If your store is currently applying a shipping discount to consumers, do not hesitate to use this plugin to display normal shipment rates and the discounted rates. As soon as customers add an item or product to their cart, this plugin will identify that customer's location with the use of a zip code. Hence, it will display the shipping cost later.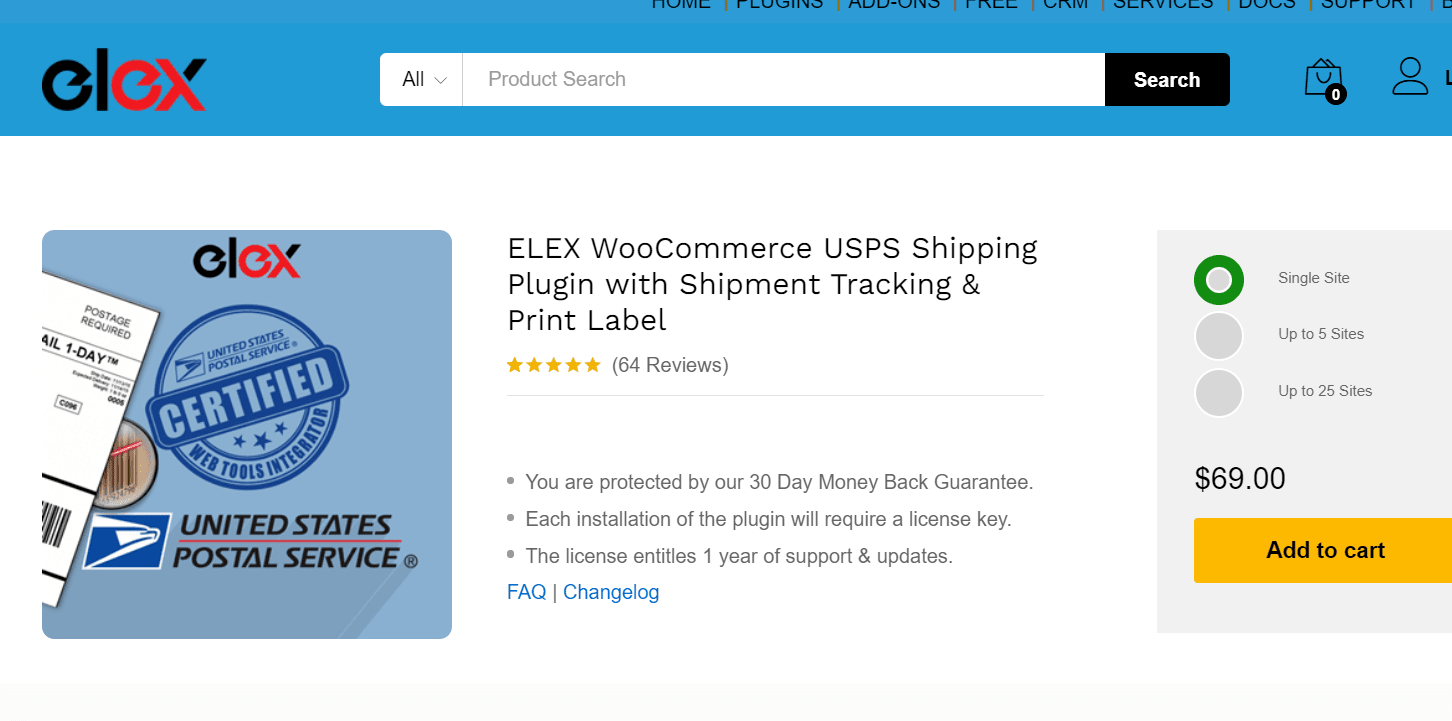 Main features
Allow store owners to display their real-time shipment cost on the cart and checkout page

Be able to customize the shipment method title easily, along with displaying estimated shipping time

Come with the tracking features for tracking each delivery

Installing the fallback rates in case API fails to work

Help store owners print shipping labels
Pricing: Free version and $69 annually for premium versions
4. WooCommerce Advanced Shipping
Another not-to-be-missed plugin for real-time shipping rates is WooCommerce Advanced Shipping. It is undeniable that it is one of the most powerful shipping tools to help you create different shipping methods as well as multiple shipping conditions. Let's handle everything for your store from supporting conditions for shipment rates, including product weight, category, shipping class, user roles, and item quantity. Additionally, extending with advanced pricing or shipping zones is now much easier thanks to this plugin's performance.
In particular, you could also choose who to charge the rate, or set multiple conditions determined by your shipment needs using User Interface. Now, use this perfect plugin to create a helpful table shipment rate based on created conditions.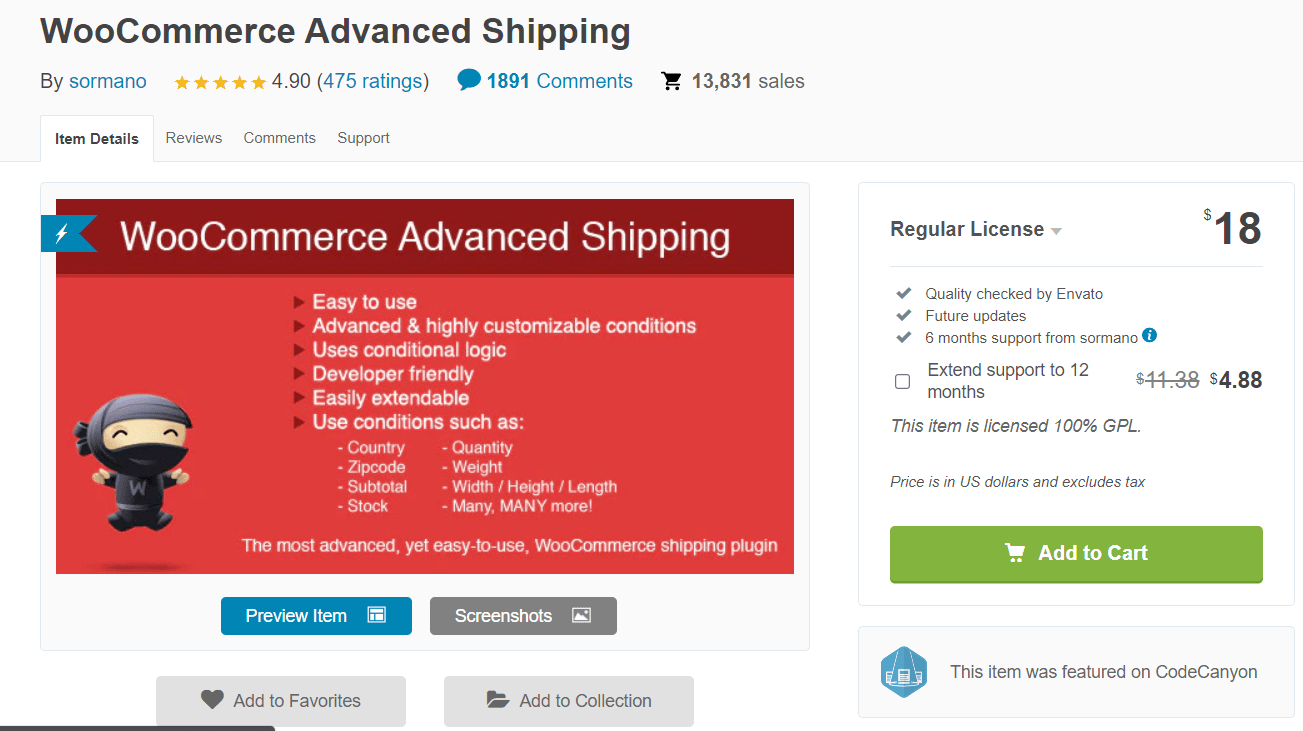 Main features
Be user-friendly with no coding required and come with an easy user interface

Offer unlimited shipment methods

Assist store owners in creating a table rate shipping

Set up delivery based on created conditions such as states, countries, volume, or weight
Pricing: Both free versions and advanced versions with $18
5. WooCommerce Table Rate Shipping Plugin
WooCommerce Table Rate Shipping Plugin is a must-have solution if you are looking for a great plugin to solve real-time shipping rates. Despite costing you no cent with free versions, it still comes with incredible features for you to construct different shipment rules. Owing to its simple user interface, Table Rate Shipping becomes a powerful tool for making table rates much easier than ever. Moreover, it lets you integrate your store with shipping zones in WooCommerce for defining shipment rates in total weight.
Being easy to use, the store owner can start with no coding. It helps to set up different shipping rules and supply the WooCommerce website with table rate shipping to customize real-time shipping options.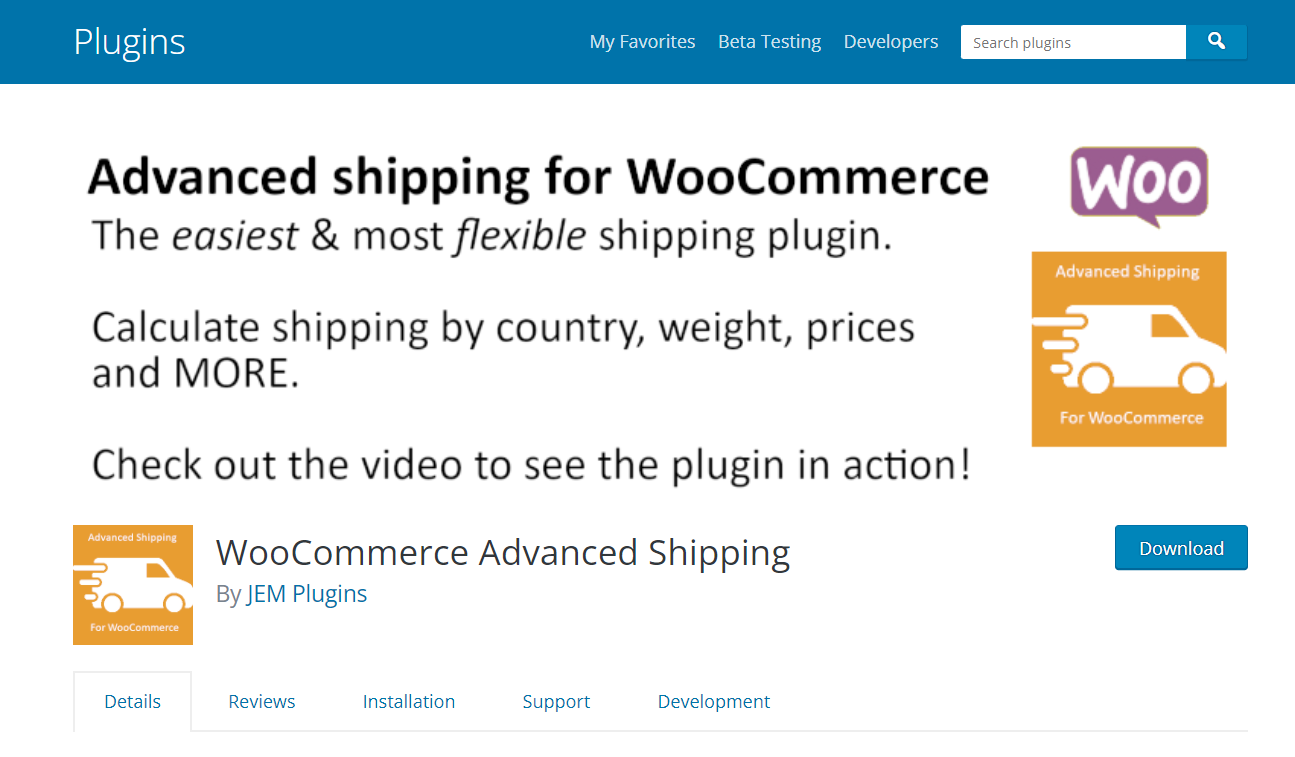 Main features
Provide seamless integration between your store and shipping zones in WooCommerce

Come with an easy user interface to help store owners customize on their own

Define delivery cost by weight and total cost

Identify the shipment label for displaying in the WooCommerce cart
Pricing: Free
6. Conditional Shipping for WooCommerce
If you are on the way to find a useful plugin to deal with shipping issues in your WooCommerce store, do not miss the plugin Conditional Shipping for WooCommerce. By using it, you could enjoy to your utmost being offered a value proposition from this plugin. And you can have an opportunity to provide or restrict delivery methods in your store.
To be more specific, you could disable free delivery for orders that weigh more than 30 kg. Or you can also build a special shipment method for heavy and large products because this plugin works well with your available shipping zones and methods. If you fancy restricting free shipping, flat rate, pickup, and so on, Conditional Shipping for WooCommerce will be a not-to-be-missed option.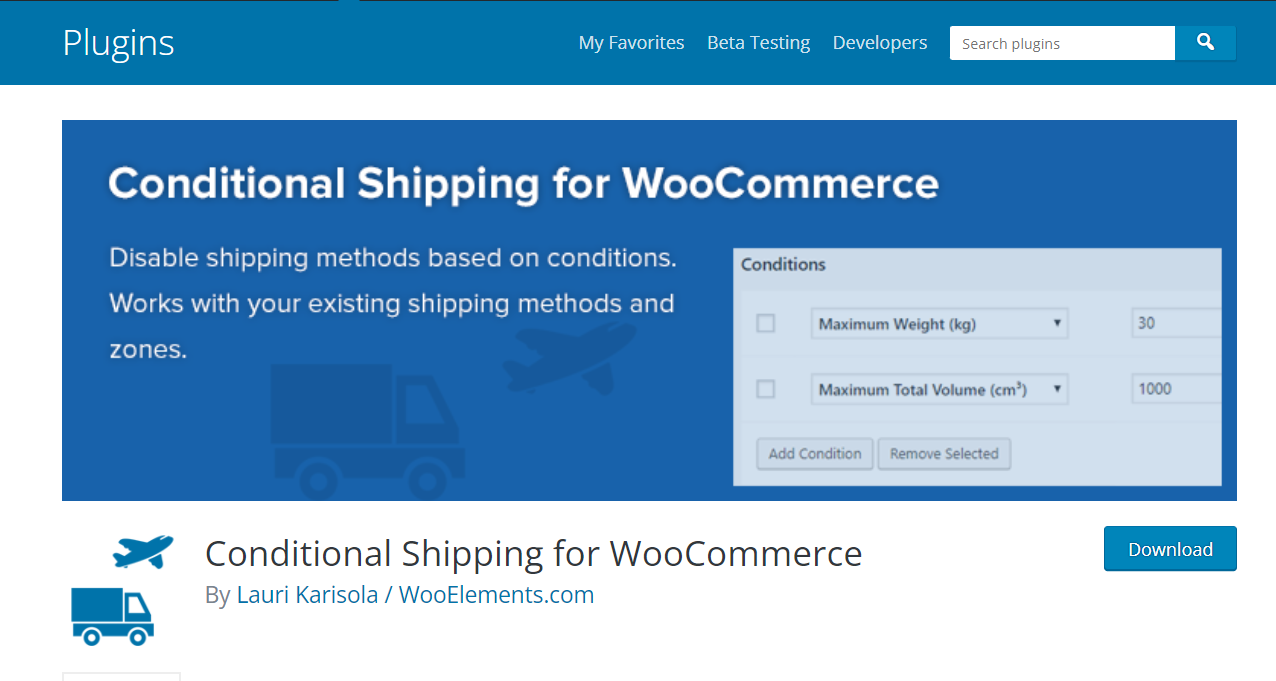 Main features
Restrict delivery methods based on multiple conditions such as dimensions, total order, volume, weight, and products

Be completely compatible with the available shipping methods

Come with the debug mode to help the troubleshooting process easier

Provide a personalized value proposition
Pricing: Free
7. WooCommerce Shipping
In terms of customizing real-time shipping rates, Metrilo is on the crest of a wave to print delivery labels. That is why you should not miss this ideal plugin to integrate the details of orders with other software. Hence, it is much simpler to manage those features from the dashboard of your WooCommerce directly. There is no denying that a lot of eCommerce sites are currently coping with printing shipment label issues. Do not worry; WooCommerce Shipping will help you.
Implementing printing manually increases the shipping budget. There is nothing better than printing labels directly and then pasting them on the package to deliver products to customers. Instead, using this plugin is time and money-saving. Moreover, the premium version lets you display your real-time USPS shipment rate on the cart page.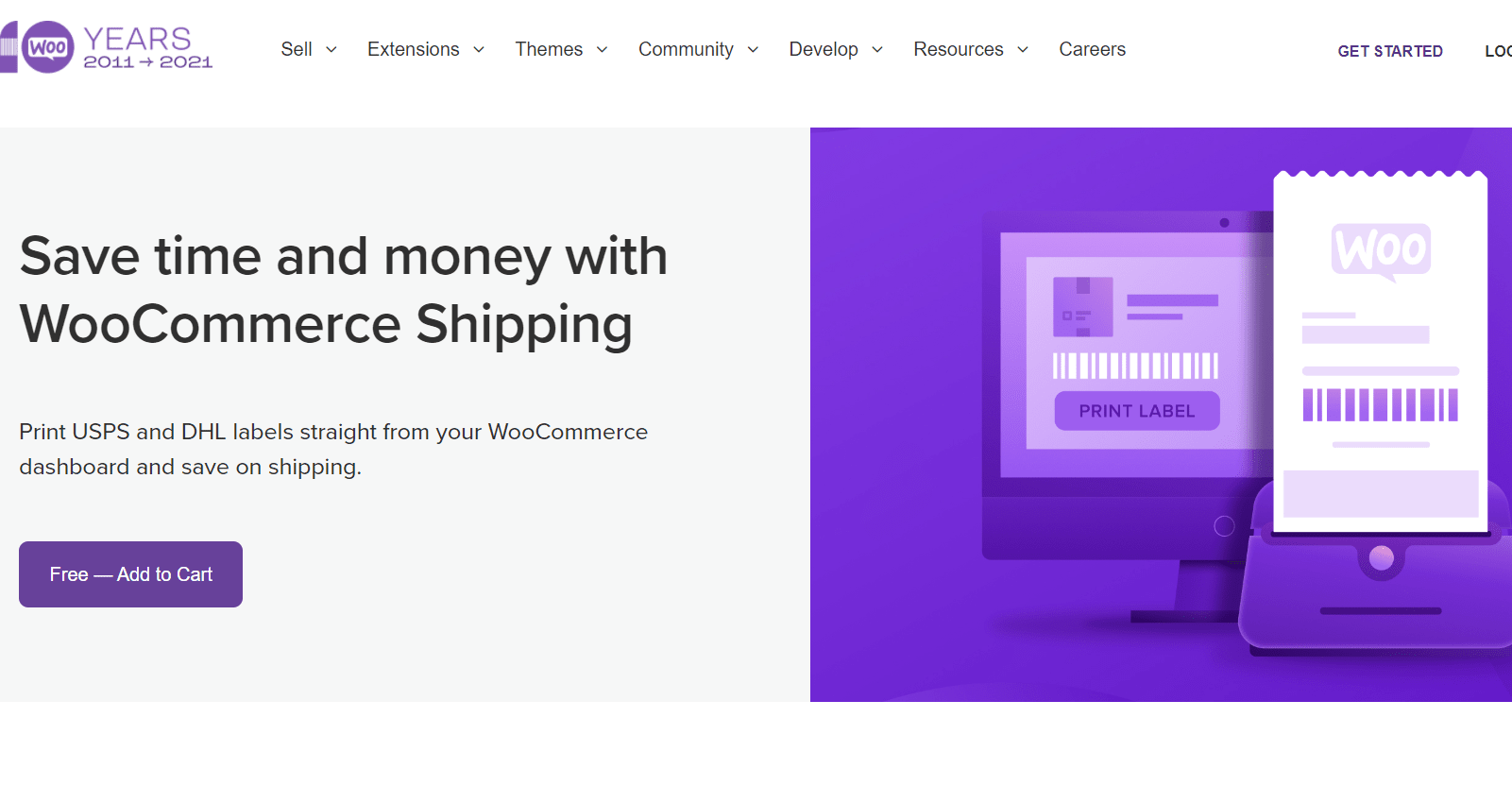 Main features
Move order details from the WooCommerce dashboard to a different software effortlessly

Give you an opportunity to print the shipping label simply

Come with the policy of 30 days for the money to be back with the premium version

Save time and money in comparison with printing manually
Pricing: Free
8. Weight Based Shipping for WooCommerce
Another plugin to appear in this list is Weight Based Shipping for WooCommerce. When it comes to package weight, it is vital to decide how much the final delivery cost of an item will be. And, if you are a bundle of nerves about calculating shipping rates related to weights, this would be a flexible and efficient plugin to go. By allowing store owners to display their delivery costs related to orders' weight, they can easily construct myriad shipping rules.
Moreover, you could use this plugin to configure real-time shipping rates rules or add progressive prices based on the increased package weight. Undoubtedly, it also provides the ability to illustrate the option for free shipping by identifying several conditions and terms such as weight, subtotal, and minimum quantity.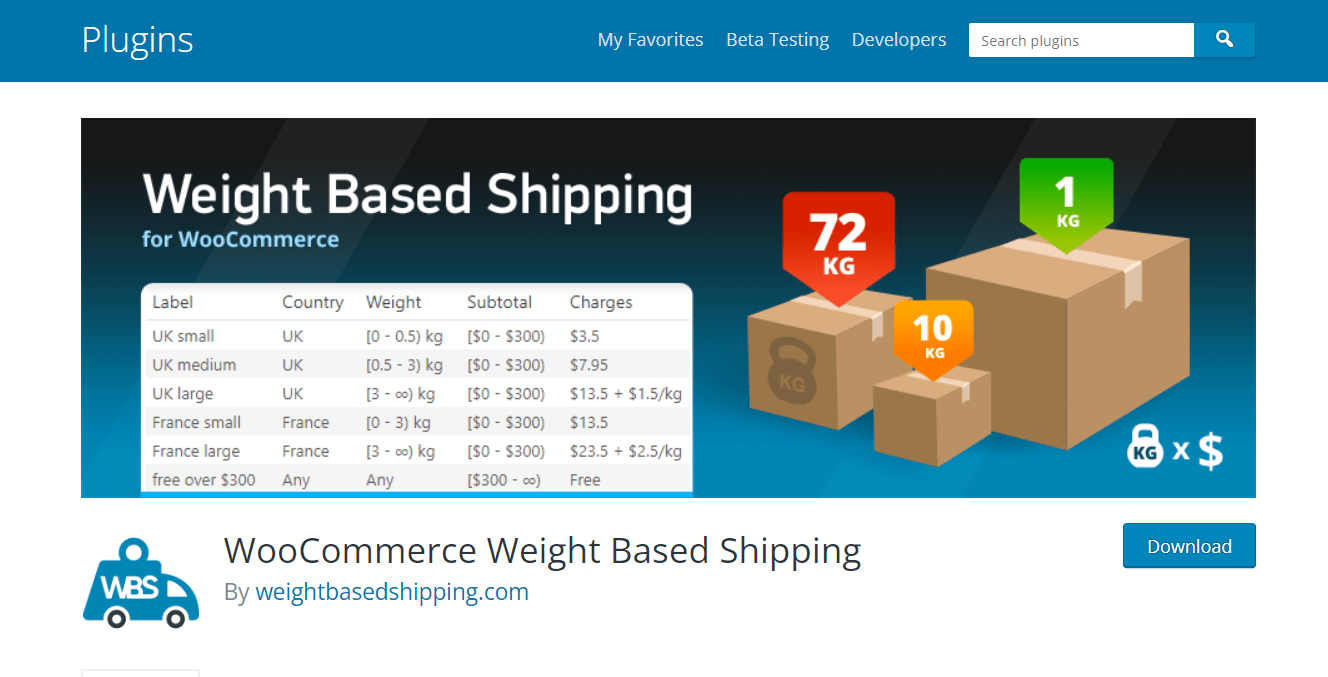 Main features
Define the delivery cost depending on order destination, weight, and subtotal

Be able to set up the conditions and options for the free delivery

Configure the rule for shipping as well as add your progressive price

Set up shipping rates with the use of premium features for separate shipping classes
Pricing: Free versions and $19 for premium versions
9. WooCommerce Delivery Time Slots
There is no denying that customers are fond of picking up their orders' shipping date and time. Hence, you could drive more sales and traffic for your WooCommerce store by paying attention to this important point. In this situation, the plugin WooCommerce Delivery Time Slots for shipping is a wonderful solution.
With the assistance from it, you could now let your customers choose the shipping time as well as the date on your checkout page based on the availability. Customers can select when they want their orders to arrive from a user-friendly and attractive widget. What is more, the site administrators also grab an opportunity to observe the shipping time while seeing details of the order. And this plugin also sends you one email notification.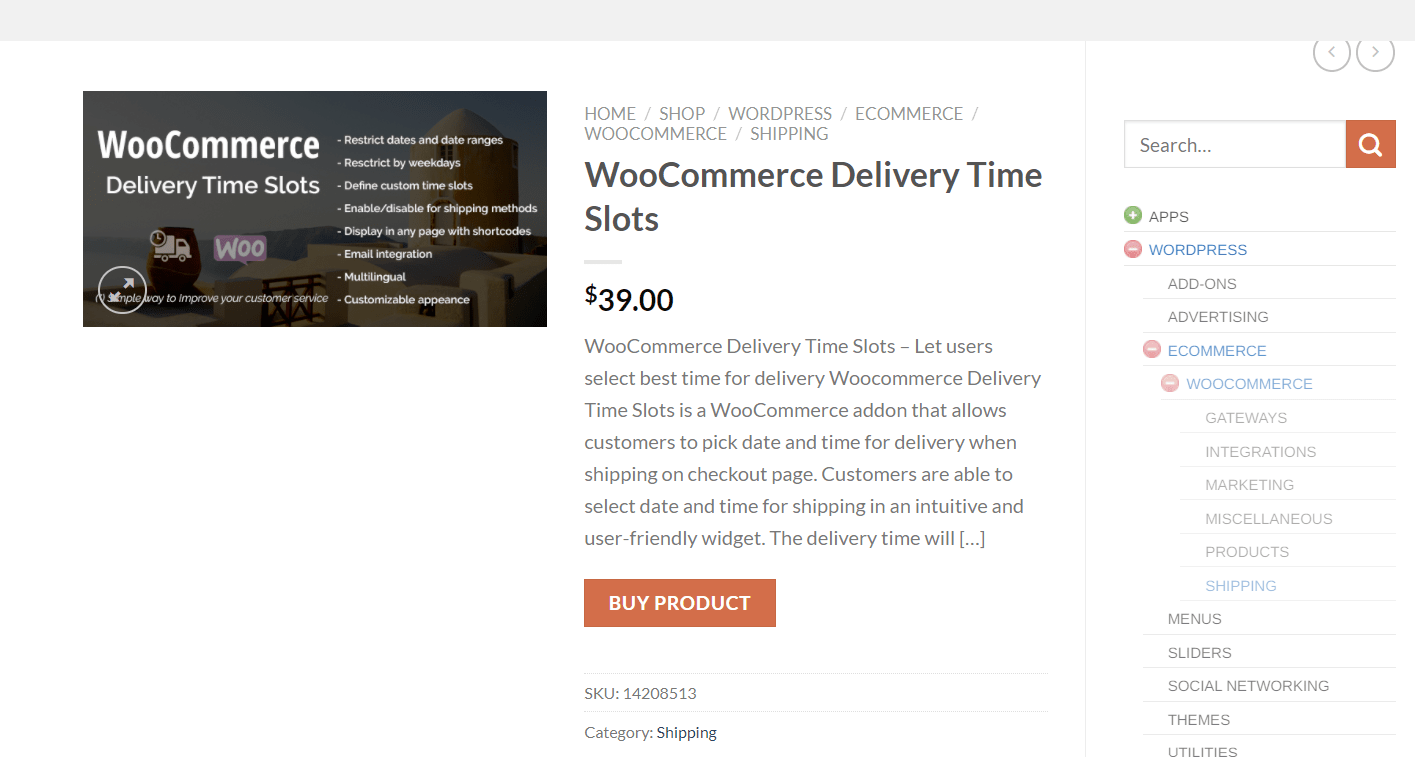 Main features
Help customers choose when to receive their orders and store owners to select when you cannot ship the products

Give you a chance to limit the quantities of deliveries per day

Help store owners enable or even disable particular shipping methods and options

Restrict the shipping date and time based on your store availability
Pricing: $39
### 10. Parcel Panel Order Tracking for WooCommerce
"where is my order?" is the biggest concern of your customers. Parcel Panel Order Tracking to help WooCommerce merchants get access to the order tracker, improving customer satisfaction and driving more sales by providing the best post-purchase experience. Parcel Panel Order Tracking has been focused on parcel tracking for years, we make sure accurate results for all trackings, covering 1080+ carriers worldwide including USPS, Cainiao, Royal Mail, YunExpress, 4PX, YANWEN, etc. Parcel Panel order tracking is 100% FREE WooCommerce order tracker plugin with all features available and Unlimited quota!
Main features
Auto-matching courier, covering 1080+ carriers worldwide

Import tracking number in 3 ways, including adding tracking number widget/CSV file/Third-party fulfillment or dropshipping plugin.

Filter shipments by dates, statuses, and carriers.

Manually update order status, perfect for merchants who have their own shipping team or local delivery team.

Branded tracking page allows customers to easily check their orders by themselves to save time.

5 smart notifications trigger – Parcel Panel order tracking can send email notifications based on the order status update of 5 primary shipping points on time, keeping your customers informed of the progress of orders.

Orders history page - Parcel Panel order tracking allows you to add a track button to the orders history page, so your customers can track their orders with one click there.

The best for WooCommerce dropshipping - Hide all Chinese origins easily, bringing your customers an all-around brand shopping experience
Pricing: Free
11. YITH WooCommerce Delivery Date
The next fantastic plugin that WooCommerce store owners should add to the list is YITH WooCommerce Delivery Date. This is a nice plugin to use if you are on the way to optimize the delivery process. It promises to assist your customers in selecting the shipping date quickly and effortlessly.
YITH WooCommerce Delivery Date is undoubtedly a perfect solution to reinforce the customer and vendor relationship. There are several pricing options to access its premium features. So, do not hesitate to purchase it to enjoy a lucrative buying process customized explicitly for customers' needs, helping them set needed delivery times and dates.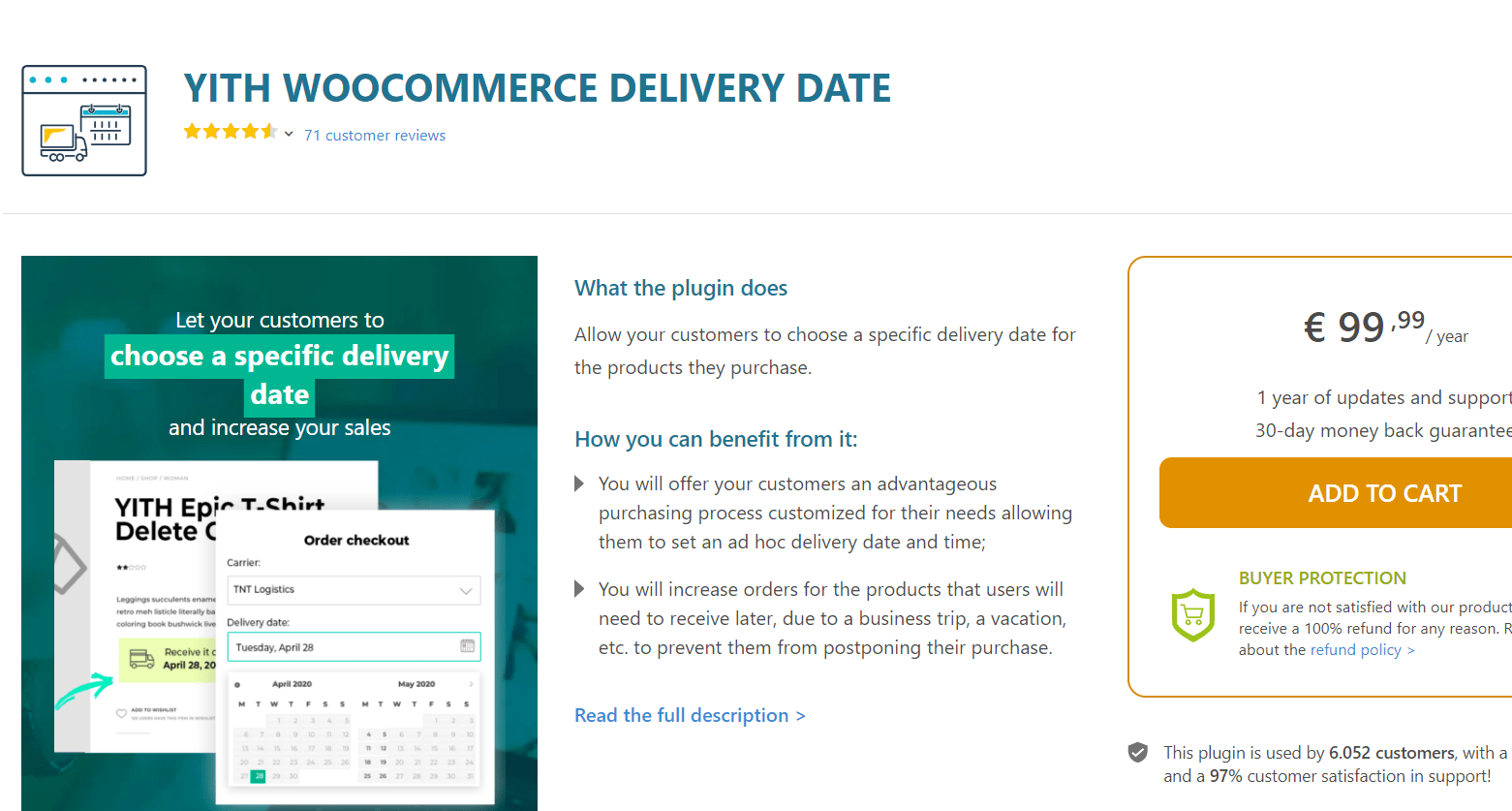 Main features
Be able to restrict the number of deliveries based on your store availability

Come with the ability to construct a shipping calendar for WooCommerce stores

Help store owners to receive an email of notification for when the delivery of products to customers is done

Increase sales and drive more traffic by allowing customers to choose the specific order delivery time and date

Be able to track the shipping information
Pricing: € 99,99/ year
12. Advanced Shipment Tracking for WooCommerce
This list would also not be complete if you do not pay attention to the plugin Advanced Shipment Tracking for WooCommerce. It has a reputation for supplying shipping tracking facilities as well as enhancing the unique experience for customers. There is nothing like tracking information related to more than 150 delivery carriers into emails or order completion in WooCommerce. Hence, this is a must-have plugin that you could benefit a lot from.
With the help from it, the fulfillment workflow is now well managed and automated. What you could do now is to add plenty of tracking information easily to keep your consumers informed. As a result, you could save tons of time that used to be spent on post-shipment inquiries, thus increasing customers' satisfaction.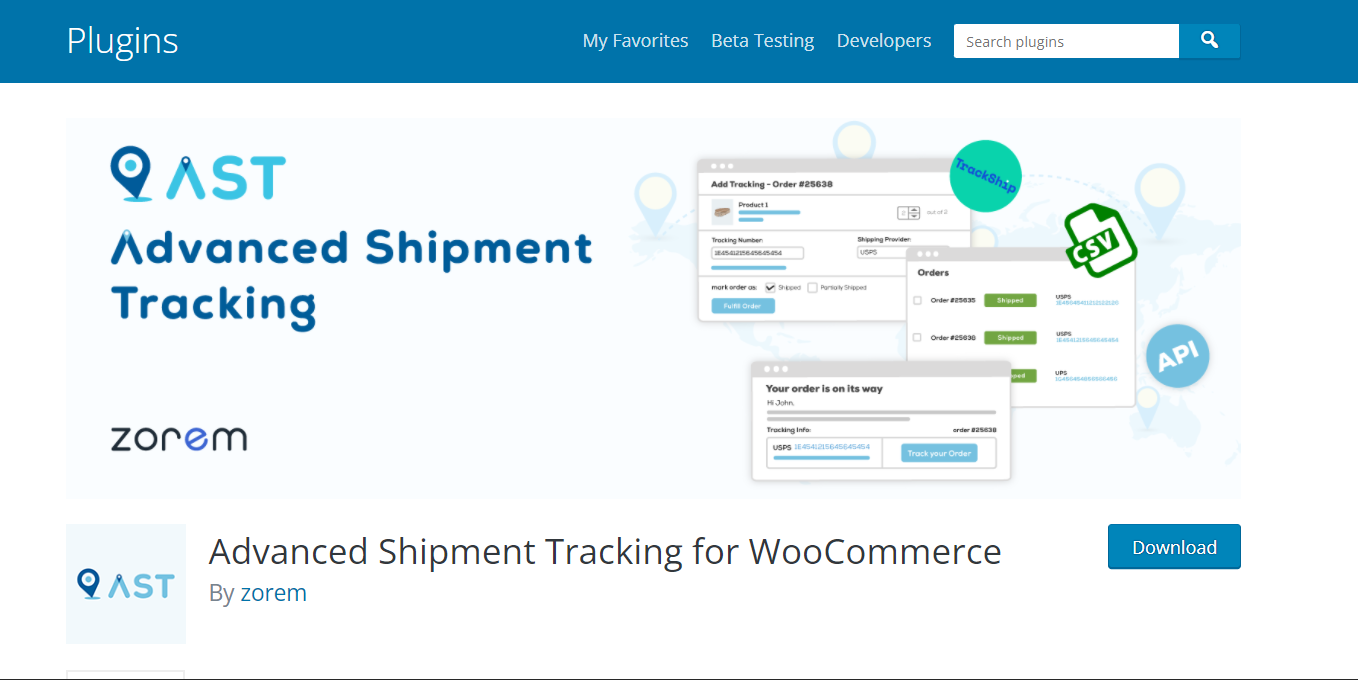 Main features
Let store owners create tracking information, including shipping date, carrier, and tracking number

Be able to add custom delivery providers

Provide multiple advanced add-ons such as tracking for each item addon

Add a different number of tracking to the similar order

Allow you to import tracking information from your CSV files
Pricing: Free
13. WooCommerce Estimated Delivery Date Per Product
Another amazing plugin to help you deal with real-time shipping rates is WooCommerce Estimated Delivery Date Per Product. Without paying a cent to purchase it, you could use its advanced features to display the estimated shipping time on your product page, cart page, and checkout page. Thanks to it, customers can be aware of when their orders will arrive based on the estimation of the delivery date.
This feature has enabled customers who feel hesitant to buy your products. There is no need to decide on the shipment date for every product. Instead, you can proceed with it at once and apply it to all products in your store. Therefore, a lot of time and effort can be saved. This kind of plugin is useful in showing accurate shipping dates. So, you can add holidays for more accuracy to avoid confusing your consumers with holidays.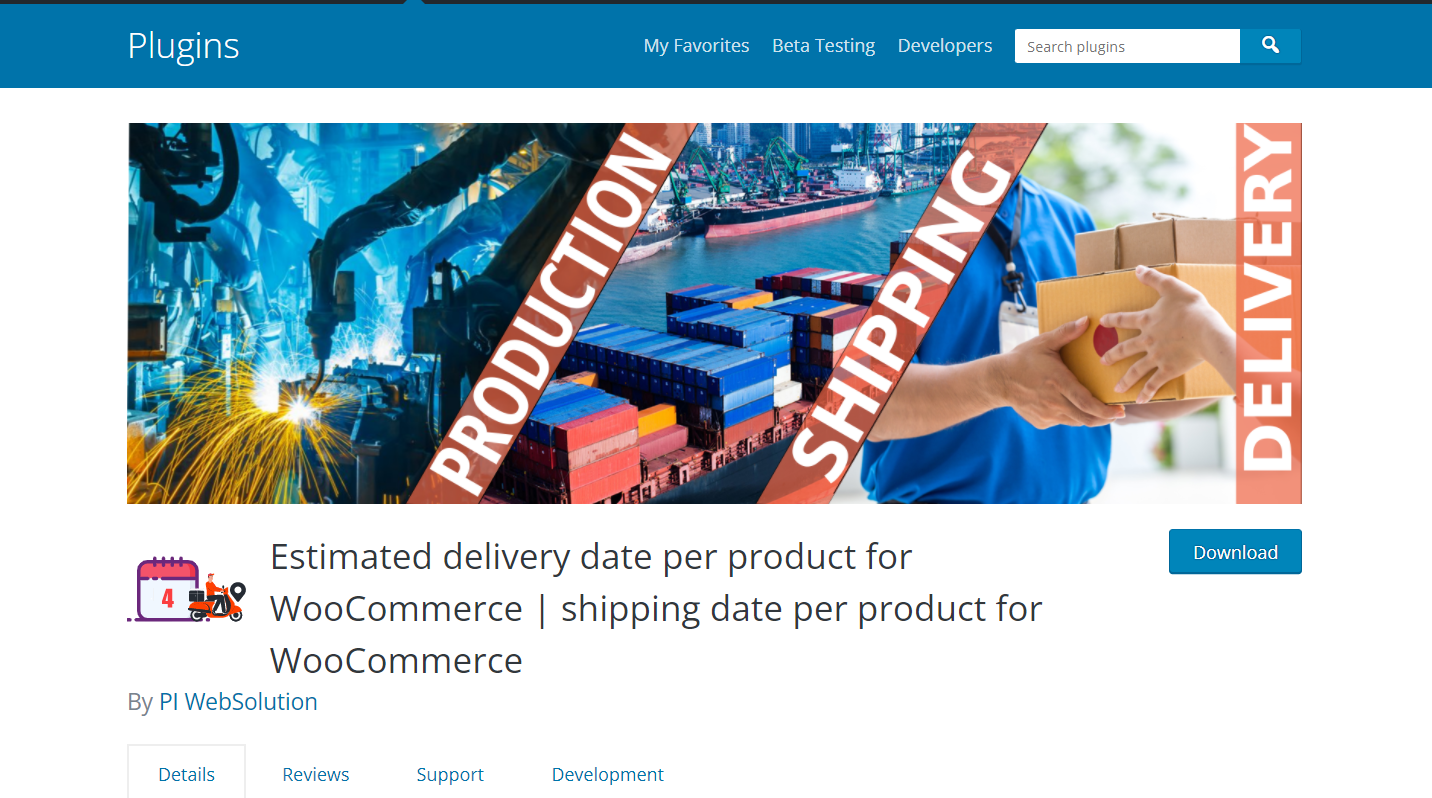 Main features
Be able to set up the shipping day for an individual item

Add the holidays for displaying more accurate shipping dates

Help store owners disable the estimation of delivery date for products that are out of stock

Allow you to switch the estimated delivery position on your product page or shop page

Illustrate the estimated shipping date on the product page, cart page, and checkout page
Pricing: Free
14. ELEX EasyPost Shipping Plugin
If you aim at domestic and international customers, displaying multiple shipping rates based on shipping type will be of great significance. Then, it is time to use the ELEX EasyPost Shipping Plugin plugin for illustrating different shipping rates for multiple carriers such as USPS, UPS, and FedEx. What is more, if you fancy customizing the title of your shipping method at the cart and checkout page, you will be able to do that.
Especially, you could implement the integration between this plugin and your store to install your fallback rate. This will save your store by displaying the product shipment cost in case the API tends to fail. When using this plugin, do not hesitate to use the postal code as well as parameters for seeing the delivery rates and details.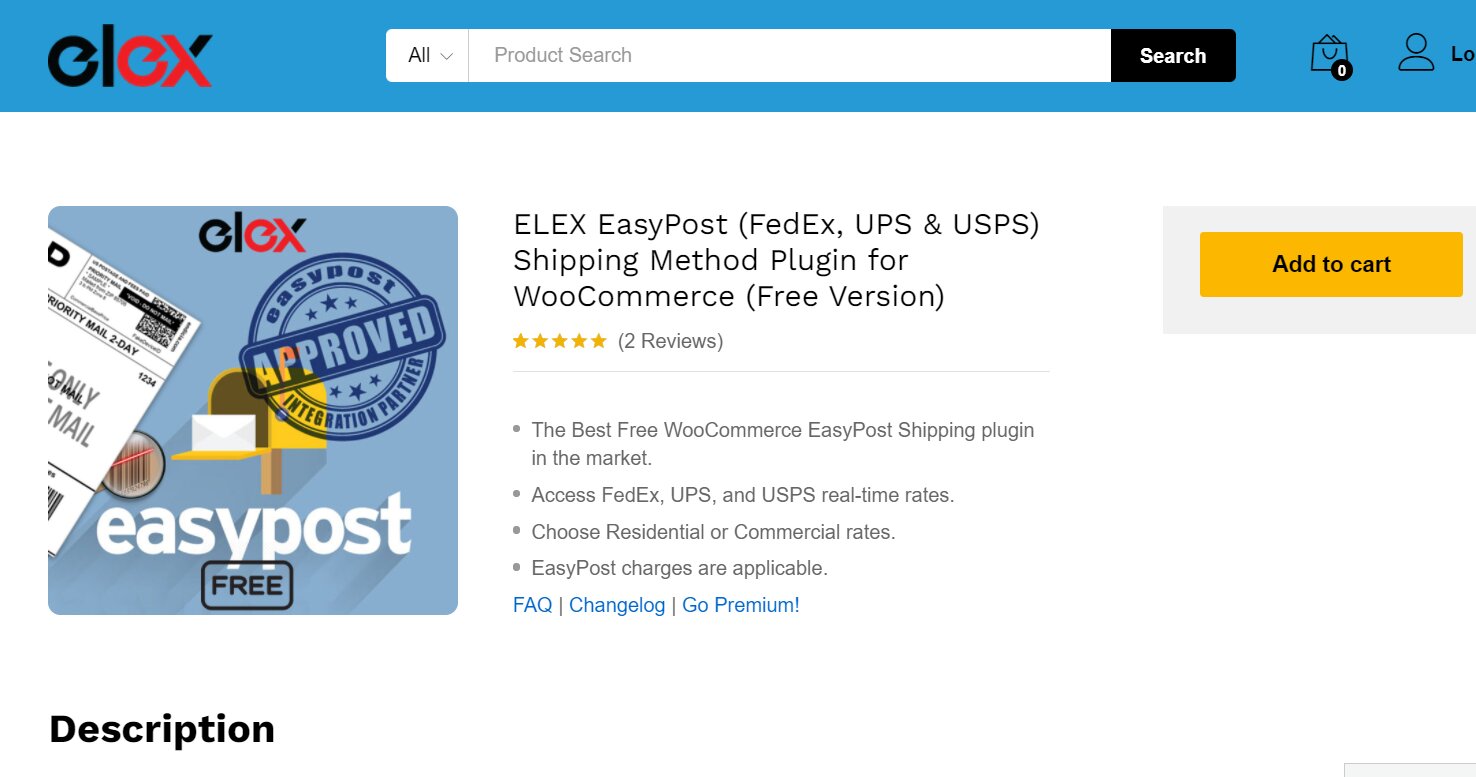 Main features
Set up your fallback rates for use in case of failing API

Provide unlimited free services

Set existing delivery services and rates for specific customers depending on some parameters or postal codes

Be able to select the commercial or residential rate based on the shipping type

Be able to customize the title of shipping methods within the WooCommerce dashboard
Pricing: Free
15. Table Rate for WooCommerce
Table Rate for WooCommerce is also one of the most powerful solutions for real-time shipping rates. It is advantageous in helping you define the delivery cost depending on the cart total or order weight. By using it, WooCommerce store owners could be able to calculate exactly the delivery costs. Based on that, you can easily construct shipment rules as well as methods for your store. Moreover, adding descriptions and names to every delivery method is what you could do as well.
There is nothing quite like creating unlimited delivery methods, coupled with calculation rules for cost. What is more, Table Rate for WooCommerce also becomes a helping hand for displaying the maximum or minimum values for weight or cart total.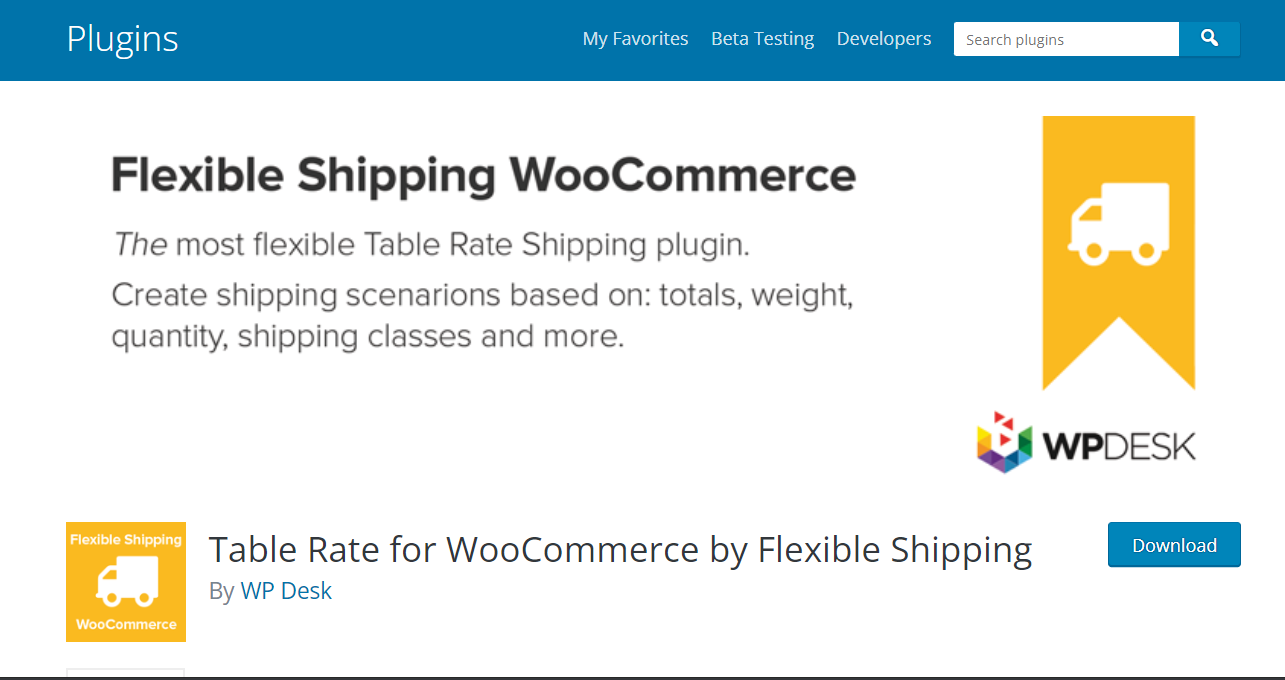 Main features
Add shipment costs determined by weight and cart total simultaneously

Be able to import information from your CSV file

Assist store owners in displaying certain delivery methods for logged-in consumers

Come with automatic notification involving the configuration conflict of the shipping zone

Be able to set up cart calculation
Pricing: Free
16. YITH WooCommerce Order Tracking
The final wonderful plugin to appear in this list is YITH WooCommerce Order Tracking. This plugin has a reputation for great flexibility to control shipment information as well as consumers for tracking the orders. With the existence of this plugin, it becomes an easy method for your consumers to track their placed orders on WooCommerce. As a result, you can enhance the customer service quality by providing professionalism, along with transparency.
What is more, the workload of customer service is also considerably reduced on account of the orders' automatic tracking ability, thus decreasing emails or phone calls. Your sales also increase as you can loyalize customers by providing them with an entire overview of shipping times, orders, and estimated delivery.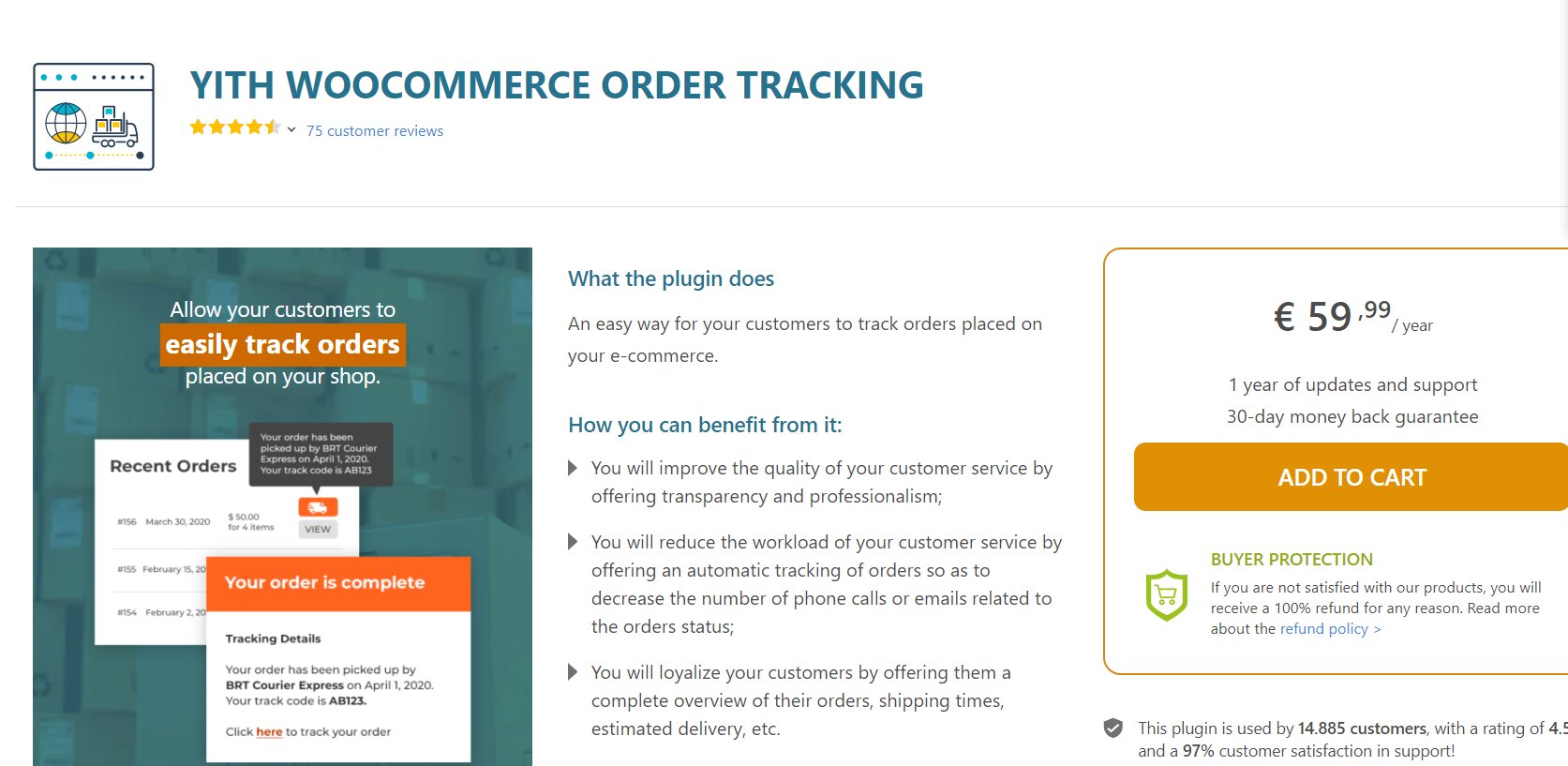 Main features
Fill out the tracking code, shipping order time, and details of shipping carriers automatically

Be able to select location or destination on the page Order Details for showing your tracking information

Come with available premium tracking features

Give you a chance to set your default carrier

Be able to follow the shipping steps of every order swiftly and easily

Help you import tracking information generated before
Pricing: € 59,99/ year
Conclusion
You have completed reading through our 15 best WooCommerce plugins for real-time shipping rates when you are here. Hence, you should read each of them and scrutinize to see which one would fit your WooCommerce store and your needs as well. In doing so, you could improve customers' shopping experience at your store to make them loyal to your business. Hope you find this article interesting and helpful. Share the words to those who are concerned to help them access a lot of great tips.
New Posts
Subscribe
Stay in the know
Get special offers on the latest news from AVADA.
40k
subscribers has been joined!
Earn $10 in reward now!