7 Best Customer History Plugins for WooCommerce Store
7 Best Customer History Plugins for WooCommerce Store
With everyone jumping on the eCommerce bandwagon, your store must stay one step ahead. To accomplish this, your eCommerce site must be customer-centric. To create a customer-centric store, you must first understand your clients' minds. While gaining traction for your store is critical, so is attracting your clients.
Besides, as a vendor, it is critical to view each customer's past status in your online store. It informs you whether any orders have failed, canceled, completed, or been placed on hold. This permits you to make sound judgments when interacting with clients. Additionally, it may be beneficial for you to check the number of canceled orders. Apart from that, you can review the financial reports generated by your consumers. It will assist you in determining the current state of your business and determining how you can improve your store. These WooCommerce customer history plugins have been vetted and curated by us. Read over them and choose one to implement into your website as quickly as feasible.
With its customer history plugin, the WooCommerce platform, well-known for its convenient core choices, comes to the rescue. In this article, we will introduce you 7 Best WooCommerce Customer History Plugins which can keep you informed of potential and real customers' activity by providing insight into the pages viewed, products browsed, and products ordered.
Benefits of the Customer History Plugin
If you're still doubtful about the plugin's influence, here are a few examples of the advantages of the Customer History Plugin:
Put your firm one step ahead of the competition: The customer history plugin provides insight into a site visitor's mentality. This is accomplished by providing information on pages visited, orders placed, and so forth. As with chess, understanding what a potential buyer is thinking gets you one step ahead, and success is a foregone conclusion in such situations.
Increase sales: With this plugin, you may ascertain consumer preferences and then adjust methods, typefaces, and themes to suit those tastes, which should result in increased sales.
Increase traffic equals increase sales: The customer history plugin provides you with all the information you need to create discount offers that are unique to each visitor. For instance, a plugin-provided search query highlights the user's chosen items. This enables you to provide an irresistible bargain too such a visitor. If done correctly, this could result in an increase in traffic and sales.
Helps you save time and effort: If there is one thing that the customer history plugin excels at, it is providing a clearer picture of what works and what does not. This stops you from wasting time on dead ends and fruitless techniques, freeing up time for more productive endeavors.
7 Best WooCommerce Customer History Plugins

Brian Richards' customer history plugin provides insight into the pages visited by users. Knowing how much business a certain customer brings to your e-commerce store is critical for sales, and this plugin provides all the juicy facts. To advance your store's interest, you must understand what works best. If a consumer quits without making a purchase, you may select how to retarget him because you know which product pages he saw. Additionally, this customer history plugin offers information on the pages with the highest user activity.
Key features:
It contains information on the pages that users visit.
The plugin includes a report detailing client history in relation to specific orders.
It enables you to track the amount of money spent by each consumer on your eCommerce store.
Permits you to harness user behavior for the benefit of your eCommerce site.
Customers' financial power can be leveraged for even more effective marketing.
Price:
The annual price for this plugin is $49.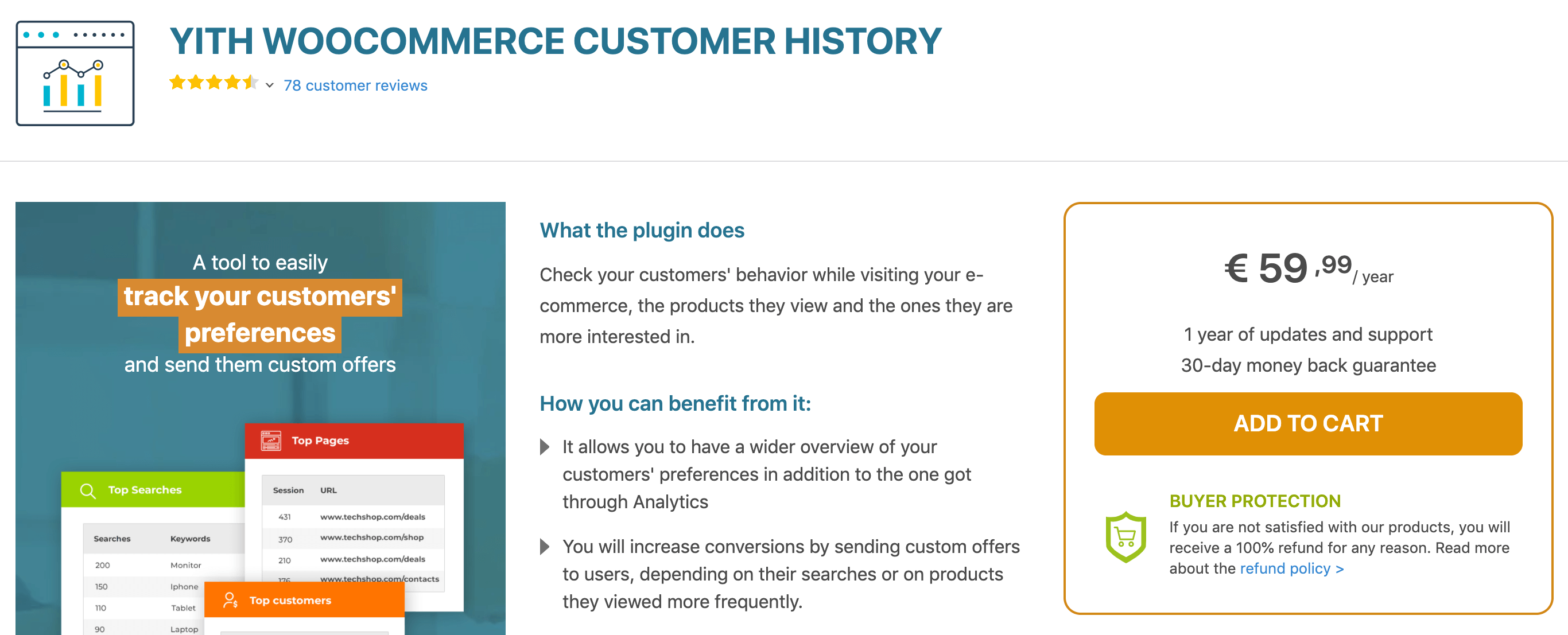 Obtaining sufficient insight into the preferences of visitors to your e-commerce site is typically difficult. Fortunately, this Yith plugin delivers an accurate view of your store's users' activity. This plugin does more than simply display a visitor's purchase history. It gives you a breakdown of their search query, which you may utilize to further your business's interest.
This Yith plugin keeps you informed of the products you've purchased, their prices, and the consumers' identities. Utilizing email marketing strategies to capitalize on this potential goldmine is feasible, since the plugin enables you to send them emails simply by clicking the appropriate email button. It not only makes available visitor information, but also organizes it, saving you time and work.
If you wish to use the information gathered by the plugin outside of the platform, use the 'backup export' option to export the whole data set. Additionally, you can import previously collected data into the plugin by clicking the 'backup import' option.
Key features:
It provides insight into users' search queries.
The plugin keeps tabs on user activity on your e-commerce store.
It is possible to send customized emails to users.
It enables you to export and import pertinent data.
The saved search query can be used to do retargeting.
It's simple to send letters to customers, which increases your sales potential.
Price:
The price of this plugin is € 59,99 per year.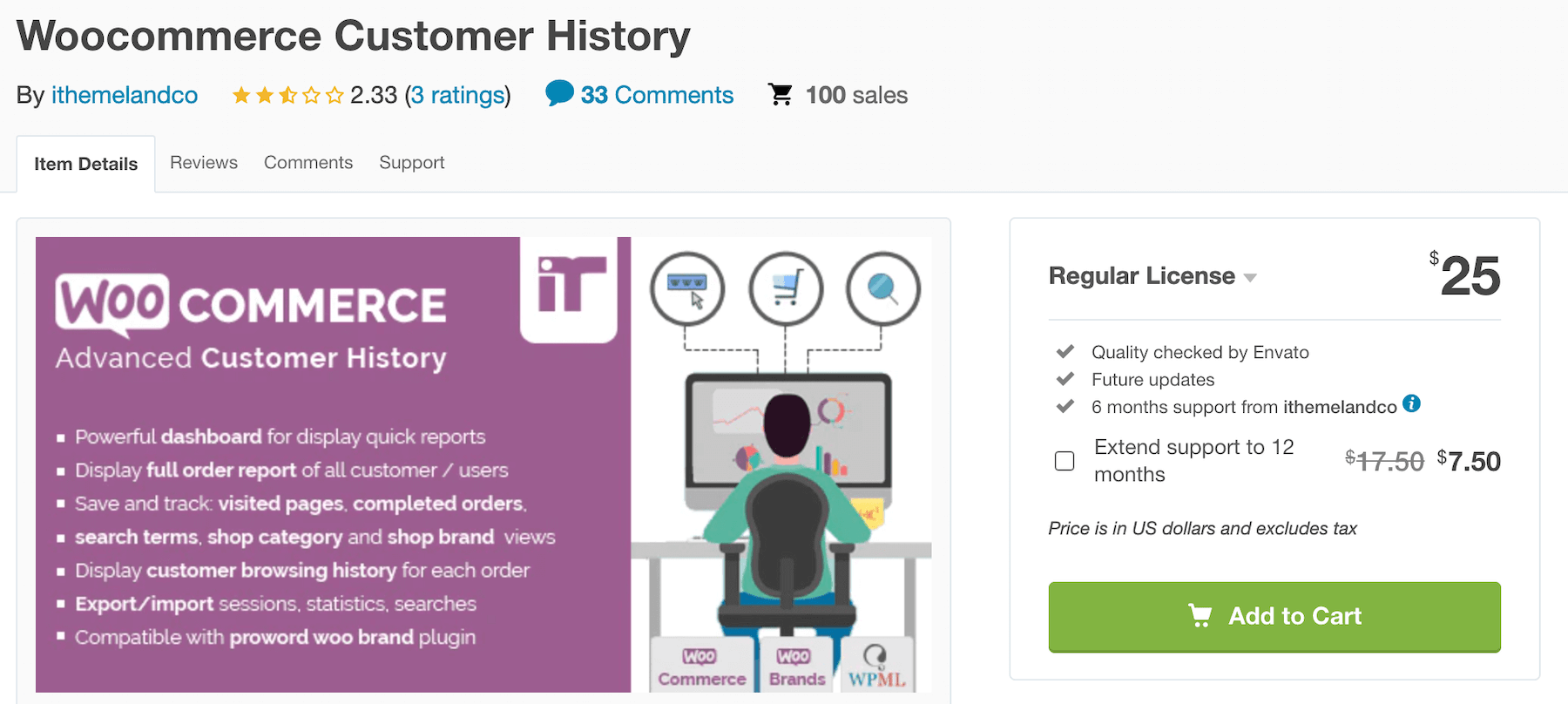 This Woocommerce Customer History Plugin is another great option for you to choose from. It has a robust dashboard for quickly displaying reports. The plugin helps you show a complete order report for all customers/users. This report includes the total number of orders, pending orders, refund orders, as well as the total and average amount of purchases made by each user in your business, as well as demonstrate how your clients navigate your store and which pages they view prior to making a purchase. Therefore, keeping track of each customer's overall customer lifetime value is no longer a big problem.
Key features:
Analyze your customers' browsing habits on your website to determine which pages perform best for targeted conversions.
Dedicated data for the number of visits to the shop brand page
Report on the customer's session history.
View by customer category, and view of the customer's brand
Keep track of the BOT-generated visits.
Sessions, data, and searches can be exported and imported.
Price:
This plugin is available for $25.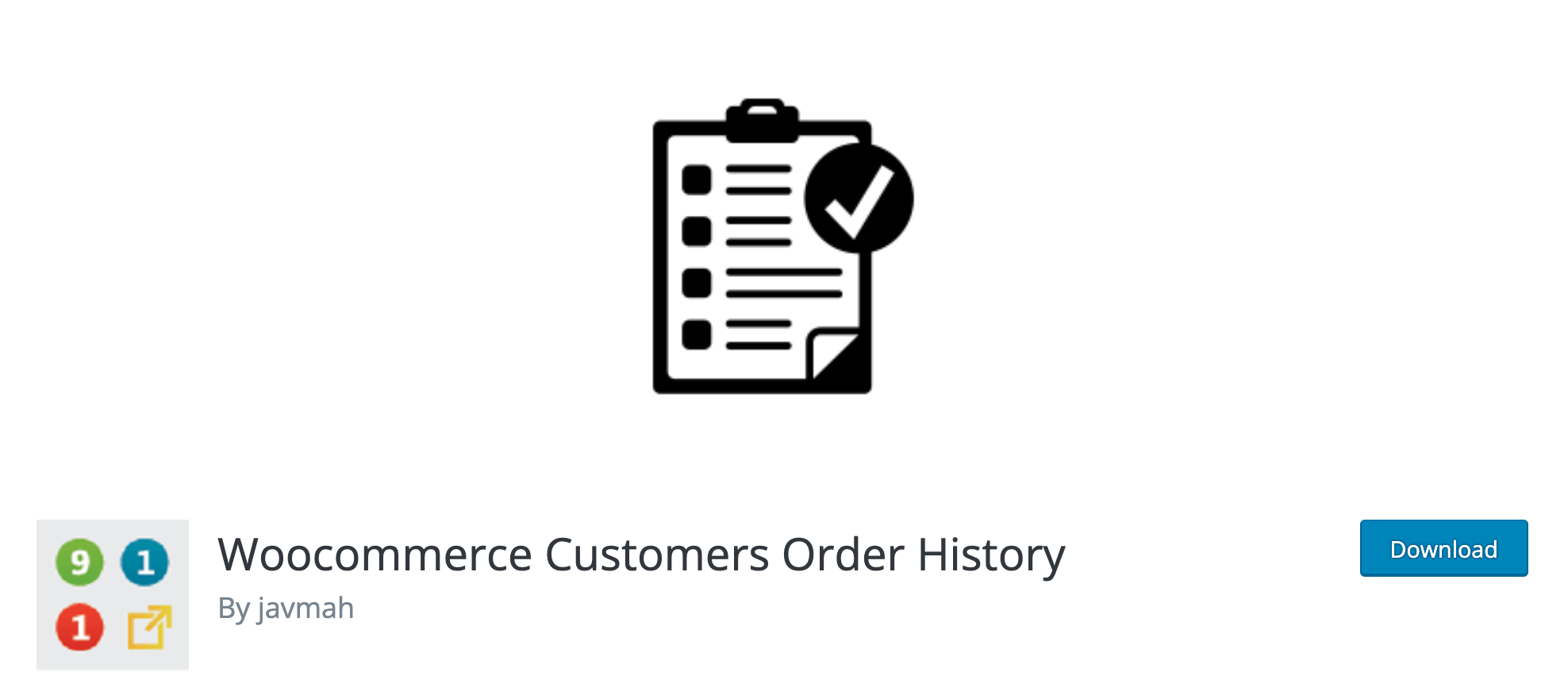 This WooCommerce Customer History Plugin is feature-rich and functional. It enables you to maintain a record of your previous and present consumers. This way, you'll be able to view cancelled, failed, finished, and in-process orders. Additionally, you'll learn about your customers' loyalty to your stores. It enables you to distribute tokens or discount coupons and have them returned to you repeatedly. It is a must-have plugin for properly managing your store.
Additionally, it features a simple and intuitive admin interface that enables you to work worry-free on your store website. Conversions and completed sales can be tracked for the last several days or weeks. It illustrates nearly all you need to know to create the ideal arrangement. Additionally, you can adjust the status color to match the rest of your layout ideas. If you want to access PDF export and monitor the status of your client's order, you can purchase the Pro Version of this plugin.
Key features:
Simple to use, no-nonsense Setup Wizard for flawless configuration.
There is no secret menu or choice; everything is obvious.
Display all orders in their respective Panels.
Colorize orders based on their status.
Customizable Status Color.
Price:
This plugin is available free of charge. However, if you want to have access to more features, you can purchase the Pro version.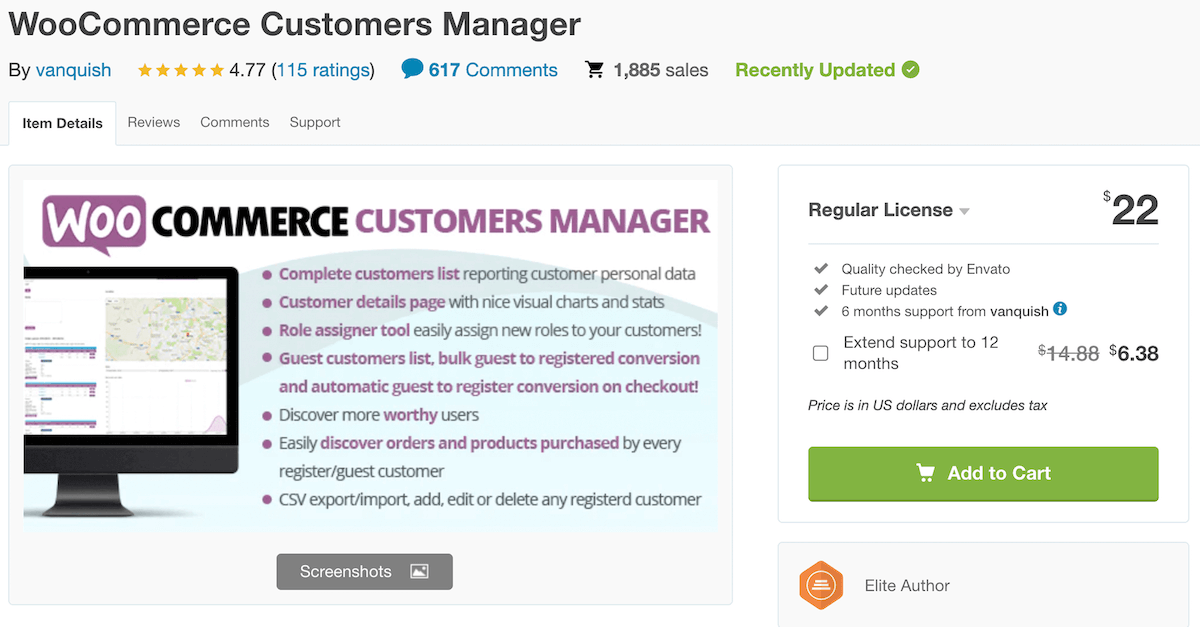 You can keep track of your clients' browsing patterns with this WooCommerce Customer Manager plugin. It enables you to identify deserving clients or users who assist you in generating sales. By integrating this plugin into your website, you can view your entire customer list.
Additionally, you may view your customers' complete information, including their true name, billing address, remarks, the total amount spent, and first/last order dates for their most recent transaction. Additionally, they may view the whole product statistics for the item they purchased from your business. You'll see their billing and shipping addresses in order to provide them with better service in the future. Additionally, this plugin allows you to send emails to your customers, add custom notes, and change user data and metadata.
Key features:
CSV Import/Export.
Guest Customer List Page.
Discover by Order.
Guest to Registered Conversion.
Bulk Email.
The Block Customer functionality enables you to add a client to your blacklist. You can do this with fraudulent buyers or buyers who have regularly cancelled orders from your site.
Price:
The price of this plugin is $22.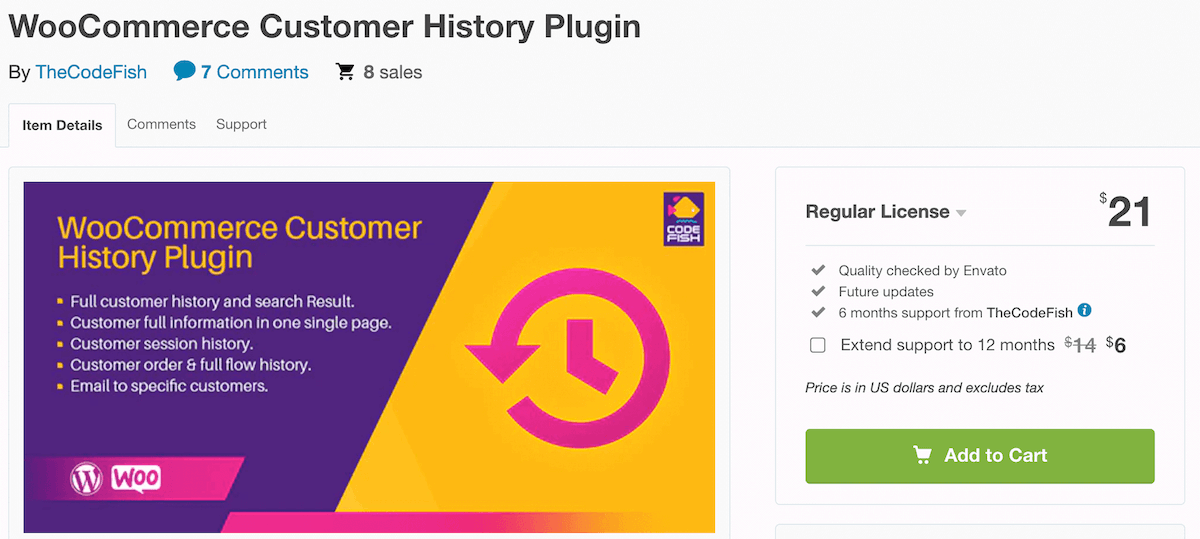 Utilize this Woocommerce Customer Order History Plugin to increase your conversion rate. It has all of the necessary features and functionalities to keep your online store running smoothly. It enables you to monitor your customers' behavior, particularly their visits to your store's pages. With that capability, you can devise fresh techniques for enhancing your marketing efforts.
This plugin generates a report on total and average sales based on your clients' purchasing history. Additionally, you can save your clients' browsing habits from observing their behavior. Besides, you may view the most popular search terms used by your clients. It will form the foundation for your new marketing strategies.
By staying current on market trends, you may differentiate yourself from your competitors. Moreover, this plugin calculates the number of visits to each page. Among its remarkable features is the statistic checker, which allows you to view the current status of your things. In addition, you may verify new consumers and comprehend their pages, which include all of their personal facts. This plugin has the potential to have a significant impact on your business.
Key features:
Show the total and average amount of the purchase made by each user.
Monitor customers' behavior, and visiting frequency.
Calculates the number of visits to each page
View the most popular search terms by your clients.
Verify new consumers.
Price:
The price of this plugin is $21.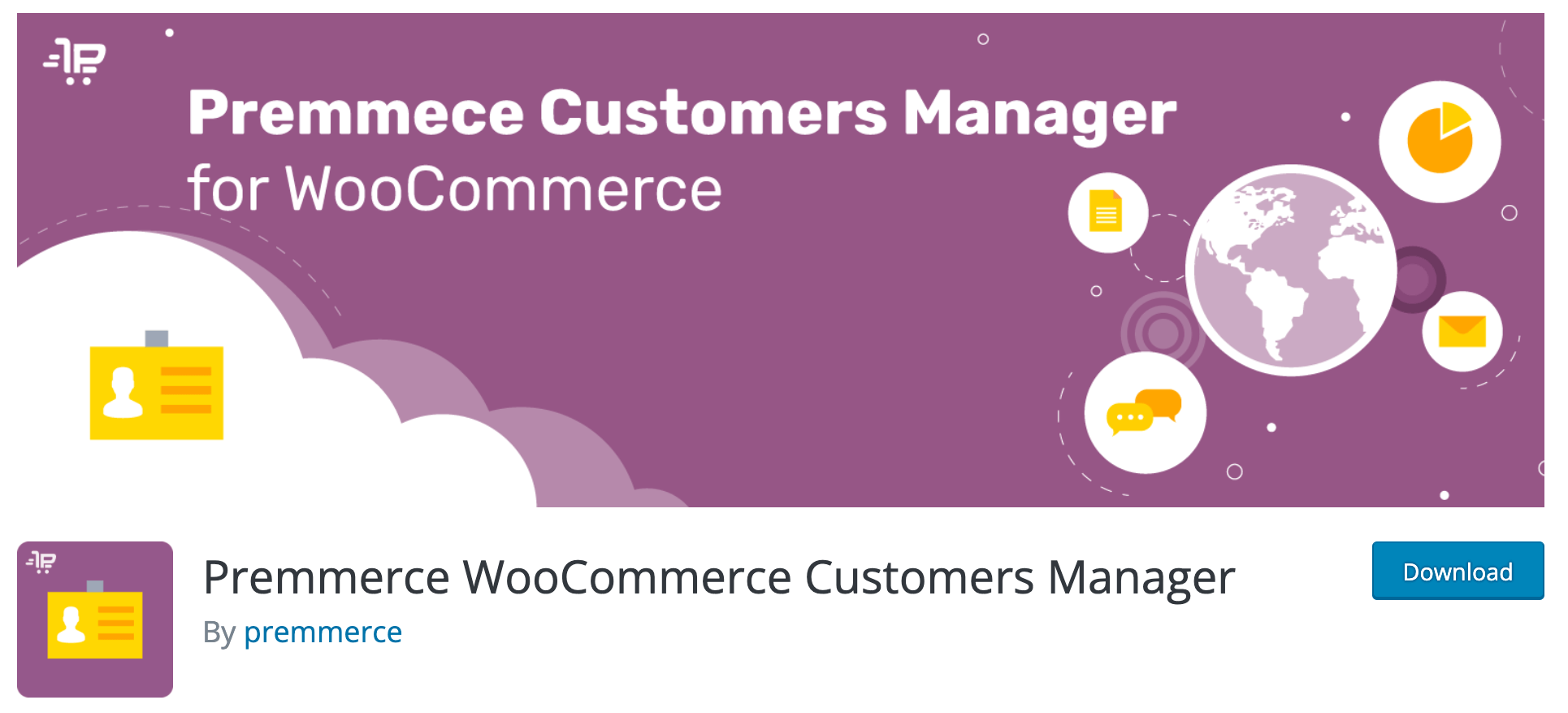 This plugin expands WordPress's default user list and edits user pages by including customer data from WooCommerce. This is Premmerce's primary customer management plugin, which we will constantly develop by introducing new capabilities based on user feedback. This extension is compatible with other plugins, such as WooCommerce, Yoast SEO, WooCommerce Multilingual, Premmerce WooCommerce Toolkit, and WooCommerce SEO Addon.
Key features:
Customers can be filtered according to their registration date.
Sorting customers according to the amount of money spent.
The amount of money spent on the user's card is displayed.
Displaying the user's order history on their card.
Price:
The free version of this plugin is available to download. However, if you wish to get access to more features, you can purchase the Premium version with 2 different price plans:
1 site - $99.99
5 sites - $299.99
Final thoughts
These WooCommerce Customer History Plugins enable you to implement new strategies based on your customers' behaviors and browsing activity on your page. You'll see the current trend, the most visited website, and the most popular product. It will motivate you to strengthen your marketing strategy, resulting in a significant increase in sales and profit in a short period of time.
Is this post beneficial to you? If you do, we would appreciate it if you could show your support by sharing our work with your friends and colleagues, and stay tuned for more useful tips, instructions, and advice from AVADA.
New Posts
Subscribe
Stay in the know
Get special offers on the latest news from AVADA.
40k
subscribers has been joined!
Earn $10 in reward now!