5 Best WooCommerce Cart Notices Plugins to Boost Sales
5 Best WooCommerce Cart Notices Plugins to Boost Sales
WooCommerce is now the market leader in the eCommerce platform industry. Approximately 13 million individuals use WooCommerce for their websites, and WooCommerce powers about 37% of all online stores. Its customizability and flexibility made it a desirable choice for online retailers. WooCommerce's plugin integration capabilities, on the other hand, add crucial functionality to help you scale up your online store and sell online profitably.
If you search for plugins on the market yourself, you may be in the shadows because there are over 50,000 plugins in total, and this number will continue to grow. Instead of putting in the hard work, we'll show you the 5 best cart notices plugins for your Woocommerce business to increase sales.
These plugins can help you boost sales in the simplest way possible. This is an opportunity to get your product closer to customers by using the features that the plugins described below.
Benefits of Cart Notices for WooCommerce Stores
Each step in the buying process is vital to influence a customer's purchase decision. You would lose customers if a step in this procedure had a negative impact on their experience. From the moment they visit your website until they leave, you must look after them. The shopping cart's functionality would be critical. If you believe that placing your goods in the consumer's shopping basket is the end of the process and that the buyer will inevitably purchase your product, you are mistaken. Abandoned carts are likely to occur if your shopping cart is unable to provide users with a positive purchasing experience. For example, your consumer might forget what they put in their cart, or they might lose interest if they don't buy it right away. That is why your WooCommerce store requires Cart Notices.
Cart Notices plugins displays dynamic, actionable messages to your customers as they check out, allowing you to effortlessly and effectively enhance sales and customer happiness. Utilize tried-and-true strategies to boost conversions and earn more from existing consumers, as well as inform them of deals and promotions to enhance the shopping experience.
5 Best Cart Notices plugins to boost sales for WooCommerce stores
Using a variety of shortcodes, the WooCommerce Cart Notices made by the SkyVerge plugin allows you to show dynamic messages to your customers when they complete the checkout process or anywhere else on your site. When creating a Cart Notification, you may choose from the five conditional criteria below and dynamically customize your notice with message variables.
Notice Current order amount

Display Deadline Notice

Display Referer Notice

Display Products in Cart notice

Display Product category in cart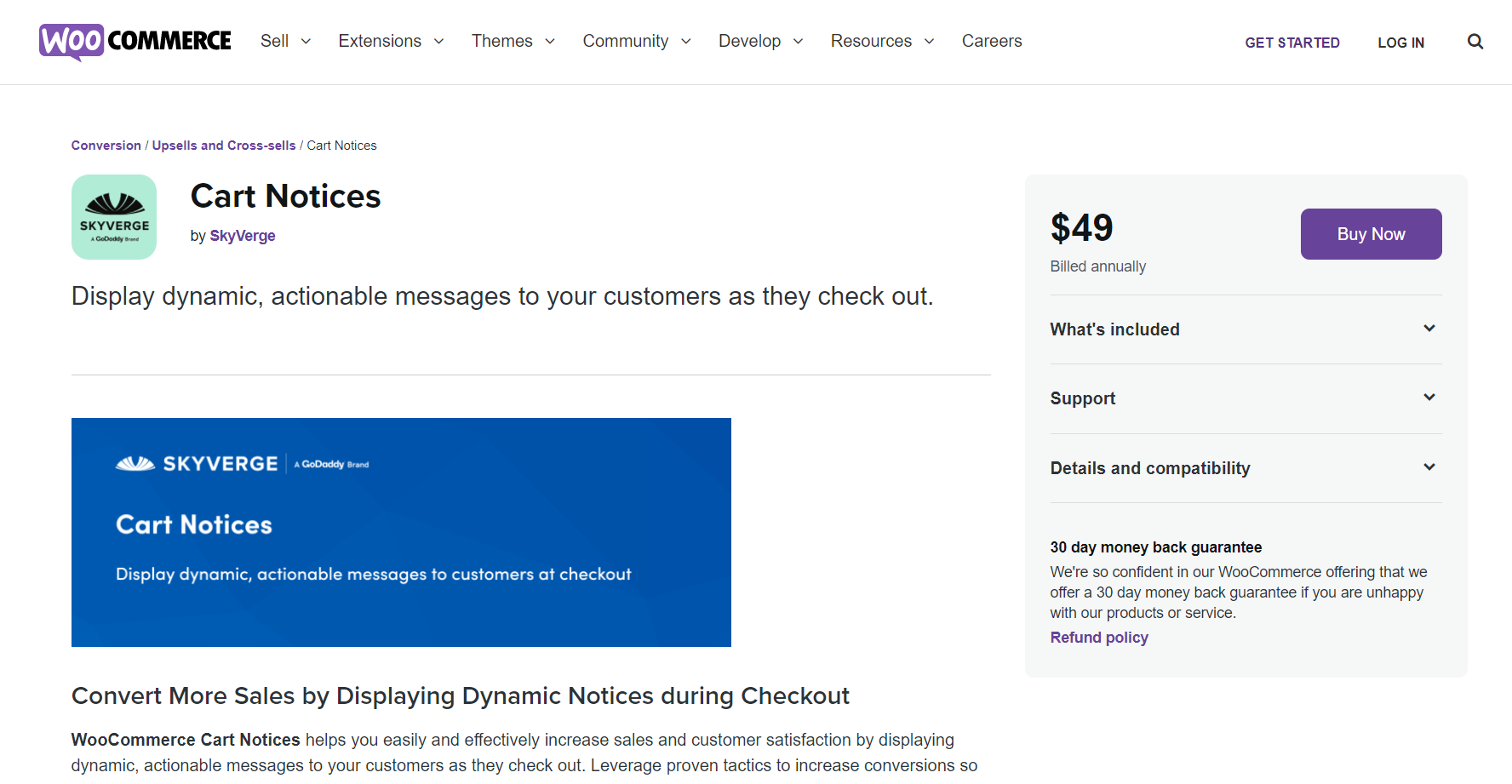 Key features:
Provide customizing messages to customers on the cart and checkout pages

Allow adding messages anywhere on-site shortcodes (Ex: show promotion notices at the top of a shop or category page)

Show dynamic notices with the use of message variables.

Help to set minimum and maximum quantities for discounts using the Product in Cart feature.

Permit clients to add a call to action button or URL to urge customers to do the required action.
Price: $49/year
On cart pages, the WooCommerce Cart Notices plugin, which is developed by Be Rocket helps you show notices. These notices are dependent on products, product categories, the current day and hour, the cost of the cart, and the customer referrer. You can add messages to any page on your site that allows shortcodes. You may also include buttons in your communications to urge your visitors to take the action you want them to take.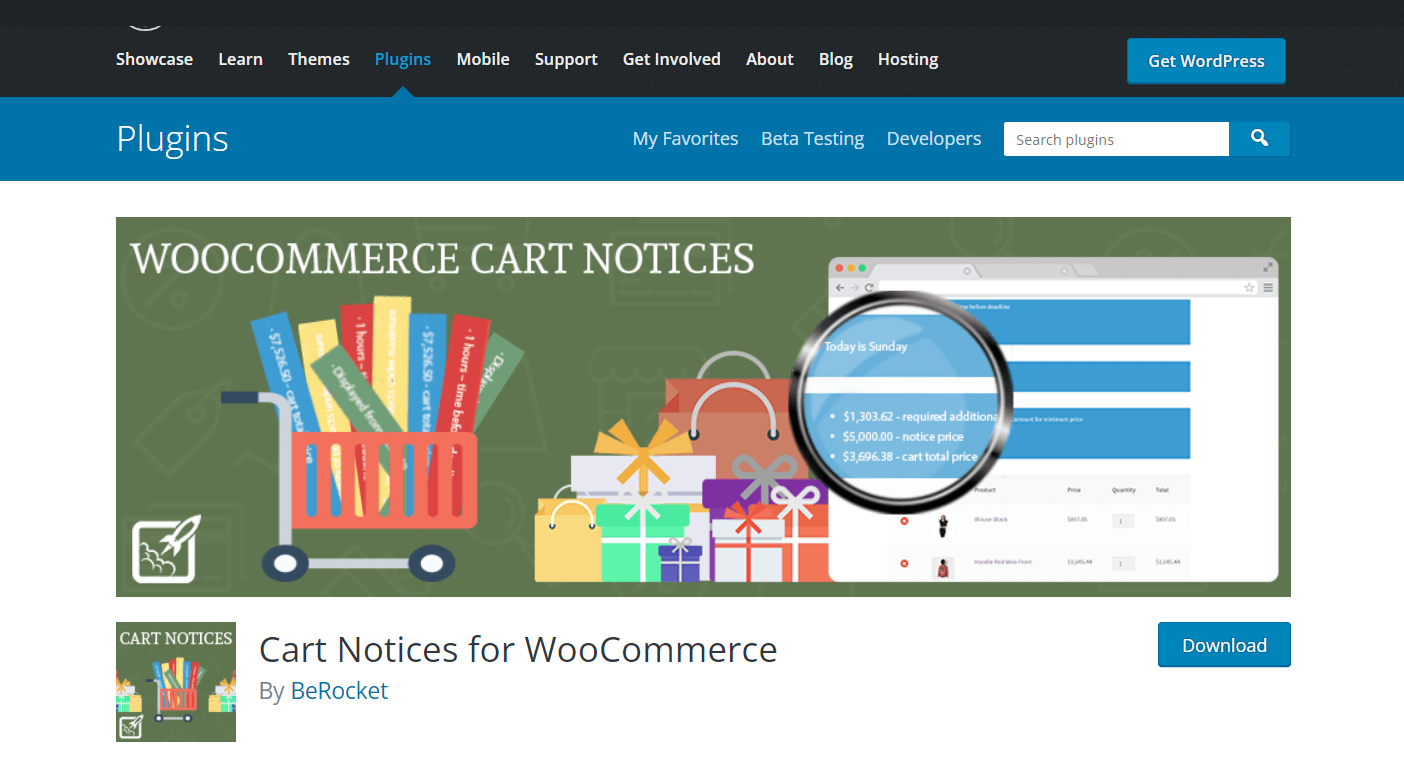 Major features
Allow showing notices for cart price with a time deadline

Provide notices for products in the cart with quantities to be displayed.

Enable notices for product categories in the cart.

Makes it easy to add alerts to customers who arrived via a certain referrer.

Set notices for Sale price, Stock quantity, and Product page based on conditions.

Allow adding messages anywhere on your site using shortcodes.

Add a button to your message to encourage your customers to perform the desired action.
Price: Free
YITH's premium plugin, YITH WooCommerce Cart Messages, is available to drive your sales by informing users about promotions and offers during the checkout process. By notifying users about the benefit from a discount or free shipping, you also can increase the average order value. On the cart and checkout pages, it allows you to add notice messages about discounts, shipping, similar products, product categories, and so on. When your customers reach their cart page, they will see the notices. YITH WooCommerce Cart Messages completely solves this problem by allowing you to design a message that your customers will view once they reach their cart page!
With just one plugin, you can improve your e-commerce sales dramatically. There are 3 types of messages below that would be useful for your website store.
Simple message: In the message, you can include whatever text you like.

Products in cart message: This type of message permits you to customize messages based on certain products in your shopping basket.

Categories in cart message: It allows you to construct messages based on the cart's individual categories.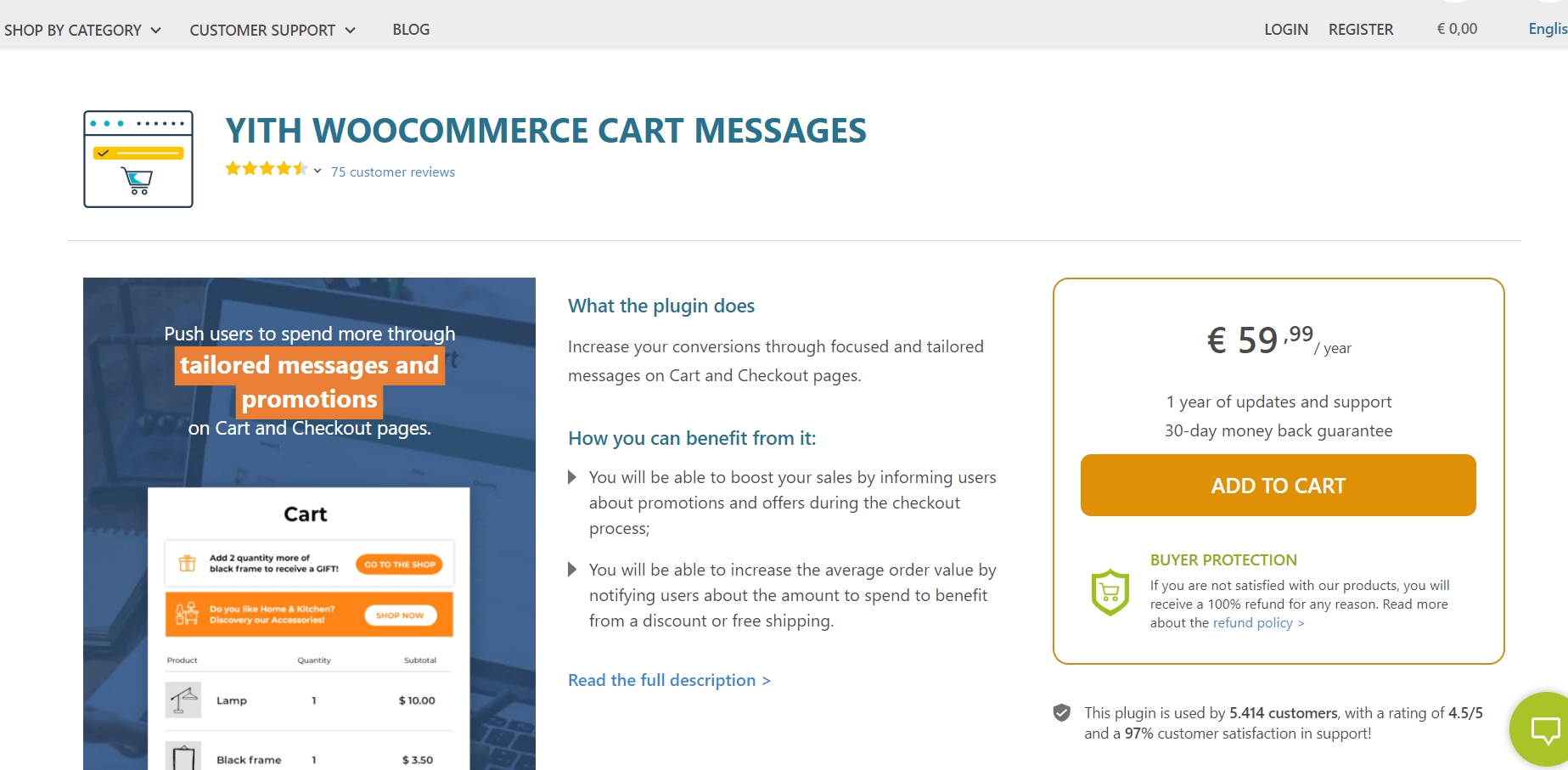 Major features:
Create messages regarding a minimum amount to spend that encourages your shoppers to pay more to gain the benefits of a particular deal. The message can include the amount to get and the gap to fill to benefit from the offer.

Authorize you to analyze the referrer: You can send messages to your users based on the source page they came from.

Help in generating messages with a deadline to encourage customers to make a purchase within a certain amount of time.

Allow choosing from a variety of layouts and quickly and easily adjust your message colors, icons, and layout style from the plugin panel.

Optionally decide who can see your cart messages (Guest and Customers or Guest or Customers)

Enable the website's owner to choose whether the messages should appear only on the Cart and Checkout pages or on all of your website's pages.
Price: $69.38/ year
WooCommerce Dynamic Cart Notices developed by WooMatrix is a premium plugin. You may generate and display notices on the cart and checkout pages with this plugin. The plugin provides role and time-based filtering for each notice, allowing you to show notices to users with specific roles. You can display a notice for a set period of time. The plugin also offers an easy-to-use admin interface that makes configuring the settings a breeze.
Major features:
Allow for a minimum order amount notice to be displayed in the cart.

Use a Cart notification to persuade the user to add more items so that the promo code can be used.

Send a message when the cart contains specific products or products from a specific category.

Deadline alerts based on the day or date to urge site users to shop before a certain time.

Show a notification if the visitor came from the specified URL.

Enable choosing to display the notice for a specific amount of time.

Ability to select the user role to display the cart notices.
Price: $58/ year
The WooCommerce Dynamic Cart & Checkout Notices plugin developed by Addify allows you to show customized messages to customers as they interact with your store. Add them to the online store, the shop site, the cart page, and the payment gateway. You can send several personalized messages based on parameters like cart quantity, cart price, timeframe, countries, user roles, and specific products or categories in the cart versus not in the cart.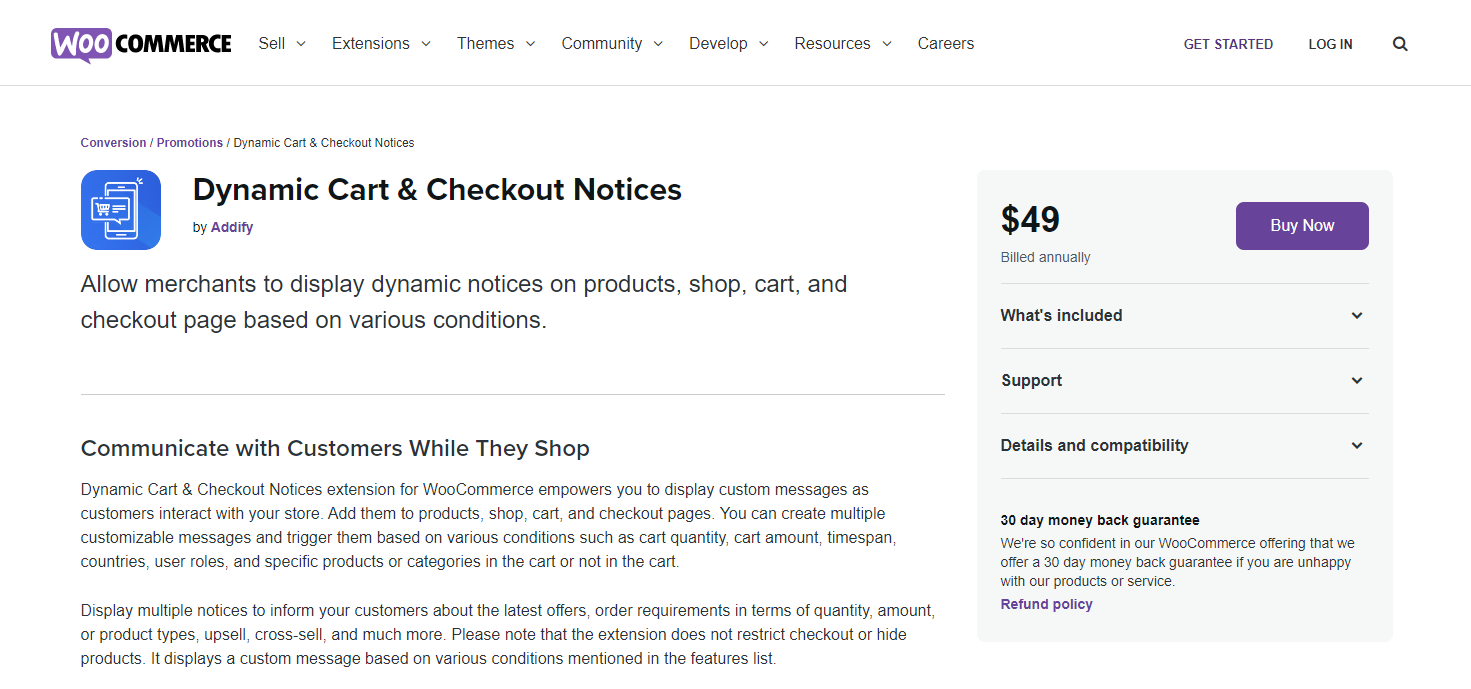 Major features
Show in the shopping basket, at checkout, and on product or category pages

Personalize messages with a variety of predetermined variables

Include call-to-action buttons to boost conversion rates.

Display messages for a set amount of time

Allow messages to be shown in various places, including the shop, product, cart, and checkout.

Choose from multiple shop, product, cart, and checkout positions to display messages
Price: $49/year
Conclusion
These plugins would benefit any eCommerce shop that wants to provide its clients with promotions and deals. You may quickly show messages to individuals who abandoned their carts before finishing their purchases with a WooCommerce cart notifications plugin, and you can convert your sales by providing them fantastic discounts. These tools will help you boost sales more quickly and effectively than ever before. With the information we've provided, you should be able to pick the best WooCommerce cart notices plugin from the list above.
If you want to discover more about WooCommerce or find other fascinating plugins, you can discover more valuable articles on AVADA.
New Posts
Subscribe
Stay in the know
Get special offers on the latest news from AVADA.
40k
subscribers has been joined!
Earn $10 in reward now!