8 Best Beeketing Plugins For Woocommerce To Boost Your Revenue
8 Best Beeketing Plugins For Woocommerce To Boost Your Revenue
With the proliferation of marketing and sales plugins developed for WooCommerce stores, you now have access to hundreds of extensions - extensions allow you to personalize your WooCommerce stores to better match your needs and serve your consumers. As a business owner, you don't have the time, much alone by the technological skills, to handle all marketing and sales on your own. Testing all plugins is just impossible, and employing in-house marketing is too expensive.
Fortunately, there is an all-in-one marketing solution powered by several marketing and sales tools but is available as an integrated bundle, eliminating the need to acquire multiple individual plugins. That is why today's tutorial will show you the 8 best Beeketing - one of the top Marketing Automation plugins for WooCommerce available on the WordPress current market to boost your revenue. Let's take a look at how its many features and functions may help you advertise your shop, increase sales, and get more clients simply by utilizing this all-in-one marketing and sales plugin.
What is Beeketing?
Beeketing, which has offices in Vietnam and the United States, was founded in 2011 to offer marketing assistance to online entrepreneurs that use all major eCommerce platforms. The essential Beeketing software is free to install in Shopify, BigCommerce, and Magento online stores. For self-hosted WordPress sites, it can also be combined with the WooCommerce plugin. Beeketing's free edition provides a suite of extensions to assist online merchants in tracking and understanding consumer behavior, encouraging online sales, and chatting with them directly on Facebook Messenger. Users may also purchase premium extensions for more capabilities for costs ranging from $19 to $30 – and premium Beeketing also provides a 15-day free trial. Users may join up for more features and download Beeketing directly from the app's main page. According to the app's developers, the software has produced almost $1.7 billion in additional sales for eCommerce businesses worldwide.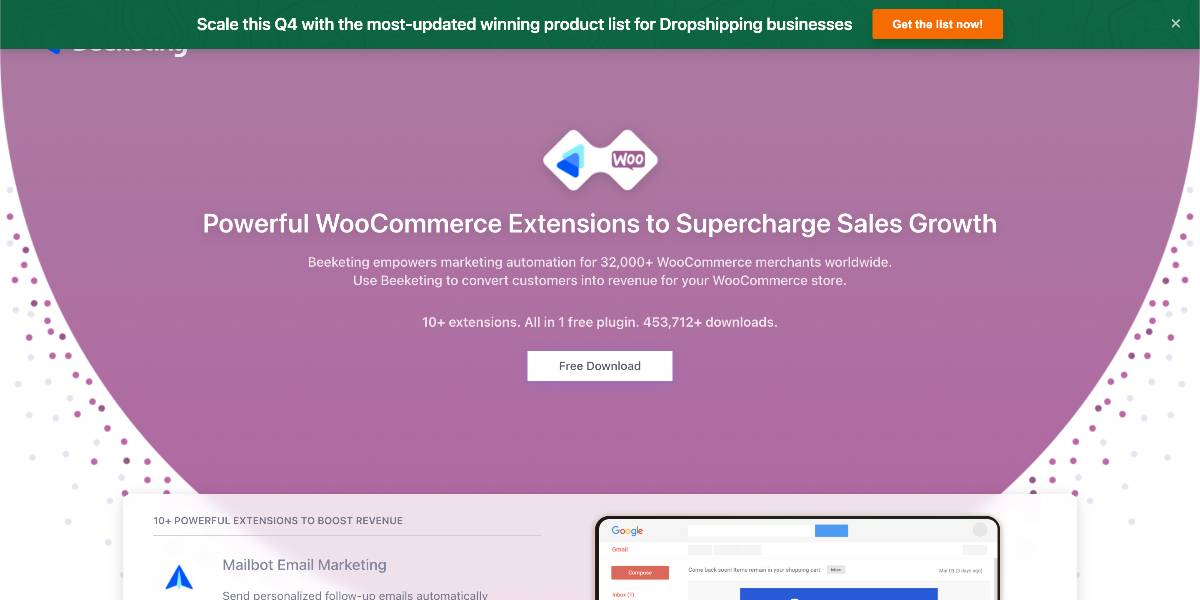 So, what exactly can you accomplish with Beeketing for WooCommerce?
You can save time by managing and regulating your whole WooCommerce shop marketing strategy on a single, unified platform. Furthermore, everything is mechanized and supported by Artificial Intelligence (AI).
You can save money by receiving many apps and technical assistance in a single, low-cost package.
You generate more money by quickly applying more than ten improvements to double or triple your sales and conversions.
You make data-driven decisions to increase your marketing success, and you get easy-to-follow real-time analytics reports.
You get free expert assistance to help you repair any technical difficulties or answer marketing inquiries 24 hours a day, seven days a week.
Beeketing offers Facebook Messenger integration for fast, on-the-spot talking, as well as alternatives for making audio and video conversations without disclosing personal contact information.
8 Best Beeketing plugins for WooCommerce Stores
Sales Pop
According to the social proof hypothesis, consumers seek the advice of others before purchasing a product. This is why displaying how popular a product is might encourage people to buy more quickly. You may use this social proof method to your WooCommerce store with Beeketing for WooCommerce's Sales Pop plugin. Simply install the app, and every time a visitor browses your store, a real-time sales notice indicating that someone has purchased a product will be shown.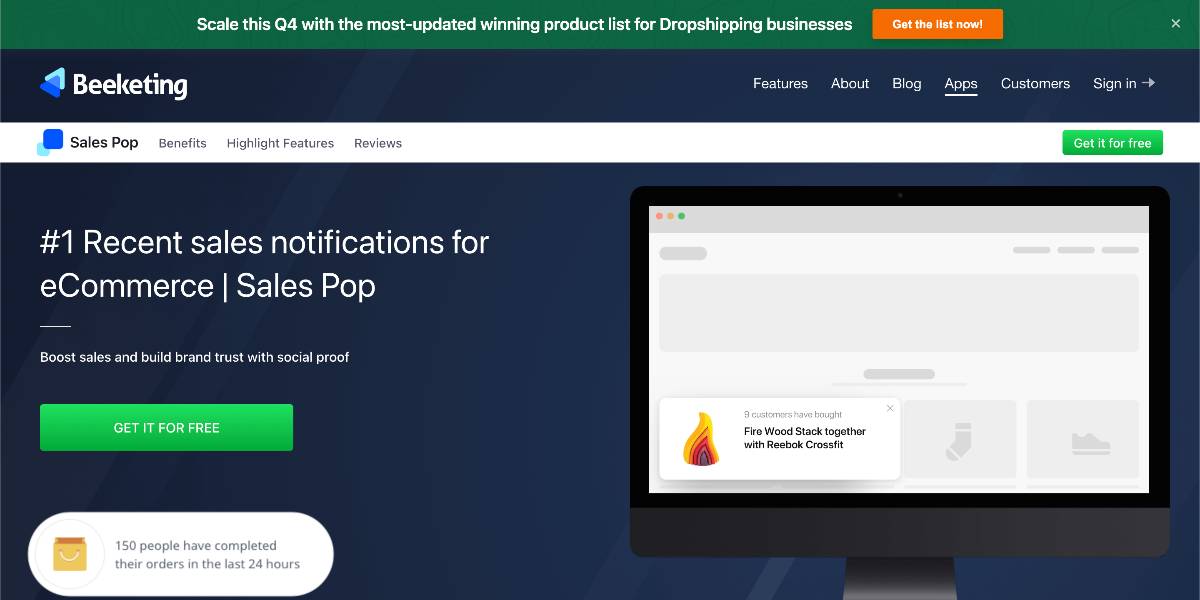 Outstanding features:
Sales Pop integrates with your store's data to convert recent orders into sales alerts, promoting purchase activity on your site.
Checkout alerts inform your clients of the number of individuals who have checked out in the past 24 hours, as well as the number of products left in stock.
You may fully personalize how each notification looks and appears on your storefront by adjusting the texts, placements, display, and delay duration.
Sales Pop by Beeketing pushes your consumers to buy fast in only one click by displaying a brief preview of suggested items.
Price: This plugin is free to download.
Boost Sales
Upselling and cross-selling strategies have long been utilized as a combined marketing concept to raise the average transaction value of customers. They have been shown to help online retailers increase revenue by 70%. This sort of marketing works by promoting higher-value products (e.g., product upgrades, more costly things) or adding complementary items (e.g., accessories, component parts) to what the buyers already buy. Boost Sales' clever upsell and cross-sell tools can assist you in implementing this by automatically picking the suitable goods to upsell or cross-sell for you.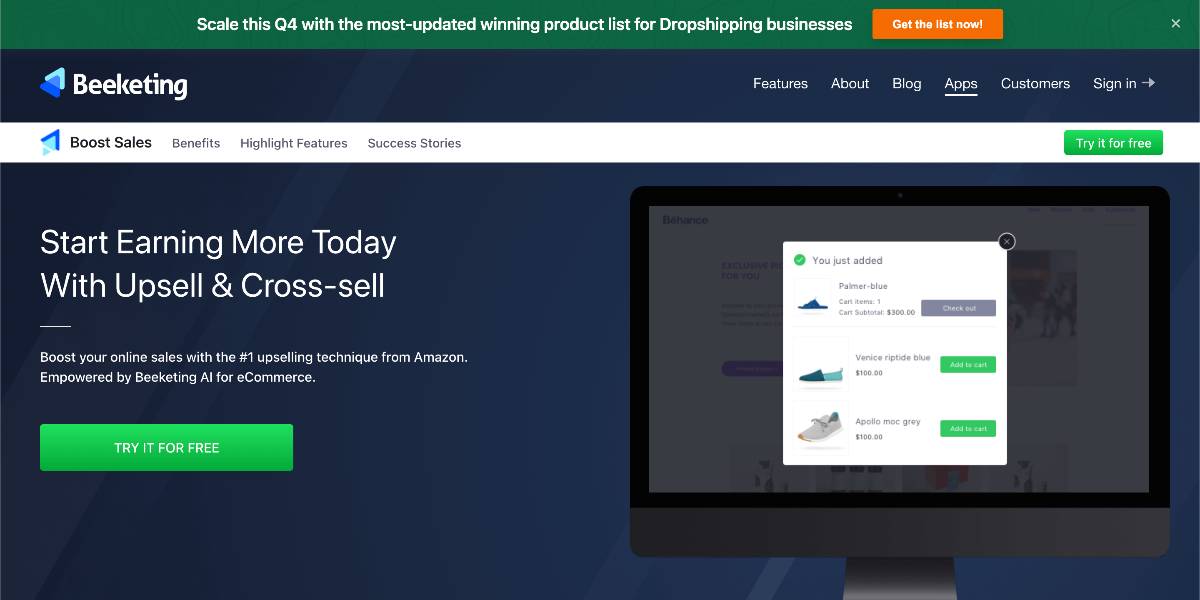 Outstanding features:
Upselling allows you to recommend higher-end alternatives or related items to consumers, allowing you to simply boost the average order value from all orders.
Cross-selling allows you to combine goods that complement one another into a product package for your clients.
When a visitor adds an item to their basket, a popup appears to upsell them a range of better choices that they may be interested in.
When visitors browse any product in the bundle, a corner popup with a distinctive effect will emerge to capture their attention and propose the entire pack.
Boost Sales uses machine learning technology (Beeketing Artificial Intelligence) to create offers and recommend them to the correct clients based on their surfing habits and order history.
Price: You can get a monthly subscription to this plugin at the cost of $30.
Checkout Boost
Exit-intent technology tracks your visitors' mouse movements to predict when they're ready to go. Checkout Boost has an exit-intent function that allows you to provide appealing last-minute promotions and discounts. This will encourage your abandoning visitors to return to your WooCommerce shop and make a purchase first. You are free to produce as many presents or discounts as you like. You may also limit your free gifts, free delivery, or discounts to specific goods or collections.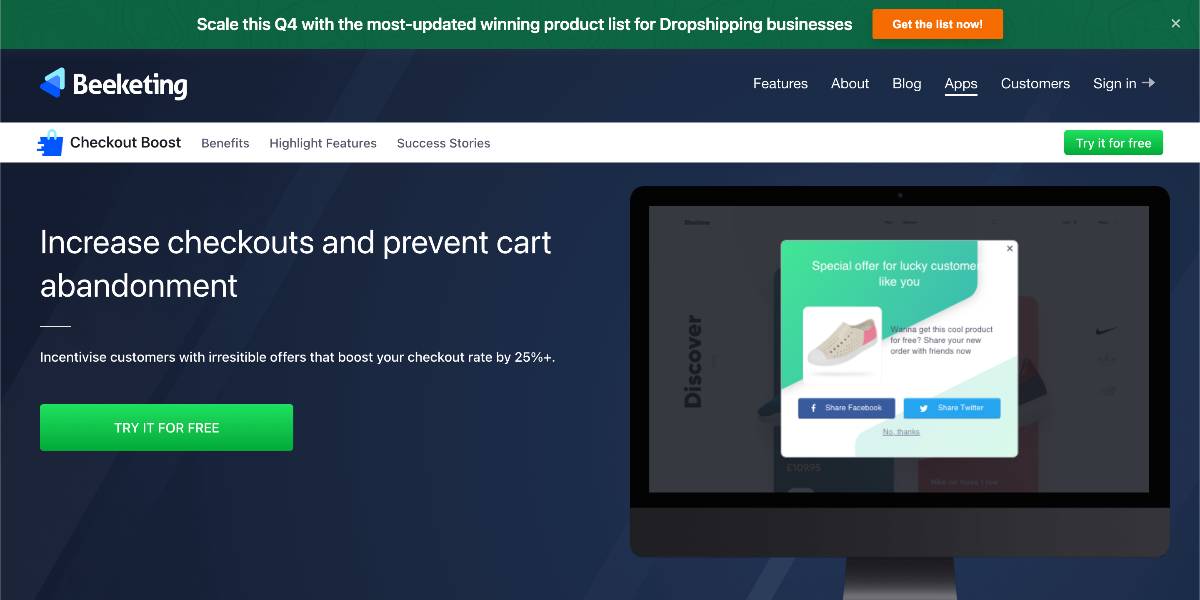 Outstanding features:
Checkout Boost records every visitor's mouse movement and shows offers just as they leave your business, assisting you in converting existing clients into purchasers.
Create Countdown offers that encourage buyers to obtain their goods as soon as possible before the time runs out.
One-click integration and enhanced UI/UX make it the most user-friendly and convenient tool for even non-tech company owners.
Highly adjustable parameters allow you to target clients with particular incentives on various pages.
All devices are supported, and language translation is available to assist you in expanding your global sales.
Price: You can get a monthly subscription to this plugin at the cost of $27.
Quick Facebook Chat
Quick Facebook Chat is another free plugin that allows your customers to contact you via Facebook Messenger, which has several advantages over live conversations. Quick Facebook Chat will enable you to simply and seamlessly deliver engaging, tangible help to build trust and open up prospects for future purchases. Because you can view the chat history at any time, you can carry on conversations even after consumers have left your business.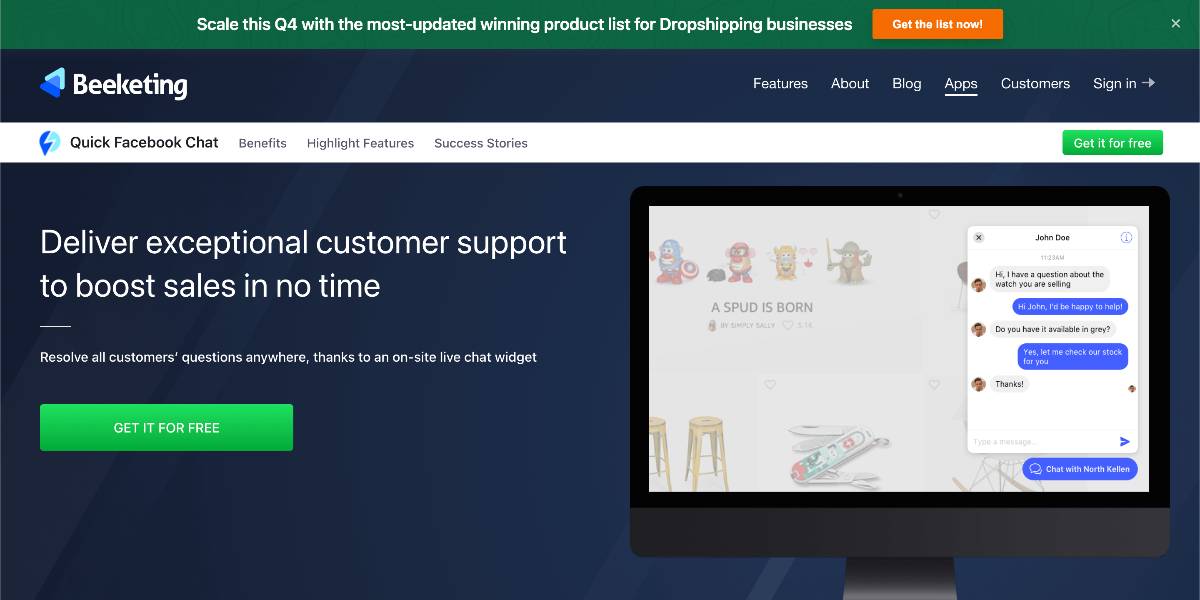 Outstanding features:
Reduce customer service delays and increase customer satisfaction.
With customized service, you can turn discussions into conversions.
Customers who send you messages using your store's Messenger widget are eligible to be added to your Facebook Messenger subscriber list and re-engaged with later.
Quick Facebook Chat is compatible with all platforms, including mobile, tablet, and small-screen computers.
Price: This plugin is free to download.
Countdown Cart
Customers spend their time while looking for the best or cheapest goods available. Their hesitancy is one of the most significant impediments to practical conversions. They want to evaluate other items first, implying that even if you currently give a price discount, your consumers will still hesitate because they believe they will find a better deal elsewhere. To avoid this, you should utilize urgency and scarcity methods to drive them to conversion as quickly as feasible. With its time-related urgency and quantity-related scarcity, Beeketing's Countdown Cart may help you successfully convince clients.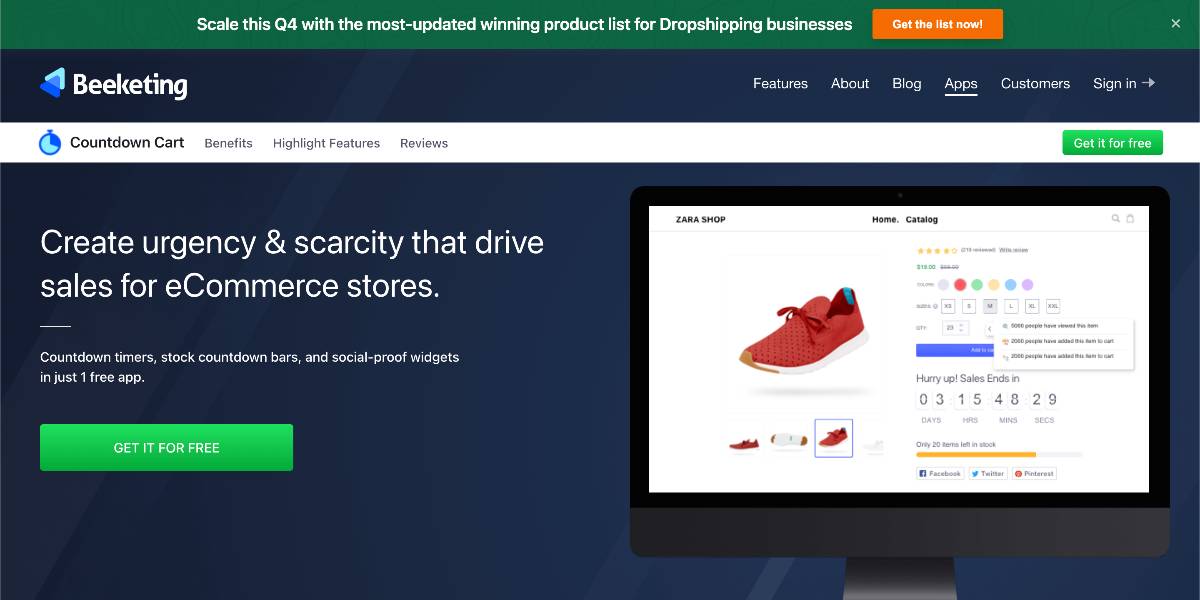 Outstanding features:
Display the limited number of items left in stock in your store to raise the perceived worth of your products and urge your consumers to make immediate purchases.
Create a sense of urgency that encourages hesitant consumers to buy as quickly as possible to take advantage of the juicy discounts before they expire.
You may show sales countdown clocks on specific product pages, collection pages, and even the homepage to ensure that clients do not miss out on offers that are about to expire.
Countdown Cart increases conversions by instilling a feeling of urgency and scarcity in your online business.
Price: This plugin is 100% free.
Mobile Converter
With mobile accounting for over half of all online traffic globally, the possibilities of losing a lot of clients are substantial if your shop is not mobile-optimized. The Mobile Converter software would prepare your business for mobiles by adding a static 'Add-to-Cart' button in a convenient place, full-screen feature photos, and a direct 'call-to-action button. Even in the age of e-commerce, mobile conversion is lower than desktop conversion. You might use this software to bridge the gap.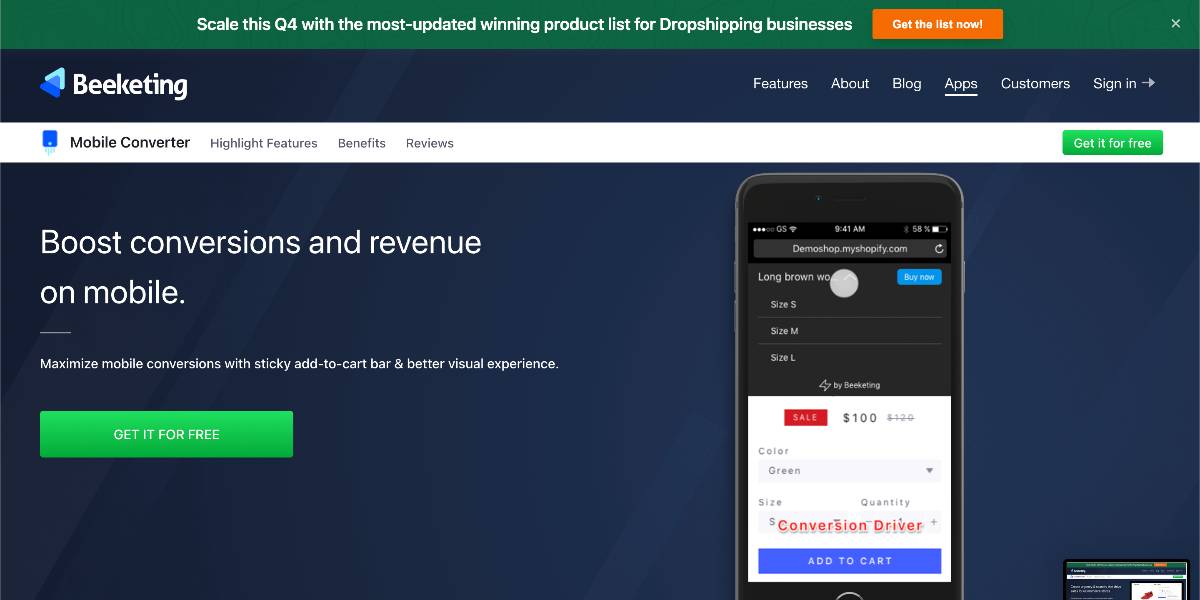 Outstanding features:
While your consumers scroll up or down on the product pages, place a fixed call-to-action bar at the top or bottom of the mobile screen.
Make the Call to Action button visible and always available, and urge them to click it to begin purchasing from you.
Display your product photos in full-screen mode with a sticky Add-to-cart button, so your consumers can see and buy your items on the mobile web right away.
Influence sales by making site navigation easier and providing a better visual experience on mobile.
Mobile Converter, which requires no technical expertise, saves you time with 1-click integration and a quick setup.
Price: This plugin is 100% free to download.
Better Coupon Box
Better Coupon Box will assist you in increasing your social followers. You may use this coupon follower box to surprise your consumers and offer to reveal the coupon code after they like you on any of your social media accounts. You may select whether to show the popup when your consumer reaches your site or when they are about to abandon a cart. Better Coupon Box allows you to show exit-intent popups immediately before they leave to provide a tempting coupon and urge them to make a purchase by tracking every visitor's mouse movement.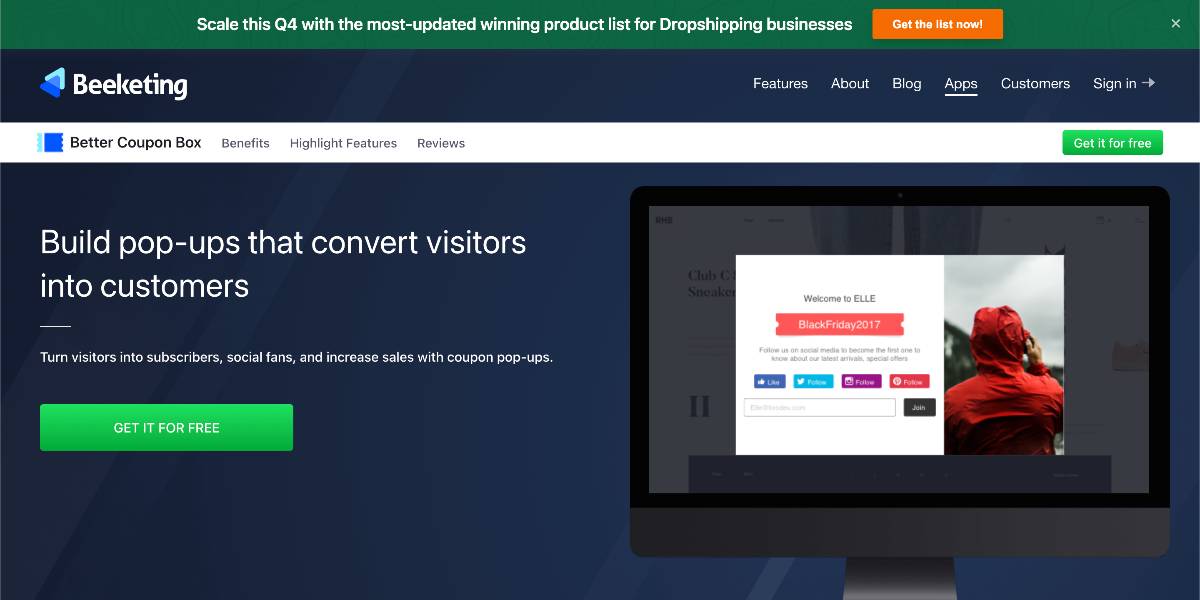 Outstanding features:
With the stunning popups, you can convert visitors into prospective customers by exchanging a deal for their emails or social following.
You may also use the versatile CSS custom editor to create your own popup template that suits your shop's theme.
You may display a popup campaign on specified sites or provide coupons to specific client categories (all, new, or returning).
By activating your popups to specific groups, you may save up to 70% on marketing costs while achieving a good ROI.
Better Coupon Box assists you in capturing every possible visitor by displaying highly converted pop-ups on desktop, tablet, and mobile devices.
Price: This plugin is free to download.
Personalized Recommendation
Targeted items based on the interests of the purchasers can result in increased sales. As a result, the Personalized Recommendation assists you in selecting personalized goods based on their preferences and interests and recommending them at the checkout page or through email. Personalized product suggestions may account for only 7% of visits but 26% of sales. This is one of those great features that we find on significant eCommerce sites like Amazon and other well-known eCommerce platforms.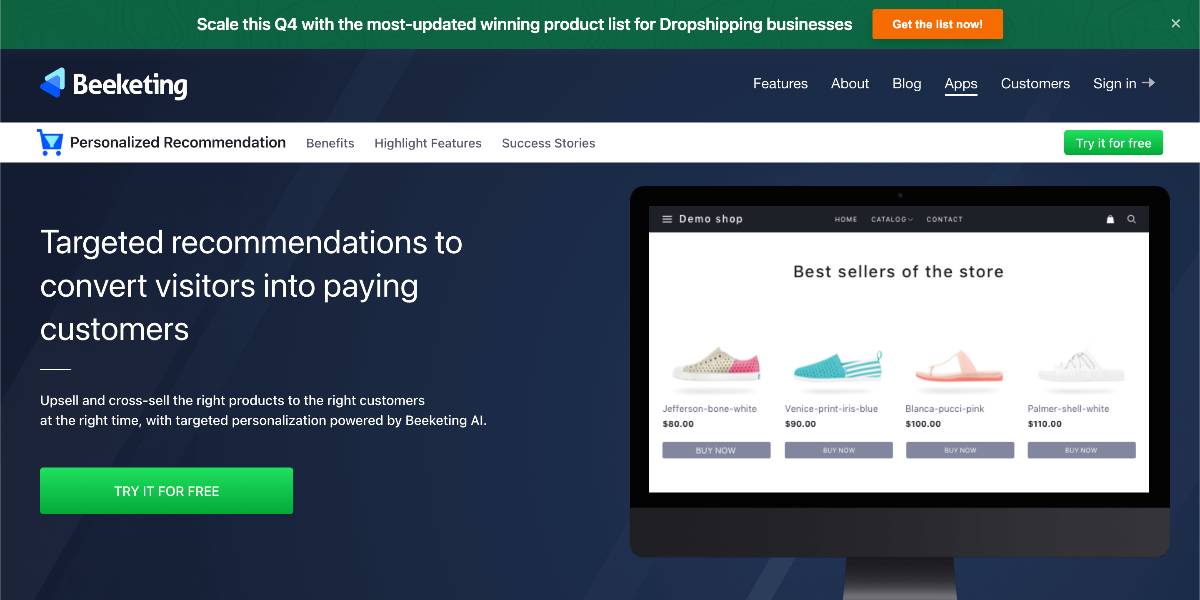 Outstanding features:
At the bottom of each product page, Personalized Recommendation automatically provides things that best complement the unique product being browsed by clients.
Recently viewed and prominent suggestions are automatically presented at the footer of the site, collection page, and others.
Cart suggestion provides the most relevant extra goods that a consumer may want depending on the contents of their cart.
When a consumer adds an item from the suggestion widgets, a Smart Upsell Popup appears to advise more goods they are likely to purchase.
Increase the number of your clients' orders by providing them with more desired goods across your business, similar to Amazon's shopping experience.
Price: You can get a monthly subscription to this plugin at the cost of $19.
Conclusion
There are a plethora of WooCommerce plugins for marketing and sales available. Finding and testing the finest WooCommerce plugin available may be pretty tricky and intimidating. Not only have marketing and sales techniques expanded into new sectors, but they have also gotten so sophisticated that they require automation. Hiring an expert or purchasing many plugins to become a successful WooCommerce shop might be costly. That is why people need an all-in-one marketing solution like Beeketing.
We hope this article will help you know more about the 8 best Beeketing plugins for WooCommerce to boost your revenue. The applications are excellent and include all of the professional features seen exclusively in large eCommerce businesses. Another advantage of this plugin and its applications is that they are entirely customizable. You may modify the design and color of each app to match your theme. Furthermore, the plugin is fully adaptable and has a lot of mobile-friendly features to increase mobile transactions.
New Posts
Subscribe
Stay in the know
Get special offers on the latest news from AVADA.
40k
subscribers has been joined!
Earn $10 in reward now!