How to Add a Subscription to the WooCommerce store
How to Add a Subscription to the WooCommerce store
Besides generating profits and attracting new customers, the ease of implementation is also the goal of every eCommerce merchant. And there is just the perfect way to achieve these three goals at the same time - offering a WooCommerce subscription.
If this is your first time hearing about this term, this article welcomes you. Today we will explain how a typical subscription-based website works and gain benefits from them. Apart from that, a guide on How to add WooCommerce subscriptions using YITH WooCommerce subscription will also be discussed. Keep reading to find out more interesting things along the way!
Why should you use a WooCommerce subscription?
WooCommerce subscriptions are a well-known method of boosting and gaining higher eCommerce sales profits. It aids in the creation of a marketing email list for your shop, which is useful for generating repeat business. The breadth of your company model will also be expanded, as well as the certainty of recurrent revenue. Subscription models are preferred by customers owing to the regularity and simplicity they provide.
Other than that, there are multiple reasons why the WooCommerce subscription model is currently popular than ever, including:
Increasing revenues: Subscription features may help your company expand exponentially by increasing the number of members and generating recurring revenue.
Higher conversion rate: Customers can access their favorite goods and services more easily and conveniently using subscription-based websites. More consumers will visit your shop if they have access to the most current goods, promotions, and updates.
Cross-selling and up-selling potential: Customer loyalty grows over time as they get more familiar with your brand and the quality of the goods and services you provide. More supplementary services that may also be of benefit to them are easily sold as cross-products.
The availability of recurring billing: With a subscription-based approach, you only need to attract and convert customers once, and you'll get automatic monthly payments from them. Your monthly income is easy to estimate since the number of regular payments is set upfront.
How to add a WooCommerce subscription to your online store?
In the previous section, we have informed you about the advantages of using the WooCommerce subscription model instead of a traditional one. Now, it's time to take a look at how to change your online business into a subscription-based website using a plugin. The tutorial has been divided into small basic steps and images to easily follow and compare the results.
Without any further ado, let's get started!
Step 1: Install the plugin
Today's tutorial will install an incredible plugin called "YITH WooCommerce Subscription". This is recommended as an all-inclusive solution for selling subscription-based goods and services in your eCommerce, managing recurring payments, and building customer loyalty. There are two versions you can download: free and premium.
With the first option, just navigate to this link and click on "Add to Cart" button next to it and you will see a .zip file being downloaded to your device: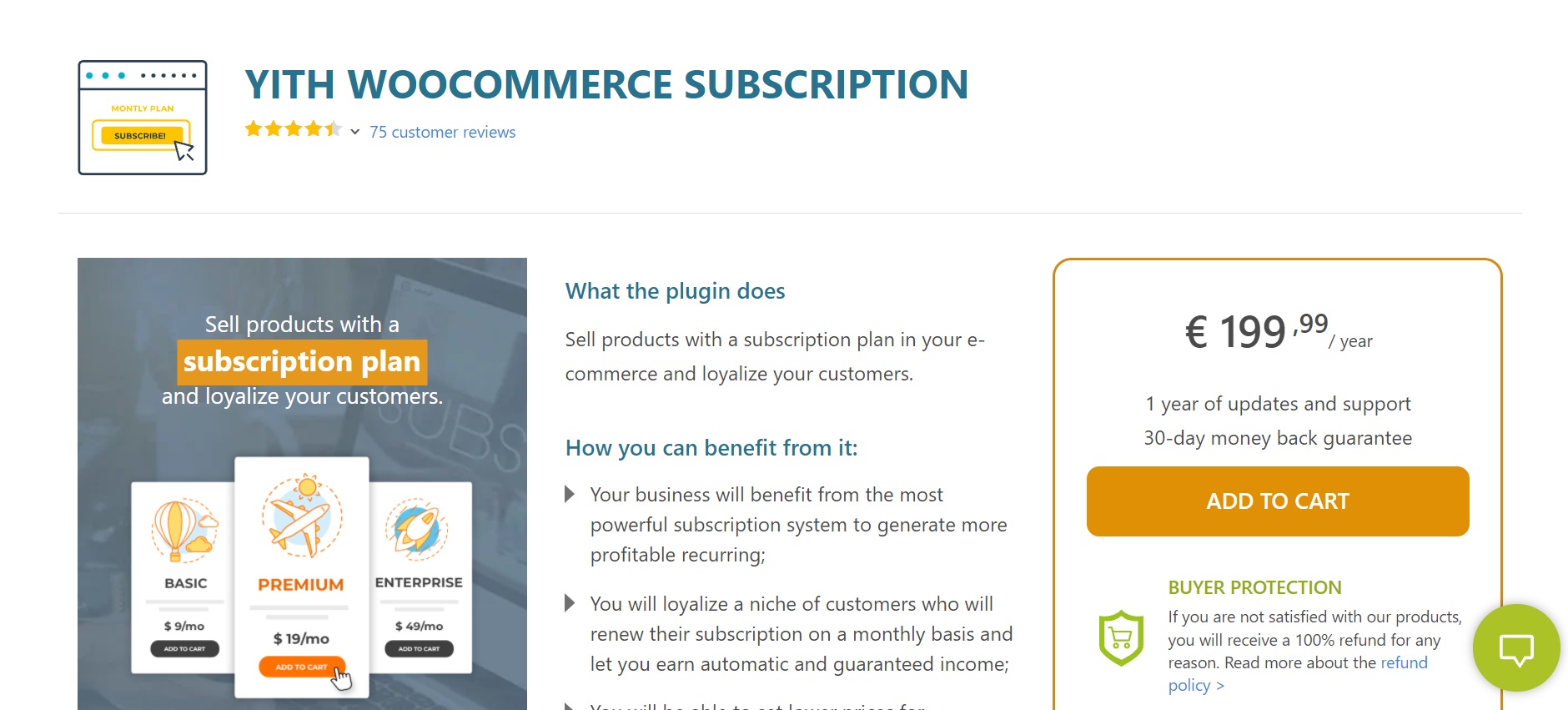 After that, we will go back to your WooCommerce dashboard and find the Plugins > Add New page on the left-hand sidebar of the website, which is something looking like this:
There you will see a button at the top of the screen saying "Upload plugin", where you can upload the .zip file that we just have downloaded. Continuously select "Install Now" and "Activate" to complete the installation: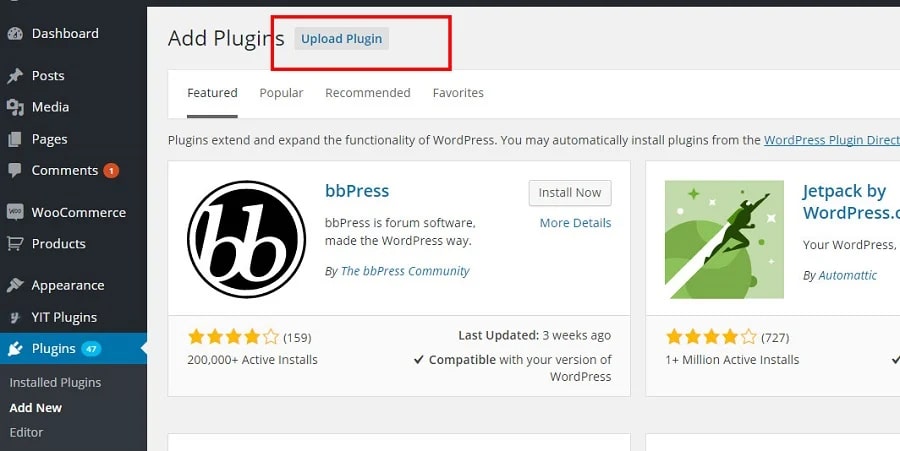 Step 2: Activate the license (premium version)
The plugin has to be installed in the previous stages to function properly. To get automatic updates from our development team or use our support platform, you must first activate your plugin if you bought the premium version.
Just go to your account page on yithemes.com and find the "Licenses and Downloads" tab to collect your license key:
Now, open a new tab leading you to the WooCommerce Dashboard and choose YITH > License Activation, this is what your screen will display: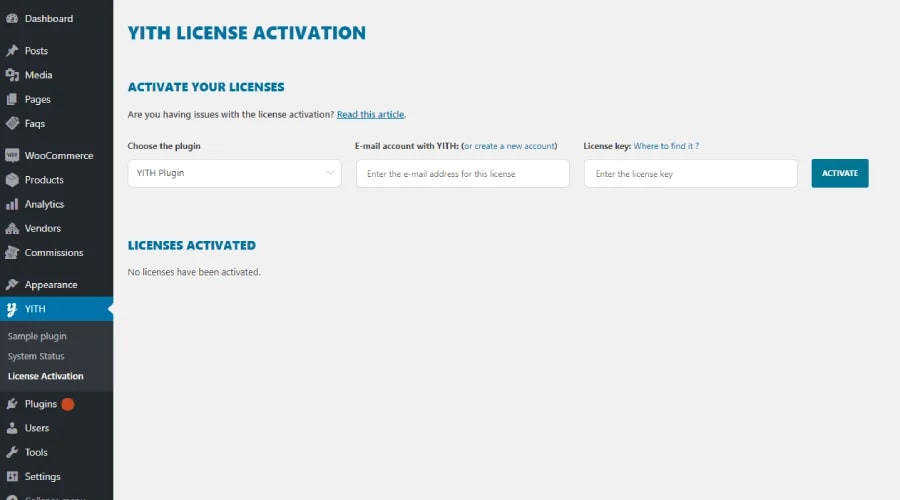 As you can see, there is a drop-down for you to choose one of the YITH plugins, next to it is the "License Key" field, where you have to pastedown the corresponding key and "Activate" to move on to the next step!
If everything went well during the activation, you should see something similar to this:
Step 3: Configurations
Go to the editing page and activate the "Subscription" checkbox to create your own subscription-based product: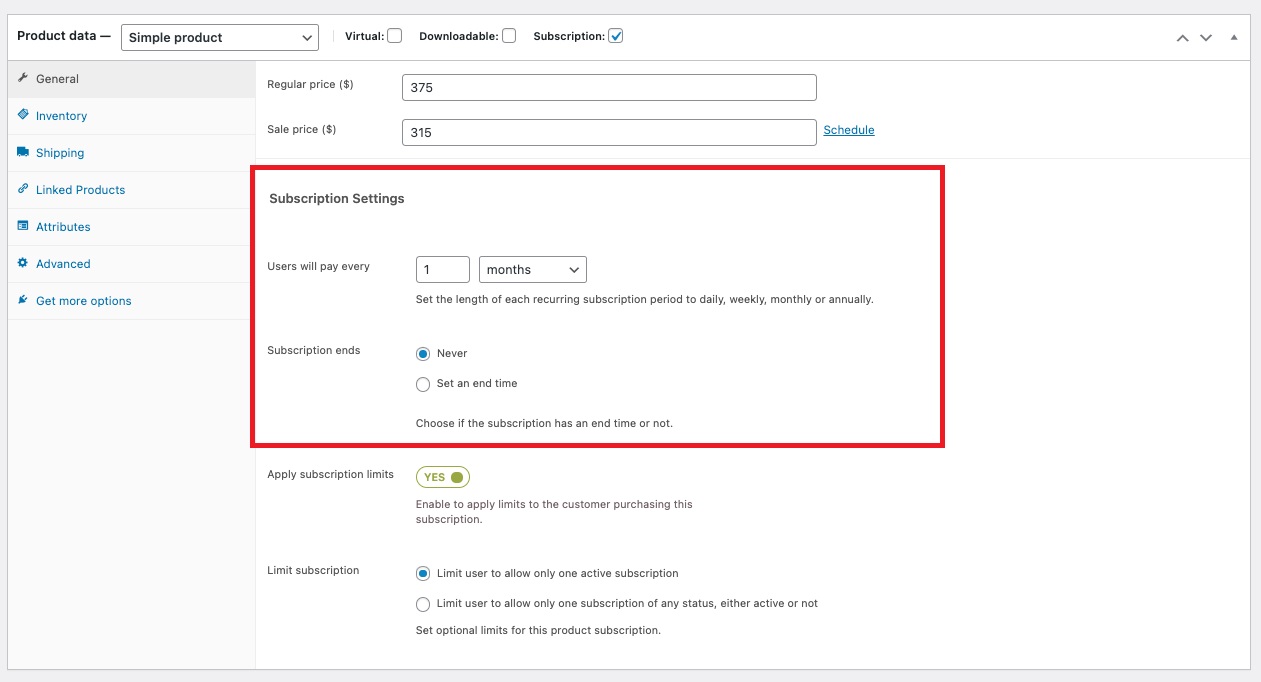 This is when you may select the price, frequency of payments, and length of the subscription for the newly established subscription plan. Then you may charge the subscribers a predetermined amount of money on a daily or monthly basis. However, this is optional so you can skip it if you want to.
The choices "Never" or "Set and end time" let you define whether or not the subscription has an expiration date. You may choose the number of days/months after which your membership will expire by choosing the option "Set an end time". Enabling the option "Apply subscription limits" will prevent the same user from purchasing the same subscription plan more than once. You may choose to allow just one subscription with the active status or to allow any state: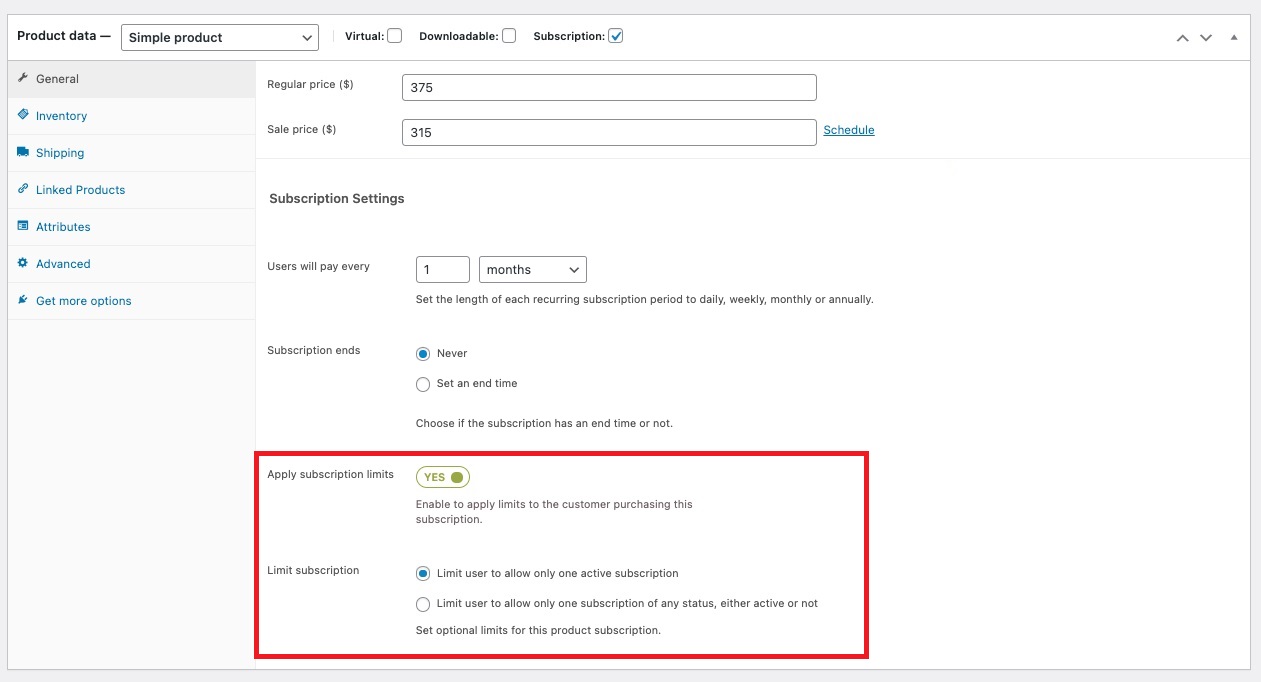 In case you wanted to set up some modifications for the payment method, hover your mouse over the WooCommerce > Settings page and do the same thing for configurations: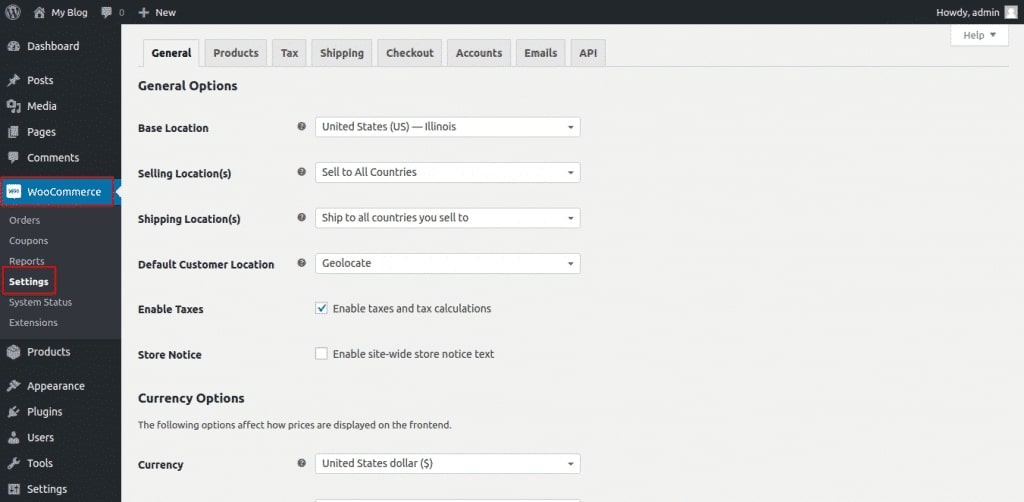 Up to the present, PayPal is the only payment option set to automatically deduct the subscription recurrence cost until the subscription expiration date, out of all those offered. If there is insufficient money in the subscriber's PayPal account, the subscription will be immediately canceled. Otherwise, consumers must remember and submit the money to the admin to maintain receiving benefits from their membership, which is up to them.
Step 4: Managing your subscription
The great thing about using YITH WooCommerce subscription plugin is the ability to gain full control over your entire subscription pack. All you have to do is go to YITH > Subscription > Subscriptions and you will find everything related to your WooCommerce subscription: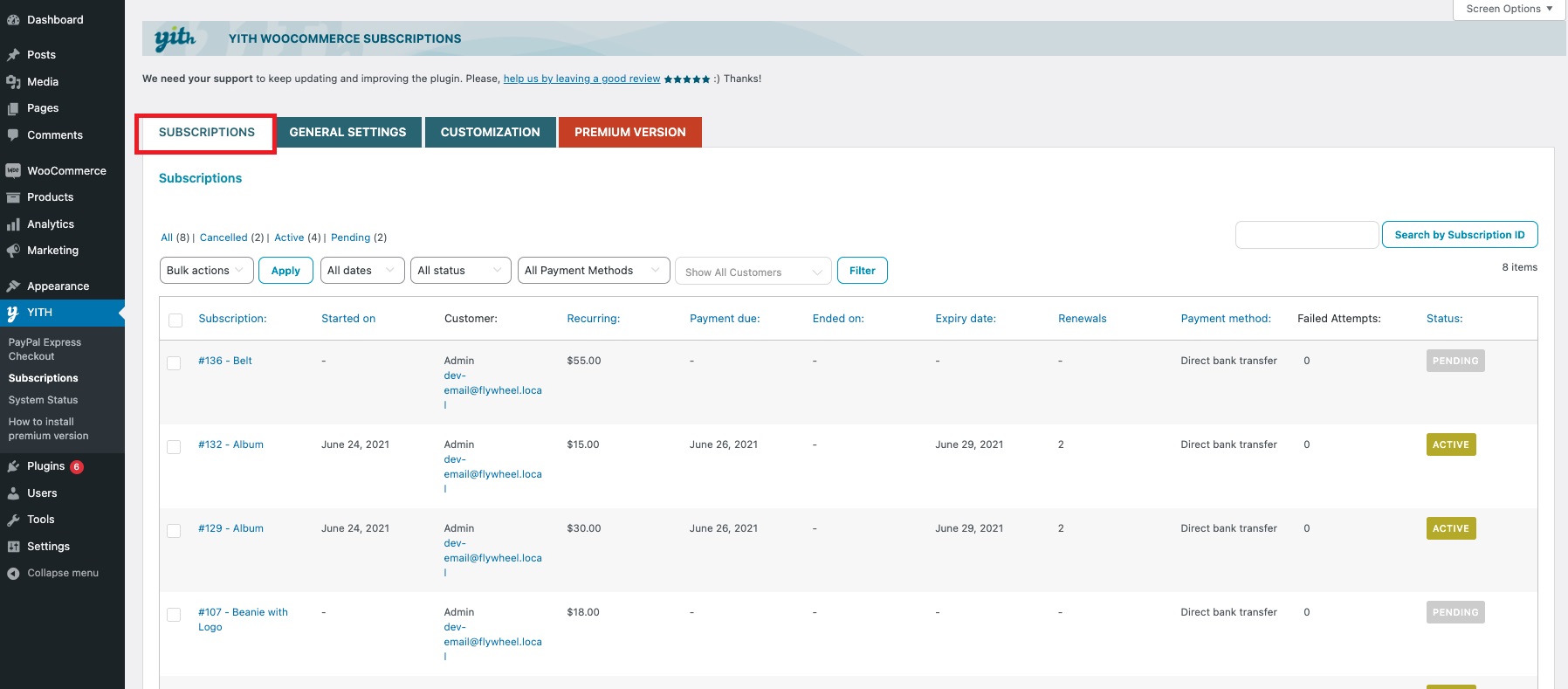 These include Subscription ID, active status, currently using products, the fee, order number and even the expiration date. If you use the plugin's subscription filtering features, you may find exactly what you're looking for quickly. You may also remove subscribers in bulk using the "Bulk actions":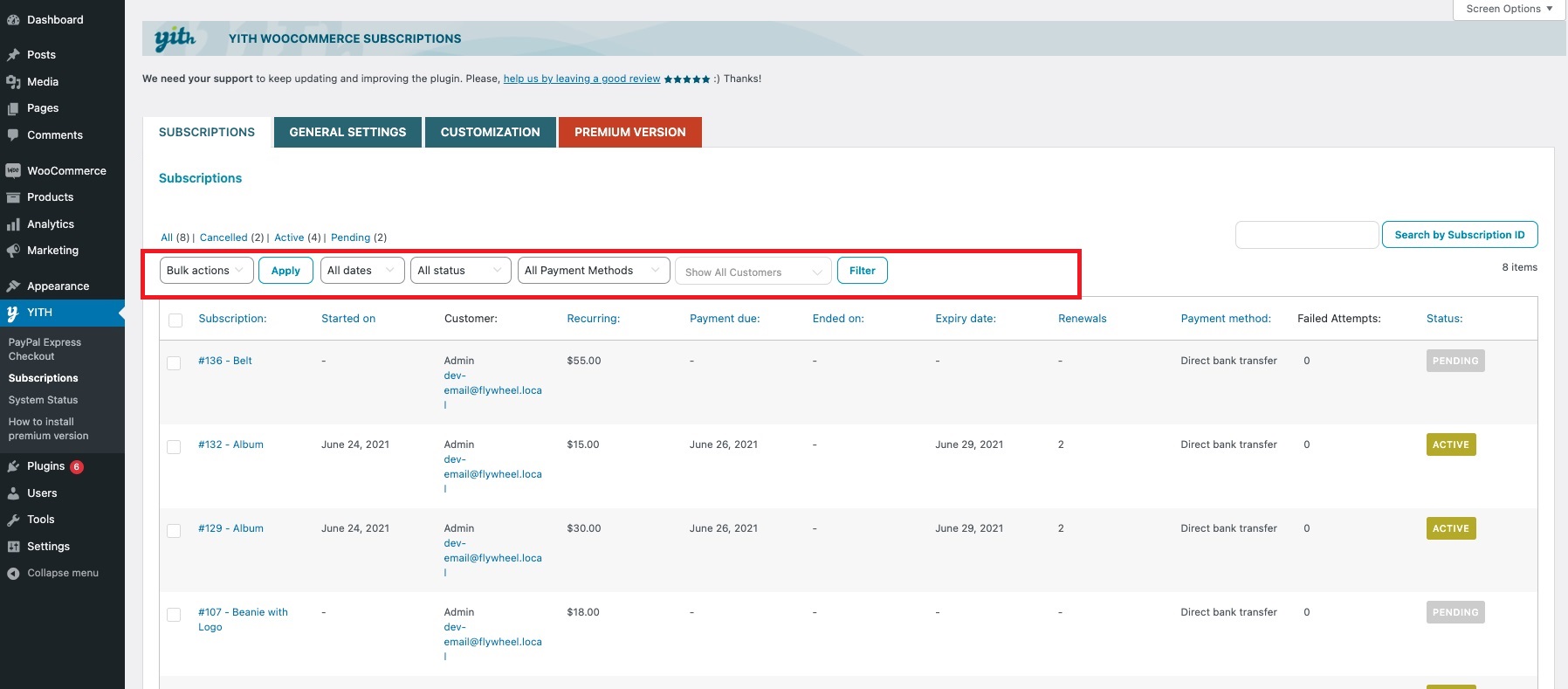 Step 5: General settings
Moving on to the "General settings" tab, it is divided into three small sections. For the "General settings", there are two fields as below:

Stock management with recurring payments: Renewing subscriptions will not impact the number of subscription items in stock if you choose this option.
Delete subscription if the main order is cancelled: You may remove the subscription after your primary order is canceled if you enable this option.
Then there comes the "Extra settings", where you can turn the toggle for "Shop manager can manage subscription settings" on as a way to allow yourself to modify subscription settings of your consumers:

Last but not least is the "GDPR & Privacy":

Delete personal info after an account erasure request: When this option is enabled, all client information will be deleted upon request. Delete pending and cancelled subscriptions: Activating this option will delete all subscriptions once the specified number of days, weeks, months, or years has passed.
Step 6: Cancel the subscription
The subscription cannot be paused or canceled unless it was bought using PayPal. For this reason, your customers may only cancel the subscription through their PayPal account. Still, the subscription will be terminated if payment is not received or if it is manually terminated via the plugin's administration panel. The "Bulk action" only has to be applied once you've selected the subscription you'd want to modify: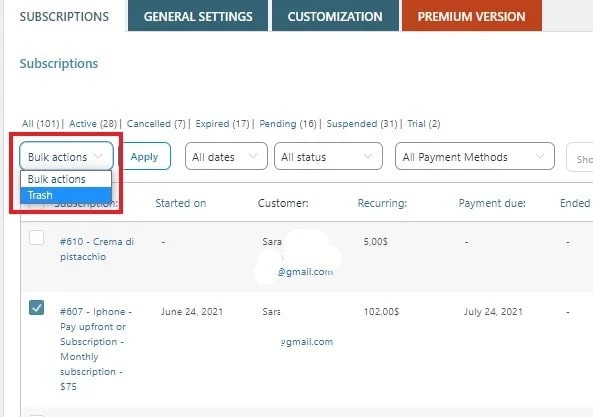 Top 4 WooCommerce subscription plugins
The best way to turn your website into a subscription-based one is to ask for help from a plugin. If you have not decided which one to work with, we are here to help!
Based on the popularity, customer reviews and functions, we have gathered up a list of top 4 WooCommerce subscription plugins that you can try out in order to scale your business into a subscription model.
WooCommerce Subscriptions by WooCommerce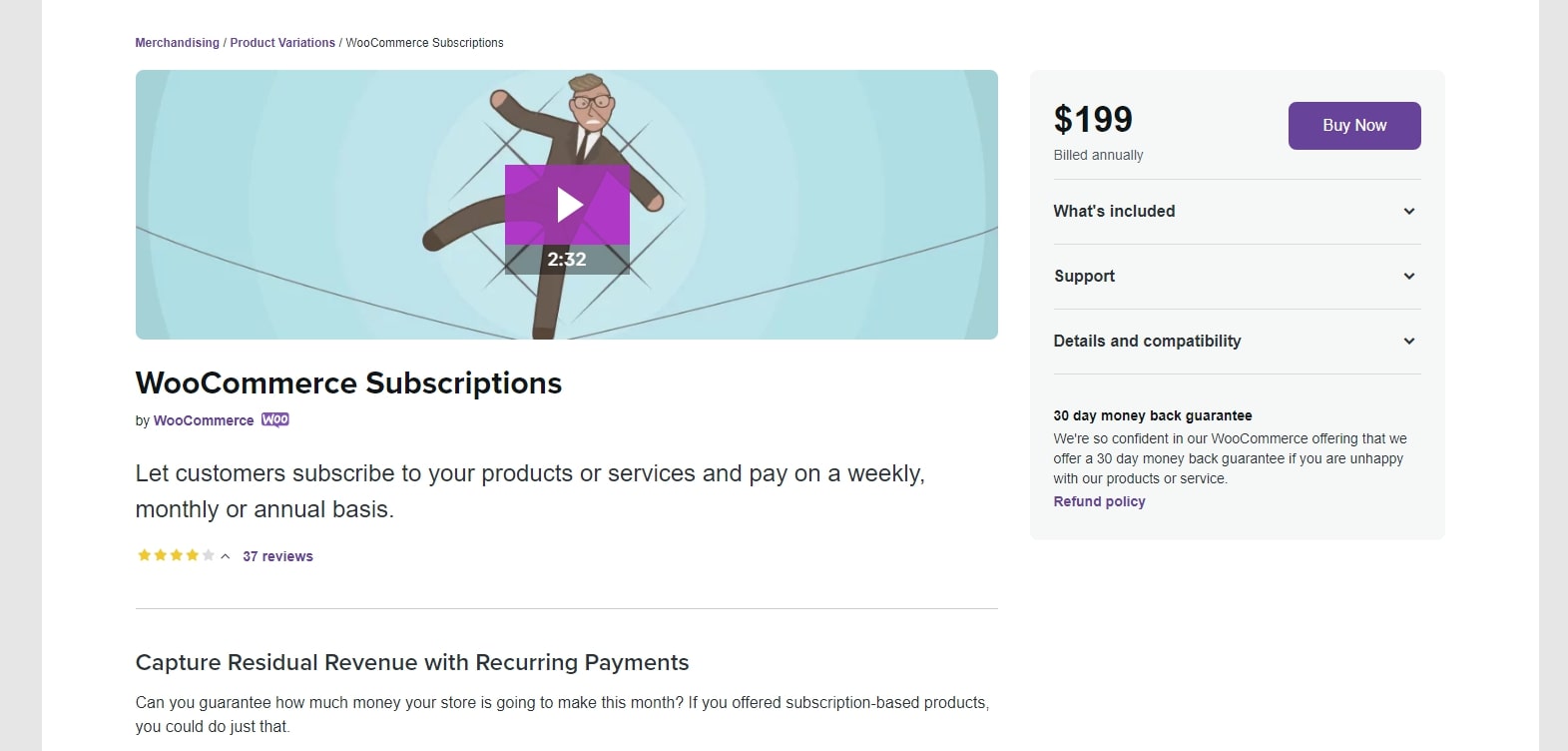 WooCommerce Subscriptions by WooCommerce is a great tool with some unique capabilities that make managing many variable subscriptions a breeze. In addition, the WooCommerce Subscription plugin provides features like automated billing, drip content setup, periodic payment schedules, front-end subscription administration, multiple subscriptions creation, and much more to WooCommerce. Moreover, more than 25 payment methods are available at WooCommerce Subscriptions, all of which are automated recurring payments and manual renewal payments.
Outstanding features:
Renewal notices are sent automatically to keep clients up to date.
Customers may pick and choose when and how often they want to be charged.
Rebilling for missed subscription payments is automatically started.
Permits consumers to buy more than one subscription at a time.
You may provide a free trial period to those who are interested.
Subscriptions for WooCommerce by WebToffee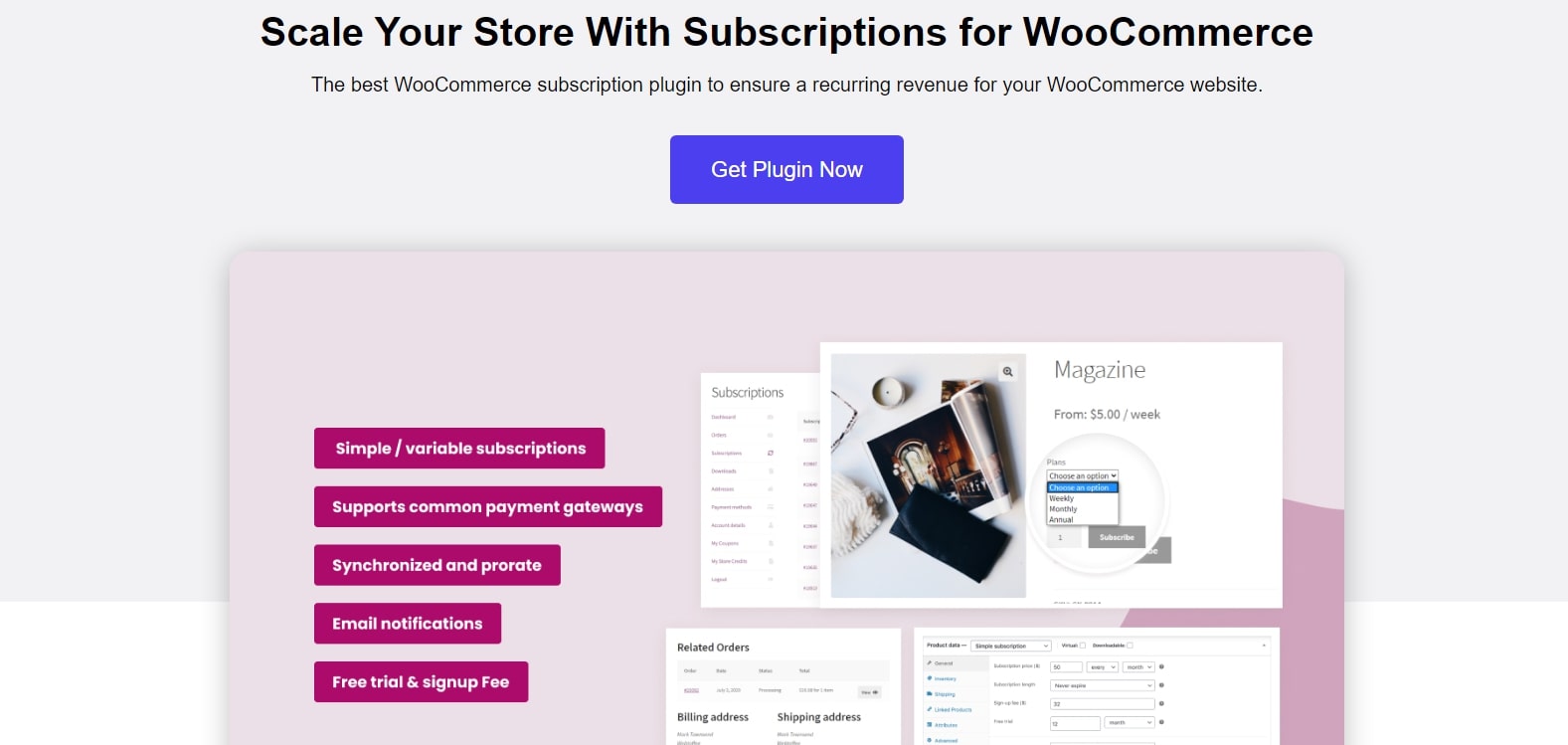 Subscriptions for WooCommerce by WebToffee allows you to create and sell subscriptions of any complexity. Providing free trials for subscription-based goods has become a popular advertising tactic. It gives potential consumers a chance to try out the goods before making a purchase. Free trials for a certain number of days, weeks, months, or years may be set up quickly and simply with the plugin.
Outstanding features:
Renew in sync with the prorate option is supported.
Both physical and digital goods now have changeable subscription pricing.
It notifies users through email on a regular basis.
Whenever a subscription payment fails, it immediately starts rebilling so the owner never has to worry about losing money.
Subscriptio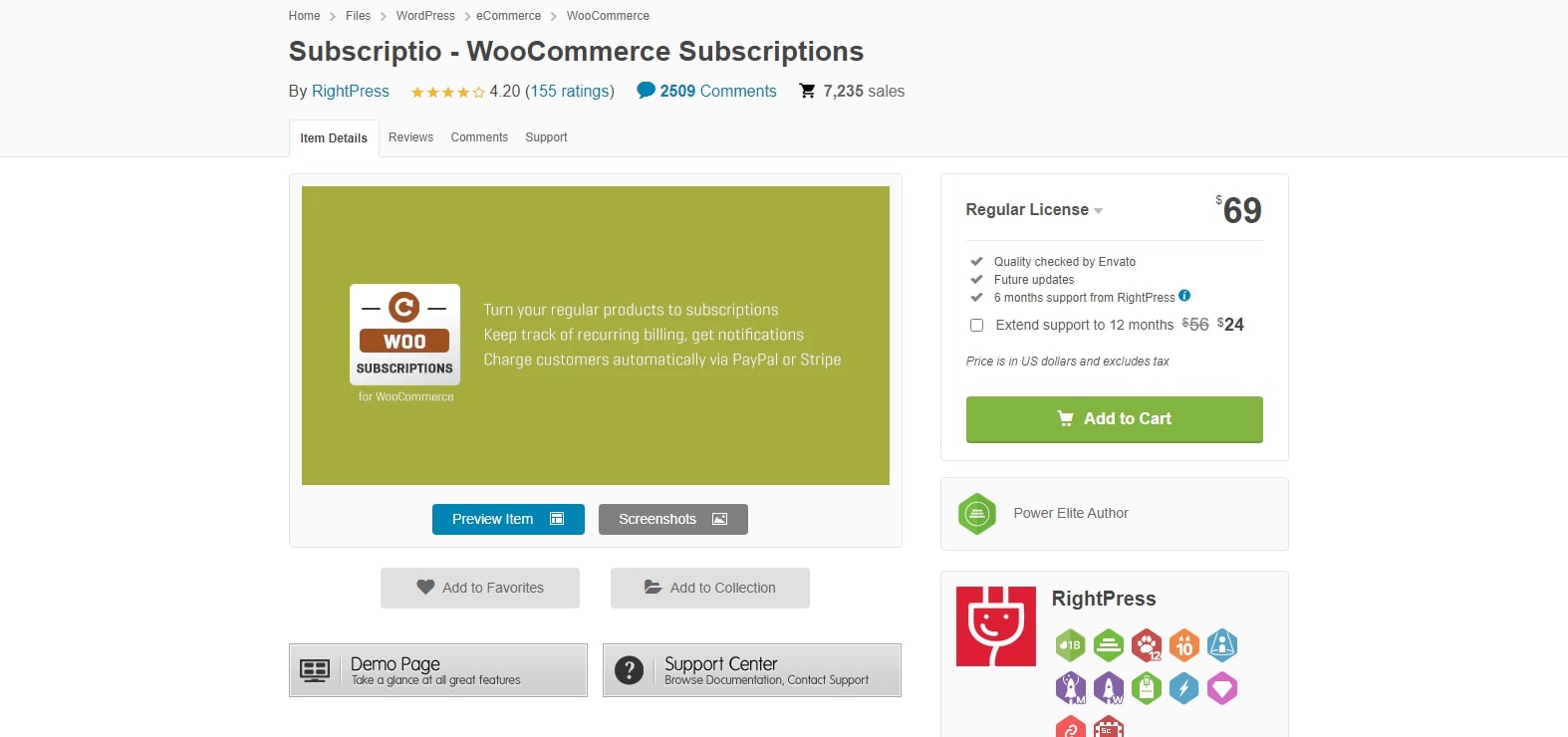 Users may activate recurring income schemes and sell subscriptions using WooCommerce's Subscriptio plugin. You may offer eLearning packages, online subscriptions, magazine memberships, and more with this plugin. It also offers changeable subscription support for different products.
Outstanding features:
Create tools for managing client subscriptions, such as mailing lists.
With this plugin, you may accept payments using both Stripe and PayPal.
Subscriptions for both physical and immaterial goods may be obtained via this method.
It establishes the trial term for your subscription.
Sell recurring subscriptions on the internet
SUMO Subscriptions by Fantastic Plugins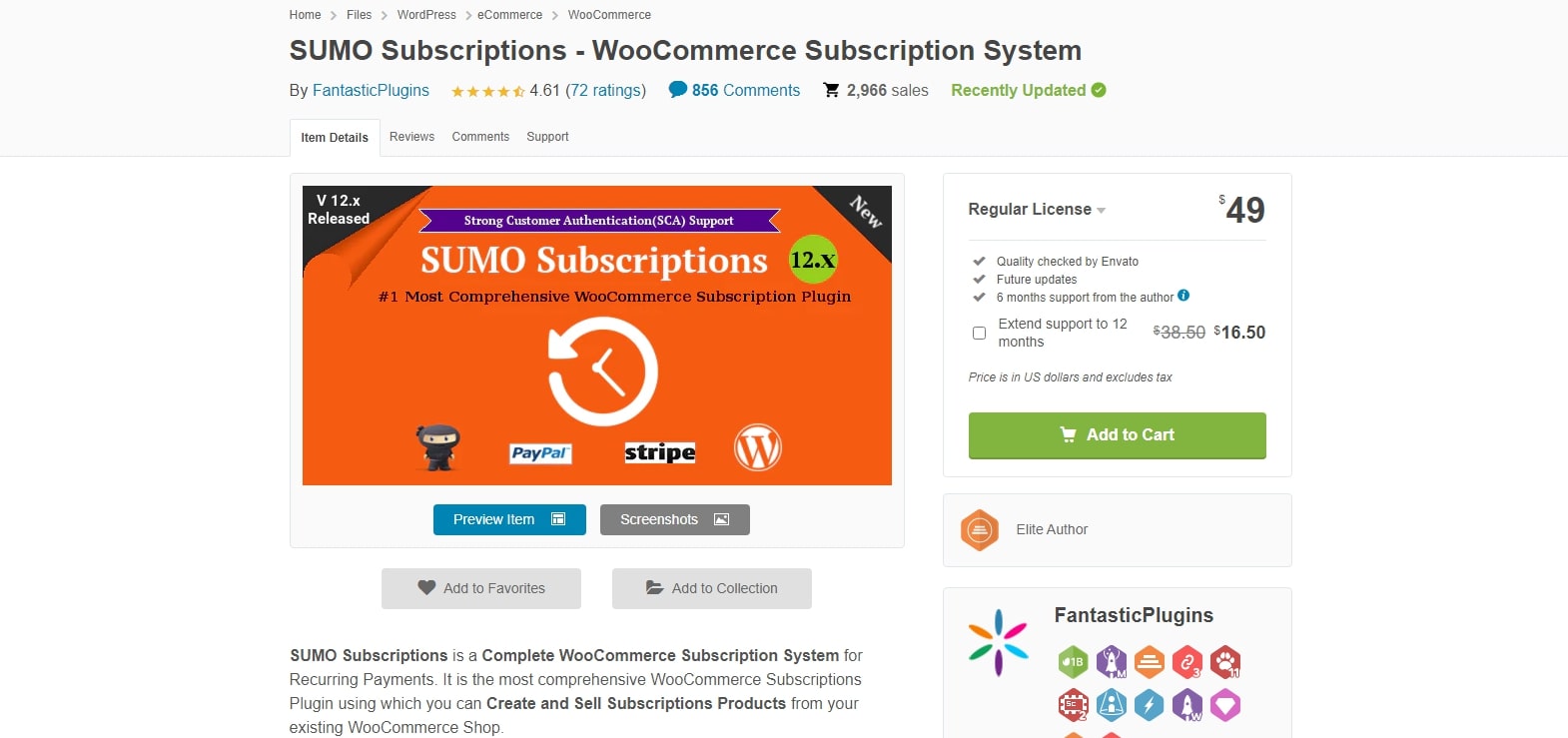 SUMO Subscriptions by Fantastic Plugins is a great WooCommerce subscription plugin that automates recurring payments. Automated renewals with PayPal and Stripe are included in this plugin's four built-in payment gateways. Your WooCommerce shop will benefit from having an easy-to-set-up, flexible subscription with grouped subscriptions. It also allows subscribers to choose the length of their membership and how often their subscriptions are renewed.
Outstanding features:
SUMO Reward Points Payment Gateway with SUMO Reward Points Plugin allows for automatic membership renewal.
It features a central log where all transactions on the site are recorded.
Customers may choose the length of their membership and the frequency of renewals on the checkout page.
It has various payment methods and provides auto-renewal of subscriptions.
Conclusion
To sum up, we hope our article on How to add a WooCommerce subscription to your online store has answered all your questions related to the matter. On the basis of that, attracting customers will become easier with the help of subscription-based features!
New Posts
Subscribe
Stay in the know
Get special offers on the latest news from AVADA.
40k
subscribers has been joined!
Earn $10 in reward now!