How to Add a Product Size Chart to WooCommerce
Last updated: September 01, 2023
Clothing is the most frequently purchased product category in eCommerce stores by US customers, with clothes sales accounting for more than $60 billion in revenue in the US alone. Due to the fact that clothing is the most popular item in eCommerce businesses, you may provide it to your customers (even if it's just swag tee shirts with your logo).
However, one of the most frustrating aspects of purchasing garments online is determining the correct size, which is where a size chart or size guide comes in handy. These can assist clients in determining the appropriate size to purchase, alleviate their confusion, and improve your sales.
This article will introduce you How to Add a Product Size Chart to WooCommerce in the easiest way that requires no coding knowledge.
Why do you need to Add a Product Size Chart to WooCommerce?
An online store typically sells a variety of products from a variety of different brands, and not all brands adhere to the same sizing norm. While some follow normal sizing guidelines, some have their own. Additionally, the size rule varies by country. For example, UK 9 is distinct from US 9. Therefore, if a consumer from the United Kingdom orders a size 9 without knowing the exact measurements, he or she may end up purchasing the incorrect size merchandise.
This is where WooCommerce store owners should reconsider their tactics and consider integrating a Product Size Chart Plugin for WooCommerce.
How to Add a Product Size Chart to WooCommerce
Advanced Product Size Charts for WooCommerce is an excellent add-on plugin for your online business. This plugin enables you to effortlessly generate unique sizing charts for all of your goods. Additionally, you can attach pre-built default size chart templates to goods.
Whichever method you pick, adding sizes to your WooCommerce online store is a breeze. This WooCommerce size chart plugin includes pre-built layouts for shoes, clothing, and more. Additionally, you may arrange the chart in a variety of ways depending on where you want it to appear during the shopping experience.
Step 1: Install and Activate the plugin
You must first install and activate the Advanced Product Size Charts for WooCommerce plugin to display a product size chart. This can be done using the WordPress admin dashboard's plugins page.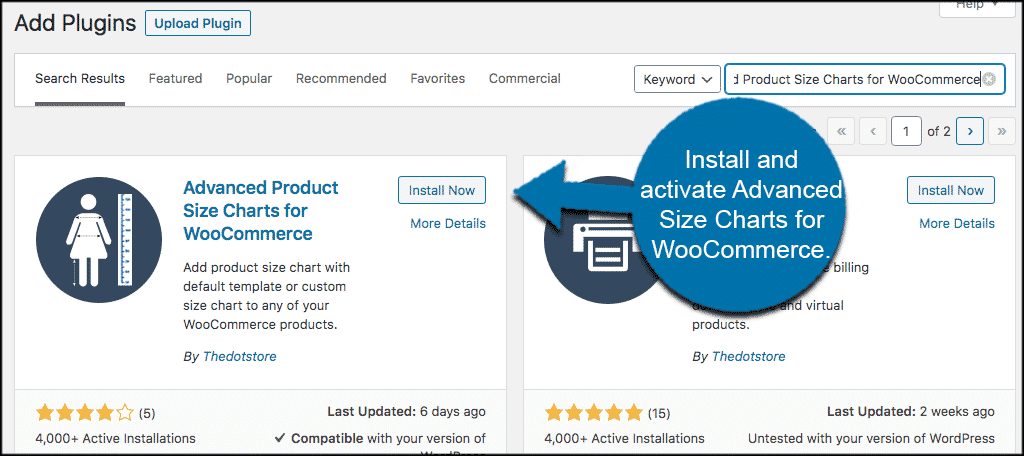 After installing and activating the plugin, navigate to DotStore Plugins > Advanced Product Size Charts for WooCommerce.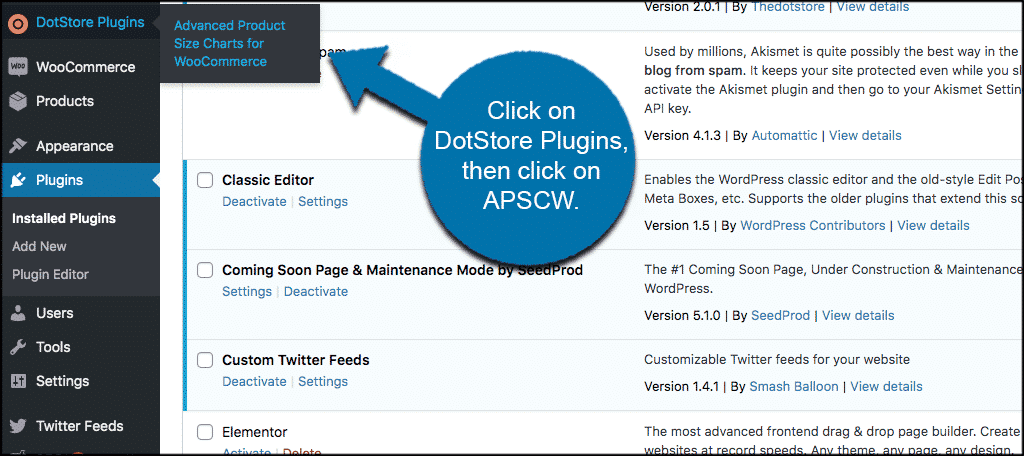 This will lead you to the plugin's primary configuration page, where you may assign product size charts to all of your goods according to the rules you choose.
Step 2: Configure a Product Size Chart
Once on the configuration page for Advanced Product Size Charts for WooCommerce, you'll notice a few tabs.
2.1: Size Chart
To access the size charts, click on the Size Charts tab. You'll see that there are ten preset size charts available for experimentation and use. This expedites and simplifies the process of directly using the charts.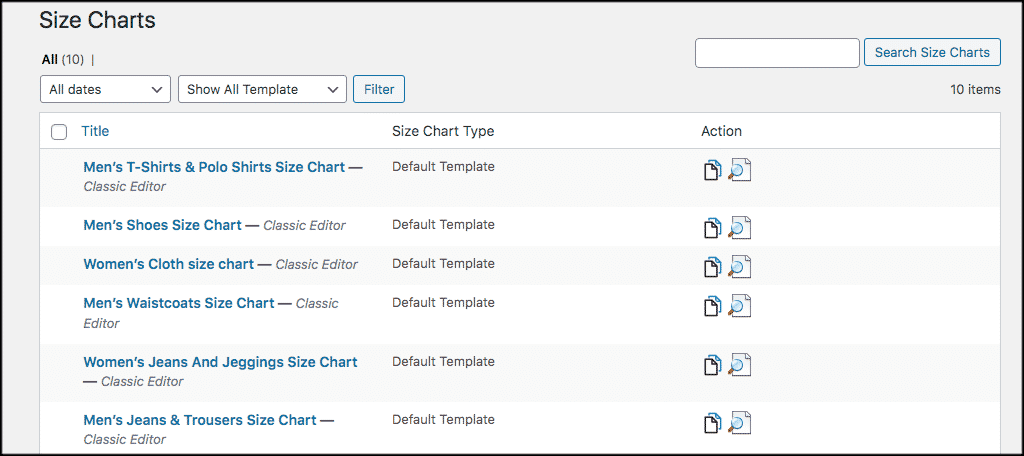 Keep in mind that you can alter any of these default size charts. Simply click on the link for the chart you wish to change and experiment with the parameters, preview, and use.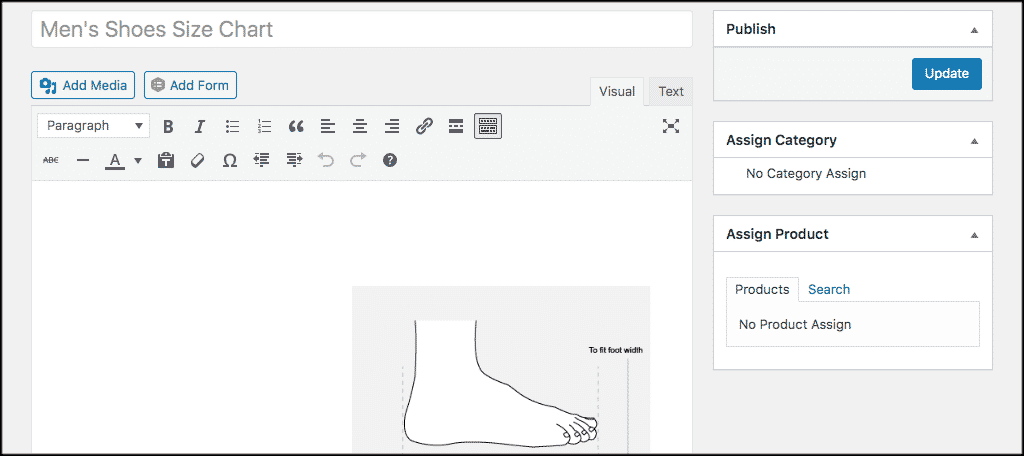 2.2: Settings
Now that you've clicked the Settings tab, you'll find a number of setting options for the product size chart plugin. There will be simply a few variables that you can alter. If you require further configuration options, you must purchase the pro version of the plugin. You can download the plugin's pro version directly from your WordPress admin dashboard.
2.3: About
The About tab provides a comprehensive overview of the plugin, how it works, and how to use it. Additionally, use this as a resource for troubleshooting.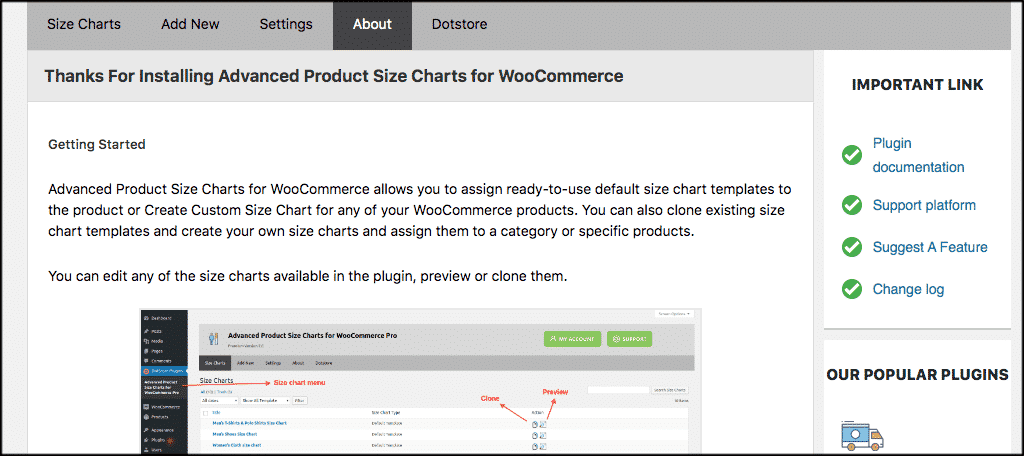 Step 3: Add the Product Size Chart
If you're not satisfied with the basic product size chart designs included with WooCommerce, you may create your own. By clicking the Add New tab, you'll be sent to an editor where you may design your own size chart. Include the title and any other information you need for your product size chart.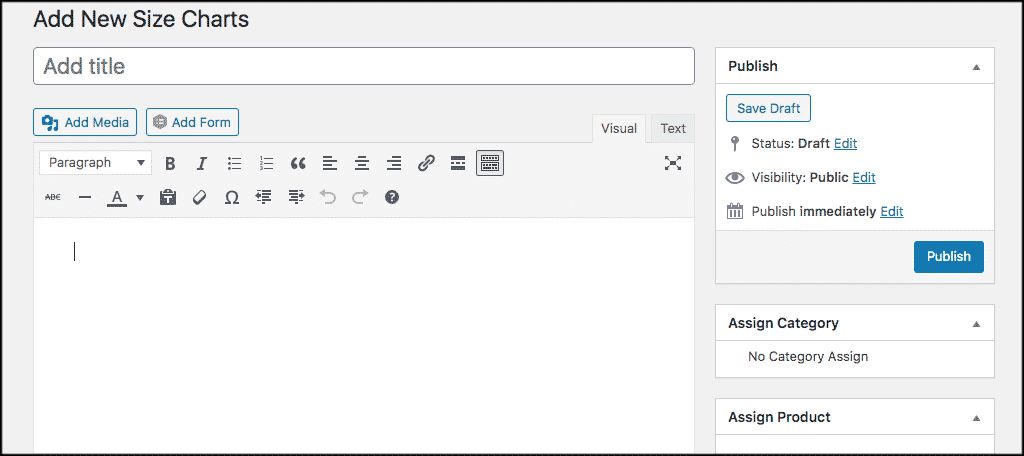 Now scroll down a little further to generate your size chart. You'll see the following options:
Label.
Primary Chart Image.
Chart Categories.
Chart Position.
Chart Table Style.
Chart Table.
Complete these as you see fit. Don't forget to assign products and/or categories to the chart.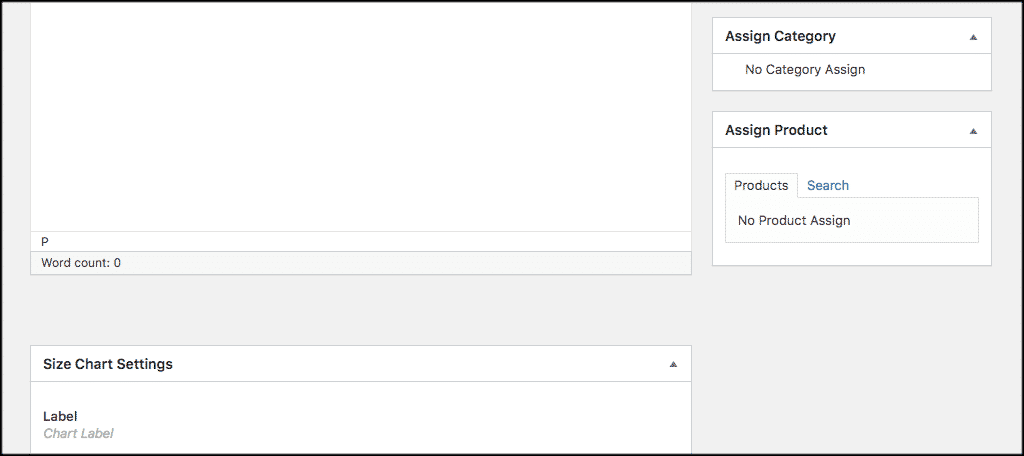 That is all! You've generated a successful WooCommerce product sizing guide for your store. The chart will appear in the location you specify for the goods and categories.
3 plugins to Add a Product Size Chart to WooCommerce

The Size Chart for WooCommerce plugin is an excellent addition for stores that sell size-specific products such as clothes, footwear, and so on. The plugin will enable you to create several size charts and associate them with specific goods or categories. Size charts can be made manually or by an image upload. Additionally, you can choose whether to display the widget within a tab on the product page or as a popup. Additionally, the plugin allows for the automatic display of the appropriate size chart based on the customer's country of origin.
Key Features:
Multiple size charts should be included and associated with appropriate products, categories, and nations.
Create a size chart table or upload an image of a size chart.
Add a size chart to the product tab or use a button to view it in a popup.
Add a size chart button after the price, description, add to cart, or meta information about the product.
Customize the color of the button's background and text.
Customize the color of the table's rows and columns.
Price:
The price of the plugin is $49.

You'll be able to quickly assist your customers in selecting the correct size for the things they're purchasing. This plugin enables you to assign multiple size charts to a single product. Additionally, the plugin provides three different ways to display the popup: tab, popup, or tabbed popup. Additionally, the plugin enables you to personalize the popup button by selecting the colors and styles that you desire.
Key Features:
Display size charts for products to enhance the consumer experience in your store.
Option to select one of three alternative display modes.
Multiple size charts can be assigned to a single product.
Customize the popup buttons' appearance by changing their colors and styles.
Size charts are displayed in the sidebar.
Price:
A subscription to this plugin for a single site will cost $59.99.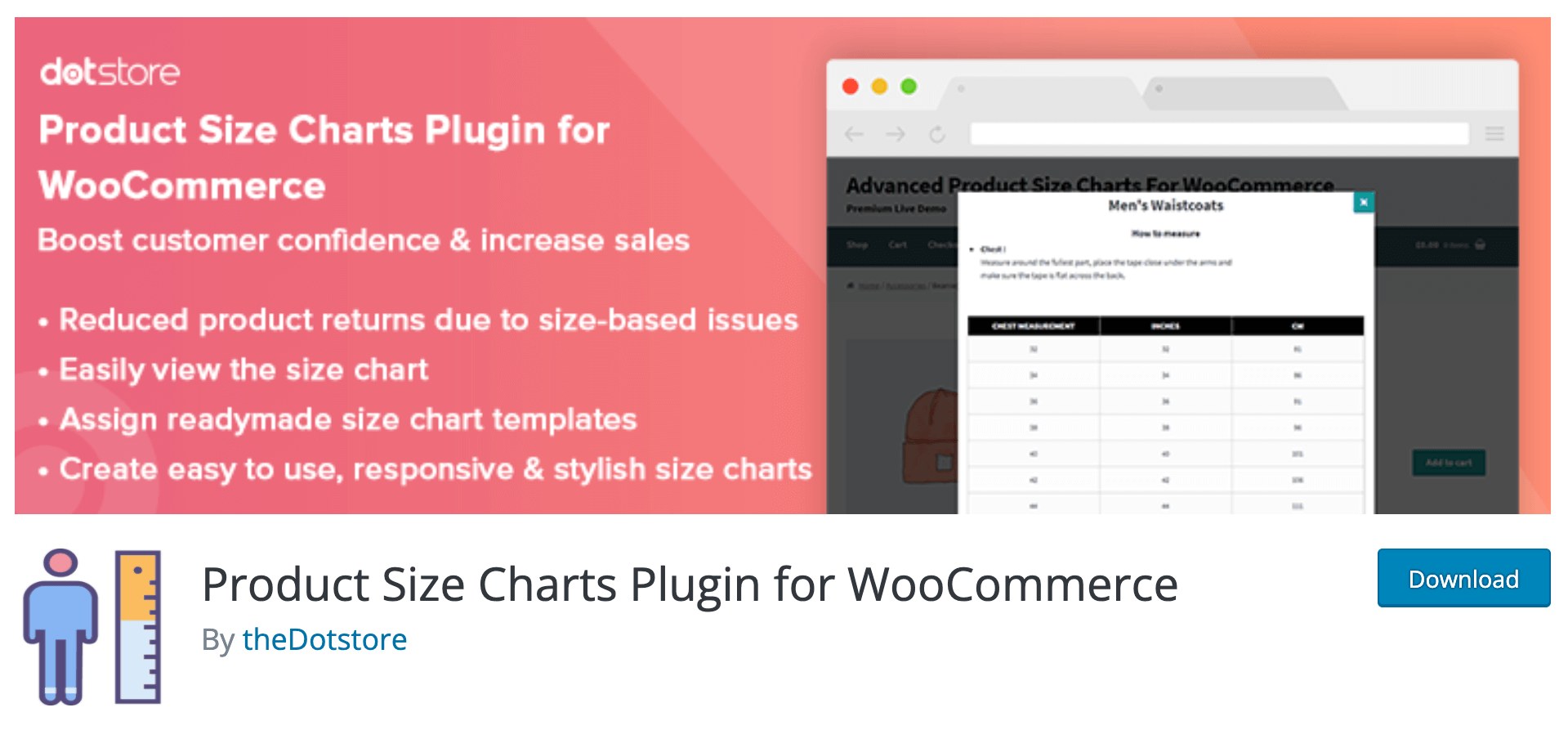 This plugin includes a variety of size chart layouts and allows you to adapt them to meet your specific needs. You will have the ability to customize the sizing charts for certain products or categories. Additionally, the plugin enables you to experiment with various display styles in order to improve the user experience. Additionally, you can alter the appearance of these charts to make them more visually appealing.
Key Features:
With several themes, this plugin enables you to display size charts in your WooCommerce store.
Create an unlimited number of sizing charts and assign them to products instantly.
Numerous table layouts and display options are available.
Numerous customizability options.
Include size charts for individual products or categories.
Configuration choices are straightforward.
Price:
The plugin costs $89 for a single site license.
Final thoughts
Adding a size chart to WooCommerce is not difficult or rocket science. Including a product size guide on your WooCommerce store can help you retain customers and make product sizing far less complicated. Whatever products you sell, this product size chart plugin enables you to cater to your consumers' needs. All you need to know is the proper path to take. Follow the steps outlined above to begin adding a product size chart to your WooCommerce site.
---
Roger has over 4 years of experience in SEO. While in college, he started learning about SEO and showed a passion for the field. Right after graduation, he embarked on SEO projects and achieved great success. After years of working, he has learned deeply about SEO. Currently, he is the SEO team leader at avada.io