How To Add Gift Message On WooCommerce Store
Last updated: September 01, 2023
Gifts are the traditional method to express your love and concern for those you care about. Everything is occurring online these days, even giving! However, when you purchase a present online, it isn't easy to personalize the gift. The solution is to include a personalized gift message with the item you're buying. Your gift will arrive with your note, brightening the recipient's day.
Today's tutorial will show you how to add gift messages to the WooCommerce store. We'll go over some of the advantages of providing a gift wrapping service, as well as whether it's best to add the gift wrapping option to your items or at the checkout. It's a win-win situation for both the consumer and the business owner since providing the choice to add a gift option makes your customer pleased, and this improved retail experience will eventually increase brand loyalty!
Why do we need to add a gift message on WooCommerce?
Providing WooCommerce goods gift wrapping services is an excellent addition to any website. While you would believe this is only a seasonal addition, it isn't. Aside from the Christmas season, several events necessitate gift wrapping, such as birthday parties, marriages, anniversaries, graduations, and so on. Christmas is not the only time of year for gift wrapping, but it is the most popular.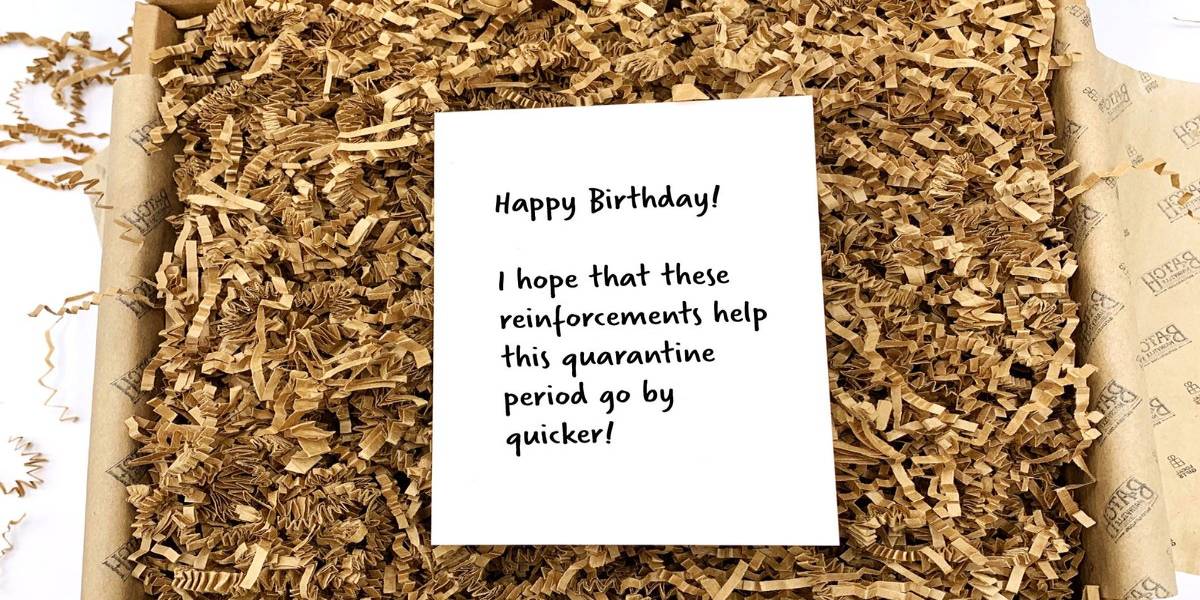 Offering a gift message is not, of course, a free service. You can charge a modest fee for this service. This might provide you with a significant earnings increase throughout some special events or seasons. However, make sure your price is reasonable because wrapping a present yourself isn't exactly rocket science.
How to add a gift message on WooCommerce
Step 1: Install and set up the plugin
To begin, you will need to activate the free Flexible Product Add-Ons plugin. You may get it for free from WordPress.org or install it directly from the plugins area of your shop by searching for flexible product fields: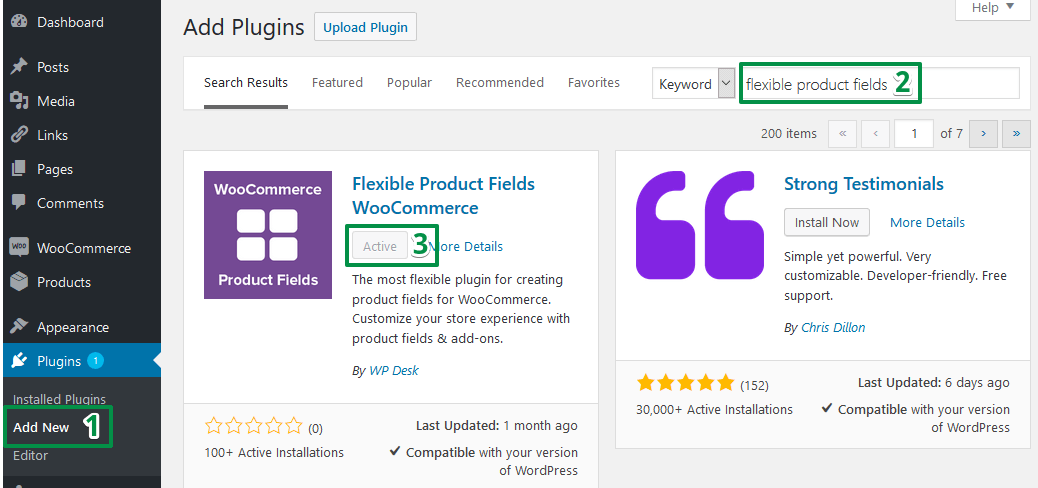 Let's customize the plugin now that it's been installed and active. In your WordPress menu, choose Products Product Fields. Then you must create a new field group: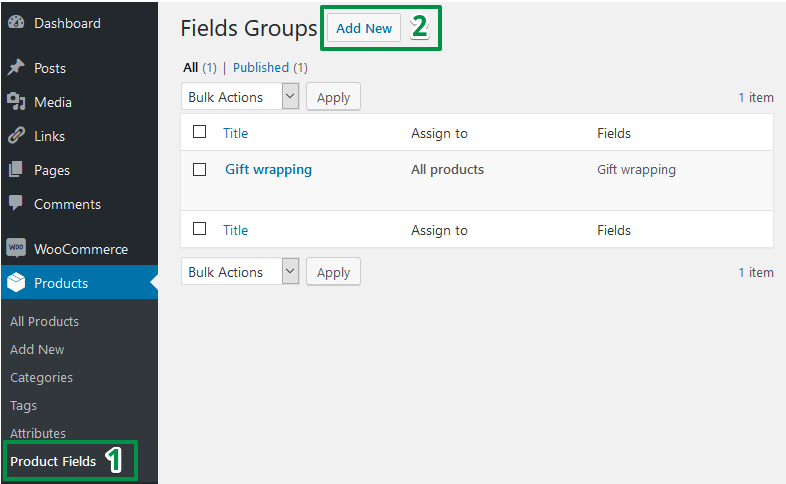 You must indicate the product(s) for which a consumer can purchase a gift message. This is simple.

The free version of the Flexible Product Fields requires you to identify items one by one, but the PRO version allows you to pick all products from a category or all products on the website.
Step 2: Add a gift message
You can build and customize the fields themselves after determining where you want the group fields to appear. You are free to use whatever label you wish. It will appear on the product page as well as in the cart. If you like, you may specify a character restriction.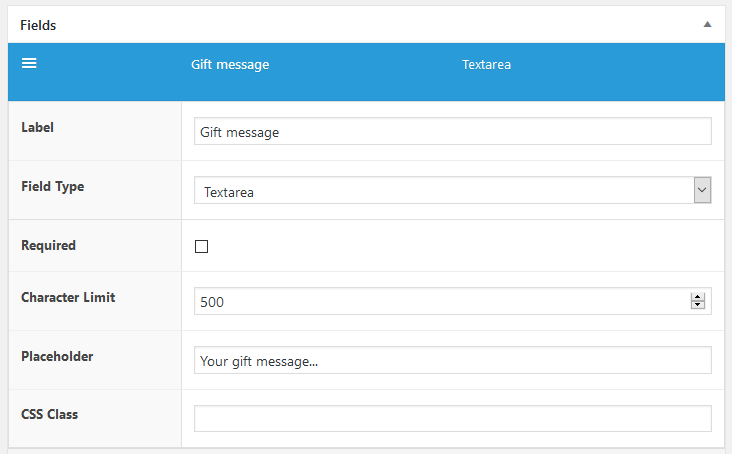 The following is how it appears on the product page: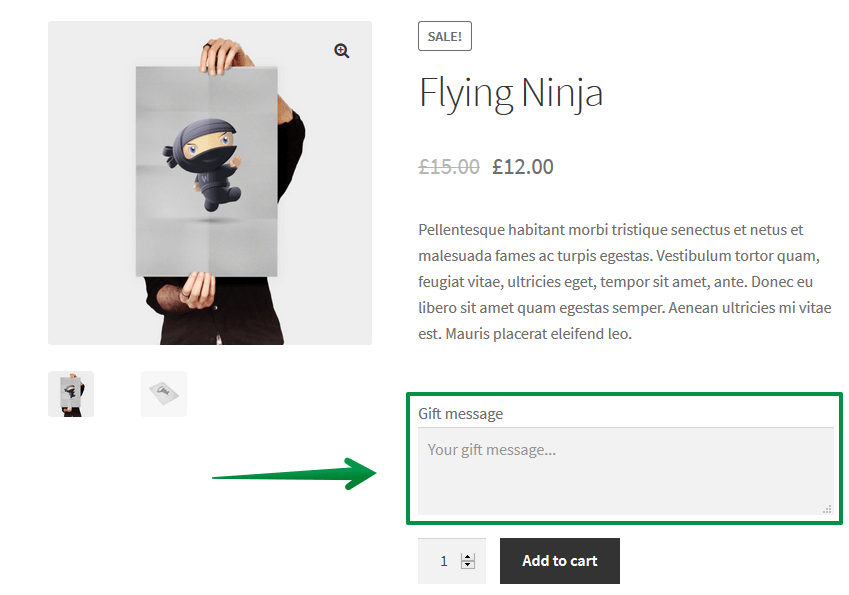 And, with a gift message entered in the cart:
Step 3: Add prices to your gift message
A message attached to a product in the form of a letter is an extra fee for your shop. Transferring this expense to your consumers is a fantastic idea. You may charge anything you want for such a function and still profit from it. If you wish to add a pricing option to the fields, you'll need the Flexible Product Add-Ons PRO plugin. After activating the PRO version, the Price type and Price options display, as seen in the image below.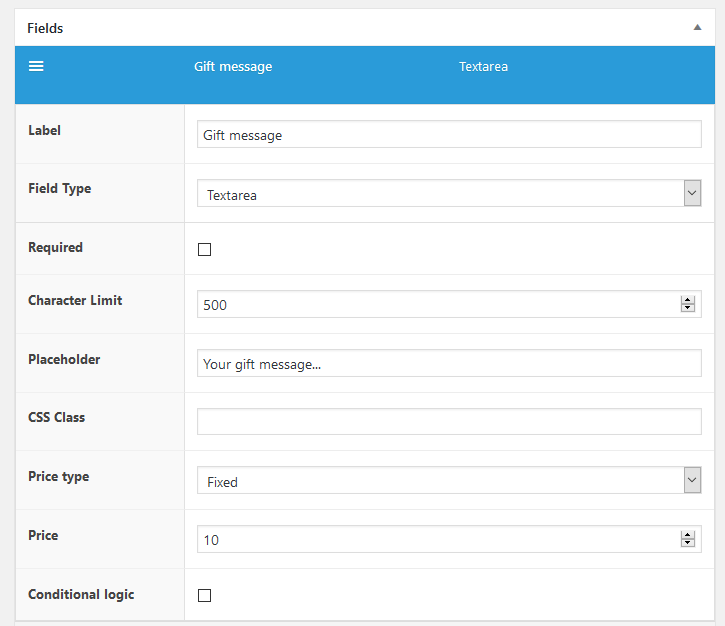 The text area on the product page looks like this. When the text area is empty (no message input by a client), the standard pricing value is utilized, as you should see.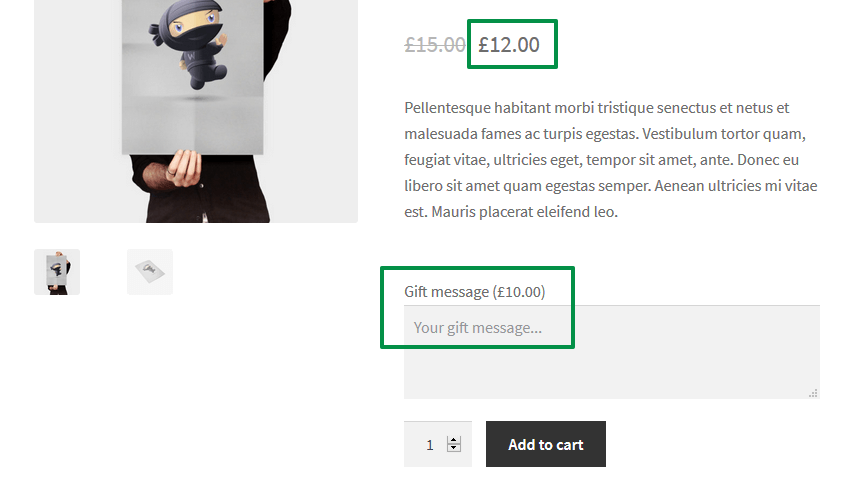 An extra fee will be applied to the product price the instant your consumer enters the text area.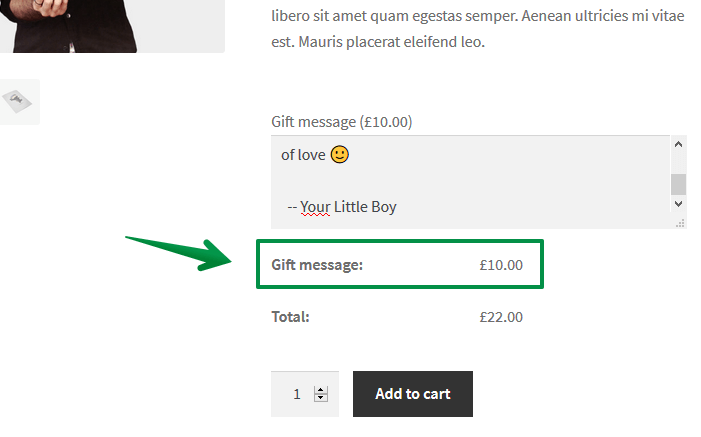 Step 4: Set up conditional logic for the gift message
Look at just how much space the box takes up. Why show this feature to those who aren't interested in it? It is good to include a checkbox on the product page and display the text field for the gift message only when the checkbox is checked. Areas like these are straightforward to create. You must first add a checkbox field and then enable conditional logic in the gift message field.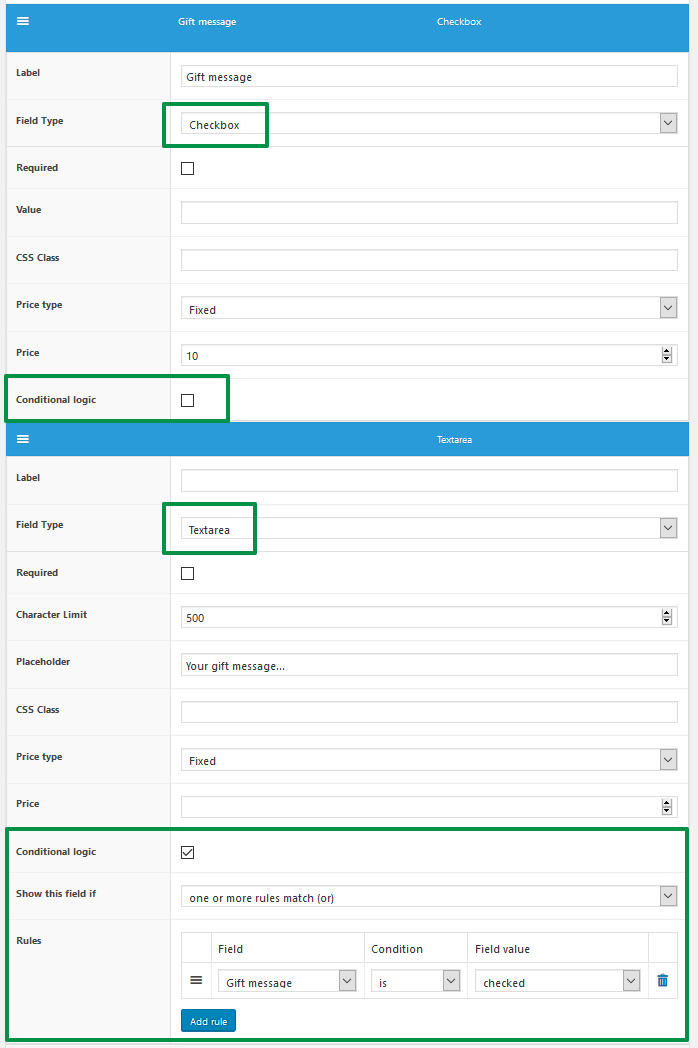 Three best plugins to send gift messages on WooCommerce
YITH WooCommerce gift cards
YITH WooCommerce gift cards assist you in making digital or printed gift messages of any denomination and allowing your clients to personalize them to create a unique present for their friends and family. You can gain new customers (the person receiving the gift card will know about your products, will place an order, and will be encouraged to buy again so you can loyalize them) and significantly increase your earnings by offering your users the option to purchase a gift card to spend on your WooCommerce store.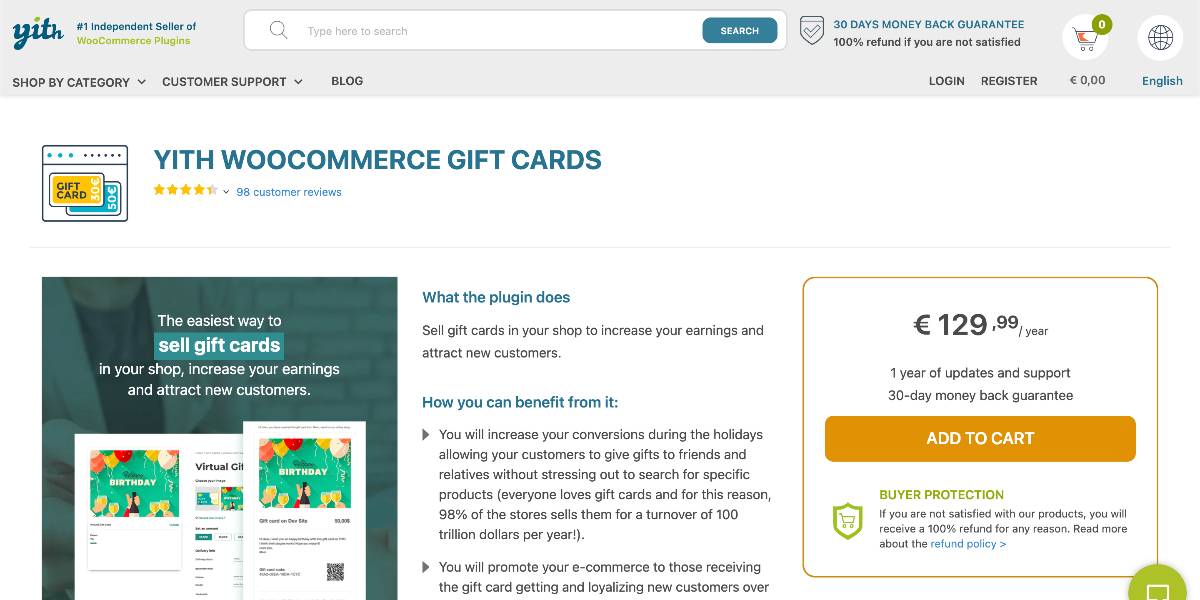 Outstanding features:
The plugin provides a versatile and modern user interface platform for creating gift cards.
It offers a variety of design templates for all events that can be utilized while generating gift cards.
The plugin allows your customers to arrange the delivery of gift cards and send them to numerous recipients.
You can powerfully handle your WooCommerce gift cards.
When the receiver receives and uses the gift cards, the plugin alerts your consumers.
Price: €129.99 for an annual subscription.
PW WooCommerce Gift Cards Pro
Offering gift messages are an easy method to boost the revenue of your WooCommerce business. PW WooCommerce Gift Cards Pro are one of the top WooCommerce gift card plugins that will let you sell gift cards and vouchers in your store. Every year, your license will be automatically renewed. If you wish to cancel the renewal, go to the My Account page. If you cancel your subscription and your license expires, you may continue to use all of the Pro version's features without limitation.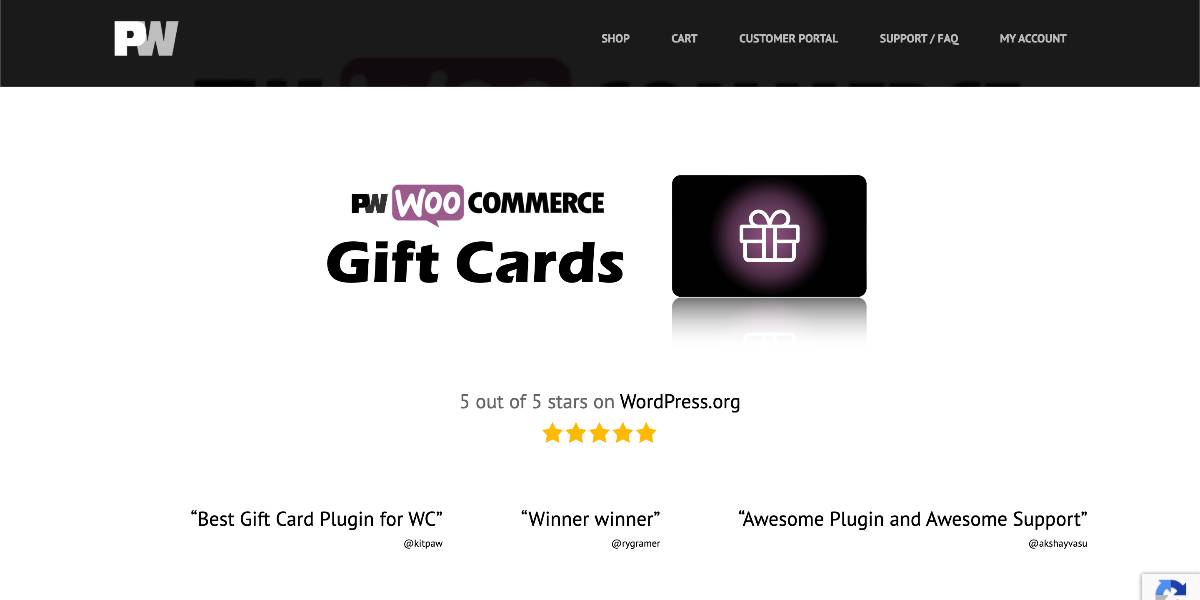 Outstanding features:
The process of acquiring gift cards is straightforward and comparable to that of obtaining Amazon gift cards. At the time of purchase, simply input the money, recipient information, and message.
The receiver may obtain their gift cards by simply following the link supplied in the email.
Any theme may be used to create a redeemable gift card, with the balance shown on the cart and checkout pages.
This gift card plugin allows for guest checkout.
The plugin is simple to install and will add additional features to your WooCommerce business.
Price: $59 for a single site subscription and $89 for five sites.
Ultimate WooCommerce Gift Cards
Ultimate WooCommerce Gift Cards will walk you through creating, selling, and managing gift messages in your online store. This gift voucher is transferable by WhatsApp, SMS, and email, making it one of the most remarkable features. It is simple to download the gift cards and print them afterward. Ultimate WooCommerce Gift Cards assists retailers with creating, selling, and managing gift cards on their WooCommerce store. Admins may personalize gift card templates, issue gift card discount codes as QRCode/BARCode, generate reusable gift certificates, and send balance notifications to clients with the Gift cards plugin.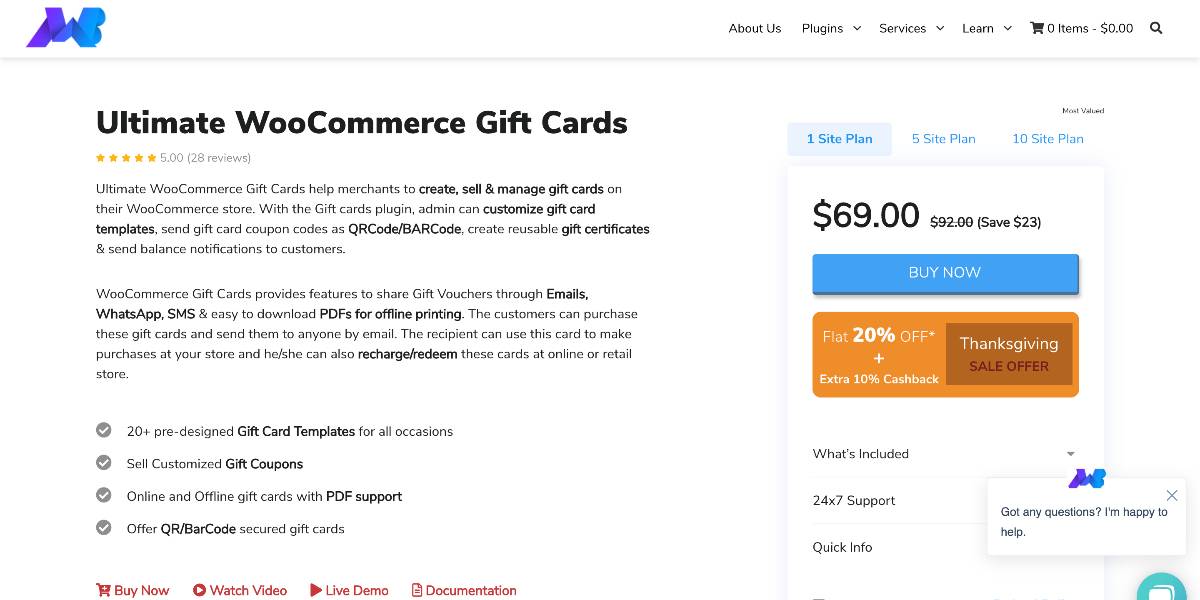 Outstanding features:
The plugin enables your clients to give gift cards to their loved ones via WhatsApp or SMS.
You have total control over the produced gift cards, including the ability to track each gift card's amount credited, used, remaining balance, and expiration date.
The plugin facilitates quick redemption and recharging from your store, increasing your earnings.
Pricing for gift cards is divided into four categories: default price, range price, selected price, and user price.
You may include/exclude goods from the discount using the WooCommerce voucher plugin.
Price: $69 for a single site subscription.
Conclusion
The holiday season is a make-or-break time of year for many shops, both physical and online. Many shops only break even for the year because of the holiday season, so make sure your website contains as much Christmas spirit as possible. The more appealing you make it look, the more likely you are to make a sale. As a result, a gift message is an excellent alternative for any online retailer. Most significantly, it makes it easier to turn a profit.
We hope this article will help you understand how to add gift messages to your WooCommerce checkout pages. The plugins listed above are some of the best from our research that may suit your business and help you achieve extraordinary results and WooCommerce promotions. Try creating WooCommerce gift cards to increase the value of your brand.
---
Roger has over 4 years of experience in SEO. While in college, he started learning about SEO and showed a passion for the field. Right after graduation, he embarked on SEO projects and achieved great success. After years of working, he has learned deeply about SEO. Currently, he is the SEO team leader at avada.io