Shopify Theme Detector - Working theme Checker
Last updated: November 20, 2023
Are you looking for Shopify Theme Detector? You are in the right place. Have you seen any Shopify site or store and wondered what kinds of Shopify themes are used to develop it? Then, you are not alone. Currently, thousands of online merchants are trying to detect the site themes on a regularly and on a few types of website systems. Shopify is not different, and with Shopify Theme Detector, you can type the URL of your Shopify websites you see, and you will be shown clearly on how to find out what Shopify theme a store is using. You might be interested in reading a detailed Shopify review before using the platform.
For any e-Commerce stores who are looking to use Shopify "out of the box", there remain more than 100 Shopify themes, including free and paid ones you can find it easy to install in your own admin and get selling started. With many themes for you to choose from, you might bump into Shopify-powered stores with catchy designs you want to emulate.
What is a Shopify theme?
A Shopify theme is a template that designs how your online store looks like. Different themes can have different layouts and styles, which will offer different experiences for visitors. A theme not only makes your store look nice, but it also conveys feelings that can persuade prospective customers to buy.
For example: If you are selling high tech products, you want your Shopify store to look energetic and modern. If you are selling spa products, you probably want to have a relaxed and luxurious look. The theme is an essential part of your brand.
You can install a Shopify theme right after signing up for a Shopify free trial, and there's no need to buy a paid plan yet. The theme can be customized using the theme editor. And if it doesn't have a change or setting that you wish for, you can edit the theme's source code. The best thing about the Shopify theme is that you can change or switch it without affecting other parts of your store, which is why you should try playing around with different styles for your store's theme and see which suits best.
According to Forbes, good user experience has the potential to increase your store's conversion rate by 400%. So don't mind spending some time finding the right look.
Next, let's see where you can get a Shopify theme for your store.
Where can you get a Shopify theme
The first place you should visit is the official Shopify Theme Store. This marketplace offers a wide variety of themes that you can add to your own store, including free and paid options. The free themes are developed by Shopify, and the paid themes are developed by third-party companies. Free themes also have the same awesome support from Shopify.
To find themes that have specific features, you can click "Search" at the top of the page. Example of search terms that you can use are:
Product filtering
Related products
Search engine optimization
Video
FAQ page
Instagram feed
Wide layout
Quick buy
Sticky navigation
You can also use the top bar drop-down menus to browse all the themes by industry or collection. Then, you can even filter more with a particular purpose, layout, or style. Remember that no theme is restricted to any industry, you can test out until you find the perfect look for your store.
Another place that you can get Shopify themes is Themeforest. The paid options here are often cheaper compared to the Shopify Theme Store, but they don't have the same level of support. Before choosing any theme, you should make sure that you understand which kind of support is available. If you only make basic customization, there shouldn't be many problems, but if you are making extensive changes to improve the layout and loading speed, it is good to know your theme's developer is helpful.
AVADA has a list of the Best Shopify Themes Free & Premium on both popular marketplaces that you can check out.
Why would you want to detect a Shopify theme
As a theme defines the overall look and feel of the website, it is easy to encounter a good online store and wonder what they are using. It is like when you see a successful person with his/her outfit; you would wonder if it looked good on you as well. The only way to know, though, is trying.
Here are some reasons you would want to detect a Shopify theme:
Choose the right theme for you
It is easy to get lost in almost 100 themes on the Shopify Theme Store and more on other sites; you just can't know what to choose. By looking at other successful stores and what they've done right. They can serve as inspiration for your site design or be your choice right the way.
Spy on competitors
When you look at other companies' themes in the same industry, you will get a general idea of how people are representing their businesses. There are lessons and opportunities in this. You can get a standard look or stand out from the crowd with your theme. When you notice a new change or trend in your industry website design, you will adjust more quickly too.
Adjust your budget
If you know your favorite theme, you would know how much it cost too. Since a theme is often associated with the beginning phase of your business, it is an important part that you can increase or decrease in the budget. Seeing the performance that other stores get with the same amount of money can show you how to adjust your budget wisely. This also saves you hours of developing.
What is a Shopify theme detector
Shopify stores are mainly built using themes. They give the structure to the sites with overall look and feel. But it is not an easy task to detect the themes being used on a Shopify site. With a Shopify theme detector, you can know which theme is being used. Using technology, the detector can give results on:
Whether the site is using Shopify or not
The theme's name
Theme's screenshot
Theme price
Scanned store's screenshot
Plugin or app list
How to find out what Shopify theme a website is using?
Shopify is becoming a top-of-mind choice for entrepreneurs that want to start selling online quickly. Since the platform has become so popular, newcomers naturally have many questions in their minds. One of the most common questions is, "Which theme is this store using?". With simple configuration and ready-to-use interface, Shopify store owners can get very creative with how their site looks and get a lot of attention. More sales numbers can come from designing too.
So if you are among those who would love to know which theme a Shopify store is using, you've come to the right place! In this article, I'm going to talk about Shopify theme detectors and how you can examine a store's theme. The solutions are easy to follow, and you don't need any specialty at all. Let's get started!.
Method 1: Find out by checking page source
In Chrome, you can go to the Shopify-powered store in the question and view page source or press Ctrl+u.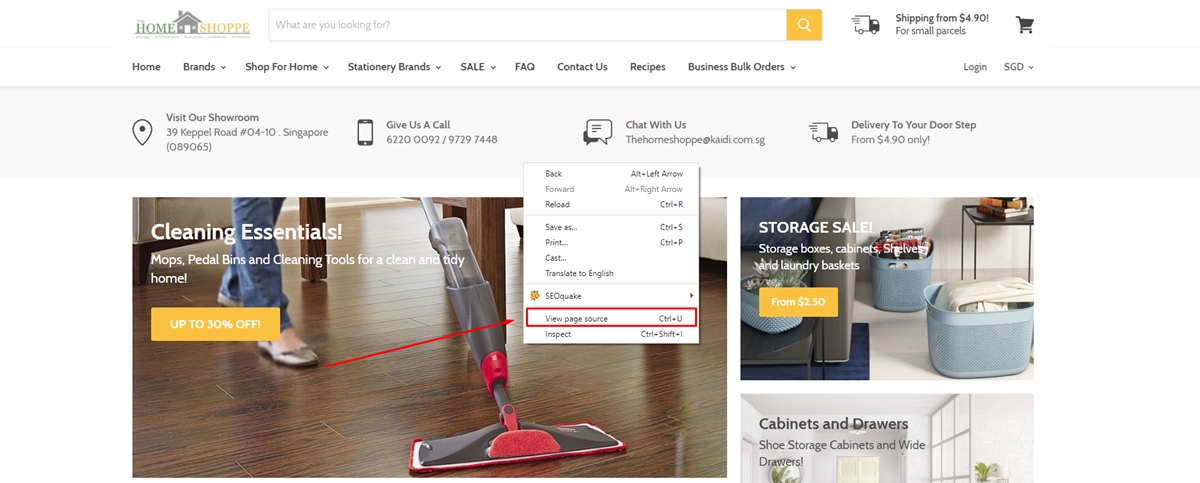 Then, in the tab of the code appearing, you can find or press Ctrl+f, search shopify.theme to find out the code listing the name of the theme. In line no 50, you can see the Shopify theme's name which is in use is "Empire".
In fact, there is sometimes the theme you want might not be the standard theme of Shopify. In all cases of unique and custom themes.
Theme KKW Beauty – New does not exist in your Shopify theme store. Hence, it is likely that themes in use are custom and will not available for being downloaded on your online store.
There is another way to check what themes are using in the Shopify store is through the ID in the page source. In case your store's theme is generated by Shopify, you will clearly see the number. For instance, it will appear like "theme_store_id":838. If you see "null" instead of a number, then the theme you are using is not created by Shopify.
After seeing the number, you can google it with "shopify theme", then you will be guided and taken to the page for that Shopify theme. In this situation, if you google "Shopify theme 775", it will show that the theme is called "District" which means it is available for sale on your theme store.
In order to see page source in another browser:
How to find out the Shopify Theme in Edge: Ctrl + u
How to find out the Shopify Theme in Firefox: Ctrl + u
How to find out the Shopify Theme in Safari: Cmd + Opt + u
Right after you open up a source code page in those browsers, you are able to take the similar steps as they are listed under the Chrome to find out the Shopify Theme that your store is using.
Last but not least, if you are a crazy fan of Chrome extensions, you can install yourself the app named Shopify Theme Detector Chrome extension. In addition to this extension that can inform you of which theme your store is using, if the theme exists in the Shopify theme store, it will offer you a link to that theme so that you can check it out by yourself.
If you find using the above instruction to check the theme store so complicated, don't worry since you will be strongly supported by different apps.
Method 2: Shopify Theme Detector Extension
The first app in the list which is about to mention is Shopify Theme Detector Extension. Shopify Theme Detector Extension is developed by shopthemedetector.com and has been used by nearly 4,000 users. This app is entirely compatible with your own device and is built with MegaMenu 2017 - v2. Additionally, you will see that installing Shopify Theme Detector is very simple. After finding your favorite website, all you need to do is to press on the Shopify Detector tool icon, then you will get an answer in seconds. Shopify Theme Detector Extension gives you a hand in building your beautiful website.
Method 3: Install a Shopify theme detector Chrome extension
There are some Chrome extensions that you can use for finding which theme a store is using with just a click of a button. You can discover the theme's name, best selling products, plugins and apps that competitors are using, even where they get their traffic and more.
Why Should One Consider Using Such A Tool?
It provides unparalleled insight into the themes that successful Shopify stores are utilizing, allowing you to draw inspiration and understand the functionalities that could enhance user experience on your own site.
Top Shopify Theme Detector Chrome Extensions
When it comes to choosing the best Shopify theme detector Chrome extension, there are several top contenders to consider, and they are free too:
Shopify Inspector: Used by over 20,000 users, the tool can show the theme's name, apps, newest products, bestsellers, monthly traffic, and social links of a store's site.
Shopify App/Theme Detector by Fera.ai: An open source code extension built by Fera.ai helps you see the theme and apps a Shopify store is using (if the theme is not completely custom).
Shopify Theme Detector: Built by one of the website of the previous section, this tool helps you see the theme's name and installation link in just one click.
How To Use A Shopify Theme Detector Chrome Extension
Using a Shopify theme detector Chrome extension is a breeze. Here's how:
Step 1: Choose a Shopify Theme Detector Chrome Extension Step 2: Install the Extension
Visit the Chrome Web Store and search for the chosen Shopify theme detector extension.
Click on "Add to Chrome" next to the extension's listing.
A pop-up will appear asking for confirmation. Click on "Add Extension" to proceed.
Step 3: Navigate to a Shopify Store. Open your Chrome browser and go to the Shopify store you want to analyze. Step 4: Activate the Extension
Click on the extension's icon located in the top right corner of your Chrome browser's toolbar.
Wait for a moment as the extension analyzes the Shopify store's website code.
Step 5: View and Analyze the Results
Once the analysis is complete, a report will be displayed showing the Shopify theme being used by the store, along with any associated apps or technologies if available.
Take note of the theme's name and any additional insights provided to inform your own Shopify store strategy.
Step 6: Apply Insights to Your Own Store Utilize the information gathered to enhance your own Shopify store, whether by considering a theme change, adopting new technologies, or integrating useful apps.
How Does A Shopify Theme Detector Chrome Extension Work?
Once installed, the extension analyses the website code of the Shopify store in question, searching for specific markers or signatures associated with certain themes. This quick and efficient method ensures that you get accurate results, all while ensuring that the process is entirely legal and safe.
Method 4: Find out by using developer tools
This method will need a bit more of technical reading, but you won't need to install or visit any other website. Using the Chrome DevTools is probably the easiest and quickest way to discover which Shopify theme a store is using.
First, use the Console. Many developers include their theme's version name in the main JavaScript file and let it show in the console so start looking here is a good point.
Right click anywhere on the page and select "Inspect". A sidebar window will then appear on the right side of the browser window. Click on the "Console" tab to see if any message appears with the theme's name.
Secondly, you can search the Elements. If the Console returns nothing, you can try searching the page elements to find the theme's name. Repeat the process with the inspector tools, and click on Elements. Use the CTRL + F option to open a search box and enter the words "Shopify.theme".
You will find all the search results highlighted in yellow. Find the instance where the Shopify.theme has the "name" behind in curly brackets. This should give you the name of the Shopify theme that the inspecting store is using.
Thirdly, you can view the Page Source. Right click anywhere on the page and click on "View Page Source". After this, a new tab will open with all the codings of the website. Similarly, use the Ctrl + F option to search for "Shopify.theme". This is the bigger version of the second way above. You should get the same result of the Shopify theme's name through this.
Best Shopify themes for your store
Are you still seeking for some best Shopify themes? Then don't miss out on this part. Shopify users will be taken to more than 70 Best Shopify Themes Free and Premium. If you don't have time to search for shopify themes one by one for your store, you can find 3rd party shopify experts who will help you with shopify theme development service.
Final words
There you have it! Here are the quick and easy ways to use Shopify theme detectors and find the theme that a store is using so you can gain the information you need. This is the start of a new business, so take time browsing all the favorite themes that you like and choose the one that suits your brand best.
If you have any issues or questions, leave them in the comment section below and I will get back to you. And as always, best of luck on your eCommerce journey!
---
---
Sam Nguyen is the CEO and founder of Avada Commerce, an e-commerce solution provider headquartered in Singapore. Sam aims to support more than a million online businesses to grow and develop.
Comments for Shopify Theme Detector - Find out what Shopify theme a website is using
---
---
People also searched for
Shopify theme checker
shopify theme detector

how to check shopify theme using
what is current shopify theme is using
find out what theme is being used

what shopify theme is that
what store theme
which shopify theme a store is using
Stay in the know
Get special offers on the latest news from AVADA.