16+ Best Shopify Dropshipping Themes 2023
Are you looking for Shopify Dropshipping Themes? You are in the right place! 16+ Best Shopify Dropshipping Themes have been reviewed and manually picked up by our AVADA Commerce team from website, marketplace such as: Themeforest, Shopify Themes or TemplateMonster. Dropshipping Themes have been collected based on the following criteria: number of sales, reviews, ratings and social metrics. The best Dropshipping themes collection is ranked and updated in December 2023.
Dropshipping Themes for Shopify
Here is a list of best Dropshipping themes for shopify:
Xclusive - Dropshipping theme by Someone you know
Theme features
Designed to showcase images to support visual brand storytelling
Customizable contact form
Before/after image slider
High-resolution images
Event calendar
Shipping/delivery information
Fast, versatile and Easy.
Our themes are known for being easy to use, well structured settings, fun to create, great support and lots of features and updates.
100% positive reviews
Turn visitors into customers with a wide range of new, desirable features that can be used in any industry, such as 'shop the look 2.0'.
Including tons of features
All of our smart app blocks and custom features are included in Theme Xclusive. Save lots of money and no more conflicting apps! ⭐⭐⭐⭐⭐
More Info / Download Theme Demo
---
Everything - Dropshipping theme by Tvlgiao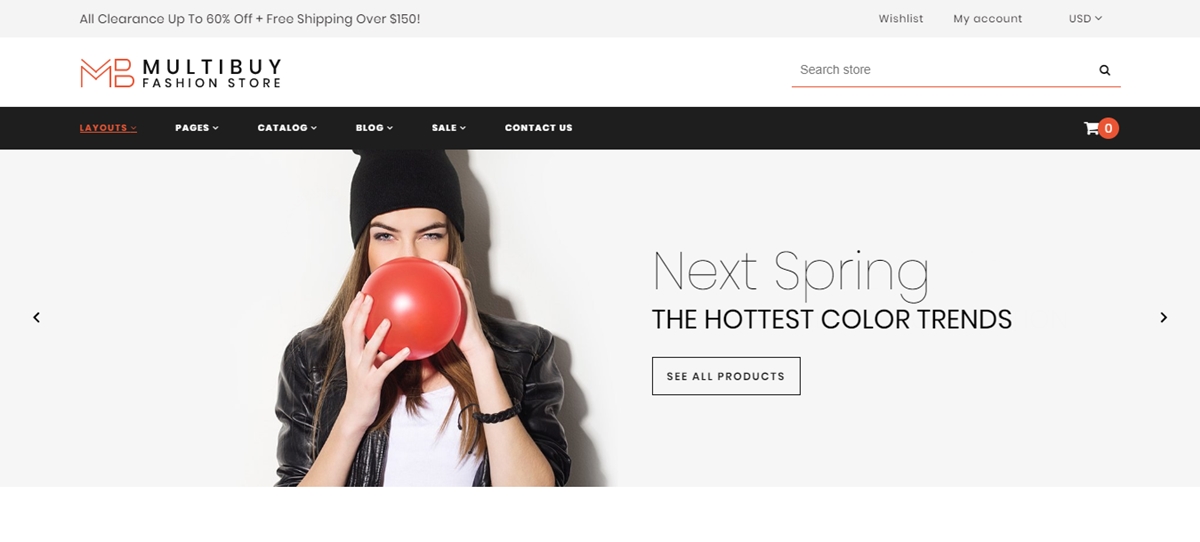 Theme features
Provide more than 100 eye-catching themes
One-click installation
Support the Products Dropshipping Ready
Bring the Mega Menu
Support Multi Currency
You want to have a theme that supports every field for your store, Everything is what you are looking for. It is designed with the most effective features, so it is such a Premium Multi-Stores Shopify Theme. The ThemeForest trys to solve all your problems by adding as much as tools in this theme. For an example, this theme is not only responsive for all devices but also it is valid with HTML5, CSS3. There are more than 100 creative designs for the store owners to use to make the Shopify store more impressive. Moreover, by supporting the Oberlo App, the Everything helps the users to access dropshipping business from Aliexpress. In addition, another feature is Proxima Nova font which has a unique layout for your store. Moreover, the Block and Sections helps boost the appearance of the layout. Last but not least, the Translate Editor tool will be the solution to expand the market to the world.
More Info / Download Theme Demo
---
Porto - Dropshipping theme by Obest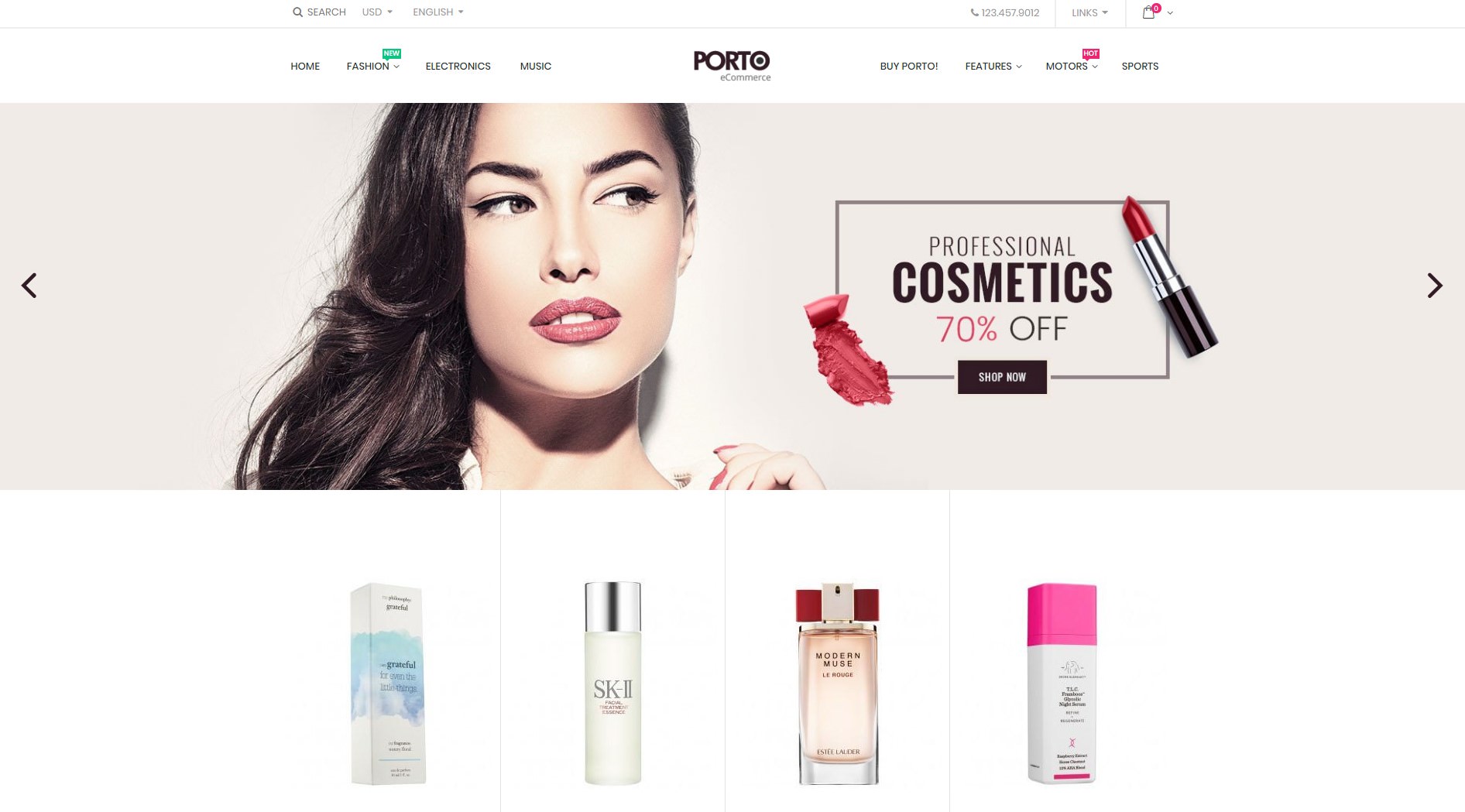 Theme features
Include 20+ unique homepage layouts
Unlimited creativity
Powerful Mega Menu supported
Unlimited colors
Easy to install and customize
Integrate many strong modules
Porto Shopify theme is the # 1 on the e-commerce market. Developed by Obest, Porto provides powerful and flexible modules for e-commerce stores. Besides, it includes more than 20 different homepage options that allow you to choose the style of the store. In addition, Porto includes a flexible control panel that helps you manage the store effectively. In particular, this theme fits all stores and meets on every device. Using Porto Shopify theme, you will certainly be satisfied.
More Info / Download Theme Demo
---
Fastest - Dropshipping theme by Codazon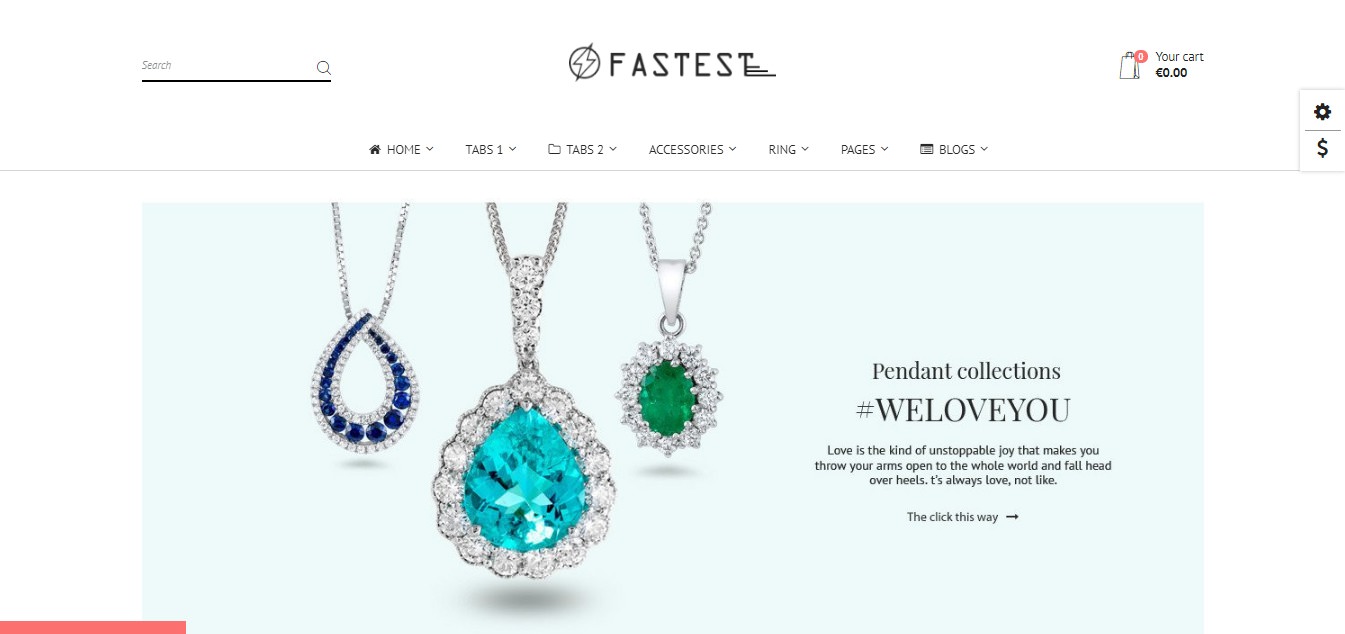 Theme features
Ultra performance loading speed
Smart responsive mobiles-easy to use
16 unique design premium
Fly Ajax cart
Customized checkout others
Designed with intelligence and good UX design, Fastest Shopify Theme is the responsive theme for all devices. Furthermore, Fastest provides the flexible optimization for the better appearance of the pages. Especially, Fastest helps the websites load with the fast speed by Fly Ajax cart and using CSS. In addition, this theme also gives admins other 30 features more, such as Mega menu pro-Drag & drop, Ajax layered navigation and Wishlist pro-extension. All of them will help the customers approach the products much more conveniently; therefore, it boosts the sales and number of visitors.
More Info / Download Theme Demo
---
Fastor - Dropshipping theme by Roartheme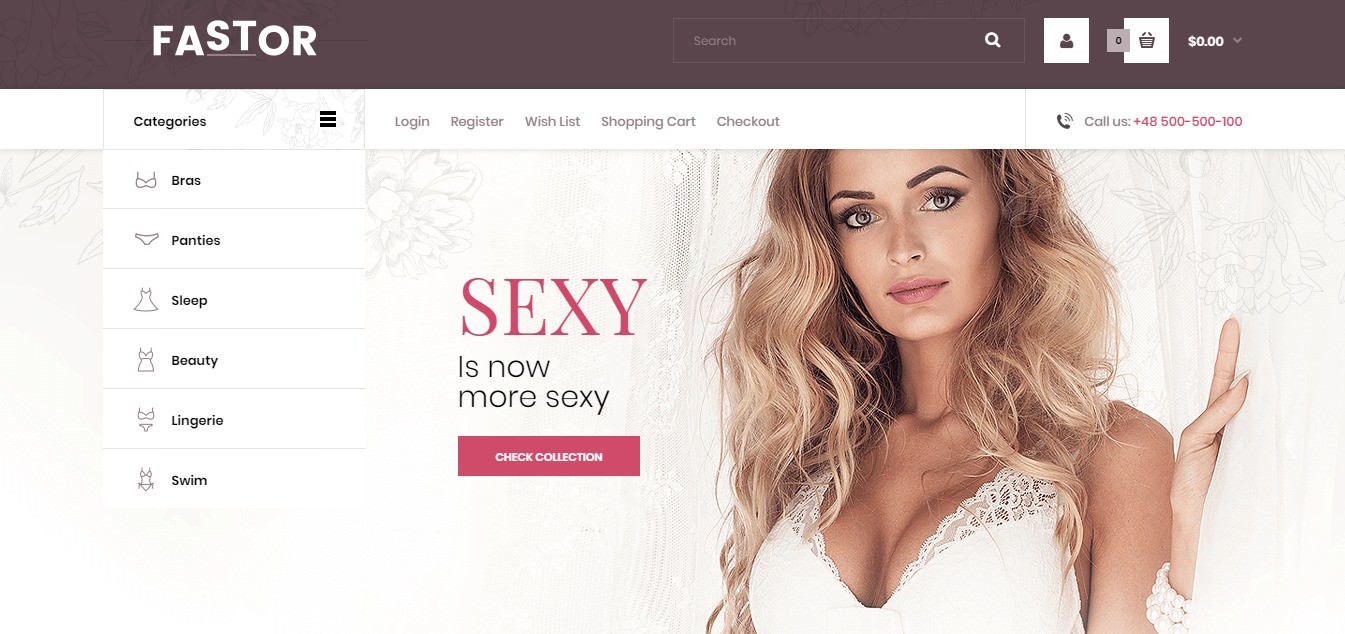 Theme features
82 pre-made demos
Mobile Toolbars
Lookbook
26 custom headers
Autocomplete search
Fastor updates the most technologies, which help customers make things easier to use, minimize the UI, cut out the complex settings, eliminate the mistakes in the previous version but still keep the goal od Fastor. Especially, it is successful for the theme to integrate Shopify Sections in this version, which makes Fastor 2.0 better than ever. The team is always precise with every single detail of Fastor to insure the perfection. Because we know, customer is the most important object in its own way, own goal.
More Info / Download Theme Demo
---
caacade - Dropshipping theme by Out-of-the-sandbox
Theme features
This theme is great for editorial content, quick setup, visual storytelling
Cart and checkout Slide-out cart
Diverse marketing and conversion methods
Mobile-friendly design
Easily filter and classify products
Works with the latest Shopify features
Themes on the Shopify Theme Store are guaranteed to stay up to date and work with Shopify's ever-growing feature set.
Unlimited free trial
Try the theme for free with your own products, brand colors, and customizations. One-time payment of $350 if you publish the theme to your store.
Free theme updates
Get the latest theme features and fixes from the Theme Store. You can redownload your purchase at any time.
Speed-tested and approved
Every theme in the Theme Store meets Shopify's performance standards, ensuring a faster shopping experience for your buyers.
Free high-resolution photos
Demo stores aren't included, but you can get free stock photos from Shopify Burst.
Non-expiring license for one store
Your payment entitles you to use the theme on a single store, and keep it as long as you like.
More Info / Download Theme Demo
---
Parallax - Dropshipping theme by Out-of-the-sandbox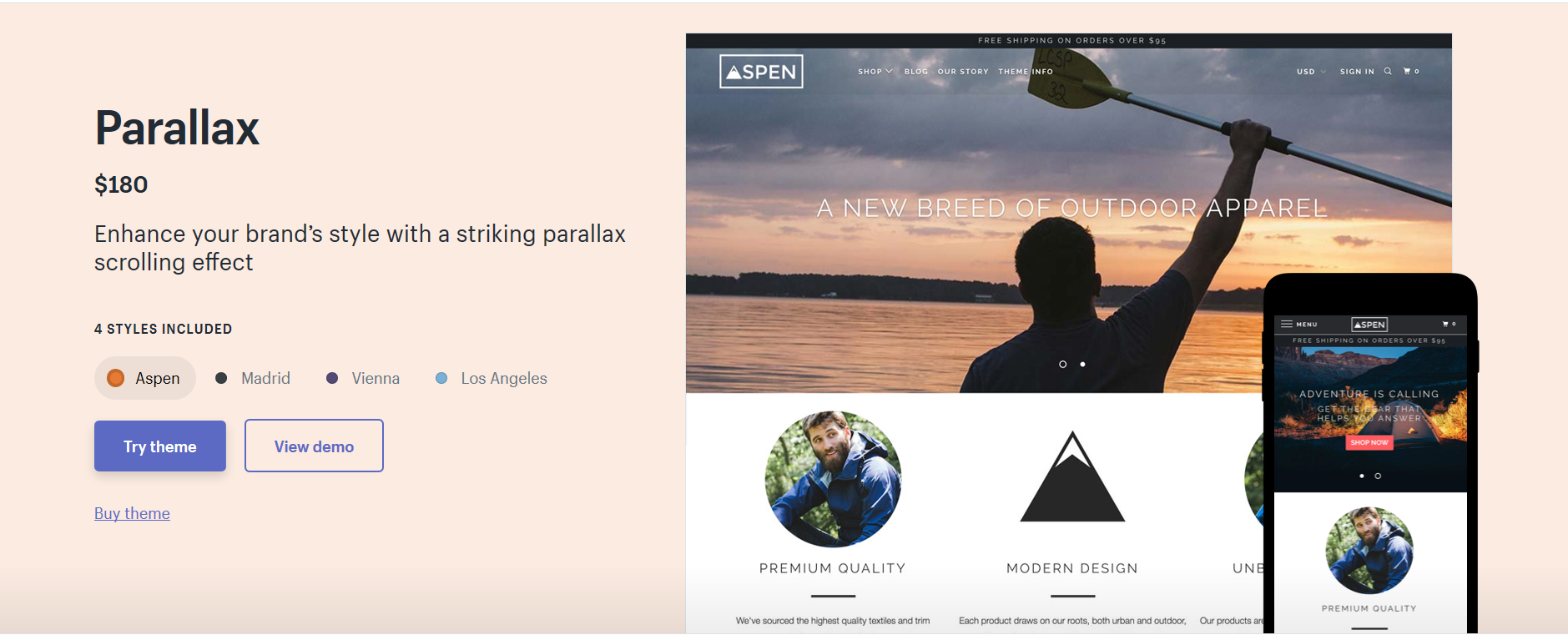 Theme features
Parallax effect
Multi-level menu
Search engine optimization
Free stock photos
Mobile-friendly design
Drop-down navigation support
Parallax Shopify Theme is a theme designed to strengthen your brand's style by its incredible parallax scrolling effect. This is a significant Parallax theme that brings the flexibility to viewers by controlling your website along with a long-format home page and distinctive scrolling style. As a result, you will be able to tell your story with the most beautiful detail. Also, creating an impact with full-width images, slideshows and video have never been that easy. You are also capable of taking advantage of the additional homepage section options including customer testimonials, logo list, featured promotions and image gallery as well.
More Info / Download Theme Demo
---
Turbo - Dropshipping theme by Outofthesandbox

Theme features
Smart page preloading for ultra-fast navigation
Two-speed settings
Mega-menu with multi-column submenus
Add CSS customizations
Built-in newsletter popup
Upgraded product layouts
Turbo is the perfect theme if you want to create a website that outperforms your competitors. It is proud to be able to appeal to your customers at first sight due to its high configuration and eye-catching flexible design. Moreover, the main strength of Turbo is the optimization of both speed and mobile experience. We can see this strength is extremely necessary because customers always love the quick and convenient. Satisfying customers will help your online store to grow and have a reputation everywhere.
More Info / Download Theme Demo
---
Home Market - Dropshipping theme by Tadatheme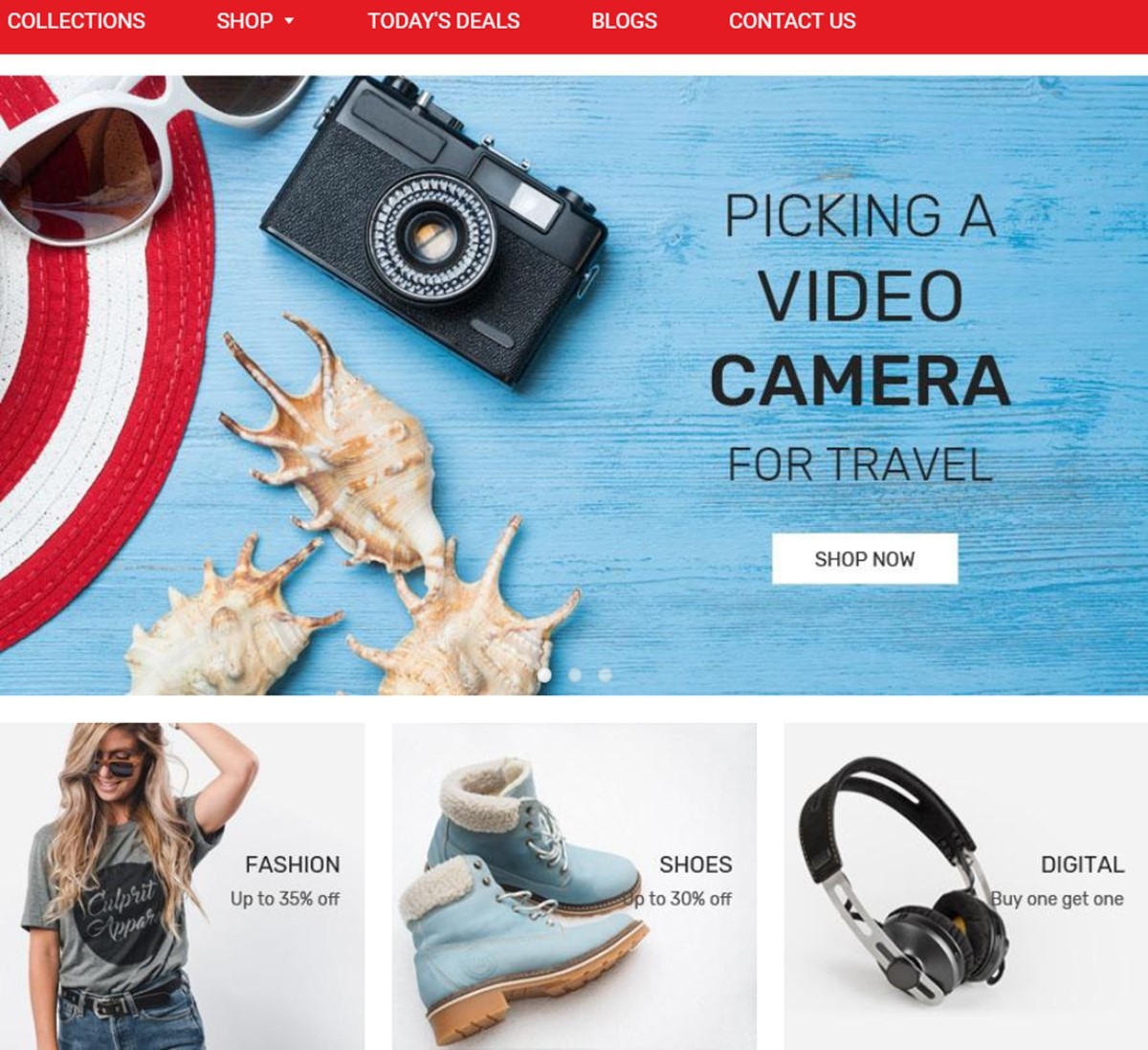 Theme features
Suitable for stores with large inventories
Provide more than 5 flexible layouts
Include advanced Ajax product filter
Save customers' time with Ajax Quick View and Ajax Cart
Easy to customize to create a perfectly-fitted surrounding
Home Market - Flexible Shopify Theme, which is created by tadatheme, is a tailor-made theme for all Shopify eCommerce sites, especially for stores with the inventories as large as a supermarket. With seven different layouts, Home Market theme provides you with the most clean-looking, perfectly-fitted surrounding for your website. Additionally, Ajax Quick View, Ajax Cart, and Ajax Wishlist features enable your visitors to have a quick view of the product, add products to shopping cart easily, and include products in their wishlist. Furthermore, Home Market theme helps your foreign customers translate to their native language with power translate tool of Shopify. Do not hesitate to upgrade your site's looks and attract more buyers with Home Market - Flexible Shopify Theme!
More Info / Download Theme Demo
---
MAXMIN - Dropshipping theme by Tvlgiao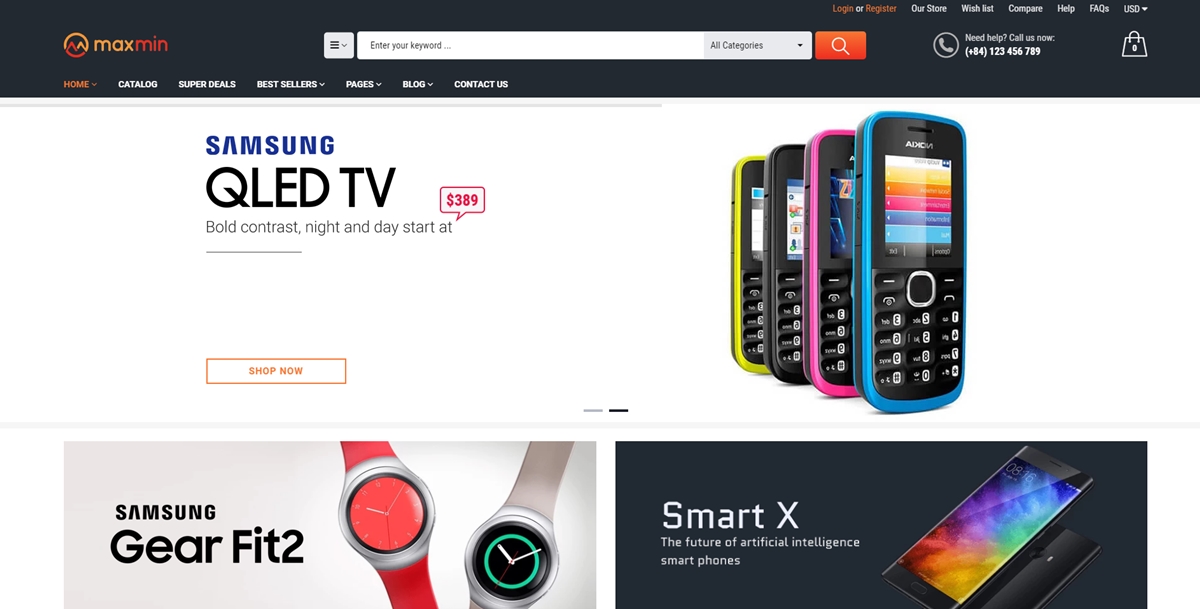 Theme features
4 premade homepage demos are available
Provide you with 4 mega-menus and 3 left mega-menus
Support multiple functions such as: Ajax add to cart, cart dropdown, quick view, and more
Enable customers to filter and compare
Able to display newsletter pop-up
MAXMIN - Dropshipping AliExpress Clone Shopify Theme - Super Fast, Sections Frontpage Builder, which is designed by the Tvlgiao team, is a well-fitted theme for jewelry, luxury, gift, handmade, kids, baby store, bakery, car auto parts automotive, high-tech digital electronic gadget, flower shop, furniture & interior, organic food stores. By installing our available eye-catching and clean design, you are able to be certain that your store can attract more visitors and motivate them to make purchases. Furthermore, your store's look will always be kept simple but professional, very light-weight, and significantly, fast at loading. Improve the look today with MAXMIN!
More Info / Download Theme Demo
---
Responsive - Dropshipping theme by Tvlgiao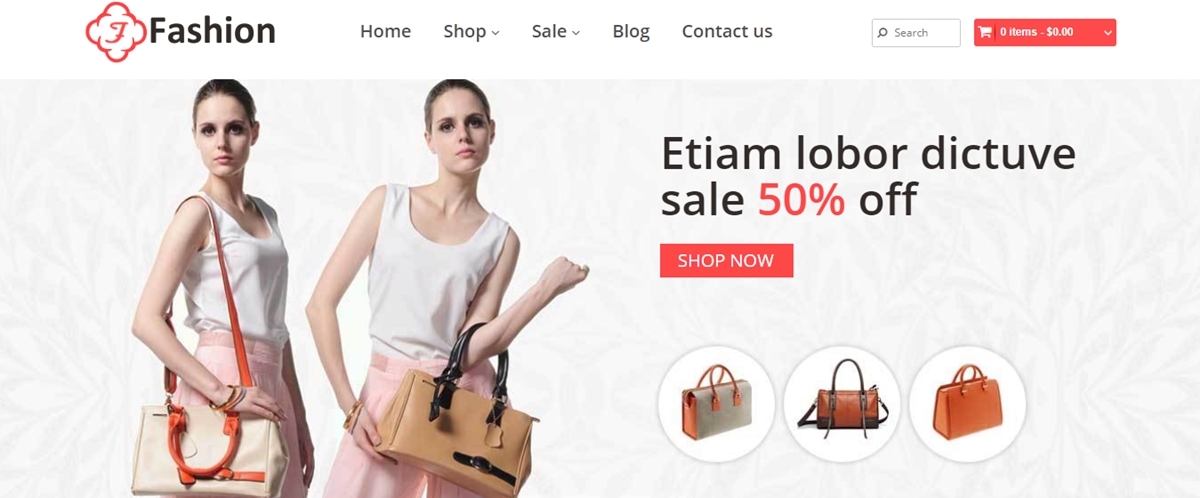 Theme features
Bring the Product Image Effects
Provide Drop-down menu
Provide homepage slideshow and banners
Bring the slideshow module
Support Fly to cart tool
More Info / Download Theme Demo
---
7Store - Dropshipping theme by Tadatheme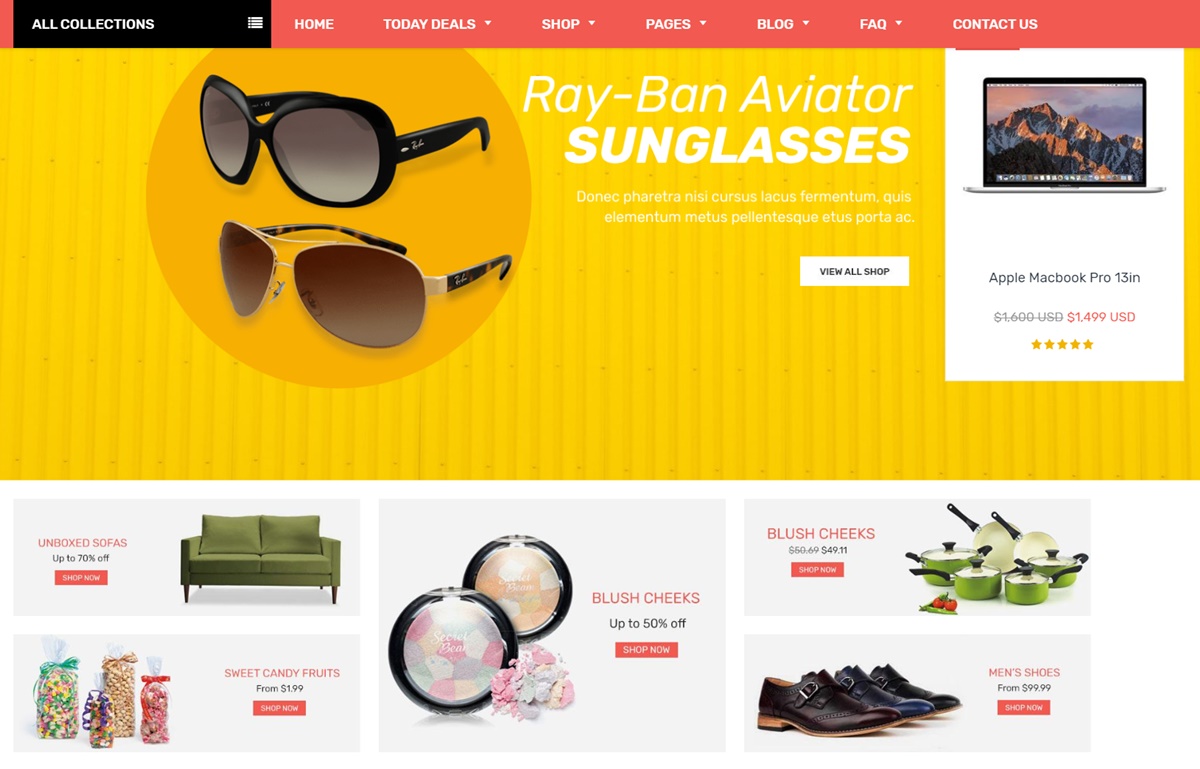 Theme features
Up to 5 mega menu options are available
Feature 100% responsive design
Healthy for SEO and fast loading speed
Integrated with and support all of Google Fonts
Support Ajax functions: Quickview, Wishlist, Compare, Add to cart
7Store - Sectioned Responsive Shopify Theme for Supermarket, Fashion, Cosmetic, GameStore & Kids, which is designed by the Tadatheme team, is a well-fitted theme for Supermarket, Fashion, Cosmetic, GameStore and Kids stores. By installing our available professional theme, you can display a lot of functions with many advanced features which may help you attract more potential customers. It is all in your hand now with 1 click only!
More Info / Download Theme Demo
---
Takada - Dropshipping theme by Presthemes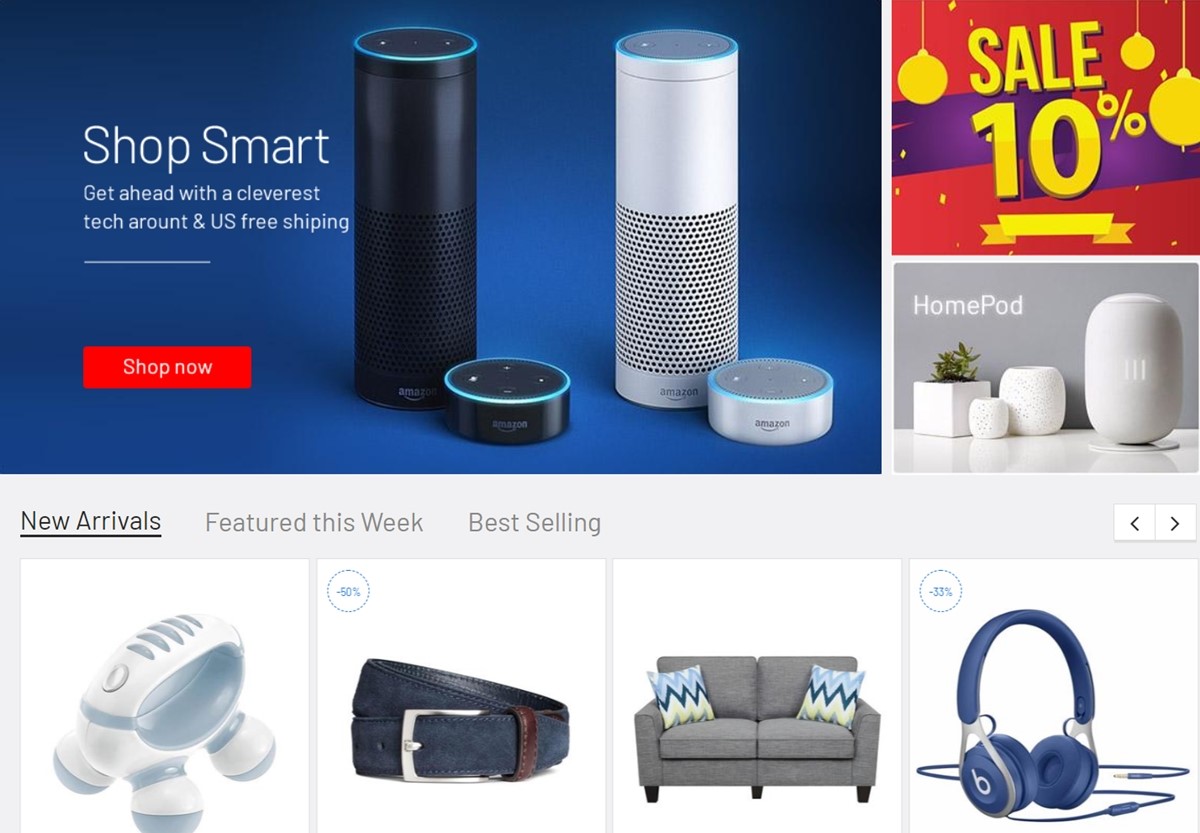 Theme features
Provide with many premade beautiful templates
Feature animation effect, parallax style, and many more
Completely support full-screen slideshow and full-width page
Easy to customize colors, fonts, and layouts
Super light-weight and fast loading all the time
Takada - Sectioned Shopify Theme for AliExpress Dropshipping Store, which is designed by the Presthemes team, is a well-fitted theme for fashion store, selling cloth apparel t-shirt. With our provided bright and clean design, you can make sure that your store could gain more traffic and attract customers into making purchases. We work to always keep your design being simple but professional, minimal, super light-weight but fast at loading. The animation effect, slideshow, parallax style, and many more are also included. Better the look today with Takada!
More Info / Download Theme Demo
---
Gem - Dropshipping theme by Ennop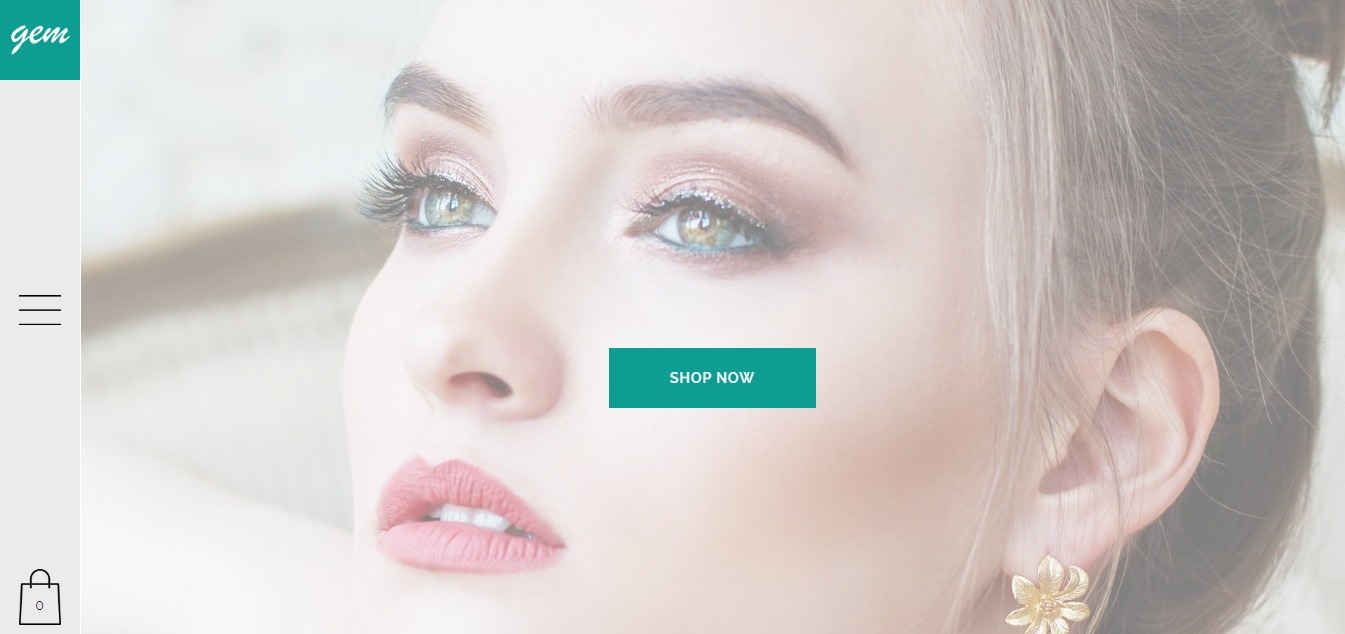 Theme features
Drag and Drop Shopify Sections
Homepage video slider
Product page video option
Bootstrap 3.X
Support major Browers
Built with CSS 3 and HTML 5
Gem Shopify theme brings the merchants more flexibility and profitability because it allows them to customize their online store. This theme is especially suitable for accessories and fashion stores. It is easy for the clients to add, reorder, and remove chunks of content such as products, slideshows, videos, etc. With helpful features, Gem theme is flexible, user-friendly and can reach more potential customers. By drag and drop, the visitors is easy to find out the products they want and build admins panel. Furthermore, there are many kind of text, images, buttons, and even widgets such as countdown timers will be eased for comfortable using.
More Info / Download Theme Demo
---
Dropship - Dropshipping theme by Thimatic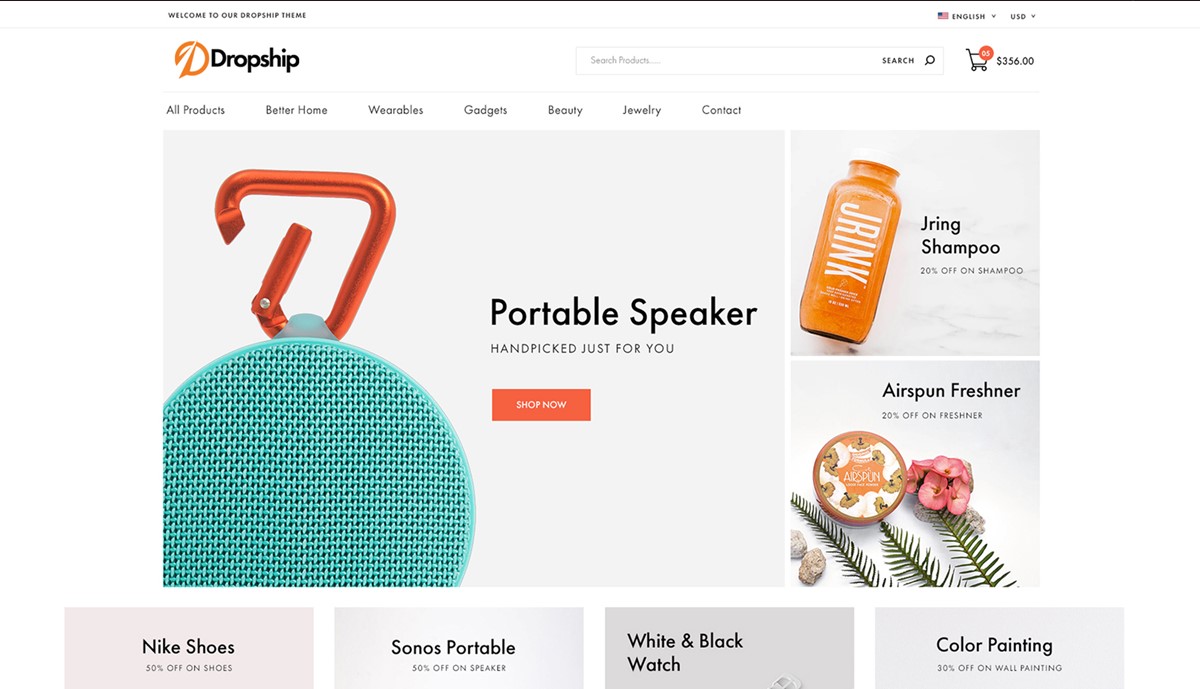 Theme features
Easy To Setup
Fully customize
Zero Cost Business Startup
Location Independent
0% Burden Of Inventory Management
No Handling for Returns
Thimatic Dropshipping theme is specially designed for drop-shippers around the world and considered as one of the most Premium Shopify themes which help to increase the website's conversion rate by reducing visitors' bounce rate which ultimately leads to boost sales and revenue.
Dropship theme is all in one theme that can integrate with any store which selling any products like fashion, grocery, luxury items like jewelry, electronic gadgets, books, technology items and much more. Last but not least, the customer support team of this theme who are always there to help customers to assist in any case if a customer needs any kind of support.
More Info / Download Theme Demo
---
Beggtown - Dropshipping theme by Thimatic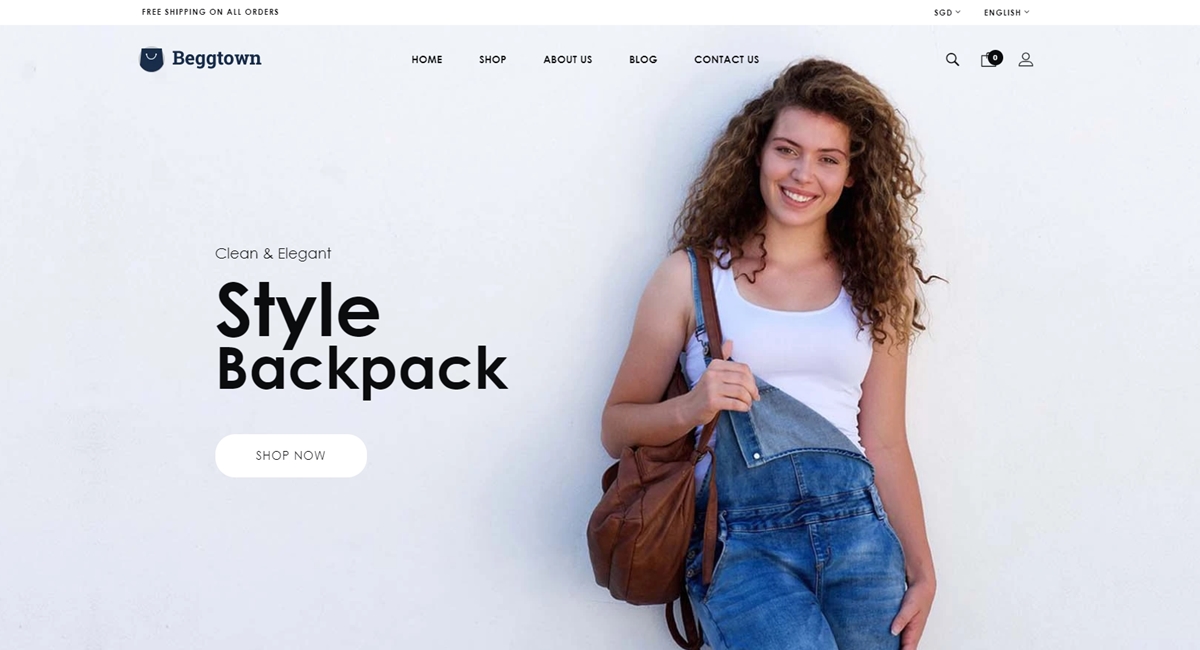 Theme features
Shipping Time Estimator
Recently Purchased Item Pop-Up
The urgency with countdown timer
Product Badging
Mega Menu
Beggtown Theme is the most widely used Premium Shopify theme which helps you to lift your brand and products with impactful imagery and clear navigation. It is a robust and adaptable theme that looks sharp across all devices and suits a wide range of products. The elegant, natural color palette and styling of the theme will surely impress you and keep you satisfied.
More Info / Download Theme Demo
---
You are using Wordpress platform? Let's take a look at the review Best Dropshipping Themes for Wordpress
More Themes
How AVADA Commerce ranks 16 Shopify Dropshipping themes
These 16 Dropshipping themes for Shopify are ranked based on following criterias:
Theme rating review on Themeforest, Shopify Themes Marketplace, Templatemonster, MOJO Marketplace and more.
Themes' reviews and ratings.
The theme's design.
The vendor's reputation on social networks, and search engine ranking.
Social networks metrics such as Facebook, Twititer, Google+.
AVADA experts' reviews
Top 16+ Shopify Dropshipping Themes / Templates
Thank to every theme vendor that has made the 16+ best Shopify Dropshipping themes/templates list! This is the most comprehensive list of best Dropshipping on the internet and we are honoured to have you as part of this!
We would like to give the best commendation for all of vendors who have done the number one of Dropshipping brief! It is appreciated to be the most awesome and exhaustive result from searching on Google. We are pretty proud of your appearance of this task. Many thanks for your benefaction to our lives!
If you want to add or remove an item in the Dropshipping list, feel free to contact us at Contact us
Find more themes, please visit our Shopify theme reviews!
People also searched for
shopify dropship store themes

dropship store themes for shopify
top dropship store theme for shopify

top shopify dropship store themes