How to Update Shopify Theme to New Version
Last updated: December 01, 2023
This post is about How to Update Shopify Theme to new Version. On Shopify Theme Store, Shopify and third-party companies will sometimes release updated versions of the themes that they have published before. These versions often include bug fixes and new features which the old versions do not have.
If you haven't changed the code of your theme or installed an app that has changed your theme code, your theme will be updated automatically. But if you have done the above actions, the updated versions will not be automatically applied to your existing themes. It is mainly because automatic updates will remove custom code changes.
To help you to update a theme without having to edit the code again, I have prepared some steps on How to Update your Shopify Theme.
To Update Shopify Theme for your stores:
Step 1: Duplicate theme
First, I recommend you to create a backup copy of your existing theme. To duplicate a theme, you can go to the More themes area which is in the Themes section, and tap at the Action button of the theme that you want to duplicate. Then select Duplicate.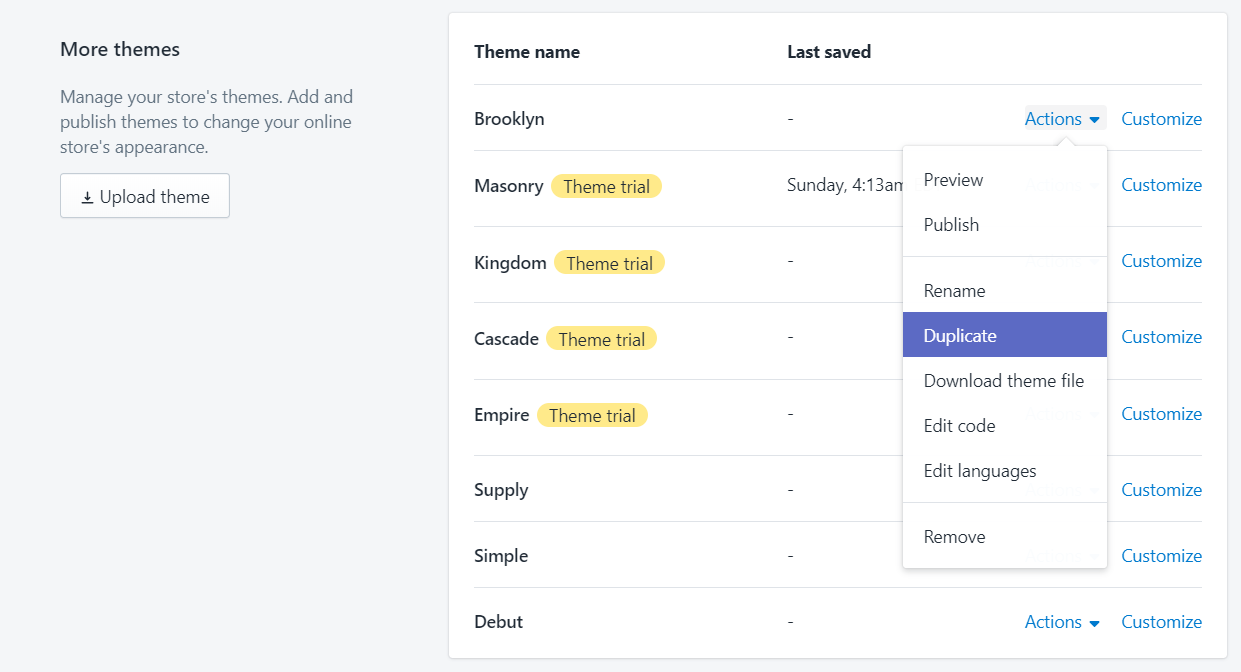 Step 2: Login your store account
Go to Shopify Theme Store and login to your account. With paid themes, to prevent you from having to purchase that theme again, you must remember to use the account that you have used to buy that theme in the first place.
Step 3: Enter theme's name you want to update
In the right corner on the top of the screen, click the magnifier icon. After you have clicked on that icon, a search bar will appear, you can then enter the name of the theme that you want to update.

Step 4: Open theme
You will see the theme that you are looking for on the search results page. Click on the name of that theme to open its details screen.
Step 5: Update theme version
On the theme details page, click Add theme to update version of your theme.
Learn more: How to find out what theme a shopify website is using
What you can do after updated your theme
Edit new updated theme
By applying the theme editor function, you can make some changes to your new updated theme. You can change its Header, Slideshow, Rich text, Collection list, and so on.**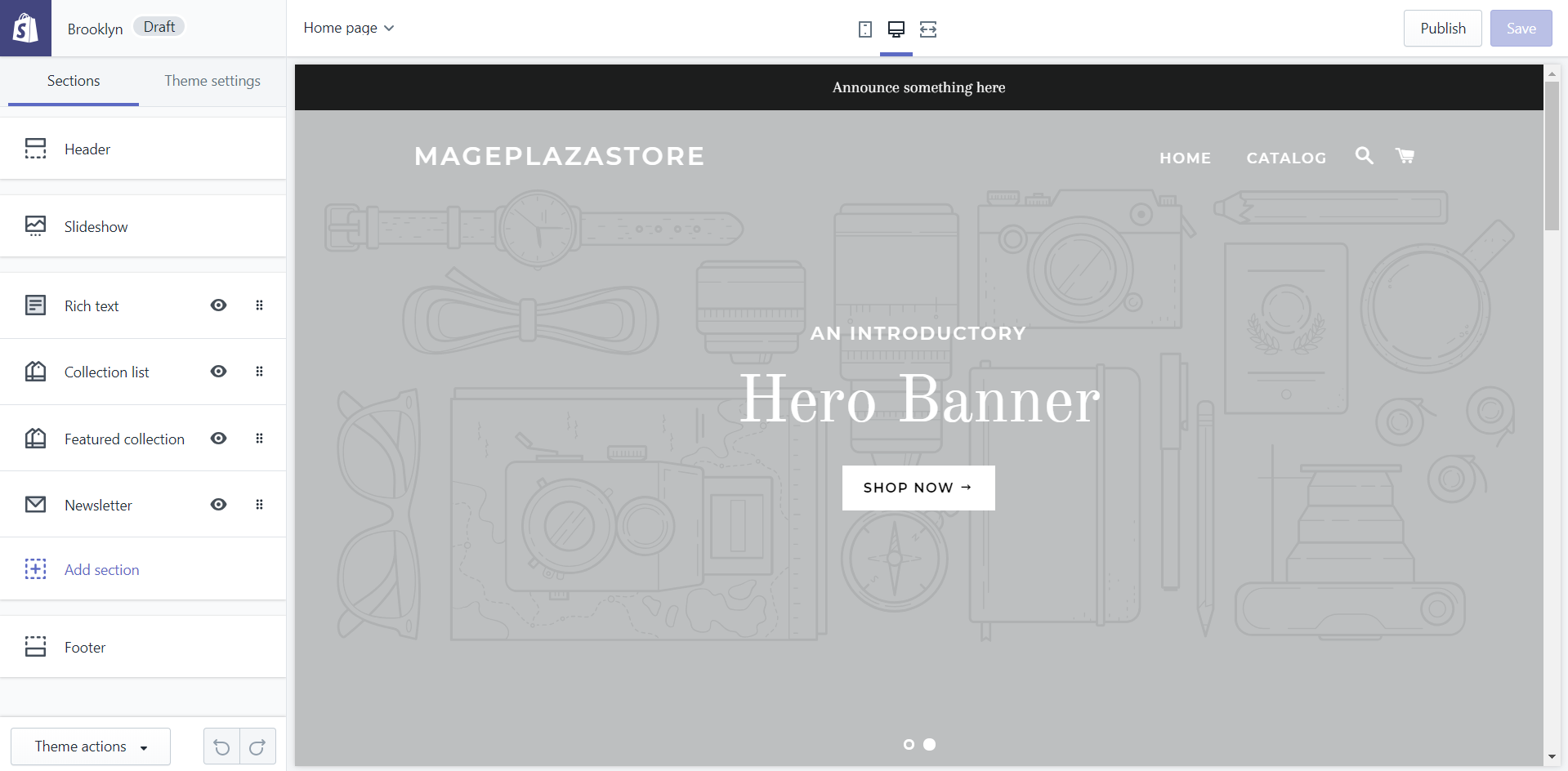 Update theme
The second thing that you can do is that you can update the theme that you have updated and edited by going to the More themes area which is in the Themes section, tap at the Action button of the theme that you want to publish, and then select Publish.**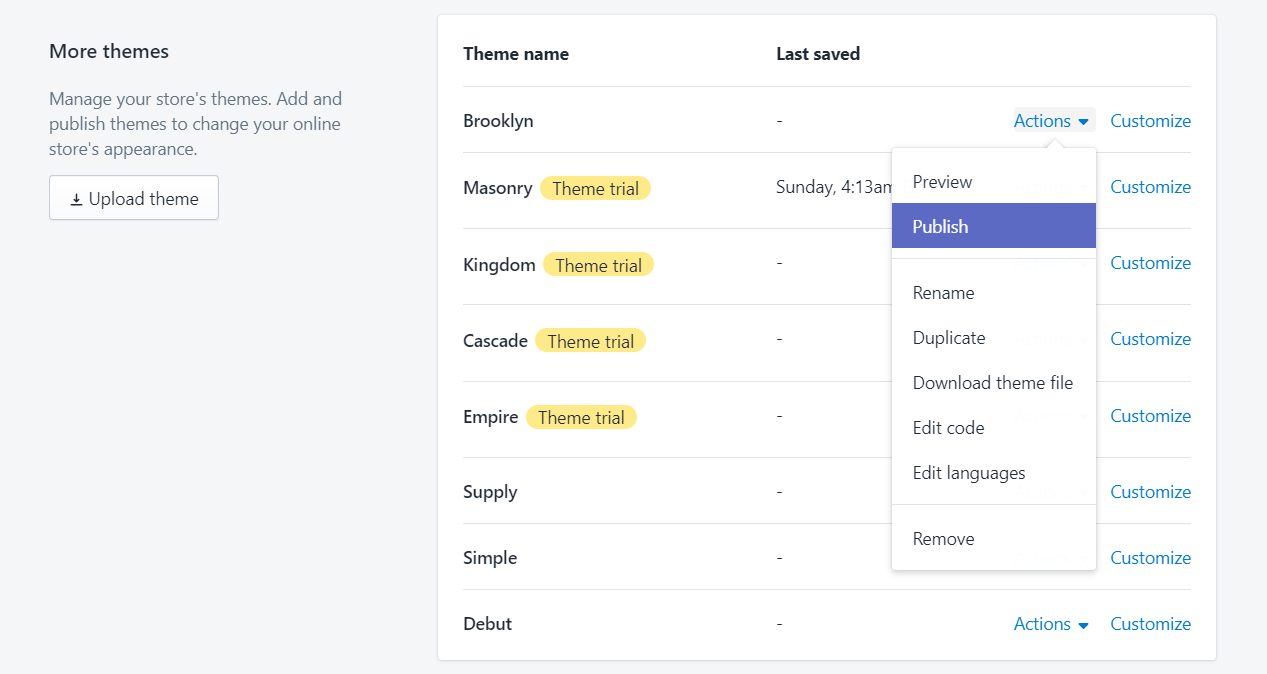 Uninstall apps
Besides, you can also uninstall the apps which add code to your theme, and then install them again. To view all the apps that you have installed, visit the Apps section on your Shopify page.**

Conclusion
Above is the information on how to update your stores theme on Shopify and that things that you can do after updating that theme. I hope that this tutorial will become helpful for you and crew.
Related Posts:
---
Sam Nguyen is the CEO and founder of Avada Commerce, an e-commerce solution provider headquartered in Singapore. Sam aims to support more than a million online businesses to grow and develop.