How to Transfer a domain from Shopify?
Last updated: December 01, 2023
A domain plays an important role in the online store. It is like your online store as a home and a domain is your home address. When you set a domain for your Shopify store, it means that your store will be established your brand by giving your business credibility and tells customers you're here to stay, rank higher in search by having similar keywords in your industry and keep staying in top of mind by remembering you and find your business later. Read more to know how to Choose a Domain Name
Luckily, Shopify makes it easy to transfer a domain from Shopify and also helps you find the perfect beautiful website to match. But how to do that? Read through our article and you will master all the steps.
Overview
What is a domain?
A domain is known as the URL or the website address. It is where your customers go to find your store online.
From the Domains page in your Shopify admin, you are able to manage your domain settings for your online store. In case you use the wholesale channel, then you are able to manage the domain settings for your wholesale store on the Domains page of that channel.
Your primary domain will be ser in the form of examplestore.myshopify.com by default.
Note: You can consider which domain you want the most and decide to purchase. Even if you leave Shopify, you still keep ownership.
How Shopify manage your domain?
Shopify enables you to manage all your domain settings on the Domains page in your Shopify admin.
A primary domain is the domain name on Shopify that customers often see in the address bar while they browse your online store. In some cases, you are able to use your root domain or a subdomain as your primary domain, however, there is only one primary domain for you to use in most cases.
From the Domains page of your Shopify admin, you can assign your primary domain. Then, before you decide to set a primary domain, make sure that you have done these actions so that Shopify can manage your domain.
buying a domain through Shopify or from a third-party
adding your domain and all the subdomains you want to use with your store
setting up your root domain
setting up your subdomains.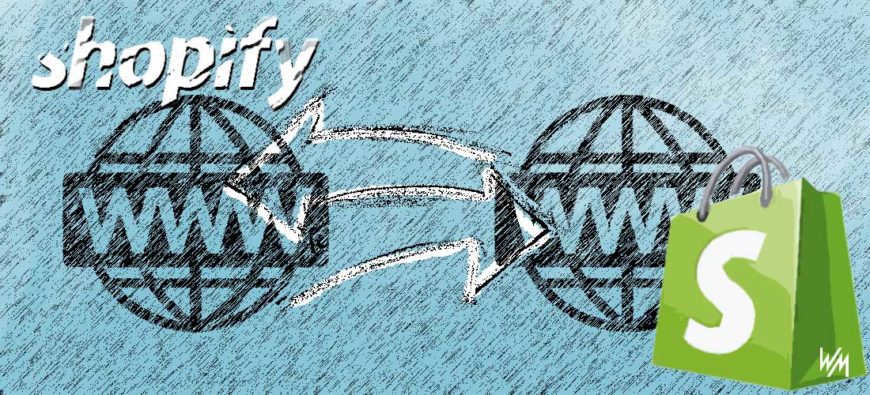 ### How to buy a domain from Shopify? I guess when you are reading this section, you have already aware of what a domain is and you have decided to buy a domain so that your customers are able to visit the shop. Luckily, Shopify has a helpful function that allows you to buy a domain if you haven't had one.
Follow the instructions from another post on our website to know how to buy a Domain from Shopify
How to transfer a domain out of Shopify?
Transfer Domain From One Shopify Store To Another
Before you transfer
Confirmation of Domain Eligibility
Shopify allows you to transfer domains that meet certain criteria. Here's what you need to consider:
You need to own the domain that you want to transfer. If you don't own it and it's available for registration, then you should buy it.
You need to wait 60 days after registering your domain. For more information, refer to the Internet Corporation for Assigned Names and Numbers (ICANN).
You need to pay the registration fee to renew your domain for an additional 12 months. The 12 months are added to your domain's current expiry date.
There might be additional costs associated with transferring your domain. Contact your domain provider for information about transfer costs.
You need to have access to your original domain provider account and the email account that you use to log in to it.
Make sure that your email address doesn't belong to the domain that you want to transfer. During the domain transfer process, you need to respond to emails received at this email address. If your current email address is connected to your domain, it's disabled during the transfer. For example, if you want to transfer the domain my-store.com, avoid using the email address [email protected].
You need to use a third-party email hosting service with email forwarding from Shopify. Shopify doesn't provide email hosting services but does provide unlimited email forwarding accounts.
The domain transfer to Shopify can take up to 20 days, but your domain will remain functional throughout this period. Keep in mind that Shopify only allows the transfer of apex domains, such as my-store.com. You cannot transfer subdomains like www.my-store.com or shops.my-store.com to Shopify.
Additionally, Shopify does not duplicate any extra custom DNS records you may have. It's crucial to save a copy of these records to add them back to your domain once the transfer is finalized.
Ensuring the new Shopify account is ready to receive a domain
Before you initiate the domain transfer, you need to ensure that the destination Shopify store is fully prepared to receive the domain. Here's what you should check:
Shopify Account: Make sure you have a Shopify account for the store where you want to transfer the domain. If you don't have one, create it beforehand.
Add a Plan: Ensure that your Shopify account is subscribed to a plan from Basic and up. You cannot transfer a domain to a trial account.
Store Setup: Ensure your new Shopify store is set up and configured according to your requirements. This includes adding products, customizing your store design, and configuring payment and shipping settings.
Domain Settings: Familiarize yourself with the domain settings in your new Shopify store. You'll need to know where to complete the transfer process once initiated.
Remove Existing Domain (If Any): If there is an existing domain connected to your Shopify account that you want to replace, remove it from the Shopify admin.
Update Contact Information: Ensure your Shopify account has up-to-date contact information.
Making sure any existing domain conflicts are resolved
To prevent any issues during the domain transfer, it's essential to address any existing domain conflicts. Here's what you should consider:
Duplicate Domains: Ensure that the domain you're transferring doesn't conflict with an existing domain in your new Shopify store. Duplicate domains can cause confusion and technical issues.
Resolve Legal or Trademark Issues: If there are any legal or trademark issues associated with the domain, resolve them before the transfer.
Step-By-Step Guide On Transfering A Domain From One Shopify Store To Another
Whether you're consolidating stores or moving a domain to a different account, this step-by-step guide will walk you through the process.
Step 1: Log In
Begin by logging in to the Shopify store that currently uses the domain you want to transfer. This ensures you have the necessary access to manage the domain.
Step 2: Access Domain Settings
Once logged in, navigate to the "Online Store" section and click "Domains." This will take you to the domain management area.
Step 3: Manage Domain
Within the "Domains" section, locate the specific domain you wish to transfer. Click "Manage" to access the domain's settings and initiate the transfer process.
Step 4: Initiate Transfer
Now, within the domain settings, you'll find an option to "Transfer domain." Click on this option to start the transfer.
Step 5: Specify Transfer Destination
Choose "Transfer to another Shopify store" as your transfer destination. This ensures that the domain moves to a different Shopify account.
Step 6: Confirm Information
Before proceeding, confirm that your registrar information and associated email address are up to date. This ensures a smooth transfer process.
If you're the other store's owner or a staff member with the Transfer domain to another Shopify store permission, then click the transfer link in the email text and log in to the Shopify store where you want to transfer the domain.
If you're not the other store's owner or a staff member with the Transfer domain to another Shopify store permission, then forward the email message to someone who has the appropriate permission for that store.
Step 7: Send Transfer Link
Click "Send transfer link." You will receive an email containing a transfer link. This link is crucial for completing the transfer.
Step 8: Accept Transfer
Open the email you received and click on the transfer link within the email text. This step initiates the transfer process.
Step 9: Log In
Log in to the Shopify store where you intend to transfer the domain. This step is essential to complete the transfer successfully.
Step 10: Completion
The domain transfer process typically takes up to 24 hours to finalize. Once completed, your domain will be successfully transferred to the specified Shopify store.
Please note that altering your registrar information during this process may result in a 60-day lock on your domain, which could prevent further transfers. Consult your registrar for more information on this policy.
Post-Transfer Setup
Configuring Domain Settings
Configuring your domain settings is a critical part of the post-transfer setup process. Here's what you should do:
Primary Domain Configuration: In your new Shopify store, navigate to the "Settings" and select "Domains." Confirm that the transferred domain is set as the primary domain for your store. If you have multiple domains connected to your Shopify store, choose one as the primary domain. This is the domain that customers will see in the address bar when they visit your store.
Set Up Email Forwarding: If you have an email address associated with your domain (e.g., [email protected]), set up email forwarding in Shopify to forward emails to your personal email address.
Subdomains and DNS Records: If you had subdomains or custom DNS records associated with your domain in the previous store, recreate them in your new Shopify store. These settings can include email forwarding addresses, subdomains for specific store sections, or any custom configurations you had in place. Verify that all these settings are correctly transferred and configured.
SSL Certificate: Check the status of your SSL certificate. Shopify provides SSL certificates for all stores, but if you have a custom SSL certificate for your domain, ensure it's correctly set up and valid in your new store. A valid SSL certificate is crucial for securing customer data during transactions.
Testing to Ensure Everything Is Working
Testing is an essential part of post-transfer setup to guarantee that your online store functions seamlessly. Here's how to go about it:
Check Website Accessibility: Visit your domain in a web browser to ensure that your Shopify store is accessible and that there are no SSL errors.
Test Links and Navigation: Navigate through your site to ensure that all links are working and that pages are loading correctly.
Test Checkout Process: If you're selling products, perform a test transaction to ensure that the checkout process is working as it should be.
Check Email Forwarding: If you've set up email forwarding, send a test email to your domain's email address to ensure that it's being forwarded correctly.
Check DNS Propagation: DNS changes can take up to 48 hours to propagate fully. Use a DNS propagation checker to ensure that your DNS settings have propagated across the internet.
Monitor for Errors: Keep an eye on your Shopify dashboard and email for any notifications of issues or errors related to your domain.
By diligently configuring your domain settings and conducting comprehensive testing, you can minimize disruptions to your online business and provide a seamless shopping experience for your customers.
Tips And Solutions For Potential Issues That Could Be Encountered
To help you navigate these challenges, here are some valuable tips and solutions to address common problems you might encounter during the domain transfer process:
Issue: Your domain is locked, preventing transfer. Solution: Contact your current registrar and request that they unlock your domain. This is essential to allow the transfer to proceed smoothly. Be aware that domain lock policies can vary between registrars, so check their specific requirements.
Authorization Code Problems
Issue: You can't obtain or provide the required authorization code (EPP code) for the transfer. Solution: Reach out to your current registrar to obtain the necessary code. Ensure that the code is correctly entered during the transfer process. If issues persist, request assistance from your registrar's customer support.
Incorrect DNS Configuration
Issue: Your domain's DNS records or settings are not correctly configured after the transfer. Solution: Review and recreate any custom DNS records or settings in your new Shopify store, matching the configurations from your previous store. Double-check subdomains, email forwarding, and any other custom configurations.
SSL Certificate Validation
Issue: SSL certificate issues or warnings appear after the transfer. Solution: If you had a custom SSL certificate, ensure it's correctly set up in your new store. If you rely on Shopify's SSL certificate, monitor its status, as it's essential for secure transactions. Resolve any SSL-related issues promptly to maintain customer trust.
Issue: Your domain doesn't connect correctly to your new Shopify store. Solution: Verify that your domain is correctly connected to your Shopify store. Check DNS settings and ensure that customers can access your website without encountering errors or warnings. If connectivity problems persist, reach out to Shopify support for assistance.
Email Verification Problems
Issue: You didn't receive or respond to the verification email sent during the transfer process. Solution: Check your spam or junk mail folder for the verification email. Ensure that the email address associated with the domain is correct and accessible.
Issue: After the transfer, the website is not accessible, or the old website is still showing. Solution: DNS changes can take up to 48 hours to propagate fully. Wait for this period to pass and clear your browser's cache. If the issue persists, check your DNS settings in Shopify.
In conclusion, by following the guidelines outlined in this article and staying informed about the potential challenges and their resolutions, you can ensure a seamless transition to your new Shopify store.
Related Posts:
---
Mike is a content writer at Avada, with a love for video games, gadgets, and software. He has been writing about the industry now for over 7 years. He likes to keep up-to-date with the latest software releases. He's also an avid reader, and he enjoys spending time outdoors with family and friends. When he's not working, you can usually find him playing video games or exploring new outdoor activities.