How to Setup Payment Gateways on Shopify
Last updated: October 01, 2023
With the development of online shopping, Shopify is considered as one of the most lucrative markets for any shop owner. Therefore, choosing a suitable Payment Gateway is the key term that the Shopify store owners always concern about.
The most popular gateway for them is Shopify payment - an automatic integrated to any Shopify stores because it is Shopify own gateway. Moreover, online merchants can choose to make purchases through PayPal with free or paid accounts. Another choice for them with a ton of tools and various payment acceptances.
For the new online sellers, this article is so effective for them to know about Shopify Setup Payment Gateway with the detail below.
What is Payment Gateway?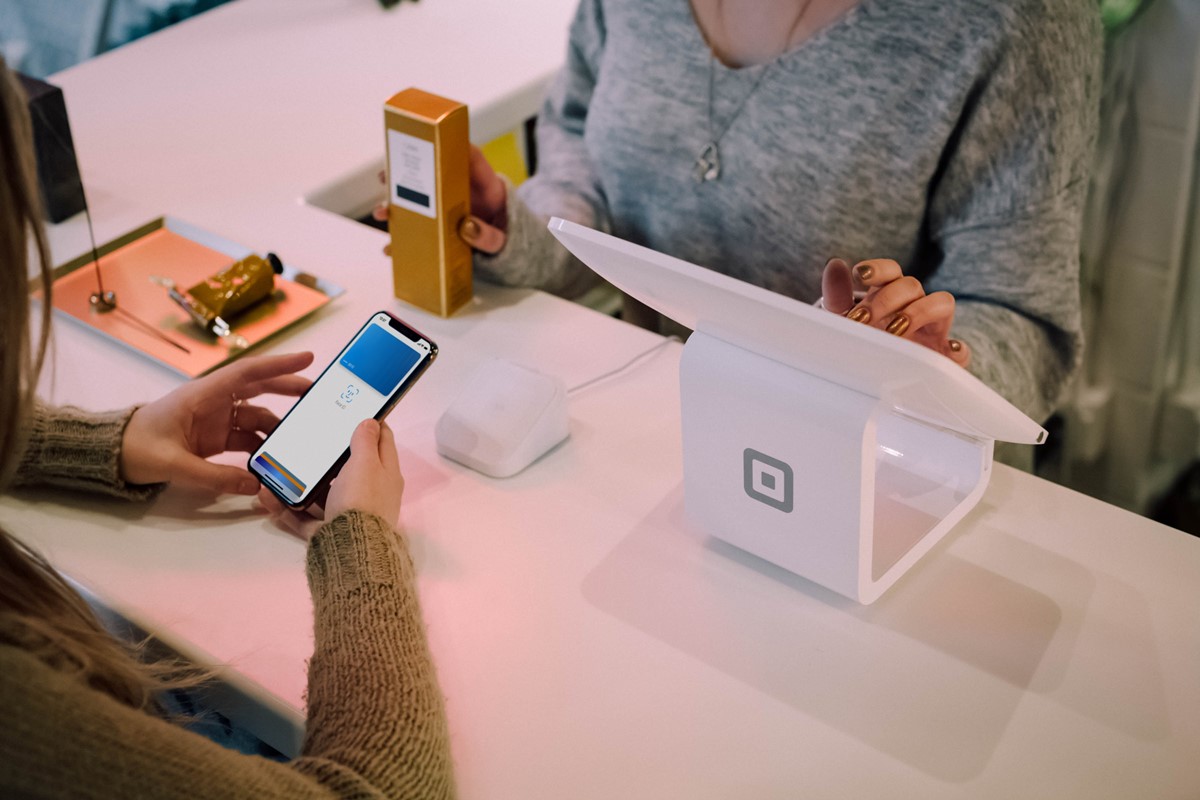 Like cashier in offline stores, Payment Gateway plays a role as the solver for all transactions in online shopping. All the payments for Shopify products on the internet will be expected to processed via these gateways. Shopify payment gateway allows the users to accept both debit and credit cards from customers. Therefore, this technology is important for any eCommerce store to authorize the funds transferred from the buyer to the seller successfully.
Because the Payment Gateway is a tailor-designed tool so that it helps the users to specify the geographical locations of their customers. It is necessary for online merchants to choose a payment gateway that is widely popular for their locations.
Best Payment Gateways for Shopify?
There are many options in the Payment Gateways for the Shopify store owners to pick up for their shops. However, they can choose the top 5 most effective gateways such as Shopify Payments, PayPal, Stripe, Authorize.Net and SagePay.
Firstly, Shopify online merchants can easily use their own default payment gateway called Shopify Payments. This solution is integrated into your store without paying the transaction fee. In addition, Shopify Payment Gateway supports many payments so that the merchants do not have to set up many third-party payment gateways for each transaction. At present, the list of countries which is available for this tool includes the US, the UK, Canada, Ireland, Singapore, Australia, and New Zealand.
To discover further about the Shopify gateways categories, let's take a look at Best Payment Gateways For Shopify (for Dropshipping/Us/Uk/India/Australia).
How to Setup Payment Gateways for Shopify?
Online store owners should understand more about the payment process with multiple steps. It is also necessary for them to choose the most suitable method among different types of gateways to maximize their sales to support the transactions in their shops.
Setup Shopify Payments Payment Gateway

After making purchases, customers enable choosing how to pay their products. The Payment Gateway is considered as a key to request Transaction to the Proper Payment Processor. Furthermore, they even can choose to use the credit card from any company issuer. It plays an important role in ensuring the security between online stores and the Payment Processor. Any information about customers such as their credit card number or private data will be kept safely.
Visit our article How to Setup Shopify Payments Payment Gateway? to have a step-by-step guide on setting up this payment gateway on Shopify.
Setup Paypal Payment Gateway

As one of the default payment methods in Shopify, Paypal which is the name that all online sellers know supports multiple ways such as credit cards, bank accounts or Paypal accounts. Moreover, it is easy for any shop owner to sign up for their shops with an email. However, this method has a limitation when there are some regions that PayPal is unavailable.
If the online sellers want to use PayPal in your store, they can set up the PayPal Payment Gateway by link to their Paypal account as below:
Step 1: Go to Payment Provider
Firstly, on the Shopify admin, shop owners choose to Settings and click Payment providers.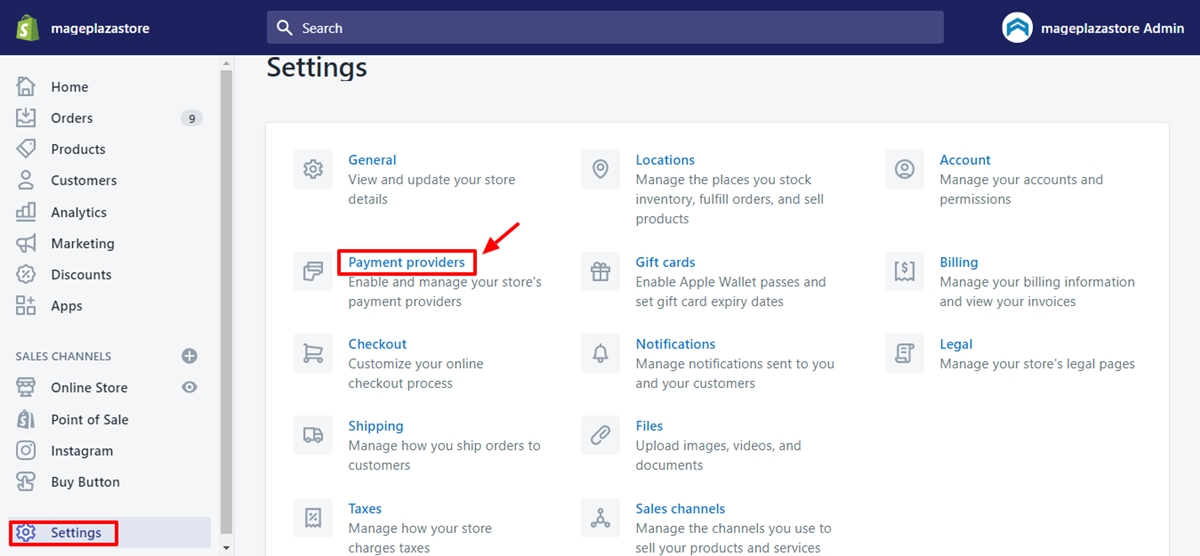 Step 2: Select your PayPal account type
After coming to PayPal section, tap Activate Paypal Express Checkout.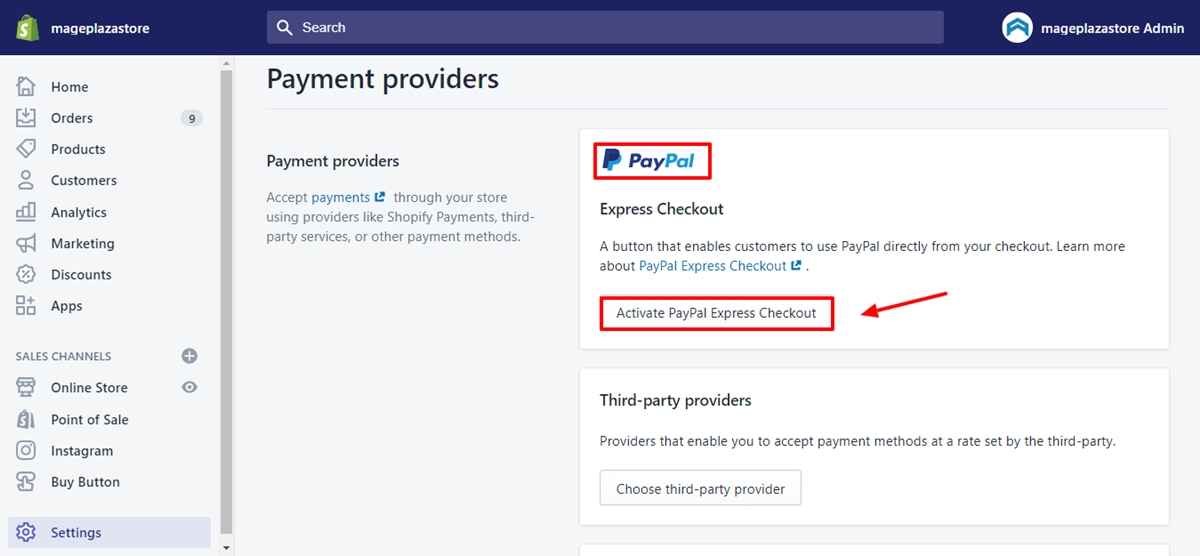 Step 3: Click Activate
In this step, you will see information about Credit card rate, Transaction fee, as well as the Setup Instruction. Scroll down and click on Activate.

Step 4: Login to PayPal account
After clicking on the Activate button, you will be redirected to the Paypal screen. In here, the users need to enter their email address for the PayPal account, and then choose Next to continue.
Submit the password for the PayPal account, and then Log In.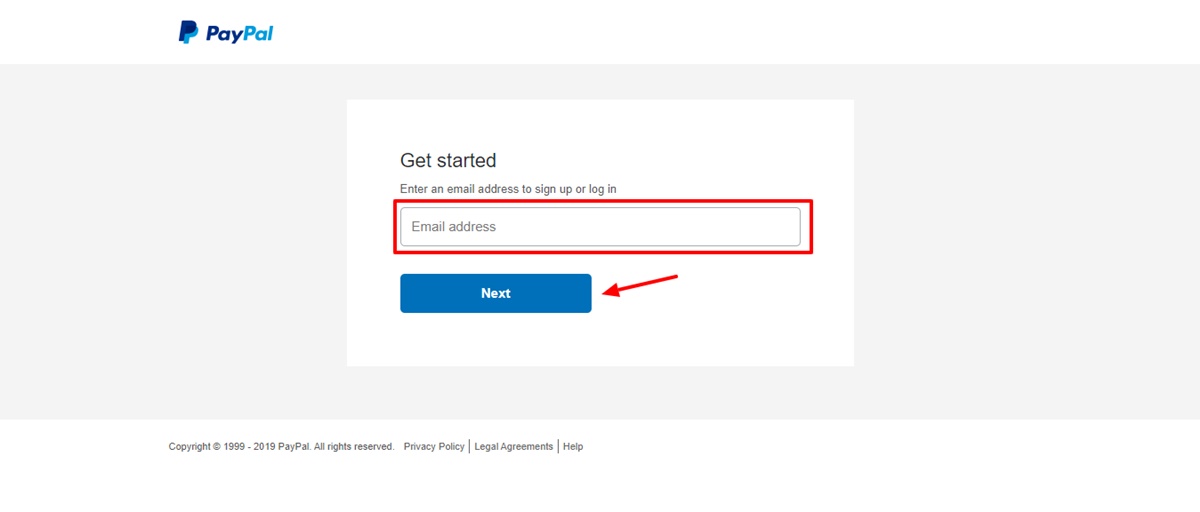 Step 5: Grant Permissions
After logining into your account, you will see the Grant Permission to Shopify screen. Click on the Grant Permissions button to pass the configuration.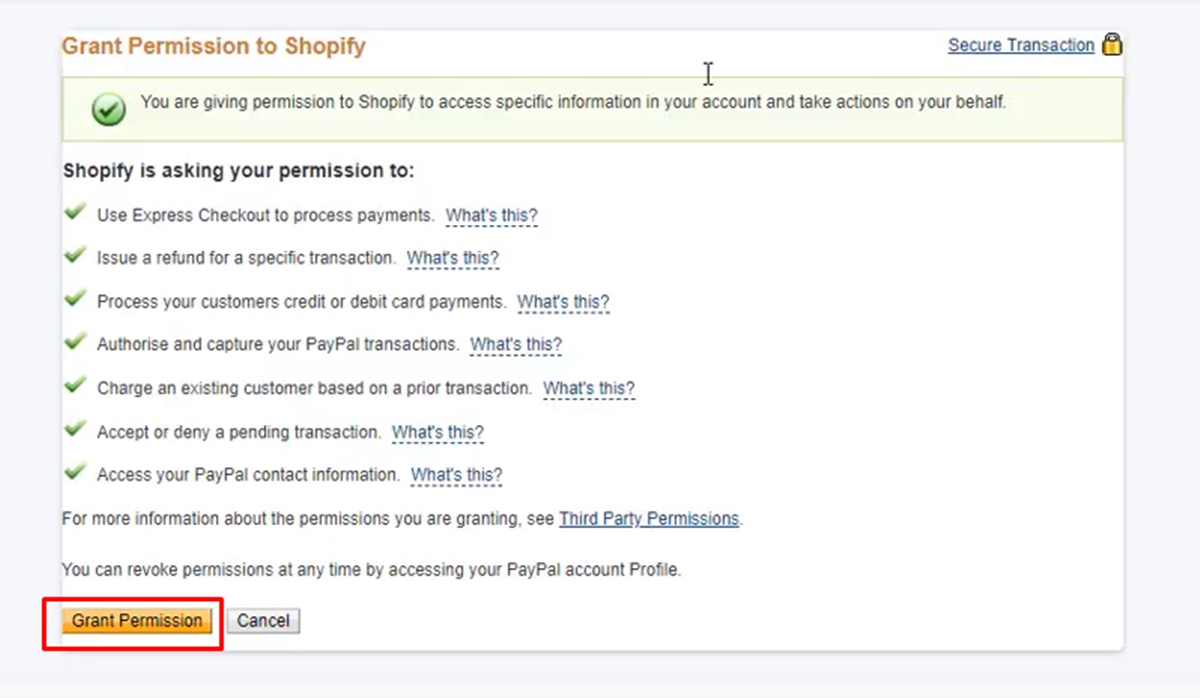 Step 6: Redirect back to Shopify
Then you will be redirected back to Shopify. If your setup was successful, you would see the line Using: PayPal Express Checkout.

Step 7: Check again
Just to be sure that you have successfully set up PayPal Payment Gateway for your Shopify store, you can check again by a test transaction.
Setup Accelerated checkouts
There is another name to call Accelerated checkouts is the Express checkouts. This tool allows customers to skip information when they return to the shops again. After signing in once in this payment method, all the information of shoppers will be filled automatically. They can save a lot of time by skipping the cart and going to the product page directly.
Especially, the store owners enable adding this effective accelerated checkout button to any available gateways in the shops such as Shopify Pay, Apple Pay, Google Pay, Amazon Pay, and PayPal.
Setup Third-party providers Payment Gateway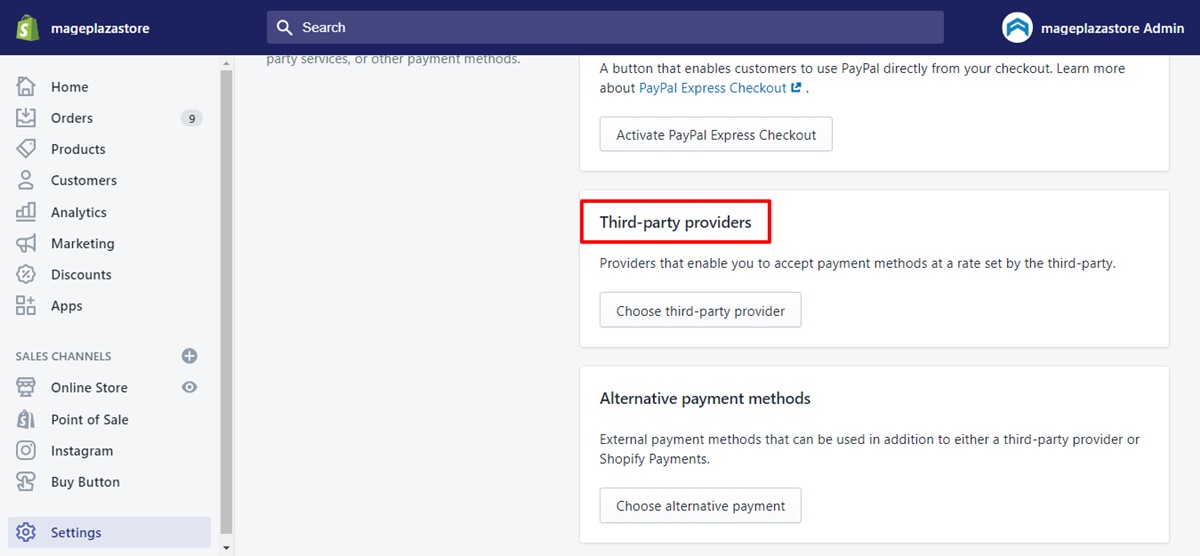 Because of the Shopify Pay limits in some countries, it is essential for any Shopify sellers to install the payment gateways from third-party providers to make any purchase successful. Since these methods are managed by the third party, the shop owners need to pay transaction fees for them. For Shopify shoppers, they can be supported with over 100 credit cards.
Besides, the sellers enable choosing two different choices in credit card payment providers. If the store owners choose direct providers, the customers will easily complete their purchases on the website without checkout from another part. Another choice is the external providers which lead their customer's purchases to the other's checkout page outside of the Shopify stores.
In particular, it is possible for shop owners to activate or customize their payment providers in the Payment providers section in the Shopify admin.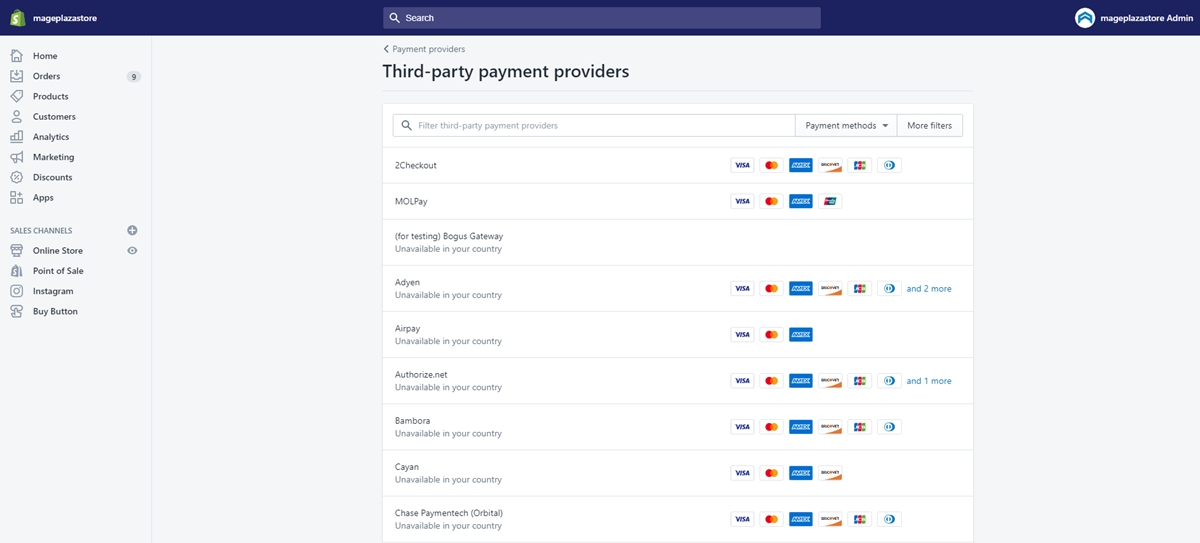 Setup Alternative payments
Today the Shopify store owners could activate the alternative payment method that allows all customers to complete their orders using more than a credit card. A cryptocurrency is an option that any seller can choose to pay their transaction without appearing of banks or another institution. If the customers choose to pay via alternative payment methods, the transaction fees will be charged for the Shopify store owners.
Here is how you are going to do to set up alternative payments on Shopify:
Step 1: Click Payment providers
Firstly, on the Shopify admin, shop owners choose to Settings and click Payment providers.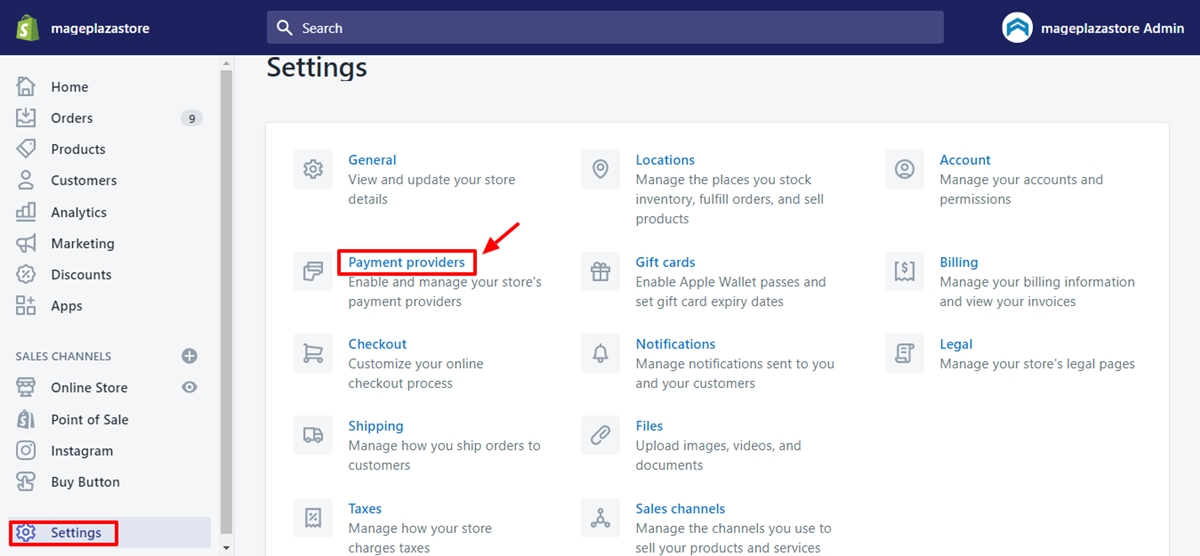 Step 2: Click Choose an alternative payment
In the Alternative Payments section, click Choose an alternative payment.

Step 3: Choose a payment provider
Among the list of providers, shop owners can choose the proper for them.

Step 4: Enter account details
After choosing the type, shop owners can continue by entering their account credentials.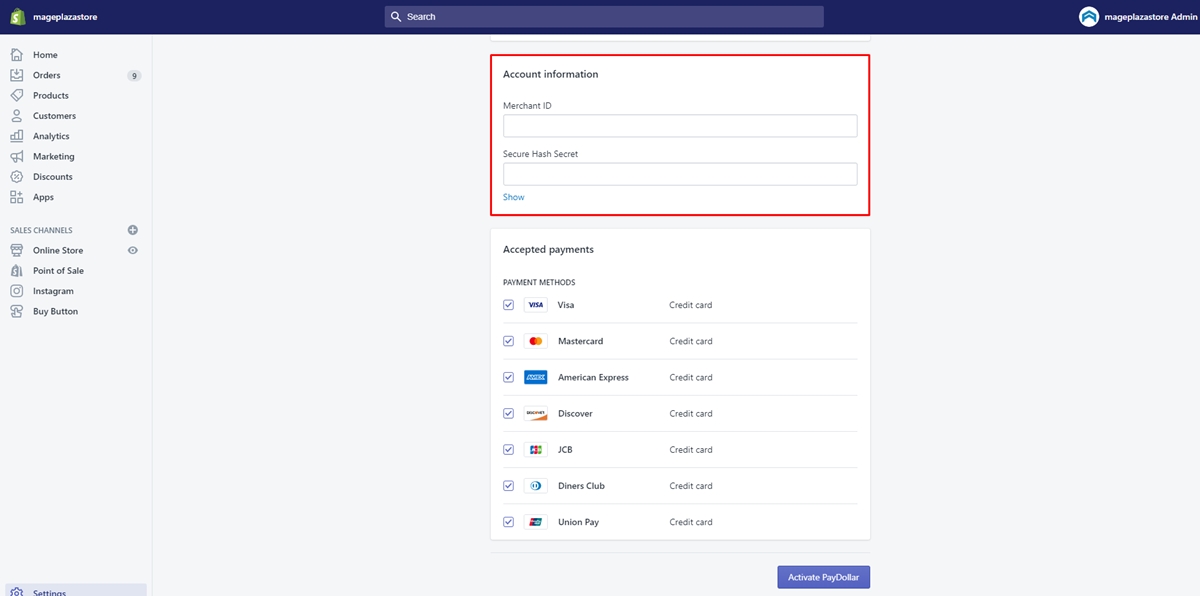 Step 5: Activate
Finally, to complete the process, just click Activate.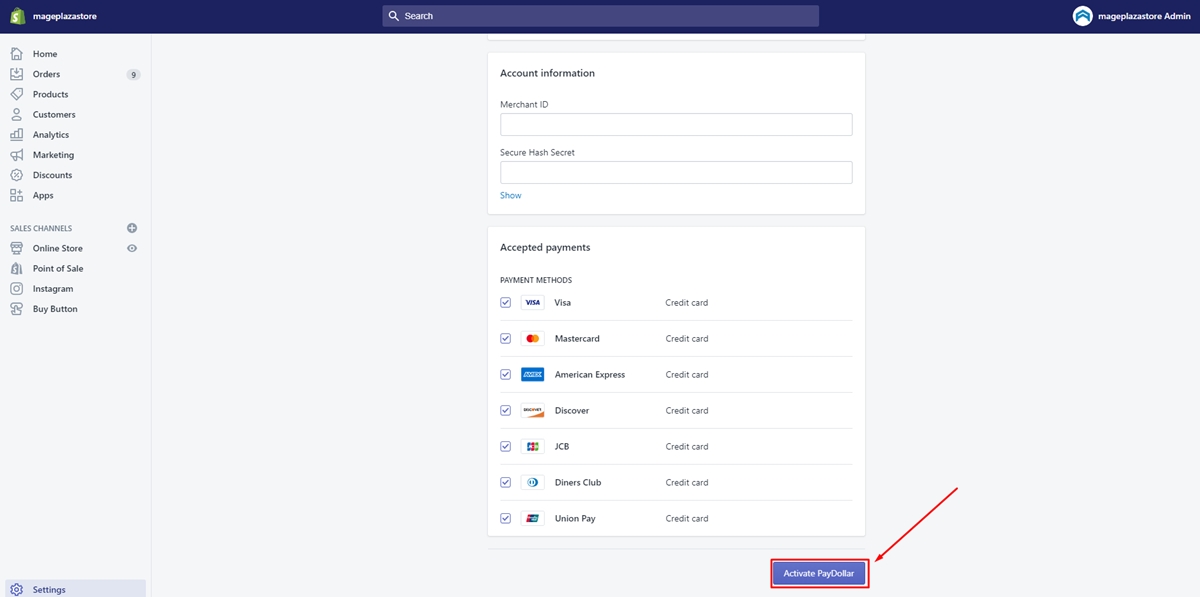 Setup Manual payments Payment gateway
In many cases, when the customers want to pay for their orders using another payment method instead of paying via credit card. For that situation, the online sellers still keep the online orders on their website by setting up the manual payment. After customers choose to make payment by the manual payment gateway, Shopify store owners can select their payments outside the online checkout page. When the customers finish their payment, the online sellers can get their payment. Then the orders will be manually approved without any efforts.
The manual payments usually include cash on delivery (COD), other fees such as money orders, and bank transfers. Even if the stores or the customers are in Canada, email money transfers are available. For the orders are paid through manual payments, they will be unpaid status on the Orders page. The shop owners can mark Paid when they receive payment from their customers later.
Let's follow the below steps to setup Manual Payments payment gateway for your Shopify store:
Step 1: Open Payment providers
Firstly, on the Shopify admin, shop owners choose to Settings and click Payment providers.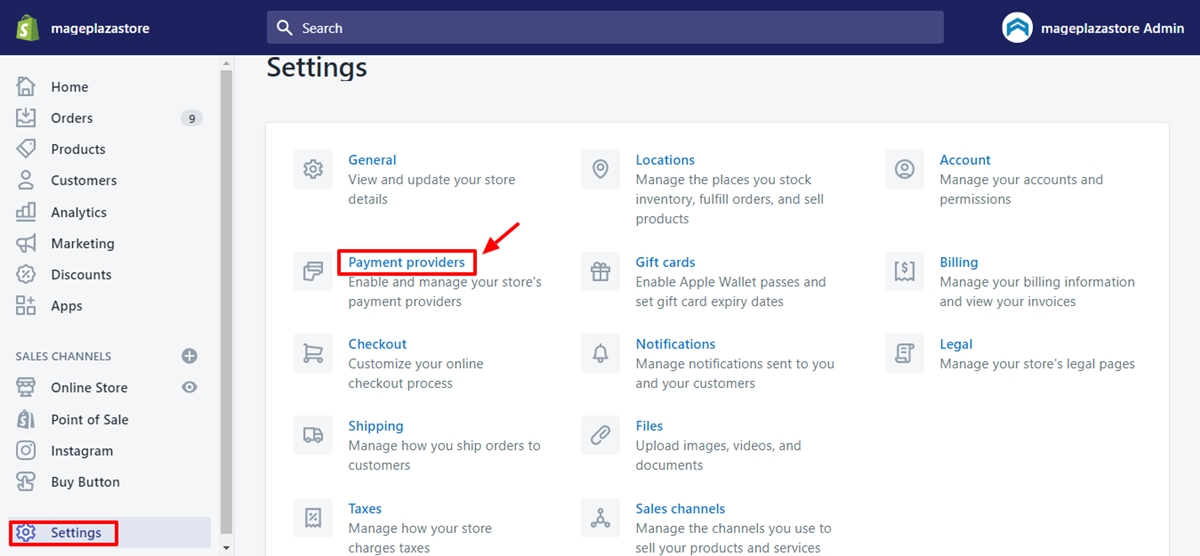 Step 2: Find Manual payment method section
On the Payment providers section, find the manual payment methods section.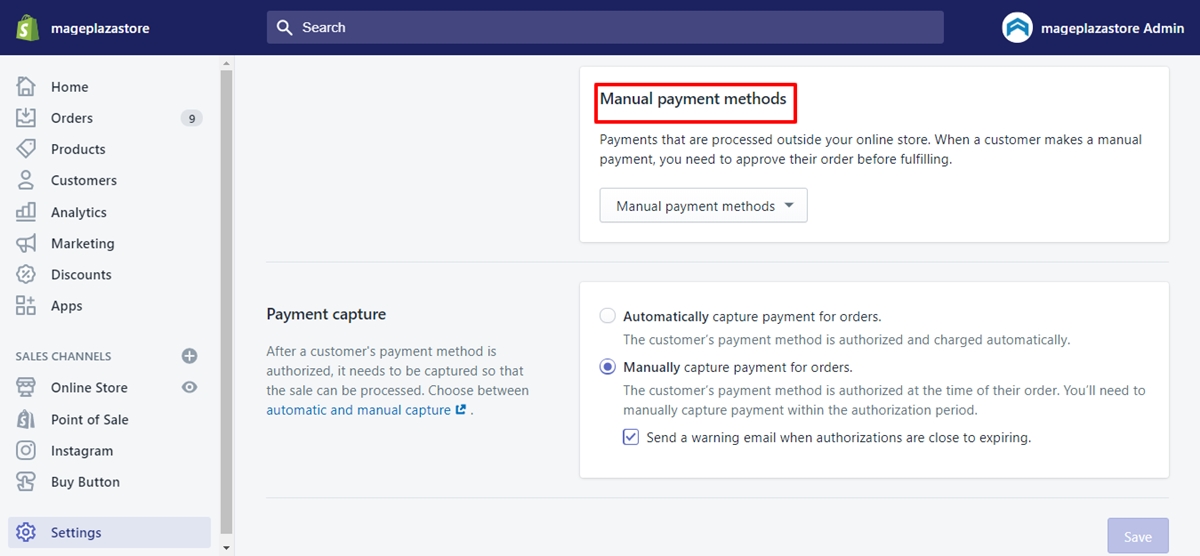 Step 3: Choose a payment method
To show the detail about the additional payment when the customers check out, the shop owners need to choose a payment method.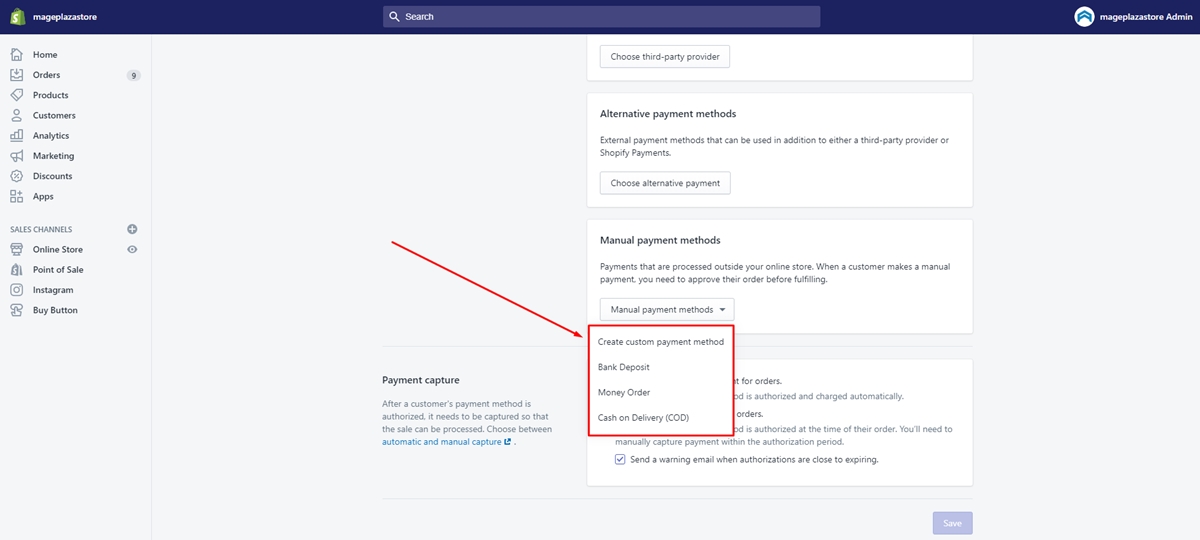 Step 4: Enter payment instructions
In the Payment instructions, you can enter the instructions that you would like your customers to follow in order to pay for an order.
These instructions will be shown on the order confirmation page after a customer completes their order.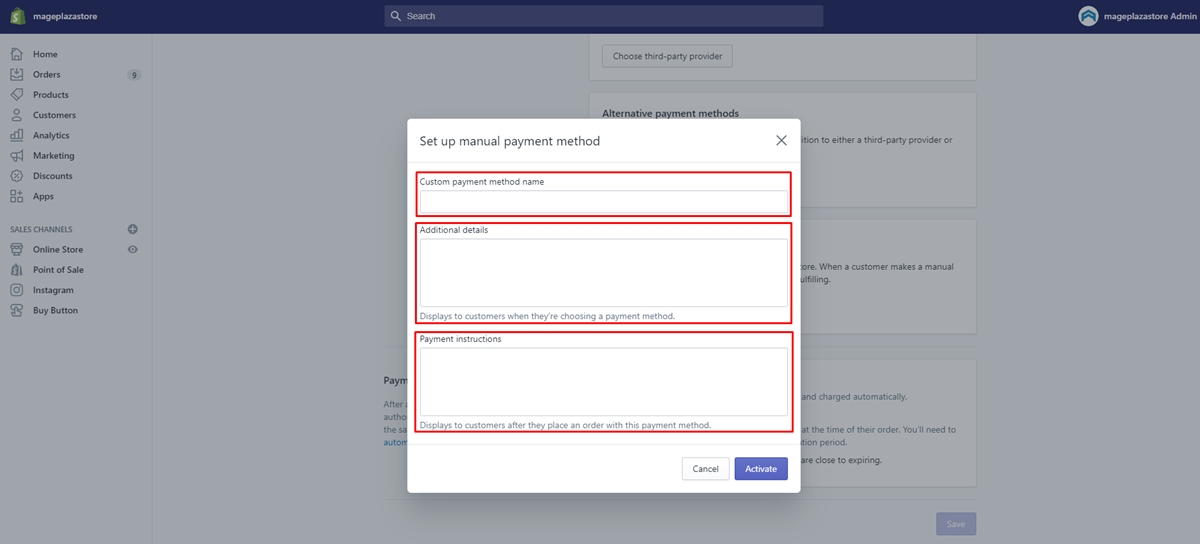 Step 5: Click Activate
Click Activate to finish the setup.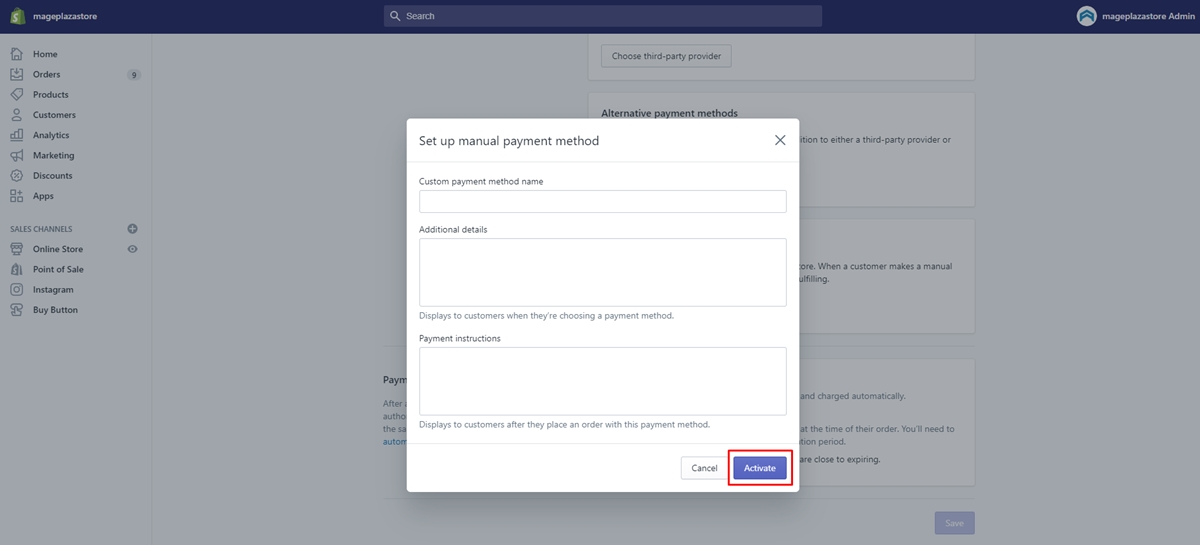 Conclusion
There are many Payment Gateways options for Shopify store owners to choose to customize as well as boost their sales. It is highly recommended that Shopify store owners should utilize the default Shopify Pay functionalities and install multiple Alternative Gateways. However, depending on the purposes and customer's preference, online sellers consider better options for their shops.
---
Mike is a content writer at Avada, with a love for video games, gadgets, and software. He has been writing about the industry now for over 7 years. He likes to keep up-to-date with the latest software releases. He's also an avid reader, and he enjoys spending time outdoors with family and friends. When he's not working, you can usually find him playing video games or exploring new outdoor activities.