How to Install Shopify theme?
Last updated: December 01, 2023
As we all agree, interface selection is an essential thing when you have registered an account and built a store on Shopify's eCommerce platform. Wishing to attract more customers at first sight when they visit online stores is what many store owners want to have for their stores. So, having a theme that is not only beautiful and eye-catching but also suitable for the store in terms of color, style, and spirit is a necessary thing to do. Also, adding a theme for a Shopify store must be the thing that retailers should be fluent in.
That's why in this article today, I will instruct you clearly all the information that you need to know to install a Shopify theme for a store. By doing this, both you and your clients will be satisfied as it makes the Shopify store look better and more professional. So I will not let you wait for longer by going through the content below.
Related Posts:
What is a theme on Shopify?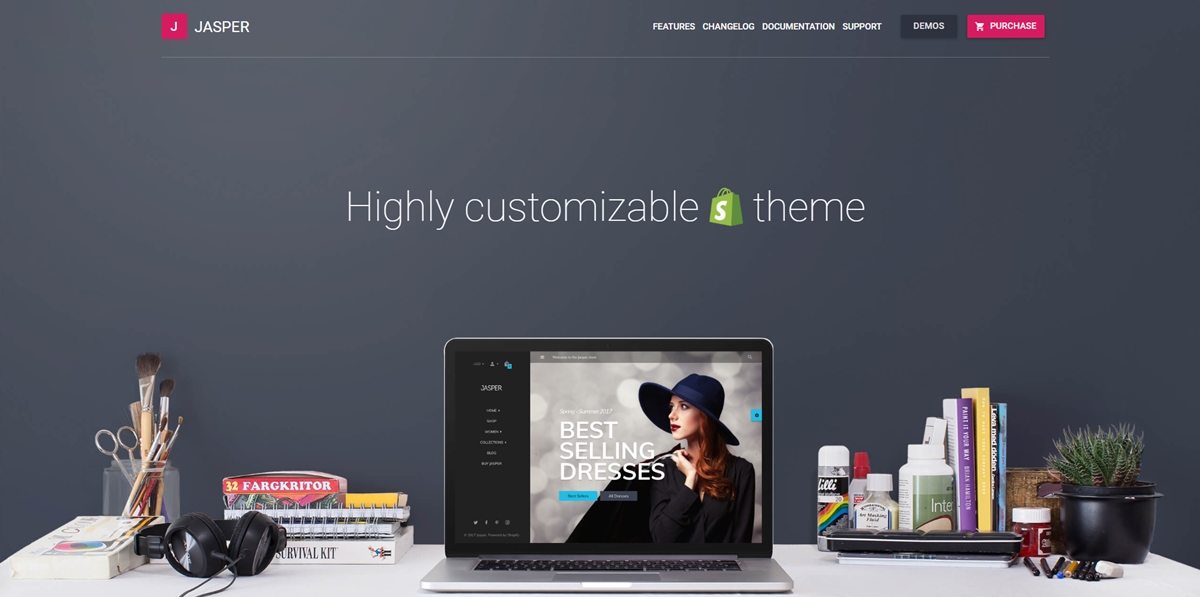 On websites, a theme can be known as the "Interface". It is what can decide the way your store looks and feels including the appearance of the Shopify website like a background image, sound, language, arrangement, color display.
Different themes have different styles and layouts, which can provide a variety of experiences for your customers. The right theme can turn the Shopify website to be vivid, and it also can provide more helpful features for the Shopify store. Each kind of theme has its beauty and features, which depends on the needs and preference of your store.
A Shopify theme is often designed to be simple in installation with just a few operations is completed. It is also easy to develop, edit and maintain, and you can customize it easily when there's something you want to change to make it better. In case there is no setting for change that you want to make on your theme, you will be able to edit your theme code. The other parts of your account will not be affected when you make changes to your theme or switch to a new theme so you can freely change and install different theme styles and settings without worrying about messing the content part in your Shopify admin.
How to install a theme on Shopify?
Method 1: Install your own Shopify theme
When you have already had your own theme formed in a .zip file on your computer, it is totally possible for you to upload it and use it directly from the Themes page.
Step 1: Compress your themes' files into a .zip file
Before uploading, if you have not had your themes file compressed into a single .zip file, just compress them or make sure that they have been compressed.
Step 2: Open Themes
Now, login and direct to your Shopify admin, and then click Online Store. Choose Themes after that.
Step 3: Upload your theme
When you are in the Theme library section, just click Upload theme to get your theme uploaded.

Step 4: Click Browse
So now you are on the Upload theme window, just simply click Browse to pick out the .zip file that you would like to install. Remember that the maximum size is 50 MB.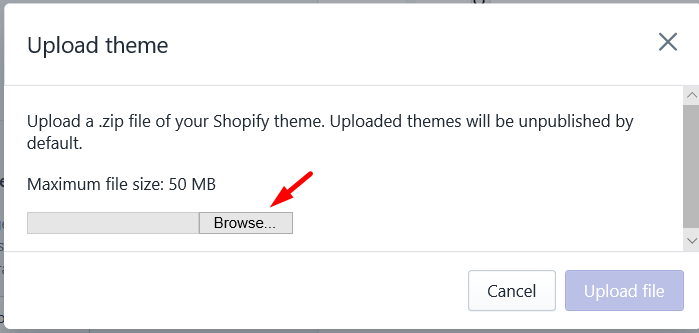 Step 5: Click Upload
Finally, just click Upload and then wait for a moment. The theme will soon be installed to your Themes page.
Method 2: Install free theme from Shopify admin
Step 1: Open Themes
First of all, log in and direct to your Shopify admin, and then click Online Store. Choose Themes after that.
Step 2: Click Explore free themes
Scroll down to the Free themes section that is near the end of the page. After that, hit a click at Explore free themes and you will see a window that has all of the free themes displayed.

Step 3: Preview the theme
Then, you just need to click at any theme to see more details about the features. You can preview the theme styles here too.
Step 4: Click Add theme to the library
Finally, when you chose a theme for you. Just simply click the Add theme to the library button of your theme. The theme will soon be installed to your Themes page after that.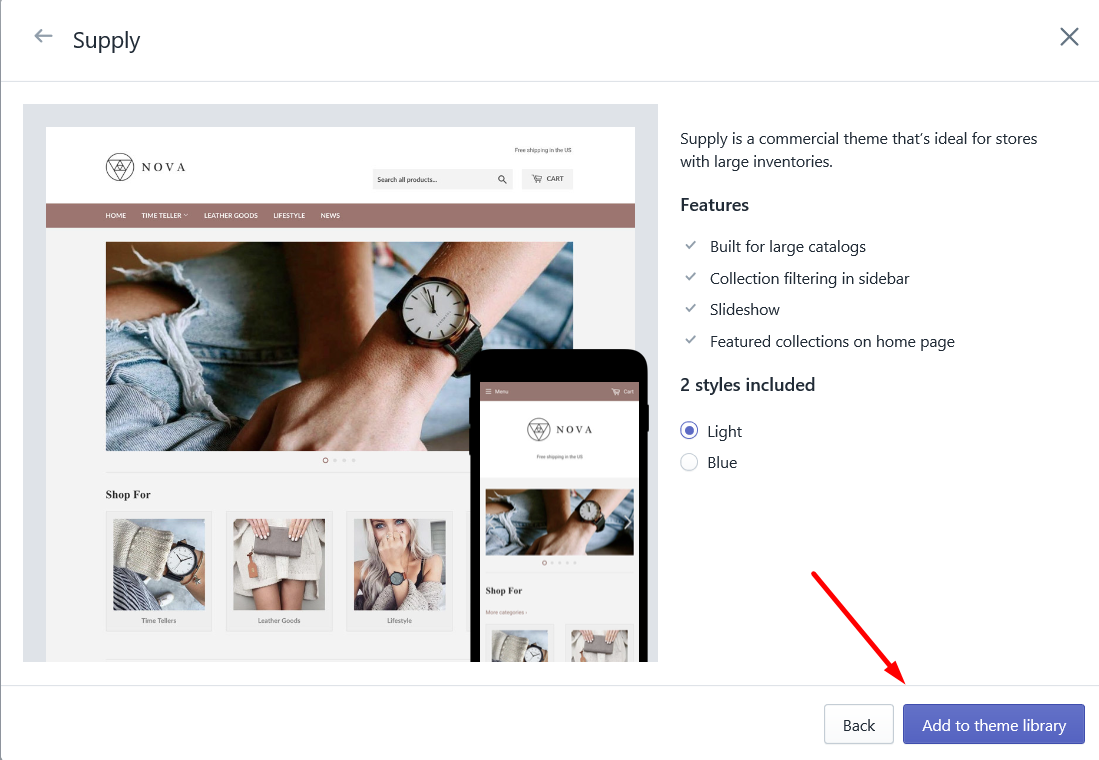 Method 3: Install paid theme from Shopify store
Paid themes are developed by third-party designers. Help with customizations for third-party themes is provided by the theme designer.
Step 1: Open the Shopify Theme Store and choose the theme
For starters, you need to navigate to the Shopify Theme Store to look for and pick a theme by clicking the Visit Theme store button in the Shopify Theme store section.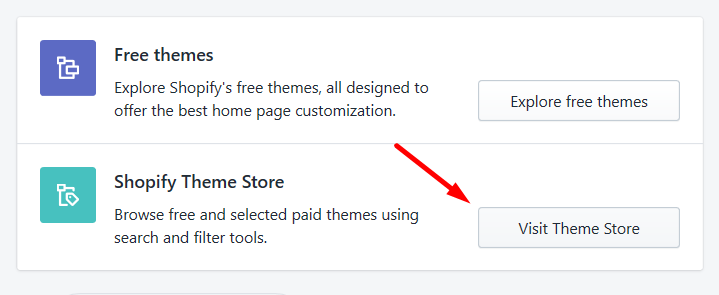 Step 2: Start with your theme
In case you're still in your free trial period of this service, you will be able to select the theme without having to pay any fees for it.
For Free theme: If you now have your free theme selected, just simply hit a click on Add theme or the Start with this theme button and you are done.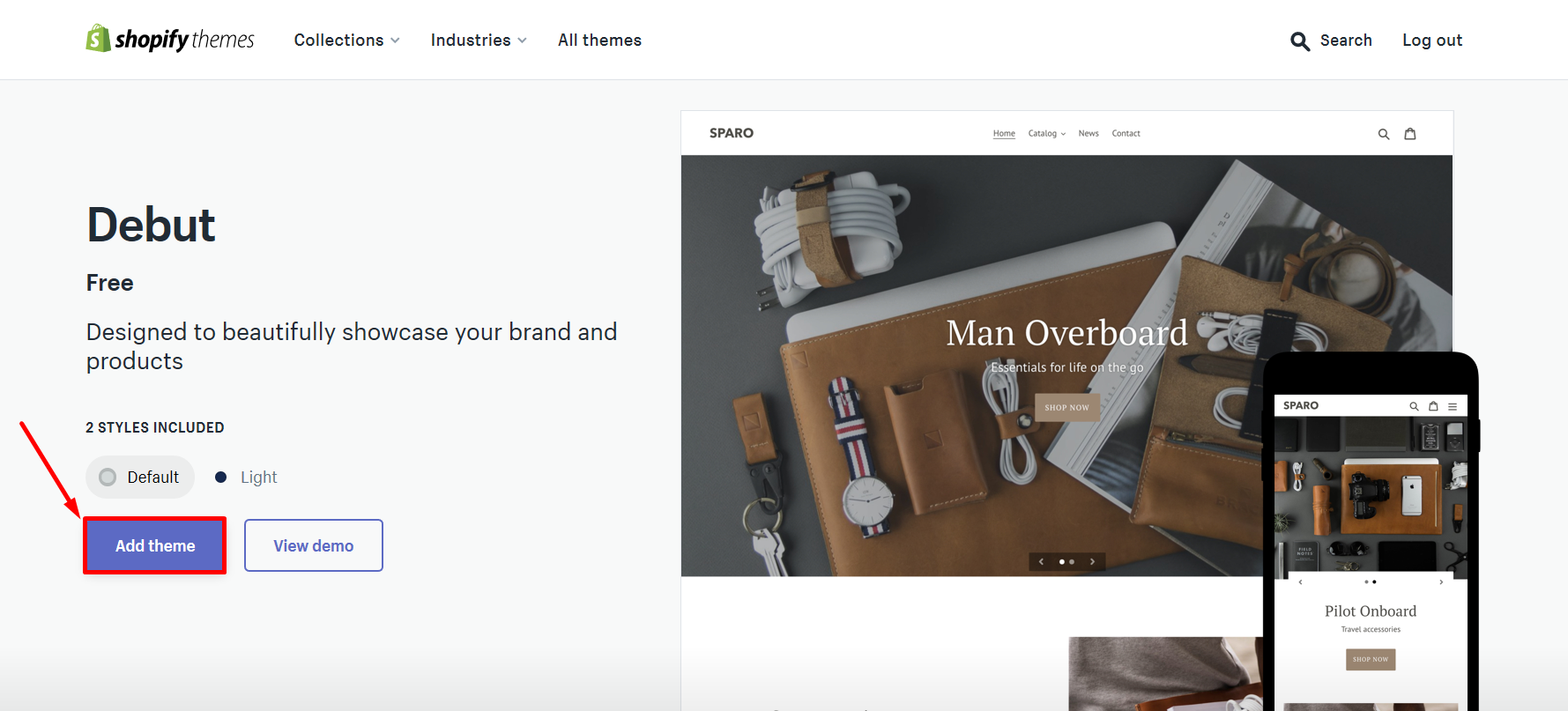 For Paid theme: If you are not able to get a theme free and have to pay for it, then click Buy theme to buy it. Remember that Shopify will not refund for the paid themes, so make sure it suits your needs by trying the theme before you buy it.
Step 3: Make the payment approved
This step is for paid themes only. You will need to click Approve charge to make your payment approved. After that, the theme will soon be installed to your Themes page.
NOTE: In case you are running the business in the United States and your Shopify Payments account balance has sufficient funds, then you can choose the Shopify balance as your default payment method for theme payment and one-time app purchases too.
Read more: How to find out what shopify theme a website is using
Best Shopify Themes Free and Premium
If you are still looking for a suitable Shopify theme that can express your store the most, I have created a separate section here for you to find. There are more than 75 Best Shopify Themes, which is reviewed and manually picked up by our AVADA Commerce team from many other websites and marketplaces. These themes were selected depending on various criteria number, which are sales, reviews, ratings, and social metrics. They are also divided into multiple collections, such as Real Estate, Restaurant, Shoes, Skin & Skincare store, and so on. I really recommend you to take a look through our article to find your own theme to use.
Conclusion
That's a wrap! I hope the extensive information that I have carefully prepared for you about things to know when installing a Shopify theme can solve your problems.
Also, I really expect that you can choose the most suitable theme to install for your store on Shopify without any troubles. However, if there is any, please contact us and let us know. We are always here to help you to solve it!
---
Sam Nguyen is the CEO and founder of Avada Commerce, an e-commerce solution provider headquartered in Singapore. Sam aims to support more than a million online businesses to grow and develop.