5 Steps to Export your Products on Shopify
Last updated: December 01, 2023
As a store owner, if you are in need of creating a backup for your goods, shifting the existing products to a new store, editing your products in a large quantity by using a spreadsheet such as Google Sheet or you are a new seller of Shopify and you want to start selling products. You can read this post on how to export your products on Shopify.
Below are easy guidelines for you to export your product on Shopify:
If you export 50 commodities and below (one page), the CSV file will be downloaded by your browser. For 51 and more( more than one page), the CSV file will be sent to you and the owner of the account.
Related Posts:
How to export your products on Desktop
Step 1: Go to Product
After logging in the Shopify account, you can see the Shopify admin screen. Look at the left side of the screen, there are a lot of selections for different purposes and for exporting product, please hit Products.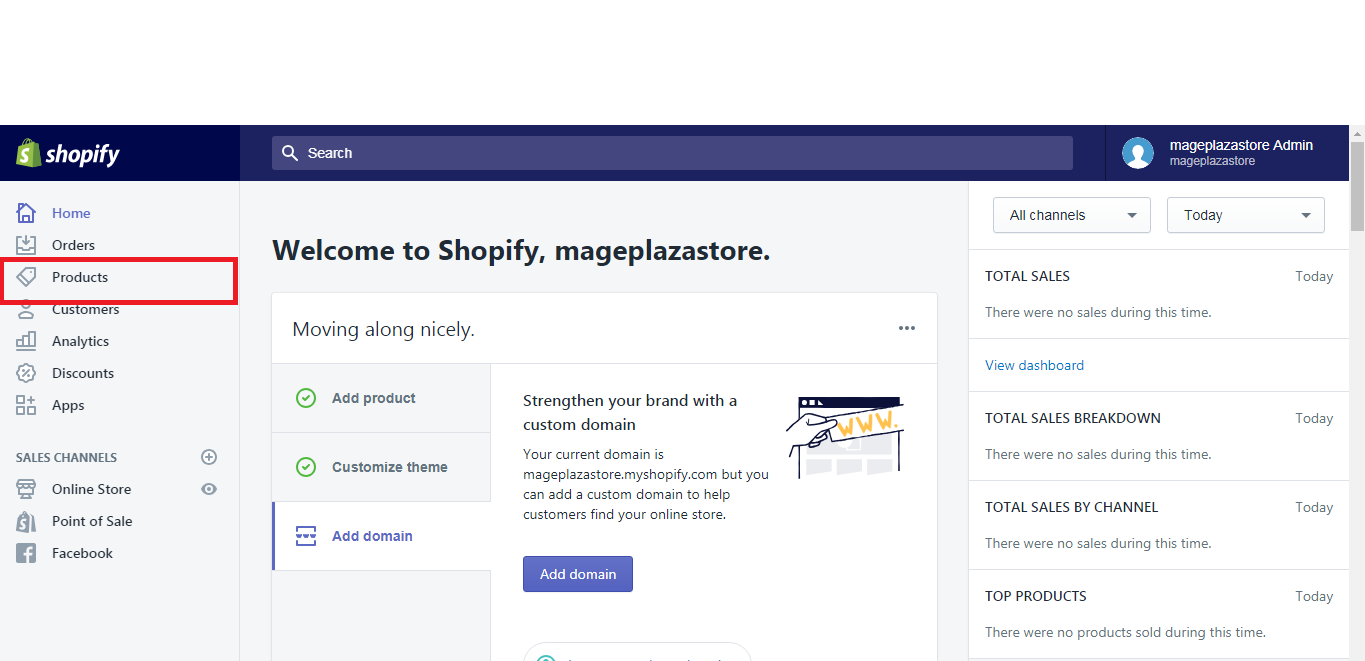 Note: If you do not want to publish all your products, you can filter the list or search and choose the specific product that you want to export.
For instance, you want to sell dresses, type in the box the word dress and the items which have the word dress will appear on the screen.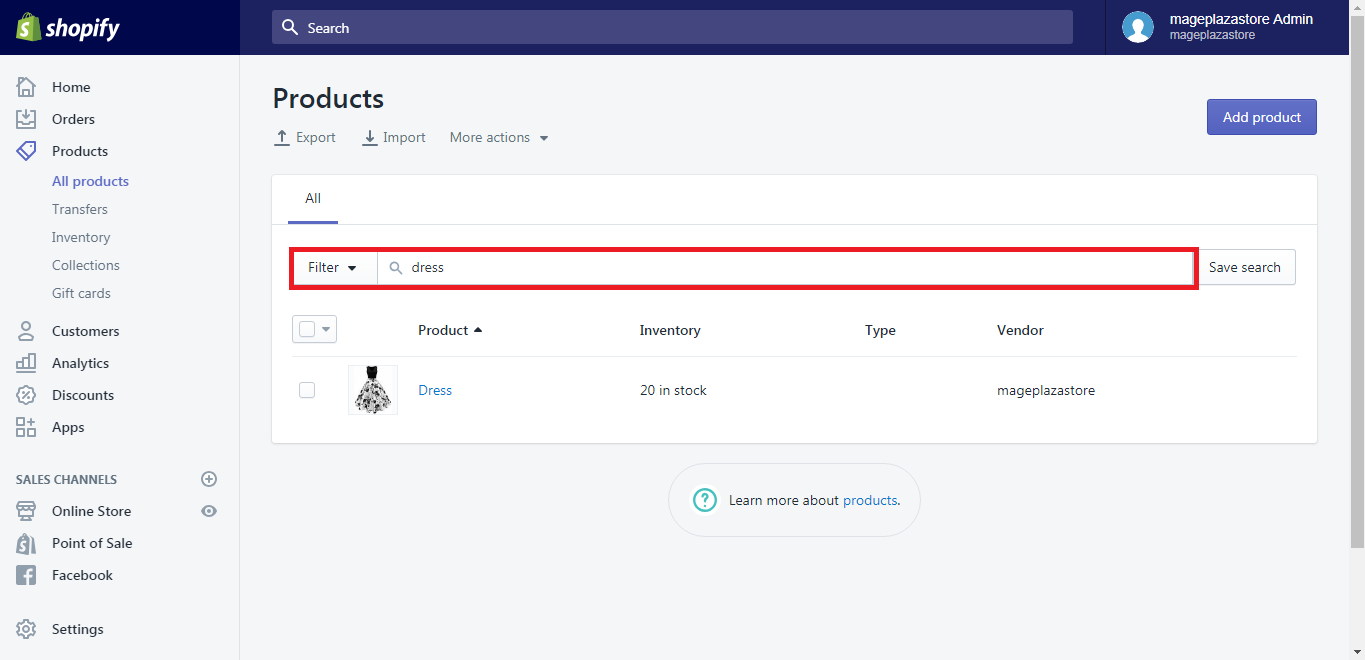 You also can choose the items individually by clicking the small box in the picture below: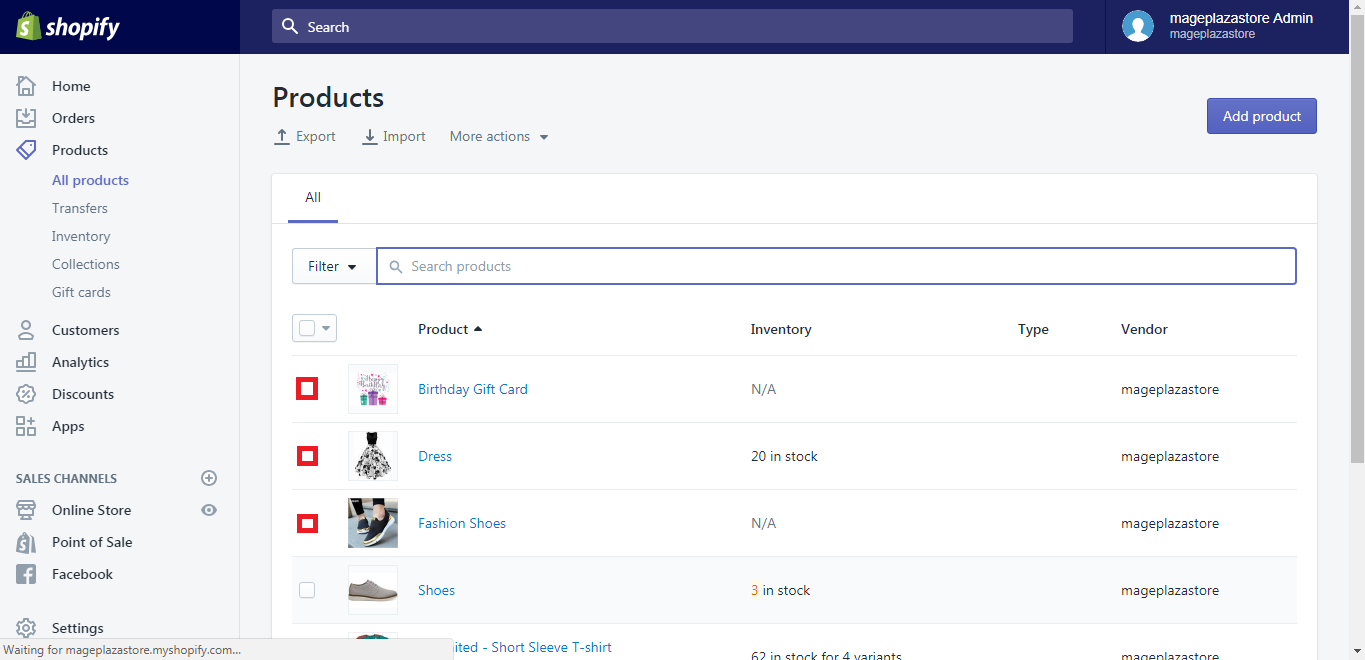 Step 2: Click Export
On the top of the page, you can see the export button with an upward arrow, click on Export to continue the process when you have the items you need.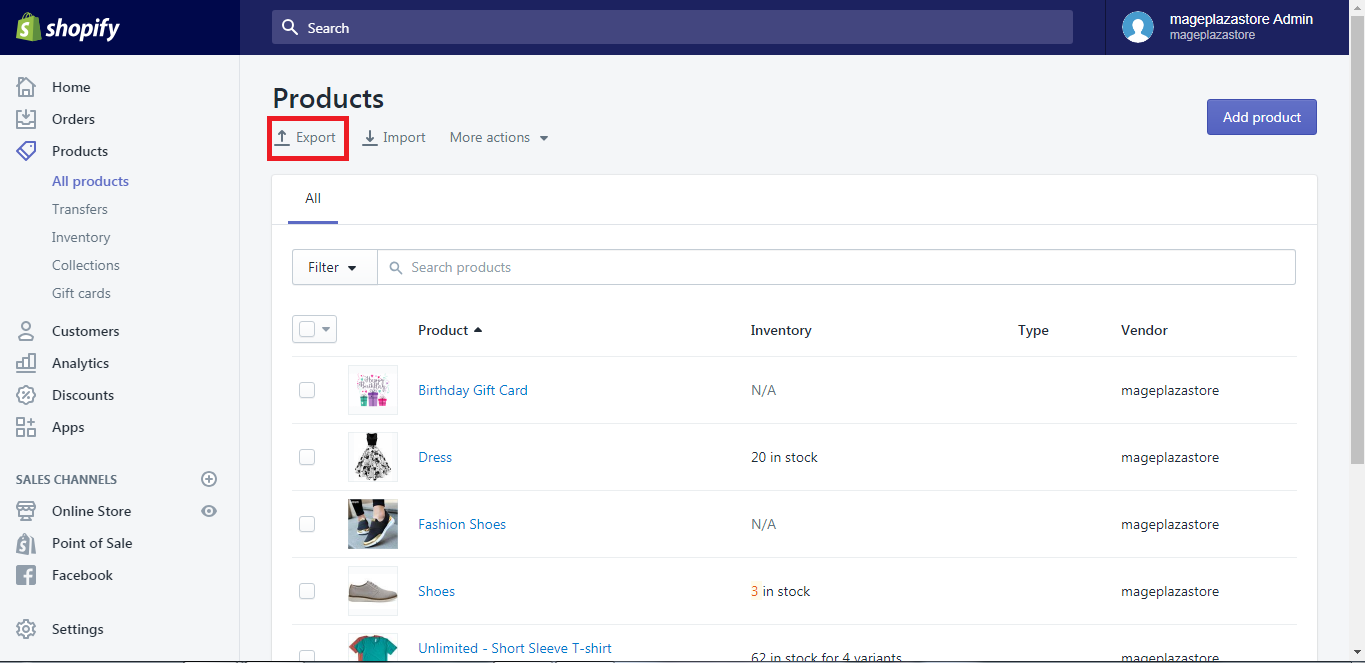 Step 3: Choose the products
A dialog box will appear on your screen and ask you for the second time what do you want to export. Take a look at it and then you can choose whether you want to export:
Current page products

All of your products

Your selected products

Products that fit your current search and filter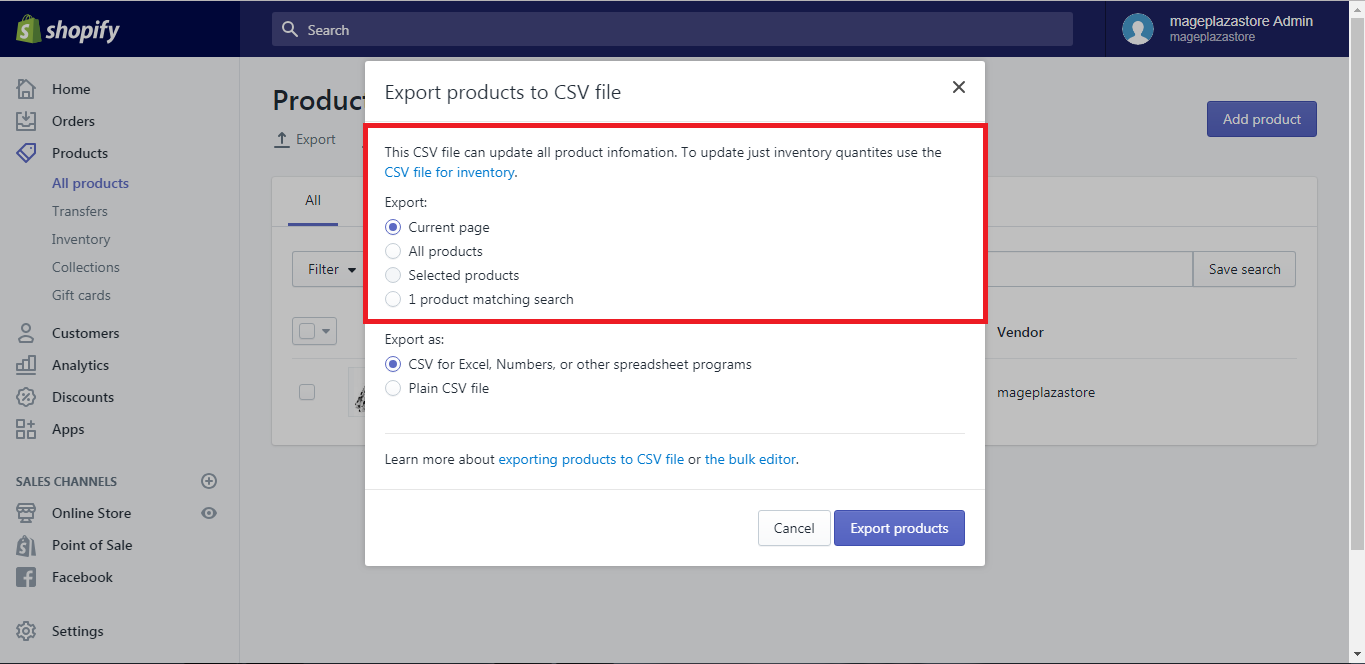 Step 4: Choose the type of CSV file
You can choose the type of CSV file that you want for export.
If you want to use a spreadsheet program to adjust your CSV file, I suggest you select CSV file for Excel, Numbers, or another spreadsheet program.
If you plan on using a plain-text editor, please choose Plain CSV file.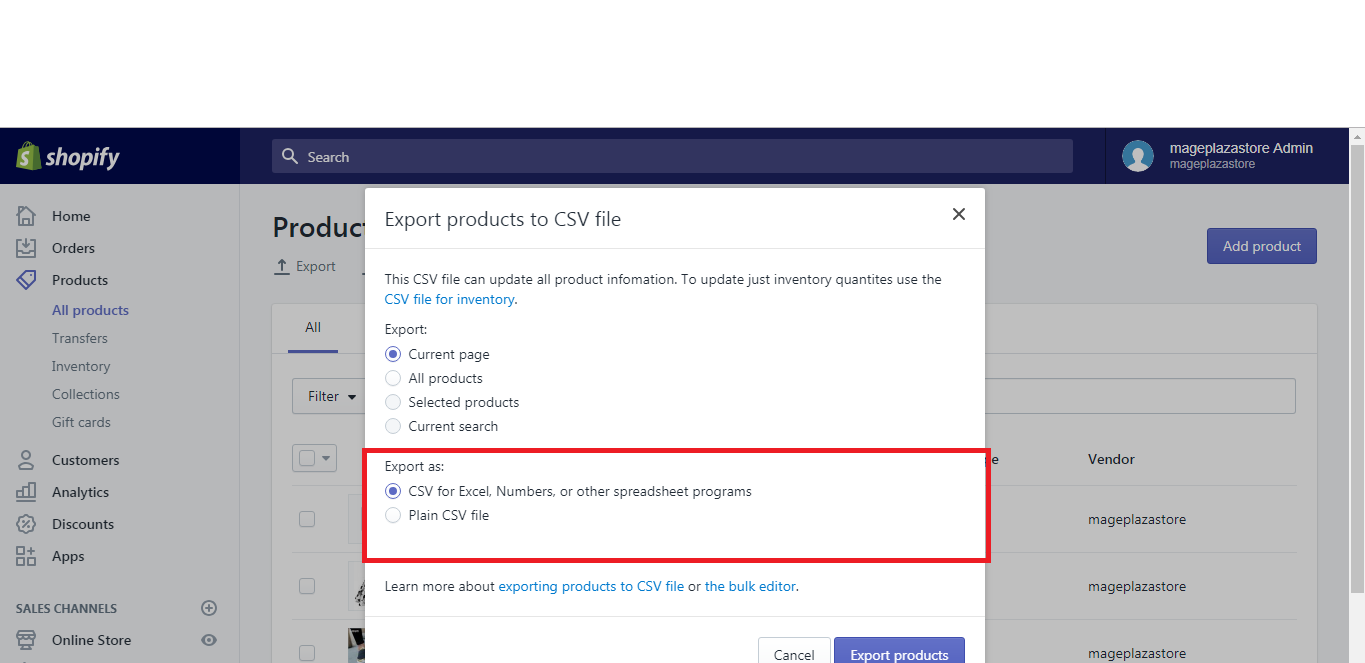 Step 5: Export your products
The final step is easy, you only have to click on the Export products button.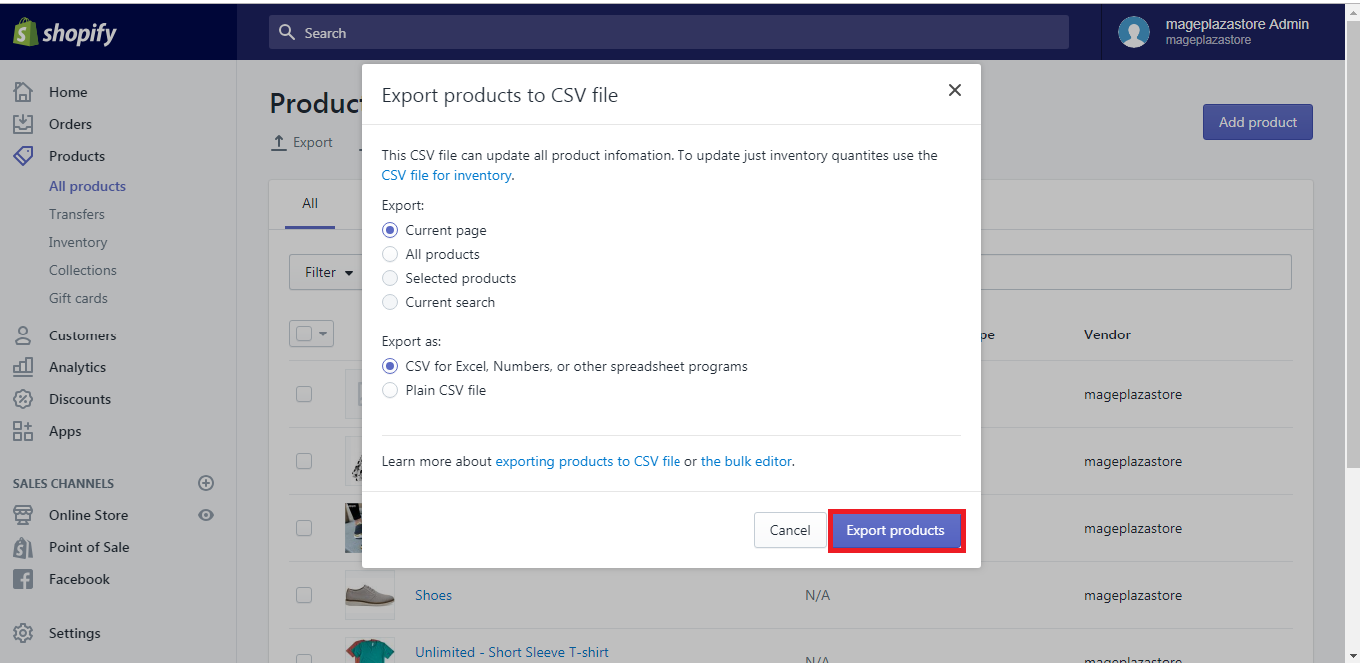 After choosing the Export button, you can see the notification on the bottom of the page which inform the number of products you exported.
A CSV file will be downloaded to your computer if you upload 50 or under products and it will be sent to your email if you upload more than 50 products. Click to open it in the program you often use to edit the spreadsheet and you are ready.
Conclusion
To sum up, above are a detailed guide on how to export your product to Shopify. Through this post, I hope you have a good experience reading and applying these guidelines and use these guidelines to make your products better.
---
Sam Nguyen is the CEO and founder of Avada Commerce, an e-commerce solution provider headquartered in Singapore. Sam aims to support more than a million online businesses to grow and develop.