How to Add Variants to an Existing Product on Shopify
Last updated: December 01, 2023
You might already know how to add variants to a new product. But the way to add more variations to your existing products is a bit different and quite complicated.
Related Posts: How to Edit Variants In a New Way on Shopify
How to add variants to an existing product
If you want to add another variant for your old products, here are few simple steps to help you complete it.
Step 1: Select an exsiting product in your Shopify Admin
Firstly, log in your Shopify account, go to the Products section and then select the product which you want to add variants. In the below picture, you can see that the product that I choose is Leather Shoes.
Step 2: In the Variant section, click Add variant
Scroll down and you will see Variants section. After seeing this, click Add variant.

Step 3: Enter Option name
By default, the name of the option is set to Size. But the good news is that you can adjust it so it could suit your needs.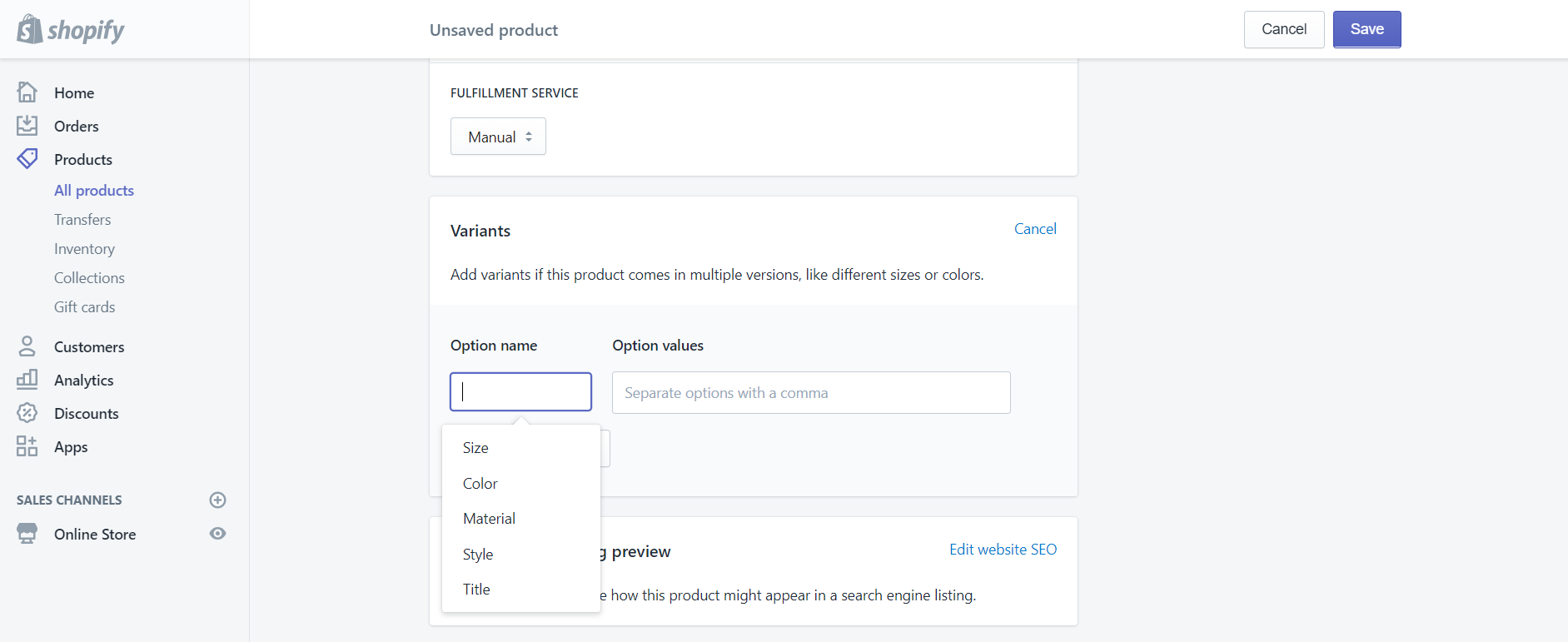 Step 4: Enter Option values
If you choose your Option name to be Color, you could add different values such as Black or Brown into your Option values field. To separate these values, using a comma.

Step 5: Add another variant option
Please click Add another option to add more option, if your variants are different in more than one way. Also, repeat the steps above to add your variants.

Step 6: Manage variant options
In this step, on the left-hand side of each variant, there is a small checkbox, you could uncheck them if you do not sell those products. And you can also change the values of Price, SKU, and Barcode.

Step 7: Save variants
Once you have finished your process, click Save to save it.
With iPhone and Android, to add another variant to your existing product, you first need to set a new option for your product. You can add product variants once you have created all the options.
To add variants on iPhone(Click here)

Step 1: After logging into your account, go to Products and choose All products.

Step 2: On the All products tap, you could see many of your products. Choose one product and tap at the name of it.

Step 3: You will see the Variants section when you scroll down. Tap Edit options to enter your option name, you can choose from the names which are listed or tap + to add a new one.

Step 4: Next, you tap add variant, then enter the option value details of that product.

Step 5: Once you've finished, just tap Save to save your process.

Step 6: Continue doing the same with other variants
To add variants on Android (Click here)

Step 1: After login your account, choose All product from the products section.

Step 2: All of your products which you have already created will appear. Tap the one you want to add variants. For example, here, I choose the Short Sleeve T-shirt by tap the name of it.

Step 3: Choose `Edit options` and tap Add option to enter your new Option name.

Step 4: In the picture below, you will see that I have entered Material as the Option name.

Step 5: Next, enter the value of it. Remember that you can only enter one value of this option. Here, I choose Cotton as one value of it. After that, you will need to save it by tap the check mark.

Step 6: To add more values to the options which you have entered. Tap Add variant. At here you could [add the variants](https://avada.io/shopify/docs/how-add-variants-shopify.html) that you want.

Step 7: Once you have finished all the above steps. Don't forget to tap the Save button.
Conclusion
The above information is a detailed guide on how to add variants to a product which has already been created on Desktop, iPhone, and Android. I hope it could help you to edit your products easier.
---
Sam Nguyen is the CEO and founder of Avada Commerce, an e-commerce solution provider headquartered in Singapore. Sam aims to support more than a million online businesses to grow and develop.