Shopify CBD Payment Processors for selling CBD products
Last updated: October 01, 2023
CBD, now, has gained its popularity in the market that causes lots of confusion to customers. As you might not know about, CBD products are available after the appearance of the 2018 Hemp Farming Act which allows legalized hemp-derived products in the US.
If you are interested in CBD products or have a desire to get business with this in Shopify, don't ignore this post. You will be fully introduced to the CBD Payment Processors for Shopify and whether they are allowed to be sold in Shopify or not.
What is the CBD?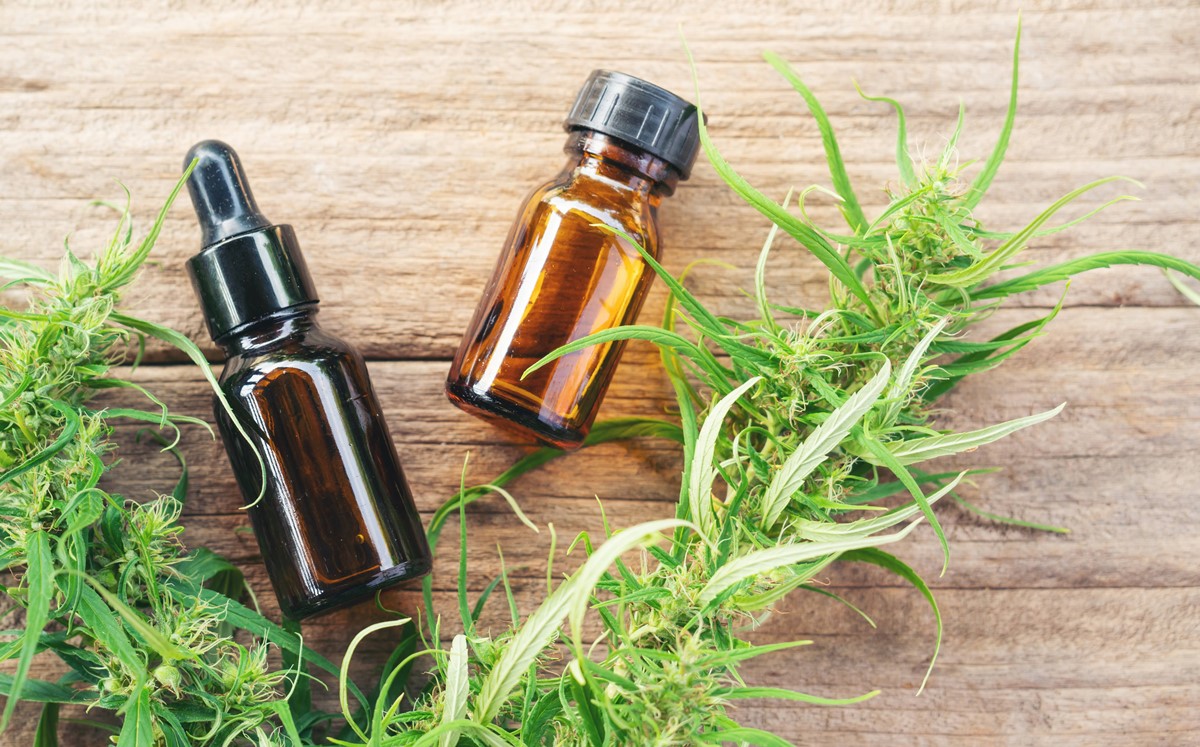 Up to now, CBD has been understood as a chemical compound from the cannabinoid family which its presence is natural in the cannabis plant. According to recent research, about 108 various kinds of cannabinoids in cannabis have been isolated by scientists.
Due to its psychoactive properties, Delta-9-tetrahydrocannabinol is becoming famous since this substance can make you get "high"; however, CBD quickly gains ground thanks to its amazing therapeutic advantages.
How does CBD work?
Many people might wonder and want to know how CBD works. In fact, CBD is operated through its interaction with your body's endocannabinoid system, known as a regulatory system that is made of cannabis-like molecules. Those endocannabinoids serve well as neurotransmitters in order to send messages through the body to maintain the homeostasis. In addition, Cannabinoids such as THC or CBD interact with the endocannabinoid system at the two levels CB1 and CB2.
While CB1 mainly appears in your brain and gets involved in memory, cognition, pain or motor skills as well as liver, thyroid, uterus and many more, CB2 is plenty in the gastrointestinal, immune, and nervous system. In spite of its unknow way to affect the body, CBD is good at encouraging the body to generate more endocannabinoids with the aim of easing your pain, anxiety, and inflammation.
Is CBD Legal?
The answer is yes. However, CBD is not quite dried. Take note that this cannabis plant is various. Cannabis which consists of high levels of THC is considered as marijuana as well as remains a Schedule I drug.
Does Shopify allow CBD sales?
It is believed that Shopify allows CBD sales but there exists a rumor saying that CBD and hem products are banned in Shopify. Since cannabis is now legal, Shopify also supports a number of CBD companies in the US to get their business done and run online. Although Shopify does not indicate exactly whether the CBD business in Shopify is turned down or not, you will find it hard to finish CBD products purchasing with Shopify Payments.
Shopify Payment Processor For CBD Products
US store owners in some states can now sell hemp and hemp-derived cannabidiol products in Shopify. In fact, they are even allowed to do that in which states that are permitted by law. If you tend to start with CBD business, don't forget that state law and regulation related to those products. More important, you need to find the most suitable Shopify Payment Processor for you CBD store.
Before finding the perfect third-party payment gateway for your CBD business, let's have a look at how to create a CBD store on Shopify
How to create a CBD store on Shopify
Step 1: Login your Shopify store
The initial thing you need to do is to log in to your Shopify admin by your own emails and passwords.

If you have not created a store for CBD products, you can click on www.shopify.com/sell/cbd to sign up and use a trial store. Skip this step if your CBD store was already created.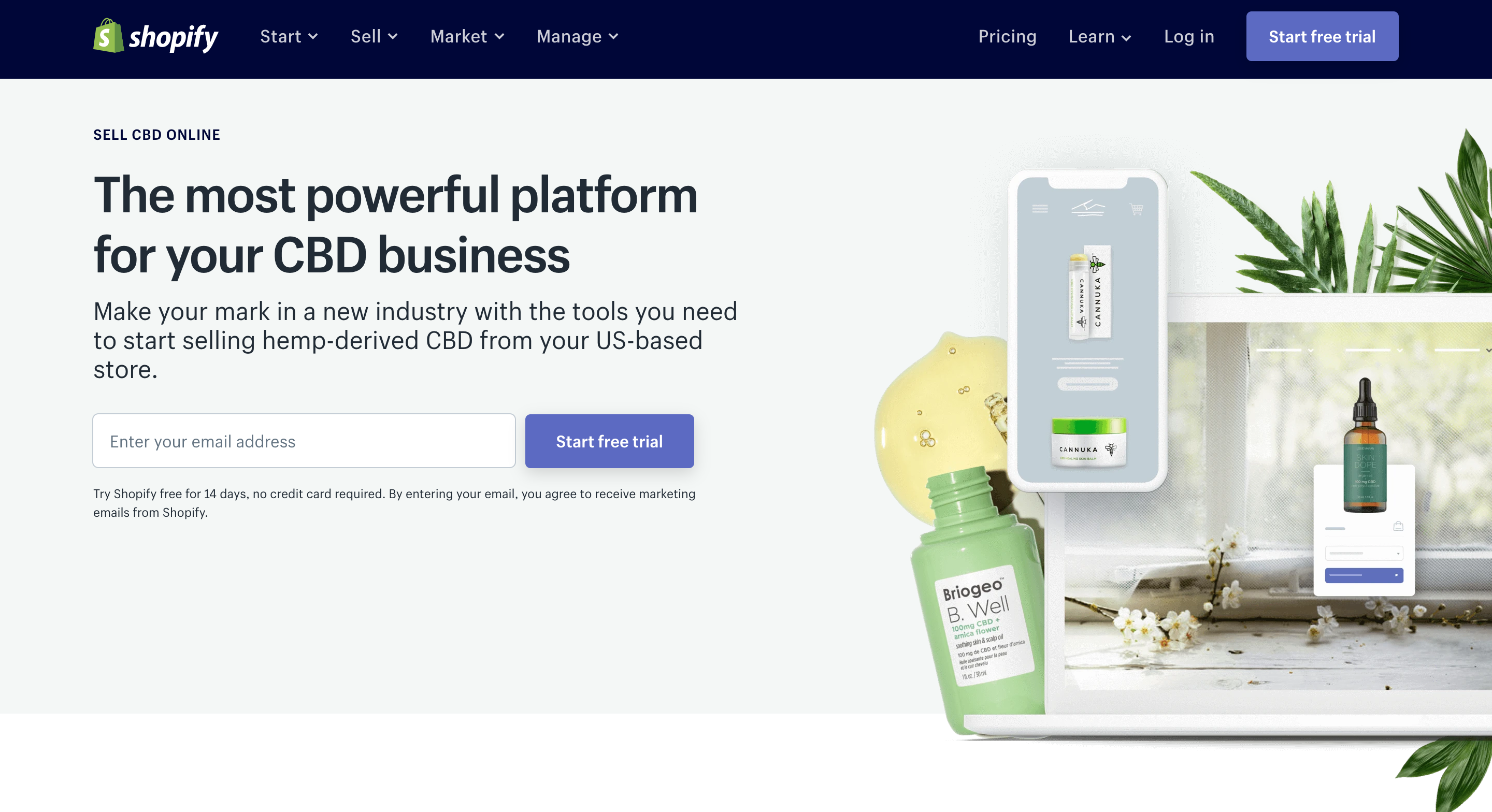 Step 3: Review and submit Attestation for the Sale of Hemp and Hemp-Derived Products
This step is of great importance since you have to read carefully and submit the Attestation for the Sale of Hemp and Hemp-Derived Product. Customers will be required to sign in to your own account in Shopify whenever you complete this form. In case you are not a store owner or the address of your store is not in the US, the link will be redirected to the Shopify admin.
Prior to your CBD business, you need to guarantee that you totally understand and get the attestation form submitted. Right after the form is submitted, you do not have to wait for the feedback of the Shopify platform.
Step 4: Choose and apply for the third-party payment gateway
As mentioned early, Shopify does not assist any payment for hemp or CBD items at that time; however, it is also partnered with several third-party payment gateways to help certain hemp or hemp-derived CBD products. Do remember that it varies when it comes to the requirement of approval. At the same time, you are strongly suggested to read reviews on the following gateways.
Now you have known the steps to create a CBD store, let's find out which Shopify Payment Processor that supports CBD payment:
DigiPay
If you are wondering why CBD payment in Shopify is limited, let's come to the DigiPay CBD solutions. So far, DigiPay is integrated with Shopify to get the CBD payment process supported.
With DigiPay , you are able to do business to business thanks to its approval of fast track and full credit card suite. Additionally, DigiPay provides you with stores and wellness centers that offer many products with hemp-derived CBD. Customers are able to choose body care topicals, including body lotions, balms, creams, drops, and transdermal applications. Regarding hair issues, the gateway allows hemp-derived CBD which is infused conditioners, shampoos, and styling items. Besides, vape oil, supplements or CBD infused edibles based on CBD products are well-prepared.
The reason why DigiPay is a wise choice is thanks to its powerful function. DigiPay helps save merchants' time and money just by stopping chargebacks or fraud. DigiPay can do more than a processed payment since its developers get the digital identities validated with one of the biggest global repositories. Furthermore, customers will be informed about the next level by giving you analytics and reports. At the same time, it provides you with more than one payment option, including ACH check processing, currency conversion, cash discount, gift cards, digital wallets or loyal programs to boost sales.
eMerchants Brokers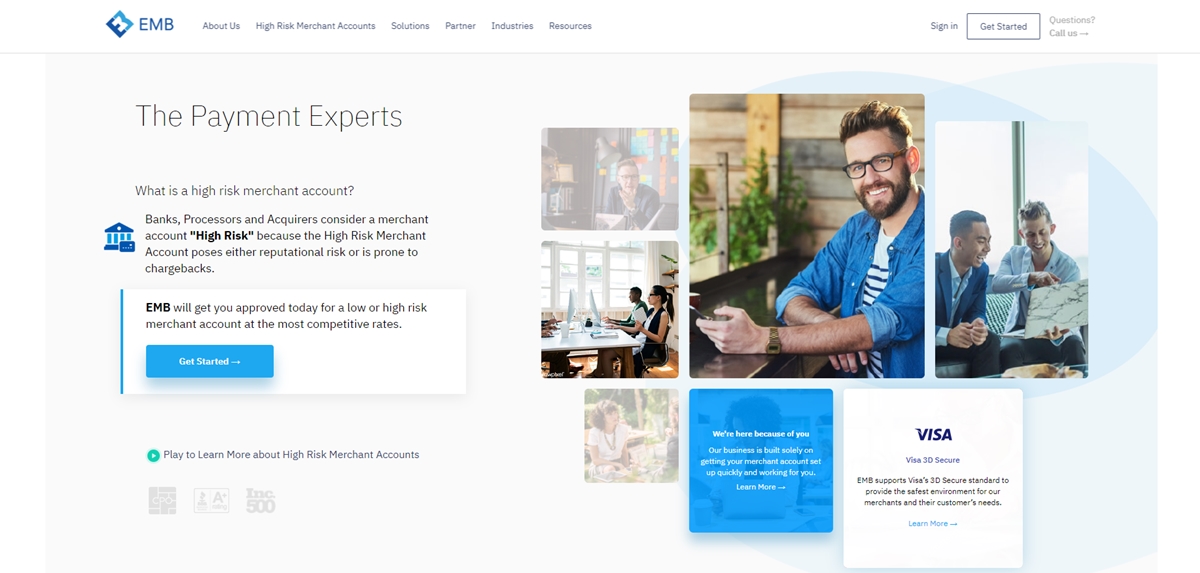 Like DigiPay, eMerchants Brokers is integrated with Shopify to increase your sales and stimulate the CBD payment process. eMerchants Brokers can serve as your own online store to display CBD products from topical, vape, ingestible, or flower and pre-rolls and so on. People choose eMerchants Brokers to support their CBD payment as it lowers their costs by accepting credit cards and allowing customers to join the lowest rates in the process of credit-cards. Moreover, eMerchants Brokers has done its good job in controlling completely. If you need help, you will receive instant assistance from the supporting team via email, live chat, and call center services. This gateway also gives you a good chance to maximize your revenue thanks to the ACH check process, affiliate program or free shopping carts.
Limelight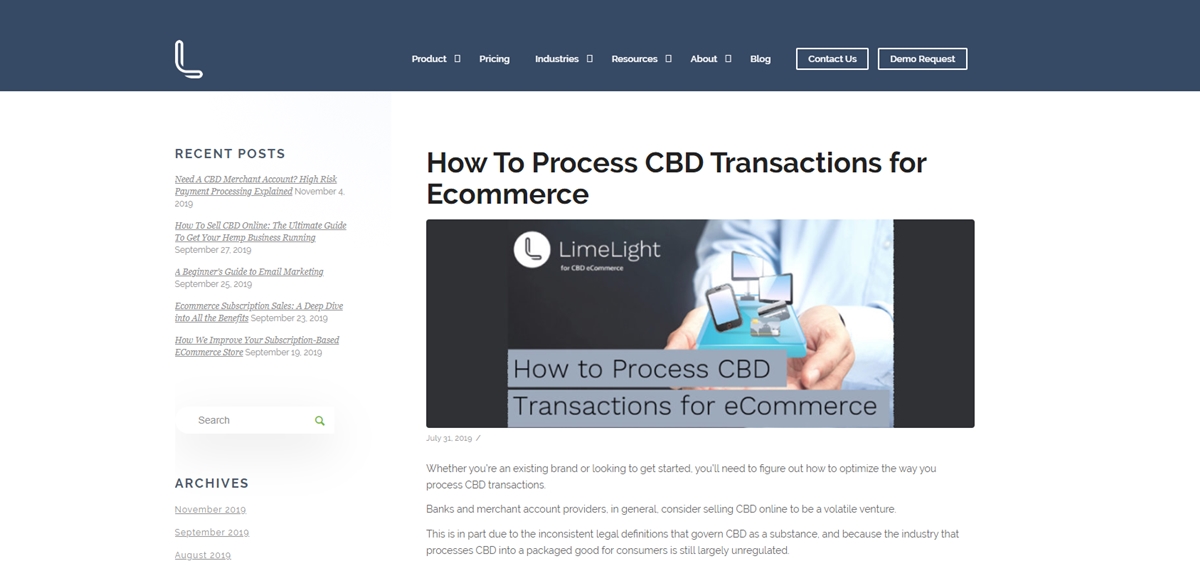 When it comes to the CBD payment processor, it might be a mistake when Limelight is not mentioned in your top list. Limelight is regarded as one of the best tools for CBD transactions. With Limelight, it enables users to increase the approval rate of credit cards and track their orders as well as control returns. Limelight is a perfect choice for predicting your promising earnings and plug into your fulfillment houses.
Why you should choose Shopify for your CBD Ecommerce Business?
To let your CBD business go smoothly, you had better notice the Shopify platform. In Shopify, you are able to create your dreamed online CBD shop. Shopify tends to provide you with splendid features and freedom to apply various third-party shipping applications. What you can do is to add or remove different CBD items when you are tracking the inventory. Thanks to those impressive notes, Shopify makes it simple for you to manage your business and make it grow.
Conclusion
If you are reading up to this, it is supposed that you definitely care for the up-coming CBD business in Shopify. Generally, CBD Payment Processor is not so complicated but you also have to be careful with what you will do next. Let's spend time reviewing and searching for things before you get yourself involved. In case of any question arising, don't forget to contact us for a complete guide.
Related Posts:
---
Mike is a content writer at Avada, with a love for video games, gadgets, and software. He has been writing about the industry now for over 7 years. He likes to keep up-to-date with the latest software releases. He's also an avid reader, and he enjoys spending time outdoors with family and friends. When he's not working, you can usually find him playing video games or exploring new outdoor activities.