SMS Marketing Automation: Do You Understand Everything About It?
We can't deny the fact that SMS marketing is evolving.
And part of that evolution has to do with a shift towards automated SMS messages.
While one-off campaigns often have their place in your SMS marketing strategy, savvy marketers understand that timely, personalized, and hyper-relevant text messages are too powerful not to send.
So, in this guide, let's go deeper into precisely what SMS marketing automation is, as well as how to get started with SMS marketing automation. Feel free to use our table of contents to jump into any section that you love.
What is SMS marketing automation?
In contrast to a one-off text marketing campaign that you create and send to many people in one go, automated SMS messages are set up once and then automatically sent to a specific individual when they take a particular action.
Let's say you'd like to send a welcome message to people who subscribe to your personal training service. The purpose of this text message is to thank them for signing up, as well as provide them with more details on what happens next.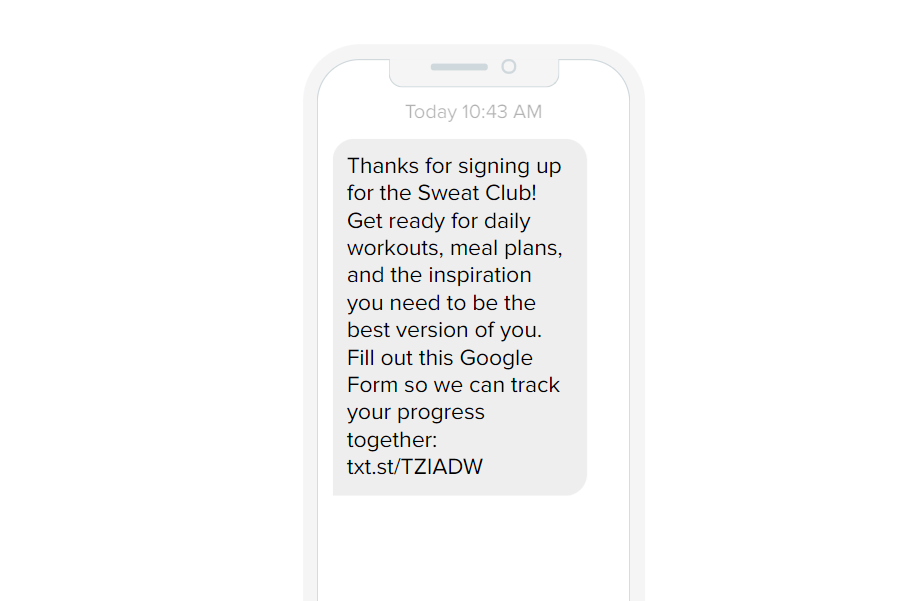 It'd be ineffective to manually create and send this text message to every person that signs up. Rather, you can send an automated welcome text message.
The idea here is that you don't have to lift a finger, and everything is well taken care of behind the scenes.
Related topic: SMS Marketing General: The In-depth Guide for Your Business
Is SMS marketing automation legal?
Yes! Sending automated texts is legal.
However, make sure that you're collecting SMS marketing opt-ins correctly, and sending text messages through proper short-code, long-code, or toll-free phone numbers. If someone wants to opt out of your SMS list, they have to be able to do so easily.
There are a number of SMS marketing laws and rules (such as the TCPA compliance and GDPR) that stipulate how customers can be opted-in to SMS marketing and how they can be reached. The easiest way to start SMS marketing without worrying about legalities is to come with an SMS platform that takes care of the legal side for you.
Read more: SMS Marketing Laws/Rules: The Ultimate Guide
Benefits of using SMS marketing automation
SMS marketing automation helps you:
Personalize customer experience. Studies back up what most of already know - personalized marketing works. Up to 90% of customers find personalized content very or somewhat appealing. Meanwhile, 72% of consumers only responded to marketing messages that target their interests.

Improve your productivity. With SMS marketing automation, a lot more can be done. It is hard to quantify this higher productivity value, but researchers have shown that automating repetitive aspects of someone's job can actually save at least 6 hours a week.

Reduce the potential of errors. If you message a new customer and include the wrong name, they won't feel unrespected. Also, a text strewn with spelling mistakes is not going to make a good impression. These kinds of errors show a lack of attention and interest in detail. With SMS marketing automation workflows, you can check them repeatedly before setting them live.

Make your campaign scalable. When you first start, automation is not usually as high on your priority list. Using the personal training example above, if you sign up ten clients a month, you may prefer sending welcome texts manually. However, if that tripled, it would become a significant time drain. SMS marketing automation makes your campaign scalable and future-proofs your brand from growth traps.
Common use cases of SMS marketing automation
You can send automated text messages using what most people refer to as triggers. Triggers can be particular dates, events, or something the customer has - or hasn't - done.
Below are some of the most common use cases of SMS marketing automation with common triggers.
1. Welcome new subscribers
Nearly 96% of visitors to your website are not yet ready to buy. But these people have shown interest in seeing what you offer. Therefore, it is a good idea to keep in touch with them.
An excellent way to do this is to get them to subscribe to your future text messages. Once they have subscribed, you can use an automated text campaign to welcome them to your list and give special subscriber-only offers to compel them to buy.
Consider using a keyword and auto-response to this. An SMS keyword is a word or phrase that customers can text to your number to receive future messages.
Let's look at an example from Toroe Eyewear. The E-commerce brand used this strategy to generate a 156x ROI or over $7,000 in sales.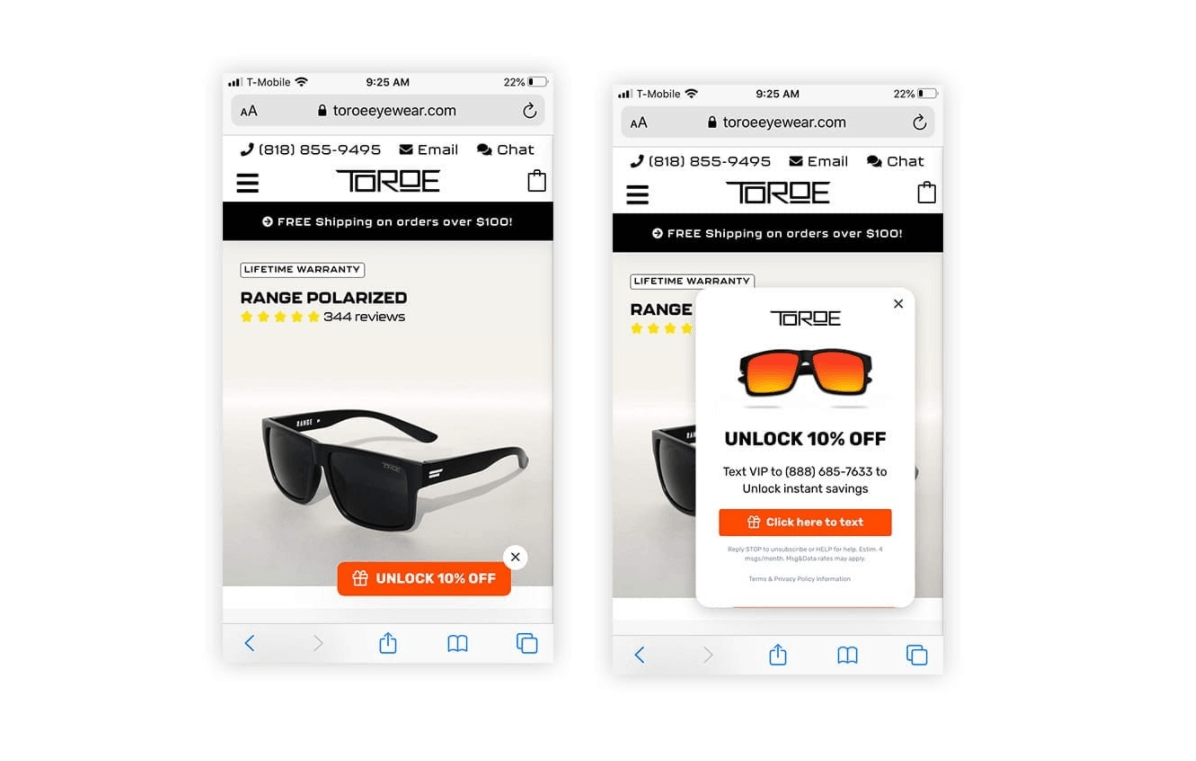 When someone texts in the keyword, they receive the following message.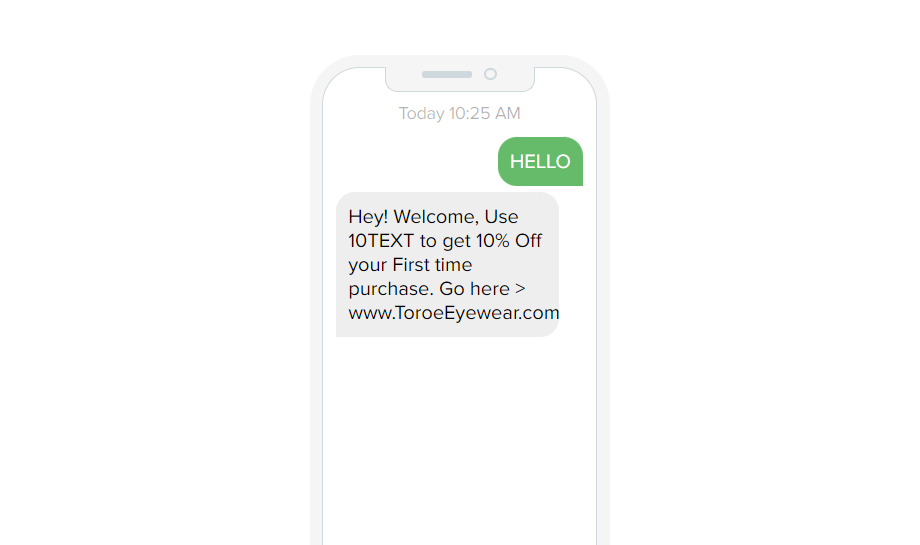 2. Send abandoned cart reminders
We all know how easy and simple it is to add something to a shopping cart. The problem here is that even the most optimal checkout processes involve more steps to complete a purchase.
There are many reasons why people abandon their carts, from shipping costs to concerns about security. Abandoned cart text messages can help you recover the majority of these lost sales where the customer simply got distracted.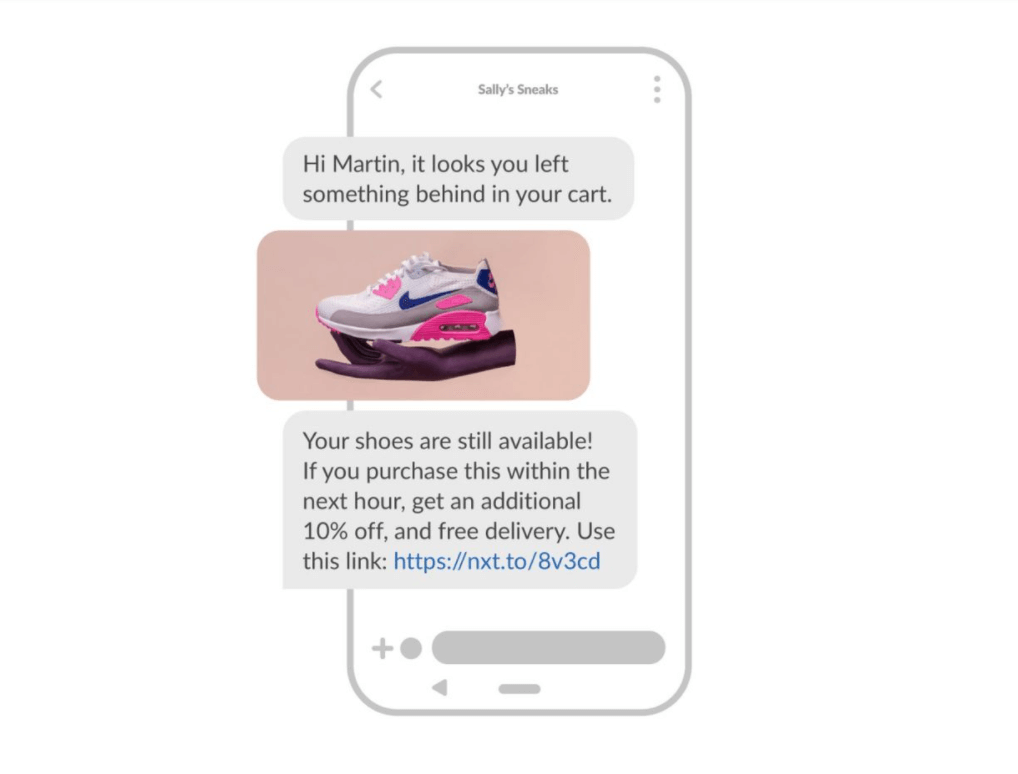 The faster you remind customers about what they have abandoned, the more likely they are to purchase. It is still fresh in their minds! Some marketers suggest reminding them 2 hours or one day later, but you should probably remind them less than one hour after they have left your store.
3. Send appointment reminders
One of the greatest ways to reduce your no-show rate is to send appointment reminder texts. Once an appointment is confirmed, there's a 90% chance it won't be missed or rescheduled.
Some SMS marketing software lets you connect with Google Calendar or third=party scheduling tools to send these text reminders.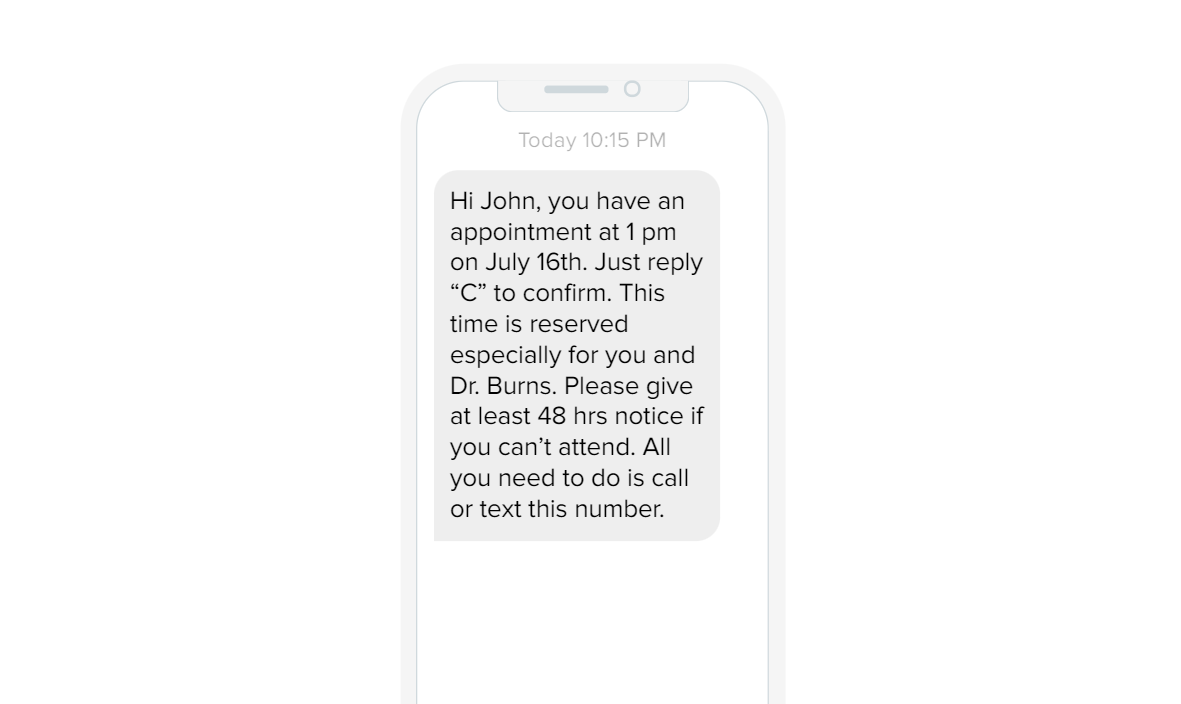 4. Celebrate special occasions
When it comes to celebrating special occasions, birthday texts are one of the most common types of automated text messages. If done the right way, they can attract recipients' attention and bring back amazing outcomes.
5. Nurture two-way conversations
SMS marketing can facilitate better two-way conversations between you and customers. When we talk about our personal text messages, it seems to be all about two-way conversations. However, in business, it's often limited to sending out a single message broadcasting an offer, updating customers about opening hours, or directing recipients elsewhere.
With SMS marketing automation, two-way conversations let businesses create caring, personal relationships, while collecting customer insights and greater business intelligence.
For example, if you are a SaaS business, try using SMS marketing automation to send conversational prompts, surveys, or in the case below, invites for a 1-on-1 consultation with customers who haven't moved onto a paid subscription after the trial.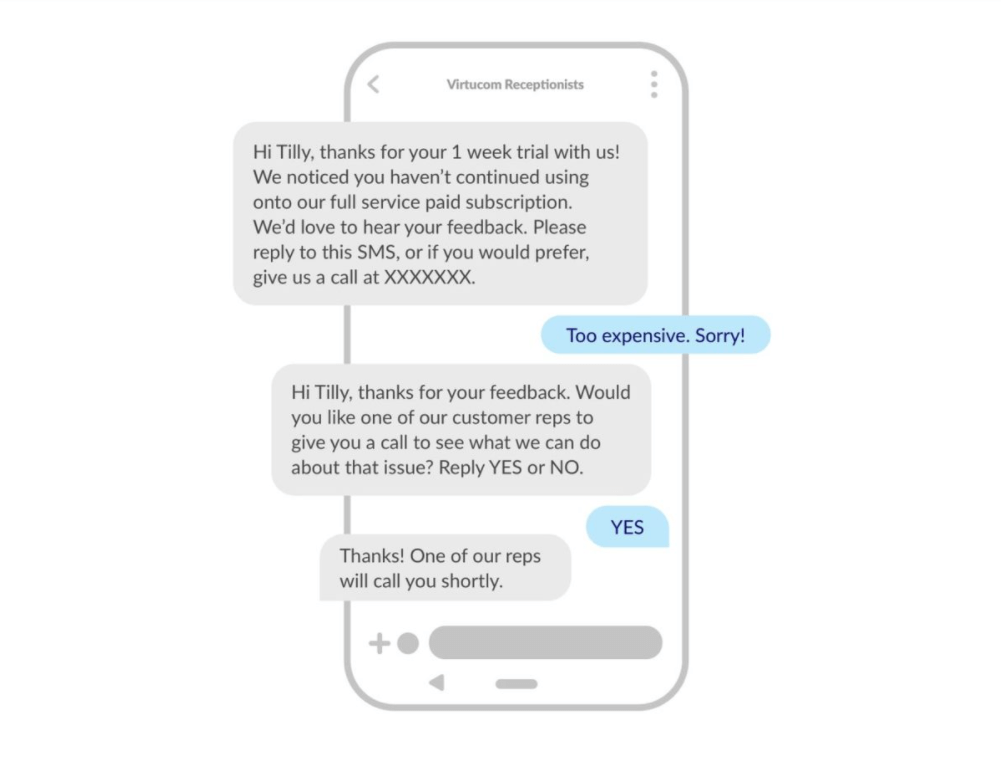 If you are a small service business, use SMS marketing automation to check-in with customers after an experience. Replies can be as simple as YES or NO. In case you are a large corporation with thousands of customers but high attrition, consider using feedback surveys to find out what went wrong.
6. Ask for reviews
Customers tend to look for a lot of new, updated reviews indicating whether or not they should purchase from you. Displaying reviews can increase your conversion rates by as much as 380%.
You can quickly increase the number of reviews by automatically sending review requests via SMS marketing.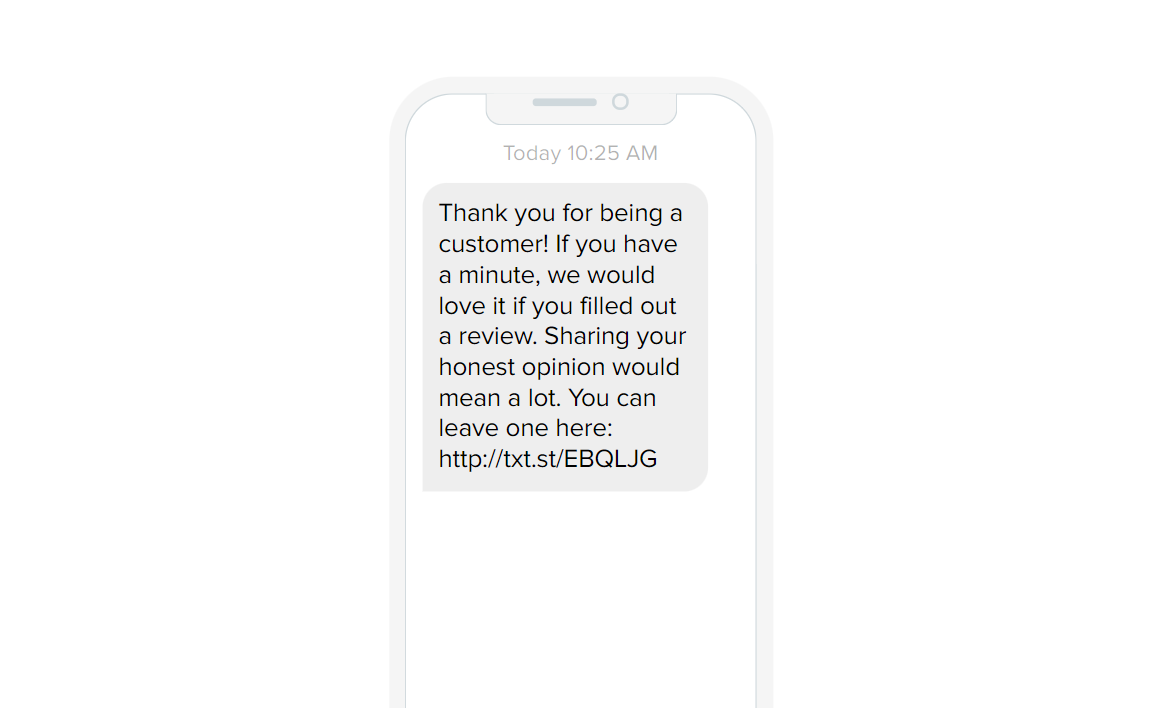 3 steps to get started with SMS marketing automation
Below are 3 steps on how to streamline and automate your SMS marketing. This will help you visualize your customer's journey, as well as improve the way they engage with you.
Step 1. Map out every touchpoint of your customer journey
When it comes to marketing communication, it's vital to send the right message at the right time. That's why you should map out a customer journey that includes every touchpoint.
Consider using tools like LucidChart or Figma's FigJam to generate a map of your customer's journey, including email and SMS. Use digital cards and then visualize a journey someone might go through.
For instance, maybe they interact with your ads, opt-in to email, are sent an email, visit your site, opt-in to SMS, and then are sent text messages.
Don't forget to ask yourself, "What are the interactions they have with your business?" Understanding where people are interacting with your SMS marketing campaigns can make them much more personalized and effective.
Moreover, you can identify what you have now, what you are missing, and where you can start automating.
Step 2. Define all data points associated with every touchpoint
Once you have your customer journey mapped out, list out data points associated with each touchpoint and where you can collect the data.
Firstly, list data points that help improve this step. Secondly, list data points that indicate the success of this step after-the-fact.
For instance, if you send an abandoned checkout SMS workflow…
The data points that help you improve this step include:
If you can know what they item they bought
If you know where they came to your site from
If you can tag this customer in Shopify
Steps to indicate the success of this cart abandonment workflow might include:
How many abandoned cart text messages are sent
How many recipients open your SMS message
How many people click your SMS message
How many people convert from your message to purchase
Do this for every step in your customer journey! One thing you will likely find is that you have lots of data across your tech stack to sync across each platform you use, including your email marketing platform, reviews platform, UGC (User-generated Content) platform, etc.
Step 3. Install an SMS marketing automation tool
Installing an SMS marketing automation tool allows you to send data across your tech stack, as well as optimize your customer journey map in a way that actually connects each system you need.
SMS marketing automation software often offers ready-to-use workflow for each trigger. You just need to choose a workflow that suits your customer's activity. For example, when someone opt-ins to your SMS list, you select a workflow that automatically sends a welcome text message after, let's say, 15 minutes.
3 best SMS marketing automation software
In this section, we'll recommend the top 3 SMS marketing automation software. You should read on and explore each of them to find the most suitable one for your business.
1. AVADA Marketing Automation
As its name suggests, AVADA Marketing Automation can help you create high-converting SMS marketing automation campaigns.
With ready-made workflows, AVADA Marketing Automation lets you drag and drop elements to quickly build a campaign. Amazingly, the platform enables you to combine SMS with other marketing channels to optimize your sales. For example, you can combine SMS and email to reach more customers.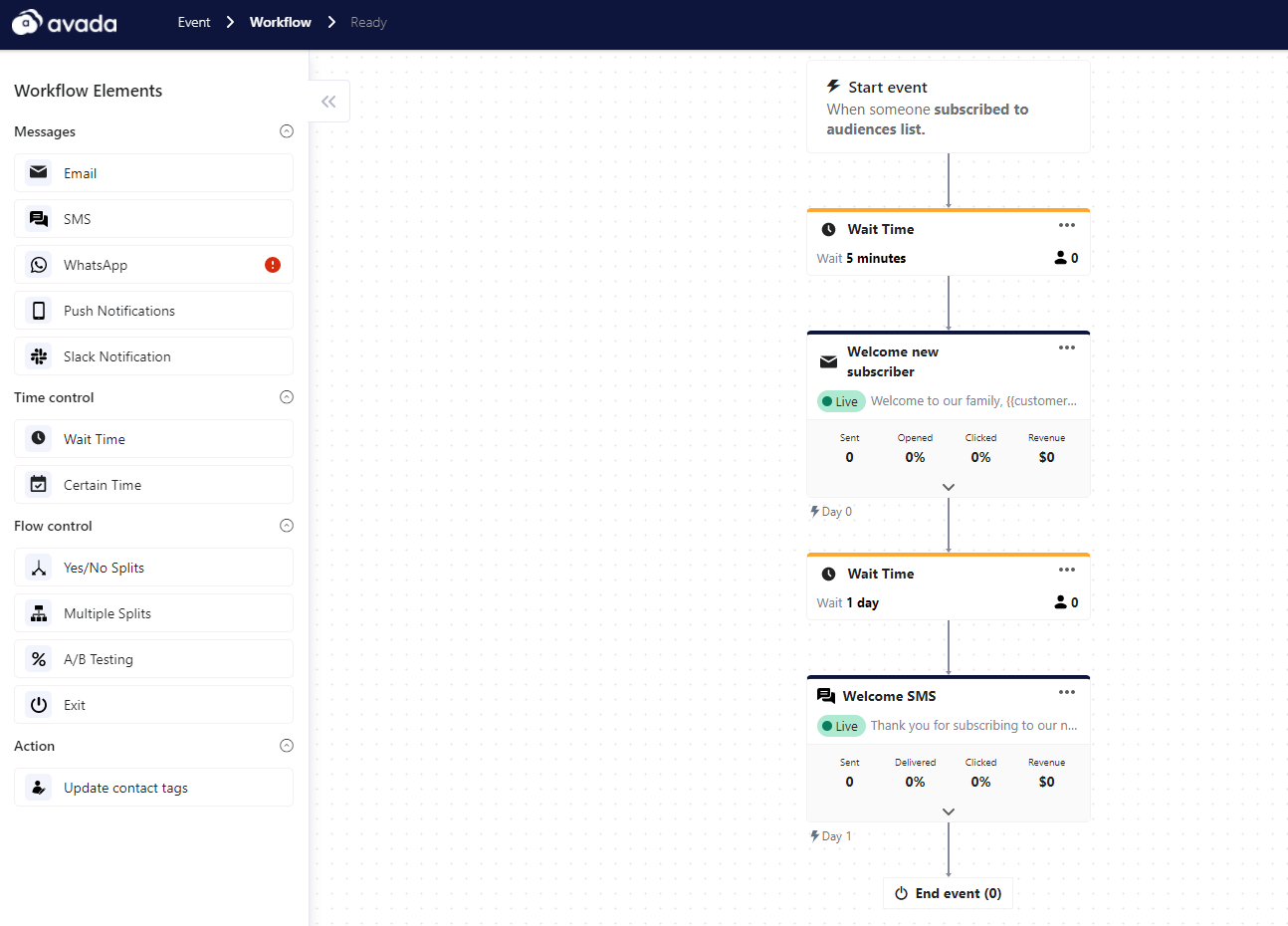 With this amazing SMS marketing automation software, you can take advantage of its:
Automation to follow up with your customers

Numerous templates for different events, such as welcome new subscribers, abandoned carts, special occasions, cross-sell, upsell, review requests, etc.

SMS and MMS

Wide coverage with more than 150 countries available

Beautiful, professional, and high-converting sign-up forms to help you collect phone numbers easily

Comprehensive reports of your SMS marketing automation campaigns

Friendly, knowledgeable, and professional customer support team

It's free to get started with AVADA Marketing Automation, so don't hesitate to test it out today!
TRY AVADA MARKETING AUTOMATION NOW
2. ActiveCampaign
Another SMS marketing automation software is ActiveCampaign. It comes with an excellent automation module for E-commerce, B2B, as well as other types of digital businesses.
ActiveCampaign has a texting messaging and SMS module that is just as effective. You can use it to reach out to your customers with discounts, products, and any other information you think can drive your business.
With ActiveCampaign, you can:
Sign up to receive notifications via texts, such as updates about products, upcoming discounts, coupons, flash sales, and more
Set up custom forms to collect phone numbers
Unsubscribe by sending a message
Set up automation quickly
3. Omnisend
Like AVADA Marketing Automation, Omnisend is a multi-channel marketing platform that combines emails, text messages, and push notifications. It relies on automation to send out messages, making sure you have enough time to focus on other tasks.
With Omnisend, you can:
Use pre-built workflows in the SMS module
Reach a global audience
Collect phone numbers using pop-ups, sign-up boxes, and landing pages
Use two-way SMS messaging
Get in-depth reports about your campaign performance
The bottom line
Many marketers are facing the challenge of limited time and resources.
That's why SMS marketing automation needs to be part of your marketing strategy. You can use it to drive results without spending time working on them over and over again.
AVADA Marketing Automation makes it incredibly simple to set up automated campaigns, and you can have them driving revenue for your business for years to come.
If you still have questions or concerns, our team of SMS marketing experts would love to help. Contact us now for more details!
New Posts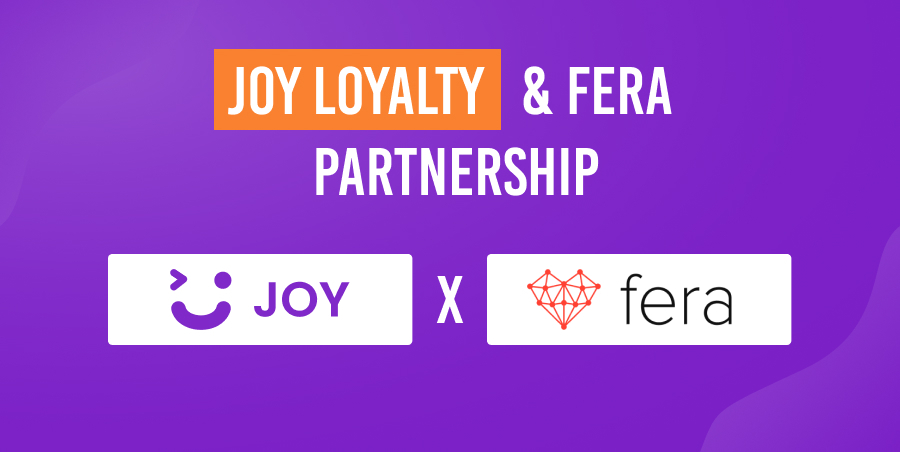 Subscribe
Stay in the know
Get special offers on the latest news from AVADA.
40k
subscribers has been joined!
Earn $10 in reward now!