Shopify vs Shopify Plus: What is the key difference
When you embark on the online business, you may be very familiar with the Shopify and Shopify Plus platform. But you may not know exactly What the difference is between Shopify and Shopify Plus.
With our article, you will find a simple answer. We will go through the overview of Shopify and Shopify Plus, the difference between them, and who Should Use Shopify vs. Shopify Plus. Please don't go anywhere because we will go straight into the details right now. Let's get started.
Related posts:
Shopify vs Shopify Plus: What is the key difference?
Shopify overview
Description
Shopify is a complete eCommerce platform that enables you you commence, develop, and operate a business. Completely cloud-based and hosted, it eases the requirement to manage your web servers.
Features
Shopify offers you many tools to assist you in starting and managing your business. Based on your pricing plan option, you can find all the necessary things to showcase your items online, to process payments, and to work it out. Shopify provides you with:
Free and paid themes from the Shopify Theme Store to highlight and improve the appearance of your store.
Free and paid apps from the Shopify App Store to boost the performance of your online store.
Shopify's own payment provider to accept credit card payments.
Shopify's sales channels and an enterprise plan enable the sellers who trade in high volume and those who want to reduce transaction fees to develop their business.
A Shopify blog that has guides and posts concerning the management of your online store and communicating with your customers.
Experts around the globe can assist you in commencing, designing, and marketing your brand.
A devoted support team that is available 24/7 to reply to your questions regardless of which Shopify plan you are currently using.
Pricing & Transaction Fee
Shopify provides you with five pricing plans:
Shopify Lite - $9 per month
Basic Shopify - $29 per month
Shopify - $79 per month
Advanced Shopify - $299 per month
Shopify Plus - fees are negotiable, but in the region of $2000 per month. You can make use of Shopify Payments without having to pay for any Shopify Payment transaction fee. However, if you select an external payment gateway, you will have to pay additional fees of 2%, 1% or 0.5% for the Basic Shopify, Shopify, and Advanced Shopify plans respectively.
Shopify Plus overview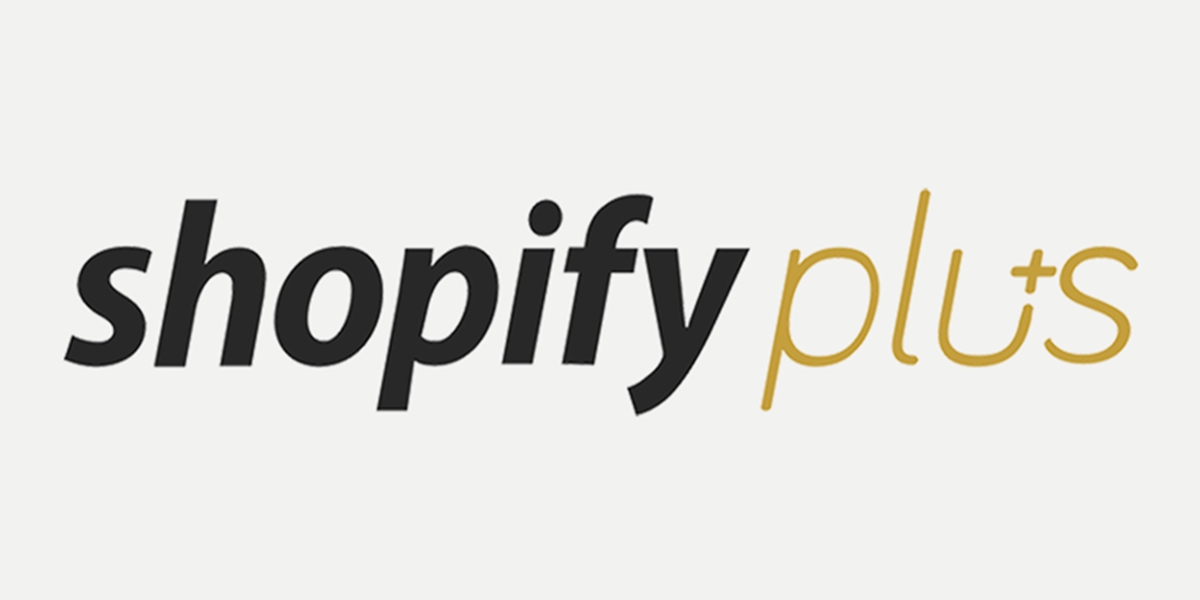 Shopify Plus Description
Shopify Plus is one of the upgraded versions of Shopify. Though they have a very similar interface, Shopify Plus features are more robust and it has a different pricing system.
Shopify Plus Features
If you sell in large volumes, you can concentrate on growing your business by using Shopify's enterprise-level plan. Shopify Plus offers a variety of outstanding features as below:
Advanced Shopify apps designed for high-growth retailers
A customizable checkout that grants you more power over the store's branding additional API calls that enable you to integrate with custom apps
The Merchant Success Program that allows you to take full advantage of Shopify Plus
A Launch Engineer who assists you in speed up your business formation by cooperating with third-party integrations, and obtaining partners to work on design and development projects suitable for your online business
Unlimited staff accounts that enable you to expand your personnel without having to pay for additional charges nine expansion stores for internationalization, separate physical locations, and other objectives
Access to exclusive beta programs to preview and affect the product roadmap
Access to technology, agency, and solution partners with the Shopify Plus Partner Program
Access to the Shopify Plus Academy for self-guided training on principal topics about expanding your business membership to the Shopify Plus Community on Facebook to share strategies and experiences with other high-volume merchants
The capacity to add up to 100 themes on your Shopify account to try out any new themes, remain seasonal versions of your published theme, or test modifications to your published theme's copy
Additional permission settings that give you more control over the actions your personnel can take in your Shopify admin, comprising of separate report export permissions and permissions to particular apps
A wholesale channel that enables you to make a separate and password-protected wholesale store
Shopify Plus Pricing & Transaction Fee
Pricing for Shopify Plus is only available by-quota. For more comprehensive price information and a quote tailored to your particular requirements and budget, you can contact Shopify Plus personally. The major factors influencing the price are your company's sales volume and particular needs (growth, technology, design, support, etc.). You can simply request a quote here.
Concerning payment processing, Shopify Plus has lower transaction fees.
What Is The Difference Between Shopify And Shopify Plus?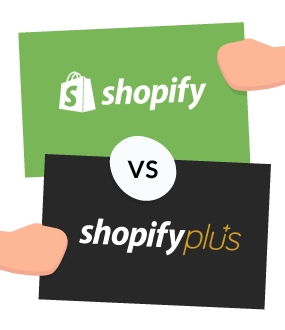 Shopify Design vs Shopify Plus Design
Shopify and Shopify Plus provide you with more than 60 themes to try out when you set up your eCommerce store, 10 of which are free and 59 of which you will have to pay for fees, ranging from $140 to $180.
Not only that, themes are also available in many languages comprising English, Spanish, French, German, Italian, Japanese, and Brazilian Portuguese. Therefore, it is super easy to launch an online store for a target audience in a particular country.
Besides, Shopify's theme store allows you to browse, preview, and even sort by category.
Via Shopify's editor, you can do some basic customization. After you add your items, you can determine where you want them to be displayed and you can sort them into category pages.
To have more control, basic knowledge of coding is crucial. In this case, you ought to take into consideration the Shopify's theme language- Liquid. With Liquid, you can modify the appearance of your theme by writing lines of code. But if you can not code, then please do not freak out since there are a lot of available guides that can assist you.
So far, you can see that Shopify Plus is for enterprise-level businesses. Therefore, if you are on Shopify Plus, it is very likely that you have already had a website.
Shopify Plus offers you a dedicated launch manager whose responsibility is to guarantee that your website can be fully integrated into Shopify. They will write lines of code for you, and get you up and run on a Shopify custom theme.
Another striking difference between Shopify and Shopify Plus is your chance to adjust the checkout page. Shopify can not help you do that while Shopify Plus provides you the ability.
Overall, Shopify Plus is superior in its design flexibility. Even though both offer you more than 60 themes to select from, Shopify Plus offers you more. You can have your launch manager and also edit your checkout page.
Shopify Features vs Shopify Plus Features
eCommerce features are what distinguish Shopify and Shopify Plus. Let's take a look at several key features of both platforms, then go through two that are particular to Shopify Plus.
Shopify Features
Multi-Channel Integration The term may sound complex to you, but its meaning is very simple. Multi-Channel Integration implies the ability to sell many different places. Shopify allows you to sell your items directly on marketplaces, such as Amazon and eBay and social media like Facebook and Instagram.
If a shopper does not have to exit the platform they are currently on to buy something, the chance of them placing an order is very high. You can have the opportunity to diversify your revenue streams and obtain a new customer base that may never even visited your site.
Abandoned Cart Recovery There are cases when a customer visits your online store, add one or more items to their cart, but then exits without checking out. This built-in feature means that Shopify will send them an automated email on your behalf as a follow-up to see whether they still want to buy your item.
Studies indicate that abandoned cart emails can have the power to recover up to 25% of almost orders.
Multi-Currency Selling If you use Shopify's payment processor, Shopify Payments, your online shop will automatically change the currency displayed for your items depending on the location of the customer.
Your prices will alter following current exchange rates. It will be an ideal option for you if you intend to sell your products to people all over the world. Shopify supports the currencies including GBP, EUR, USD, CAD, AUD, HKD, NZD, JPY, and SGD.
Shopify Plus Features
Shopify Flow There is an idiom that says first impressions are most lasting. Shopify Flow enables you to tailor that first impression exclusively to your customers. Once they have signed up to your site, you can track their orders and modify your homepage to suit the items that they may have an intention to purchase.

Script Editor In addition to granting you greater control over shipping, Shopify enables you to make scripts for line items and payment methods. The task of customizing every aspect of your online store down to the tiniest detail is now a piece of cake and gives you complete control.
To sum up, when it comes to eCommerce Features, Shopify Plus has more outstanding features. While Shopify has a wide variety of sales tools and features, and many of them are similar to Shopify Plus. However, Shopify does not have as many sophisticated tools as Shopify Plus. The script editor and Shopify Flow provide you with a more advanced service than Shopify's tools.
Shopify vs Shopify Plus: Help & Support
Shopify has fantastic 24/7 customer support via phone email and live chat. Not only that, you can have an option to seek through guides in its Help Center.
Shopify's help center is the first thing you turn to in case you face any problems.
Concerning Shopify Plus, you will get its dedicated and personal support. It can be very crucial for large corporations.
First of all, you can get a launch manager who will help get you up-and-running. They can help you integrate your current website into Shopify. Then, you will get an MSM (merchant success manager), whose role is to help your brand prosper. It can guide you on how to use Shopify Plus, keep you up-to-date with industry trends, and provide you strategic coaching.
About Help and Support, Shopify is inferior to Shopify Plus. With its hands-on, personalized support, Shopify Plus gives you the awesome extra of a dedicated launch-manager to assist you in commencing. It also provides a merchant support manager to contribute to your business' growth.
Shopify Analytic vs Shopify Plus Analytic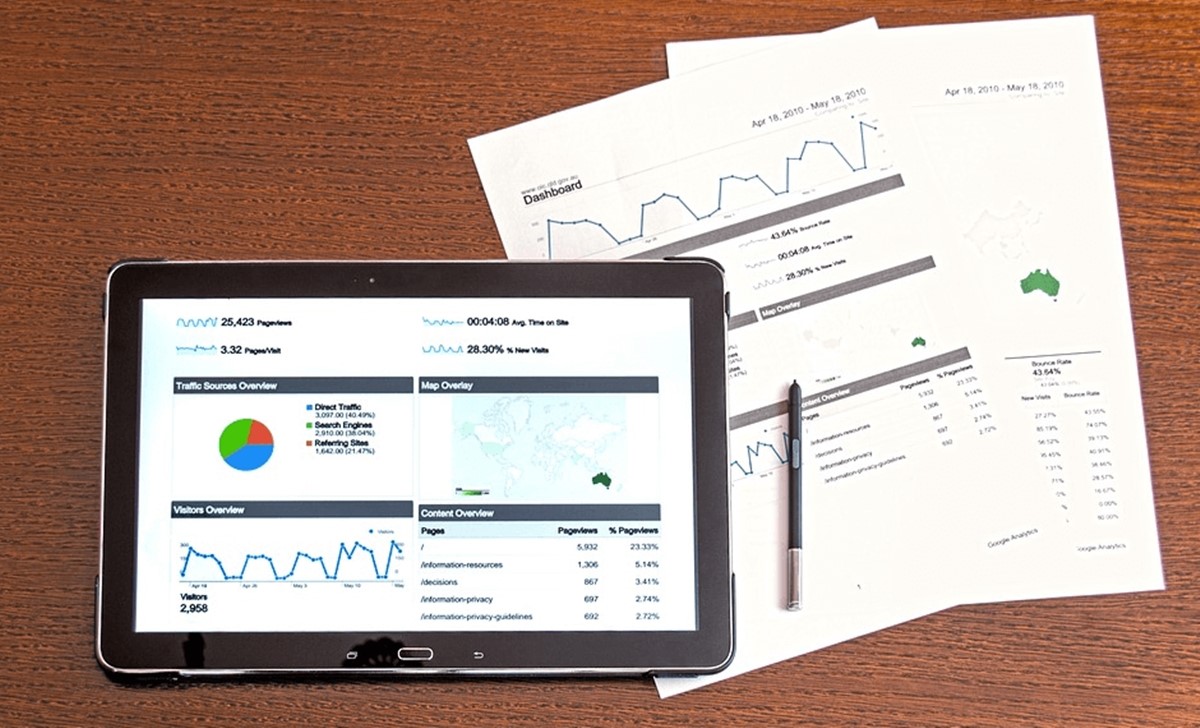 Shopify comes with its dedicated analytics dashboard. From here, you can notice an overview of your online store's sales and custom reports. What's more, there is even a live view that displays to you minute-by-minute data. Thanks to this analytics dashboard, almost every eCommerce businesses can get all the insight they are looking for.
Not only that, Shopify Plus goes one step further. While Shopify's analytics dashboard contains all data insights, Shopify Plus partners with industry-leading analytics companies, like Glew and Looker, to provide you with up-to-date, expert data, and insight. The feature is vital for eCommerce business as they can get the necessary detailed information to make progress.
Once again, Shopify Plus beats Shopify. While Shopify provides you with the analytics tool that is already built-in so that you can regularly track your store's data, Shopify Plus upgrades it to the next level with its advanced integrations. While Shopify gives you exceptional insight, Shopify Plus gives you expert, detailed data and information.
Shopify Pricing vs Shopify Plus Pricing
Shopify comes with three main pricing plans: Basic Shopify ($29/month), Shopify ($79/month), and Advanced Shopify ($299/month). All of these plans offer you with essential features like multi-channel integration and abandoned cart, but there are several discrepancies. If you find producing and selling gift cards important, then you will need to go through either the Shopify or Advanced Shopify plan.
Advanced Shopify also provides you more insight. You can see professional reports and third-party calculated shipping rates. If you intend to scale up speedily, you can take into consideration the two features.
Shopify offers you with a 14-day free trial, which means that if you are not satisfied with what you have experienced in a fortnight, then you can simply give up the investment decision.
Shopify Plus pricing is a little less obvious. To have a quote, you may need to contact Shopify Plus directly. From here, you can explain your business model, monthly turnover, and marketing requirements to agree on a proper price.
Say your monthly sales are ranging from $0 to $800,000, Shopify Plus plans may be approximately $2,000 per month. It can vary, and can even go up to $40,000, which is the Shopify Plus' ceiling price.
The picture is the same for Shopify and Shopify Plus transaction fees. For Shopify, they are fixed fees per transaction. For Shopify Plus, they are negotiable. As an estimate, you will spot about 1.6% + 30¢ per transaction.
3D Secure- an indispensable feature that both Shopify and Shopify Plus offer can help protect merchants from fraud when processing credit card transactions. Therefore, if you ever process a risky payment, it should be the bank's responsibility, not yours. Shopify's transaction fees vary based on which plan you sign up to.
This only time Shopify wins is because Shopify Plus's pricing is more costly and less apparent than Shopify's plans. You may acquire a quote for Shopify Plus provided that it must be suitable for your business. Meanwhile, Shopify's price plans are available for everyone to see and try out with its 14-day free trial.
Who Should Use Shopify vs Shopify Plus
The major kinds of businesses that ought to use Shopify Plus are large ventures, wholesalers, and enterprise-level eCommerce shops. Shopify is for small and mid-level businesses.
The Shopify Plus software's power and reliability make it practical for businesses who would otherwise need to employ technical personnel.
In some noteworthy cases, using Shopify Plus is a clear advantage. For instance, a spike in sales in the holidays may lead to a crash to your online store or system if you are not well- prepared. It can help you a great deal by manipulating the incidents like this, so you do not have to worry.
Final Thoughts
In conclusion, eCommerce can be a challenging field to control, but hopefully, now you have a better knowledge of the differences between Shopify vs. Shopify Plus. Bear in mind that when you select your Shopify plans, they will not include any domains, apps, or themes.
Should you have any questions, comments, or concerns, feel free to contact us and we will help you out. Good luck with your eCommerce business!
New Posts
Subscribe
Stay

in the know

Get special offers on the latest news from AVADA.
40k
subscribers has been joined!
Earn $10 in reward now!