Best Shopify SEO Courses for beginners to learn
Are you looking to learn how to do Shopify marketing? Do you question how to gain more traffic and boost your sales? Or do you have any idea about how to start your SEO from scratch? E-commerce is not easy. Fortunately, entrepreneurs like you have gone through the same struggles already, which means you won't have to. You can access to experienced entrepreneurs or marketing experts in so many ways. Yet, one of the most popular and flexible approach based on your schedule is enrolling marketing courses. Do you want to find out how SEO works? Let's take a look at our writing on Best Shopify SEO Courses for beginners to learn.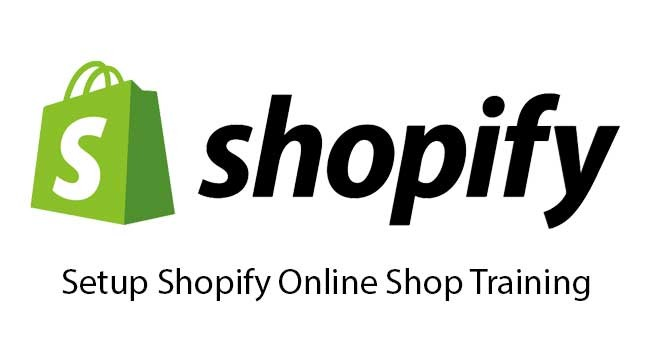 Exclusive Offer: Get Shopify 93 days for just $3 + The Online Store Starter Kit
Start a 3-day free trial, then get Shopify 3 months for $1/month plus the premium package designed especially for new Shopify merchants!
Start Free Trial
Shopify SEO Overview
The Importance of SEO For Your Online Business
Search Engine Optimization, also known as SEO, is always considered the key to the success of an online business for the digital properties and benefits it can bring about. SEO can help many merchants improve their website's health and overall searchability. Yet what values does it actually offer and why does it matter that much?
To answer the question, here are 12 reasons:
1. Organic search is considered the Primary Source of Website Traffic
Organic search, also known as natural search, refers to unpaid search results. In contrast to paid search results (pay-per-click advertising). Organic search is considered one of the most important parts of most business's website performance to cause high engagement and conversion. Why so?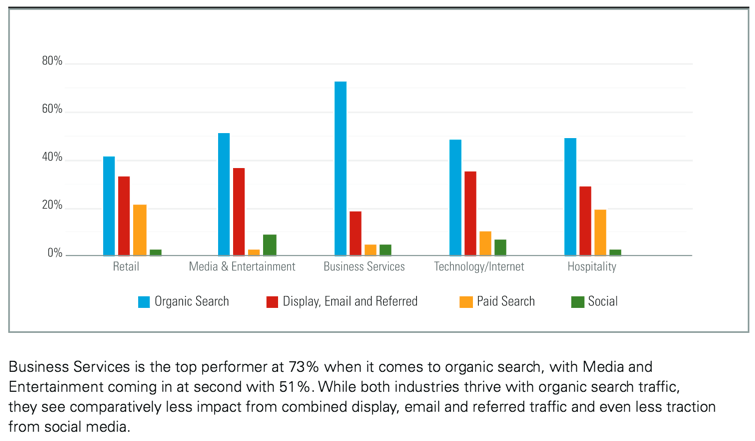 The chart can show that organic is simply better for delivering relevant traffic.
2. SEO helps Build Trust & Credibility
Most experienced SEO has the same goal, which is to establish a strong foundation for a beautiful website with a clean, effective user experience that is easily discoverable in search with thanks to the trust and credibility of the brand and its digital properties.
However, it is impossible to build trust and credibility overnight. Authority is earned and built over time.
3. Good SEO also lead to a better User Experience
Better organic rankings and maximum visibility are always in demand. Yet only a few realize that optimal user experience is a big part of getting there. Customers know what they want, so if what you serve doesn't meet their needs, then it will be considered a bad experience, which means no more coming back.
4. Local SEO means more Engagement, Traffic & Conversions
Specifically, local optimizations focus on specific towns, cities, regions, and also states, to establish a viable medium for a brand's messaging on a local level. The aim is to optimize your digital properties for a specific vicinity so people can find you quickly and easily. To promote engagement on the local level, SEO experts can optimize a brand's Knowledge Graph panel, its social media profiles, & its Google My Business listing as a start.
5. SEO can influence the Buying Cycle
From a merchant's perspective, one of the biggest advantages of the Internet is that customers do their research on it. Hence using SEO tactics to relay your messaging for good deals, groundbreaking products and/ or services, and the importance and dependability of what you offer customers will be a game-changer. Also, without a doubt, it will impact the buying circle in a positive way when done right.
6. SEO Best Practices are regularly being updated
Having SEO tactics implemented on a brand's website and across its digital properties is great. Yet if it is a short-term engagement (for instance, budget constraints, etc.) and the site is not re-evaluated consistently over time, it may reach a threshold where it cannot improve anymore due to other hindrances.
Daily changes occur on Google, so we need constant monitoring for changes to stay ahead of the competition and, hopefully, Page 1. We believe that being proactive and monitoring major changes is going to be beneficial for all those brands doing so.
7. Understanding SEO helps raise the Environment of the Web Knowledge
In a volatile environment like the World Wide Web, it could be a challenge to stay on top of the changes as they take place. That is to say, knowing the environment of the Web, including tactics being used by other locals, comparable business, and competitors, however, will always be beneficial for those brands.
8. SEO is a pretty cheap Marketing method
All the best things do cost money. So does SEO.
Yet SEO costs just a small amount of expenditure in the grand scheme of things, and the payoff will most likely be considered when it comes to a brand's benefits and bottom line.
We can say it is a true business investment because the results of good SEO implementation will stay with you for years. Yet it can only be better if you pay more attention and investment for it.
9. SEO equals along-term strategy
You may know that good SEO can have an incredible influence within the first year of action being taken, and many of those impacts can last for over several years. The more time, effort, and budget spent on SEO, the better and longer your website stands still as a worthy contender in the market.
10. It's quantifiable
Although SEO does not come with the easier-to-calculate ROI like that of paid search, you are still able to measure almost anything with proper tracking and analytics. And there is no better way to show how your SEO is doing because the data never lies.
Brands want to know and understand where they were, where they are, and also where they're going when it comes to digital performance, especially for SEO.
11. SEO can unfold new opportunities
Offering high-quality SEO to brands means submersing an SEO team in everything. The better a brand is understood, the more opportunities it has to thrive. It is the only way to market a brand with passion and understanding that the brand's stakeholders have for it: becoming a stakeholder.
12. Being on Page 1 is the most effective way to win the SEO Game
The fact is if you want to kill the organic search game, you have to be on Page 1.
According to a recent study, the first 3 organic search ranking positions can lead to around 40 percent of all click-throughs, while up to 30 percent of all results on Page 1 and 2 don't get clicked at all. Why so?
It means two things:
You need to be on Page 1
There are still many instances when a user types a search query and cannot find what he/ she is looking for exactly.
Reasons Why you need to learn a Shopify SEO Course
Not all online store owners do know the best ways to optimize their website. The reason might be they have no SEO experience or, generally speaking, lack of website administration awareness. Meanwhile, it is not easy to survive with a low-quality website and expect to have a good number of backlinks for it. That is to say, SEO is getting to be a tougher nut to crack. Hence a Shopify SEO course is needed to tame the competition.
Shopify SEO Courses Reviews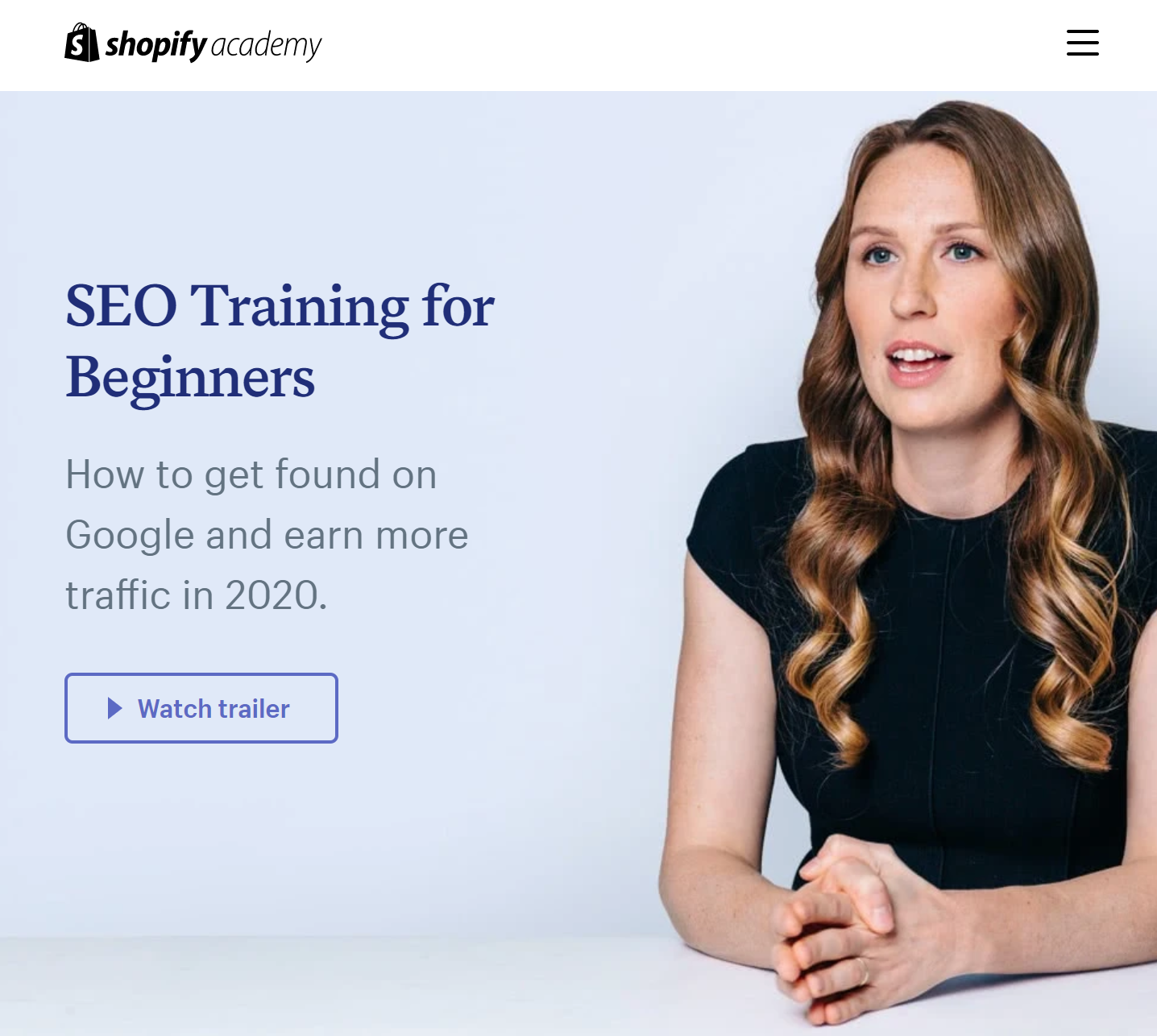 Pricing
FREE! Shopify Academy has cooperated with experienced instructors who are willing to commit their time to help entrepreneurs succeed.
What does the course offer?
As you may know, a strong SEO strategy can bring benefits for the long term. You can still get new customers coming to your online store with as minimal spending as possible. In this course, you will go through many steps you can take on your website and off of it so that your website can get found on search engine systems, especially Google.
1. Keyword Research
Figure out how people find you on Google. What are they typing in Google Search box? Where are your most profitable customers coming from? Tools and strategies will be shared to help you with your research.
2. On-Site SEO Strategy
From home page to product page, you can learn how to incorporate keywords into your website copy. Then also learn how to structure your website menu in a way that makes it easy for Google to find you.
3. Off-Site SEO Strategy
One of the biggest indicator of the Google algorithm is linking from other websites to yours. You will learn how to reach out to other businesses and get them to link to you.
Who is this course for?
Entrepreneurs, merchants, just like you. As long as you have already started an online business and you are looking for a solution to getting more traffic, this course is for you! The course starts with the basics, so don't worry if you have no experience.
Reviews
OLLIE ALPIN, SHOPIFY SUCCESS STORY, MINDJOURNALS.COM
Shopify is the best and biggest for the reach and ease it offers my customers. They're more confident to buy via a Shopify store.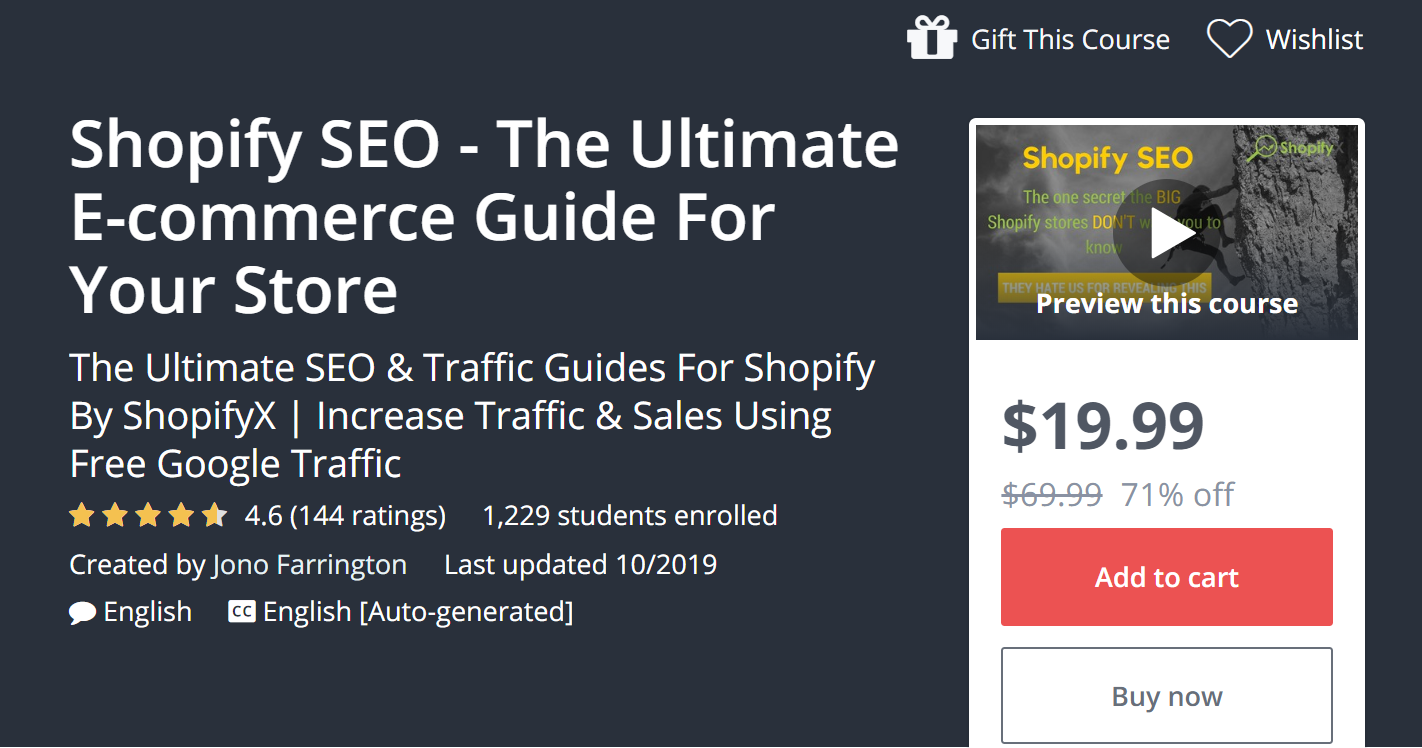 Pricing
Sale Off 71% of the original Price: $69.99 => ONLY $19.99 with 3-day money back gurantee.
What does the course offer?
This course comes with
5 hours on-demand video
8 articles
Full lifetime access
Access on mobile and TV
Certificate of Completion
Lifetime updates. We offer lifetime updates to all students. Regular videos will be posted as and when needed. We change every day as Google does!
Some of the specific tactics you'll learn are:
Access To Our Proprietary Shopify App
Keyword research
Product page optimization
Internal Linking
Fixing duplicate content issues
Theme Considerations
Auditing your current sites
Core site optimization
Collection page optimization
Bonus - Schema
Blog Post Setup And many more.
What you will get after the course:
Learn how to set up a Shopify store for SEO correctly
Know basic and advanced SEO techniques
Learn from agency owners who creates millions in sales for their clients
Get access to Shopify app "Optizen" without charge
Improve Google rankings, traffic, and sales
Figure out why Shopify is not set up correctly for SEO and how to fix it
Who is this course for?
This course is suitable for store owners, or those in need of a Shopify store.
While the course focuses on Shopify, it also does teach basic and advanced SEO techniques, which are beneficial for any store owner, regardless of the platform.
It doesn't matter if your store is new and has never made a sale, or of your store is generating millions.
Store owners who want to improve organic search rankings by using powerful search engine optimization strategies for e-commerce
Reviews
T Lee Very concise. Audio quality is pretty bad, but I can understand everything he's saying. In terms of information, so far, it's top-notch. I've just been following along without any hiccups. So far, so good.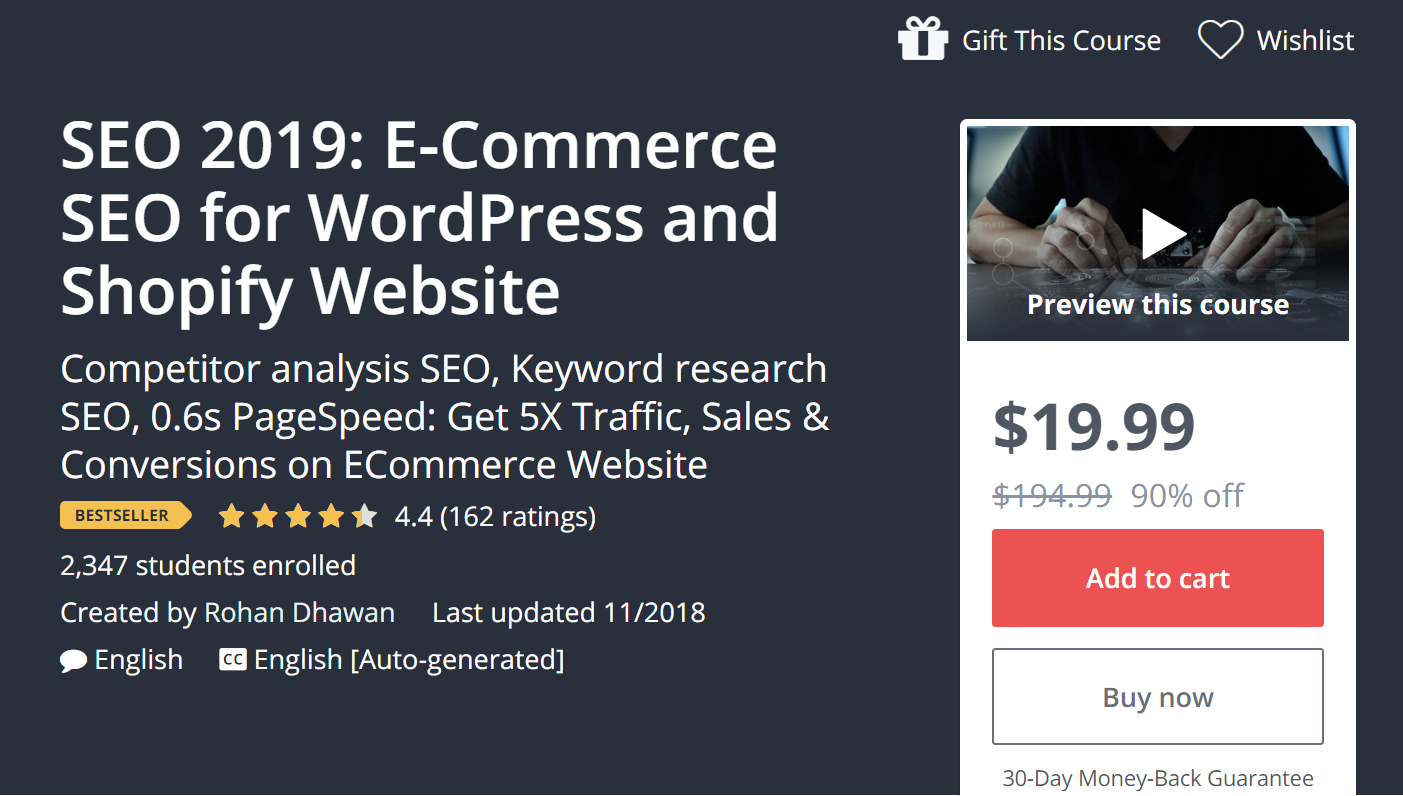 Pricing
Sale off 90% off of the original price $194.99 => ONLY 19.99 with a 30-day money-back guarantee.
What does the course offer?
This course includes
4.5 hours on-demand video
8 articles
Full lifetime access
Access on mobile and TV
Certificate of Completion
What you will get after the course:
How to make your ECommerce website into a profitable online store that reaps long term benefits with SEO for E-Commerce
Learn How to do Keyword Research SEO and Competitor Analysis in the right way
How to outrank your competition on Google search to get more share of their traffic and sales with E-Commerce SEO
How to use the Google Keyword Planner Tool to find your profitable keywords without using any search terms
How to optimize your website to load it under 1 second and reach 98% Page Speed score from Google
How to do on-page search engine optimization for your WordPress / Shopify store to reach the top spot on Google search
Learn some methods to live a life without wondering about your next traffic source
Understand the top-notch strategies to reduce your store's abandonment rate and improve conversions/sales

Who is this course for?

The course is designed for those who are struggling to get sales, who want to rank high on Google, for the products they sell, or for those who don't even know what keyword they need to target to get traffic from Google. They could be:

Online Traders, Retailers, Service Providers
Online Store Managers
Digital Marketers in E-Commerce field
ECommerce website owners
Entrepreneurs
Anyone who wants to build a long term E-Commerce business
Anyone who wants to learn how to rank their store on the first page of Google

Reviews

Mukidasu The course is pretty knowledge-packed and straight to the points, I like it. The instructors spend no time to get straight to the point and I find their content very useful. The only criticism I have is that they speak rather too slowly. I understand that English is their 2nd or 3rd language, but if they speak a little bit faster the course can even be more concise to 3 hours instead of 4.5 hours.

Pracy-Ann Pryce The perfect course for newbies! I love his teaching method, especially the fact that he does an example. This means you can follow along using your own store as you progress through the course. Money well spent !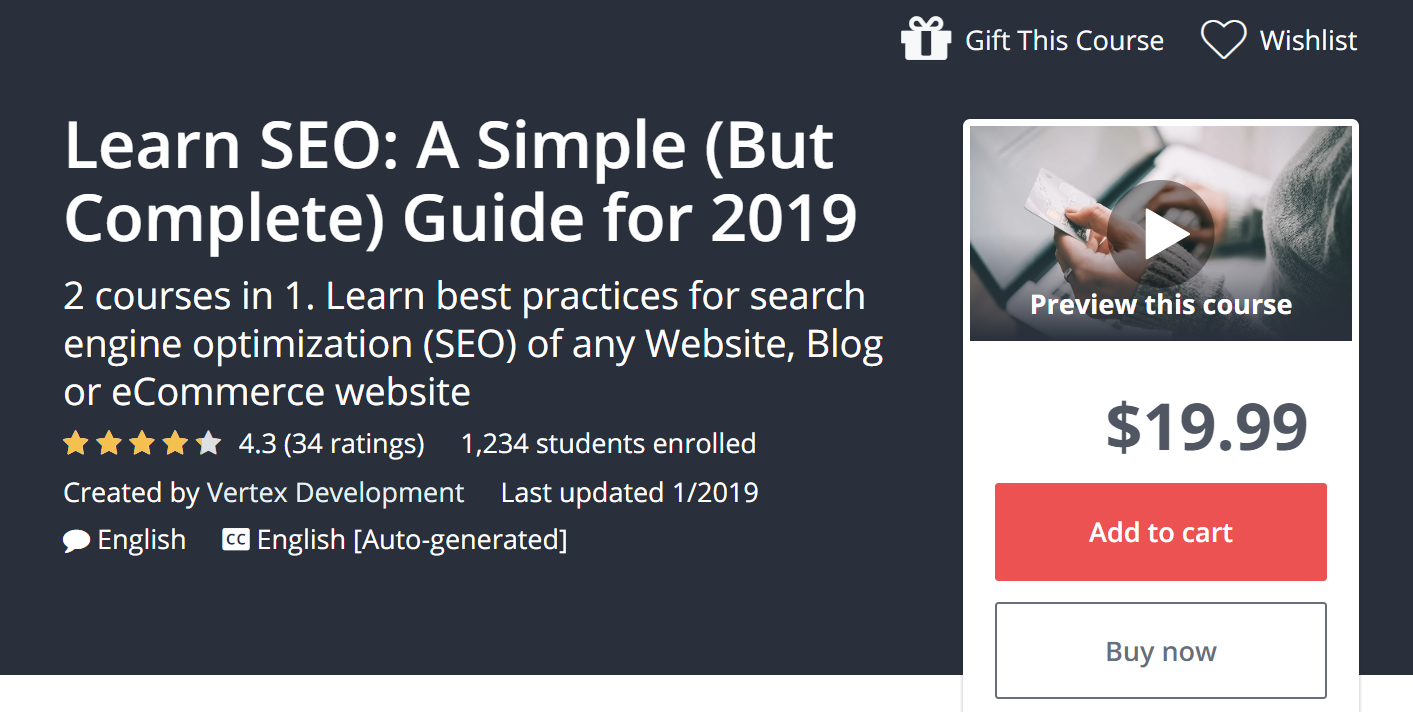 Pricing
$19.99 with a 30-day money-back guarantee.
What does the course offer?
This course includes
5.5 hours on-demand video
Full lifetime access
Access on mobile and TV
Certificate of Completion
What you will get after the course:
Learn the fundamentals of SEO for ranking Website, Blog or eCommerce Website
How to optimize your products for higher search engine rankings
How to implement keywords
Local SEO and configure sites for mobile
Defining your audience, topics, angle, and style
How to measure SEO effectiveness
Learn SEO best practices
Learn to research keywords and optimize pages for keywords
Understand links and how to develop the internal linking structure
Learn to optimize code and site structure
Promoting your content via social media
How to optimize ecommerce sites for search
This course focuses on the core need-to-know concepts to provide you with a working knowledge of SEO. You'll learn about the fundamental of building blocks for SEO and learn techniques that you can apply immediately to your website, blog or eCommerce site. By the end of this course, you'll know how to optimize better your eCommerce site and SEO best practices that will improve your site rankings.
Who is this course for?
eCommerce websites
Website owners or Bloggers
Marketers
Anyone who wants to figure out SEO
Reviews
Steve Good basic SEO web foundation information. It is too early in the course at this time to give the overall course a complete review.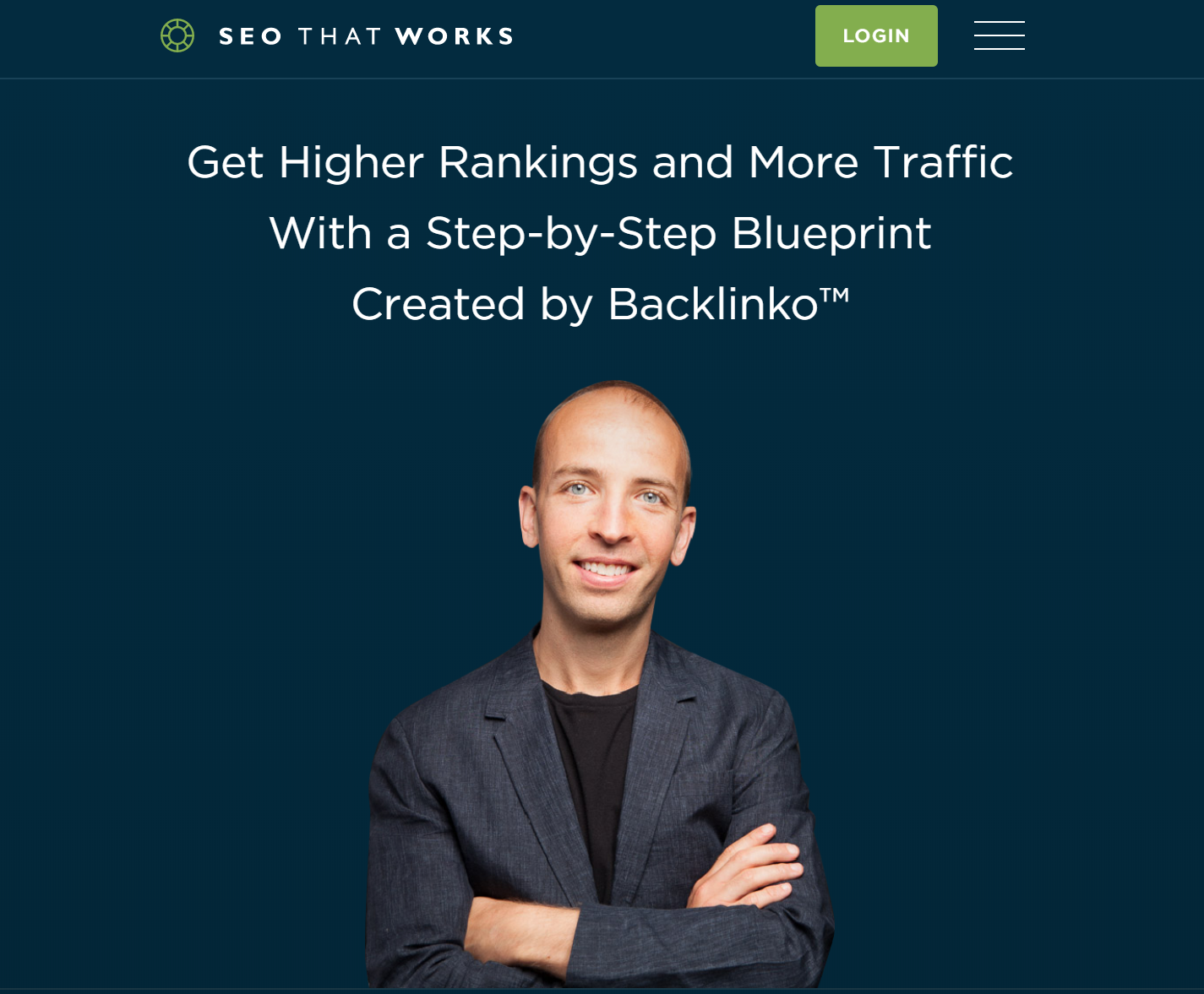 Pricing
$995 to $3,995 Depending On Package (With Payment Plans)
What does the course offer?
The course comes with 6 Modules, 16 Lessons (Plus 12 Bonus Lessons), 5-20 Minute Videos in 3 formats: video, text, and worksheets.
More specifically, every module has 4 informative videos; a bonus module has 12 videos, which include social media marketing, copywriting, email list building, hiring, and more. Also, every single module has worksheets and extra help videos. You are allowed to print the guides and fill out as you work along. However, enrollment is only open two times a year, and everyone takes the class together. If you want to take part in it, join the waiting list!
Who is this course for?
You should be part of the class if you want to:
Learn strategies of advanced link building and content promotion
Watch case studies of people achieving first page rankings
Follow a proven step-by-step SEO system
Reviews
Sumo.com I can't recommend SEO That Works highly enough. This course changed my business life. I used the skills learned in this course to build The Wandering RV from a few hundred organic search visits per month to over 4,000 per day. Likewise, my income has risen. In July 2018, I sent nearly $70,000 in sales to Amazon in a single month.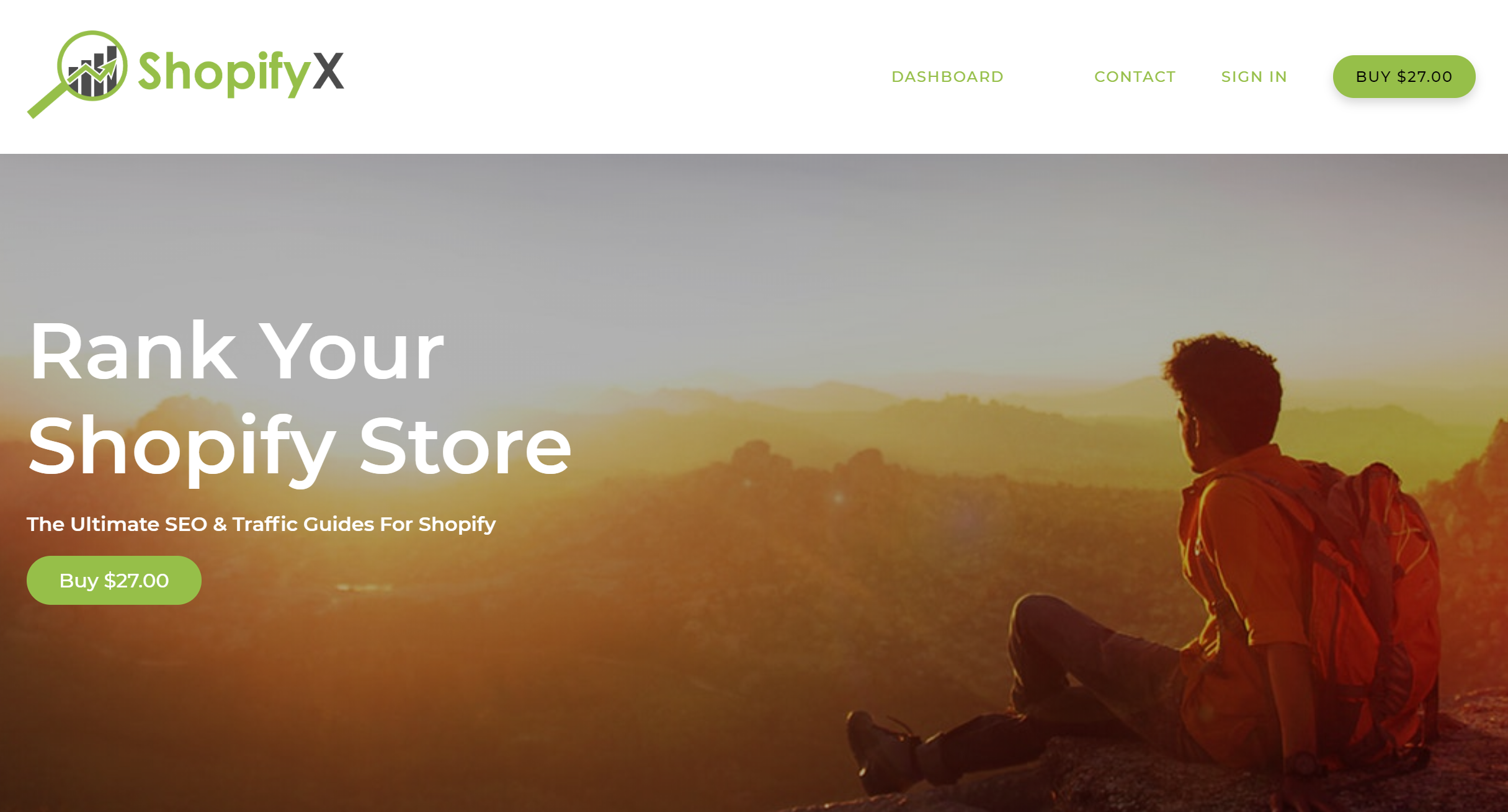 Pricing
The regular price of the course is $27.
However, we show tools and strategies we use that can be implemented FOR FREE but also come up with recommendations services that can generate further efficiencies. And, please kindly note that there are no upsells if you enroll.
What does the course offer?
The course provides you with on-site SEO training for Shopify with an actionable step by step process about organic rankings and lifetime updates. Why? Because improving your store's organic rankings and traffic does take effort and we have optimized many stores for our clients. The same to lifetime updates, this is necessary, so we offer updates to all students.
The course includes:
Introduction: Optizen Installation Instructions
Site Audit
Theme Considerations
Keyword Research
Core Site Optimization
Collection Page Optimization
Product Page Optimization
Blog Post Setup
Fix Duplicate Content Issues
Internal Linking
Bonus - Schema
Optizen Installation Instructions
We also offer EXTRA CHEMA BONUS to power up your online store and a FREE OPTIZEN APP.
For your information, the course is split up into video modules. Specifically, there are more than 20 modules, ranging from a few minutes to even over 1 hour.
Who is this course for?
If you are in need of creating a Shopify store, the course is for you! The fact is anyone with an e-commerce store on any platform can benefit from the value inside this course. Even when you are a newbie, a beginner to e-commerce, we provide some details on installing your store as we assume you have a store installed already. There are many free tutorials online on how to do this.
Even though your store is already going great, you can always optimize it further.
Final Words
SEO courses, anyways, vary nowadays. That is to say, you have many choices to suit your needs. You do not have to take an SEO course just because somebody you admire has joined. Good SEO could take you a long time to work the best out of it and to know how it really works. But now, you can do SEO just in several days because fundamental information you need might be all in one course only, so are you excited to try it yet?
---
Mike is a content writer at Avada, with a love for video games, gadgets, and software. He has been writing about the industry now for over 7 years. He likes to keep up-to-date with the latest software releases. He's also an avid reader, and he enjoys spending time outdoors with family and friends. When he's not working, you can usually find him playing video games or exploring new outdoor activities.
New Posts
Stay in the know
Get special offers on the latest news from AVADA.