What Is The Shopify Partner Program? How To Become A Partner?
In order to visualize better about Shopify Partner Program, let's imagine you're a woodcraft man; you are now 45 years old and have spent decades of your life honing your craft. During those decades, your business is limited to selling locally because you barely have any experience with Ecommerce and building websites. You have heard of Shopify recently and come to know that it can help bring your product out of your local area, but developing a Shopify store seems to be beyond your realm of knowledge.
How can you not let this obstacle prevent you from expanding your business? You can reach out to Shopify Partners and they will handle the rest for you. This is one typical example of what the Shopify Partner Program is for; it helps merchants build websites, themes, apps, marketing strategies, and so on.
1. So what is the Shopify Partner Program?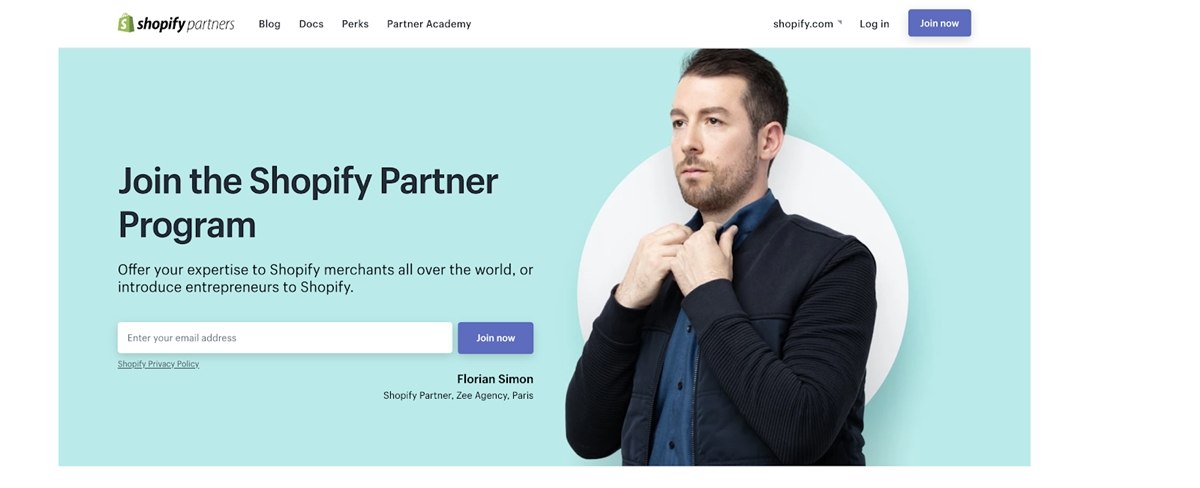 The Shopify Partner Program is a community of developers, designers, marketers and affiliates who use the Shopify platform to connect with merchants who need the service of building websites/apps/themes or developing marketing strategies. This model works similar to a Freelancing platform, but exclusive for Shopify merchants only.
2. Who is the Shopify Partner Program for?
This program is for -
Developers - Graphic, web, app, and theme developers
Marketers - Freelancers and agencies
Influencers - Social media, blog, YouTube influencers
Designers - Graphic, app and web designers
Once you join the program, you will have access to a wide range of training courses and documentation that give you instructions on how to grow as a Shopify partner. Revenue usually comes from referrals to Shopify plans and the selling of services such as apps, themes and web design.
3. How to make money as a Shopify Partner?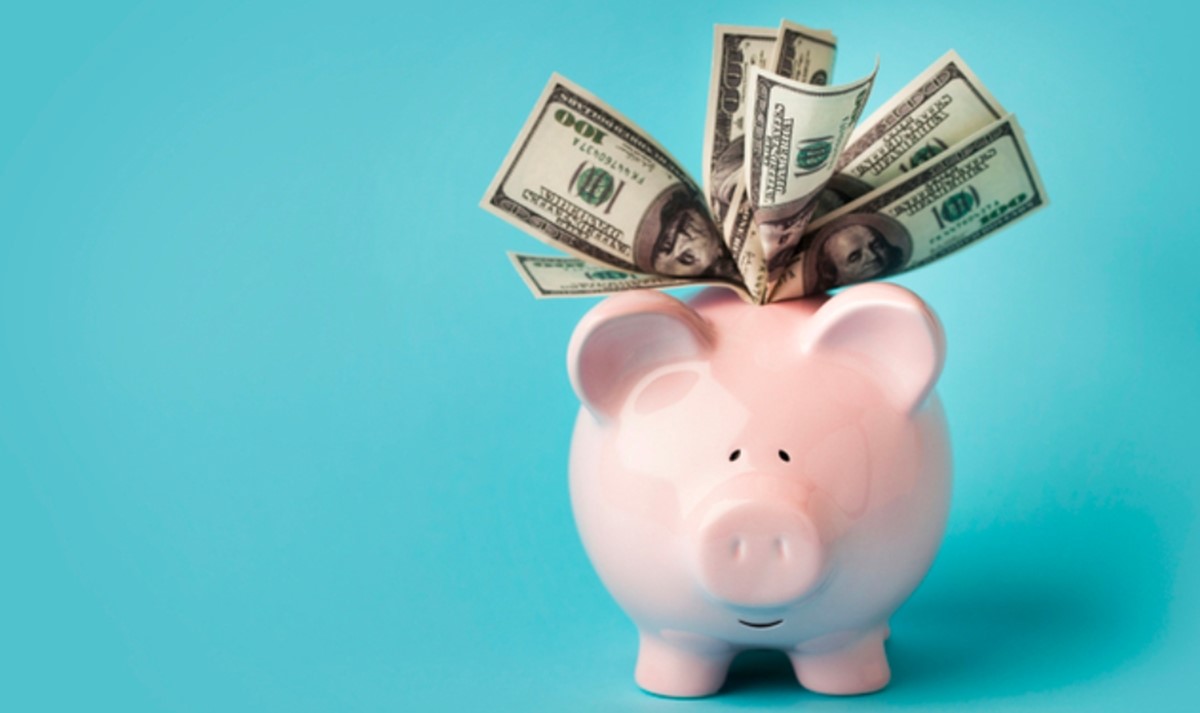 There are several paths that you can follow to make a decent amount of money out of the Shopify Partner program.
3.1. If you are a web designer or developer:
You can create an unlimited quantity of development stores as a Shopify Partner. A development store is a free Shopify account that has a few limitations. This store is used to test any theme and any app that you create, or to develop a Shopify account for your client.
If the client loves it and decides to sign up for Shopify, you will receive a revenue share of 20% of that client's paid subscription every month as long as that customer remains their subscription and you remain as a Shopify Partner.
3.2. If you are an app developer:
You can build Shopify apps and put them up on the Shopify App store. If your app is a one-time purchase, you will get 80% of that sale price.
If your app is a subscription, you will get 80% of the recurring subscription fee.
3.3. If you are a theme developer:
You will get 70% of the sales price of your theme.
3.4. If you are an influencer:
You can refer your audience to Shopify, and for every sale that comes from your affiliate link, you will get 20% of the subscription revenue every month.
4. Benefits of the Shopify Partner Program: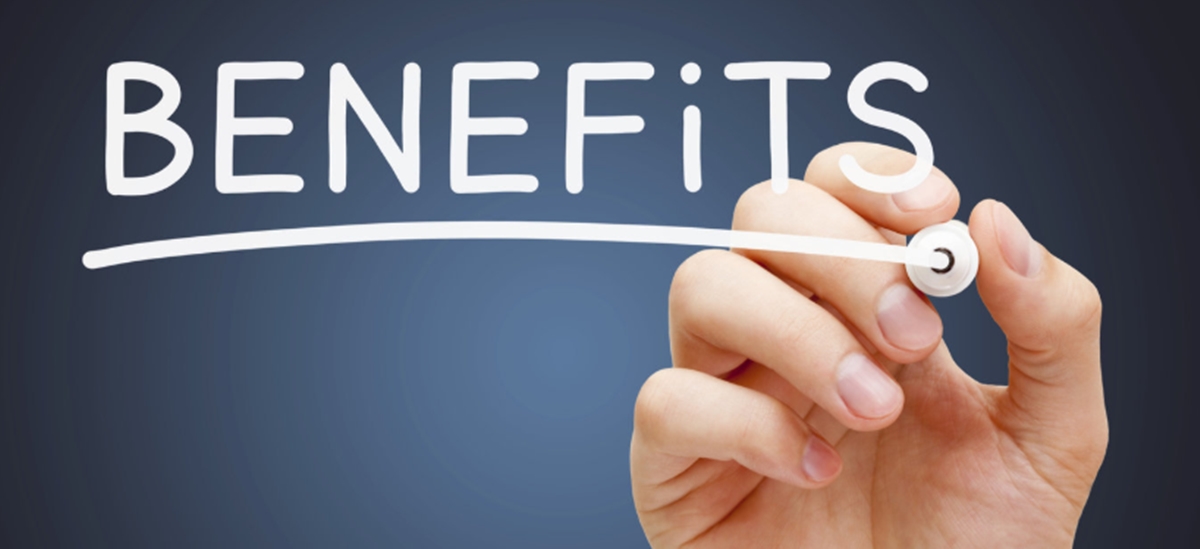 4.1. Earn money from Shopify's Affiliate Program:
As a Shopify Partner, you will be provided an affiliate link. You will get an incentive every time a merchant purchases a paid subscription program of Shopify via your affiliate link. This is one of the primary benefits of becoming a Shopify partner.
4.2. Earn money from Shopify's Revenue Share Program:
If you can convince a merchant to sign up for Shopify or switch platform to Shopify, Shopify will pay you 20% of the revenue generated by that client. Learn more about how Shopify shares revenues with its partners in details.
4.3. Have access to Shopify's exclusive content:
When you become a Shopify partner, you will have access to free training courses, in-depth documents, training courses (such as Shopify Partner Academy) and other resources that can help you learn about Shopify and grow your business as its partner.
You will also be provided access to insider information such as previews of upcoming features and Shopify's product roadmap. Finally, you will have priority-level Partner support from Shopify to help you quickly solve questions that you or your customers might have.
4.4. Get discounts on a variety of Shopify's products:
You will get discounts on lots of software products for business development, testing, product design, and project management. Some of these products are available to all Partners, but some are available to Partners who have become Shopify Experts (which I will address right below).
5. What are Shopify Experts?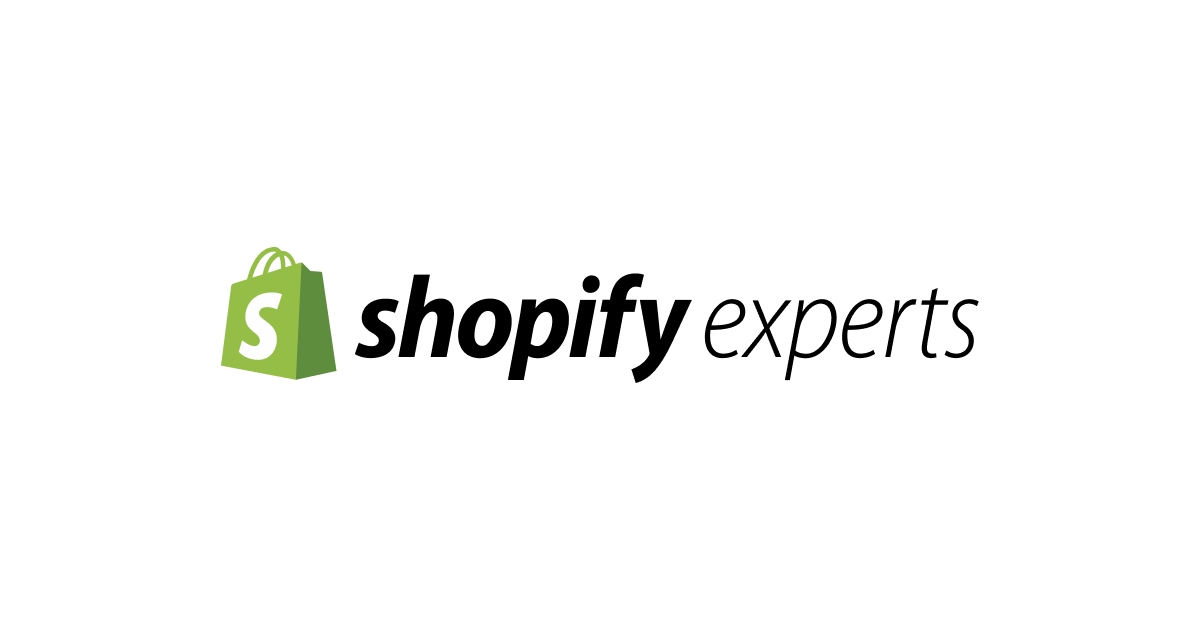 Everyone can become a Shopify Partner, but that is not the case with Shopify Experts. Shopify Experts is another program that is only eligible for those who have a good amount of experience with the platform. So, what does it take to become qualified?
First, you have to be a Shopify Partner for sure. And when you have worked with lots of clients connecting with you through the Shopify Partner platform, you can submit that past work as an application to acquire certified validation from Shopify. That application must contain five Shopify stores that you have developed successfully, along with descriptions and code examples of the work. This is so that Shopify can evaluate your expertise and decide if you're qualified.
It's worth noting that Shopify is not accepting new applications for the Shopify Expert program at the moment. If you want to know when relaunching this program, you can enter your email here to get a notification.
Related Posts:
6. How to become a Shopify partner?
6.1. Who is qualified to become a Shopify partner?
As I mentioned above, everyone is qualified to become a Shopify Partner. Once you are a Partner, you can start submitting apps to the Shopify App Store, as well as signing up clients under your account. For every client you sign up successfully, you will receive a portion of that revenue shared by Shopify.
6.2. How to apply for the Shopify Partner program?
To apply for this program, you can simply follow our guide to sign up for a Shopify Partner account below:
Step 1: Go to the Shopify Partner page and click on Join now.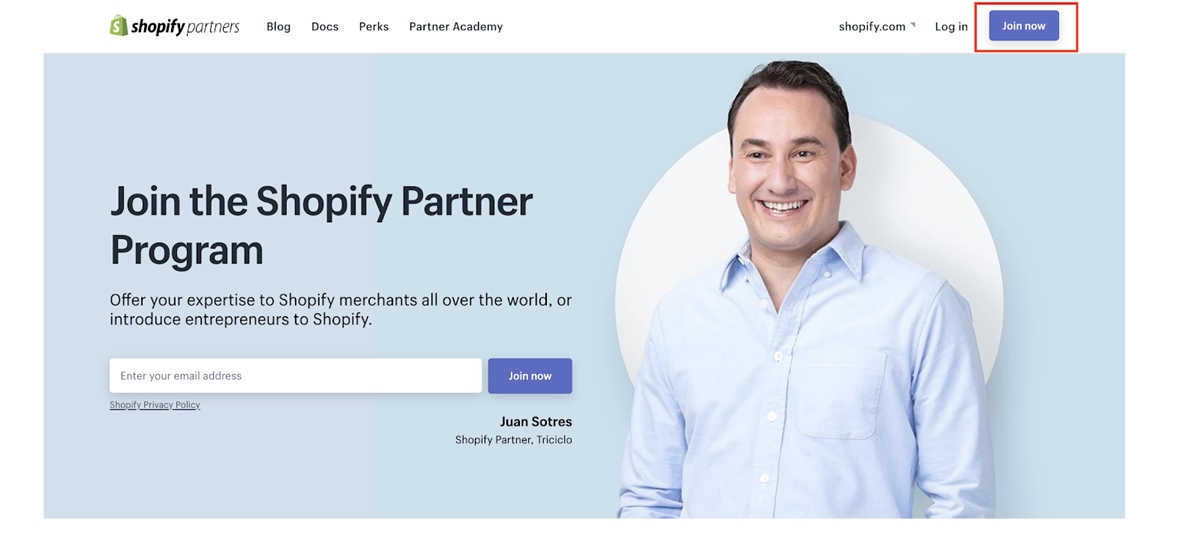 Step 2: Enter your information and Hit Create account.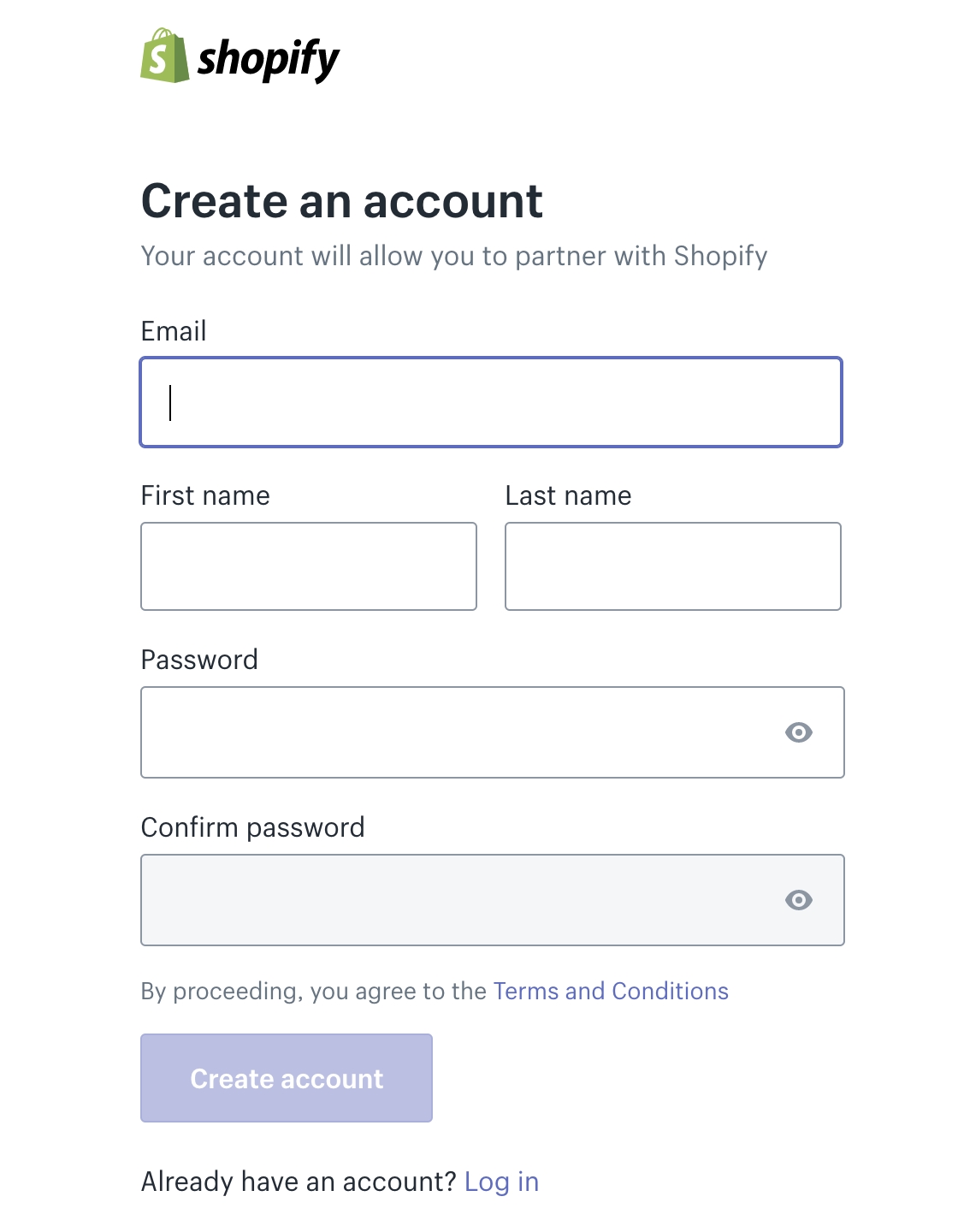 Step 3: You will be directed to a page where there is a form to fill out; finish it and hit View your dashboard and you will get to your dashboard.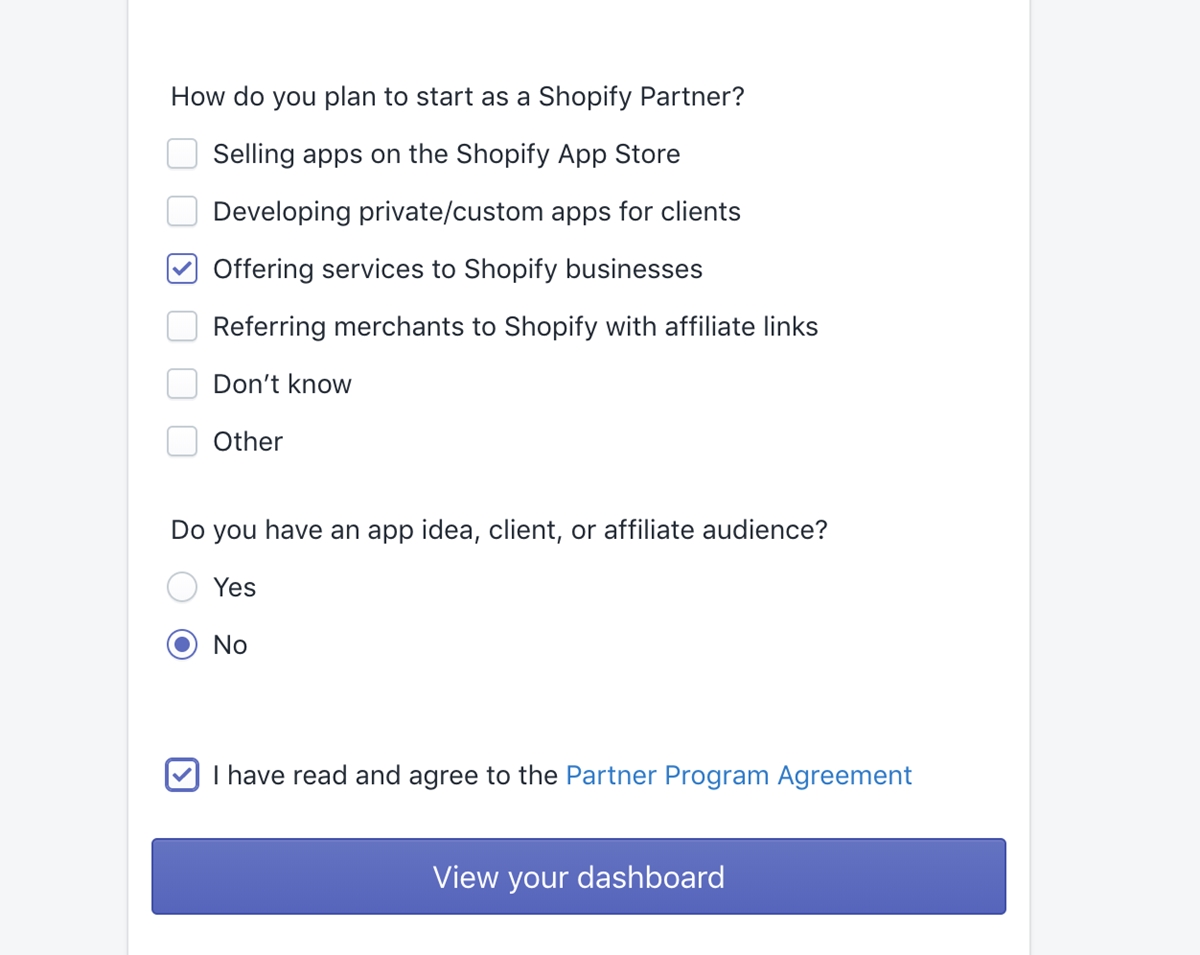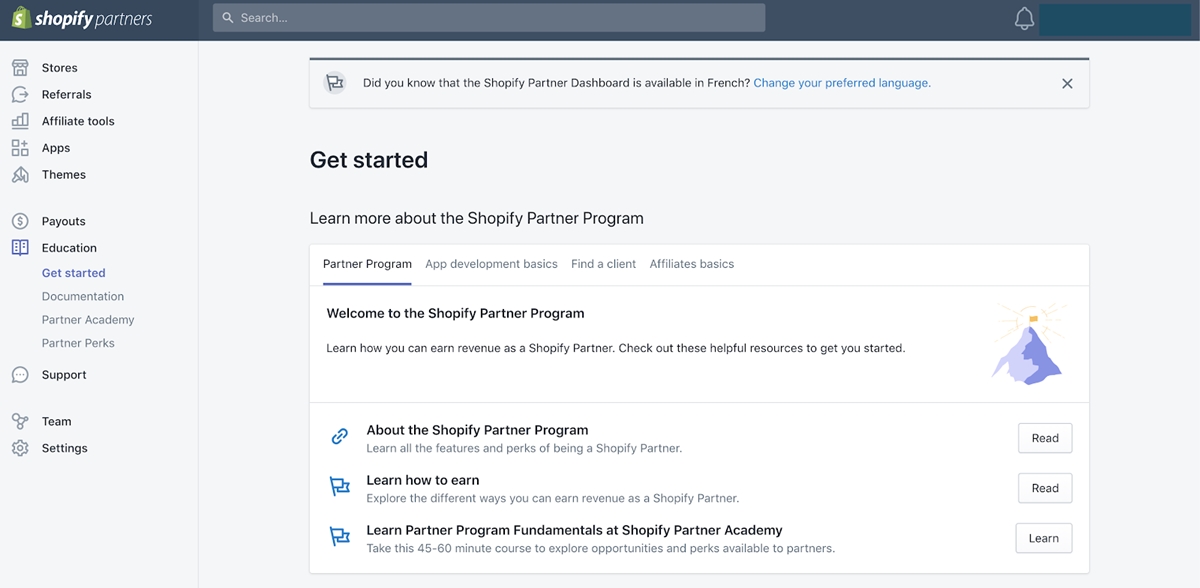 6.3. How to proceed after signing up for the Shopify Partner program?
Once you have signed up, you should go through the Partner Academy courses to get familiar with the program and the platform as a whole. After that, you can start looking for opportunities.
You can go to the most popular freelance websites and look for Shopify-related projects; Upwork for example. Here's a quick search on Upwork for "Shopify Developer" and the result is 13,14 jobs for development stores, theme building, store optimization and so on.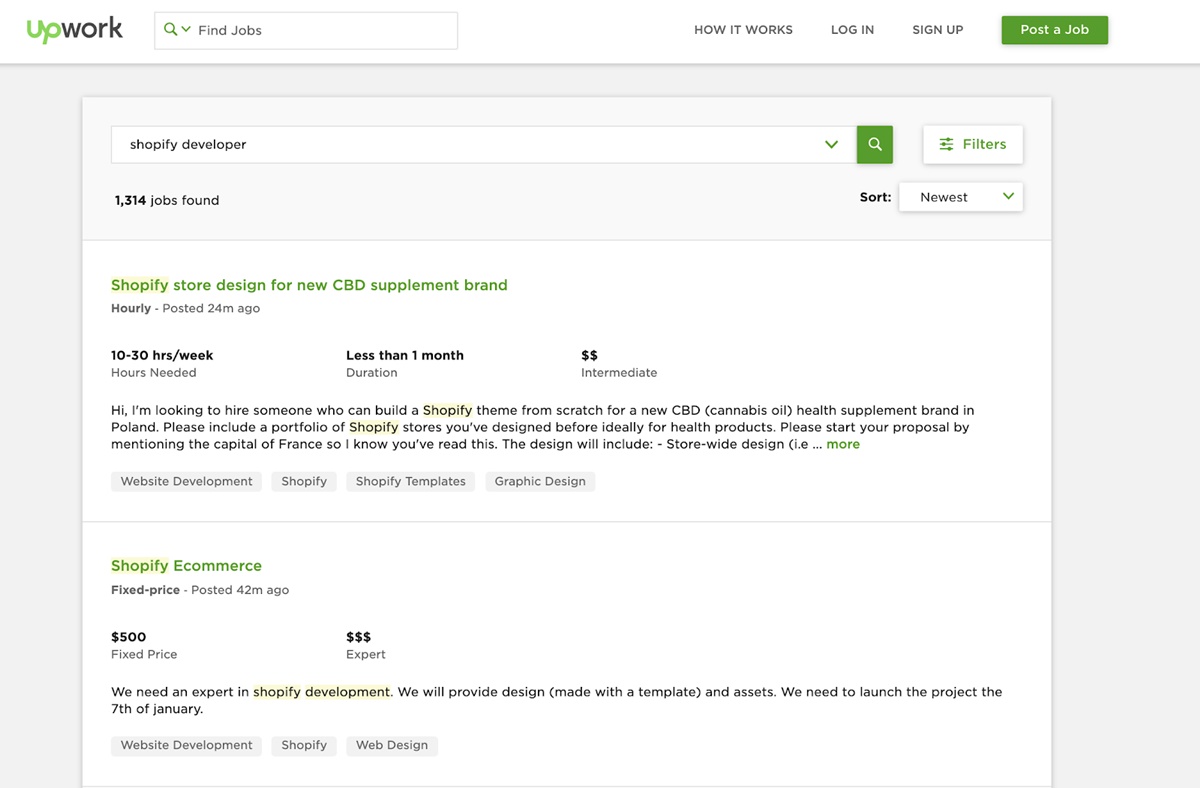 Here are another 189 jobs on Freelancer.com.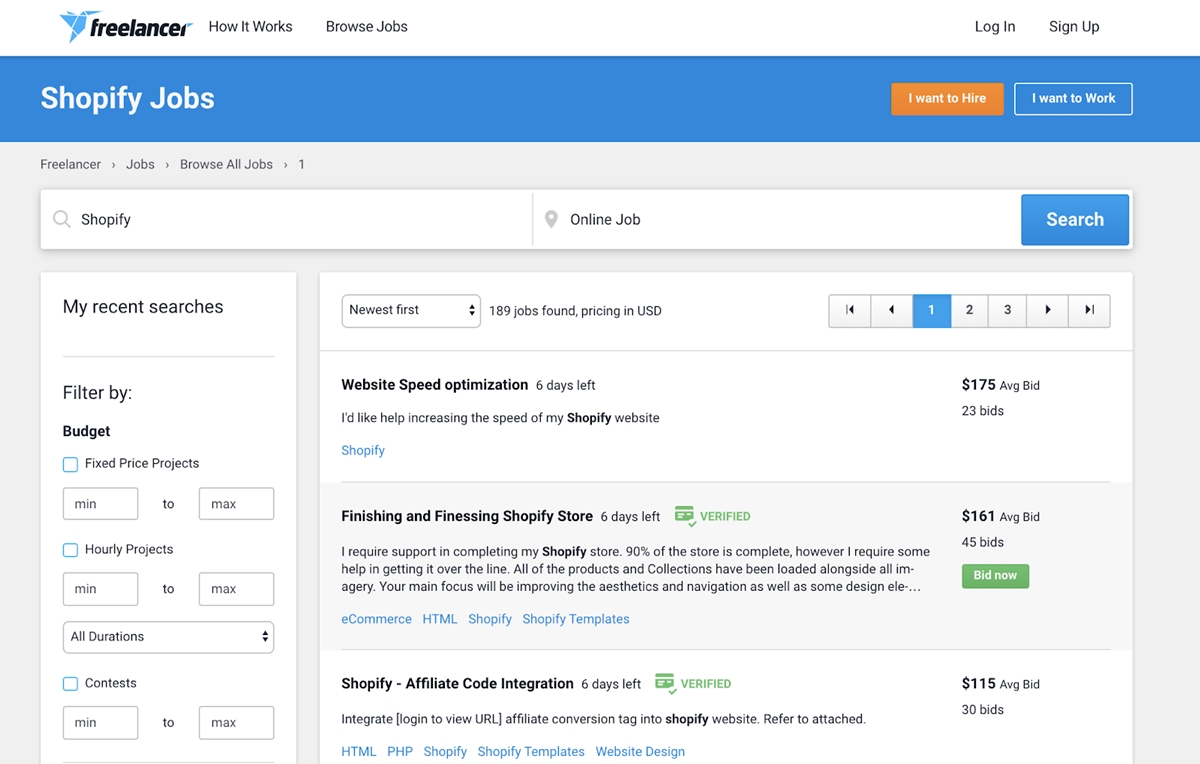 7. How will you get paid for your work as a Shopify Partner?
You won't get paid immediately when a sale is made but the credits will be accumulated and paid on the following schedule:
For credits between the first up to the fifteenth of the month, payment will be transferred 5 business days after the fifteenth.
For credits from the sixteenth to the last day of the month, payment will be transferred 5 business days after the last day of the month.
You will need to have a Paypal account because payment will be delivered via this payment gateway. If your credits are under $25, they will be held until the next payout period. If you decide to end your Partner program with Shopify while your balance is under $25, it will not be paid out.
8. Shopify Partner Academy:
8.1. What is Shopify Partner Academy?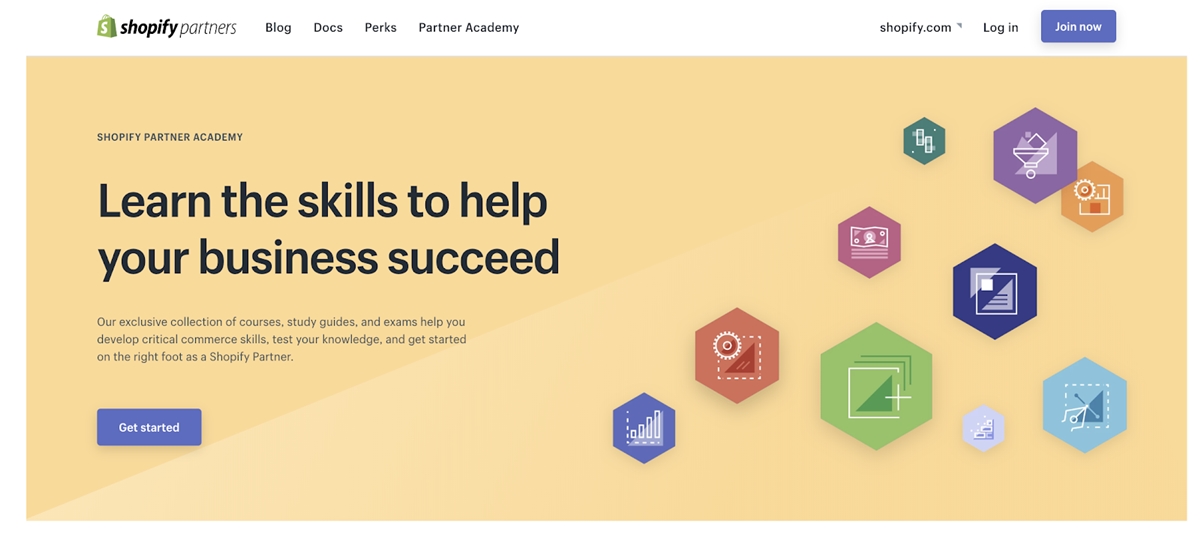 Shopify Partner Academy is a comprehensive collection of training courses, guides and exams developed by Shopify with the purpose of helping Shopify Partners including agencies, freelancers and developers grow their E-commerce skills and knowledge. After going through this academy, Shopify Partners will have a deep understanding of the way the platform works and get started on the right foot partnering with Shopify.
8.2. What Shopify Partner Academy can do for you?
Courses in this program will help you as Shopify Partner develop your business on Shopify in several ways -
Grow your skills: you can learn in depth about how to develop for the Shopify platform and explore tactics to bring your business strategy to the next level.
Discover new service offering: you can learn to find out ways to catch new business opportunities flowing around Shopify as you'll help merchants of all sizes grow their businesses.
Train new staff: you can use this program to train new staff so that they can understand how to work with Shopify.
This training program is continuously updated with new courses, study guides and certifications so that Shopify Partners can keep up with the fast pace of the E-commerce world.
8.3. Shopify Partner Academy curriculum:
Shopify Partner Academy curriculum is made of 2 main segments:
Product fundamentals: you will get to learn thoroughly about the Shopify platform and its many different services.
Business fundamentals: you will learn about what it requires to be successful as a Shopify Partner
The two segments of fundamentals make up a total of 11 courses which will help Partners get a grasp on how the Shopify platform works and how to develop a business as a Shopify Partner. After finishing these two courses, Partners can take two fundamental certification exams within this academy to test what they have learnt and prove their expertise.
8.4. How to join Shopify Partner Academy?
First you have to be a Shopify Partner to join this academy for sure. If you aren't yet, you can get back to Section 6 of this article to learn how to sign up to be a Partner. Once you are, you can follow below steps to join the academy -
Step 1: Go to Shopify Partner Academy
Step 2: Log in
Step 3: From your Partner Dashboard, go to Resources > Partner Academy.
Step 4: On the Partner Academy Page, hit View all courses.
Step 5: Click the button Start next to the course that you want to learn.
Your progress will be saved while you're learning so you can pause at any time and get back to it again later with the exact same steps above.
8.5. How to take a certification exam in Shopify Partner Academy?
When you're ready to take a certification exam, you can go to Resources > Partner Academy from your Partner Dashboard. In the Available certifications section, hit the Start exam button next to the exam that you want to take.
Any exam that you pass will appear in the Your certifications section on the Partner Academy site.
8.6. What are the requirements to pass a certification exam?
You can take this exam without any course prerequisites and they are free of charge. You can even take an exam multiple until you pass and a certification will appear in your Partner Dashboard.
8.7. What subjects do the courses and exams cover?
The course subjects are divided into two primary themes: product and business. For fundamental exams, you will need to focus on general knowledge of product and business curriculum. On the other hand, advanced exams will require you to focus on in-depth understanding of a specific topic.
Product Fundamentals include -
Shopify fundamentals
Design & theme fundamentals
Store Operations Fundamentals
Development fundamentals
Shopify Plus Fundamentals
Business Fundamentals include -
Shopify Partner Program fundamentals
Marketing fundamentals
Sales fundamentals
Revenue and pricing fundamentals
Project management fundamentals
Affiliate marketing fundamentals
8.8. How long will it take you to complete the training program?
Each course in the academy takes about 30 minutes to complete, and there's no requirement on how long you need to finish this academy. You can select which courses and exams you want to take and finish them at your own pace.
You also don't need to follow any particular sequence when you go through these courses and exams; experienced partners can jump directly to the exams to get certified for their expertise.
9. Final words about the Shopify Partner Program:
I hope this article has given a comprehensive understanding of what the Shopify Partner Program is, how it works and what do you need to have to become a Shopify Partner. With over 800k merchants operating Shopify-powered websites today, there are endless opportunities for you to develop your business with Shopify.
Go start your Shopify Partner journey and make your fortune!
---
CEO and Founder of Avada. Pursueing a simple and healthy lifestyle. A friend, a husband and a dad of four children, a trainer and an influencer wannabe. He is a big fan of sports and travel, also.
New Posts
Stay in the know
Get special offers on the latest news from AVADA.