12 Push Notification Benefits That Your Marketing Team Must Know
Ting!
You received a new notification!
This message keeps popping up on your mobile phone screen or desktop to let you know that one of your apps is offering a discount, announcing breaking news, or delivering a message from your friend.
How many times per day do you receive such notifications?
Quite many, right?
In fact, on average, a US smartphone user receives 46 push notifications every day.
People who use apps like Facebook, Twitter, and Amazon are already habitual to these kinds of messages.
Push notifications have become the go-to marketing channel for companies to engage and interact with their users. But, to be honest, what are the benefits of push notifications?
You'll find the answer in this blog article. Let's explore!
An overview of push notifications
If you've ever read our "What is a Push Notification?" article, you'll know that push notifications are messages that pop up on users' desktop or mobile, which nudge people to take action.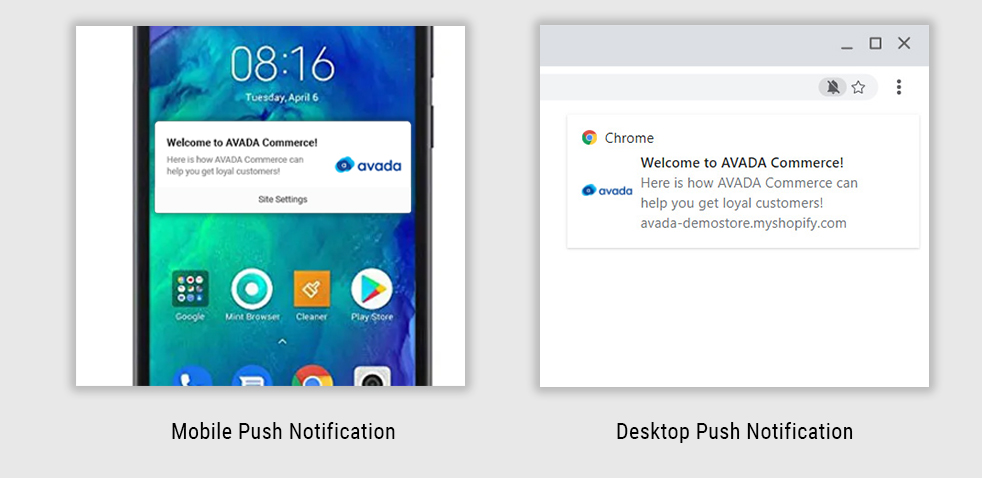 On mobile phones, push notifications can reach users who have installed your app. Plus, app publishers can send them at any time; users don't need to be in the app or use their devices in order to receive them.
Push notifications can also be sent to web visitors or desktops and wearable devices like smartwatches. These push messages appear on a user's computer or mobile screen, even if they are not currently using your app or visiting your website, making push an effective way to grab people's attention.
Push notifications enable users to get timely updates and let you efficiently re-engage users with customized content. They can take multiple forms, such as:
Product offers
Order status updates
News updates
New content releases
Tracking updates
Sports scores
The following push notification statistics may make you feel interested in this potential channel:
40% of people interact with push notifications within one hour of receiving them
Push notifications are proven to have an open rate of 90%
52% of people look for relevant information and offers in the push notifications they receive
Statistics prove that push messages are essential in the digital marketing world nowadays. And, every small or big brand should integrate push notifications into their marketing mix.
Read more: Push Notification Marketing: A Simple Guide for Your Business
12 push notification benefits that your marketing team must know
1. Gain subscribers easily
Think a little bit of your email marketing. Your email list is essential, but nowadays, people don't give their email addresses too easily. So, getting subscribers through a lead form or email is a challenging task.
However, the best thing about push notifications is that you don't have to capture an email address. Actually, you don't require any lead information at all!
People just simply subscribe to your web/app communications with a single click. You can directly add users to your subscriber list with one-click opt-in permission. It doesn't require any contact detail, email address, or any other information to get subscribers added to your list.
For example, Mattermost asks users if they would like to receive notifications. As you can see, no email addresses or contact details are required.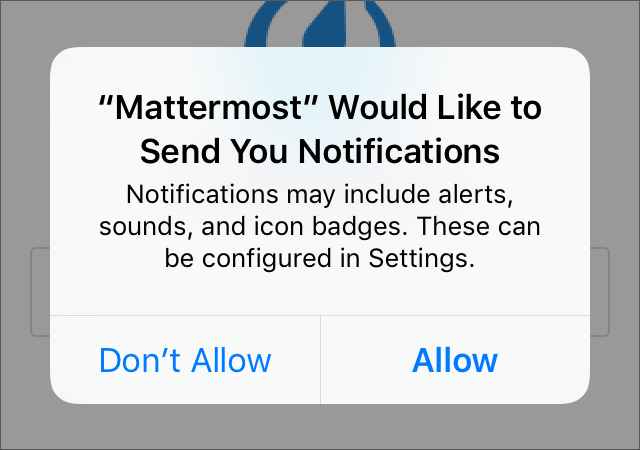 2. Reach users whenever and wherever they want
Want to deliver real-time updates about breaking news, newly-launched products, or trending stories to your readers? Both advertisers and publishers can implement push notifications to drive user experience.
Push notifications help you do that by pinging customized content to users' screens when they're already active on their channel of choice. This immediate distribution also helps you cut through the noise and stand out from the crowd.
Unlike on social media channels where users' feeds are flooded with distracting posts and brand messaging, push notifications are direct - it helps you build 1:1 relationships with your audiences.
Plus, push notifications are not just for internet-savvy audiences like millennials and Gen-Z. According to a 2020 survey, 53% of baby boomers find it useful to send push notifications for breaking news, while 40% use push notifications to reach regional news stories. That's a timely benefit for publishers, considering local news outlets have seen dramatic increases in traffic and subscriptions due to the COVID-19 pandemic.
For example, the San Francisco Chronicle saw a 150% increase in traffic, and Tribune Publishing realized a whopping 293% increase in online subscriptions. A powerful push notification campaign can bring excellent conversion rates!
With the right push notification campaign, reaching audiences at the right time in the right place is a breeze.
3. Increase engagement
Quite similar to email marketing, push notifications are one of the most engaging channels available. They're direct to consumers and curated specifically to each user's behaviors and preferences.
Meanwhile, push notifications campaigns can be sent at scale to increase brand awareness, customer retention, and conversion rates without breaking the bank.
For example, with push notifications, you can:
Send thoughtful reminders that retarget customers or readers who were close to completing an action, such as starting a free trial or signing up for a subscription

Alerts customers about special offers, upcoming events, local weather predictions, or game updates

Reach readers with timely news updates that well match their content preferences
To boost engagement, many E-commerce brands create a sense of urgency in their push messages. Let's see an example right below!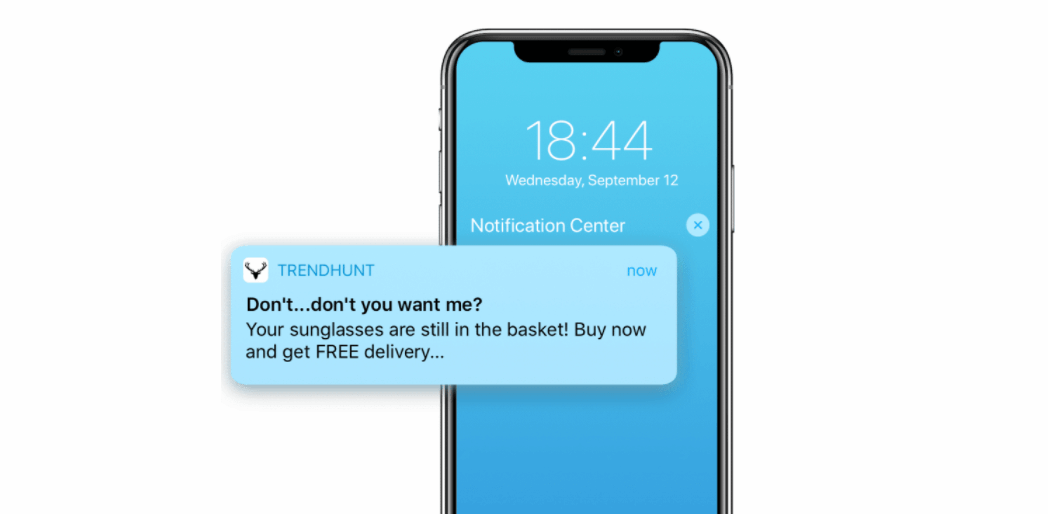 This motivates your audience to visit your website or app and take action.
4. Increase conversion rates
Timely push notifications are the best way to increase conversion rates as they can notify customers or create a sense of urgency.
La Redoute, a French retailer, had a problem with abandoned shopping carts. People added items to their shopping carts but left before completing their purchases. To solve this problem and retrieve lost customers, La Redoute started a push notification campaign where users would be alerted if they left with an item still in their shopping cart.
With the help of push notifications, the brand increased its retargeting click-through rate by two to three times, when compared to classic mobile ads.
With mobile push notifications, you can trigger immediate purchases. Send your audiences informative messages and let them know about limited-time offers or special discounts in your online shop. In addition, push notifications can offer instant purchasing with a single tap.
5. Create easy brand messaging
Customers want to receive personalized content. They want companies to care more about them.
Personalized marketing is much more engaging now, and people will react to content tailored to their specific requirements and interests a lot faster than some generic, irrelevant twaddle.
Do you know that 80% of customers are more likely to buy something when brands offer personalized experiences?
By personalizing your push messages, you can connect with potential customers in a special way. A simple way to put this into practice is by analyzing your user behaviors and creating push notification campaigns based on items clicked on, pages visited, past purchases, and much more.
For instance, Instakart sends push notifications to its customers based on their browsing history.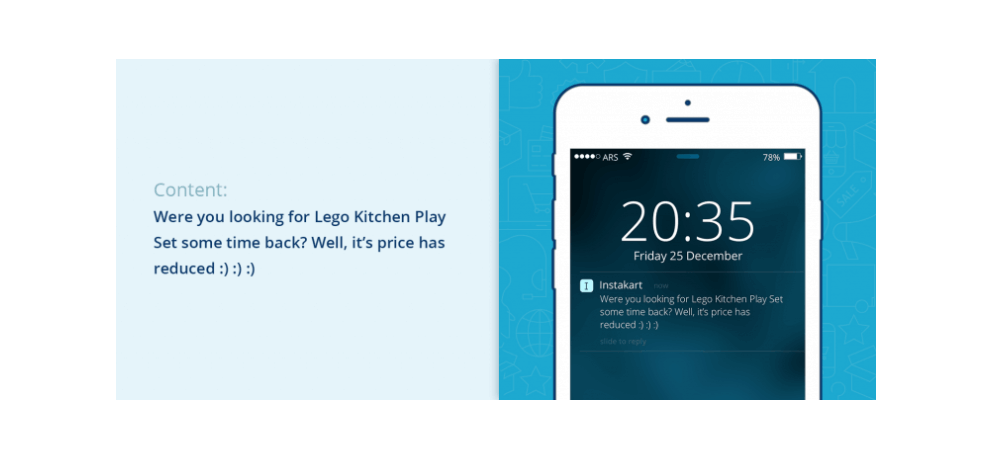 This is not only cheaper, easier, and faster than email or social media, but it also enables businesses to build relationships with their audiences.
6. Save time
As a marketer, you may know the time and effort it takes to create an email or a newsletter. It is not simple to compose engaging copy, offers, blogs, and designs on the go. However, this is not the case with push notifications, as they're short and less time-consuming to create.
But push notifications still need an eye-catching headline and an engaging message.
Plus, emails may get trashed during email marketing campaigns due to strict spam filters. Nevertheless, push notifications don't come with such issues. It is a communication channel where you're getting in touch with prospects or customers in real-time and delivering your message at the right moment.
7. Drive traffic back to your website
Ultimately, you will want your push notifications to drive customers back to your website or app and continue engaging with your content.
GoGy - a gaming platform - wanted to find new ways to engage with its 10-12 million monthly users. Thus, the company launched automated push notifications and alerted users about trending and relevant games on the site. It also scheduled push notifications in advance, reaching users when they are most likely to click based on their time zone.
As a result, the company was able to attract tens of thousands of more users to its website every day - with low bounce rates and long session durations to boot.
8. Target the right people with geo-targeting
It's no doubt that push messages can pull your users back to your website or app, but this doesn't guarantee that the users will convert into customers. So, it's vital to target the right audience.
You can request a user's permission to access their location. If the users allow it, you will have a chance to personalize the customer experience with location-based push notifications. You can send relevant notifications to users in a specific area based on their time zone. Besides, you can target them according to country, state, or city.
For instance, Foursquare is a local search-and-discovery mobile app that provides search results for its users. The app offers personalized recommendations of places to go near a user's current location based on their previous browsing and check-in history.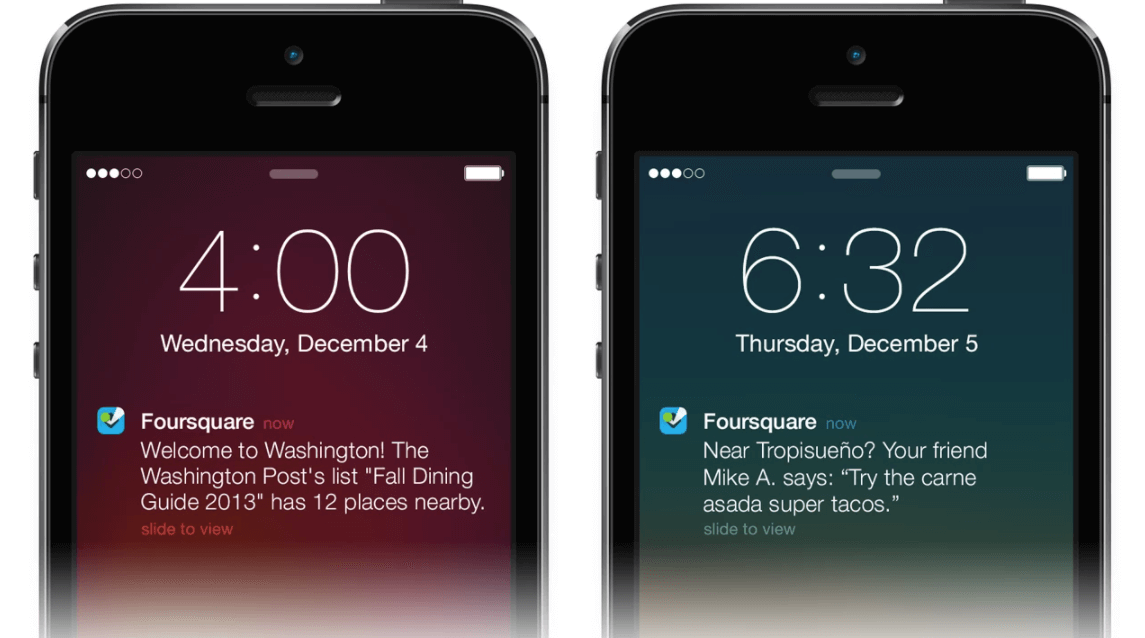 You can also offer users some specials or discounts when they are in a particular area. This helps you attract users with a high level of personalization and relevance.
9. Increase revenue through monetization
The push notification benefits go beyond just driving organic engagement. They can also be a robust monetization tool for increasing revenue while providing value to advertising partners.
That is actually a big selling point for businesses: Push notifications provide guaranteed impressions as users are sure to see these notifications pop up on their screens. For example, an athletics apparel brand could sponsor a sports publication's push notifications to reach target customers with CTAs (calls to action) about special offers and new products.
Furthermore, using personalized offers in push notifications is an effective way to enhance user experience, cultivate audiences, as well as build loyal customers.
In fact, customers are cool with it, too. A study found that roughly 75% of adults are open to seeing relevant push notification ads.
10. Retarget and re-engage your users
It's common that users have downloaded your app but don't use it. Push notifications are an excellent way to turn these dormant users into active users.
Through push notification messages, you should show direct personal value (by using their first name and other details) to engage them for the long term. For instance, if someone has left a few items in their cart, you can send them a notification and remind them about the products waiting in their shopping cart.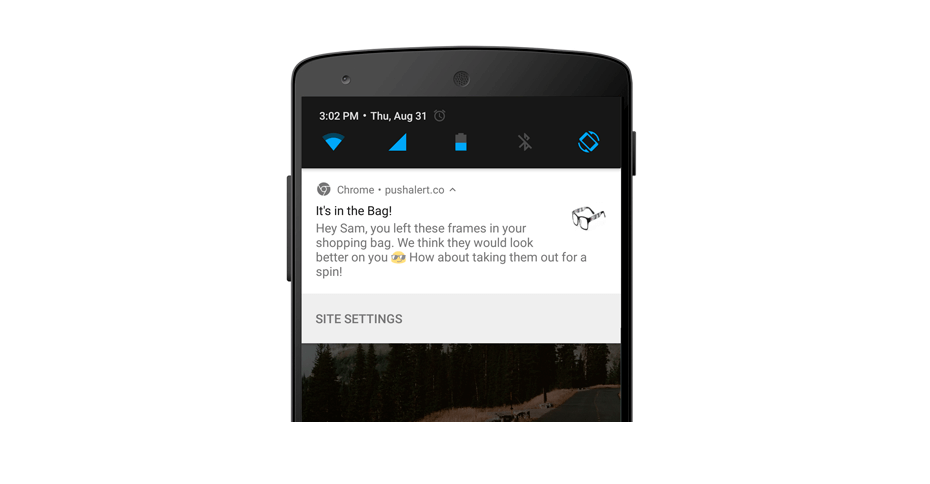 11. Enhance user experience
Push notifications can also enhance the user experience by providing useful information. They can be used to offer the latest updates in your app, new deals, and promotions, friendly reminders, or even birthday wishes.
This not only gets users' attention, but the friendliness and personalization of push notifications will have a positive impact on how users view your app/website.
Keep in mind that this can also come with the opposite effect. It is easy to bother and annoy recipients with too many or irrelevant push notifications, so they must be crafted with care.
12. Track user metrics
Tracking and analyzing user metrics is actually paramount to an app's success. Push notifications provide analytics with data on open rates, open times, and engagement, which can be leveraged to glean further insights on user behavior.
The more information on user behavior, the better. It makes everything easier to launch campaigns that better connect with them.
The bottom line
Push notifications are not just for mobile apps. They are a super engaging yet largely untapped channel, which marketers can use to increase engagement and revenue. By adding push notifications to your marketing strategy, you can build direct customer relationships and generate more sales.
That is exactly what AVADA Commerce is here to help you do. Our push notification feature empowers marketers to deliver automated and personalized messages- and even pair this with campaigns across different high-engagement channels, like email marketing or SMS marketing.
Feeling the pull towards using push notifications? Contact us now to get started!
New Posts
Stay in the know
Get special offers on the latest news from AVADA.