20 Best Personal Branding Examples to Learn From
Brand is a vital aspect of today's business landscape. This is especially the case in the eCommerce field, where consumers frequently seek confidence from a familiar face.
Many large corporations rely on their corporate identity and branding, whereas smaller organizations often use a single individual as their public face. This is usually because the company is owned by a sole investor or a sole shareholder. On the other hand, some companies, despite having grown out of their small-business threshold, continue to use a single owner or manager to represent them to the public.
There is a third group, where companies rely exclusively on a celebrity influencer as the company's face. The most famous example of this is the George Foreman Grill. This barbecue is made and sold by Spectrum Brands, but in any of its branding materials, you never see the name. The business relies entirely on the prominent influencer, George Foreman's personal branding, to sell its products.
In this article, I will introduce to you 20 examples of professional personal branding. These are the people who have discovered the meaning of their name, and therefore prefer to use their own name in their marketing campaigns, rather than the name of their company.
20 examples of great personal branding
1. Gary Vaynerchuk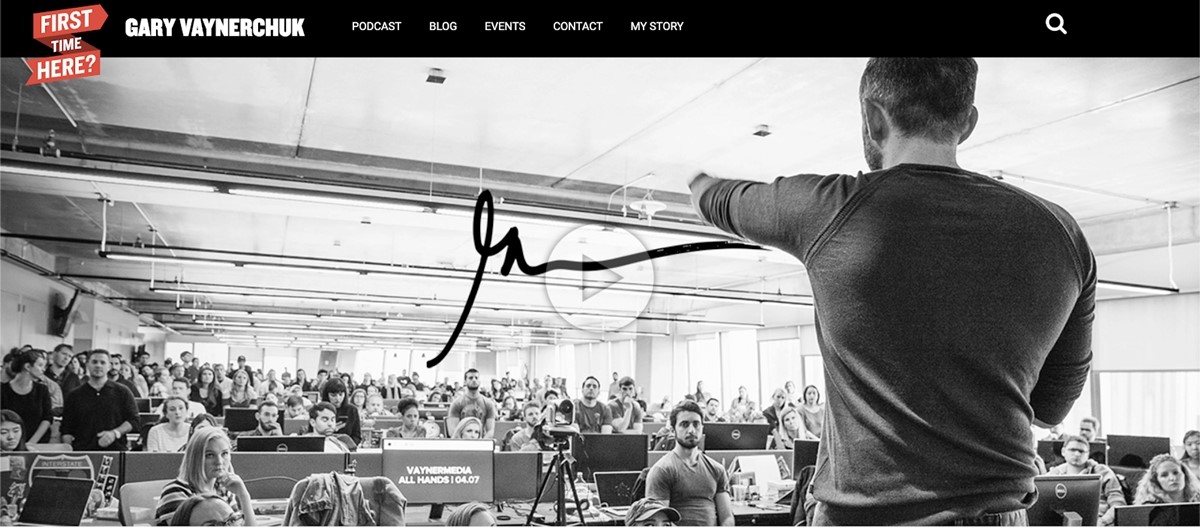 If the hustle was a religion, Gary Vaynerchuk would be his Messiah. Although he's not doing miracles here, he turned his family liquor store into an eCommerce empire. It's the kind of success story that gives hope to those with entrepreneurial ambitions.
Being an influencer on the social media landscape, Gary's tale has a humble beginning with hard work and determination leading him to success. This reflects honesty and humility in his content. From creating content on platforms like Twitter, Instagram, and LinkedIn, he's placed himself as someone who's grounded and encourages you to be effective on your own terms. He's also the co-founder and CEO of one of the biggest agencies in the world; VaynerMedia.
A good reputation gives people trust in what you're doing. That's why we're going to the store for brand-name products — we know what we're having. Any surprises at all. The reliability of the company and its points of sale are proven and well known. Your own personal brand needs to be just as identifiable.
2. Satori Graphics: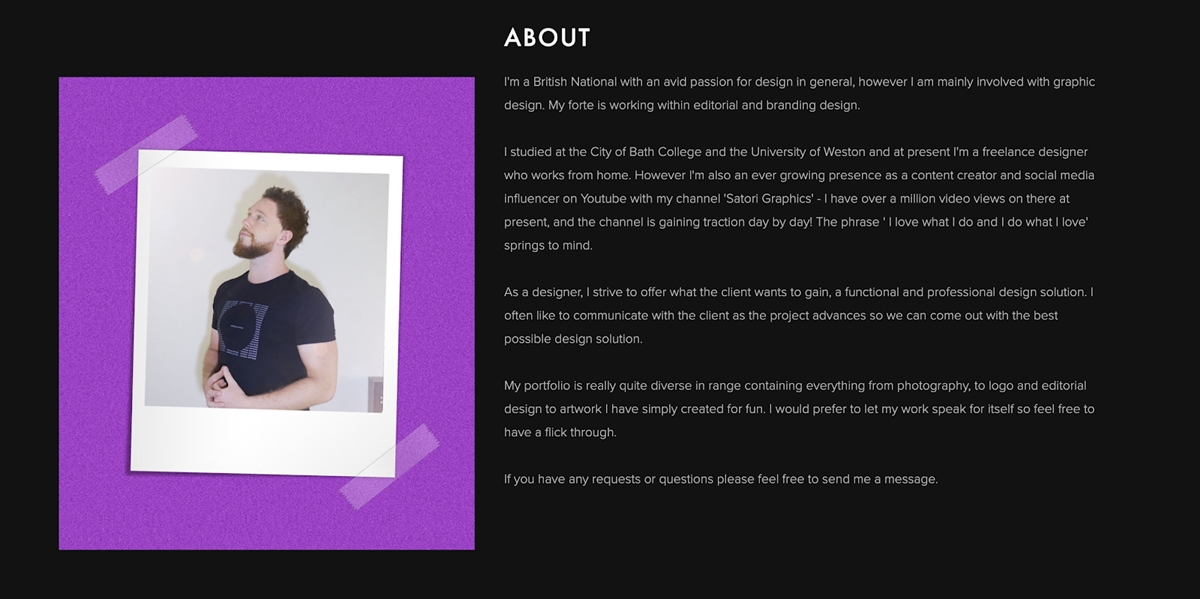 Derrick Mitchell, the man behind Satori Graphics, reveals that he's looking to the future of design rather than sticking to the obsolete methods of the past.
The teaser video at the top of Satori's YouTube channel blasts the buzz of the trendy electronic dance music soundtrack, showcasing short cuts of what they're capable of. The work featured on the Satori Graphics website demonstrates a sleek, stylized design style that is balanced with practicality. Consistency is so important to the image of a brand — Satori Graphics never loses their fresh approach to the content and design they create.
3. Elon Musk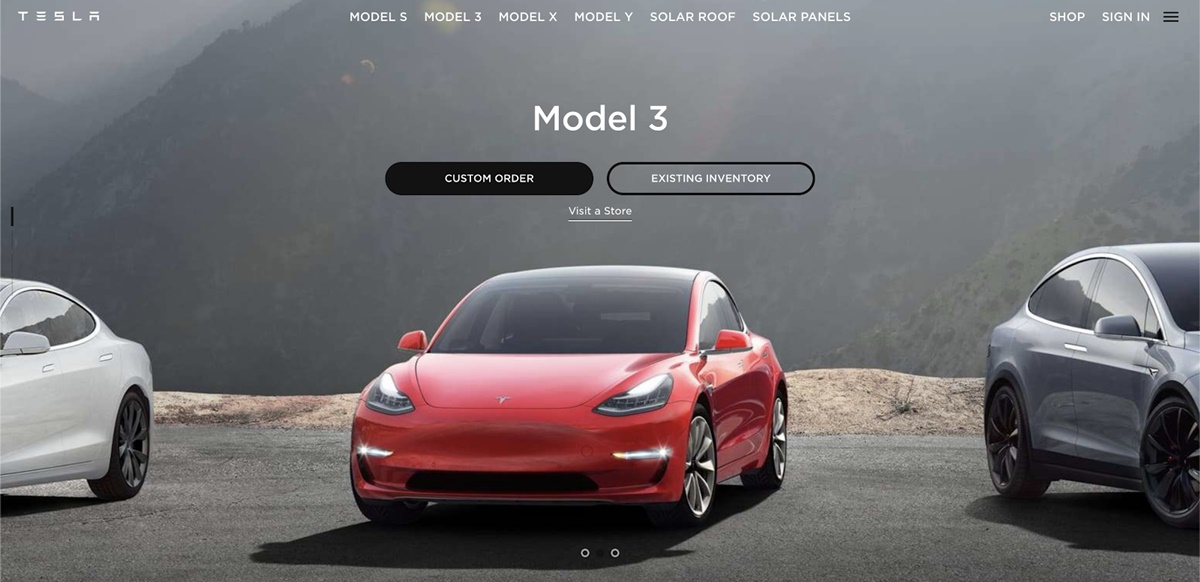 The name of Elon Musk is almost as well-known as Coca-Cola. Even if you're not interested in technology, it's hard to avoid seeing Musk all over the media.
Getting a personal brand makes you a public figure and is thus very much open to scrutiny in your public statements. Elon has been criticized for investing large sums of money with little return and for marketing stunts like Tesla shooting into space that offer the impression of being more about vanity than science. No matter how you feel towards him, it is abundantly obvious that his push and follow-up has shown us the inventions that have yet to be created and the whole cosmos whose secrets are left to be uncovered.
Although he is a public figure, his recognizable image is not shown on Tesla.com. Instead, glossy goods and a simple copy make his revolutionary brand unmistakable. Behind this fascinating gadgetry are comprehensive research, development, and a team of brilliant engineers chosen by Elon. There may be no pictures of him, but his presence touches every aspect of his web.
4. Alice Thorpe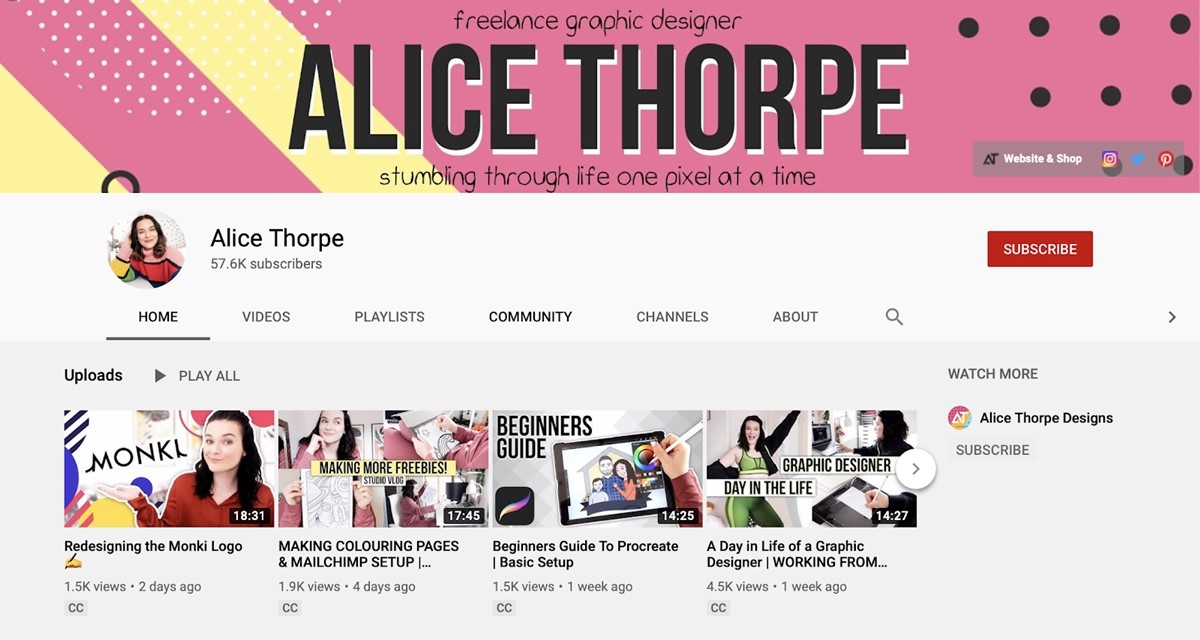 Alice Thorpe describes herself on her YouTube channel as "a freelance graphic designer struggling through life one pixel at a time." Alice isn't afraid to make fun of herself, and this self-referential tagline is a great introduction.
Alice creates a lot of content for designers on YouTube and on her own website for free. Her personality is friendly, funny and humble. This, coupled with her expertise, makes material fun insightful, and easy to fall in love with.
How you speak to your audience is an integral aspect of a brand identity. Think Apple, Progressive, or McDonald's — How they speak to their target group gives us a sense of their personality. Your brand voice should be genuine, and Alice does a great job of constantly expressing her personality through all her fantastic material.
5. XO Pixel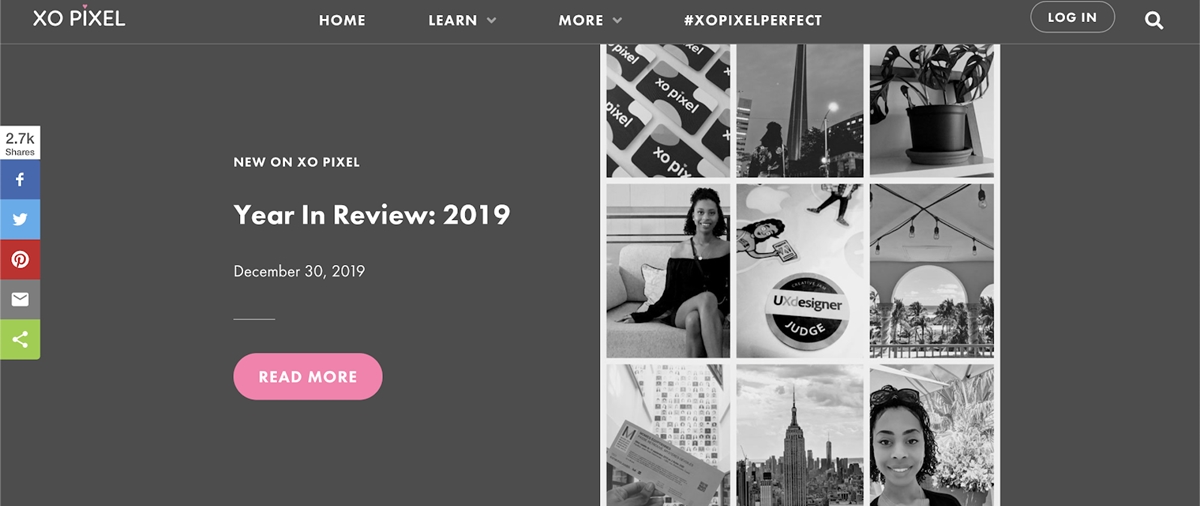 XO Pixel produces content about design, code, and software. Their architecture features fun color splashes with an innovative approach that demonstrates their imagination. Their free content is well-informed and supportive, working to show their importance and to encourage their paying membership. Branding is not a razzle-dazzle-based superficial endeavor, and XO Pixel proves that they have substance.
6. Charli Marie
Charli Marie was a design student when she began a Tumblr project devoted to Fall Out Boy, a well-known pop-punk band. Her fan page was built out of a passion for the band and a desire to communicate with other like-minded fans. Her success on Tumblr led to her own line of t-shirts.
Charli was writing about the rise and fall of her t-shirt company. She doesn't dwell on the momentum her business has lost, but rather frames it as a significant step in her career as a designer. To those with a creative idea that seems to serve no other reason than scratching a fun itch, Charli's Tumblr story encourages you to follow — you never know what opportunities a fan page about your favorite pop-punk band could bring.
Today, Charli works remotely for Convertkit, hosts a popular YouTube channel, and has made her life full of travel and fun. Her optimistic personality and design skills are central to her own personal brand. This serves as another excellent reminder that there is more than one road to success.
7. Mindy Kaling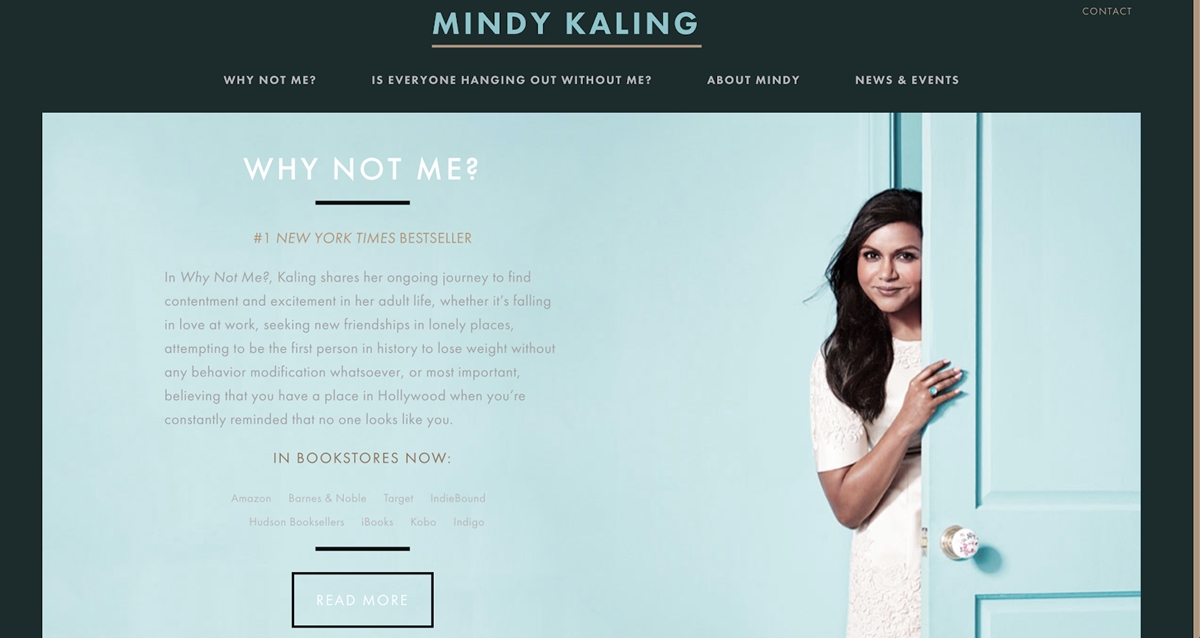 As a writer, director, and producer, Mindy Kaling's work made so many of us laugh. She has identified herself as someone whose artistic production is a smart comedy that challenges Hollywood and social norms. Her personal brand is multifaceted and not limited to being branded as a blogger, feminist, or actor. And though there are so many facets of what makes Mindy special, her brand has a good understanding of who she is and what truly matters to her.
8. Brian Dean
On today's Internet landscape that is filled with SEO "experts," mystics with the supposed ability to increase the web traffic by one hundred, it's hard to know who to believe. Brian Dean is a well-known online blogger and a big deal when it comes to Google SEO. With well-thought-out content, testimonials from actual people, and a lack of sketchy advertising, his website makes him a credible expert. His personal brand is about confidence.
9. Martha Stewart

The name of Martha Stewart has influenced so many different interests. She's a great chef, with an eye for interior design, and a zest for gardening. There's a continuity in everything she's doing, whether it's a chicken pasta recipe or a palette of colors — her sense of delicate elegance is part of what she's producing.
While some people with well-established brands can put a little less work into their web presence, Martha does the opposite. She doesn't know how to take it easy. Her site is full of recipes, DIY designs, entertainment ideas, and other lifestyle-related content that exudes her personality. Today, her continuous performance keeps her brand solid.
10. Casey Neistat
Casey Neistat's website design consists of whitespace and a few outbound links, since he's "not entirely sure what function a website should serve someone like me, so this page is here to guide you to more interesting sites." Even if you don't know who Casey is, the point is clear — it's not one to obey conventions.
With more than 11 million YouTube subscribers and impressive social media follower numbers, Casey's videos are there to express his own brand of rebellion. It's clear that he's motivated by instinct and intellect. He's spent his life overtaking, going against those who told him he can't do anything. He's a blogger (video blogger), founded the media company Beme, and has received recognition from big-name publications including Forbes.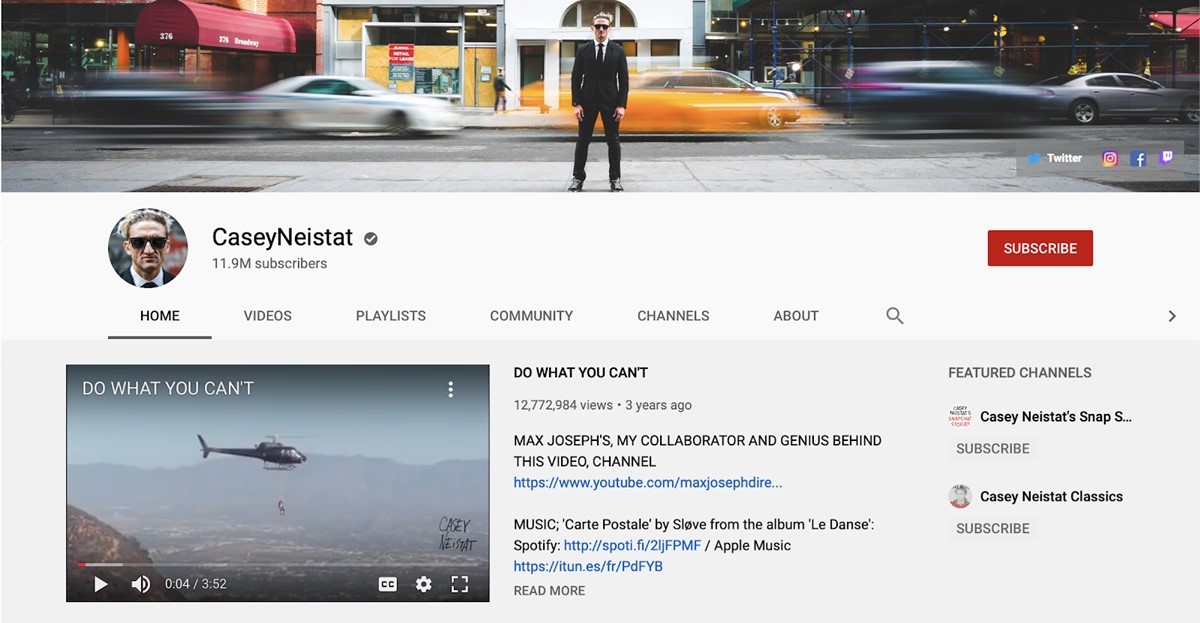 His content is brave at heart, and he's motivated by the slogan, "Do what you can't do." He's spent his life fighting against the haters and triumphing over criticism. He urges his audience to pursue what matters without hesitation.
11. Nesha Woolery: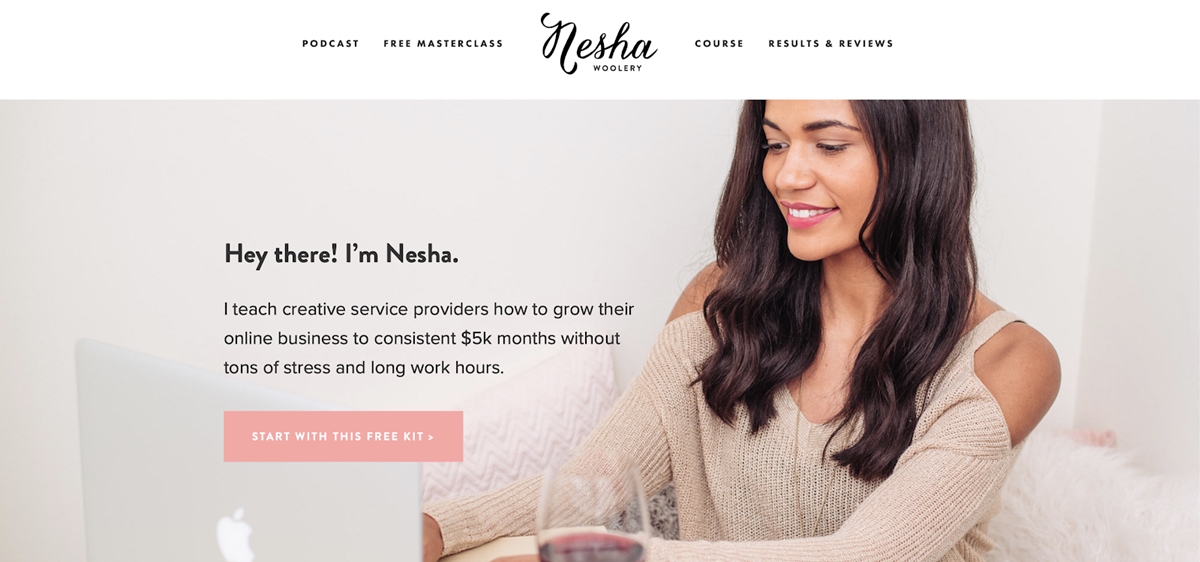 Nesha Woolery 's website welcomes visitors with "Hey Designer Lady!" and talks directly to the audience she wants to target. With experience in project management and organization, Nesha offers online courses, videos and articles targeted at female designers. She provides a tailored demographic service with a simple, breezy style that complements her own personal aesthetic brand.
12. Melyssa Griffin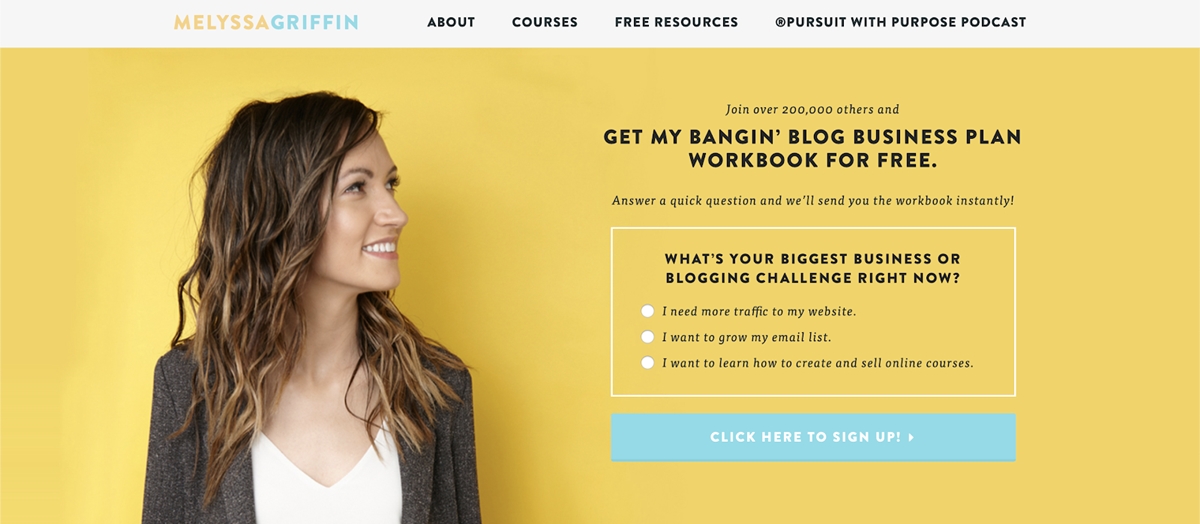 Melyssa Griffin describes her goal as helping "heart-centered high achievers maximize their income and influence online." This description expresses who she is, relates to entrepreneurial goals, and interacts with her audience on an emotional level.
Her page emphasizes her personal brand by saying, "I believe you deserve happiness, respect, and love. And I'm determined to give you the resources to build those feelings in every crevice and cranny of your life". She delivers this message with experience and spunk woven into her quality material. She's also a perfect example of a personal brand that's evolved from a humble small blog.
13. Tony Robbins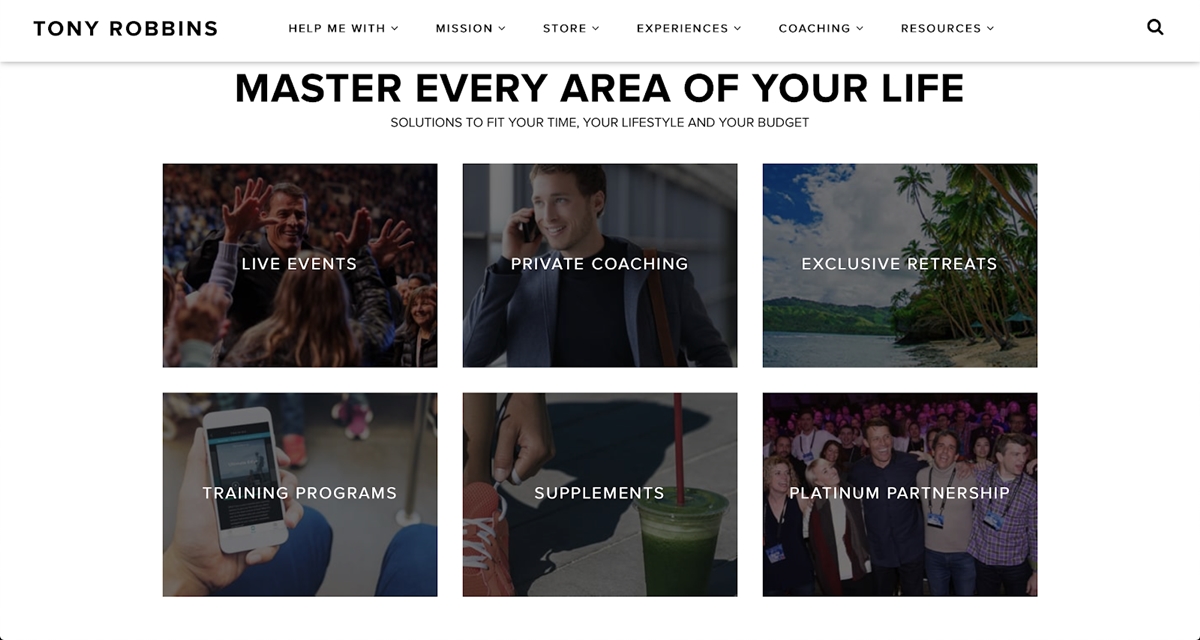 Love him or hate him, it will be hard to find someone who is unfamiliar with Tony Robbins and his brand of financial self-help due to his vast production of books, seminars and other material. And of course, let's not forget his charm, his speed, his mouth full of beautiful teeth.
Unless you haven't kept up with him, your brain could still conjure up Tony's 1990s version in all of his bright, enthusiastic glory parading in front of his adoring fans. Perhaps walking barefoot over hot coals? Yet his personality has changed with the times. He's no longer shouting in full volume — he's more articulate and more relaxed.
His new website does not place him as a lukewarm self-help mentor of the past, but rather as a financial instructor for the current world. He appears more like a tech guy than a bellowing prophet of self-empowerment. Looking at the dark color palette of the web, Tony has a serious, button-down look and a sly grin that downplays his toothy smile. His site shows a personal brand that is modern and important, avoiding the flash and glamour of the past.
14. Roberto Blake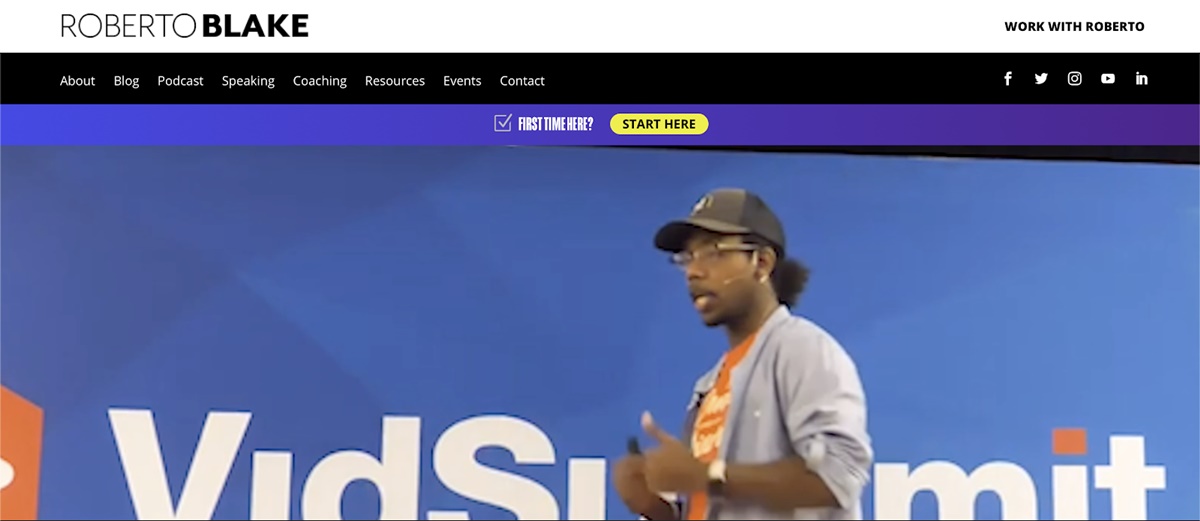 Roberto Blake is the embodiment of entrepreneurial success. He operates his own business, Create Amazing Media, has released over 1,200 videos, and is creating a program to support creative and independent artists. His site design is full of energy, personality, and creativity that will motivate any designer to put their time and effort into creating a career around their true passions.
15. Billie Eilish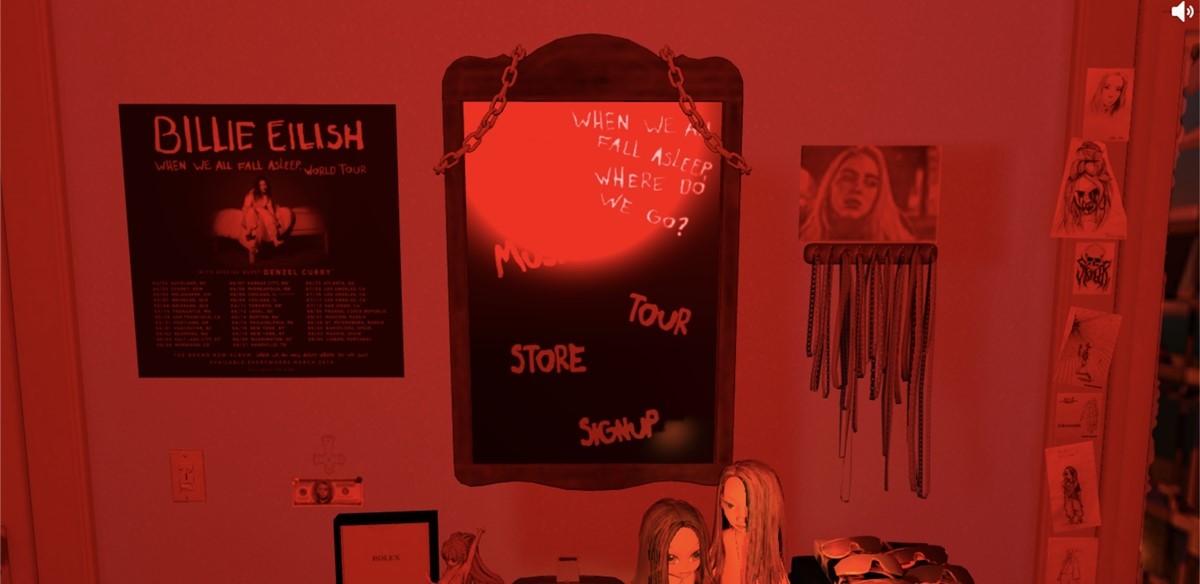 Remember that period of time when pop is so simple? Backstreet Boys, Britney Spears, and Spice Girls were not necessarily known for their wildness. Now that I've absolutely dated myself, it seems that experience comes with age, doesn't it? In comparison with the old-day pop star, Billie Eilish is unique.
Billie Eilish is a perfect combination of ego and awkwardness. Within ten seconds of an interview, she can be both irritating and likable. Her music flirts with experimentalism though still in the context of pop tastes. She's really difficult to understand both about her music and who she is.
Her official website brings you to a 360 video of what might be her bedroom. Sneakers, cartoon-like sketches pinned to the wall, and a skull all contribute to what looks like a teenager's living room in another dimension. It's a strange, disorienting page to navigate, much like her music. Her unique quirk is almost anti-brand — it's what makes her music and aesthetic recognizable.
16. Tim Ferriss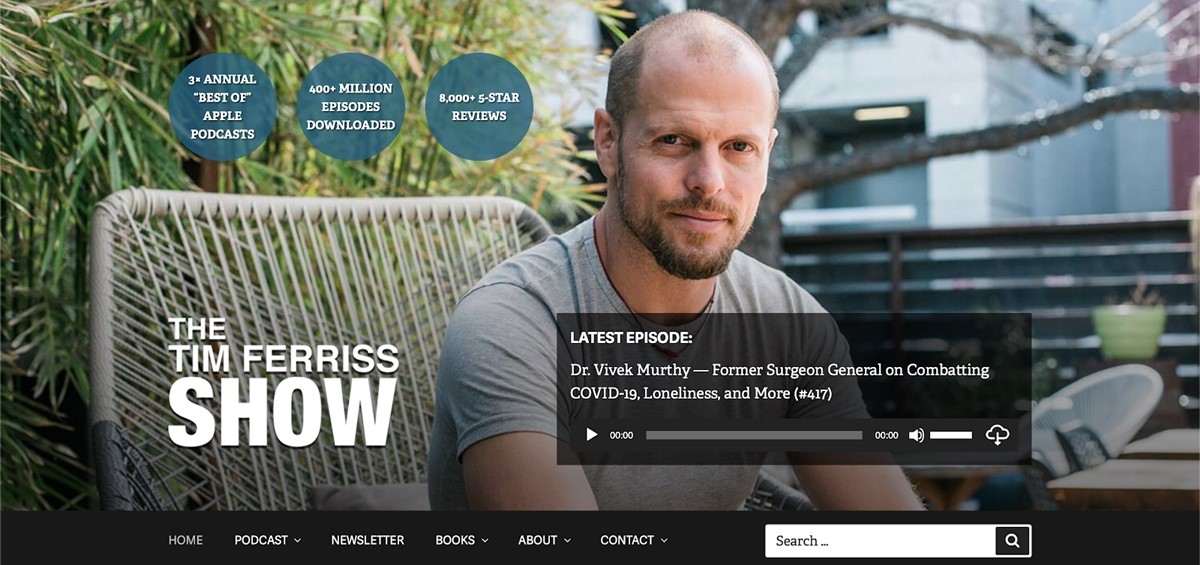 Tim Ferriss has made his mark in the field of financial self-help with his book The 4-Hour Work Week. The brand is about clever subversion of conventional jobs and inspiring people to defy orthodoxy and build their own route to success.
Even for those who roll their eyes at the thought of a four-hour workweek, there's a lot of excellent advice in its contents. His personal brand is a wiley disruptor. To anyone on a non-traditional career path, Tim is both a mentor and a coach. He's also hosting The Tim Ferriss Show – an excellent show for personal development and business.
17. Bill Nye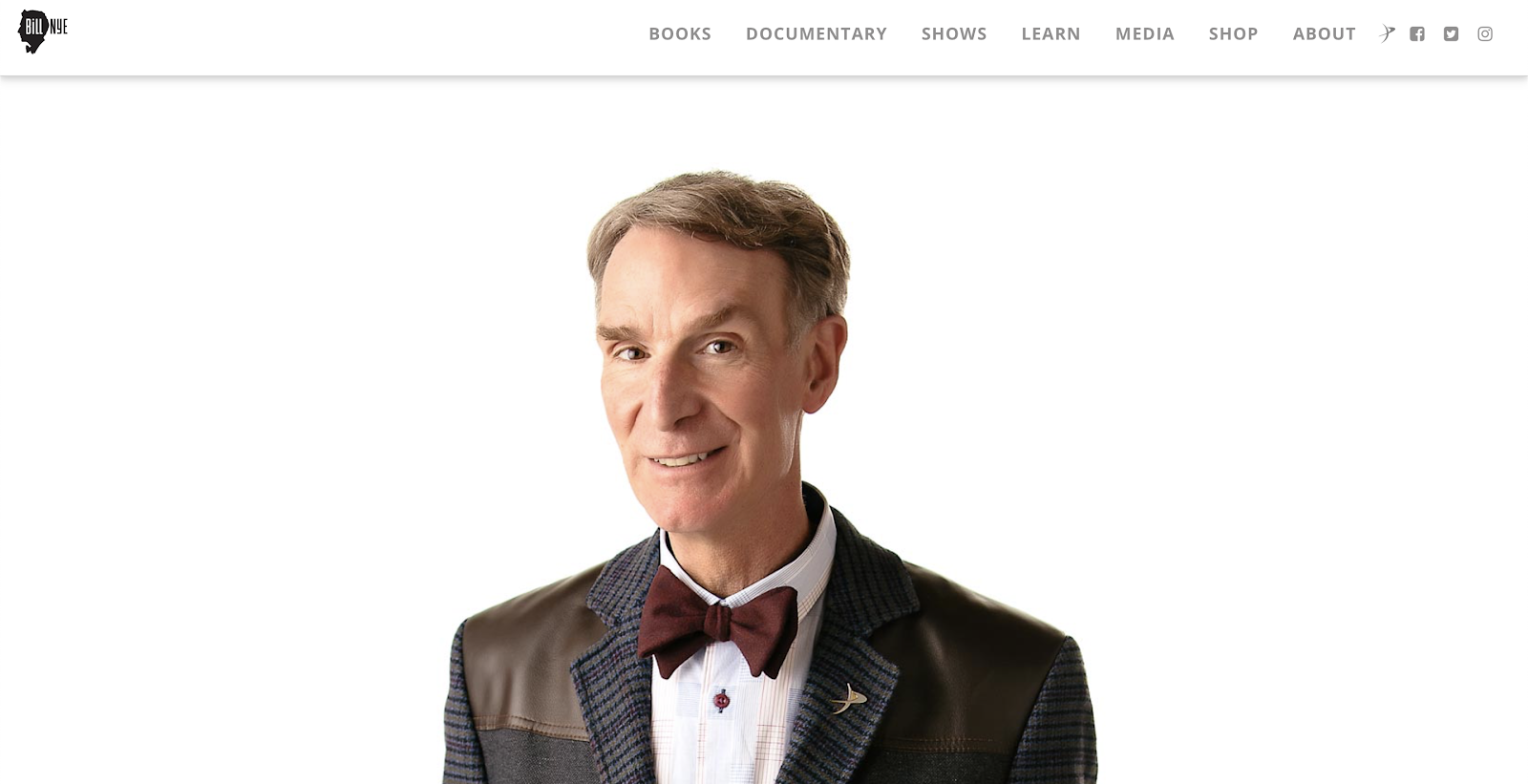 Bill Nye may be famous for his bowties and science-dad jokes, but underneath the veneer of his mainstream appeal is a man who respects a growing understanding and knowledge of science. His passion for reason and critical thought are as important to his personal brand as his talent as an entertainer.
His stage person is the affable, the silly, the uber-nerd. His experience as a mechanical engineer lifts him from a TV individual who blasts test tubes full of colorful liquids to a respected expert. Although his website promotes his books and online shop, much of the material is science-related and accessible — even to those who have never worn a lab coat.
18. Shaun White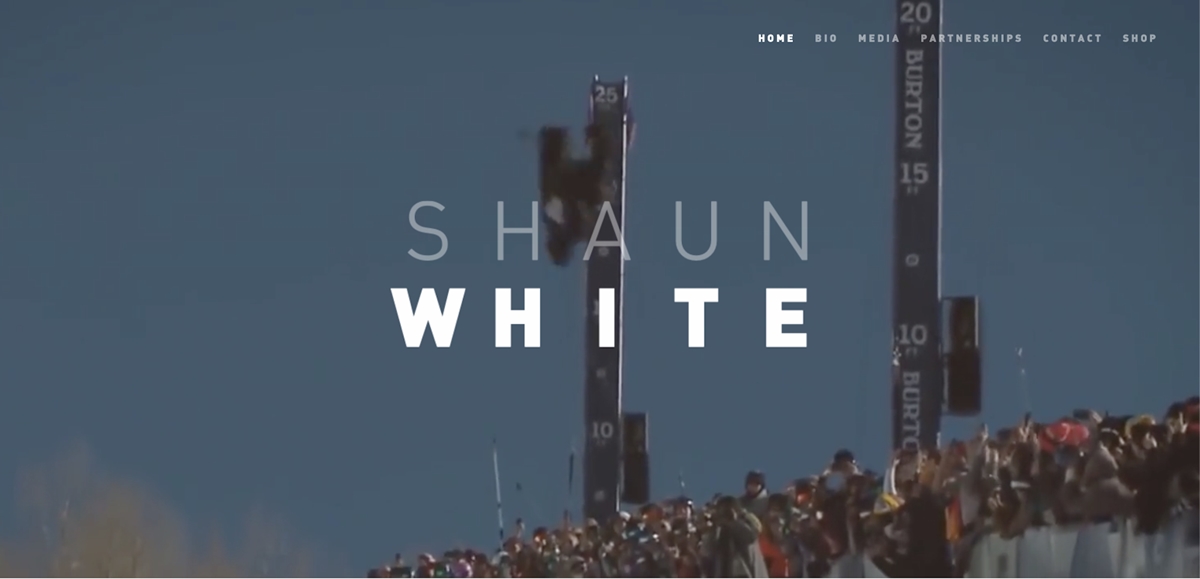 When Shaun White was 7 years old, he was sponsored by Burton Snowboards. He stayed on the cutting edge of creativity throughout his career, flinging out from the lips of halfpipes, spinning in ways that no other snowboarder ever had. The time in the air has given him numerous wins at the X Games and the Olympic Games. He's taking the same push to skateboarding.
His brand is about moving quicker and higher than anybody else. He thrives on rivalry and on the drive to win. Shaun's brand — like other professional athletes — is built on the versatility of what he can do with his body. His followers are not involved in long-form paragraphs explaining what Shaun is doing. They come to see these examples of the defiant feats of athletics, which is what Shaun's website delivers.
19. Seth Godin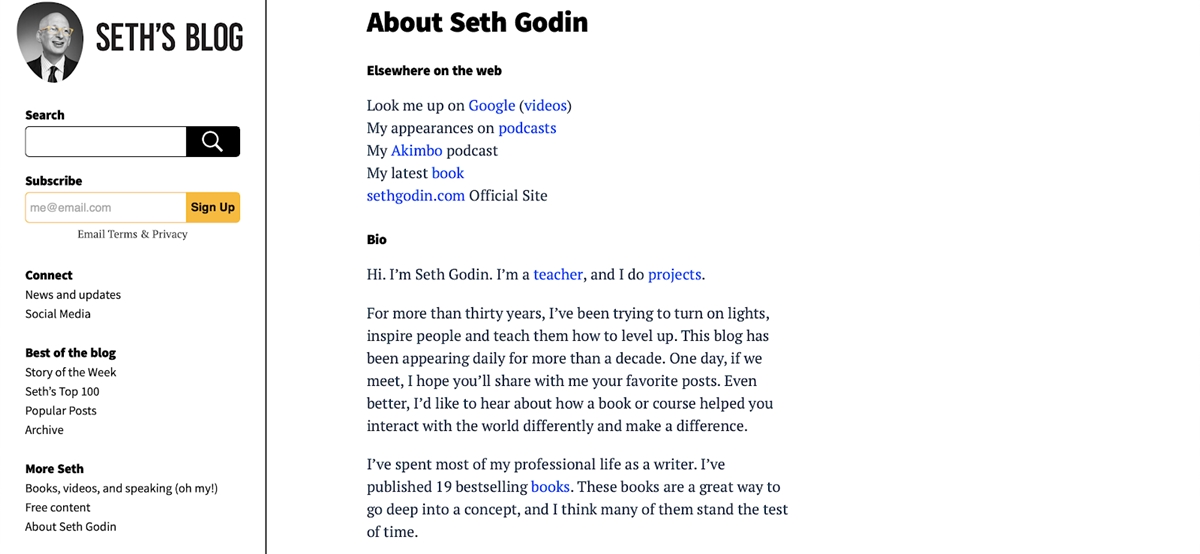 Seth Godin's brand image is highly recognizable partly due to his distinct appearance; especially his yellow glasses.
Over the last 25 years, he has developed a reputation as a business and marketing expert. At that time, he published more than 20 books, usually with eccentric, thought-provoking titles, such as Purple Cow: Transform Your Business By Being Remarkable or Meatball Sundae: Is Your Marketing Out of Sync? Purple Cow sold more than 150,000 copies in more than 23 print runs in the first two years.
Seth has been one of the most prominent marketing experts in the world. And Seth is the one people want to hear from – not a corporation or an agency. Seth has established himself as the master of short blog posts. In the period of time when most people are reaching for 2000-word long-form blog posts, Seth is writing tiny gems of around 200 words. He's writing in a distinctive style that's concise and point-to-point. Each post is built out of a single thought-provoking idea.
Indeed, Seth Godin's personal branding is so prominent that his name has now become synonymous with a short message. Editors often say, "Only Seth Godin can get away with that" when they think that his post was too short.
20. Mark Manson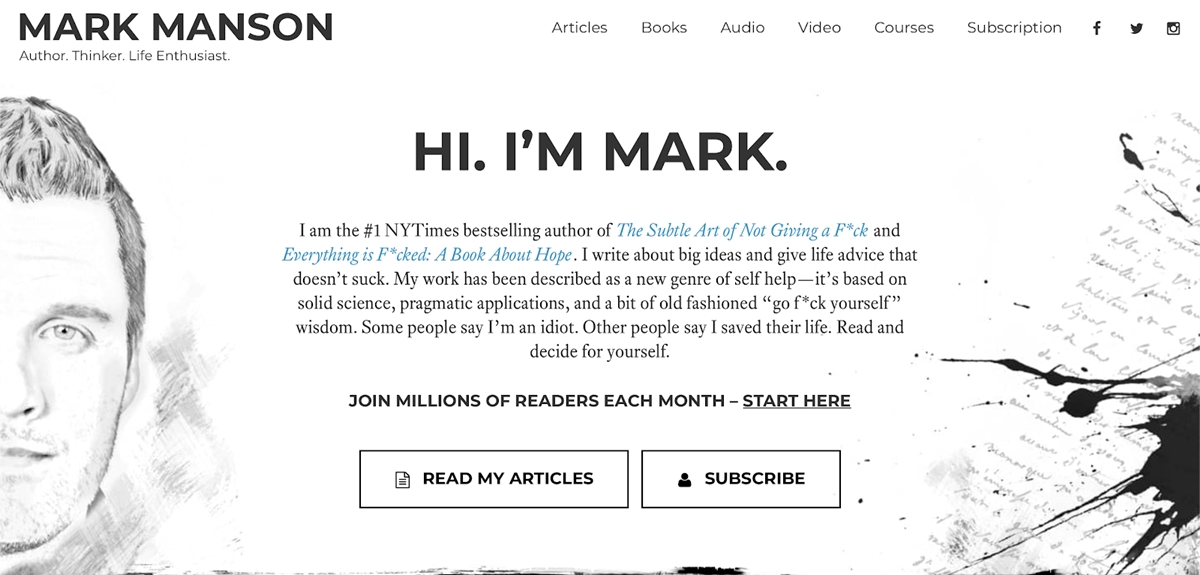 Mark Manson is a self-help blogger, and online entrepreneur. Like others on this list, he recognizes the significance of using his name. His website is Markmanson.net and focuses on how Mark can (personally) support his audience.
Mark built his whole person to be unexplicit and to the point. His content is not for easily offended people. His most famous book (on the NY Times bestseller list for years) is named The Subtle Art of Not Giving a F*ck, and the content of that book reflects exactly his personality and personal brand.
His blog is popular enough for him to have a dedicated subscribers section only, with in-depth blog posts accessible only to those who pay. Mark is very consistent in the image of his own personal brand. His daily readers would be able to identify his writing even though the author's name was not mentioned. His posts are lengthy, insightful, humourous, and, above all, plainly truthful.
Final Words
Creating a personal brand will help lift your business to new heights. Through adopting a variety of personal branding tips, such as being genuine, consistent and social, you will help increase the chances of success in your career. I know it can be intimidating to get yourself out there, but the reward is much greater than the risk.
So I hope that the 20 personal brand examples introduced in this article will give you the courage to take a lift of faith and start building your own personal brand. You do have the ability to have a positive difference in the world, you just need to take action to release your power.
Other Articles on Branding:
New Posts
Stay in the know
Get special offers on the latest news from AVADA.