The 14 Best Marketing Automation Softwares in 2023
Today, the majority of businesses are using some form of marketing automation—in reality, studies show that about 51 percent of companies are currently using technology, and that number continues to increase. According to the 2018 Forrester survey, 55 per cent of marketing decision-makers are preparing to increase their technology investment, with one-fifth of respondents expected to increase by 10 per cent or more.
All of which means if you don't use marketing automation tools in 2021, you may want to rethink. Despite the need for automation software, it's a complicated room, filled with various software solutions with different features, and used cases. In this article, I will recommend to you the best marketing automation softwares on the market. Let's jump right into it!
What is a marketing automation software?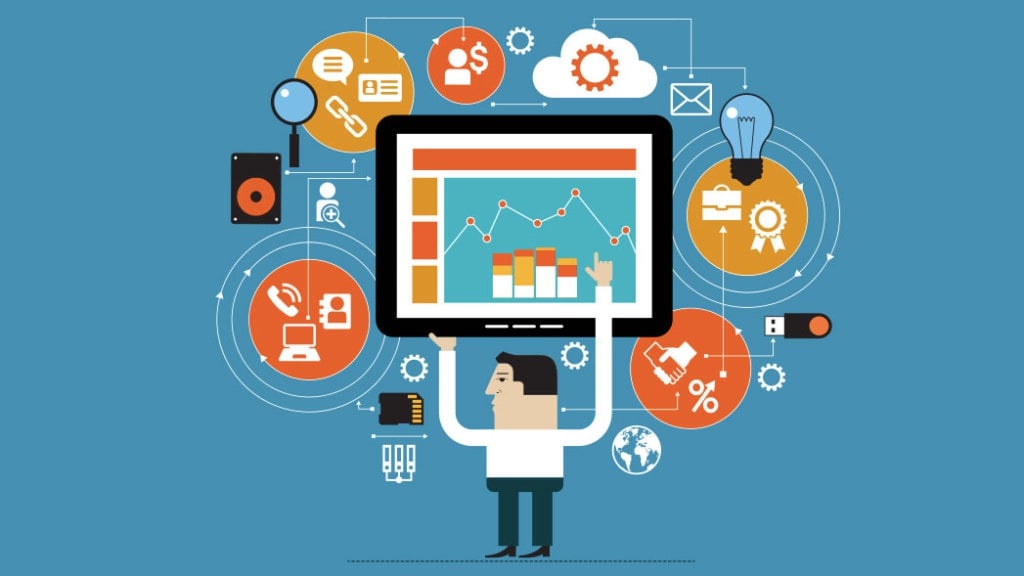 Some marketing automation softwares provide automated email, drip workflows, and CRM while others can help with lead score, sales lead rotation, SMS, and more. More niche products may be better for SMB and B2C environments, but B2B and the enterprise may require a larger platform. Here are some main areas to consider when comparing marketing automation software products to select the one that's right for you:
Ease of Use
Automation isn't an easy thing to incorporate as it is, so make sure the user interface works for you, not against you. See if you can find UX screenshots and see if it looks quick and easy to navigate.
Analytics and Reporting
You're going to want to be able to evaluate the effectiveness of any drip campaigns you're running, so your automation tools can keep track of the metrics that matter most to you. In B2B and business environments with many stakeholders, you will also need advanced reporting features, such as customized dashboards or automated email reporting.
Support
When you discover the advantages of marketing automation, one day you'll end up worrying about it. Automation can be highly technical, so look for providers with comprehensive knowledge bases, tutorials, and other customer service options. Limitations Some automation software platforms can restrict the number of actions per month or the size of your database.
Going to some assessment, know how many contacts you have, how many emails you send on average, and what you want the program to do. This will keep you from underestimating the costs of your automation program.
Pricing and Scalability
If the advantages of automation can be summed up in one sentence, it is this: it will make you more productive so that you can concentrate on the things you enjoy and get the highest return. With that in mind, you're going to want to determine the price when you see capacity.
For SMBs and B2C organizations focused primarily on email, a scaled-down framework may be appropriate. However, for more sophisticated needs, corporate (and therefore higher ticket) software is more cost-effective in the long run. Be sure to select a provider that is fairly priced but can also evolve with you as your needs change. After all, reducing bloated operations is vital for successful scaling.
Integrations
How well is the marketing automation program playing with your current tools? Integrations help you to control your data and get more from your software. Here, we have built a list to help you sort through your choices and feel secure in selecting the right marketing strategy for you and your team.
Best marketing automation softwares
AVADA Email & SMS Marketing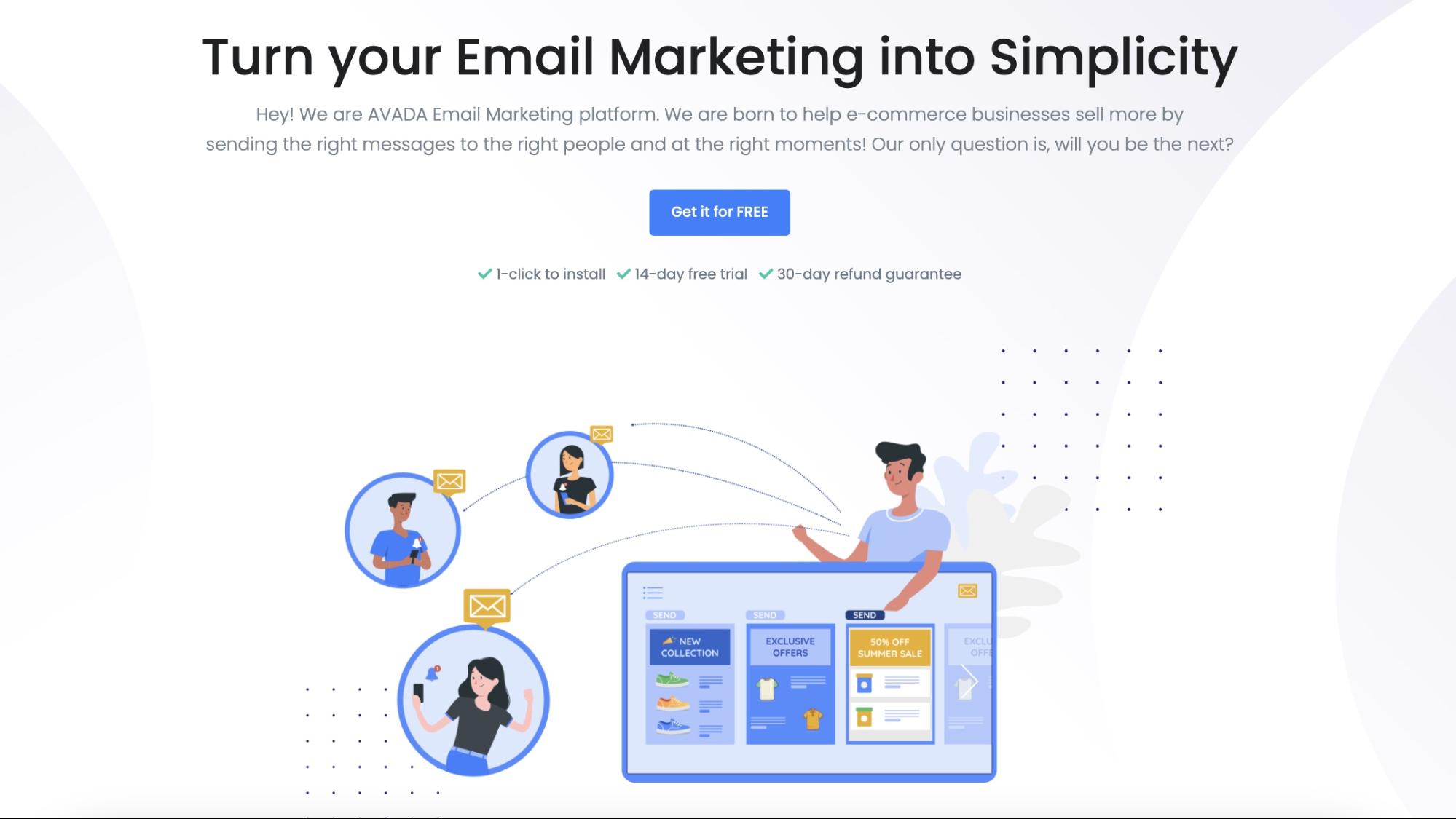 AVADA Marketing Automation is a marketing automation platform designed specially for small and medium-sized eCommerce businesses. This tool offers powerful automation workflows, and you can easily get started with pre-built templates and sample email/SMS copies.
With AVADA Marketing Automation, you can connect email and SMS to the same automation workflow. AVADA Marketing Automation also provides a user-friendly drag-and-drop visual builder and templates that make it fast and simple to construct workflows, forms, pop-ups, and emails. AVADA Marketing Automation provides a free plan for simple email marketing, and two paid plans with different numbers of contacts you can have on your list and features you can use. Since the paid plan that provides full features only costs $9/month, this tool is very suitable for small businesses who are looking for a tool to automate their email and SMS marketing campaigns.
Moosend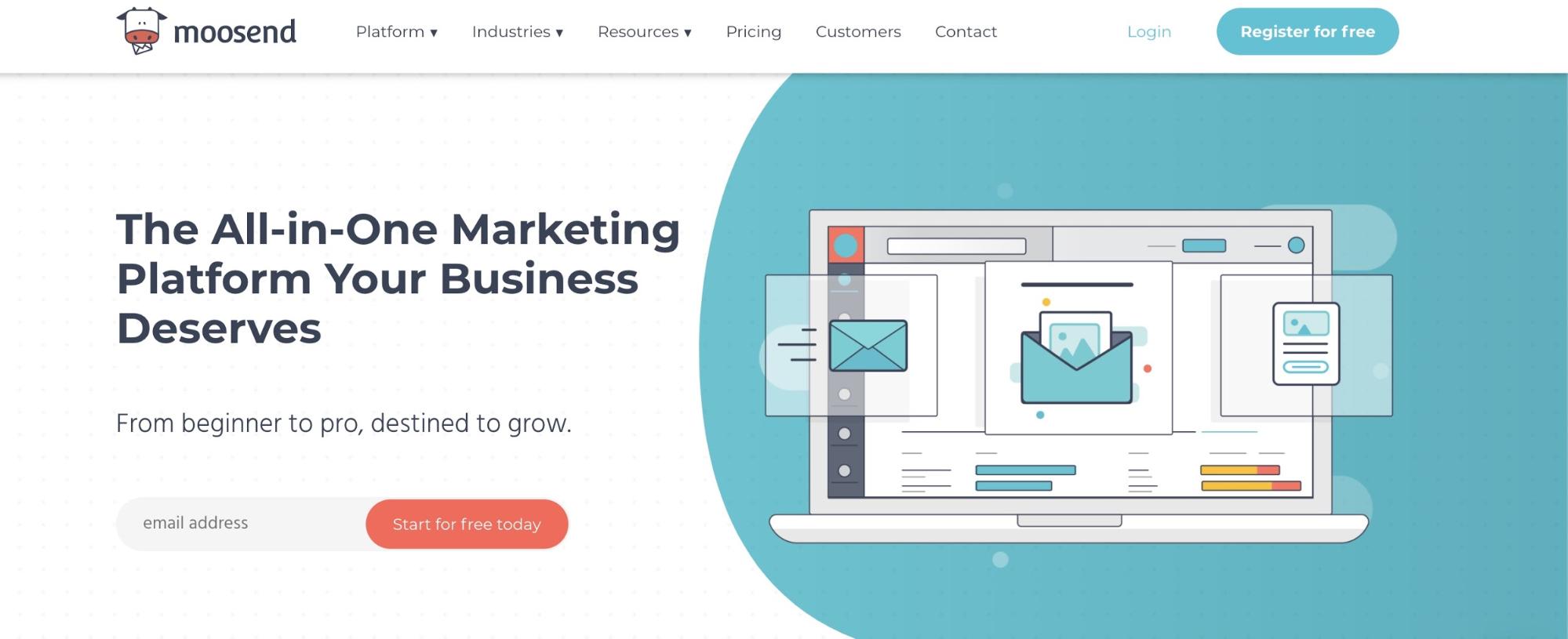 Moosend is an email marketing automation tool that caters to a range of sectors, including e-commerce and SaaS. Moosend Automation uses advanced website monitoring and triggers that allow you to send the right email campaign to those in your contacts who are interested in a particular product or service.
Customer data is handy, allowing you to create product recommendation campaigns based on product views. This data also helps you to produce accurate analyses of campaign progress and user activity so that you can make better, more data-driven decisions. All of the above choices, including automated recipes and 80+ integrations, are included in Moosend's Free Forever plan for up to 1,000 subscribers.
ActiveCampaign

ActiveCampaign is an integrated e-mail marketing, marketing automation and small business CRM. The strongest point of ActiveCampaign is its efficient and versatile marketing automation features. This is one of the most extensive solutions on the market. Their deliverability is also ranked as one of the best on the market. It's probably not a suitable tool for beginners, or those with poor technical capabilities. It takes a little more time and effort to learn—but when you learn the platform, it's pretty strong.
HubSpot Marketing Automation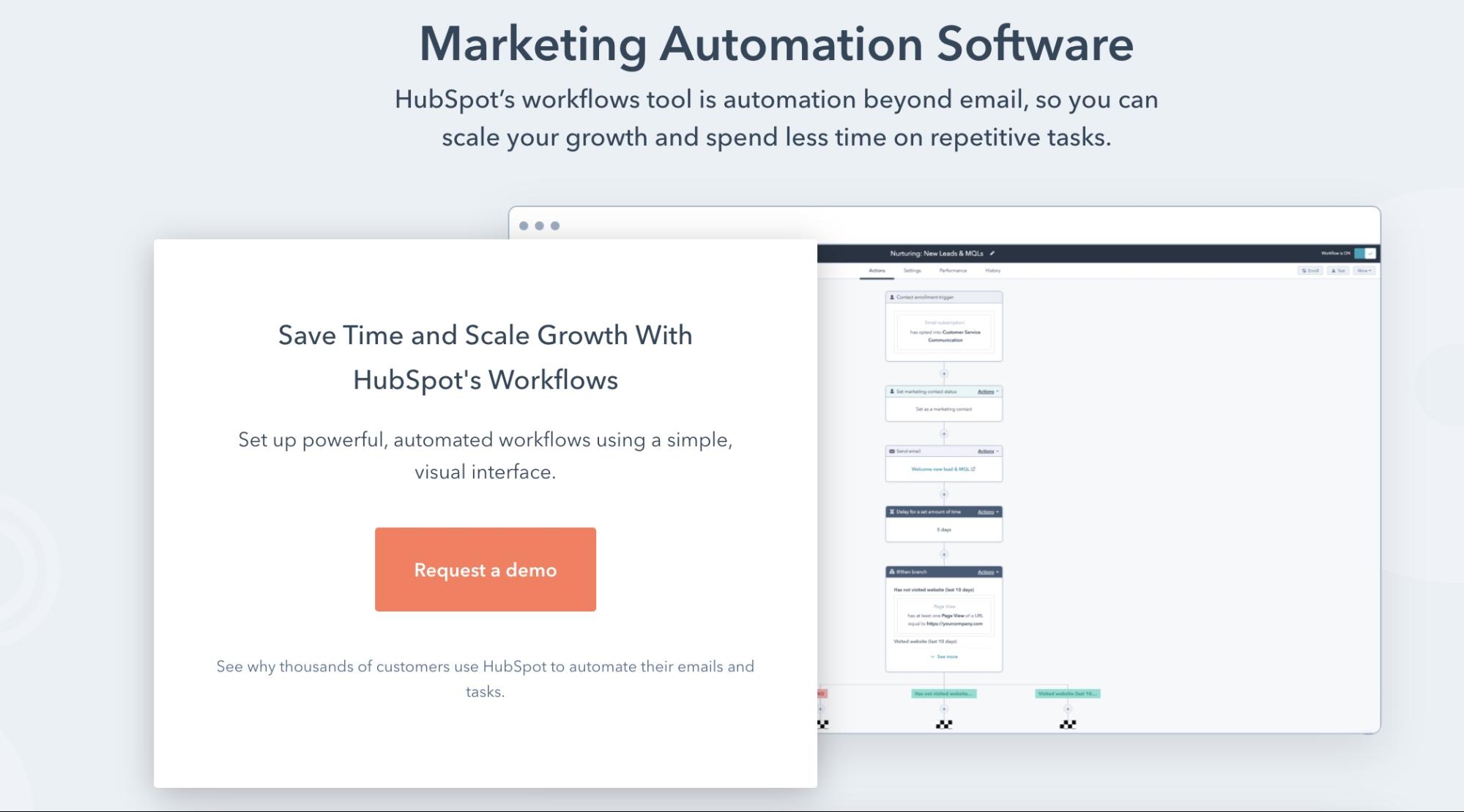 HubSpot has a full-fledged growth suite that includes sales software, marketing software, and support software, all of which automatically integrate with HubSpot's CRM. The combined impact of having all your data and growing activity in one location will cause loads of creative automation solutions that would be difficult or impossible if you were to use separate tools. As a stand-alone, HubSpot's marketing automation functionality provides an easy-to-use visual board where you can craft basic or highly complicated conditional workflows.
It can take lots of time to master the tool (you'll scale up faster with the aid of the HubSpot Academy), but once you get a grip on it, the possibilities you can do with it are endless. You can set up email list autoresponders, or create a smart and complex network of rules designed to target individual users with the right email, live chat, web experience, and more. Basically, the workflow method is automation outside email, so you can scale your development and spend less time on repetitive tasks. Hubspot is quite expensive so if you are a small business who has just got started, this tool might not be for you.
ManyChat

Marketing automation is not just about email. You can also automate the repetitive communication you have with your customers. ManyChat acts as a chatbot that helps you set up automated answers for FAQs on Facebook Messenger, SMS or your website.
The bot can be designed in minutes with their templates and an easy-to-use drag-and-drop interface. In addition, the knowledge you collect about your users can be synchronized with your CRM and other software.
Ontraport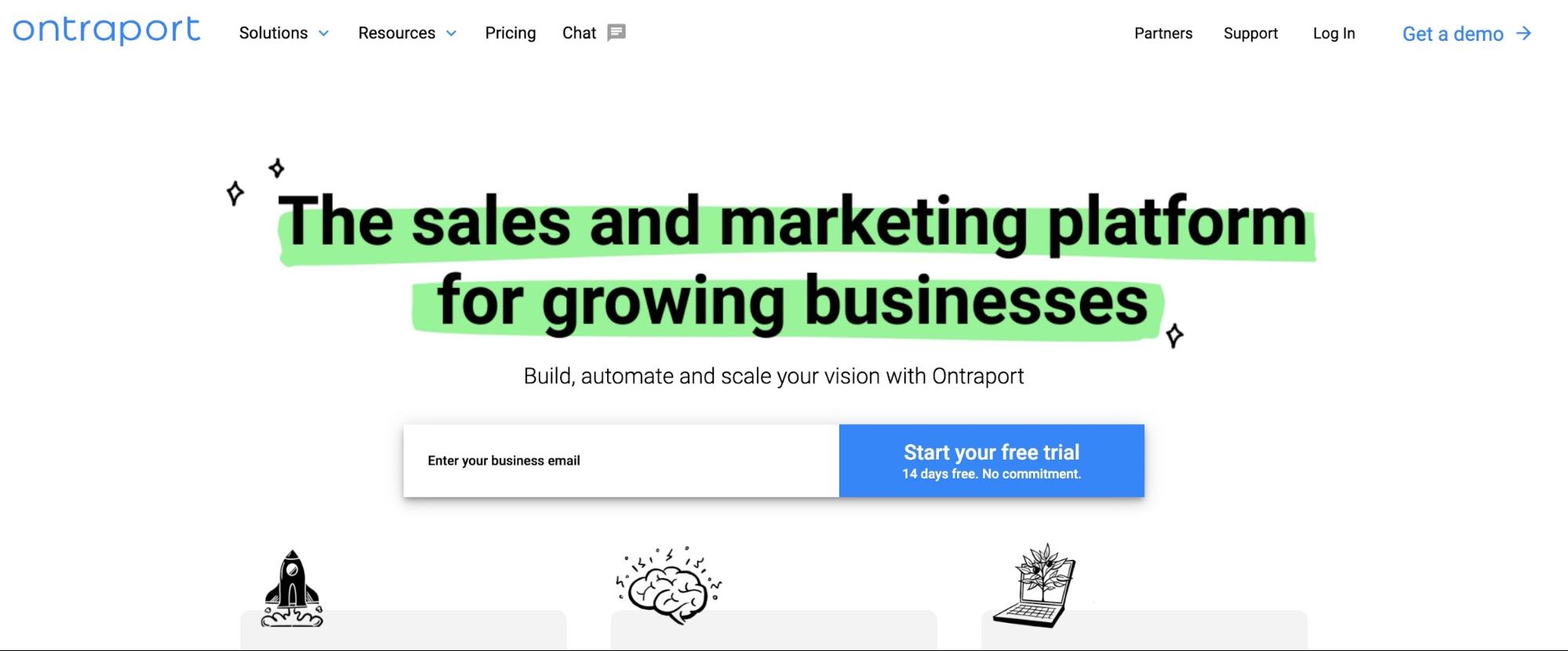 Ontraport is a business automation software for small businesses. Not only do they have a CRM and marketing automation capability, they also have a range of other features to run and develop a small business, such as:
Marketing email
Landing Pages
Reporting
One of the most important things Ontraport has to offer is its emphasis on reporting and insight. While other tools can be a bit of a black box, Ontraport gives you a direct look at the success of your campaigns.
SendinBlue

SendinBlue began as a digital agency, but ended up creating a powerful email marketing tool that, over time, turned into a well-liked marketing automation platform. They have some advanced features, such as reporting and leading ratings. In addition, SendinBlue provides a pretty amazing free plan that includes simple marketing automation capabilities, phone support, and up to 300 emails per day. You can also run SendInBlue SMS campaigns.
Pardot

Pardot, part of the SalesForce Empire, is a cloud automation system that mainly serves corporate clients with technical resources and time to learn the software. They have a lot of features to automate communication with customers, from CRM integration to email marketing, lead nurturing, lead scoring, and ROI monitoring functionality to make sure your campaigns work as expected. You can monitor all interactions on your website and create a predictive lead score based on the criteria you set. All of this helps increase campaign effectiveness and reduces lost time and resources for the sales team. It is important to remember that Pardot is a powerful organization, but it lacks generation-lead features and may not be as available or affordable to small businesses or entrepreneurs.
Keap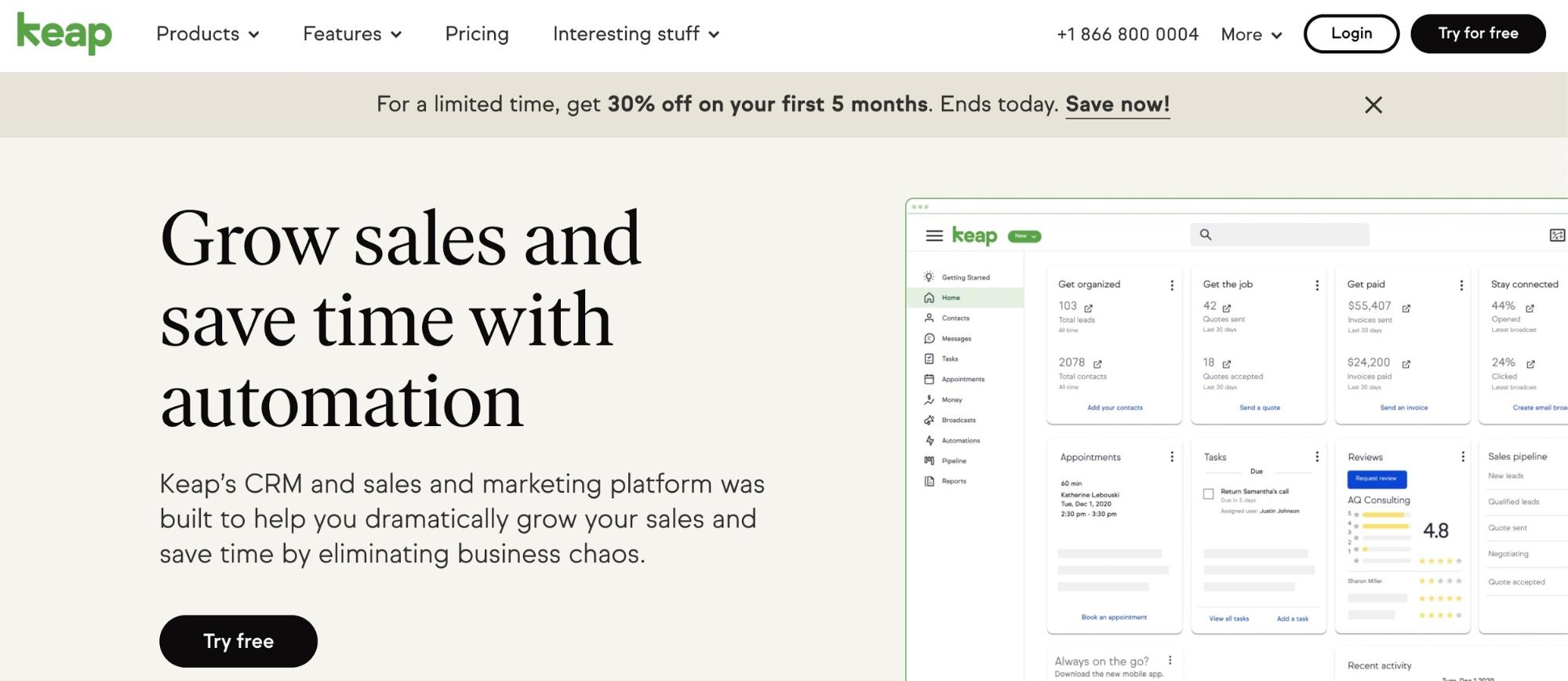 Keap has been around for a while (15+ years, I believe) and has helped thousands of marketers acquire leads, sales and customers. They really excel in a small business and a solo entrepreneur crowd, and in my experience, I've found they have a fairly sophisticated user base. You can set up relatively complex decision trees based on which lead magnet someone signs up for, how many (and which) emails they open and click on, or other contact property info.
Autopilot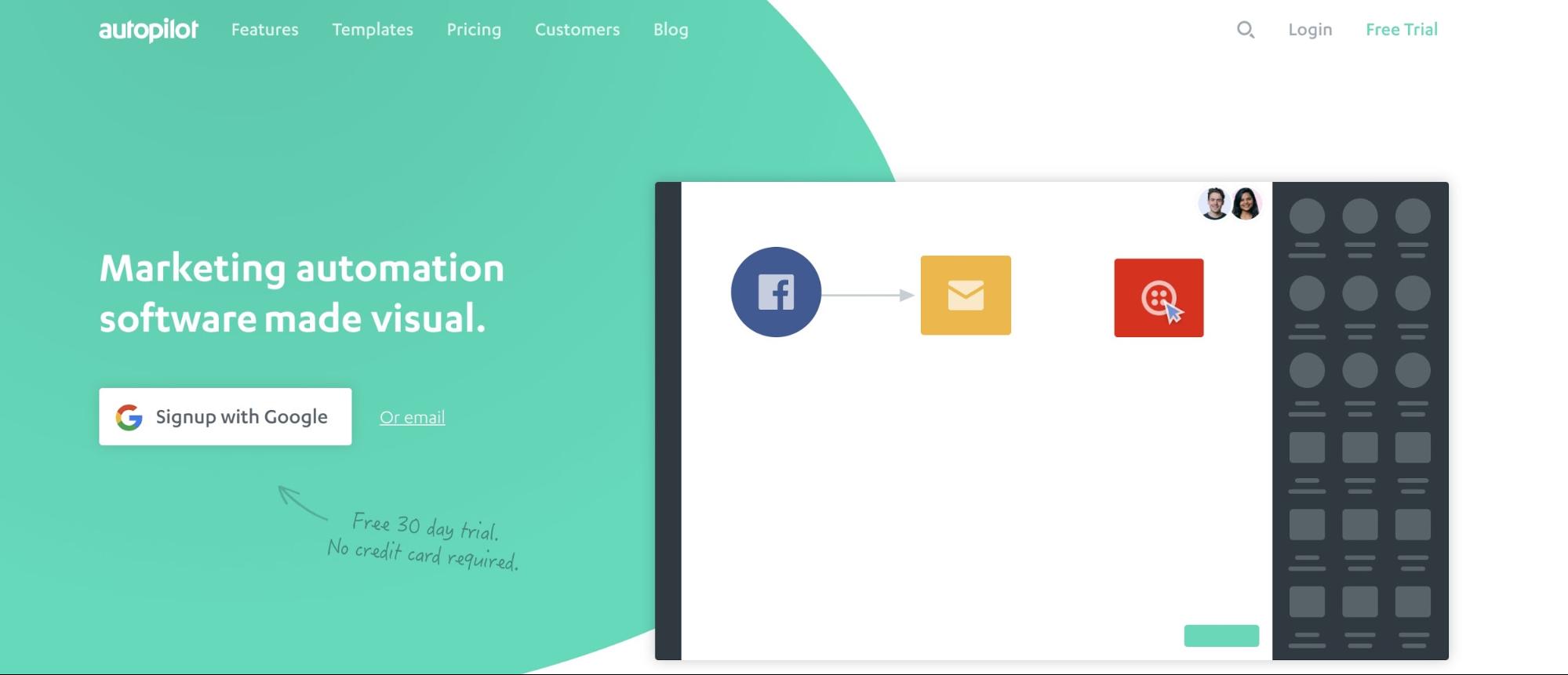 Autopilot is one of the most visually enticing marketing automation systems on the market. They make email marketing, messaging, and automation tools, and bill themselves as the easiest marketing automation tool to use. As described above, their visual editor is clean, easy to understand and, frankly, fun to use. Of course, their platform is usually used for more complex messaging and targeting, but you can also build a quick time-sequence autoresponder.
Marketo
Marketo has been around for a while and has recently been bought by Adobe and integrated into their corporate marketing cloud. Adobe integration ensures that if you use Adobe Analytics for data measurement and Adobe Goal for innovation and customization, you can have a strong enterprise marketing automation and optimization suite. The tool is usually targeted to corporate customers—a little out of control for most small business owners.
GetResponse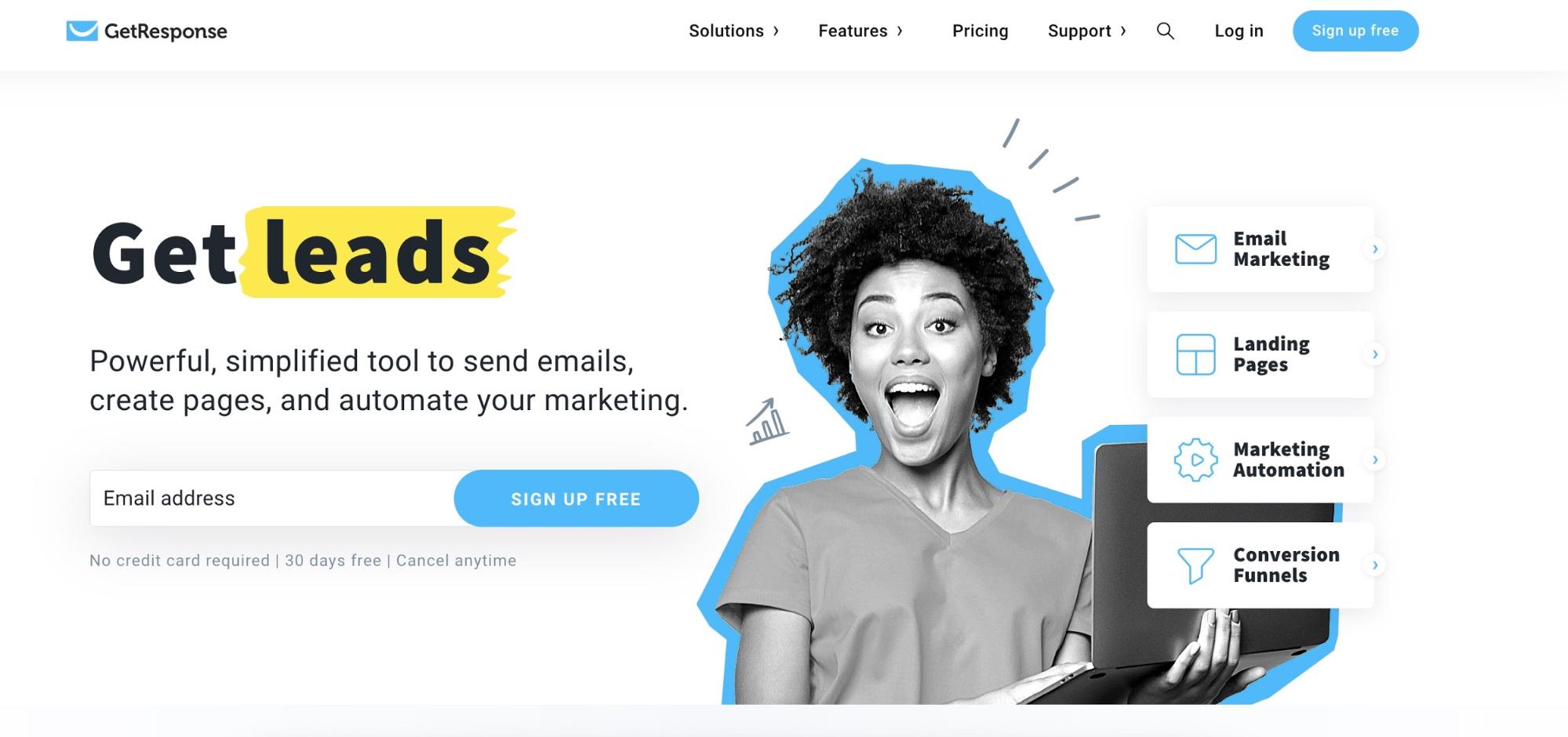 GetResponse is a marketing automation platform with several different layers and functions. They start very cheaply, at around $10 a month (including simple autoresponders and a list size of 1,000), but their more expensive plans provide powerful features like:
Marketing emails
CRM
Landing Pages
Autorespnders
eCommerce tools
GetResponse is easy-to-use and you can usually find good results from the tool, but it works better with simpler features, such as email newsletters. Working with the platform can be trickier if you intend to incorporate complex conditional logic and marketing automation.
Drip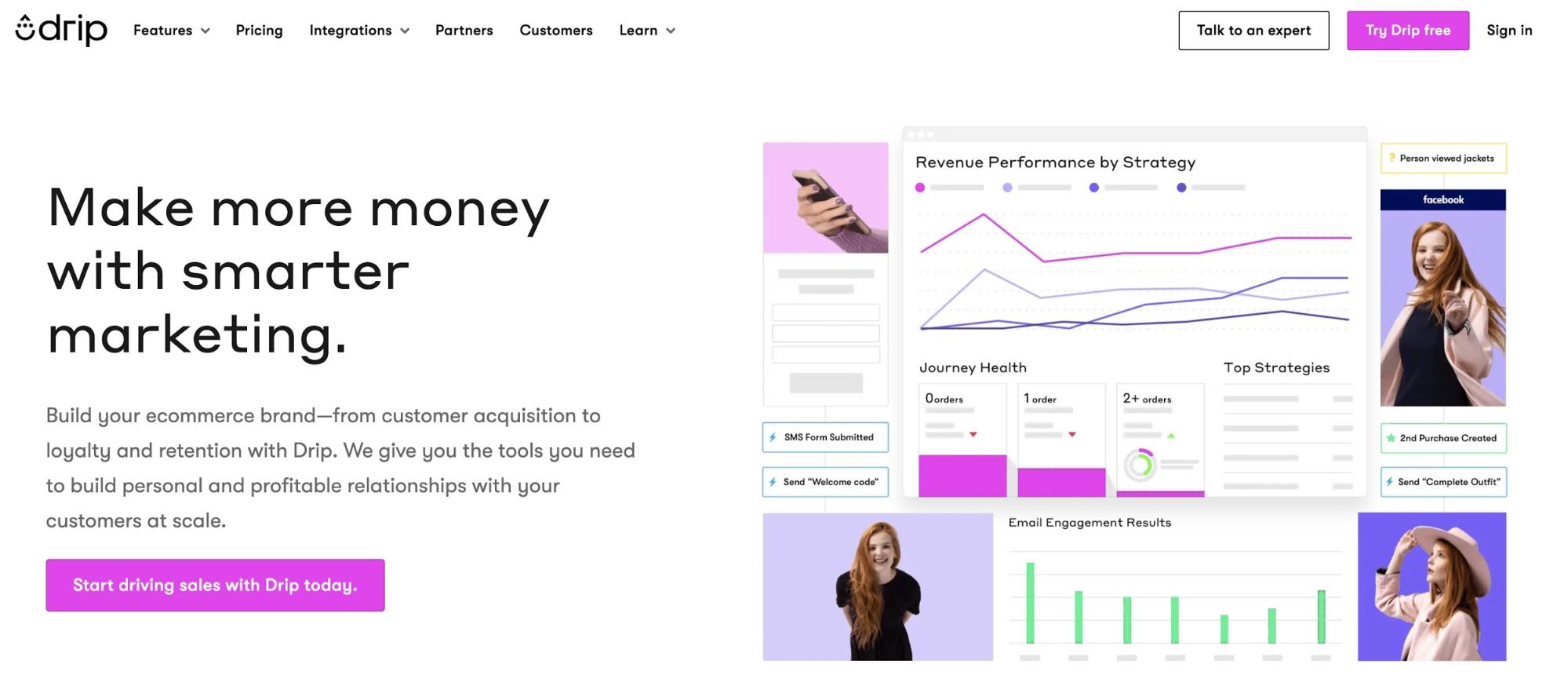 Drip is one of the few marketing automation software in this list that focuses mainly on eCommerce marketing automation. They have one of the most "open" platforms and claim that they play well with "pretty much any marketing strategy you want to execute". In addition, email is one of their strengths. Some features of email marketing and automation include:
Email builders
Automation Workflow
Marketing Multi-Channel
One-off emails
They also excel in personalisation and analytics. Drip is a versatile platform for e-commerce marketing automation.
Mautic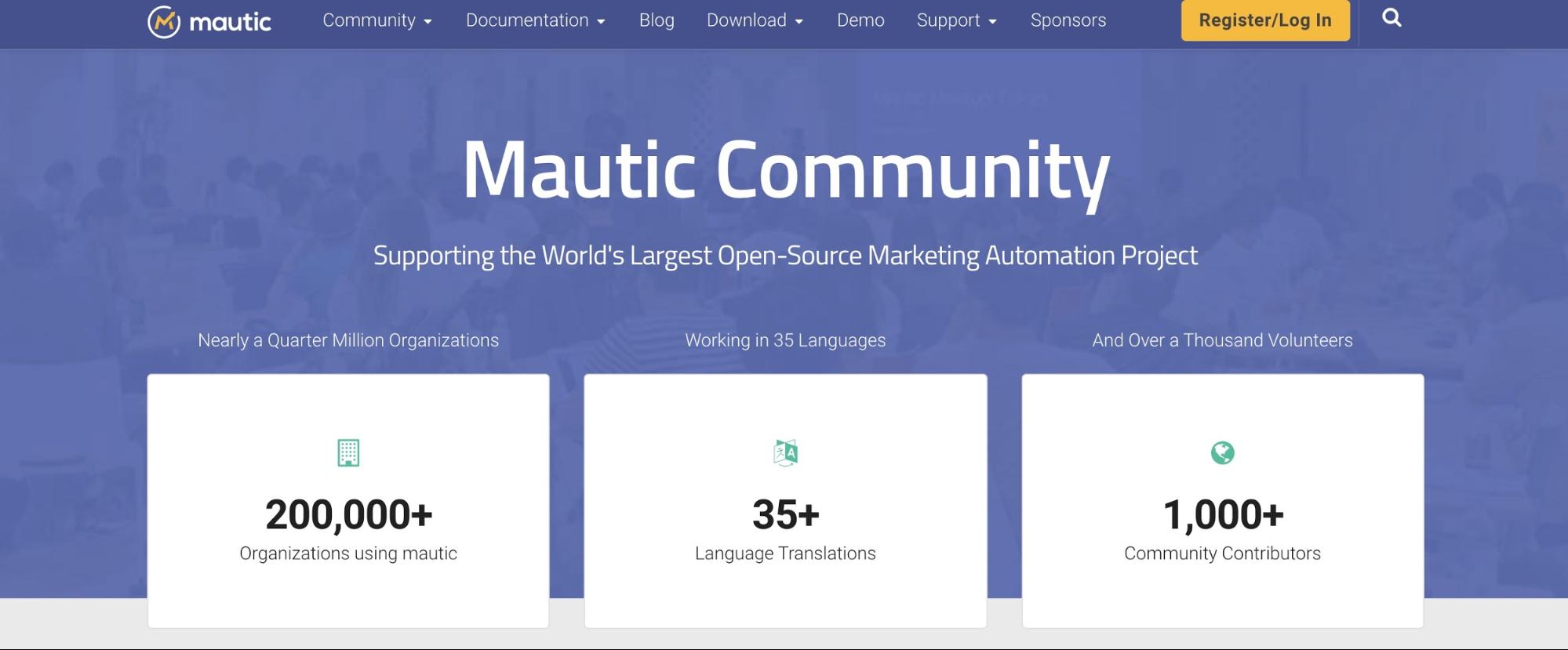 Mautic is the only open-source marketing automation platform on this list. It's also a relatively young player, established only in 2014. They've grown fast, though, and they seem to be catching up with high-tech companies. More than 200,000 companies are currently using Mautic.
Final words
There are a range of choices for marketing automation tools. It's all about choosing the right one for your company, budget, and technical expertise. Do you need something extremely strong and limitless? It could end up costing more and requiring time and effort to learn. The cheaper options, by contrast, may have been too small in size. In the end, it's a trade-off. I hope you have found multiple marketing automation tools that suit your business from this list. Please feel free to leave comments below for further recommendations on this topic.
New Posts
Stay in the know
Get special offers on the latest news from AVADA.