Top 7 IP Location Finder & IP Addresses Lookup Exactly
In the modern world where every buyer requires the highest service of a retail business, online business owners are under pressure to provide the best possible service right on their sites. With so many choices right at the tip of the finger, a visitor would take seconds of consideration before going to another tab - and forget about you.
So you need to show what a visitor needs immediately and lead to conversion as soon as possible. An excellent way to do that is through personalized experience immediately by location.
This is not so hard though, if you know how to find your visitor's IP address. So in this article, we will go through the top 7 IP location finders and IP addresses lookup so your eCommerce site can make the most of your valuable traffic.
What is an IP address?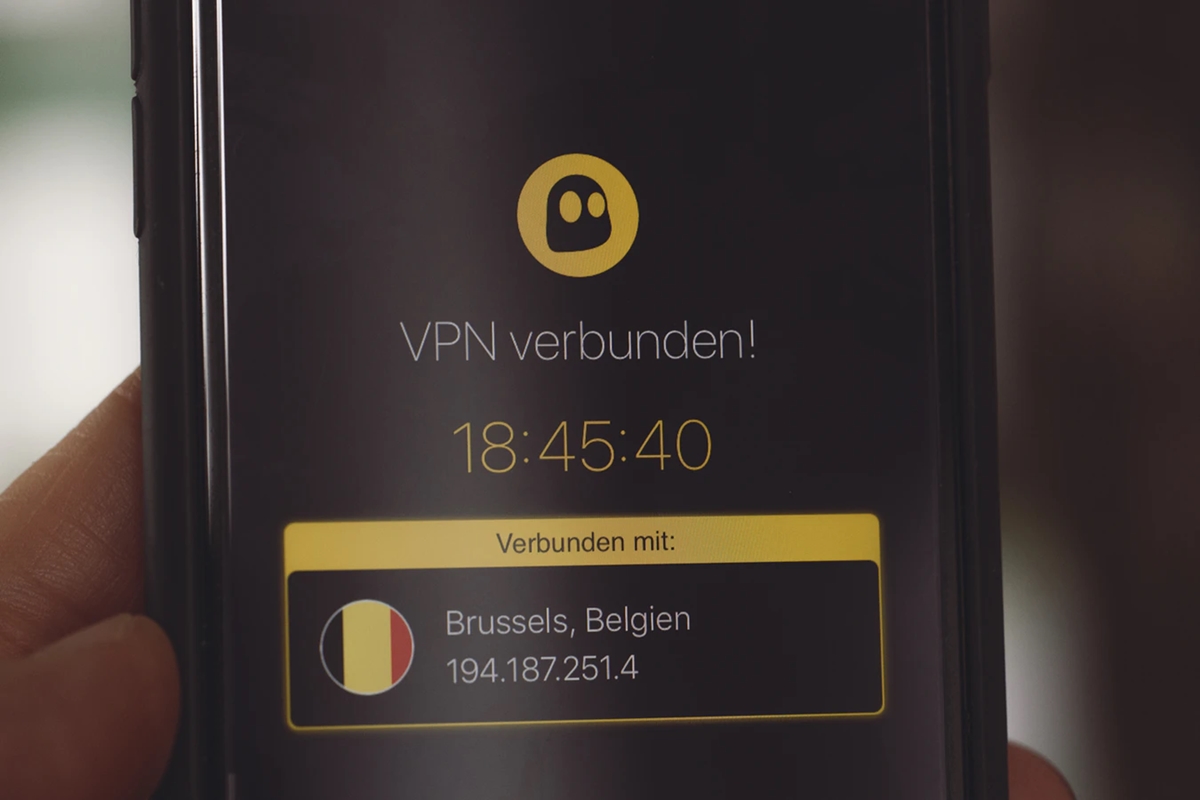 An IP address is an Internet protocol formatted in numbers that are automatically assigned to every Internet-connected device. The IP addresses have four sets of numerals divided by three periods. These sets range from 0 to 255 and contain one to three digits.
Example: 123.16.32.226
IP addresses are globally standardized, so devices can communicate all around the world and has a unique IP. There are currently two kinds of IP addresses: Static & Dynamic.
Static IP address
A static (dedicated) IP address remains the same with each user and provides the geographical location as well as the service provider of devices contacted. This enables tracking of IP address users.
The static IP address also has online security technology with faster page load times and fewer service interruptions.
As you can see, if you gain static IP addresses from your site's visitors, you can track their close location (city, country, time zone, latitude, longitude, language, etc.) and provide the right content like your site in their language, custom promotion, personalized content, etc.
Dynamic IP address
On the other hand, dynamic IP addresses change with each new connection, which can provide better bandwidth to users. This type of IP is given out to subscribers and visitors since they do not consume permanent space.
This kind of IP address is more secure than the static type for internet users but limited due to the Internet service provider. So this is not an ideal choice during high traffic hours of your site.
No personal information such as names, phone numbers or location addresses can be found through both types of IP addresses.
Related Posts:
Top 7 IP location finders and IP addresses lookup exactly
If you are thinking of tracing your visitors' IP address locations and get some details about it, here is a selection of seven online services to use.
1. Ipstack

Ipstack infrastructure ís capable of serving millions of requests daily, with three options to choose:
Standard lookup: Retrieve the data behind an IP address
Bulk: Single query to collect multiple IPS data
Requester: fetch data behind requester's IP address to API
The average response time of Ipstack API is 25ms, which is really fast. Just the free plan includes a location module that can handle 10,000 requests per month.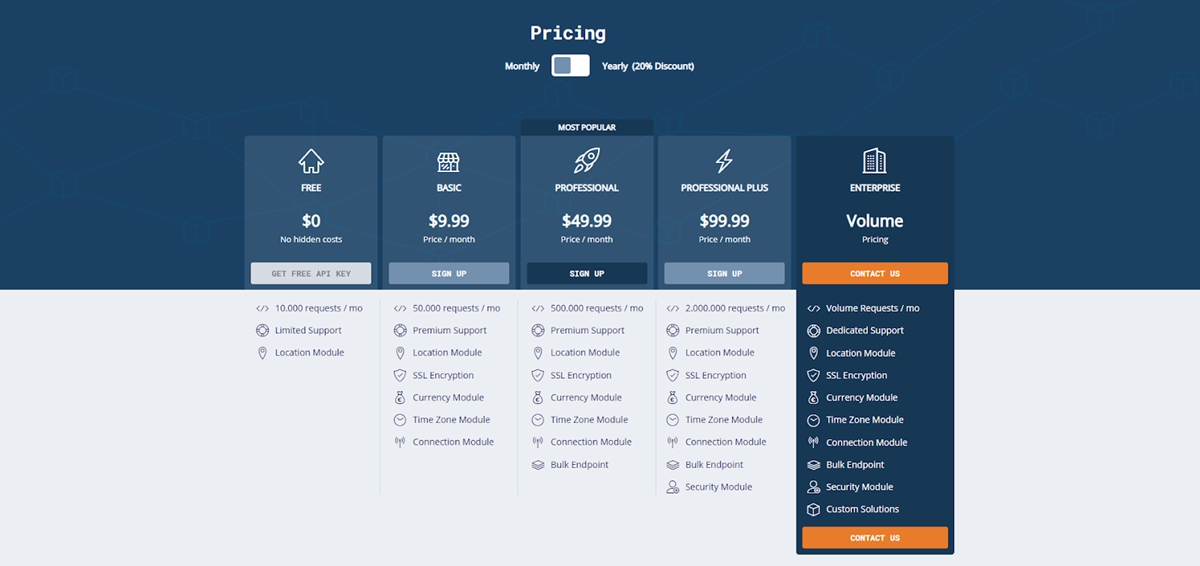 The data retrieved can be divided into Location, Time zone, Security, Currency, and Connection.
Ipstack is now trusted by HubSpot, Microsoft, Samsung, and many other brands. So this is a service that you can put your bet on.
2. Ipapi

Suitable for PHP, JavaScript or as REST API, ipapi can help you retrieve information about location, connection, security; and also do the following:
Show the local currency on a pricing page
Personalizing the content to your visitors
Redirect the webpage based on language detection
Prevent fraud signup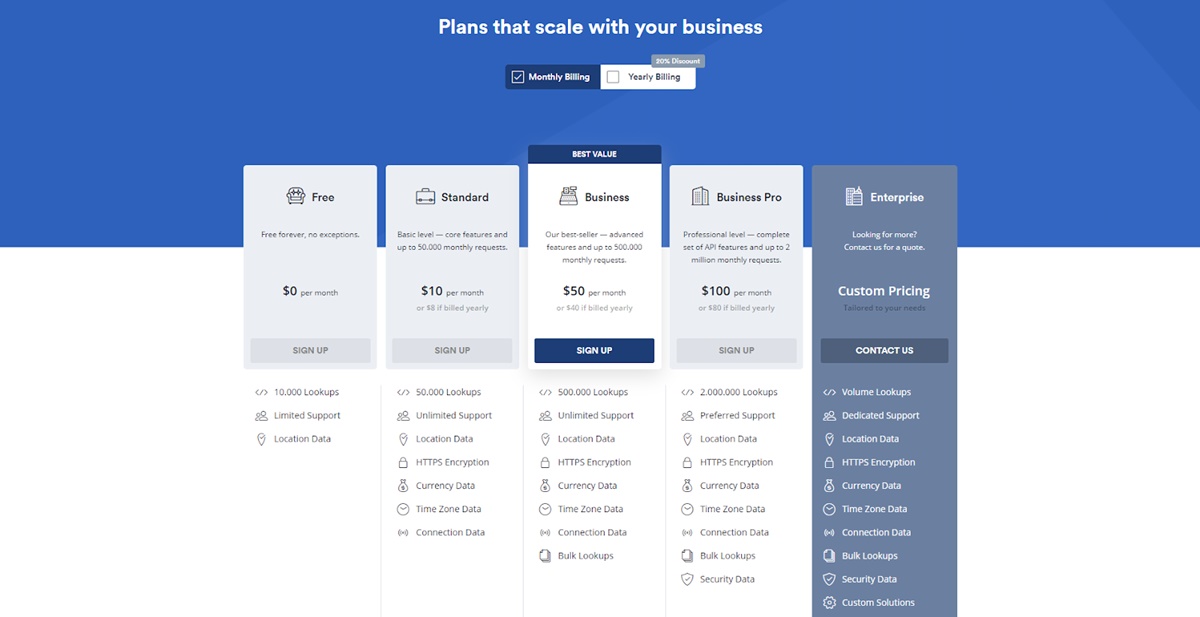 The best thing is you can get started for free with already 10,000 lookups to use.
3. Ipgeolocation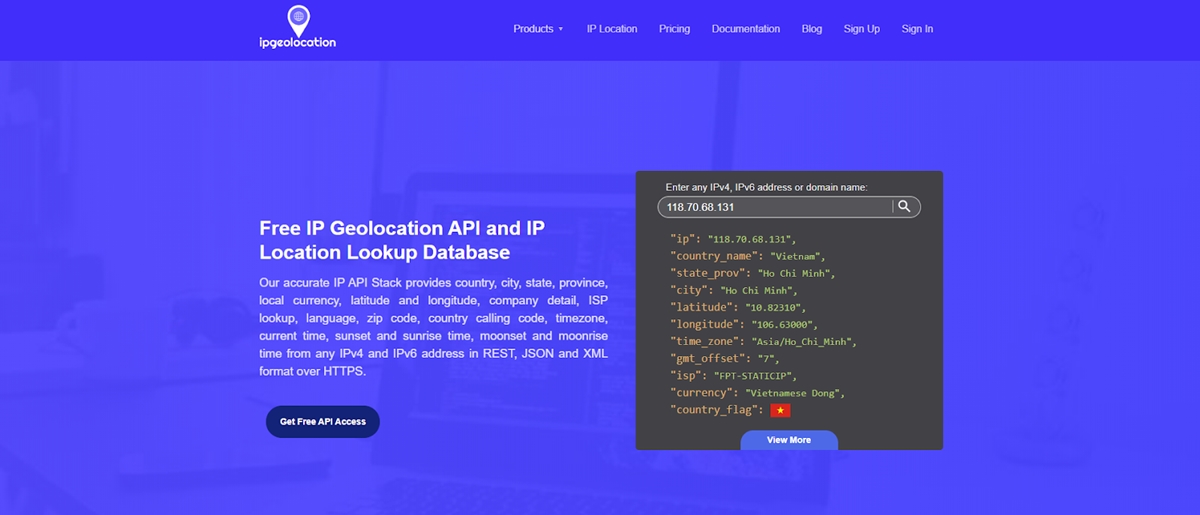 Like the name suggested, Ipgeolocation is all about providing in-depth geolocation data. The tool can help your customers to autocomplete fields like country, city, zip code, and more.
Imagine the convenience when all that information can be filled in easily on your order page, lead generation, signup, etc.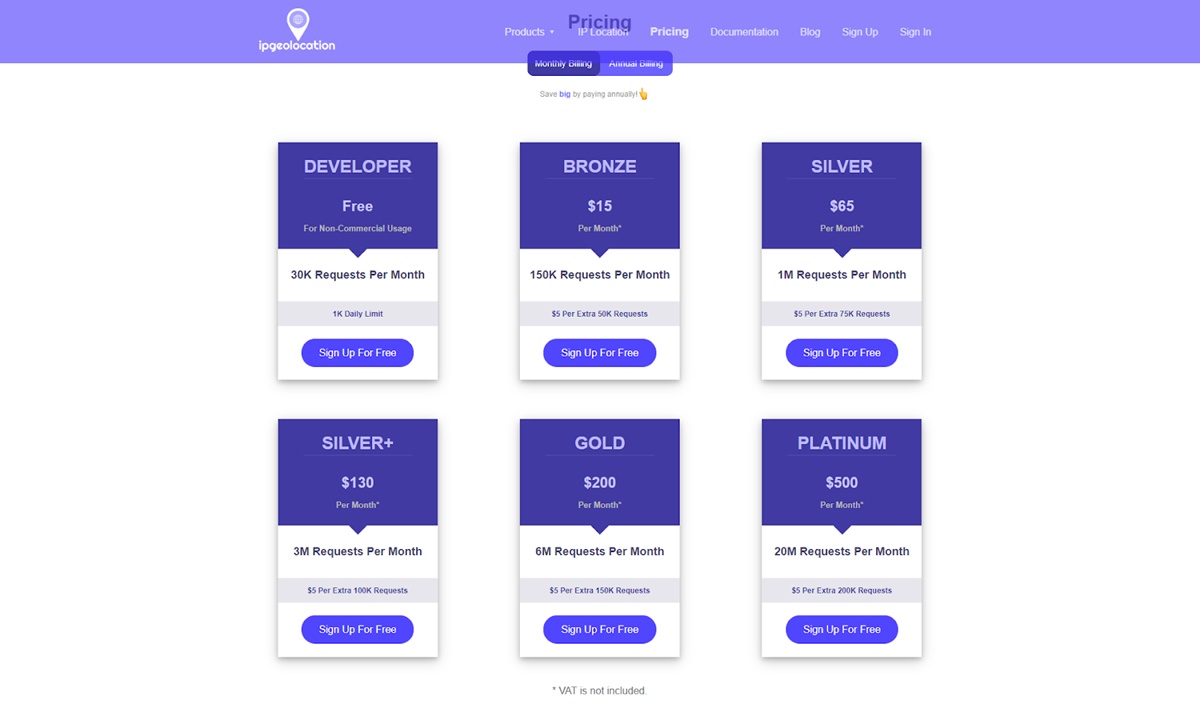 You also have threat intelligence that is used to detect spam traffic, proxy, bad bots.
4. What Is My IP Address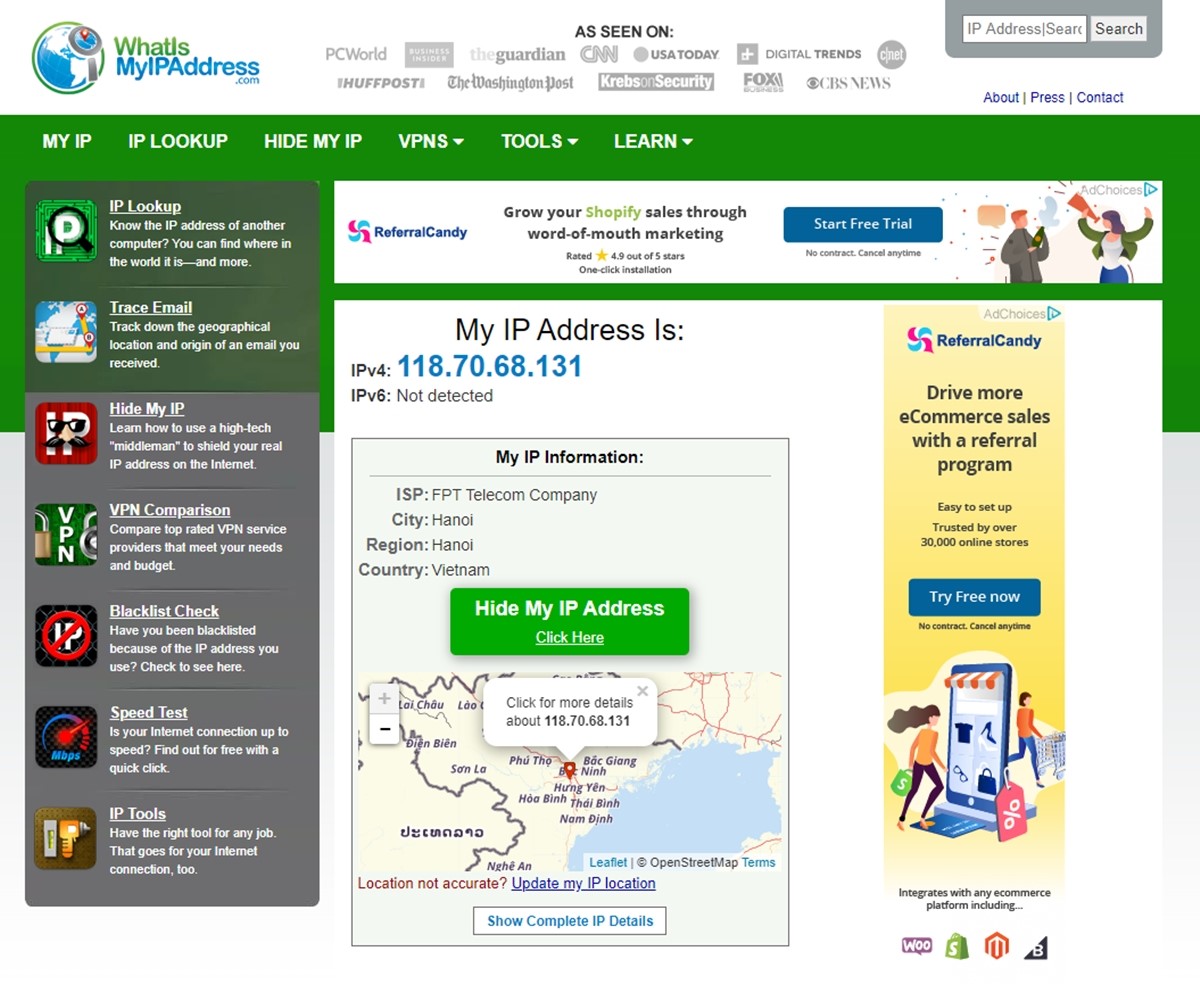 Not having a flashy look, but What Is My IP Address has a clean look and is easy to read with details about the city or town where the UP address is from. You get a Mapquest supplied map, location's coordination, host, ISP, organization detail.
The Blacklist check will see if the IP address is in a list of 80 DNS based anti-spam databases to provide more security. You can leave questions if something is not right about the IP address as well.
And the tool is totally free for you to use, so nothing to worry about.
5. What Is My IP

What Is My IP is specialized in providing real IP address information. Users can perform an internet speed test, IP address lookup, proxy detection, Whois Lookup, and more.
This is also a totally free tool that anyone can use to lookup IP addresses, and you can get the app API to access tools programmatically. However, you need to be a Gold-level account to do this.
6. IP Location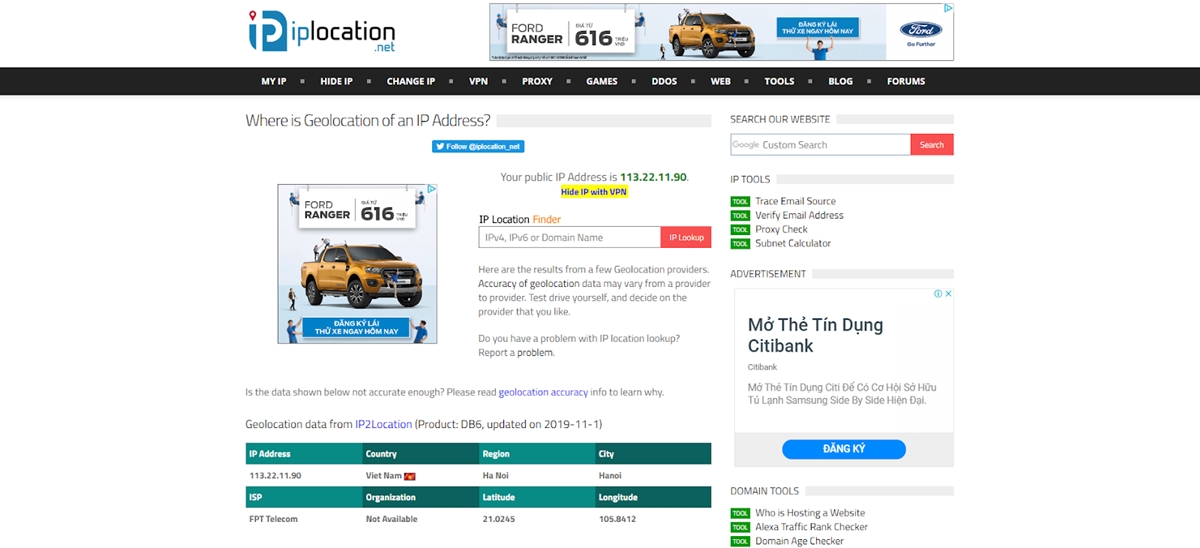 IP Location is a popular site that provides IP Geolocation and IP Resources, which are details about all IPv4 and IPv6 addresses. Right at the homepage, you can see the information about your own IP of Location, Internet service provider, latitude, longitude, and your IP address.
At the tools tab, you get even more information about a domain, web hosting, DNS, IP address, and website traffic data. All these tools are free to play with, so give them a try and you may find many interesting things.
7. IP Tracker's Lookup Tool

Last but not least, we have a simple tool like IP Tracker but it is still powerful for you to track down any IP address. When entering the websites, you will have a tool to lookup, find, and trace any public IP location from all around the world.
Two main tools that the site provides are IP Tracker and IP Lookup, which is quite similar. The difference is IP tracker is used mainly for your own IP, while IP Lookup is more fore other IP addresses and domain names rather than yours.
What do they mean for eCommerce?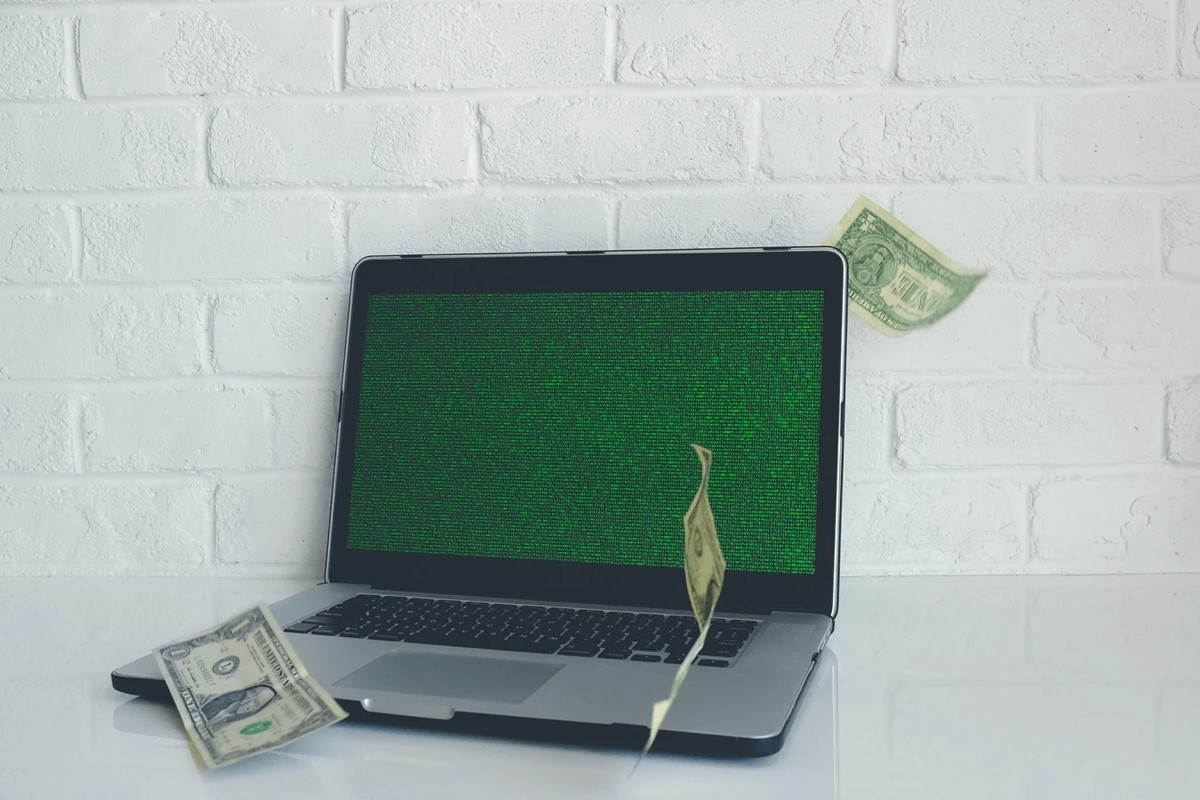 There are many ways to use the IP address for your own advantages and enhance your eCommerce store. If you don't know, you can even use it to have a better competitive edge with your competitors!
Let's see what IP addresses can do for you.
Merchant's site
Now for your own site's IP address, it is highly recommended to get a static IP address because it can help prevent identity and information theft from completed online transactions. Security technology used by eCommerce operators now mostly requires static IP addresses as well.
This type of IP address can ensure safety for customers when entering any credit card and personal data. Also, it is better to support high traffic volume, prevent crashes on site, increase loading speed.
Competitor's IP address
If you exclude your competitors' IP addresses in Google AdWords and other pay-per-click platforms, you can prevent them from seeing your PPC ads. This way, you not only keep them from seeing what you are doing but also saves money since you don't pay for their clicks.
Visitor's IP
As mentioned above, collecting static IP addresses can provide key information about connected devices. These pieces of information are continent, country, region, city, latitude, longitude, internet provider.
This is an excellent way to provide personalized content, experience, and ads that can match with visitor's needs better.
For example, a visitor from Florida would want to see your site in English, with summer clothes, dollar currency, and a map of nearby stores in the region. This can all be done through the static IP address.
How does IP location finder work?
As you can see, all the benefits of knowing the IP addresses of your visitors and competitors, it is time to learn how an IP location finder work. This type of tool can help you identify IP addresses and other necessary information to provide a better experience.
This is not hard to do; many services can trace an IP address and tell you detailed information about the city, service provider, and more.
The complete list of information may include the name of country, city, state or region, country code, zip or postal code, time zone, latitude/longitude, ISP and Organization, host, name servers, proxy detection, speed connection, operating system, browser language, browser type, remote port.
There are basically three methods for the finding process:
IP Lookup: The service to find out the location of any IP address (IPv4 or IPv6) and more information.
Reverse IP: An IP lookup locator tool to find Domain, location and search for additional information from any IP address.
Whois Lookup Service: A service to give you all the information about the owner of a domain and find out WHOIS the real owner of any domain name.
Examples of eCommerce store using IP location finder
Up til now, sure you have seen the benefits of understanding how to use IP location finder. Large brands like Starbucks and McDonalds usually locate which region their visitors are from in order to show relevant website content.
So let's see some examples of great stores taking advantage of IP location finder and learn from them for yourself.
Louis Vuitton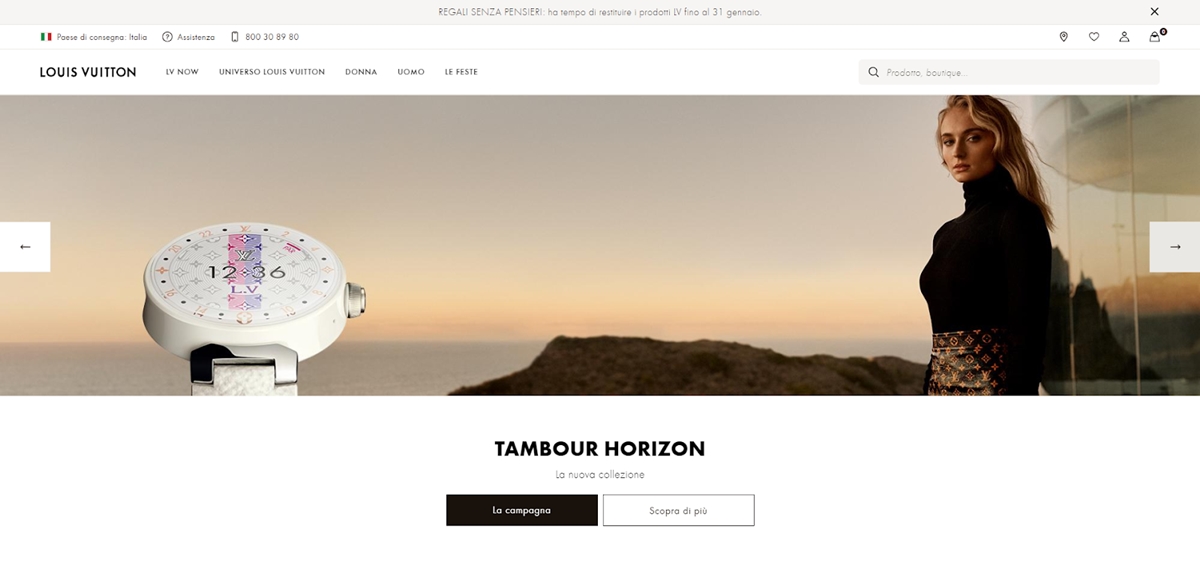 As a luxurious global brand, Louis Vuitton sure knows how to make a first impression. The image above is their site when you are from Italy with customized language, buttons, and atmosphere.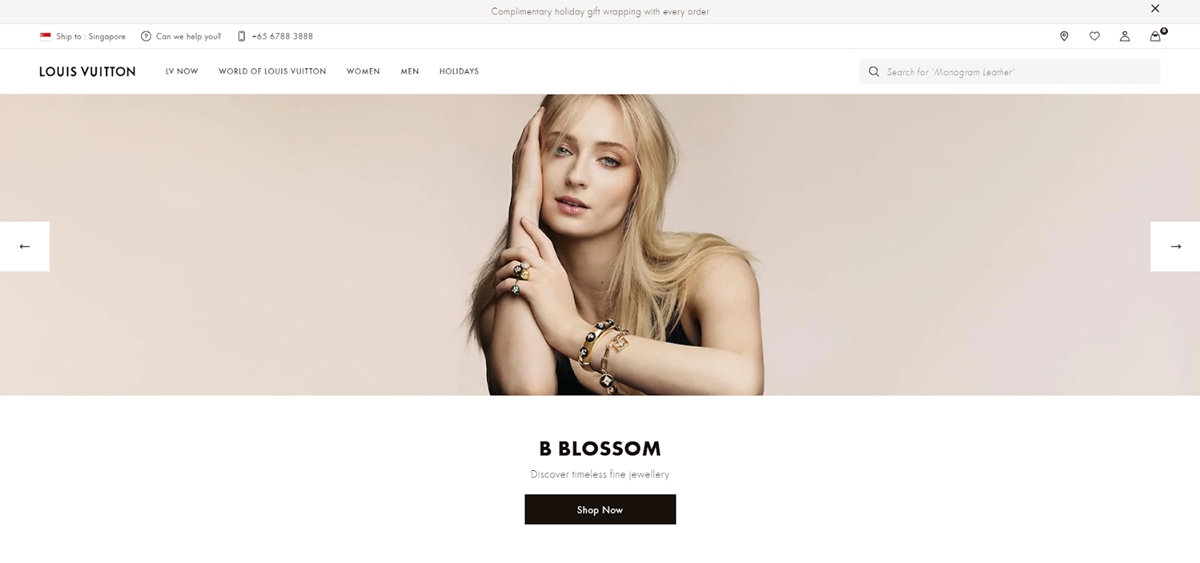 When with Singapore settings, the site has a more direct approach to showcase all the latest items, while still making sure visitors can understand.
The different versions also show different campaigns which provide great user experience and can make them stay longer.
ASOS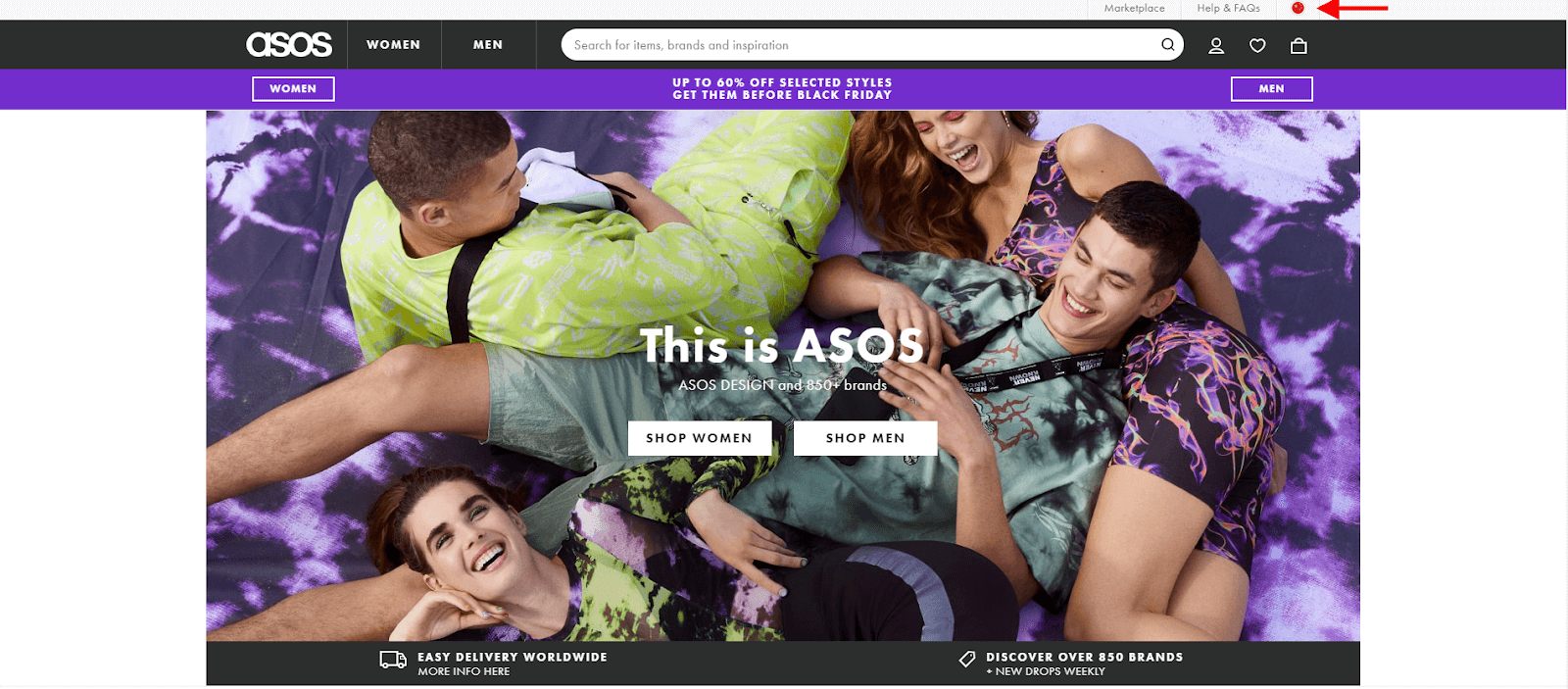 ASOS is a multi-million-dollar company that sells fashion items for young people. The site is colourful and lively, which uses IP geolocation to attract visitors even more. Just choose your country (they have many!) and you will see the little flag above change.
Then the site is translated with relevant content, currency, and payment methods, all for a smoother shopping experience. Many of your customers may not speak English, so try to make their browsing more enjoyable.
Bellroy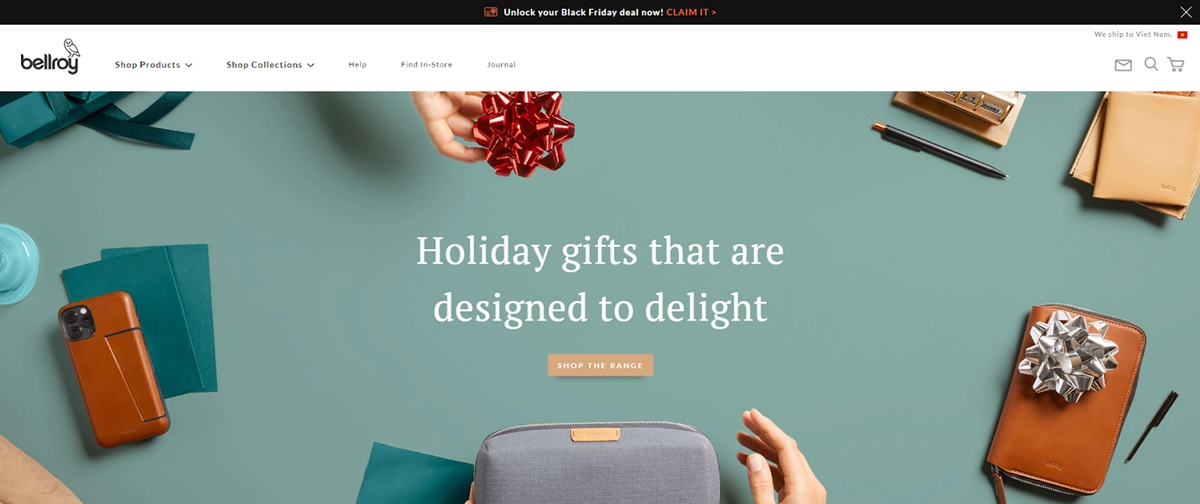 Shopify stores always look so cool, don't you agree? Bellroy sells premium leather products like bags, wallets, laptop cases, key covers, etc. The store is beautifully designed with a great colour combination and an image-focused approach.
As soon as you enter the website, a small note of "We ship to [your country name]" can be seen on the top right corner. The automatic use of IP geolocation makes customers comfortable cause they don't even have to lift a finger to change their location.
You may also learn a thing or two about website design when browsing their website, and key covers, who would have thought we need one?
Final words
In the eCommerce world, having a few new tricks can be the key to get more sales and customers successfully. And IP location finder & IP addresses lookup is a powerful tool to do that by providing a better shopping experience for your visitors.
Through the article, we have looked through the best uses and which tools to use for IP addresses lookup. Ideally, this is enough for you to apply to your own online business and start making your site more personalized.
If you have any questions, just leave them in the comment section below. I am always thankful for some feedback. Best of luck!
---
CEO and Founder of Avada. Pursueing a simple and healthy lifestyle. A friend, a husband and a dad of four children, a trainer and an influencer wannabe. He is a big fan of sports and travel, also.
New Posts
Stay in the know
Get special offers on the latest news from AVADA.