How to Increase Sales with Email Marketing? Best Strategies
Email marketing has been one of the most powerful forms of marketing in the world of eCommerce, but if you've never run an email campaign, it may be a little daunting to get started. To generate sales with email marketing requires more than just sending a few emails every month; you need a full plan that begins with coherent email strategies and ends with marketing automation. In this article, I will introduce to you some of the most popular email marketing strategies that you can implement to boost sales for your business. Let's jump right into the details!
How To Increase Sales With Email Marketing: Best Strategies
Keep your subject lines short and on point
The majority of email recipients skim their subject line in their mailbox to decide which emails to open and which to ignore. This means that subject lines are one of the keys to the success of your email marketing campaign.
And it's not only the content of your subject line but also the number of words you use that can have an impact on your open rate. Data shows that emails with subject lines of 6-10 words long are those with the highest open rate. On top of that, subject lines that can create a sense of urgency or exclusivity can have about 22 percent higher open rates.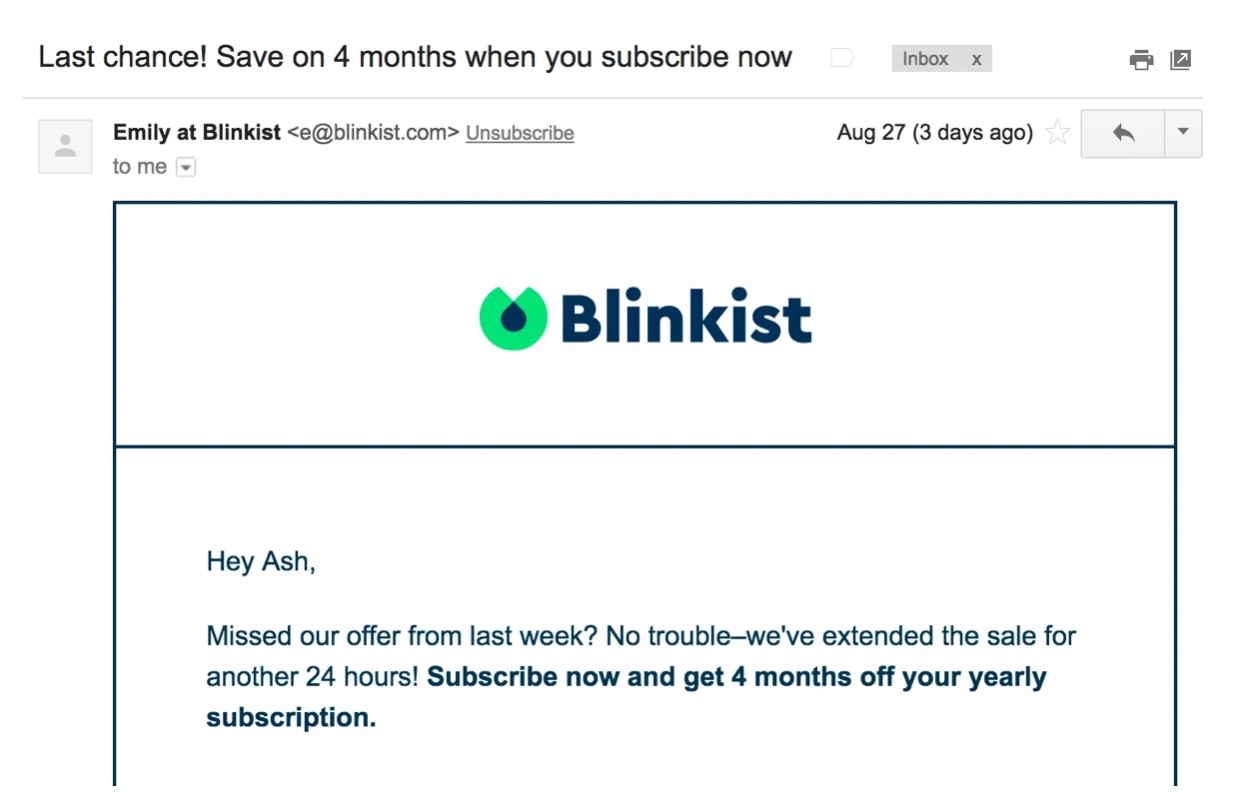 Subject lines are just a small part of your email, but they can either make or break your campaign's success. So, the next time you write your email subject line, bear in mind that if your recipients don't open your email, it doesn't matter how great the value you're offering is.
Read more: 101 Killing Email Headlines Examples
Go personal, but not too personal
There's no question that email personalization is a brilliant strategy that has proven to have enormous benefits in your mail campaigns. According to Invesp, relative to non-personalized, personalized promotional mailings, personalized emails have 29 percent higher open rates and 41 percent higher click rates. The advantages go much further. Epson's research reveals that 80 percent of consumers are more likely to buy from a brand that offers personalized service.
Although it's cool to go personal with the relationship you have with your customers, you need to be careful not to overdo it. Overuse names can make you look funny or even weird in your customer's eyes and hurt your reputation.
In a study conducted by YouGov, 32 percent of participants reported that they do not like personalized messages because they feel they are invasive of their privacy. In comparison, 29 percent said irrelevance is their top reason for distrusting marketers who use their names in emails. Here's where the right customer data will help a lot. For example, general user data, such as dates of birth, is another choice for personalization.
Experian research showed that birthday emails produce 342 percent higher sales per email, 179 percent higher unique click rates, and 481 percent higher transaction rates than promotional emails. This sounds like a pretty good reason to use personalization emails in your email marketing plan.
But keep in mind that personalization is more than just saying each customer's name in the email. There are many other ways to do this, and it's up to you to see which choice works best for your mailing list.
Use a CTA that stands out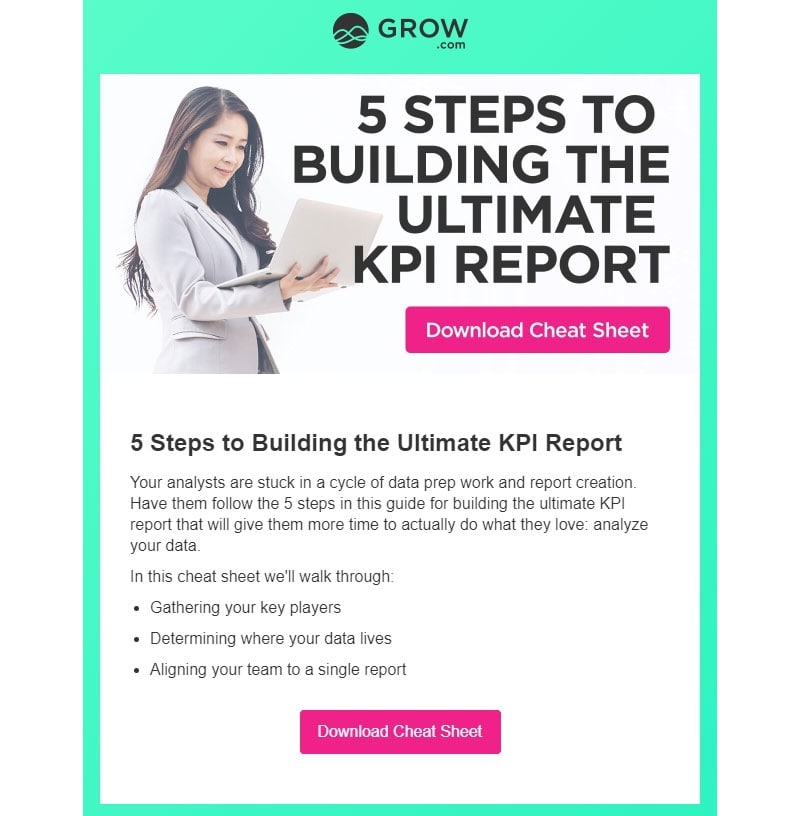 No matter what action you want to promote with your email, your CTA needs to be clear and purpose-driven. This means you'll want to spend some quality time designing your CTA. You may want to consider how you're going to show your CTA — Is a link text sufficient or do you need to build a CTA button to attract clicks? Here's an example of a great CTA:
The CTA of your email has an important purpose — it directs people to the landing page where your main offer is introduced. So make sure that your CTA lets your customers know what they should do next, and it needs to be easy to notice as well because your customers won't spend more than a few seconds looking for where to click.
Keep A/B Testing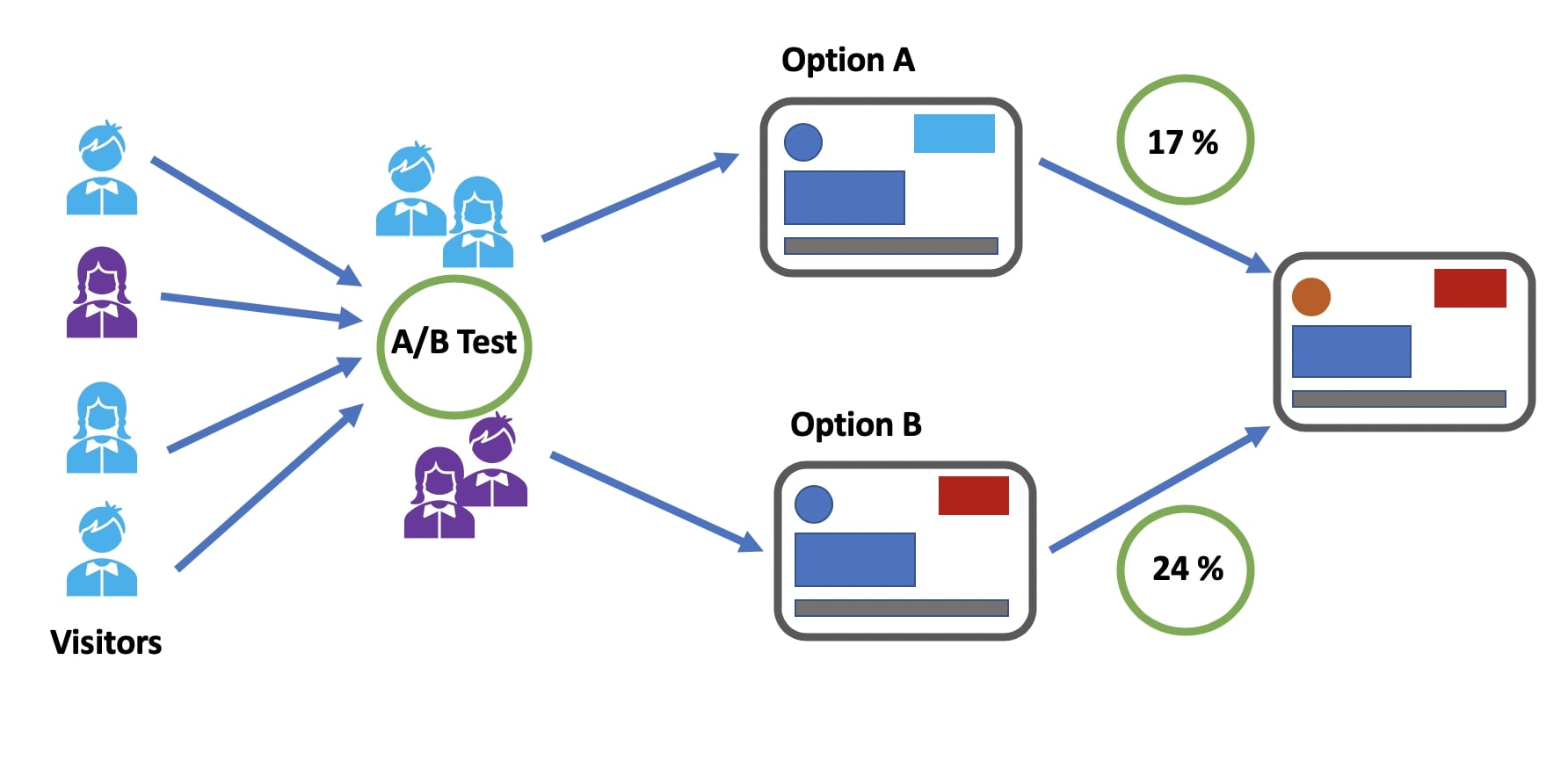 To figure out what works best for your email marketing, you've got to do a lot of A/B testing. Apart from the email copy, the call-to-action button, the template layout you use, you can also test the following factors -
Email subject line
Sender name and ID
Time of sending the email
When it comes to the best time to send emails, a variety of studies have been performed to define best practices for email marketing. However, the findings vary and do not apply to all businesses. However, there are some simple senses that you should remember when sending an email campaign:
On weekends, people often take time off work and do not open their mailbox unless there is an urgent need. So the open email rate is normally low at that time.
People check their email first after turning on their laptop in the morning. Ideally, this might be a good time to send emails.
Emails that go straight into the email box's promotion tab are opened much less than other emails.
Send Mobile-Friendly Emails
Imagine creating an email that looks so amazing on PC, but the moment you open it on your mobile phone, the photos don't show up and the interface looks terrible. As a result, the subscribers can't see what the email is about. This poor responsiveness can have a serious impact on the effectiveness of your campaign. To help you prevent this from happening, here are some quick design tips that you can follow:
Create one-column mails
Have an easy-to-tap, call-to-action button
Place important text-centered
Display small images
Use a bigger font size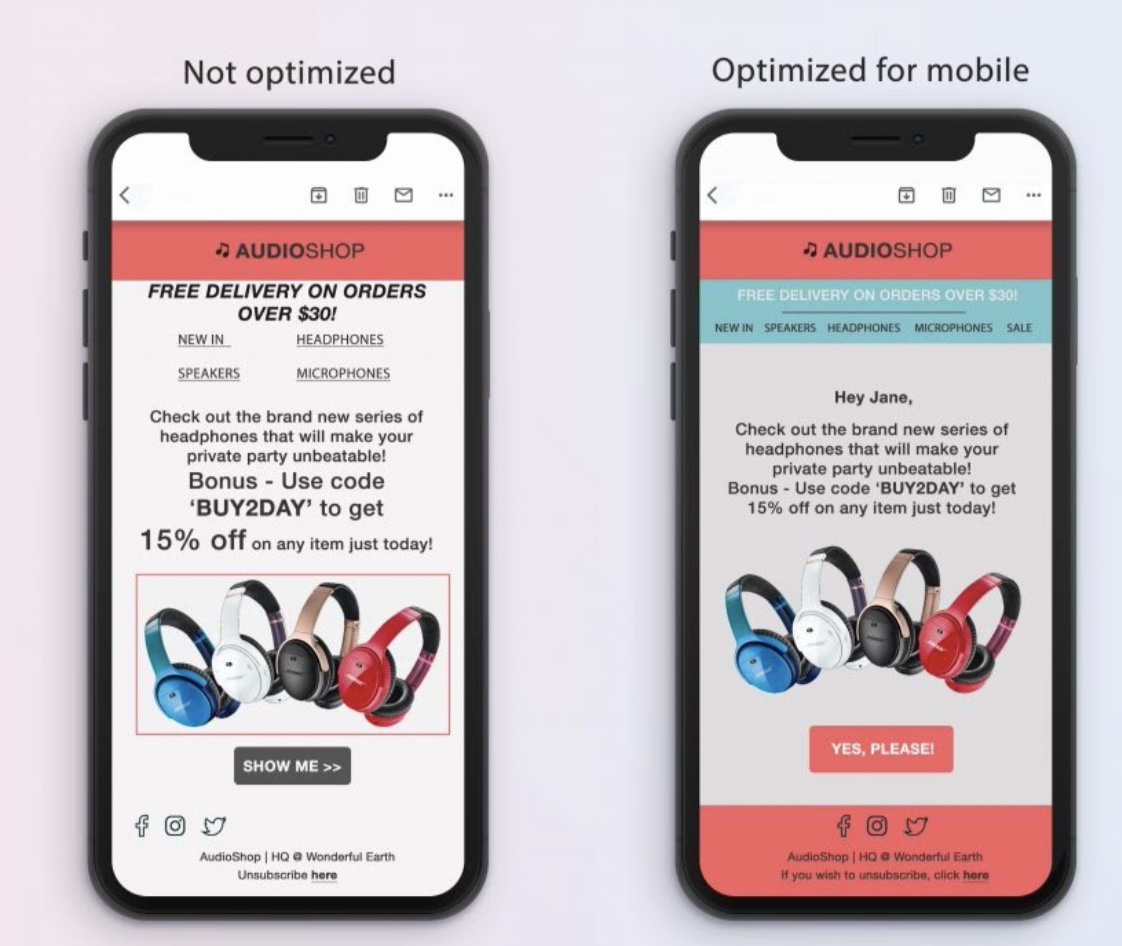 80% of Internet users own a mobile phone, and this number is expected to rise even higher over the years. That's why you should never run your email marketing campaign without a mobile design ready. No matter what your subscribers use to check their emails, make sure your email always looks great.
Segment Your Subscribers
Segmenting your email lists allows you to communicate with your customers more relevantly since you can send cat offers to people who are only interested in cats and dog offers to people who are only interested in dogs. If you do the right thing, the results will be assured. In their research on the power of segmentation for marketing strategies, Optimove found that segmented groups of up to 150 customers had an increase of at least $1.90 per customer. Such groups of 1,500 customers had an increase in the value of $0.90. This shows that the smaller your segmented groups can be, the greater the potential return you can get.
According to Lyris' Annual Email Optimizer Report, companies that use email segmentation have increased sales by 24 percent. Subscribers want to receive specific content to their interest – as it provides a more enjoyable customer experience. Taking this into account, it is important that your lists are correctly segmented to optimize your communication with your customers.
Read more: 8 Customer Segmentation Tips to Personalize Ecommerce Marketing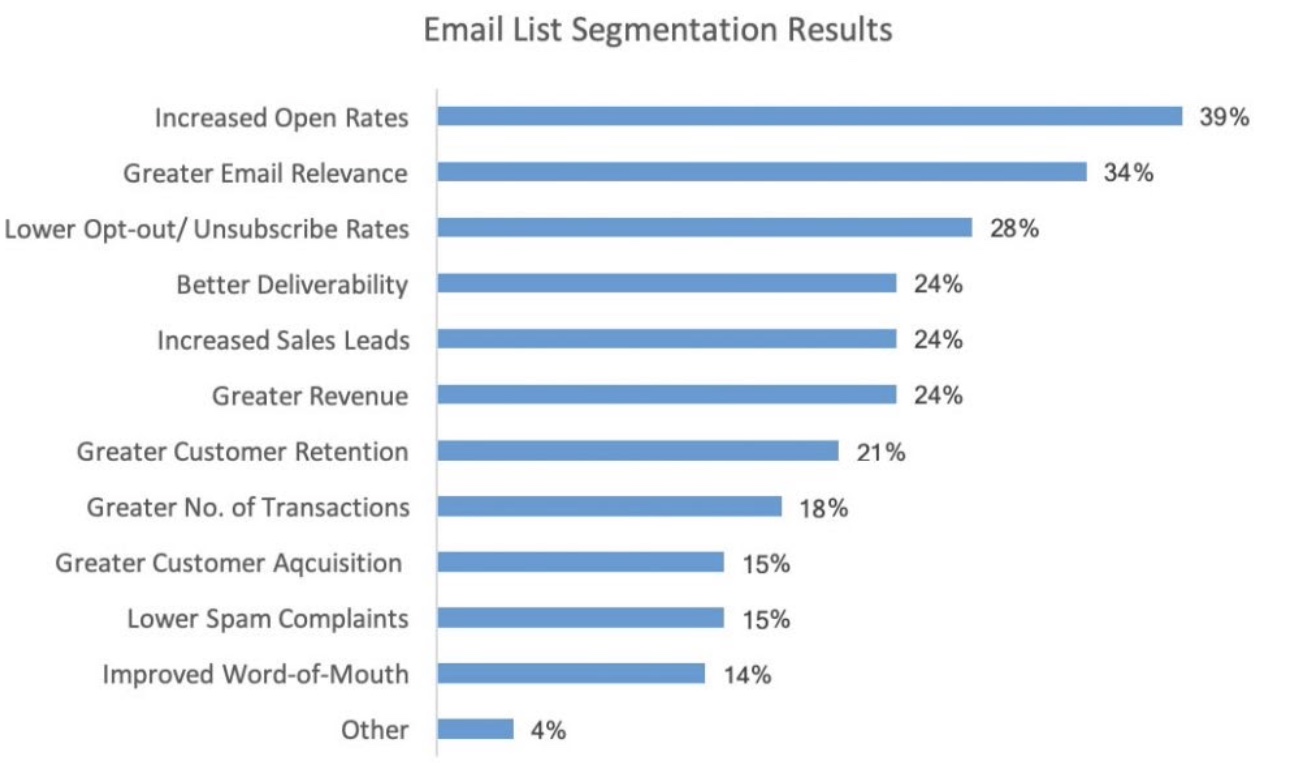 Here are some approaches that you can use to segment your list:
Demographic data segmentation – One of the simple ways in which you can segment your list is via demographic data (gender, age, location, income level, company position, etc.). If you are a clothing retailer, understanding the gender of your customers would be an important piece of knowledge. If you are a B2B app developer, on the other hand, demographics such as the location of the company would be of great importance.

Email engagement segmentation – This might sound simple, but it really has a big effect on overall performance. The key parameters here are the open rate and the click-through rate. You may use this form of segmentation to distinguish active vs. inactive users (e.g. someone who hasn't opened your email in 90 days). After segmenting these two groups, you can target your inactive users by developing a specialized re-engaging campaign.

Past purchase segmentation – this is another easy but successful way to refine your targeting. You may start by sending email recommendations for similar purchases made by these customers. Provided that someone has bought a hair product from your site, you may make an informed guess as to when this product could run out and send an email to the same consumer suggesting a reorder ahead of time.

Sales funnel segmentation – A valuable way to optimize your message is to segment your users by where they are in your sales funnel. The point is, you can't target those customers at the bottom of your funnel with the same message as those at the top. If you are at the bottom – a group of brand-new subscribers – you can send more generalized messages providing a variety of items or features. However, if they have already signed up and already engaged with your content, you can use that knowledge, decide what they are interested in and target their interests more precisely.
Capture email leads, segment your email list, and send personalized emails with AVADA Email Marketing from just $9/month. Sign up and try out the forever-free trial now.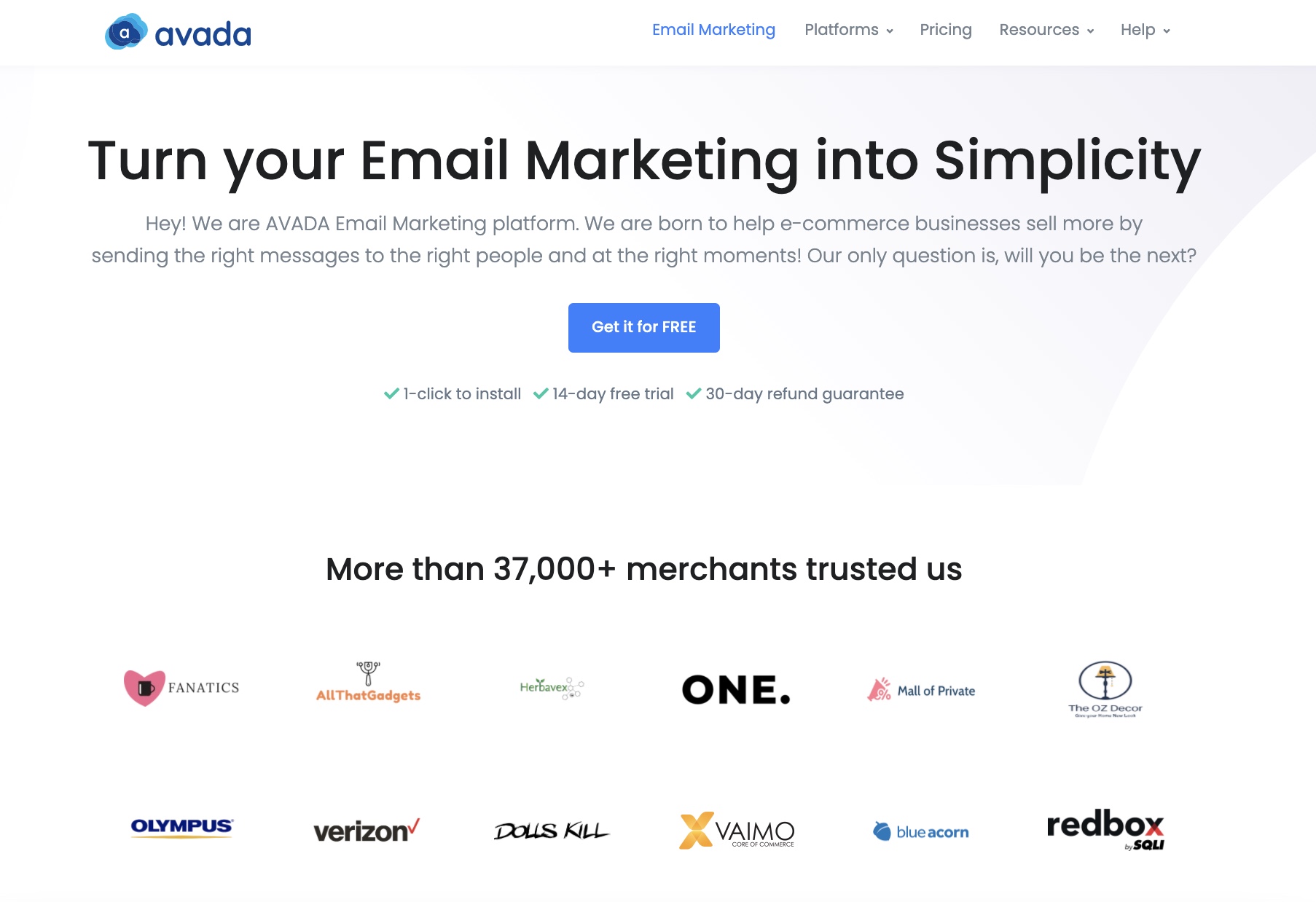 Offer freebies

Promotional gifts can not only help you increase the number of subscribers, but they can also increase your sales. You may be cynical about why you should give away anything free of charge, but this kind of freebies is what many subscribers want, and they are happy to give you their email address in exchange for them. Freebies such as templates and free trials are often the most used type of freebies to exchange for emails.
Despite how bad you want your email list to expand larger, however, there are laws that need to be followed, and that is the CAN-SPAM Act (Controlling the Assault of Non-Solicited Pornography and Marketing Act). According to the CAN-SPAM Act, when sending an email, you must have a subject line that is not misleading, your commercial email address at the bottom of your email and an unsubscribe button that is easy to find in every email – no exceptions.
This means that although your subscribers give you their emails in return for a freebie, you still have to follow what the law requires, not only because of the legal implications but more importantly – because creating trust between your brand and your consumers is the #1 marketing strategy you've got in your sleeve!
Re-engage your inactive subscribers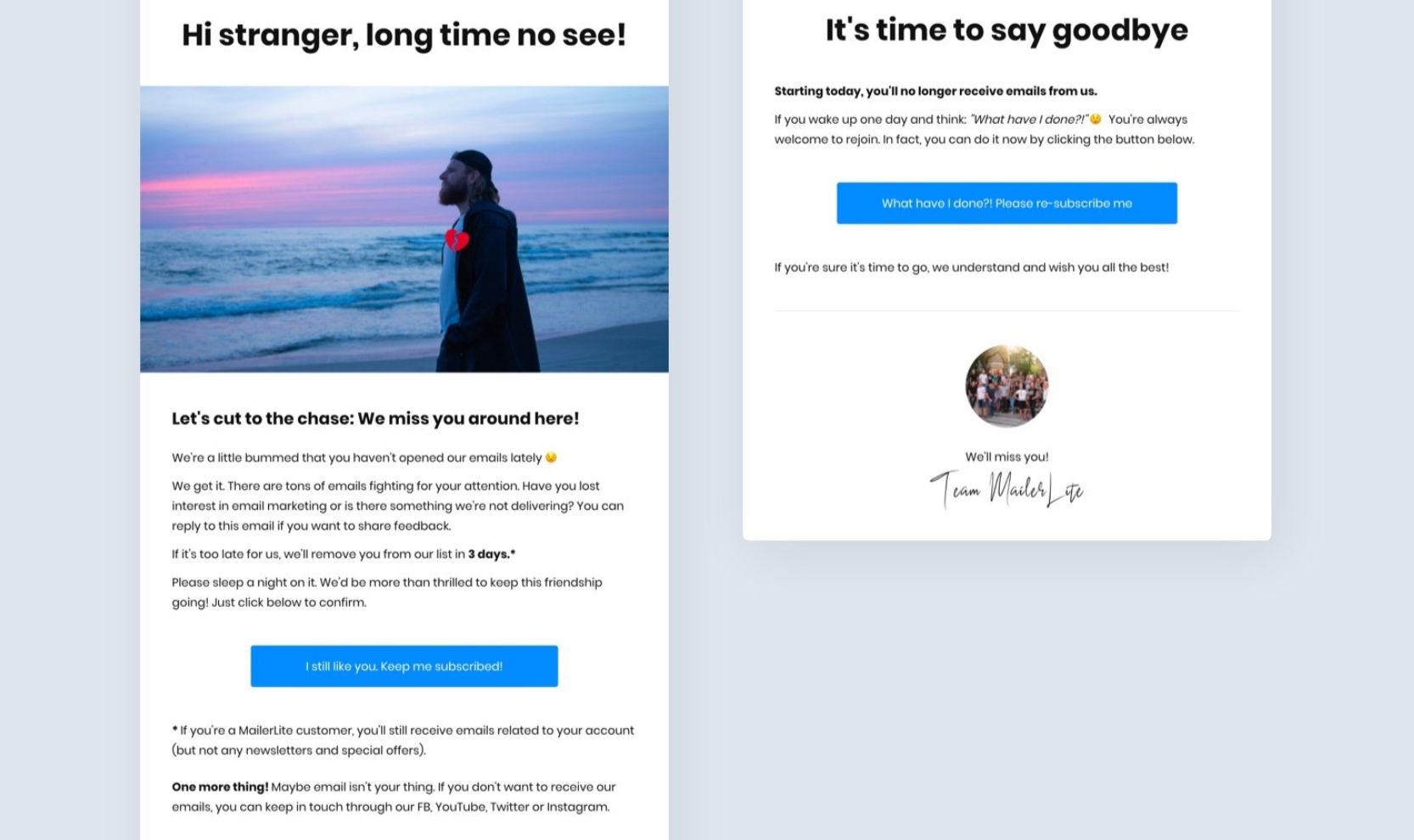 You'll lose about a quarter of your subscribers every year if you don't work hard to engage them by sending them the most important and relevant information. It's not possible to prevent your customers from unsubscribing your list, however, you can avoid it to some degree. So, how do you keep your email subscribers active, or to put it another way – how do you get inactive subscribers active again?
Before you can take action to re-engage your inactive subscribers, you need to define what inactivity means to your business. What does an inactive subscriber look like to you, how long the inactivity should be to be considered an inactive customer? Is it three, six, or nine months in particular? Think about what criteria define inactivity? Are they not opening your emails as often as they used to, or maybe they haven't bought anything in the last three months?
Think of what your subscribers do or don't do that match your inactivity criteria. For instance, many businesses are trying to communicate as much as possible with their subscribers. This leads to the point that so many emails are sent and subscribers find them meaningless.
When it comes to coming up with the right approach, you need to answer these questions, then you can move on to building an email re-engagement campaign. There are a lot of innovative ways to conduct the win-back. Some of them go for the "we-miss-you" type of campaigns, as well as promotions and promotion codes – or maybe both.
Win-back campaigns are often not that straightforward. But bear in mind that businesses investing in re-engaging campaigns in their email marketing will see a return of $28.50 for every $1 invested. This means that getting inactive subscribers back is more cost-effective than acquiring new customers.
Whatever your plan is, there will still be times you send a number of emails and your subscribers just won't be back. In this scenario, it's best to create a survey and ask about what they are interested in.
Let your subscribers determine if they still want to receive your emails. A small but active email list is better suited to your email marketing performance than wasting time on subscribers who won't come back, no matter what you do.
Learn more about email marketing through these sources:
Final words
One of the biggest benefits of email marketing is that it's relatively cheap compared to conventional marketing. Note to make your emails user-friendly because most of your subscribers will be reading their emails on mobile devices.
You must carefully evaluate every aspect of your email before you send it, and your email marketing strategy can become more effective when you apply the strategies mentioned in this article in your next campaign.
I hope that you have gained a lot of useful information about what you can do to boost your sales with email marketing in this article. Please feel free to leave comments below for a further discussion on this topic.
---
Sam Nguyen is the CEO and founder of Avada Commerce, an e-commerce solution provider headquartered in Singapore. Sam aims to support more than a million online businesses to grow and develop.
New Posts
Stay in the know
Get special offers on the latest news from AVADA.