Top 10 Best Highest Converting Themes for Shopify
Shopify online business is becoming more and more every day. When you run a business on Shopify, making sure that you can make money from the store is always important. In order to do this, it would be hard if you don't have the help of a suitable tool, and you are more likely to spend lots of time and money and still fail to compete in the market if you don't understand. Using the best converting Shopify themes is one of the methods to get that purpose. With the themes' designs with the elements to attract users to make decisions in a purchase, signup or some other conversion that benefits your business.
As a matter of fact, the best product is what can create the best results for your store. However, having the best themes to make a certain impression from visitors is what can really help you grow in your business. But, what is the best Shopify themes of high conversion? Then, this article is here to bring you a list of more than 10 themes that you should consider for your store.
10+ Highest converting themes for Shopify
What is a high-converting Shopify theme?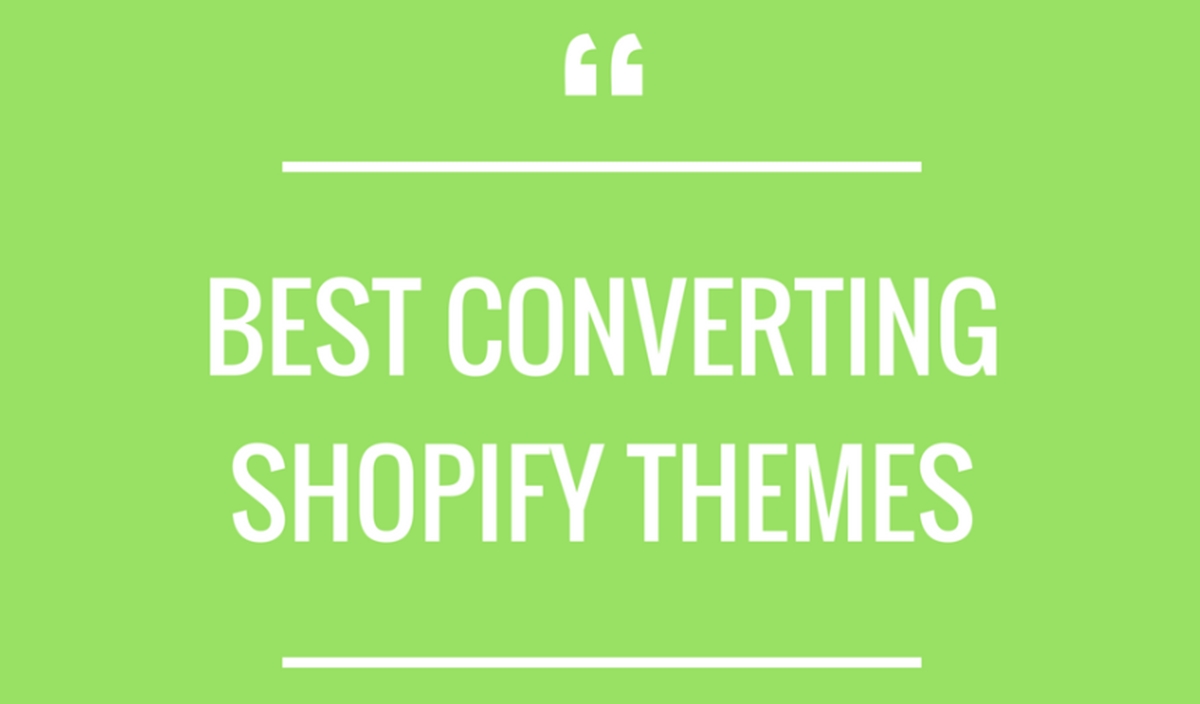 There are many factors that can decide whether a website is good for converting visitors. Basically, a qualified Shopify theme is what can provide Shopify owners the help to get the best designs in order to effectively show and sell products. So, when you are looking for the best Shopify themes for high conversions, you will need to be careful and consider some features or factors below:
Easy to use and navigate around.
Offer the best customer support system.
Customize for your needs easily.
Being developed from quality coding and made in security.
Be a clean Shopify theme.
Responsive to both mobile and desktop designs easily.
Low price.
High loading speed.
Unique design that draws the attention of the audience to Call-to-actions.
Provide better navigational options
Here are a list of Top 10 best Highest converting Shopify themes
There is a list of some options that I recommend for you if you are looking for the best converting Shopify themes.
1. Booster theme
Booster theme is considered to be a very easy to use and customize Shopify theme. Overall, this theme is quite popular and there are over 3000 online stores currently trust it. The best and most outstanding feature of this theme is the ability that leads to easy customization in your Shopify to meet your needs.
Also, there is some very specific sales-boosting apps embedded in this theme. As a consequence, you will be able to install and use up to 10 apps. Both mobile devices and desktop can work very well with this theme. Especially, when you load your page via a mobile device, there will be the present product title, image, price the buy button presented above the fold to help your visitors make a purchase easily.
2. Retina theme
Retina theme is a great solution for more modern design with all sorts of current bells and whistles. There is the "Quick Shop" button on the category pages of this theme, which is available to a simplified product page and even plays a role as an alternative way for the user to shop.
At the same time, the volume of cart additions on this theme also has enough conversions to outperform the alternative. Additionally, the filtering options available on the category pages with the ability to filter down options and find the perfect product is also a huge plus point to drive conversion for high-price, and highly-customizable items.
3. Turbo theme
Turbo theme is known as one of the best Shopify eCommerce themes available now in this competitive market. This theme is confident in being well-built by Franklin Hatchett, who is a drop shipping pro. There is a wide range of amazing features available on this theme, which can really make it become unique and outstanding. One of these features is various easy-to-use conversion apps available on this theme.

In addition to that, you will get a complete homepage customizing feature, titles, layouts and prices, which enables you to customize your own unique look exactly like the way you want. Plus, everything about Turbo is designed to be customizable. Also, it will absolutely look great on both mobile and desktop devices.
4. Konversion theme
Konversion theme is created with the main selling point of ability to bring awesome looks on mobile and the specific optimization for the platform, which could rival a professional eCommerce store with a million-dollar budget.
The best features of this theme lie in the announcement bar with CTA buttons, the shipping rates and the ability to do so much with the checkout such as hiding add to cart buttons, popping the cart and adding trust badges. You can easily add all kinds of fonts, colors and images here. Just like eCom Turbo, this theme also includes a page builder, currency switcher, countdown timer, deal of the day widget, newsletter popup, announcement popup, upsell popups and integration with Uploader. As a result, customers can attach files with their orders.
Even more, there are a ton of plugins available here like Automatic Discount, Ultimate Upsell, Milestones, Warden, Carter and Motivus applications, and many more.
5. Polaris theme
Polaris theme is usually considered to be a great minimalist Shopify theme. You will be able to draw the attention of your business deserves and then get help in converting your website with ease.
This theme is designed stunningly, which is perfect for all business niches, especially for fashion and luxury stores. There are some great features available here to help you to convert visitors. The first one is the product filtering system, which enables your products to be shown and filtered based on their colors, sizes and other criteria that you choose to insert to the mix. Your product, cart and collection pages will be set to be powered by AJAX. Consequently, you will be provided a quick shop feature to convert more visitors faster through a streamlined purchasing experience.
Also, you can choose to utilize the newsletter popup features, which enables visitors to subscribe to a mailing list as well. There are the amazing customer reviews feature that you can utilize to build trust with your audiences as well.
6. Art Furniture theme
Art Furniture theme is known as one of the most responsive and professional web designs especially for furniture store. The elements of this theme will be easily adjusted in the way you want. Also, you can convert them into a totally different store without any difficulties. Your products will be centered on this image-oriented design, which is going to be a great fit for promotions of your products and services.
What is more, there are more than four Home versions available here, with the social media integration and numerous functionalities in the right way. Also, a great number of Theme Color Options, Wrapper Default, Multiple Currency, and so on is ready to be used on this theme to give your customers a unique, convenient, and authentic shopping experience.
7. SarahMarket theme
SarahMarket theme is created as a Premium Multi-purpose Responsive Shopify Theme & Niche Designs by the ThemeForest's Elite Author team. This theme is confident in its Sectioned Shopify Theme, responsive, mobile compliance. What is more, the W3C, HTML5, CSS3 elements are also made sure to be strictly valid and compatible. You will be able to configure the background and color for header, content, footer and some other modules in such an easy way.
What is more, this theme is Internationally supported, which allows merchants to utilize the Shopify Language Editor to translate their storefront content into another language. Plus, you can flexibly change and use the three different creative designs in the theme park as well.
8. Jasper theme
Jasper theme is a perfect choice for those who are looking for an easily customizable and easy to adapt Shopify theme. In detail, this theme is designed to provide users with a huge range of customization. For example, you will be able to adjust and change every element in the store, flexibly choose to use up to 14 different homepage templates.
Also, this theme is designed to enable you to insert 10 different sections on your page that help your customers navigate easily. These elements are able to comprise various components including grids, newsletters, social links, carousels, tabs, Google Maps. Products, and many more.
9. Venture theme
Venture theme is free theme, which is suitable for outdoor products and adventure sports stores.
On this theme, there is the homepage banner, which allows users to input a good amount of text for explanation of your unique value propositions on your website. At the same time, it also spares you a large amount of space on the HP for other categories you want to feature. The product pages design on Venture is also placed in good share, but not cluttered, this is really good for large product images and showcase of your items with the minimal distractions.
However, there is one limitation of the product pages on Venture, which should have more customization out of the box. In order to accomplish som of these features like highlighting important information (price, the add to cart button, and product info) increase user attention on actionable content, and increases conversion rates on Venture, you will need to add some extra code to the theme.
10. Shoptimized theme
Shoptimized theme is a theme created by the Conversion Rate Expert, and it has quickly get the first rank in the unofficial Shopify theme. This theme not only offers you the fast loading page speed, which can save you an amount of money for the apps that you will not need. Also, there is more than 30 conversion-boosting features available on this theme, which can help you get more clicks from your customers.
Additionally, there is a free app available on this theme to bring you real-time with popup notifications. Of course, you will be able to get free updates via the app, which can save you a big amount of time to reconfigure the theme every time you want to upgrade to the latest version.
11. Fashionopolism theme
Fashionopolism theme is a theme that is decently versatile, at the same time, it has some features that other themes can not have. First of all, this theme is designed to have a pencil banner for promos across the site right out of the box. In addition to that, you can have the sticky menu located on your current page when you scroll down the page on desktop. As a result, you will not have to scroll back to the top but still can jump pages and navigate the site.
Also, this theme has the cart icon placed in the middle of the page at the top of each mobile page, which is suitable for sites where multi-item purchases are common. Consequently, those customers who want to look at additional products will be more likely to get back to their cart with this incredible feature.
Conclusion
On the whole, when it comes to Shopify themes, the best Shopify themes is what can make people impressive and stay in your store. However, the other essential factor that you also need to care about is still your products. If you want to keep your conversion continuously become high, then pay attention to create your store a stunning look by a good Shopify theme and also provide your customers with a good source of the best products.
This is the end of this article today. I hope all this information about my Highest converting themes for Shopify list will help you a lot in your Shopify business. If there is any trouble occurs in the meantime, feel free to let us know. Our support team is always willing to help you.
Related Posts:
---
About Author: Helen
Hi! I'm Helen. I am a content marketer at AVADA Commerce who is into music, writing, reading, traveling, and discovering new things. Also, I have been purchasing international communication and digital marketing for 4 years. I'm ready to help customers find solutions for their troubles, especially in business development
New Posts
Subscribe
Stay

in the know

Get special offers on the latest news from AVADA.
40k
subscribers has been joined!
Earn $10 in reward now!