High ticket dropshipping: Everything you need to know!
Dropshipping has become one of the effective ways for many retailers to get started without spending a ridiculously large amount of money on startup costs.
But do you recognize this reality?
Most entrepreneurs launch their dropshipping business with the common method: selling low-cost goods at less than 30% profits. It's quite easy to understand, they don't want high startup costs and risks!
But remember one thing, high risk, high return! Many people think it is worth spending on high ticket items for their larger profit margins. That's the reason why high ticket dropshipping appears.
So, this guide will show you everything you need to know about high ticket dropshipping, including its meaning, benefits and risks, top best niches and products, and 5 necessary steps to starting your high ticket dropshipping store.
Just follow until the last words to explore!
What is high ticket dropshipping?
Basically, dropshipping is a business model in which retailers or sellers do not carry the inventory. All they have to do is receiving customers' orders and sending them to the third party, such as a wholesaler, manufacturer, or another retailer that then ships the product to the customer.
Read more: What is dropshipping? Is dropshipping profitable?
When mentioning dropshipping, everyone has a different mindset on what labels a product as a "high ticket". Most people suppose that anything over $200 per unit is a high ticket product, and the profit margin is over 30-40%.
In reality, there is not a standardized definition of high ticket dropshipping, because in some cases, people may refer to products with a retail price of $1,000 or more. So, in general, I would say, each product that is not an impulse buy with the price ranging from $200 to $1,000 or more, and allows you to earn a profit of above 30%, can be considered as a high ticket product to dropship.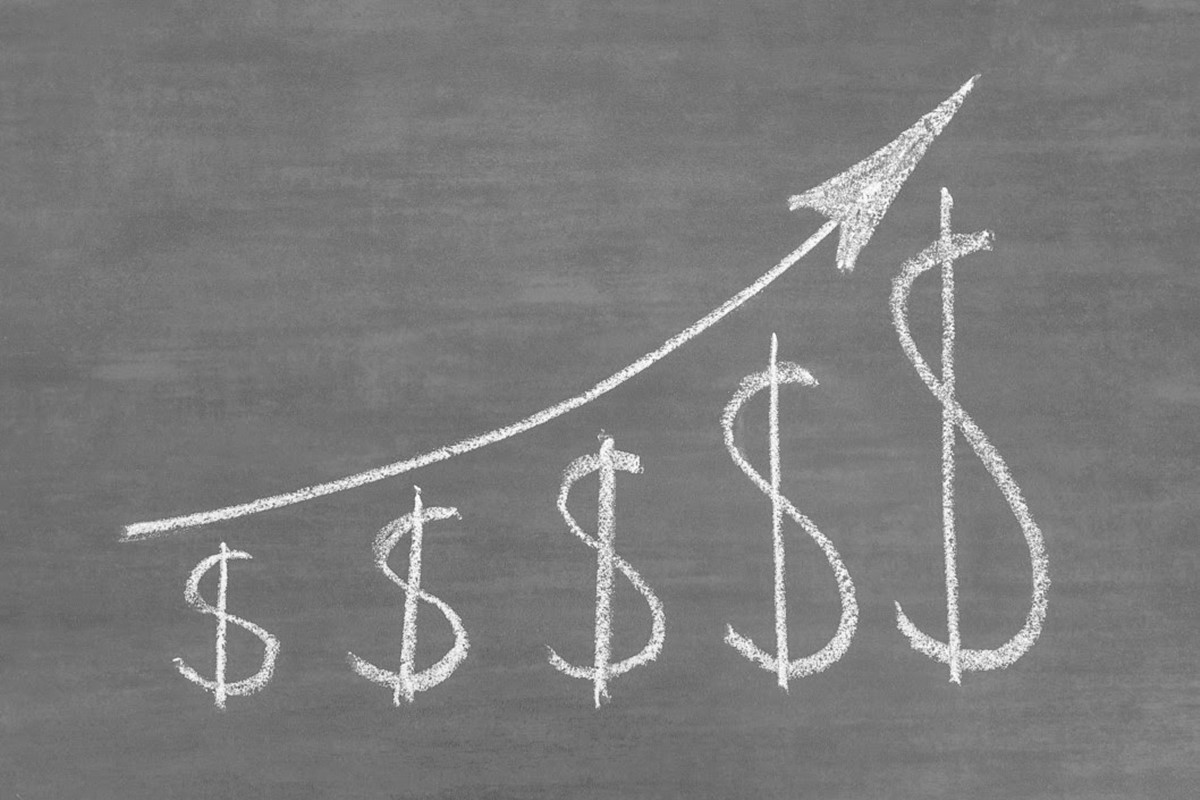 Here is a typical example. A phone case is a popular dropshipping product, but it is an incredibly low ticket one because the purchase price is pretty low. On the flip side, a smartphone can be a high ticket item because its price is high, and people often have to think a lot before making a decision to buy one.
Usually, customers need to have trust in a retailer and even prefer to visit a brick-and-mortar store or showroom to physically handle a higher-priced item before buying it. Therefore, it becomes much more difficult to start a high ticket dropshipping business.
But don't worry, if you equip yourself with enough information and knowledge about this niche, it will pay high dividends over time!
Benefits and risks of high ticket dropshipping
Selling high ticket dropshipping products owns its set of benefits and risks. You need to understand both before deciding to venture into the sale.
There are few reasons why you should start high ticket dropshipping business today:
Higher profit margins. High ticket dropshipping products will bring you a higher ROI (Return On Investment) than the other ordinary items. Even if you don't have as many sales as a person selling glasses, for example, you will make your revenue higher since you have a high cost per item on every digital watch.
More sustainable business model. Traditional dropshipping often involves jumping into the latest trending product, exploiting its value, and moving to the new one right after the old one becomes saturated. With high ticket products, you only need to concentrate on a few specific items. Hence, it will face less competition and remain less affected by trends, which increases the chances of staying in the long-term.
Lower volume of customer support. When you've got fewer customers, you'll have fewer support requests. This helps you save up valuable time that you can spend on other aspects of your business. Besides, you can also allocate more resources, care, and attention to your high potential customers.
You might be thinking, why doesn't everyone earn money from this model?
If it were so profitable, everyone would do it, right?
The truth is, it might seem profitable, but it's much harder to sell high ticket dropshipping products. Here are some downsides of it:
Higher initial costs. While the startup costs are still low in comparison with traditional businesses, you'll need more cash reserves than low ticket dropshipping. Because your products will be more expensive, you need to invest more in both advertising and setting up your online store (product images, copywriting, etc.) to attract the prospect.
Cost of warranties. A warranty is one way of building and increasing trust in your products. No one wants to spend a lot of money on an unknown product that will only last a few days and get damaged. The best solution is finding a supplier with the warranty of the manufacturer. And it would cost you time, resources, and even money to do that.
Time and money investment. Although you don't need to start your business with so many products, the cost to choose just a few high ticket products is expensive. You need to put this into consideration when laying out your business plan. Also, you will spend more time on establishing credibility before you get customers.
Is high ticket dropshipping a great idea?
After reading both the pros and cons of high ticket dropshipping, you might wonder whether it is a good idea to start now.
If your answer is yes, congratulations, we also think it is worth trying. If no, do not stop reading, because we will show you why high ticket dropshipping would become your next choice.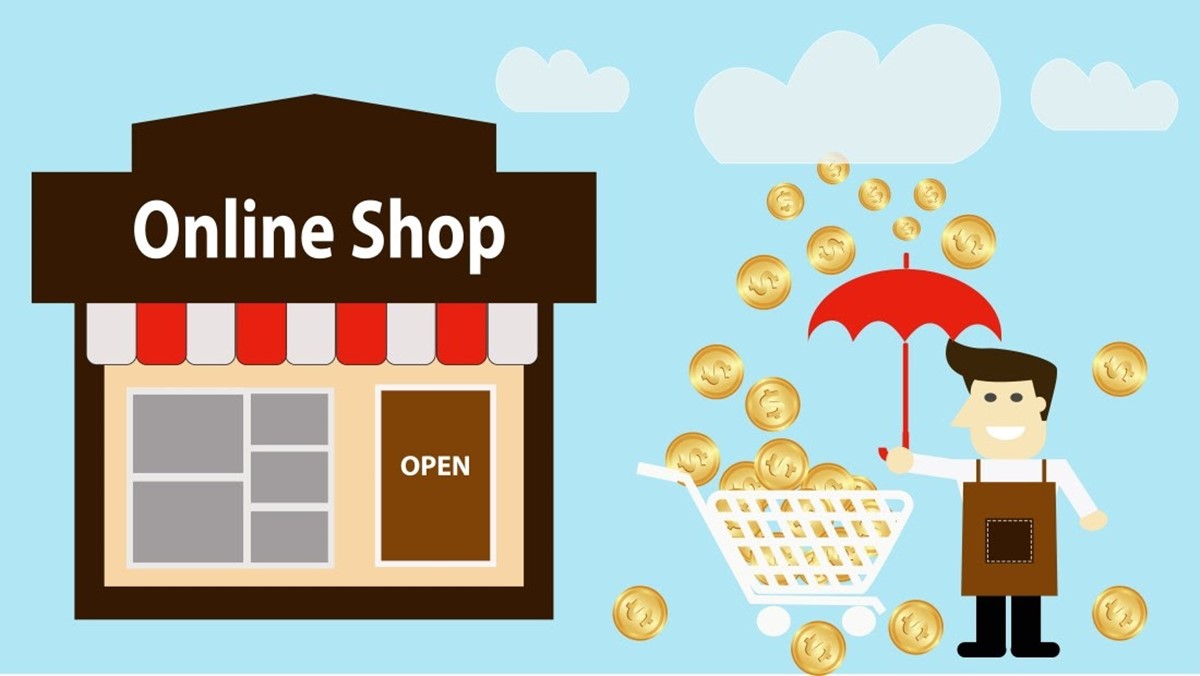 Of course, one undeniable fact of marketing is that high-priced products are more difficult to sell; it is true for all business models, not just dropshipping. Nevertheless, profit margins for high ticket items are higher as well, which means you'll have a larger budget for advertising and other marketing efforts.
No matter what products you want to sell, it would help a lot if you do your product research first, and make sure that your sales volume, advertising, and marketing costs all balance out to a profit.
Learn more: How you can easily find: What to sell online
So, to help you stop worrying, we recommend that you sell both high and low ticket items to balance between your sales volume and profit margins. While high ticket products can be a good idea for your overall profits, the inconsistent sales may plan out your budgets and expenditures. Having a stable source of low-priced product sales can help smooth out your process and make it easier to balance your budget.
10 best high ticket dropshipping niches
These 10 best high ticket dropshipping niches are all over the Internet. Focusing on the right for your store can take your business to the next level. You can simply find a niche that suits you, pick interesting products, and start launching them on the market for your targeted audience.
But before jumping into the best niches for high ticket dropshipping, let's have a quick look at the characteristics of ideal niches for this model.
Recognize brand names
Model names and SKU numbers
Lots of potential suppliers available
High margins
The target audience that is willing and able to pay with a debit or credit card for your products.
Learn more: How to find a profitable niche for dropshipping?
So, we've put together some of the most common high ticket niches below to help you get started.
Home appliances
Home theatre equipment
Camping equipment
Furniture and mattresses
Watches and jewelry
Art and statuary
Bicycles, electric bikes, and bike racks
Digital cameras and camera accessories
Automotive equipment and accessories
Drones and model aircraft
10 common high ticket dropshipping products
1. Automatic Espresso Machine
The automatic espresso machine is a great finding of this year for high ticket dropshipping products. This type of product can be seen at cafes, restaurants, and bakeries. However, many customers do have one for their homes.
The outstanding point of this is the super-automatic functionality that is easy to set up, simple to use, and doesn't require a user manual, with the price range of $200 to over $1,000.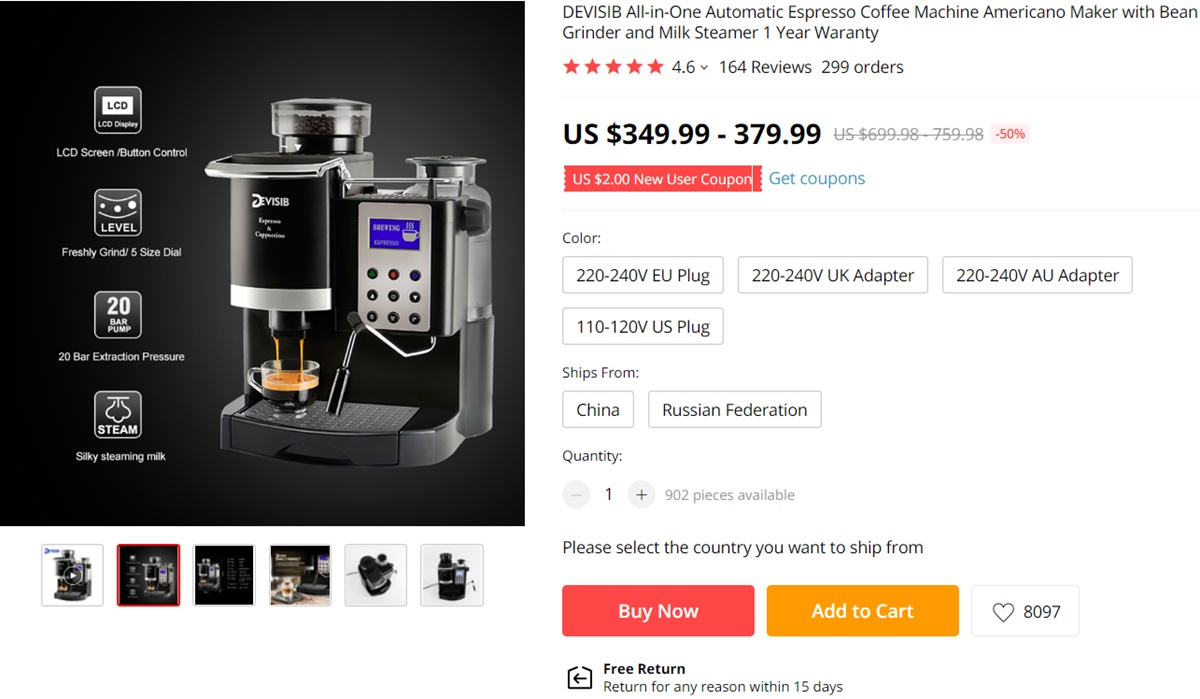 You can find suppliers from DHgate or AliExpress to find the best quality products for dropshipping. There are many suppliers available for espresso machine products, so the prices may vary a lot.
2. Home Theater Projector
A home theater projector is the right choice that you can sell for a high profit all around the year. Nothing can bring a family together like a great movie, funny TV show, or exciting playoff game in a cozy home theater. That's the reason why this product is attracting more and more attention each year on Google trends.
So, you just find a five-star rating supplier on the best dropshipping websites and you are good to go.
3. Waterproof Camping Tent
The number of people camping and setting up a tent is annually increasing. And of course, no one likes rain messing up their outdoor trips. Getting soaking wet is usually a cold, unpleasant, and terrible experience. Still, with the help of a waterproof camping tent, you can turn it into an enjoyable and cozy one.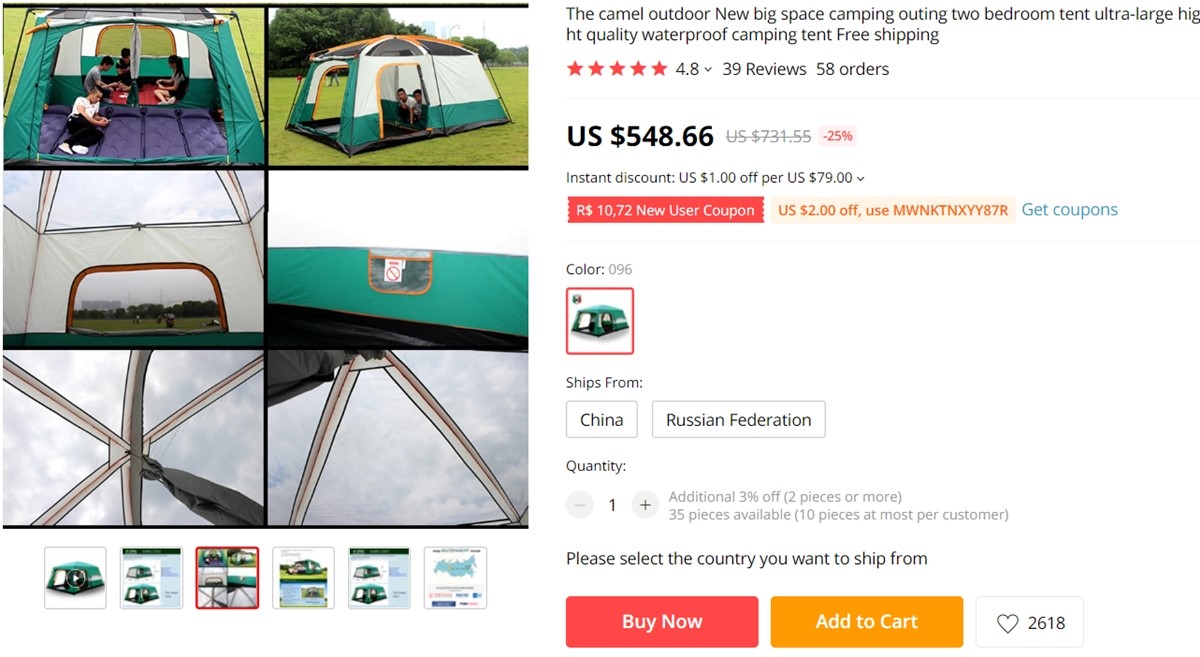 On AliExpress, you can see the high-quality product is available for the price range between $200 and $1,000 with many other amazing features, such as the spaciousness for the kids to play inside when it's raining, the wind-strong frame to keep everything intact even in rough storms, or a ventilation system that ensures the air stays on the move and never becomes stale.
4. Steam Shower
Shower trends can be all over the place, but steam showers may be here to stay, at least for the foreseeable future. All trends shift, but in bathrooms, decor preferences, styles, and features seem to be moving in a more luxurious direction. Now, the steam shower might become the bathroom must-have of the year.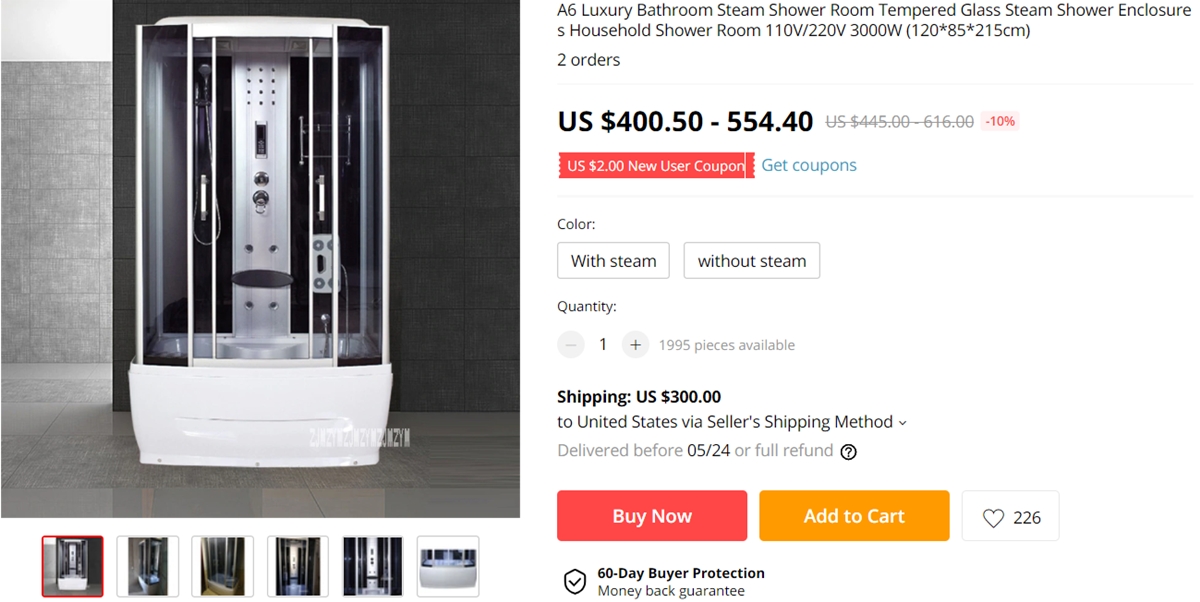 There are often two options to install a steam shower: A standalone steam generator or a steam shower kit. Generators start at around $800 plus installation costs, while a steam shower kit can cost up to $2,000 and more. So, while choosing a supplier for this product, you should choose one with a high level of credibility.
5. Gas Grill
The backyard barbecue is an indispensable part of the family experience in many countries. And though you may take great care in selecting and preparing the foods, the success of your meal often comes down to the quality of the grill. So, gas grills become a very popular and dropshipable product.

You can find gas grills in many dropshipping websites with various price levels. But if you choose a high price one to dropship, you can make your business different and less competitive. Besides, an expensive one also has its own striking features, as well as a specific number of warranty years.
6. Electric Bike
The first thing you should know about electric bikes is that their sales jumped by an incredible 91% from 2016 to 2017 alone, according to the market research firm NPD Group. It's a $77.1 million industry, and there's no sign of a slowdown.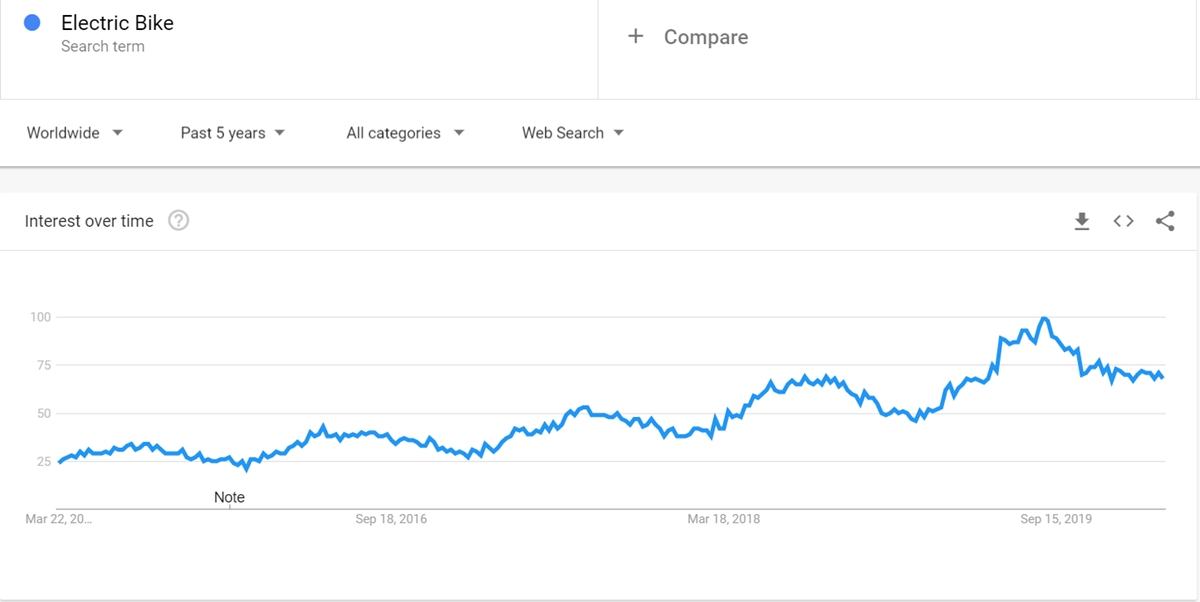 Electric bikes become a common high ticket dropshipping product because they remove many of the roadblocks and challenges that people face with traditional pedal-powered cycles. It might be expensive, but in fact, cost-saving, as it requires no licensing or insurance, and it can improve health and connection with the community.
7. Electric Fireplace
Electric fireplace is a great dropshipping product that you can sell for a high-profit margin in the winter. If you are selling in countries where the temperature is so freezing that it is unbearable, this item can work very well.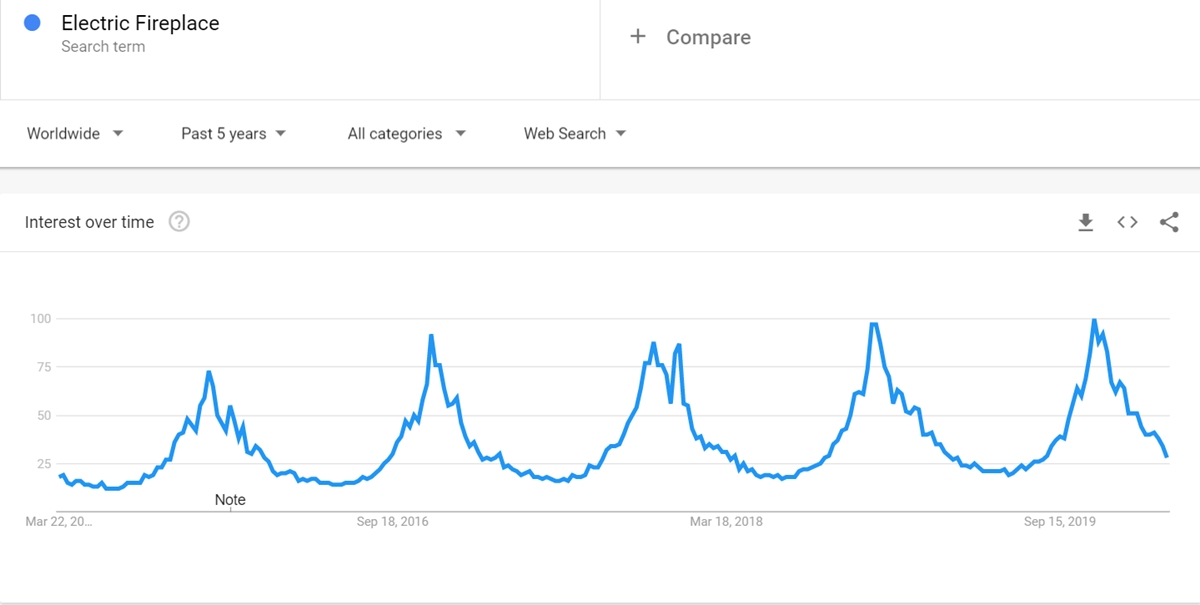 In addition, unlike wood-burning fireplaces, electric fireplaces have zero emissions, and no hazardous byproducts, such as carbon dioxide or carbon monoxide, which are cancer-causing agents and dangerous fumes. Moreover, they usually have a longer lifespan, as they are not susceptible to rust and corrosion.
You can refer to some dropshipping websites such as AliExpress for more features and product information.
8. Massage chair
As many people are suffering from some back pains in their life and having daily stress and anxiety, it's easy to understand why owning a massage chair has always been a trend for recent years.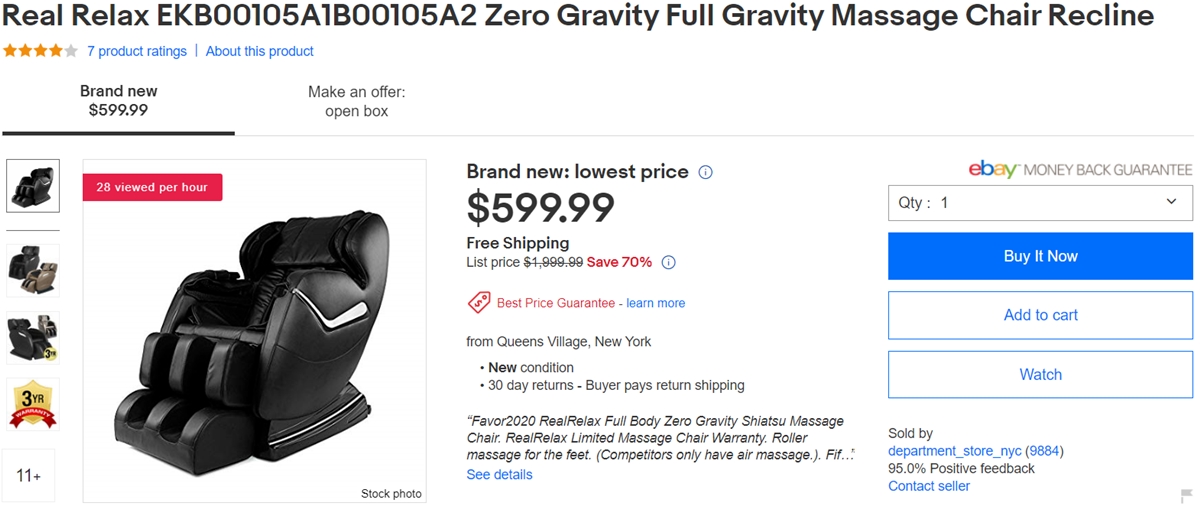 Buyers may consider purchasing a massage chair is a hefty investment. The cost of a massage chair ranges from a few hundred dollars to thousands of dollars, depending on a lot of factors. The point is, they will invest if they find the product brings about a lot of benefits, with warranty and customer care.
So, you can take these things into consideration before choosing massage chairs as your next high ticket dropshipping product.
9. Wine cooler
Wine coolers are small refrigerators that are designed to display bottles of wine and keep them chilled at a preferred temperature. Stylish and convenient, these cold cases are becoming a wonderful item for any kitchen or bar area.
Of course, in addition to wine bottles, they are also used for a variety of bottled drinks, beverages, and liquors. The glass door together with the LED lighting gives the entire appliance an eye-catching look.
The product is not affected by the season, so you can start a marketing campaign for it right now and see your money rolling in.
10. Inflatable Boat
The future of the inflatable boat market looks promising with a lot of opportunities. The major drivers of this growth are rising spending on recreation and leisure activities and increasing deployment of inflatable boats in maritime security.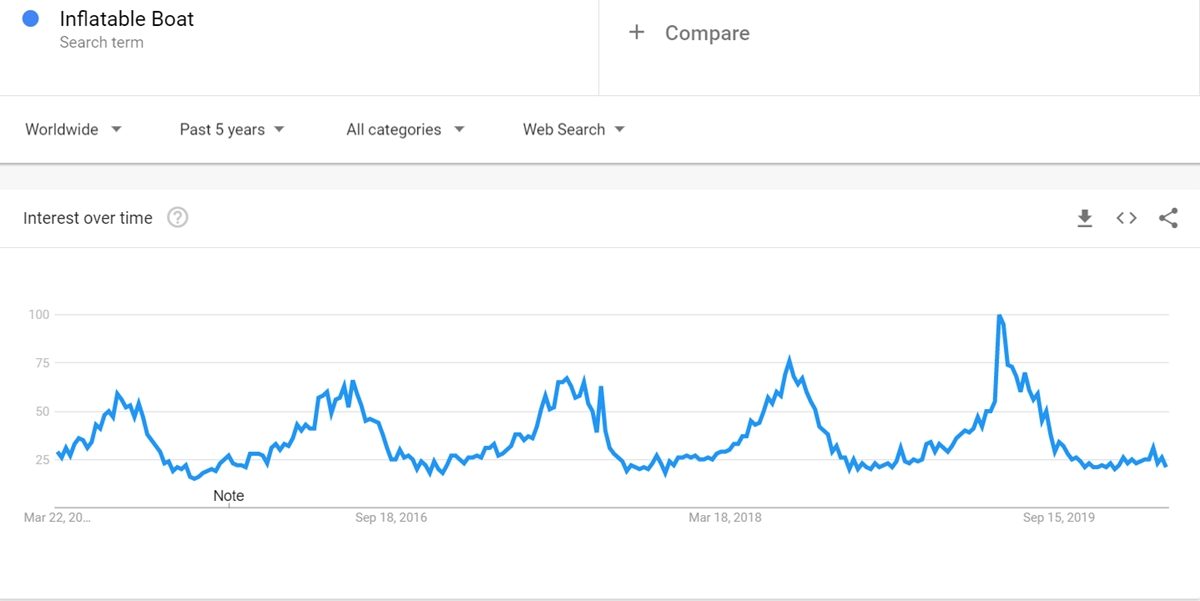 Now, many e-commerce stores have sold this item, and you can get them for $200 and above on AliExpress. Then you can easily resell for a higher price and keep a good margin while providing a great product to help people's lives.
Read more: Top 41+ Best Dropshipping Products To Sell
5 steps to starting your high ticket dropshipping store
Unlike when buying low-cost items, customers view high ticket products as an investment. Once they realize the potential and useful aspects of the product, they are willing to spend a large amount of money to buy it.
Long gone are the days of targeting impulse buyers, now you have to deal with price and feature comparisons across the web. Besides, you also find innovative ways to compete in this marketplace.
So, below are the five necessary steps that can help you a lot to start your own high ticket dropshipping store.
1. Define your target customer
Seriously, do you really need to know stuff about your customers? Why can't you just create a store, add items, and wait for sales?
Because, well, in this case, you will have no sales!
Remember, in dropshipping, especially high ticket business, your success is defined by your marketing strategy. And how on Earth are you setting up your marketing plan, if you know nothing about your target customer?
So, when you have drawn a picture of your customer, you can:
Know their pain points
Identify their needs and wants
Consider your value for them
Create a strong marketing message that is attractive appealing for your audiences
Find relevant and effective marketing and advertising channels.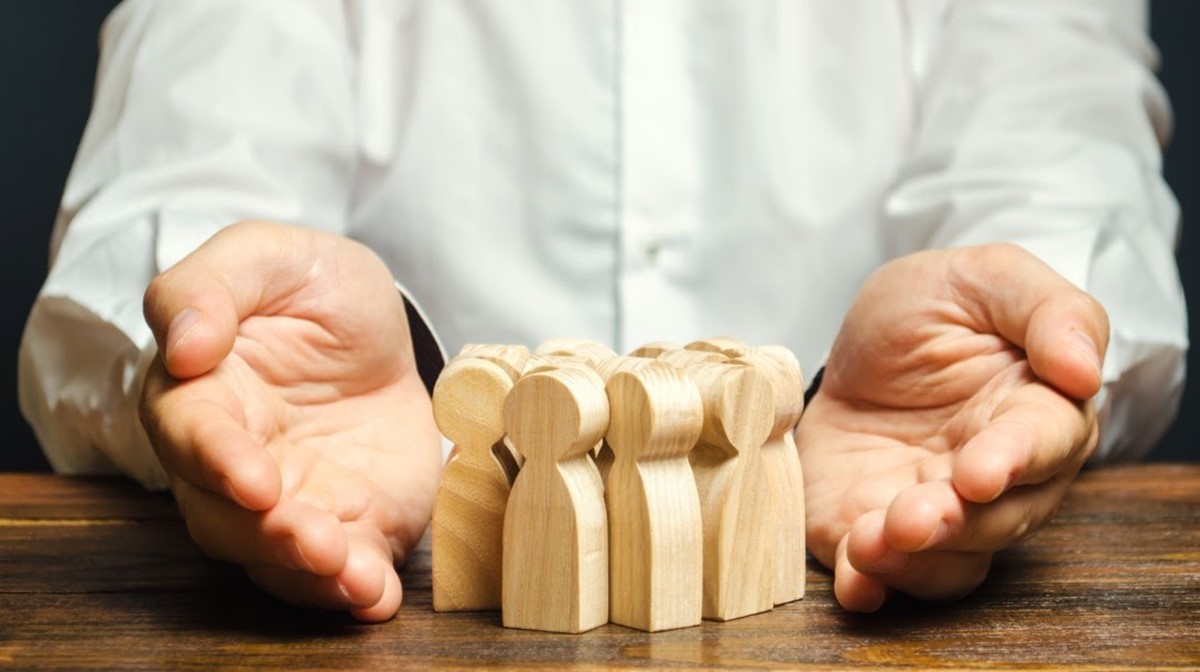 And it would help a lot if you answer the following questions to define your prospects.
What do your target customers look like?
You can have a singular or more target audience, but the essential thing that you need to keep in mind is identifying them and understanding who they are.
To understand which groups you need to concentrate on, you can base on demographics (age, gender, income…), psychographics (interests, hobbies, attitudes…) and behavior (purchase and consumption habits)
What pain points do they have?
If you are in physical pain, you can visit a doctor. If you have perceived unmet needs, you usually end up buying products. Those unmet needs are your pain points. As a high ticket dropshipping owner, you are your customer's doctor.
For instance, your buyer can afford a massage chair with a price of $500, but he is afraid of low-quality products from an unknown online store. That's where you have to analyze to deal with this situation, which is very common for newly-established high ticket dropshipping businesses.
Can you meet their needs?
As a dropshipping store owner, you rely heavily on your suppliers. So, it is necessary to find out if the needs of your target customers can be met with your resources.
For example, if you do dropshipping business with AliExpress, you need to make sure the items which are shown on the platform can solve customers' pain points and suit their needs.
To plan your marketing strategy for your high ticket dropshipping store, you need to know exactly where your potential consumers "hang out".
Which social media channels do they use frequently? Which blogs and news' websites do they often read? Who are their favorite video bloggers?
By answering these questions, you will find out where to post your advertisements and achieve the biggest reach.
To get the best results, you should have at least three campaigns for targeting your audience. You should give them catchy and appealing offers on these campaigns, discounts of 10% to 20% on your products, for instance. In this way, more people will click on your ad and take an interest. It's not the impulse buyers but the correct targeting that will appear.
2. Conduct product research
After understanding who you are selling to, you should think about what you are going to sell. But to know exactly, it's better to conduct product research.
Product research provides information on the specific characteristics of a product, which helps you find out the demands of customers in a much better way. Especially in high ticket dropshipping, a quite "picky" business, product research becomes more essential than ever.
Every time you are finding a product idea, you should engrain some following essential criteria into your mind
Price: As stated above, the price of high ticket products ranges from $200 to $1,000 and more, with the profit margin of above 30%
Shippable: High ticket products can be bulky and even fragile during the shipping process. So, you need to ensure finding suppliers with high-rating and professional transportation services.
Sourceable: You should be able to find your products on AliExpress, DHgate, or any other dropshipping websites.
Seasonality: Ideally, your products will bring in year-round sales. You can use Google Trends to identify seasonality trends by entering keywords.
William Bill of Wealth Design Group LLC says" "Failure to do market research before you begin a business venture or during its operation is like driving a car from Texas to New York without a map or street signs." So, to help you create your own map and street signs, this guide will list out 3 must-have points while doing product research
Identify the best market or niche: With a niche strategy, you are able to leverage your expertise in one area to stand out from your competition. You can refer to the top 10 best high ticket dropshipping niches that we have listed above.
Know your top competitors and spy them: It's a good idea when you learn who has the best-selling high ticket products, then you can find them on Google or any search engines to see their web pages and other product offerings.
Read more: How to spy on your competitors' Shopify stores?
Choose the right products to sell: Without a robust product line, your business faces an uphill battle before it even starts. So, you can choose the right products based on your best market or niche.
3. Find good suppliers
Dropshippers, no matter in a high ticket or low ticket business, all have one thing in common, they need good suppliers to be successful.
Having floods of traffic to your dropshipping store does absolutely no good if you don't have suppliers or have poor suppliers.
Quality suppliers who can quickly fill orders, be available during business hours, and stand behind their product quality, are the foundation to your budding high ticket dropshipping business.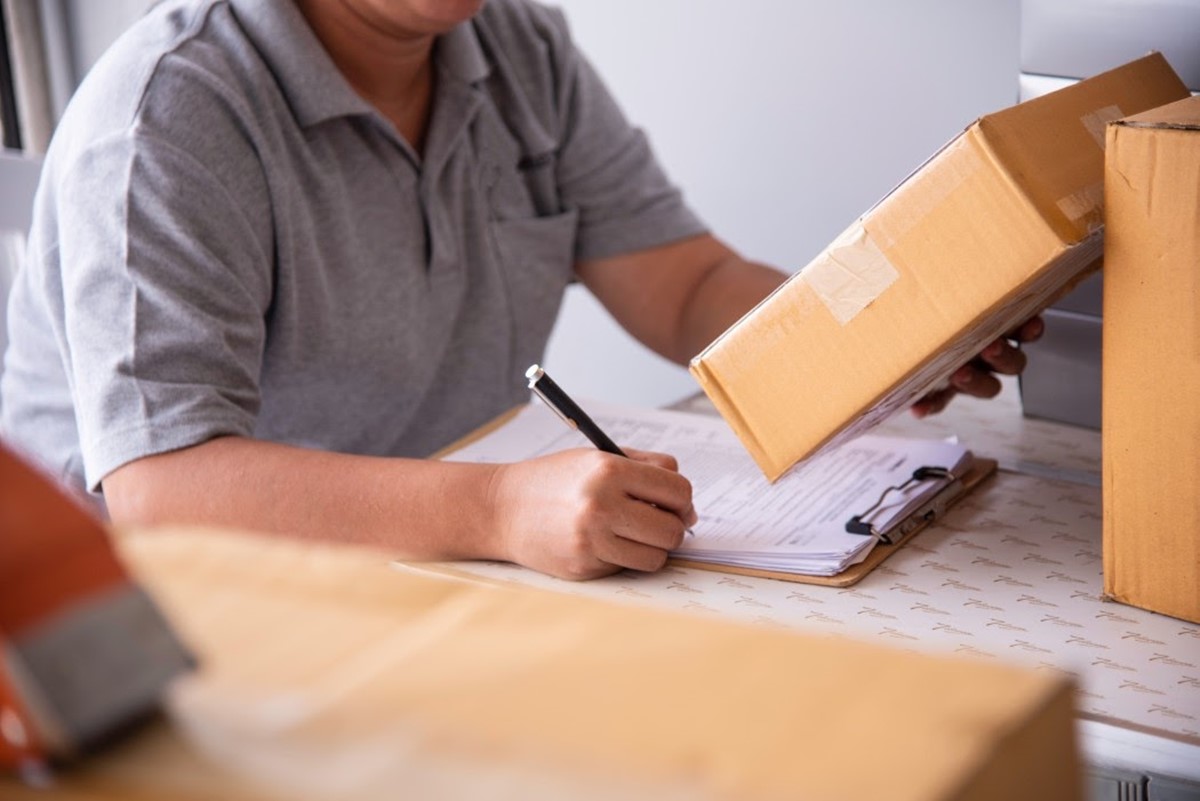 However, it is not always an easy task to find a good supplier of high ticket products. According to a study, 84% of online sellers suppose that setting up a relationship with a dropshipping supplier or wholesaler is one of the roadblocks to building their online business.
But don't worry, there are many incredible sources for you to find a professional supplier for your high ticket dropshipping business:
Google: Searching on Google to find suppliers may seem obvious. However, not all high-quality suppliers are shown in the top search results. Hence, dig deep and try different modifiers such as "reseller," "wholesaler," "distributor," "warehouse," instead of stopping at just "high ticket product name supplier."
Online directories: This is a convenient way to quickly search for and browse a large number of suppliers in one place. However, you are often charged a fee to access their directory. But if you're short on time and are willing to spend the money, they can be a helpful tool.
Read more: Top 11+ Shopify Dropshipping Suppliers Free & Premium
Trade shows: Major wholesalers and manufacturers meet in trade shows to showcase what they do best. It is an excellent way to research products and make contacts with suppliers all in one spot. However, most trade shows require your fees to attend, but if you are willing to spend time and money, it's a good idea to do some networking!
4. Build brand credibility
Enhancing your online presence is so vital for a successful business, as it's the main factor in determining how customers perceive your products. Having strong brand credibility helps e-commerce stores earn a customer's trust and easily generate leads, especially for high ticket dropshipping businesses.
Some businesses believe they can buy their way to brand credibility, yet, this could not be true any longer. With a lot of scams, rip-offs, and cheating practices through false marketing, customers have become extremely cautious and consider deeply before spending every penny. Buying fake reviews and faking publicity stunts are terrible ways to build an online presence and can damage your business in the long run.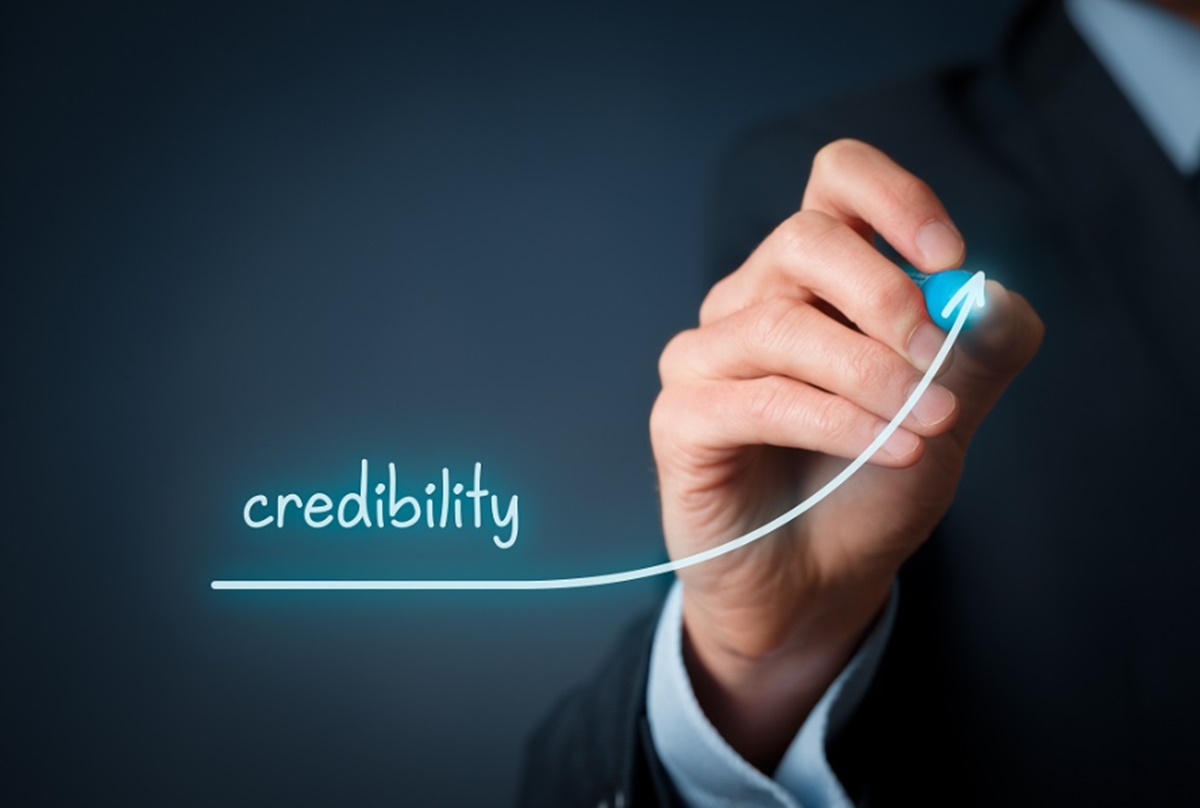 So, here comes 3 key factors that help to build credibility for your high ticket dropshipping business.
In spite of the recent e-commerce boom, consumers still prefer to buy expensive products by face-to-face interactions, due to the skepticism of online security.
If we have a greater understanding of what makes customers worried, we can offer solutions to curb those fears.
Site protection: Consumers are often afraid of having their information hacked online. So, your privacy policies should be implemented and displayed visibly across your site for your visitors to see.
Guarantees: A strong guarantee or warranty lessens the burden of your customers paying a large sum of money for your product. Besides, free shipping and returns can eliminate the risk of customers being afraid of the investment.
Social Proof: Consumers often feel more secure about making a purchase when they look at others talking about the product. Using social proof is not only a great way to create trust, but also let prospects know your brand.
EXPLORE AVADA SOCIAL PROOF NOW!
Quality: Setting quality as the main core value of your product is crucial. Higher quality brands achieve greater attention and of course, higher profits than their competitors.
Besides, high-quality product images play a significant role in making a business stand out from its competition. A low-quality image symbolizes a low-quality product, and that's not the lasting impression you want to make.
Customer service: Listening to your customers' feedback and being available to them around the clock is very important. You can display the 'Contact us' button in an easily accessible place, set up an FAQ page and customer forums, or live chat to support whenever they need.
Once you are able to deliver what your customers need, with a high quality that will match up with the price and enthusiastic support, you eventually start sustaining in the boat of brand credibility.
5. Review frequently
The first step is always the hardest, even if you are starting a small online store or a high ticket dropshipping business. What you need to do is frequently keep track of your activity, learn your customers' buying behaviors and patterns, and make any improvements if necessary.
So, give it time and review frequently, you'll realize that high ticket dropshipping business is worth your time and investment!
The bottom line
By now, you should have a much deeper understanding of what high ticket dropshipping is. Moreover, we also introduce a 5-step process of starting your high ticket dropshipping business.
All you need now is a careful and thorough preparation. You need to make sure that your business is perfect and customers can see you as a professional brand in the niche they are shopping.
And over to you! You can let us know in the comments below your ideas about starting a high ticket dropshipping store, and we're always willing to discuss it with you!
---
Sam Nguyen is the CEO and founder of Avada Commerce, an e-commerce solution provider headquartered in Singapore. Sam aims to support more than a million online businesses to grow and develop.
New Posts
Stay in the know
Get special offers on the latest news from AVADA.