13+ Best Free Email Marketing Softwares, Tools & Services
You may not realize this but the use of email is at an all-time high. More than 3.7 billion people worldwide use email. With email use so high, it's no wonder you're likely to receive marketing emails from companies all the time. Email marketing is an effective form of marketing - even in the B2B space. In reality, 86 percent of B2B marketers rely on email marketing campaigns to promote their new businesses, which begs the question—do you use email marketing effectively for your business? More specifically, do you use email marketing consistently?
There are a number of email marketing resources out there to support you with your email marketing, some of which are totally free. But, it's important to remember, not all free email marketing tools have the same features. As someone working for a new company, you are probably most worried with how many emails you can send, what features you have access to, and whether you can grow your account as your business expands.
You're probably worried about deliverability also, and whether your emails will be sent to the inboxes of your contacts instead of the spam box. Plus, you probably want a tool that is both easy to use and does not require specialized technical skills. Luckily, we've got you! In this article, we've ranked the best free email marketing tools you can use for your company. Let's jump right into the detail!
Best free email marketing softwares
AVADA Email Marketing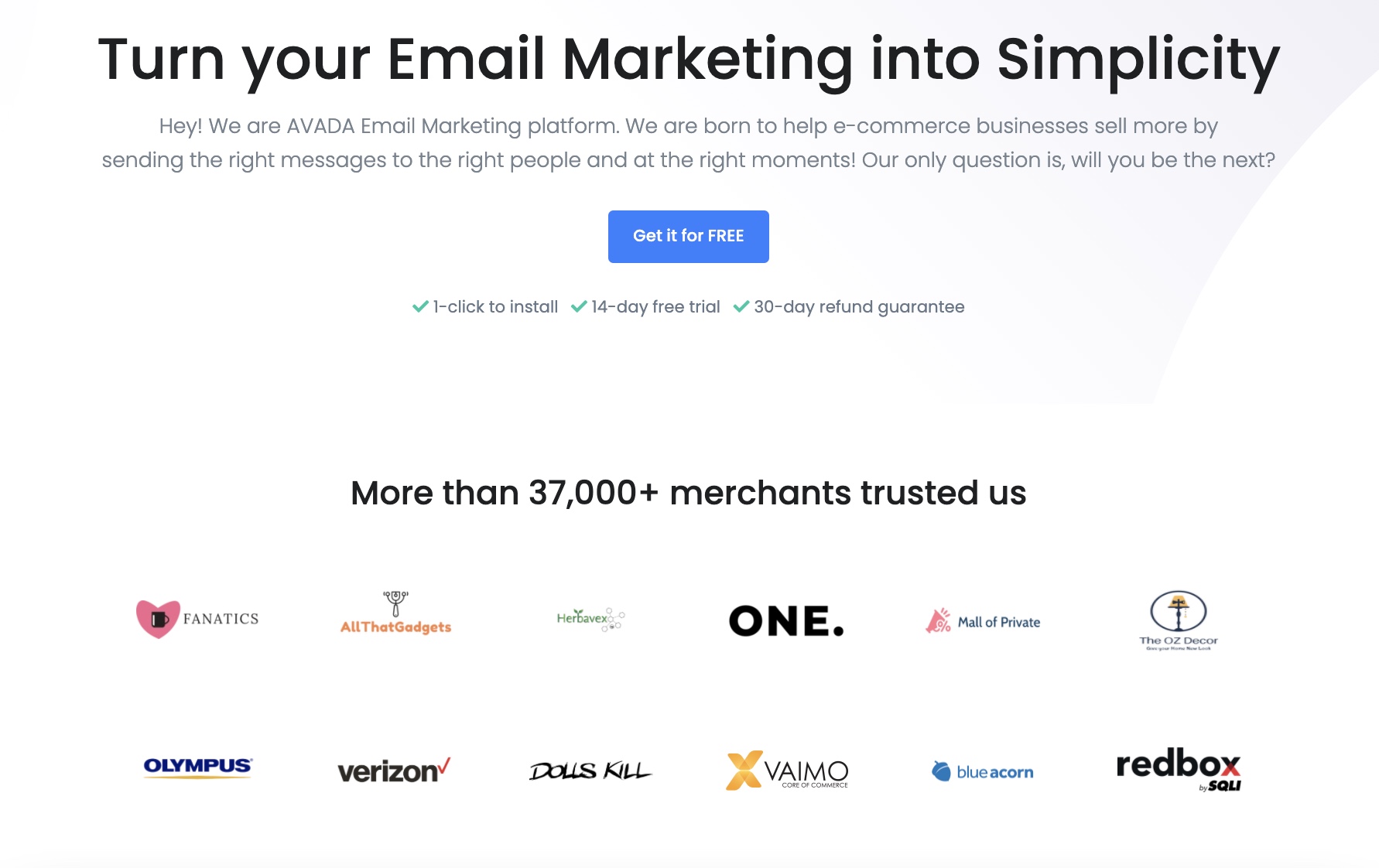 Price: Free plan is available. Paid plans start at $9 a month for 15,000 email and a maximum of 999 subscribers.
AVADA Email Marketing's email tool is especially useful for small and medium-sized companies, as the free plan provides up to 15,000 emails per month for up to 1,000 subscribers. On top of that, you have access to a host of useful features that the app provides (mentioned below). However, it is important to remember that you will have AVADA Email Marketing branding in your free plan email footers and will have access to email support only. AVADA Email Marketing integrates with the popular eCommerce hosting platform Shopify.
Features:
Abandoned Cart Email/Abandoned Cart Recovery
Transactional emails
Drag-and drop email Editor
Professional pre-made email templates
New Subscriber welcoming emails
SMS Automation & SMS Newsletter
Segmentation
Reports
Cross-sell, Upsell Emails
Workflow split
Newsletter Popup, Add-to-cart popup, Spin to Win
Auto-sync customers data
Zoho Campaigns

Price: Free package is available, then $6 per month for up to 500 subscribers. Zoho Campaigns is a good choice for small companies, depending on how quickly you scale. The Zoho Campaigns free plan gives you access to features such as A/B testing, reports, and pre-made templates.
It's essential to note while the free package has a lot of features, most of these features have limitations. In addition, it can be difficult to start using Zoho Campaigns because it needs customization before sending emails.
Moosend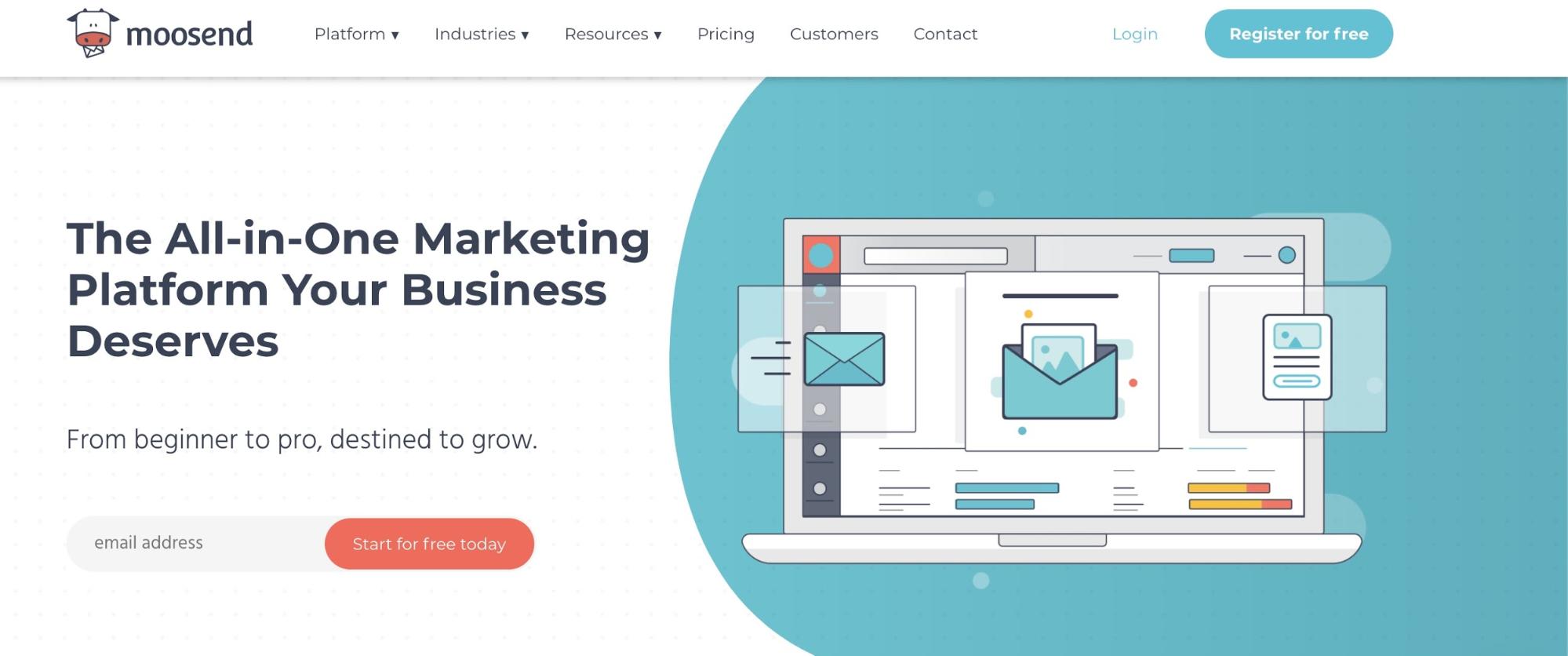 Moosend Price Free: for up to 1,000 subscribers.
Moosend is the perfect location for people looking to get their feet wet in email marketing. The free level comes with a feature packed, but you're maxed at 1,000 subscribers and don't have a dedicated IP address.
Moosend provides an easy-to-use drag-and-drop editor, email marketing automation triggers, real-time analytics, and list segmentation features. Moosend doesn't have a CRM system, but if you're just looking to do email marketing, it might be a good start to your business.
HubSpot Email Marketing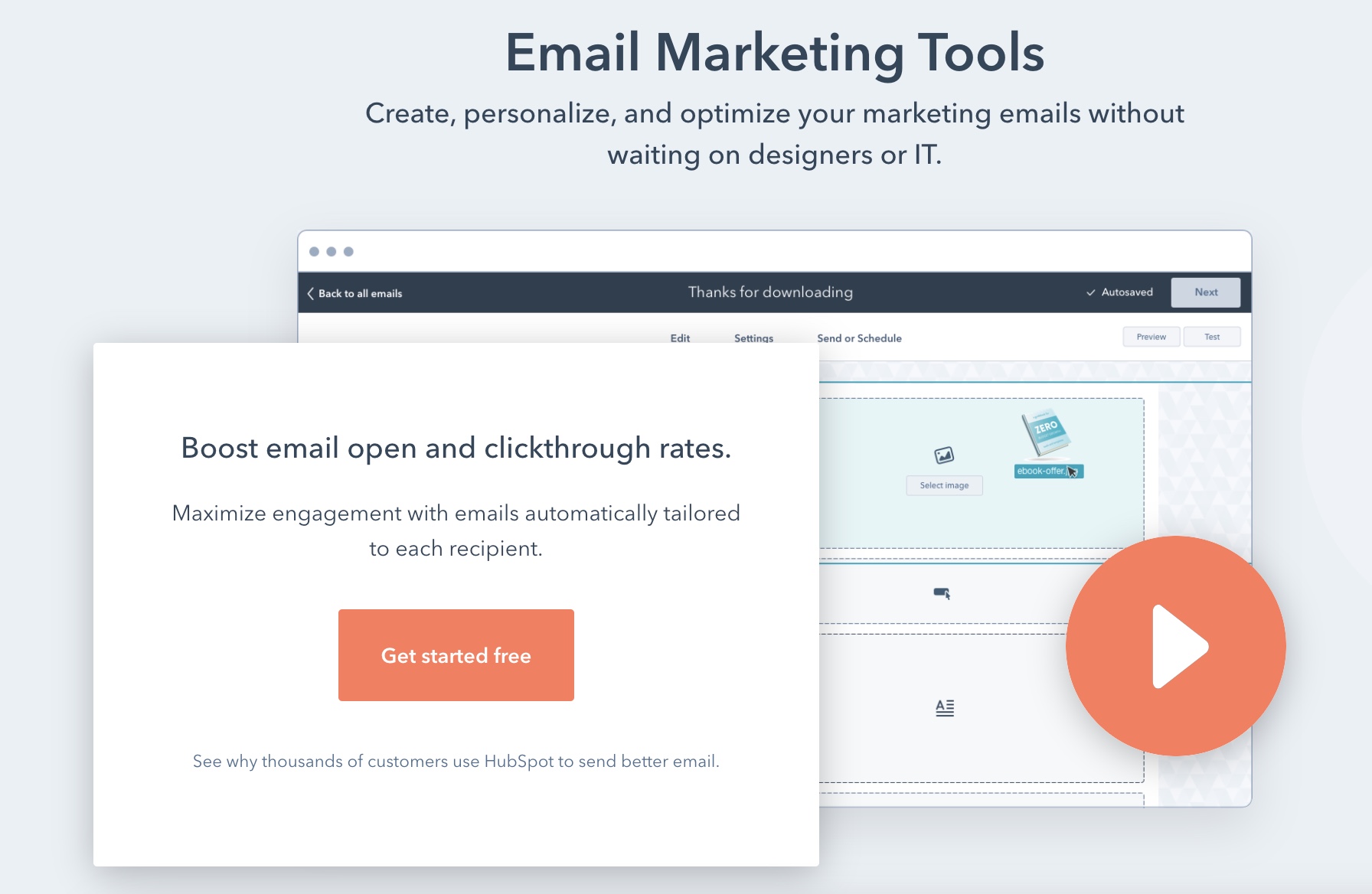 Price: Free plan is available, and paid plans start at $50 a month with Marketing Hub Starter.
HubSpot Email Marketing provides a secure and feature-packed email marketing software that is optimized for growing businesses. You can create professional marketing emails that can engage your audience with the user-friendly drag-and-drop email builder. With this drag-and-drop email builder, you don't need to wait for support from IT or designers. Instead, you can quickly create beautiful emails that your audience is going to appreciate. The HubSpot tool lets you produce impressive marketing results with little effort.
At the top of the free email tool, you can use the HubSpot CRM to build personalized touch-points for your customers. HubSpot email is automatically linked to the HubSpot CRM, so that you can customize the appropriate emails based on whatever information you have—such as form submissions and website operation.
Using CRM, you can include customized content in your emails, such as first name and company name, to make your contacts feel like they are being addressed personally, while monitoring email behavior in the CRM. This leads to efficient scaling opportunities should your company build free tools and require more robust automation functionality, such as workflows. Using the Email Reporting Analytics tool, you can learn how to send more appropriate and personalized emails to your audience.
SendPulse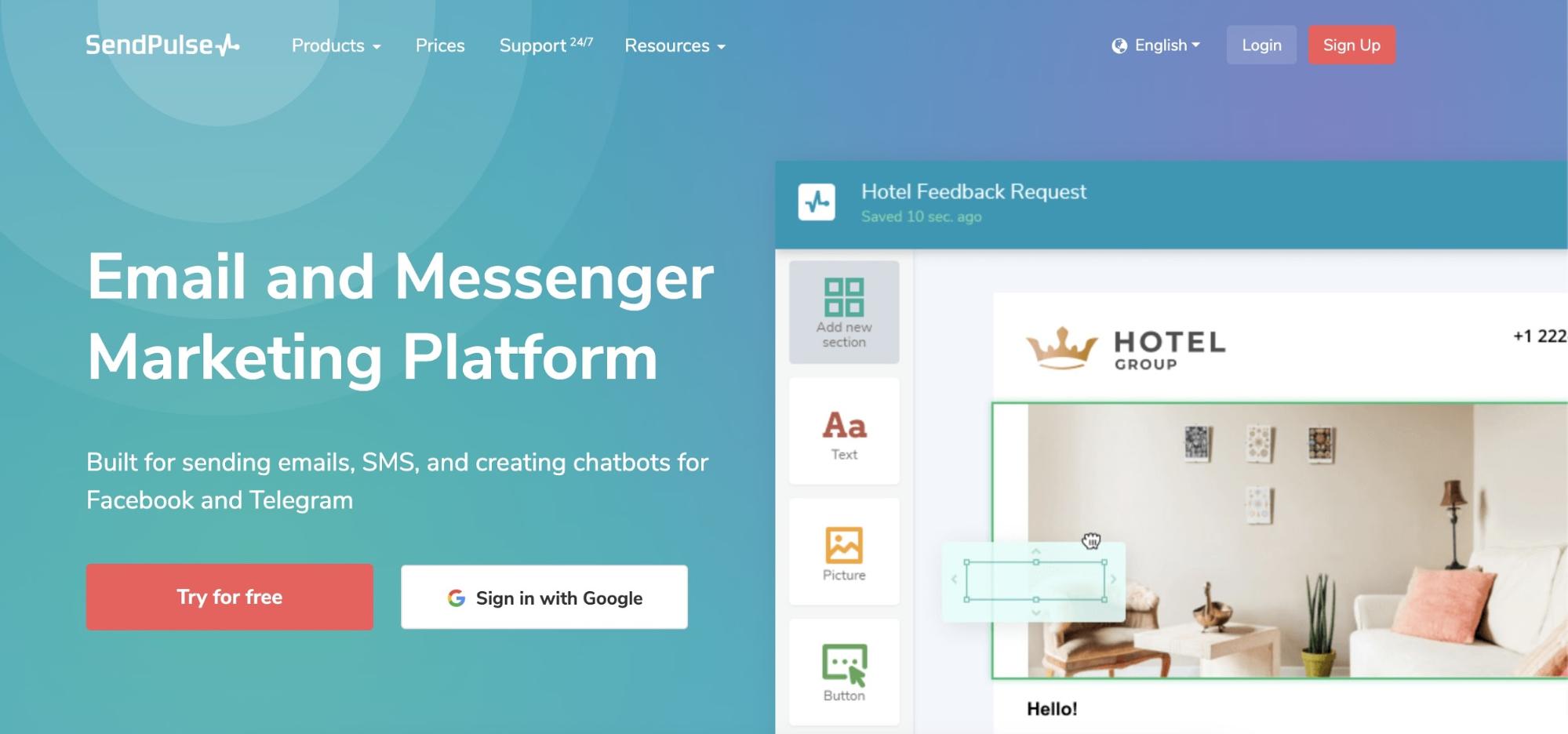 Price: Free plan is available, and paid plans start at $9.85 a month for unlimited emails and up to 2,500 subscribers.
Send Pulse has over 130+ email templates for you to choose from, or you can build your own with its drag-and-drop email creator. With the free plan, you will have access to the widely respected support team of Send Pulse, including support via live chat.
As far as functionality is concerned, Send Pulse has a "Resend" feature that enables you to resend unopened emails with various subject lines that are of benefit to busy marketers. What's unique about Send Pulse is that it has separate prices for all of its services. For instance, if you need to send SMS messages, you can add an SMS package to your email marketing service package, and if you don't, you won't have to pay for that feature.
They also offer email, SMTP, Viber, and more. Although the service launched in 2015, there is still not a lot of support for APIs, but this is something that Send Pulse is trying to improve for marketers who are in need of technological functionality.
SendInBlue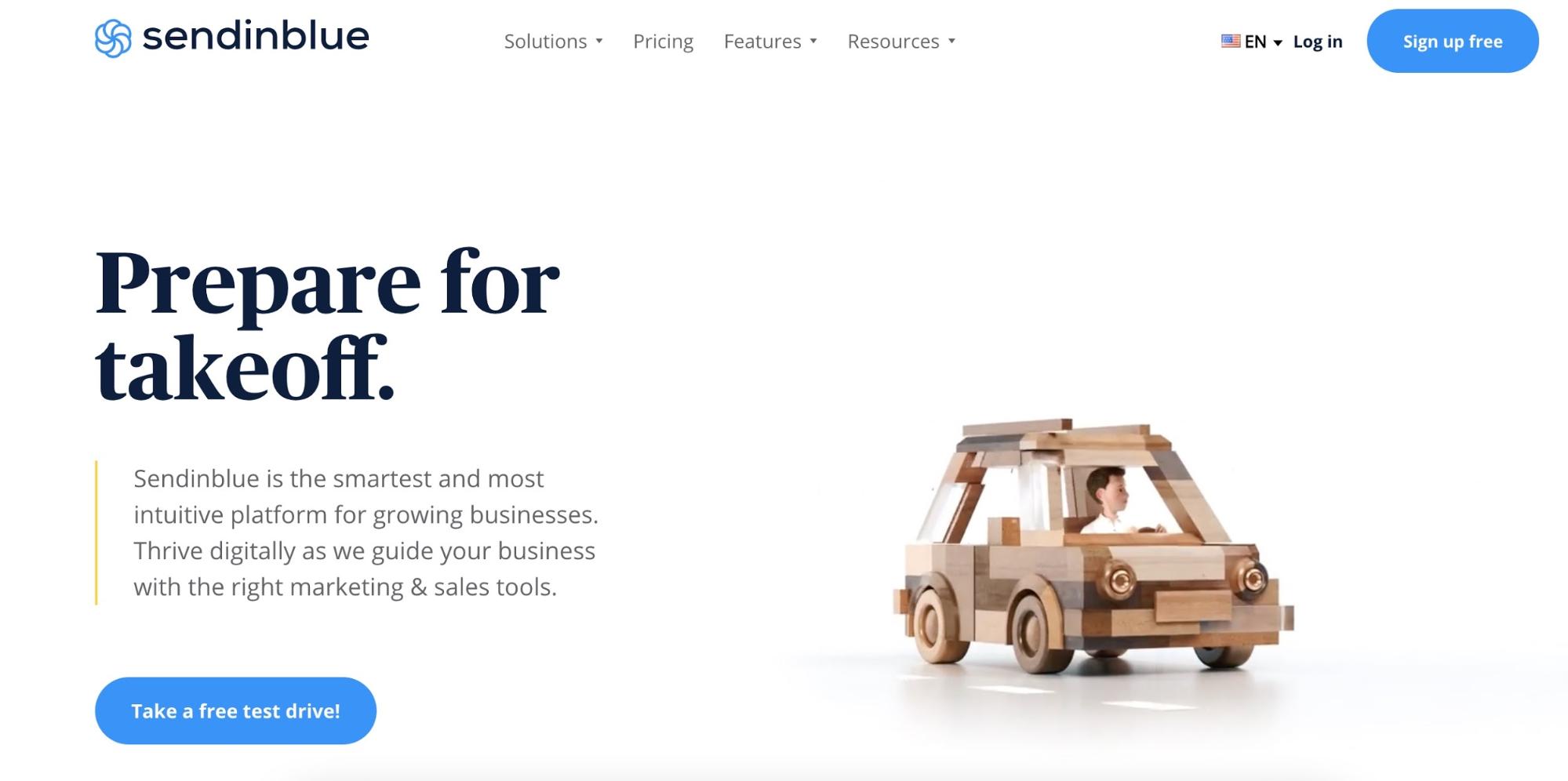 Price: Free plan is available, and paid plans start at $25 a month for 10,000 emails.
If your company relies heavily on transactional emails, such as order confirmation and invoice receipts, then SendInBlue might be a great choice for you. Through their comprehensive developer APIs, you will be able to incorporate the personalized and necessary technical processes with their email system. Plus, although the service was initially reported to have problems with deliverability, SendInBlue has since improved thi aspect significantly.
With SendInBlue's free plan, you will have access to a broad range of templates, customization, A/B test features, contact management, workflow splits, and real-time reporting. Similar to the other tools listed above, the app is simple to use, although the main interface may often provide too many choices and feel daunting.
Pepipost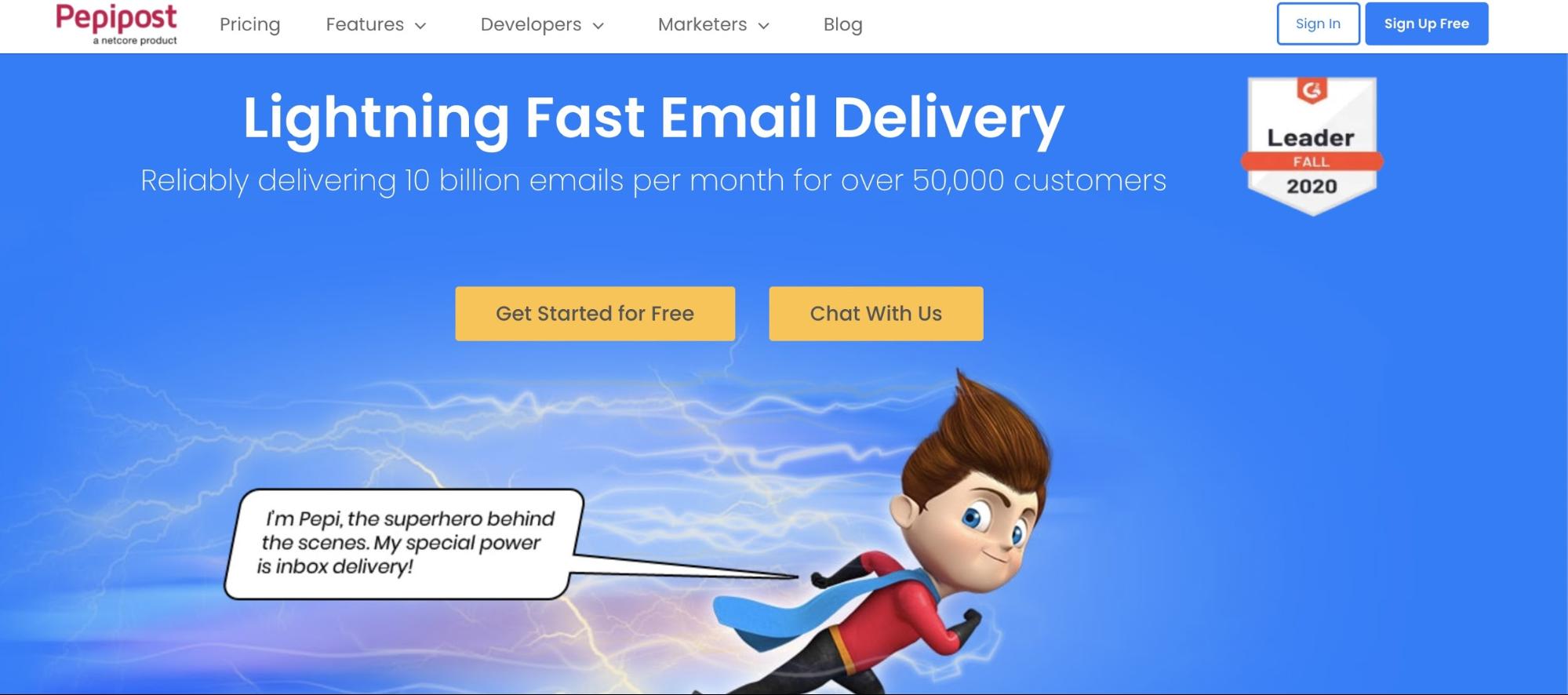 Price: Free plan, or $25 a month for 150,000 emails. Pepipost is an integrable SMTP relay service for fast email delivery. This ensures that your emails will be sent to your customers in less than three seconds.
Simple email APIs give you the freedom to attach custom apps and platforms or use open source marketing platforms like Mautic and Mailtrain to send your emails. When your emails are sent, the dashboard shows real-time feedback on your campaign results, including the amount of deliveries, opens, clicks, unsubscribes, as well as bounces.
AI-powered servers customize your emails based on the performance metric for the type of email you send. For instance, the predictive engagement function automatically prioritizes users who are most likely to interact and use time optimization to ensure that your emails are sent at the best possible time.
You will have access to in-depth analysis that can also be provided directly to your internal systems using powerful webhooks. And if you encounter any problems, the 24/7 chat experts can fix them quickly.
With the free plan, you can have an unlimited number of contacts and send 30,000 free emails in the first month. After that, the free plan becomes limited to sending 100 emails a day, and you can choose to sign up for their high-volume monthly plans which are very affordable.
Mailjet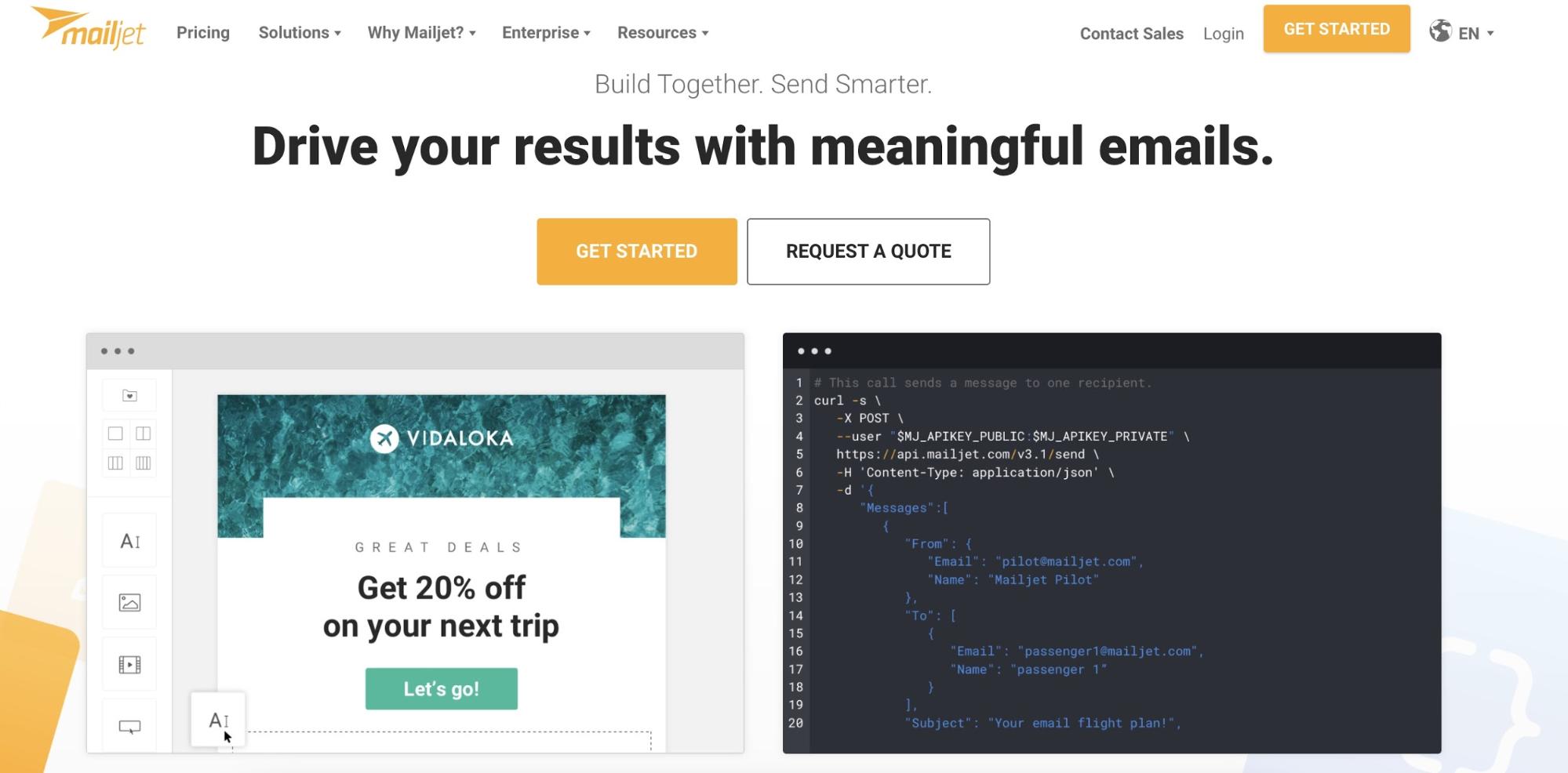 Price: Free plan is available, and paid plans start at $9.65 a month
With Mailjet's free plan, you will have access to an unlimited number of contacts, APIs and webhooks, specialized email editors, and advanced statistics. However, you will not have access to A/B testing or automation functionality.
The Mailjet gui is also easy to use, so you won't have to spend a lot of time getting acquainted with the service. Since you have complete access to the API as part of a free plan, Mailjet is ideal for businesses needing technological adjustments.
Benchmark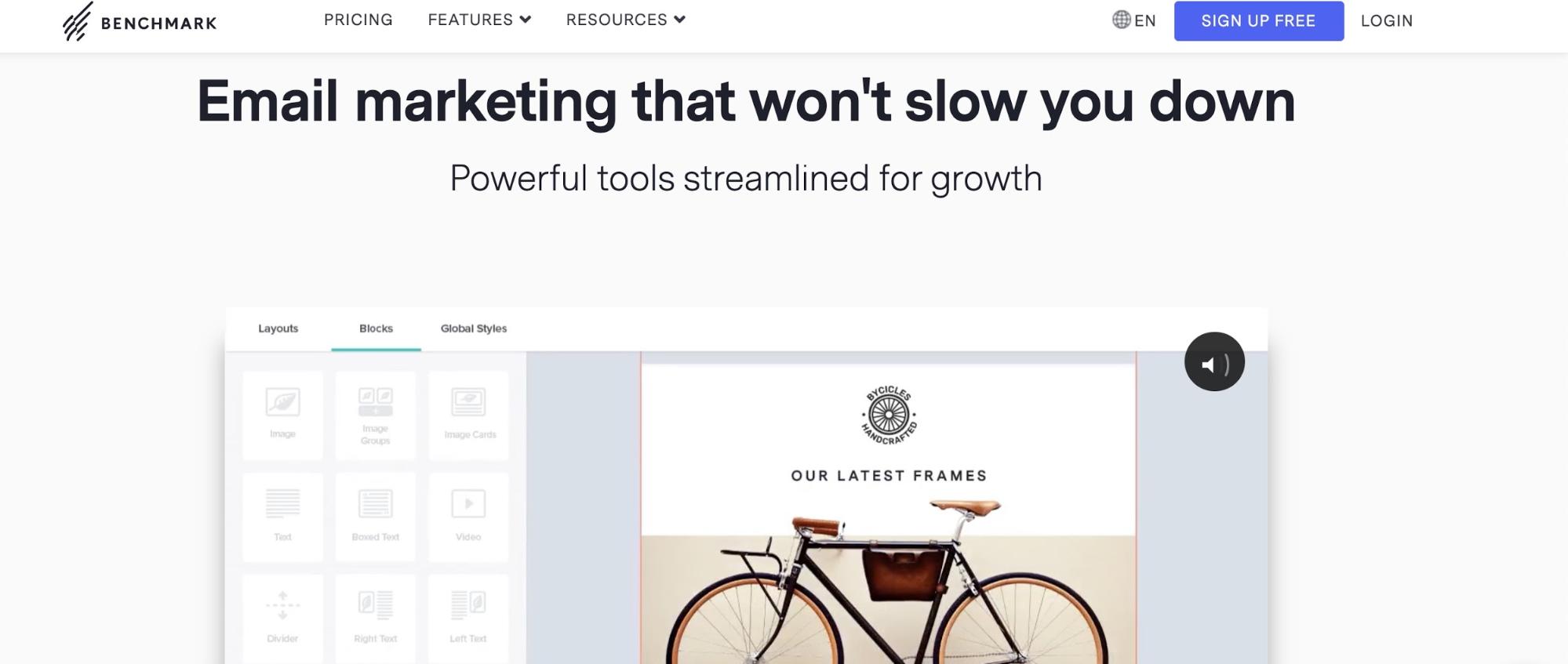 Price: Free plan is available, and paid plans start at $11.89 a month for up to 600 subscribers.
If you're working for a company that's achieving tremendous growth, but isn't already using an email marketing program, you may want to check out Benchmark's email tool. The tool is equipped with premium functions and is designed to cater to an enterprise-level company.
With the free version Benchmark provides, you can use a drag-and-drop editor, use pre-made templates, use sign-up forms, create simple drip campaigns, and use a list hygiene feature. However, there is no option for A/B testing and automation with the free tool. In addition, contacts cannot be added to the free plan through the import list. You can only send an email to contacts who fill out Benchmark's Subscriber Forms.
MailerLite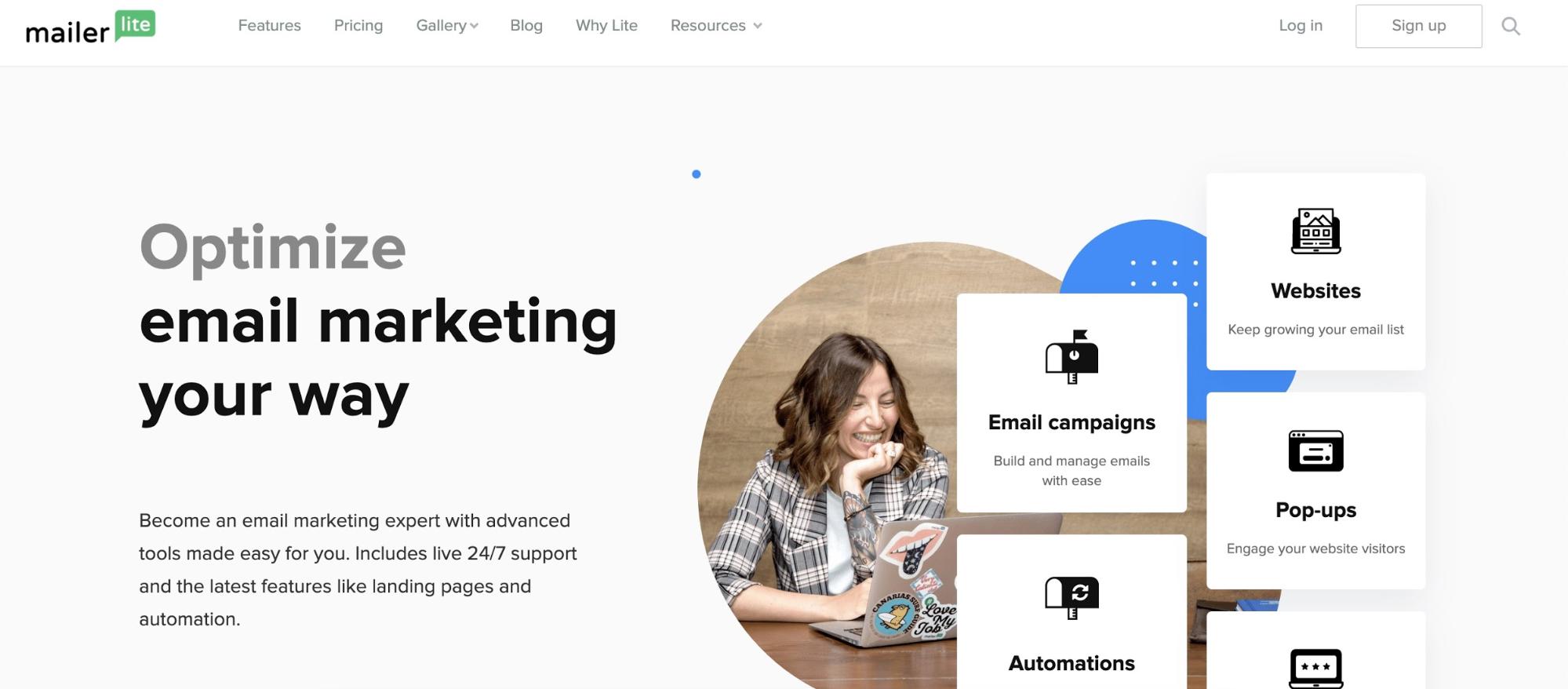 Price: Free plan is available, and paid plans start at $10 a month for up to 1,000 subscribers and all features.
Although it has "lite" in its name, MailerLite is actually a good solution for start-ups looking to include email marketing in their strategy. The service is perfect for small companies who need to send bulk marketing emails.
It's also equipped with preview features so that you can preview your emails on your desktop and cell phone before you send them. The API and integration capabilities, however, are not as robust as some of the other email tools in this list.
ExpressPigeon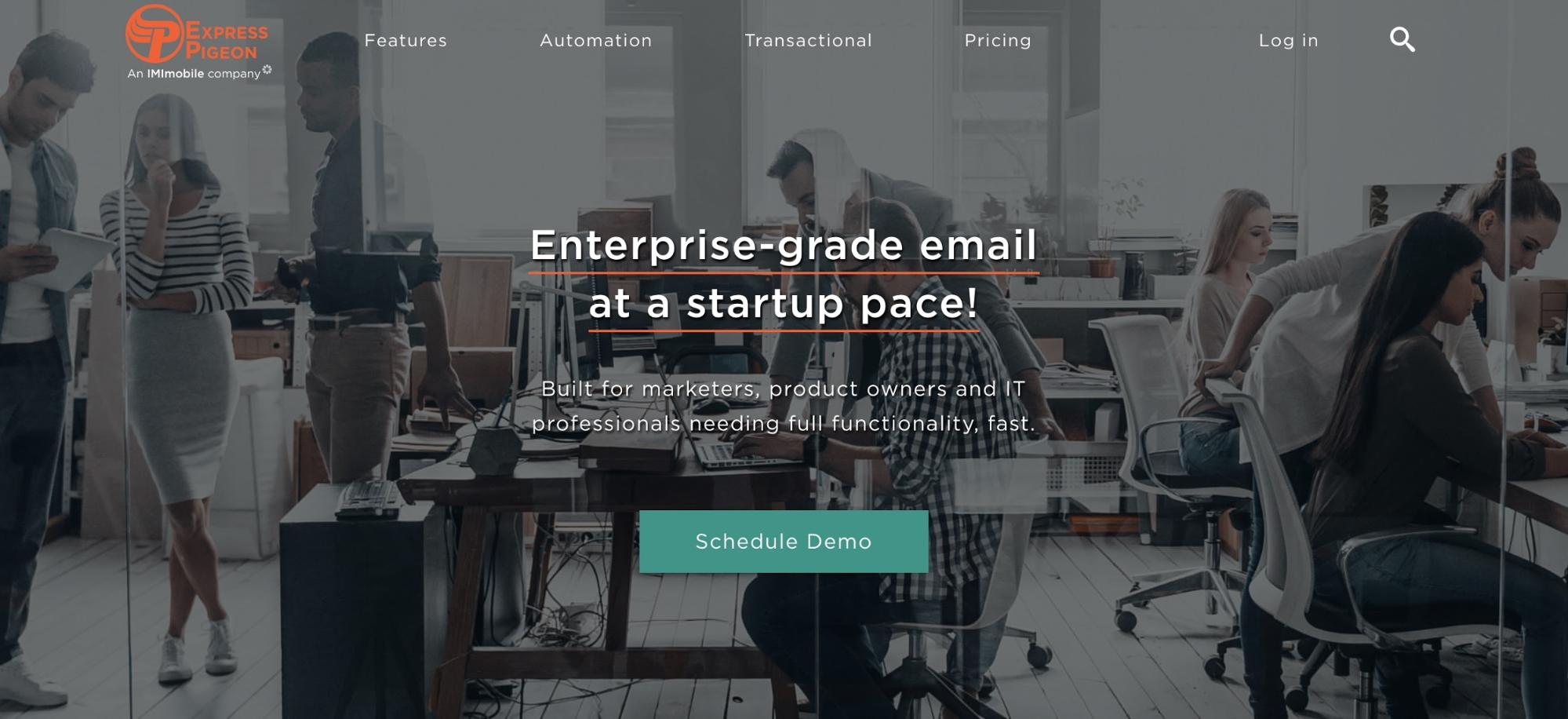 Price: Free plan is available, and you need to contact them for custom pricing.
ExpressPigeon offers a great solution for companies using small list sizes but sending very high-priority subscribers. With ExpressPigeon, you can build and customize emails effortlessly, automate email responses, and send emails in high volume. Best of all, you have access to all of the free plan premium features—but there are low send and subscriber restrictions.
Stripo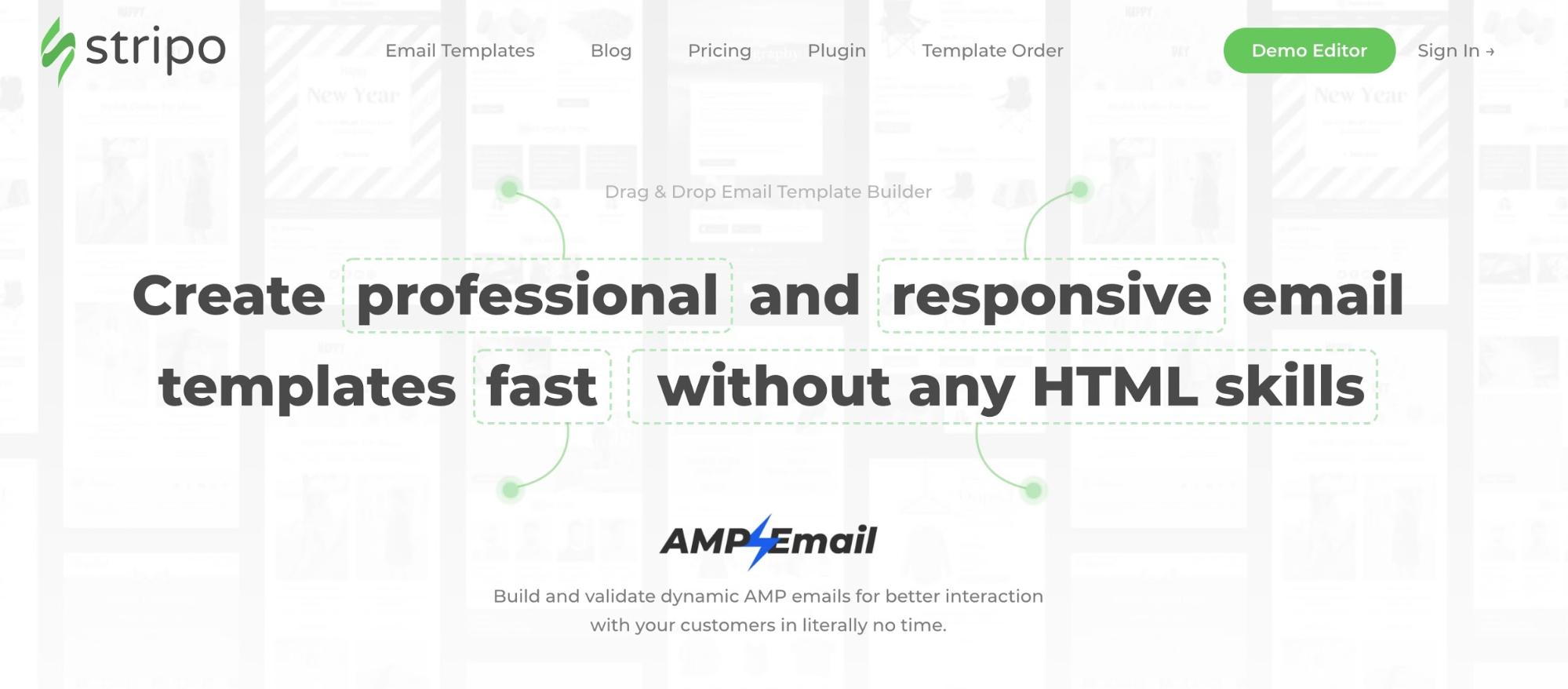 Price: Free plan is available, and paid plans start at $10.42 per month.
Stripo is a drag-and-drop email design service. You can use this service to customize personalized emails without any design experience and be confident that your emails are beautiful and professional. There are two different styles of editors on Stripo, one specifically for advertisers, or those with little or no design experience. The other editor, the HTML code editor, is intended for email developers.
Stripo lets you access over 300 premade templates, add-ons for embedding, communicating, and smart functionality. The tool also integrates with HubSpot and helps you to export your emails to the CRM with two clicks. Integration also allows all accounts to be synced, but Stripo does not store the HubSpot data for privacy and security purposes.
Kickbox Email Validation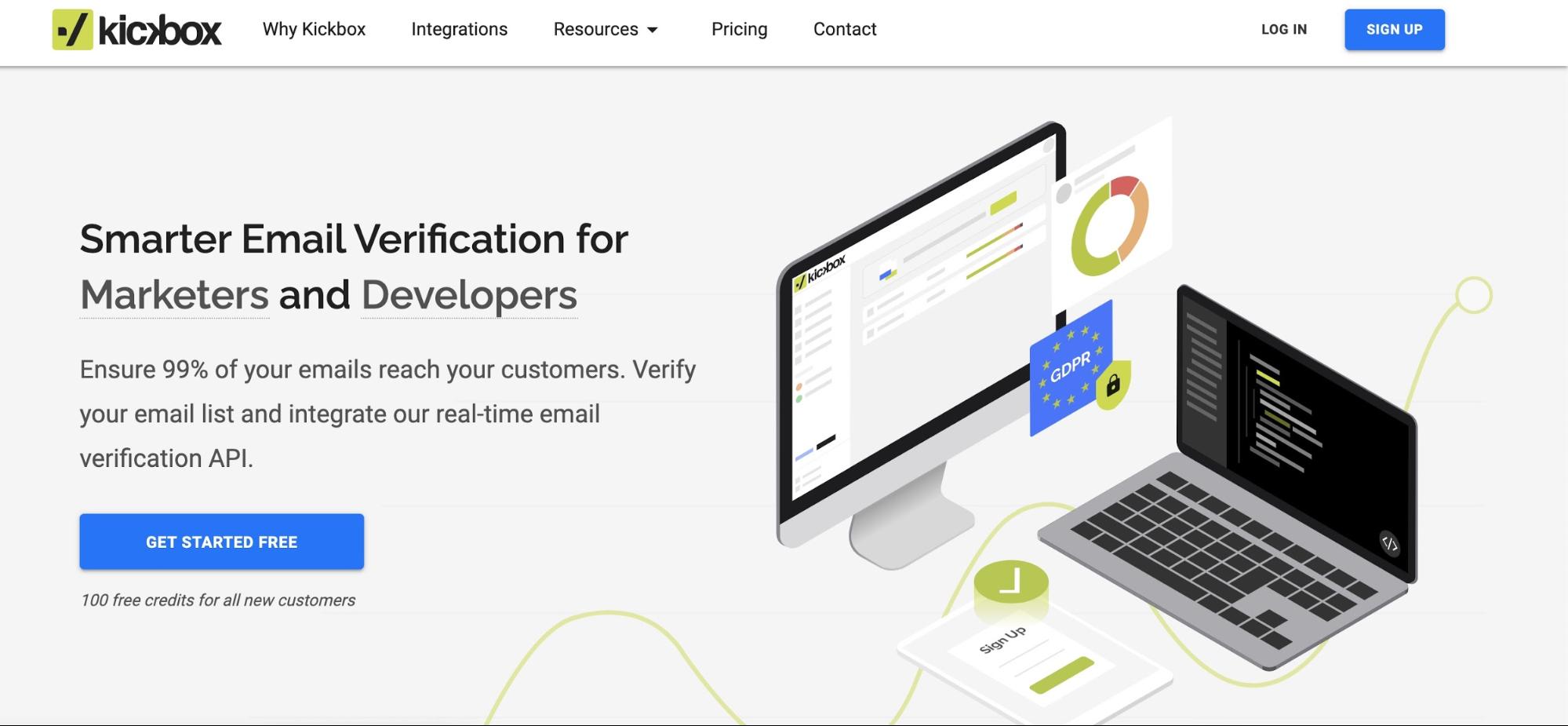 Price: Free plan, then priced based on subscribers. (Example: 500 address = $5 per month).
Kickbox is a fully integrated email verification tool. It ensures that your emails hit the audience you aim to target. As emails are checked, major email providers are less likely to flag such emails as spam, which ensures that your email is more likely to appear in your customer's main inbox.
Kickbox is not an email marketing software, which is why it stays at the end of this list. This tool can be beneficial to your email marketing efforts as it helps you search through your email list to make sure that all recipients are real accounts that are still active. This will save you money in the long run, because your email list will be smaller, more succinct and more reliable. The app integrates with many email tools, so if you use any of the email marketing tools in its integration list, you can consider adding this app to your toolkit.
Final words
I hope this article has provided you with the best free email marketing tools. Actually you don't need to commit to any of the services. Instead, you can try these tools, depending on the needs of your company, and then choose the one that's best for you.
New Posts
Stay in the know
Get special offers on the latest news from AVADA.