13+ Best Email Design Software That You Should Try Right Now in 2023
Today, most email service providers on the market have an email editor for creating email campaigns. However, very few offer what an email marketer truly needs.
That's why you should pick email design software carefully. With the help of email design software, you're able to design a brand-aligned, professional-looking email.
To help you choose the best one, we've compiled a list of 13+ best email design software below.
Let's dive in!
Why do you need email design software?
If you are confident in coding HTML, you can build up an email template from scratch by yourself. Or, you can rely on email design software.
Email design software grants you several advantages:
Better design features. Without email design software, you may struggle to arrange content in blocks as you want or add videos to your email.

Time-saving. Email design software comes with a lot of ready-made templates and designs for you to customize to your needs easily. All the content options are available (i.e., images, buttons, text, etc.), so it will take no time to get the email to look exactly as you want it.

Easy to use. Most email design software offers drag-and-drop editors, which means you don't need any complicated coding experience at all. Some software is much easier to use than others, but generally, they provide you with the tools to create something attractive with nearly zero prior experience.

Editable. You can use pre-made templates and blocks and modify the code or parameters up to your needs and taste.
If you still believe that email design software is no good and won't meet your expectations, just look at a list of email design software we have gathered to check out their functionality.
13+ best email design software for you to try right now
1. Chamaileon
Chamaileon earns a place on our best email design software list due to its user-friendly email designer and robust image editing capabilities. The software offers a free stock photo library from Pexels, but it also lets you add your own email newsletter images, customize them, add filters, and more.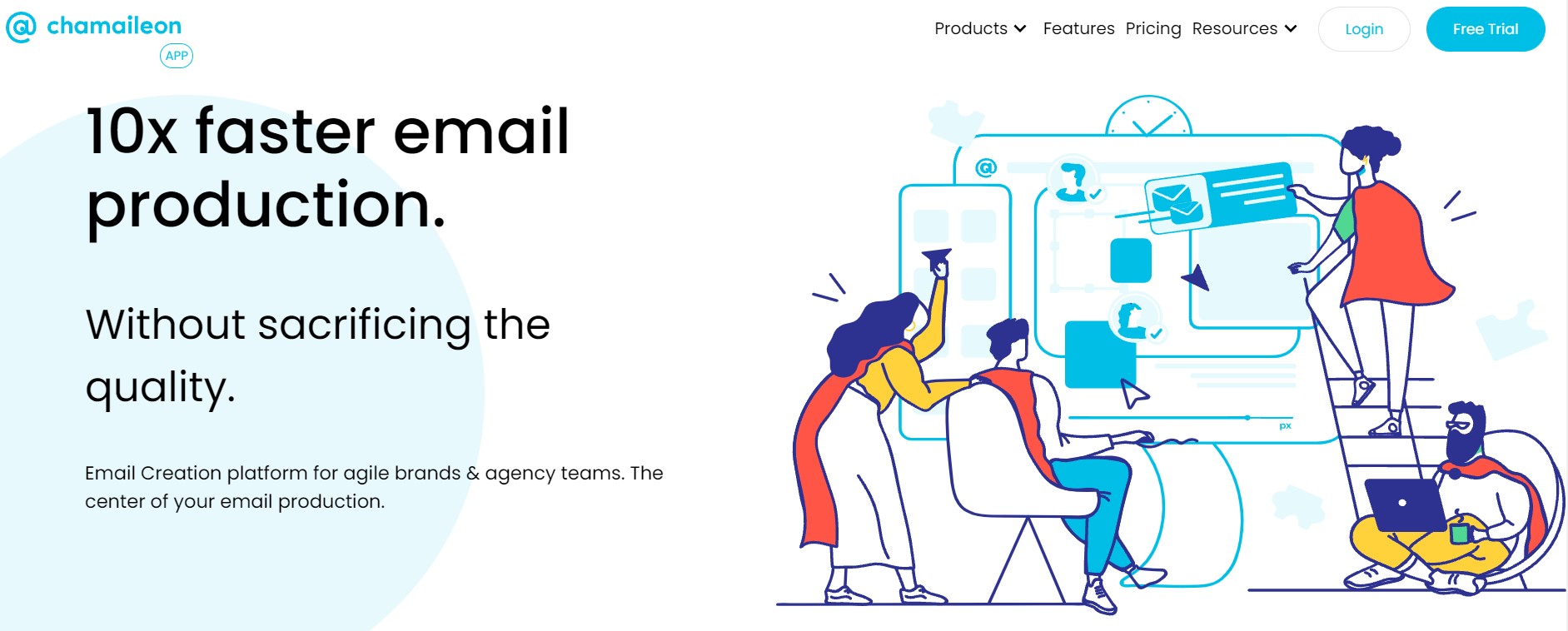 When it comes to email templates, Chamaileon offers a few beautiful email designs for you to choose from, all mobile responsive. Its interface is clean, enabling you to focus on email template creation. Besides, you will love its ability for real-time collaboration and template customization.
However, exporting your templates might need a bit of work as Chamaileon doesn't offer many integrations. In order to get the template to your email service, you can download your design as a .zip file or embed the HTML code in your email marketing tool.
Chamaileon's key features:
100+ responsive templates and 1000+ built-in template blocks
Import custom HTML code
Email content management tool
Collaborative editing
Support for Apple and Android devices
Pricing plans (monthly):
Standard plan: from $150/ month
Premium plan: from $250/ month
Enterprise plan: custom pricing
2. Postcards
Postcards is exclusive, constantly evolving email design software that meets the needs of current realms. It lets you create fully responsive, retina-ready templates from scratch, collaborate with your teammates, manage different versions, and import the result to popular email service providers.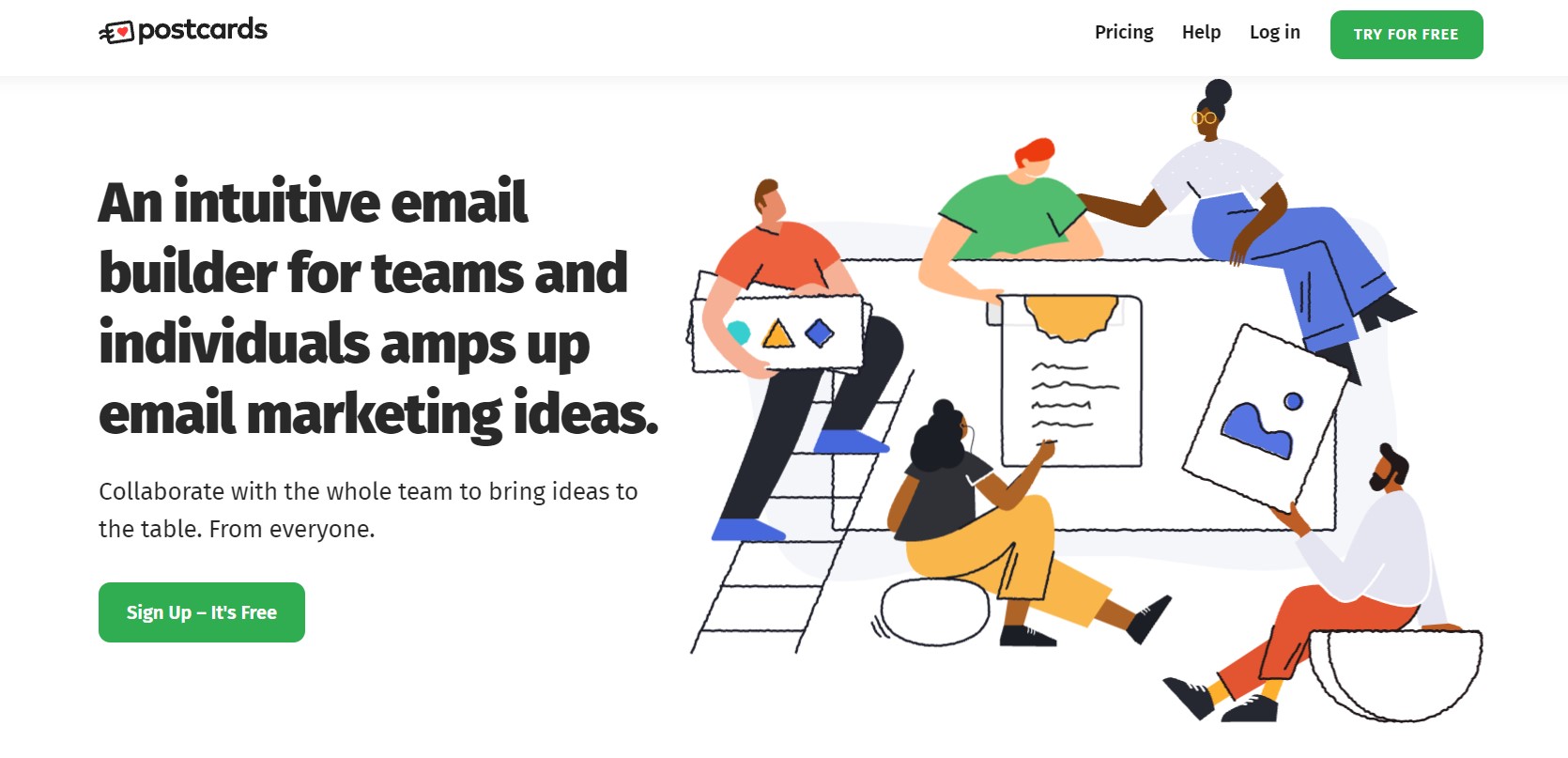 Postcards has a simple interface, so there is no chance you will get overwhelmed when designing your templates. Another cool thing about Postcards is that it lets you choose from more than 900 Google fonts, an impressive number!
Postcards' key features:
100+ pre-designed blocks and 900 Google fonts
Modular designs help you stack, customize, and rearrange options
Long-term content management helps you revisit previous successes
Team collaboration
Unlimited exports
Pricing plans (monthly):
Free plan
Business plan: $24/ month
Agency plan: $39/ month
3. Stripo
Actually, Stripo is only a template designer, unlike some software that also lets you send emails. However, the ease of use and variety of templates make it an excellent candidate to use with your email service provider.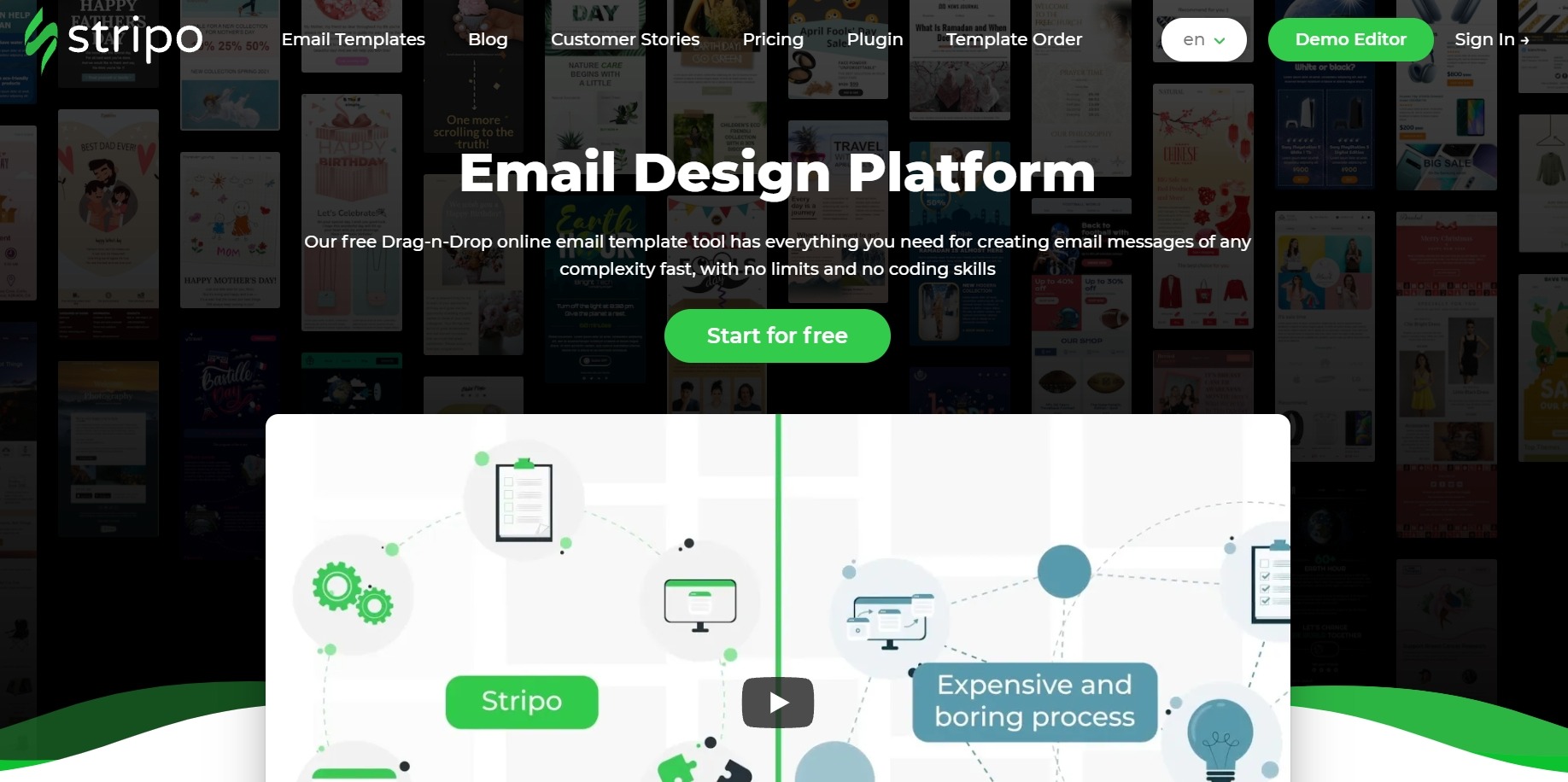 Its drag-and-drop editor is user-friendly, which lets you create responsive templates regardless of screen size and mobile device. Another feature that stands out is Stripo's library of custom modules. This lets you reuse your module creations, save you time, and simplify template creation.
Stripo also comes with an email testing tool, which lets you send test emails to check how your design looks. Moreover, the software enables you to validate dynamic AMP emails to ensure a seamless user experience.
Stripo's key features:
Easy to use without HTML or CSS experience
Integrations with email service providers through API
Embed videos in templates and GIFs
SaaS applications plugin
Thorough testing in around 100 different environments
Pricing plans (monthly):
Free plan
Business plan: $12.50/ month
Agency plan: $40/ month
4. Topol
Topol is great design software to create HTML emails using drag-and-drop functionality.
The software is built on top of MJML - a markup language that can reduce the pain of coding a responsive email. Thus, you can make sure that all emails created in Topol will be responsive.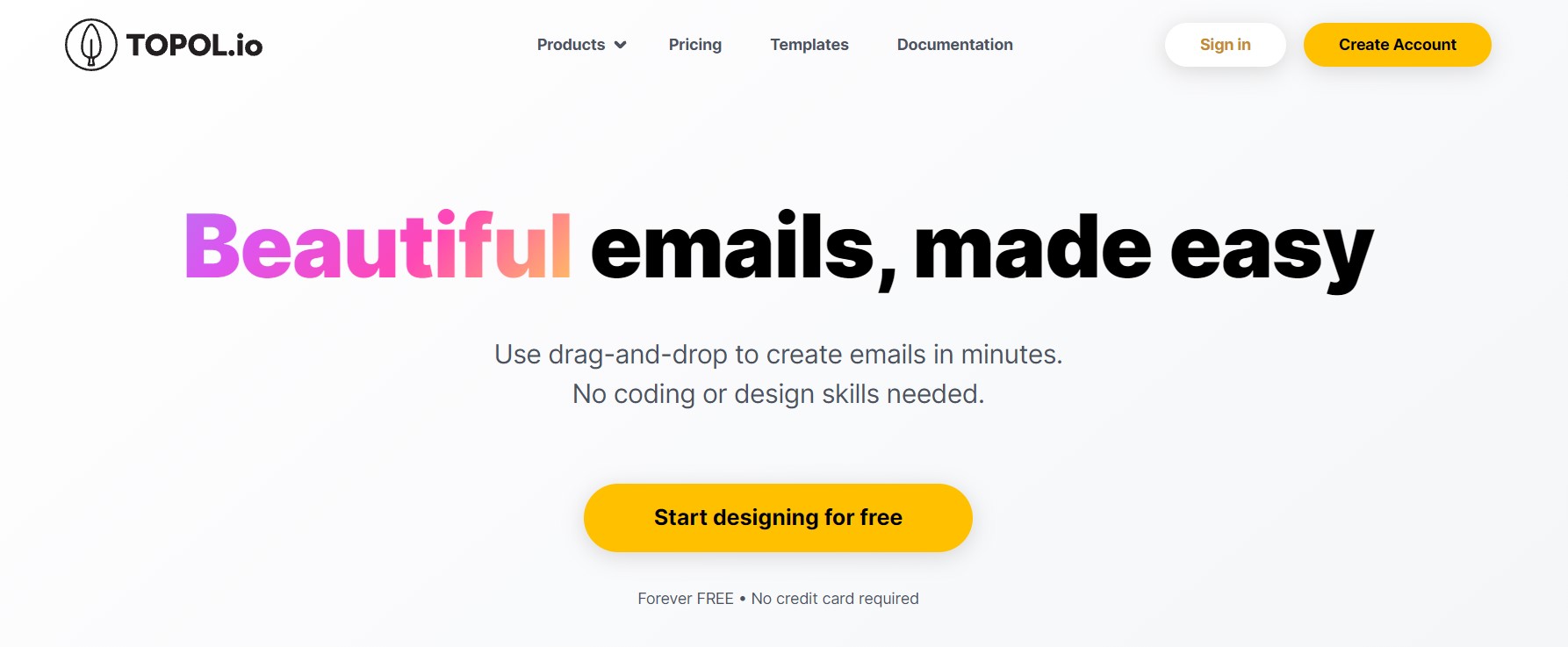 You can integrate the Topol editor in your own app, CRM (customer relationship management), or any other marketing platform. They provide ample documentation on their platform on how to do it. The templates you create in Topol can be downloaded as a .zip archive or exported to any existing Topol account.
Topol's key features:
150+ beautiful, easy-to-use templates
Full-featured drag-and-drop editor
Re-usable custom blocks
Custom HTML code
Pricing plans (monthly):
Free plan
Pro plan: $15/ month
Plugin: $50/ month
5. BEE
Like Stripo, BEE is free email design software that lets you create simple email templates and then export them to your favorite email service provider. Working with BEE is very easy; you can create a responsive email template within minutes without any coding skills.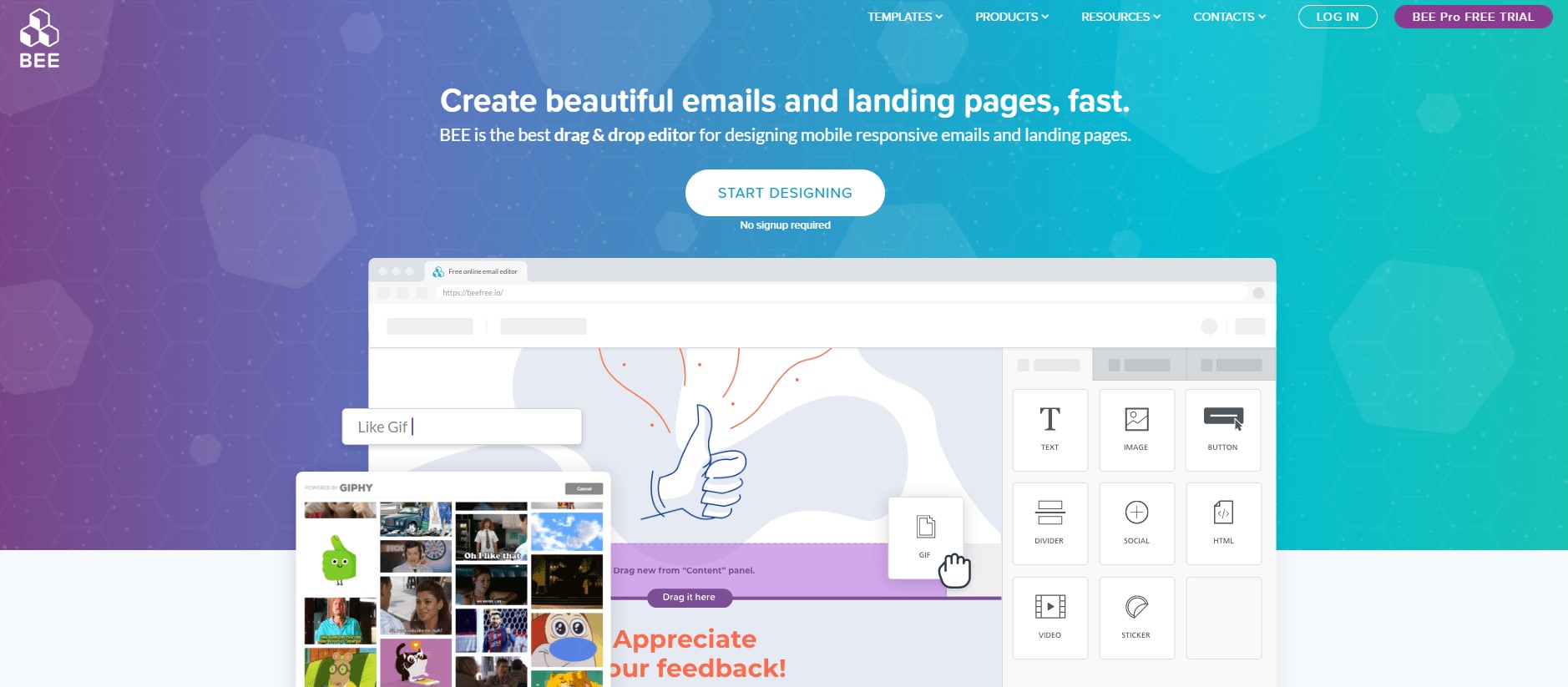 Moreover, the software saves you a lot of time as it lets you drop images from your desktop, clone elements, as well as move everything around. When talking about responsiveness, BEE constantly tests its templates to make sure that the email design won't feel out of place.
BEE's email template library is equipped with various professionally designed templates for you to customize. You can access this library without an account. However, free template options are quite limited, and you will need to upgrade to access more sophisticated ones.
All in all, BEE is great email design software for you to create e-blast templates, transactional emails, and more.
BEE's key features:
Drag-and-drop email editor
Various ready-made email templates
Responsiveness tests for Gmail, Outlook, and more
Ability to send test emails
Integration with popular email service providers
Pricing plans (monthly):
Free plan
Freelancer plan: $15/ month
Team plan: $30/ month
Agency plan: $120/ month
6. Moosend
As free email design software, Moosend enables you to create, automate, and send your email marketing campaigns. When it comes to creating templates, Moosend offers an advanced drag-and-drop editor for you to build responsive templates effortlessly.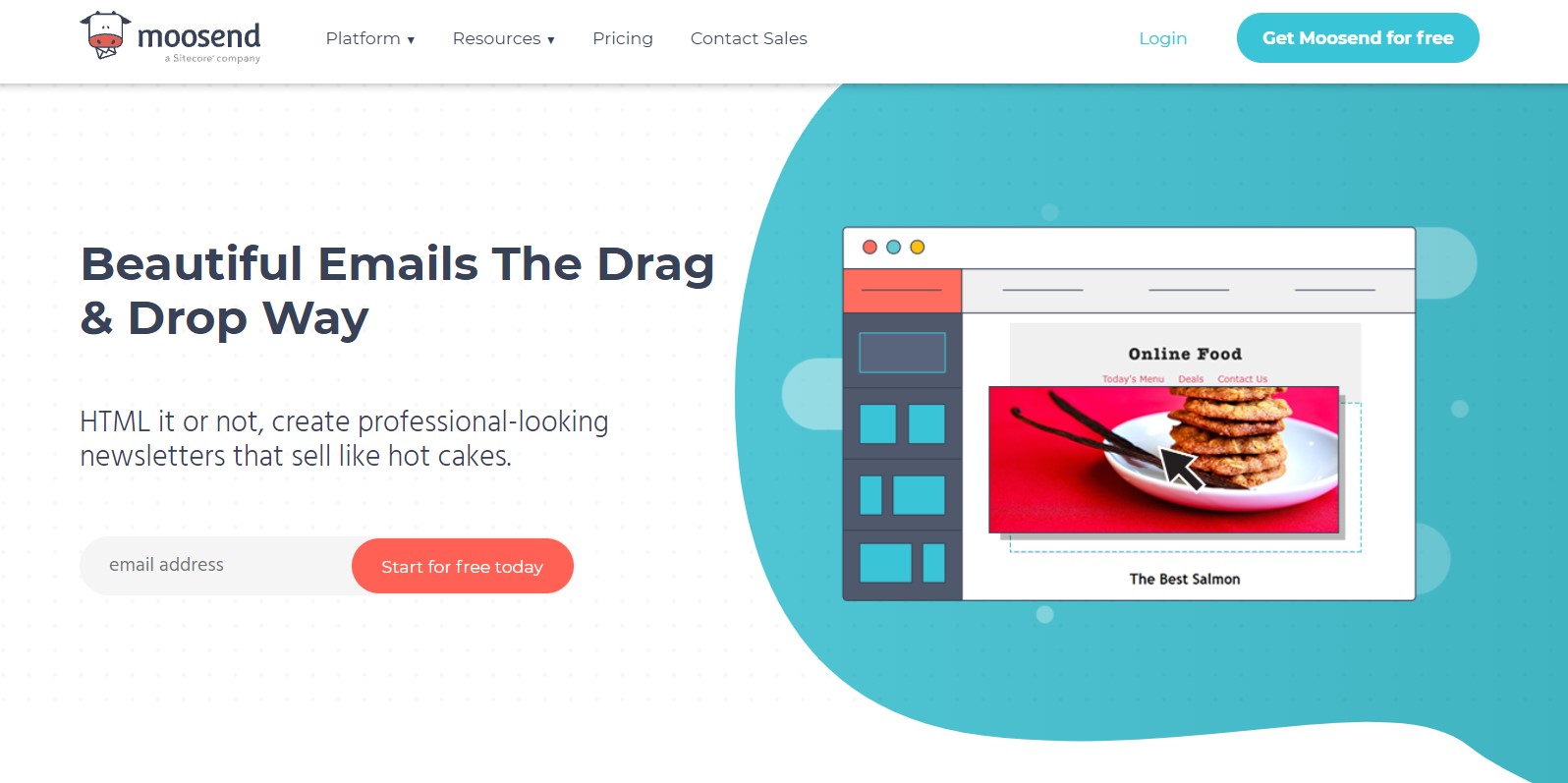 Moosend has a library of various ready-made templates. It is also equipped with all the elements to create a visually stunning email campaign that highly converts. If you need a quick visual, Moosend offers an image picker that integrates with stock photos, social media platforms, Google Drive, and more.
Besides, you can add countdown timers, personalize your emails, as well as add conditional blocks to create dynamic content campaigns.
Moosend's key features:
Drag-and-drop email design software
Various ready-made templates
Allows for customizing your templates
Pricing plans (monthly):
Free plan
Pro plan: from $10/ month
Enterprise plan: custom price
7. Mailchimp
More than a powerful all-in-one marketing platform, MailChimp offers a huge email template library of 100+ ready-made designs.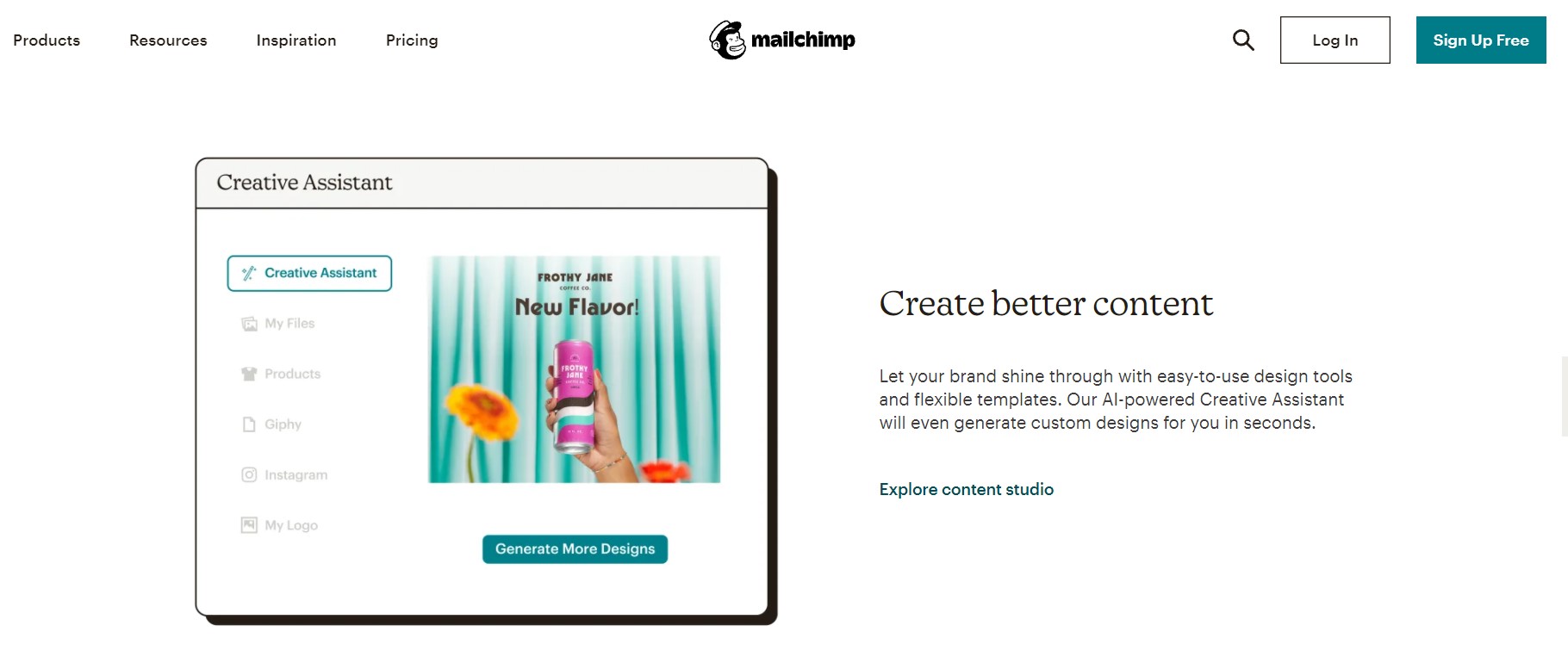 Its new template builder lets you edit your elements directly on your content block. Furthermore, its Content Studio is of particular help in editing and managing your images and files.
As an email marketing platform, Mailchimp also gives you some extra features, such as automation, to deliver your campaign in a timely manner. In short, Mailchimp gives you a user-friendly interface and numerous email templates to create your next big campaign.
Mailchimp's key features:
Drag-and-drop email builder
Various ready-made email templates
Design testing tool for different email clients
Pricing plans:
Free plan
Paid plans: from $15/ month
8. AWeber
AWeber is specifically designed for small companies eager to start with email marketing, but might have trouble knowing where to begin. Pre-designed email templates, custom email designs, and automation are all available.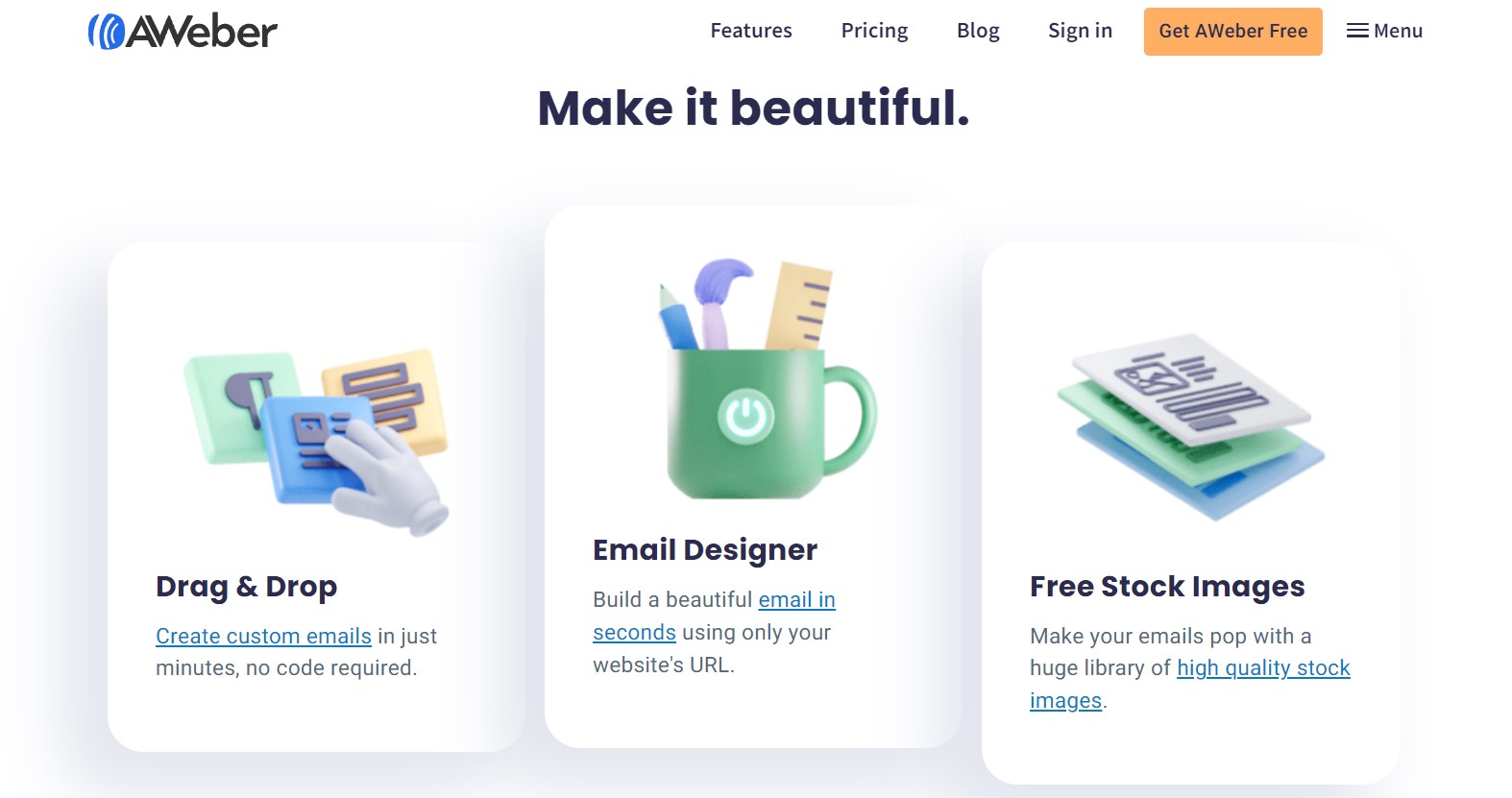 Besides, AWeber offers a Smart Designer for your emails. You just put your website URL in a form field, and it analyzes your website, or social media account for image, logo, and color palettes. Then, it automatically creates ready-to-use, custom templates for your business.
AWeber's key features:
Drag-and-drop email editor
AWeber's Smart Designer uses AI to construct and recommend email templates
About 700 email templates and are all mobile-friendly
600+ free stock images
Pricing plans (monthly):
Free plan
Pro plan: from $19.99/ month
9. SendX
With SendX, you are able to design professional-looking emails without struggling with any HTML coding. This is possible with its WYSIWYG (What-you-see-is-what-you-get) editor.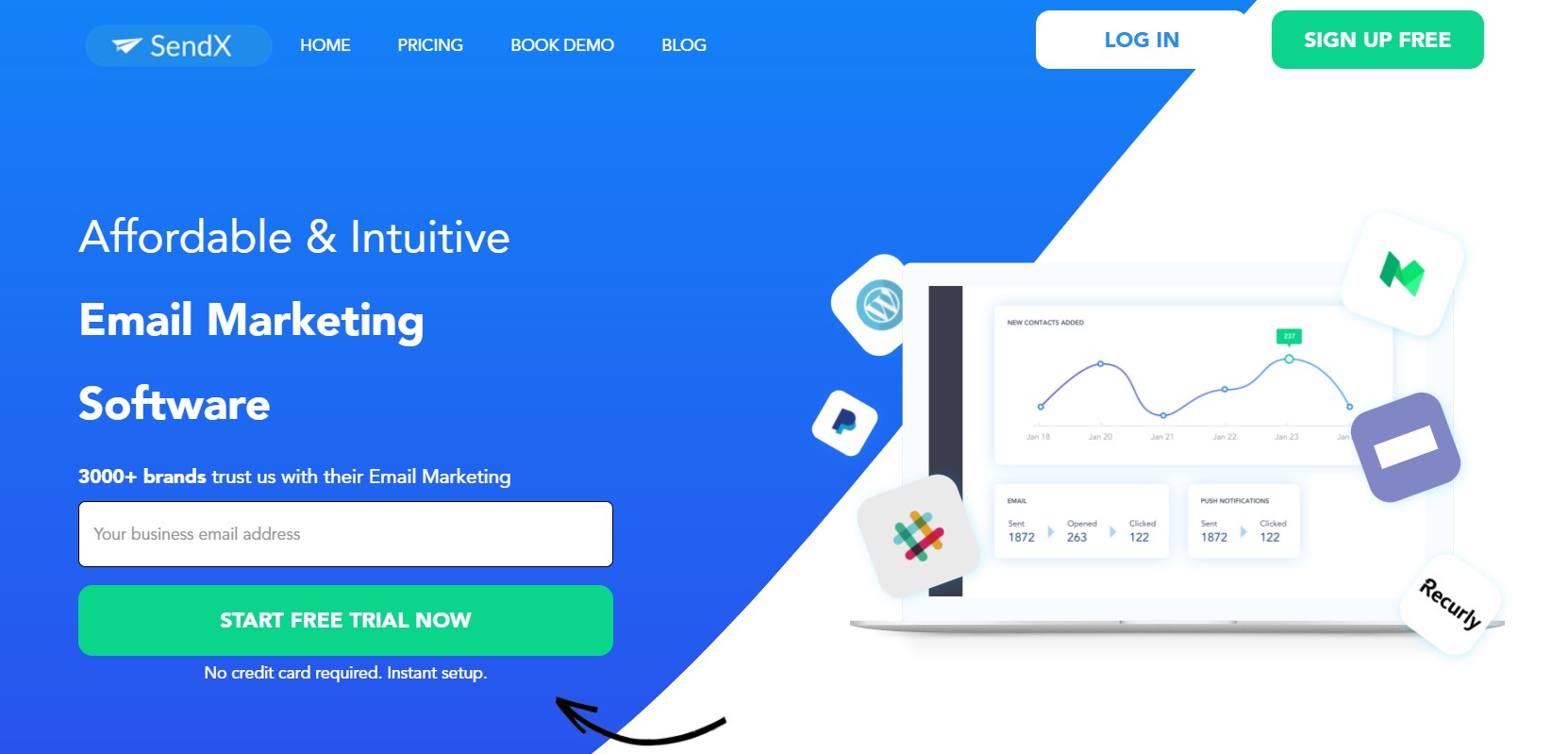 The main benefits of a WYSIWYG email editor are that you can do it yourself easily, experiment with layouts and colors, and design beautiful email newsletters even when you don't know HTML.
SendX's key features:
Various pre-built email templates
WYSIWYG editor
Instant preview for desktop and mobile
Pricing plan (monthly): from $9.99/ month
10. Unlayer
Unlayer is free email design software, with a simple, easy-to-grasp approach. You're able to choose any of its 100+ base kit templates and then edit the template as you see fit. Plus, the software lets you install the free Chrome extension if you would like to integrate it with Gmail.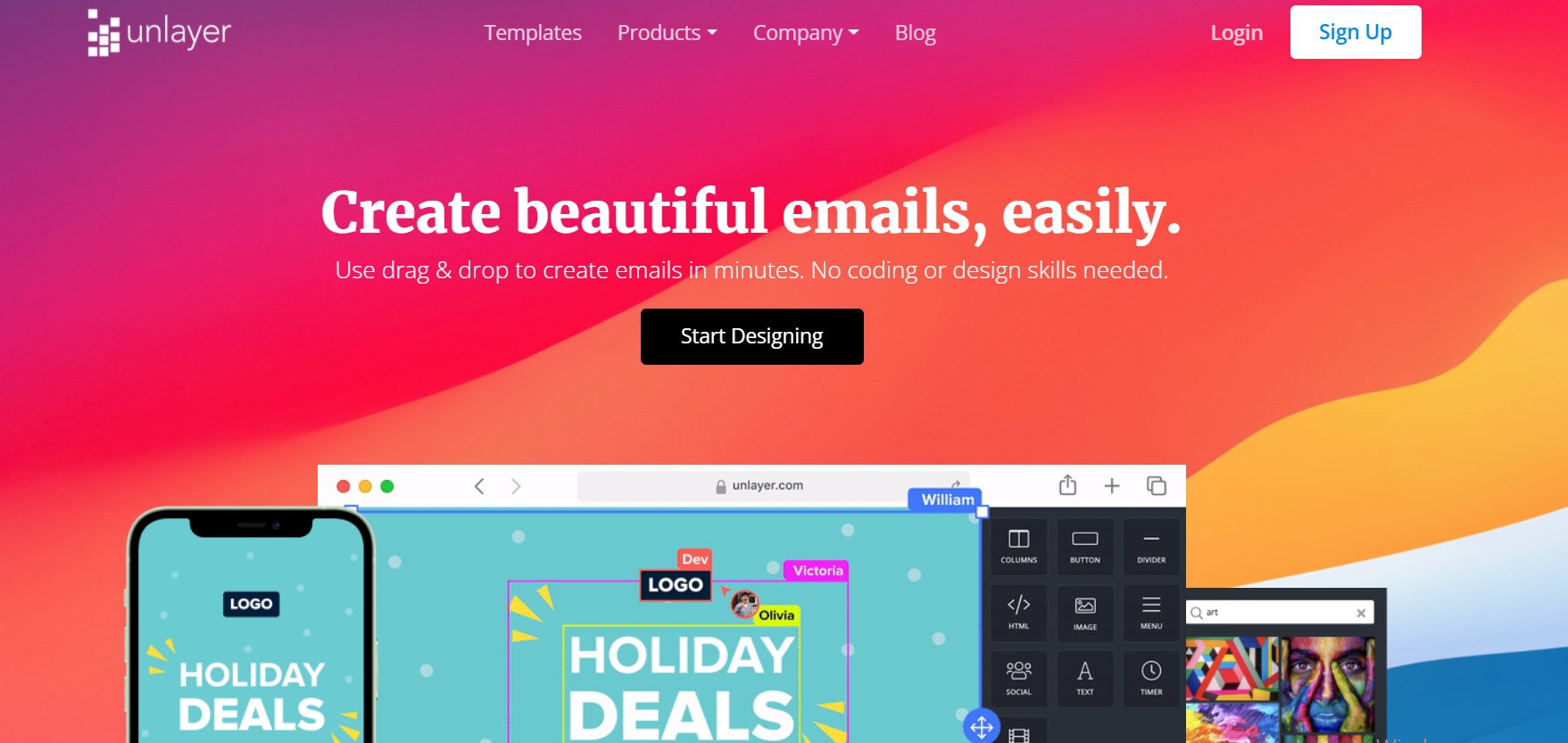 Unlayer provides a template manager, where you're able to create and edit your templates with a unique ID. Alternatively, you can also save the templates on your own servers by simply switching to the JSON tab and then saving it to your database.
Unlayer's key features:
Available template designs
Robust template manager
Free Chrome plugin
Allows for saving and downloading templates for future use
Pricing: Free
11. Constant Contact
Constant Contact is email design software for new email marketers that want to create an email newsletter within a few minutes.
The software lets you create HTML email templates in order to deliver a unique user experience. Nevertheless, you will need some coding skills to do that. It also offers a branded template builder, which allows for creating email marketing campaigns based on your brand.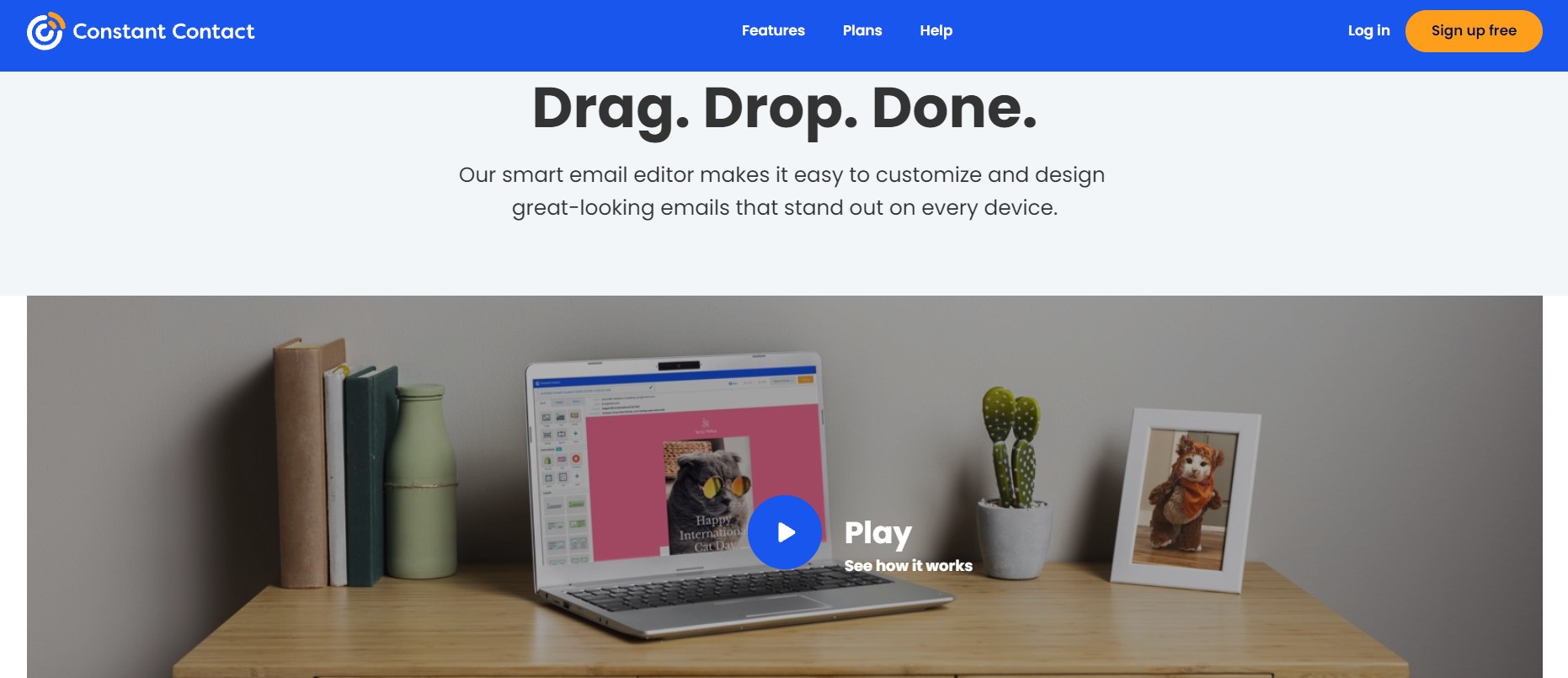 Constant Contact also equips you with various templates to grab and customize based on your own needs. When it comes to automation, it offers autoresponders and basic automated workflows.
To be honest, while you can use its automated sequences to target your audience, the software is not famous for its flexibility, which is something that many Constant Contact alternatives like AVADA Commerce offers.
Constant Contact's key features:
Branded email templates
Integrations with CRM, social media, and more
A/B testing tool to discover converting elements
Powerful event invitation management options
Pricing plans:
Email plan: from $20/ month
Email Plus plan: from $45/ month
12. Sendinblue
Sendinblue has a user-friendly interface with email template capabilities. The software also lets you drag and drop all elements and duplicate your blocks to save time.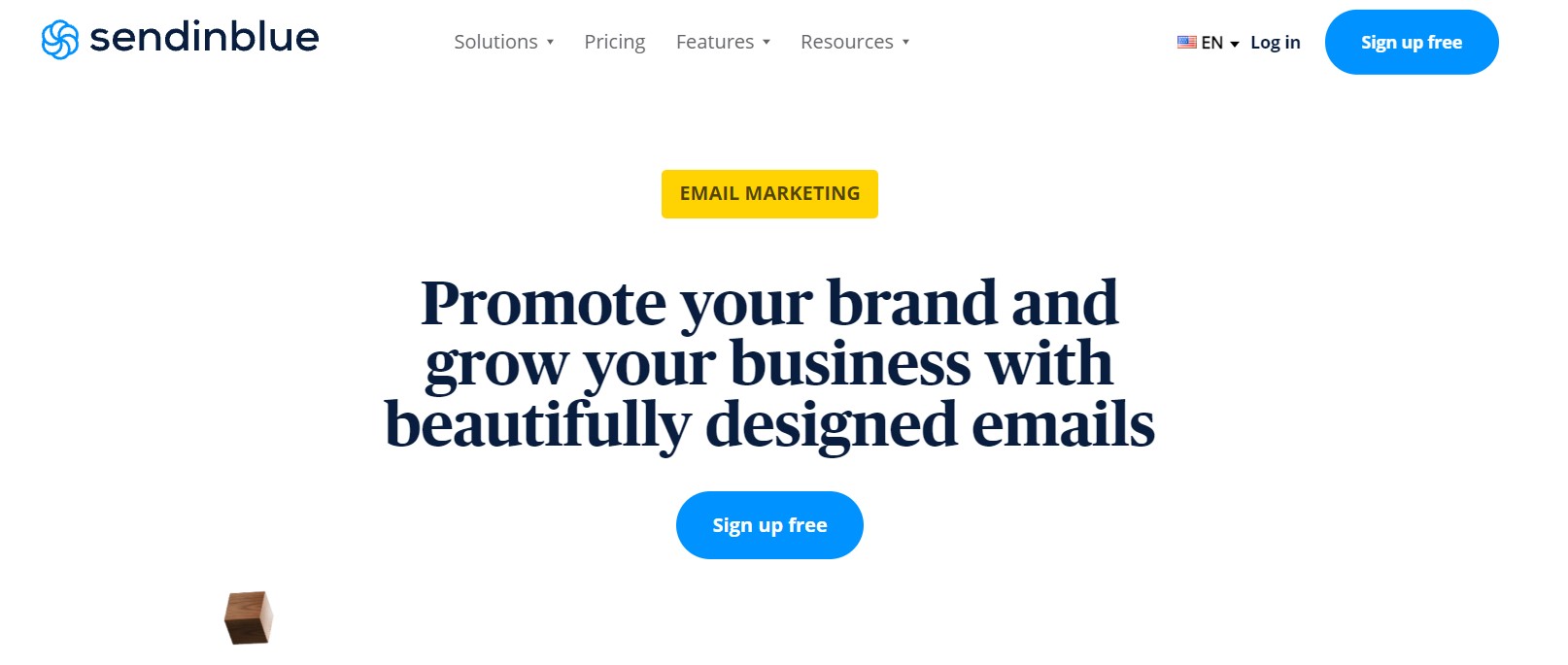 If you are a seasoned email marketer, you can set up your personalization if/then/else logic easily. But if you are a beginner, you might find it difficult. It is worth mentioning that Sendinblue lets you add conditional content, meaning that your audience will see more relevant content according to their interests.
Sendinblue has some great templates for you to choose from and customize. While you can pick from a number of them, the templates have quite similar email designs.
Sendinblue's key features:
User-friendly email editor
Responsive email templates
Conditional content display
Pricing plans:
Free plan
Lite plan: from $25/ month
Premium plan: from $65/ month
Enterprise plan: custom price
13. Mosaico
Mosaico is open-source email design software, which is something of a rarity.

You will not find pre-made email templates, as you would with other email design software, but you'll be able to alter the tool however you see fit.
Mosaico's key features:
Unique click-based design tool, which abandons the traditional drag-and-drop model
Infinite flexibility, if you are willing to put in the work to customize it
Community support
Pricing: Free
14. SendGrid
SendGrid is a decent email service that offers support for email template designs. In addition, it offers email functions, such as password resets and automatic shipping notifications. The software also boasts an open API, so you can integrate with just about anything.

SendGrid's key features:
Various tools, such as email design, signup forms, automation, and more
APIs, SMTP Relay, and Webhooks
Pricing plans:
Free plan
Essentials plan: from $14.95/ month
Pro plan: from $89.95/ month
Premier plan: custom pricing
15. Taxi for Email
Taxi for Email offers scalable email template creating and the ability to create email workflows. Besides, it lets you assign various tasks and permissions to your team, so each of your staff can play a role in perfecting your email campaign.

Taxi for Email's key features:
Team dynamics, including user permissions, access assignment, and collaborative tools
Support for multiple languages and email segmentation
Robust testing on-demand as you design
Pricing: Request a custom quote
The bottom line
So there you have it, 13+ best email design software, tried and tested. As you can see, there are a number of good options, it is just a case of deciding which features are necessary for you.
Thanks for reading this article! And keep in mind that we're always here to help you with email marketing!
New Posts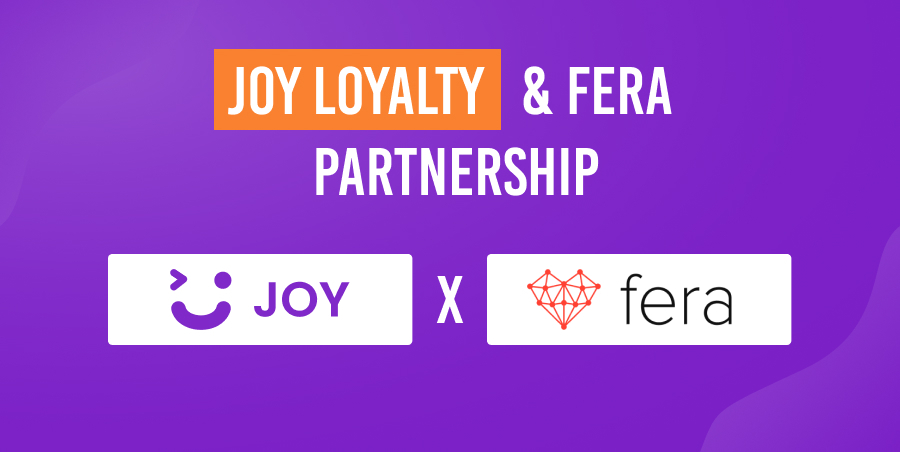 Subscribe
Stay in the know
Get special offers on the latest news from AVADA.
40k
subscribers has been joined!
Earn $10 in reward now!