Best eCommerce Thank You Email Templates That Increase Customers Loyalty
Saying a simple "Thank you" may be small, but it is crucial to leave a long-lasting good impression on consumers. By showing gratitude, you can build relationships, strengthen connections, and create new loyal customers. That is how you grow your eCommerce store and achieve success in the long run.
The problem with online stores is that business owners can't personally thank customers in the same way as a brick and mortar store. You can't just walk up to a person, give a good handshake, and thank them for buying at the store. Your customers maybe thousands of miles away. But eCommerce stores have another tool - automated thank you emails, typically sent after a completed purchase.
Beware, if your thank you emails lack a human touch or can't make customers feel appreciated, they are more harmful than good. If done right, though, you can engage with your target customers with a genuine message that shows appreciation and further improves your open rates and conversion rates.
In this article, let's explore the best eCommerce thank you email templates that help you know what to say and when to say it, as well as other best practices. You will learn to be creative, original, and, most importantly, genuine with your words of appreciation. Let's see how to say thanks correctly now!
Create Thank You Email in minutes
What is a thank you email?
A thank you email is a type of email used by eCommerce businesses to build healthy long term customer relationships - by showing appreciation and gratitude to them. Expressing thanks helps companies show how much they care and appreciate customers' time for buying with the companies.
An automated thank you email is sent to a customer based on a specific trigger. The most frequently used triggers are newly completed purchases or new sign-ups for the newsletter. However, there are other occasions to send thank you emails, too, which are a great opportunity for promotion. For example, you can send thank you emails to customers who have been loyal throughout the years.
Thank you emails can overlap with transactional emails that businesses send. This is perfectly normal and even beneficial. With a short thank you note, you can make your automated transactional emails more personal and humanizing, so they would be meaningful and create additional value to the brand. More than just sales, you can earn long term customers.
Remember this, your thank you email's ultimate goal is to humanize the relationship between you and clients.
How can thank you emails help your eCommerce business?
Saying thank you doesn't only show that you are polite. There are far more benefits to this type of email. Here are some examples:
Help establish a two-way communication: The consumers show interest in your company's content and products, so you react and show gratitude for their attention while proving a human interaction with them.
Remind your customers of your business's belief: A thank you note is a perfect chance to show your business's value and how you value customers' presence.
Help establish trust and credibility: Automated emails are expected by customers and are always relevant to show that your business has a professional working process. That's important.
Invite customers to follow on social media: A thank you email is a perfect chance to let recipients know about your social media accounts, loyalty programs and entice them to write a review. But, keep in mind that it may be too soon to up-sell aggressively.
Include coupons and gifts: Say thank you in the best way and let customers save a few more the next time they purchase; you will encourage them to come back for more.
In conclusion, your thank you emails are an appropriate way to start building a relationship with your customers, just like having in-person connections that physical brands have.
How to write thank you emails?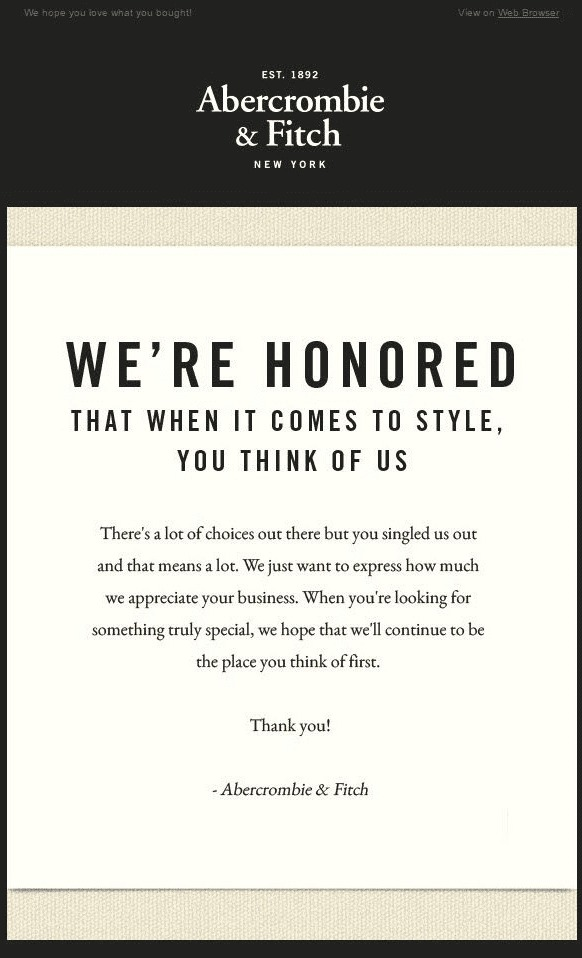 Our parents taught us to say "Thank you" at a very early age, but creating a great thank you email is not that simple. To make customers delightful receiving your gratitude, you would need your emails to communicate with its copy, design, and content. After all, emails are still a visual approach in marketing.
Here is how you can write fantastic thank you emails, part by part:
Thank you email subject line
Your thank you email's subject line depends on the occasion of each specific email. But, for whatever reason, your subject lines should be straight to the point, so recipients can understand the purpose of your emails and open them. Let's see the 20 best examples:
Thanks for your order
Thank you for choosing us
Thank you for your payment
Thank you for your recent purchase
Thank you for being a friend
Thanks - here's an offer for you
We totally appreciate you as a customer 💖
You picked us. Awesome
Your closet thanks you
Happy Anniversary [Customer Name]🎉🎈
Thank you for dropping by [Store Name]
Aww, thanks!
It makes us happy that you chose us
This could be the start of something wonderful
Thanks for being part of our community
Thank you from the bottom of our hearts ❤️
[Customer Name], thanks!
Did your purchase live up to your expectations?
Thanks for subscribing to [Store Name]
[Store name] Order confirmation
Read more:
Thank you email copy
When creating your automated thank you emails, consider the following tips to write the copy most engagingly and genuinely possible:
Write like a human; think of how you would say it in real life. An email template can help you with this.
Say something positive right from the subject line.
Express gratitude and appreciation.
Use the correct greeting for your group of audience.
Say thank you again.
Include specific details
Use an appropriate closing.
The thank you email is much more like a letter than a regular transactional email, so think of how your copy can convey the feeling of human writing, not the automation.
Thank you email content
With an email marketing app, you can easily set up personalized thank you emails to target specific audiences based on their actions. This personalization approach will make your content much more effective and relevant while users enjoy a better reading experience.
And when I mention users, it is not only about placing an order. There are many other occasions that you can trigger automated thank you emails. Your thank you email content should have personalized content for:
Customers on their birthdays
High-value and loyal customers
Anyone who has shown support to your business
Newsletter subscribers
Specific holiday thank you card (Thanksgiving, Christmas, New year, etc.)
Event/workshop/webinar attendees
Job applicants and interviewees
Based on the group of recipients, you can think of the suitable thank you email content for them, as well as the right timing - which we will discuss in the next section.
Thank you email sending time
A thank you email is based on the user's actions - which means its triggers are specific users' actions, unlike broadcast emails with preset timing. To make sure your emails are sent at the right time and reach the right person, you need to understand your users' actions.
For example:
With newsletter subscribers, your thank you email will be sent immediately when a new user signs up.
With high value and loyal customers, your thank you email will be sent when the customers reach a certain milestone with your business.
With specific holidays, your thank you emails will get sent based on your preference, but a simple act of gratitude on Christmas morning is heartming too.
To apply this timing, you need an email marketing automation software to automate the triggers of the emails based on users' actions. I will show you how in the next part of the blog post.
Read more: Best time to send marketing emails
How to automate thank you emails?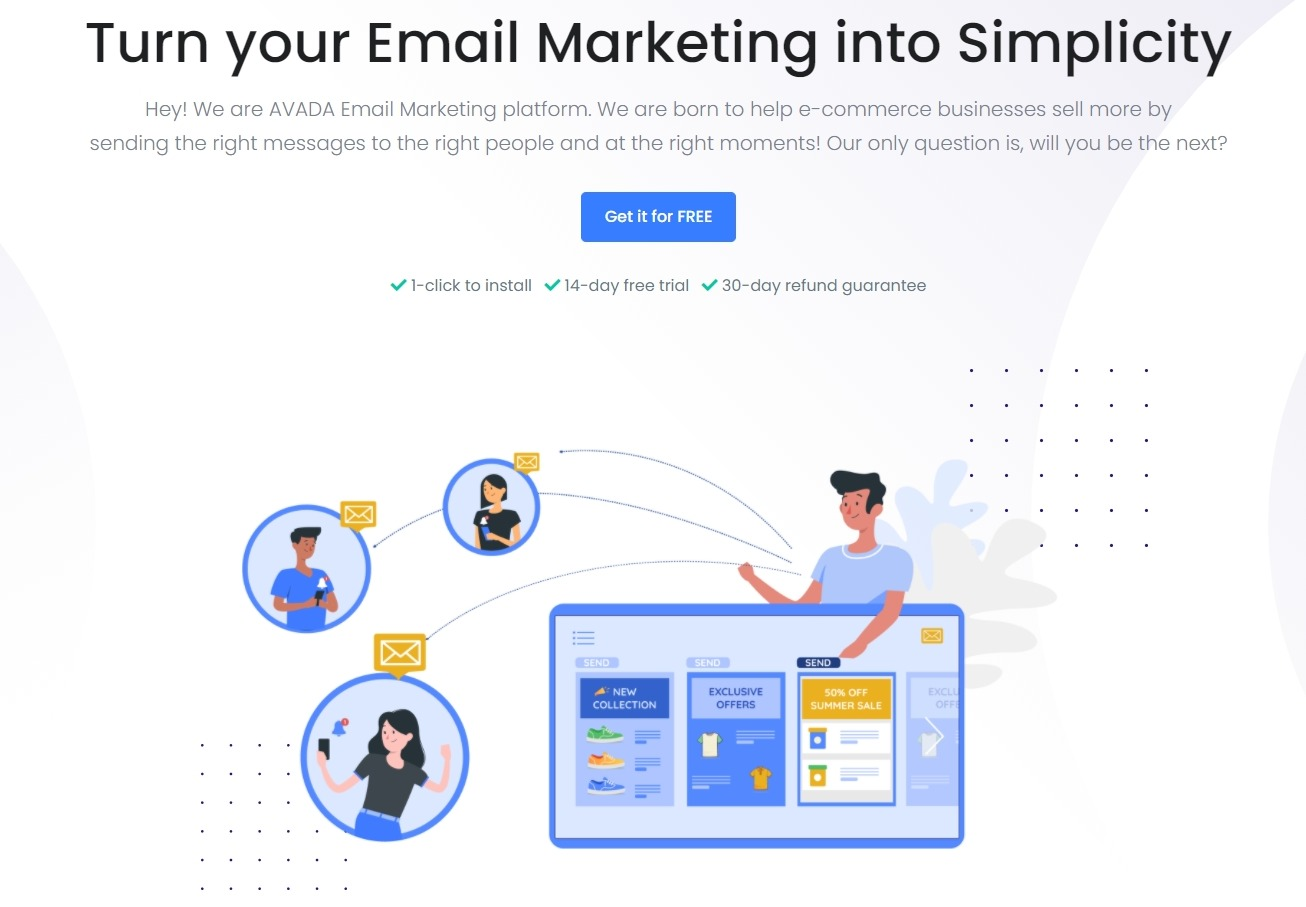 There are many options for email marketing software, but I would like to introduce AVADA Email Marketing - our dedicated app to make email marketing a breeze. AVADA Email Marketing helps you create thank you email in just minutes with pre-made templates and preset timing. All you need to do is make sure your message matches your approach to the target audience.
Let me give you a quick tour. First, head to the link and install the app, AVADA Email Marketing is free to start using, with a pro plan starts at only $9/month. Once installed, you will get access to a dashboard, which looks like the image above. Click on 'New Campaign' to create a new campaign.
At the first step, you can select the event type - which are the users' actions that would trigger your email campaigns. As you can see, there are many options of different campaigns for new subscribers, abandoned cart shoppers, first time buyers, cross-sell opportunities, and more.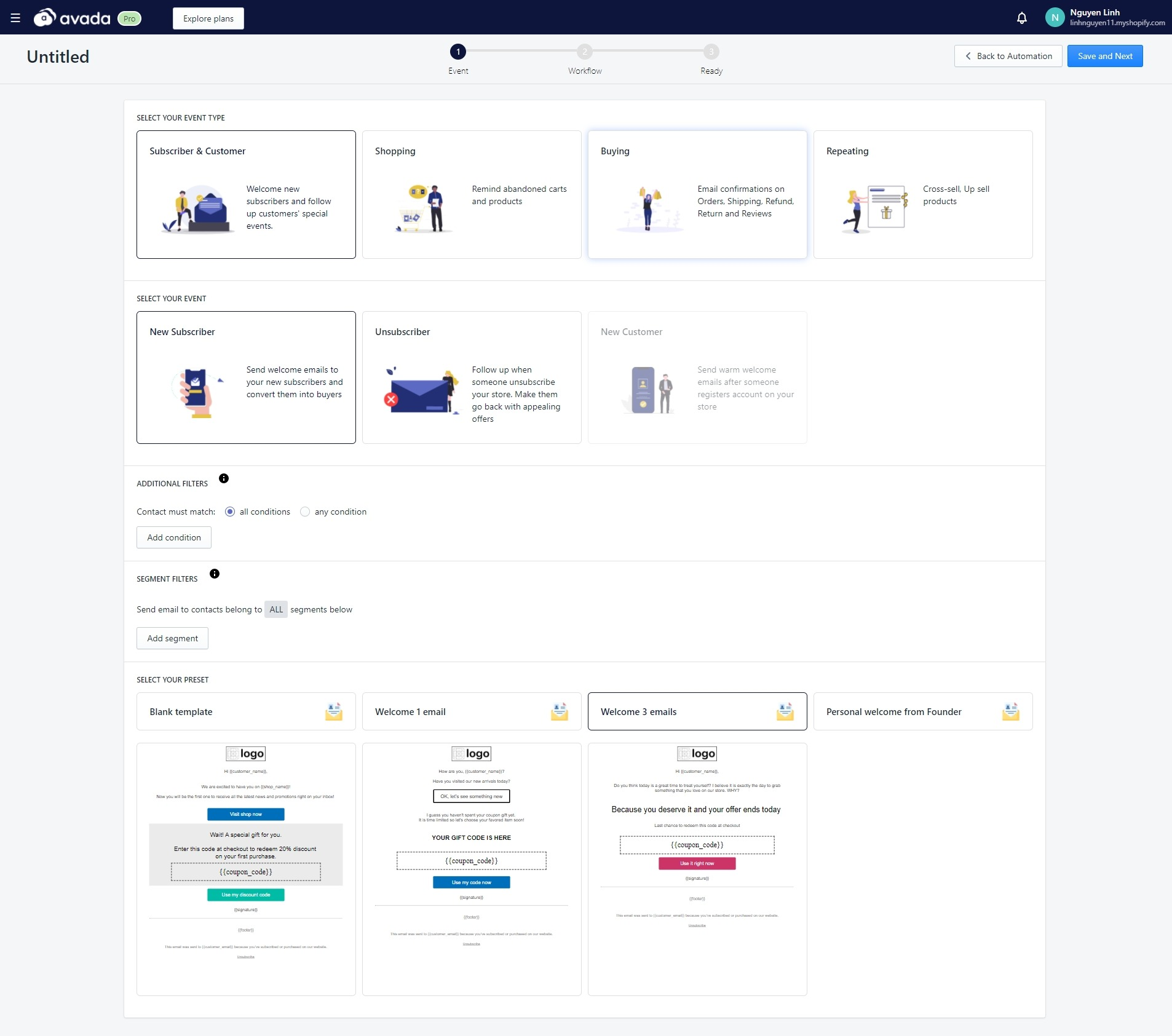 For thank you emails, we already have two popular options for an eCommerce store: New order's thank you email and New subscriber's thank you email.
With new subscribers, you have three options of email templates: 1 Welcome email, 3 Welcome emails, or Personal welcome email from Founder. Of course, you can create a blank email template and customize to suit your own brand.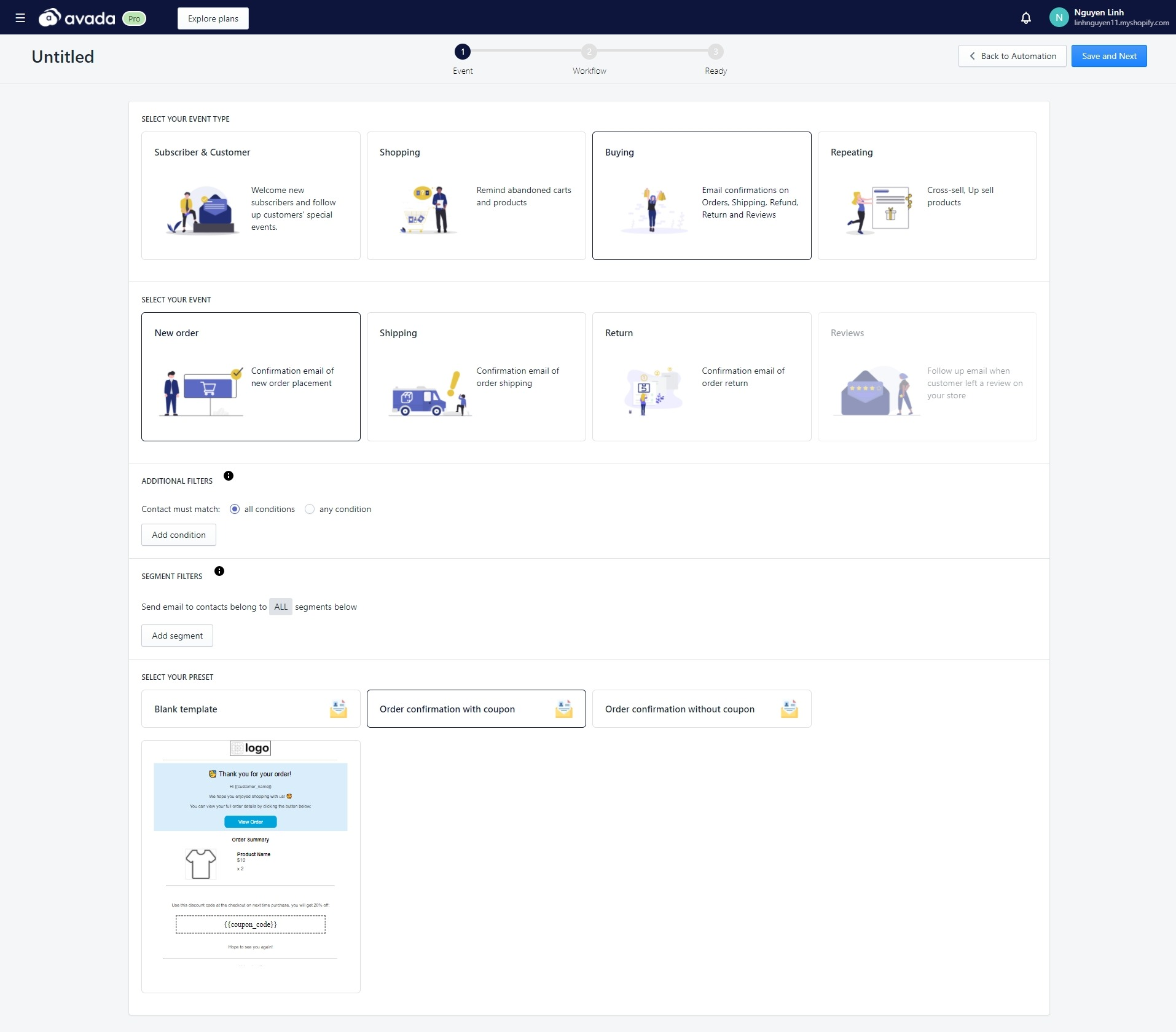 With new buyers, you can send order confirmation emails - which are perfect to edit as thank you emails as well. There are already two templates for order confirmation email with or without a coupon. Again, you can create your own template to suit the message you desire to send.
After selecting the suitable event and template, you can continue to the next step - in which you can edit the campaign's automation workflow.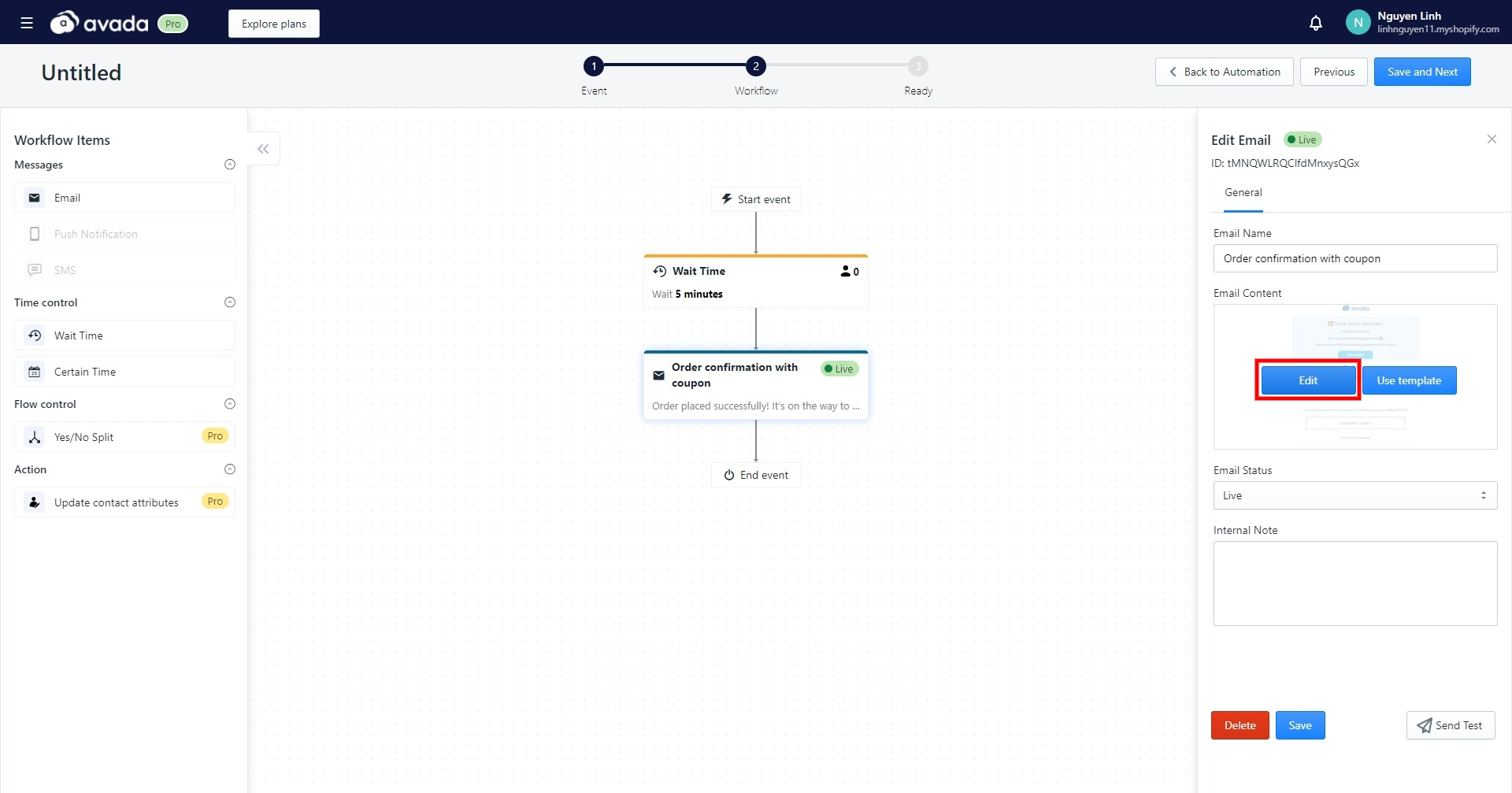 For example, with the order confirmation email, you can see the preset timing of waiting 5 minutes after the purchase, then the email gets sent. You can edit both the wait time and email in this step. 5 minutes is good enough, so let's edit the email template to make it a thank you note.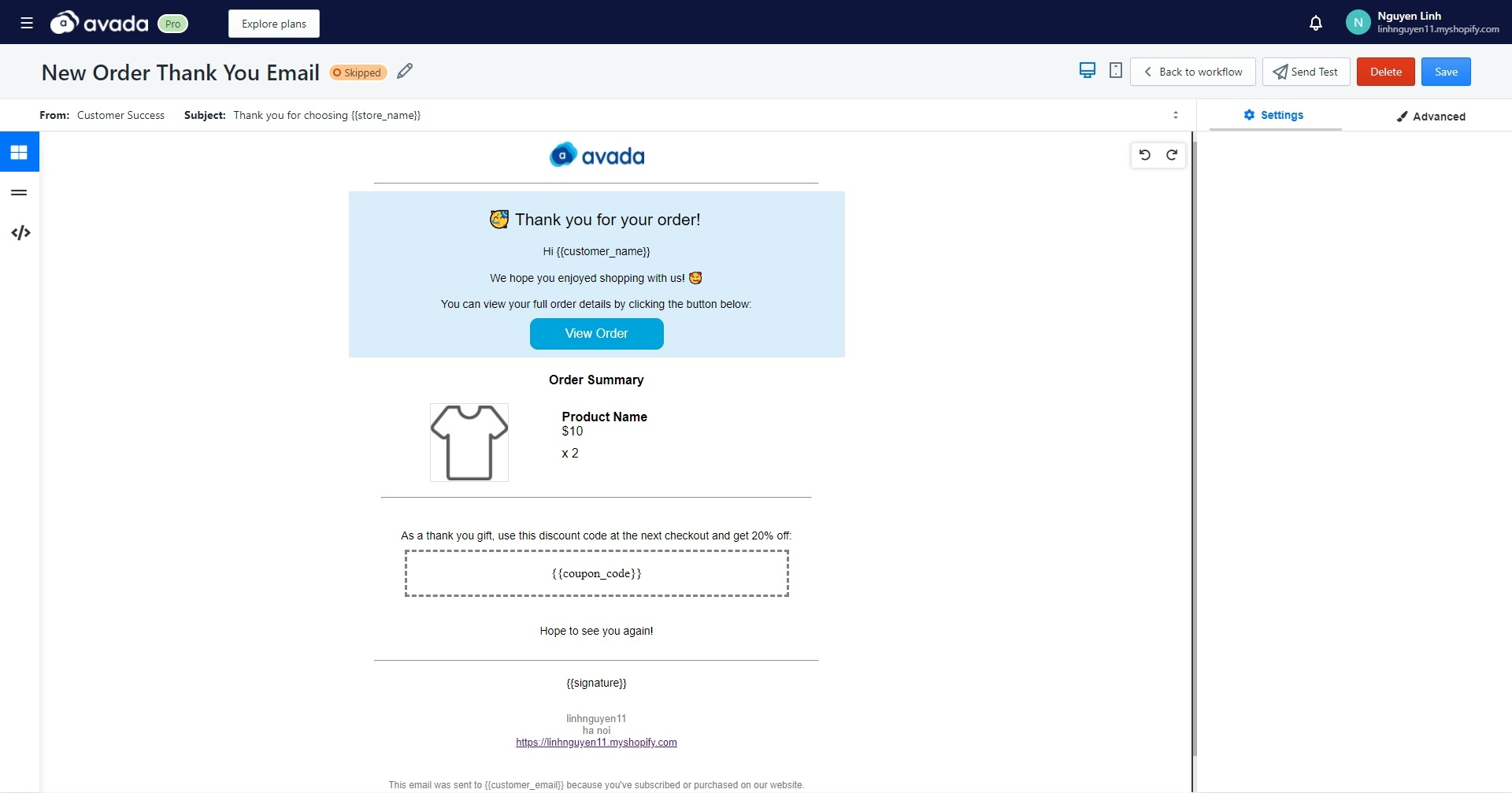 In this email template, you can edit your logo, copy, and content. You already have a touch of personalization with the customer's name and a big thank you at the headline, as well as a thank you gift code below. You can still customize the email more with a simple drag and drop editor right at the left side, or view the email in mobile mode. Once done, click on 'Save' and 'Back to workflow'.
Then, at the last step, you just need to fill in the email campaign's name and description. This will help you identify the campaign more easily and work well with other app users, such as an email marketing freelancer. Click 'Finish' to get the campaign live and running. You just created your first automated thank you email campaign!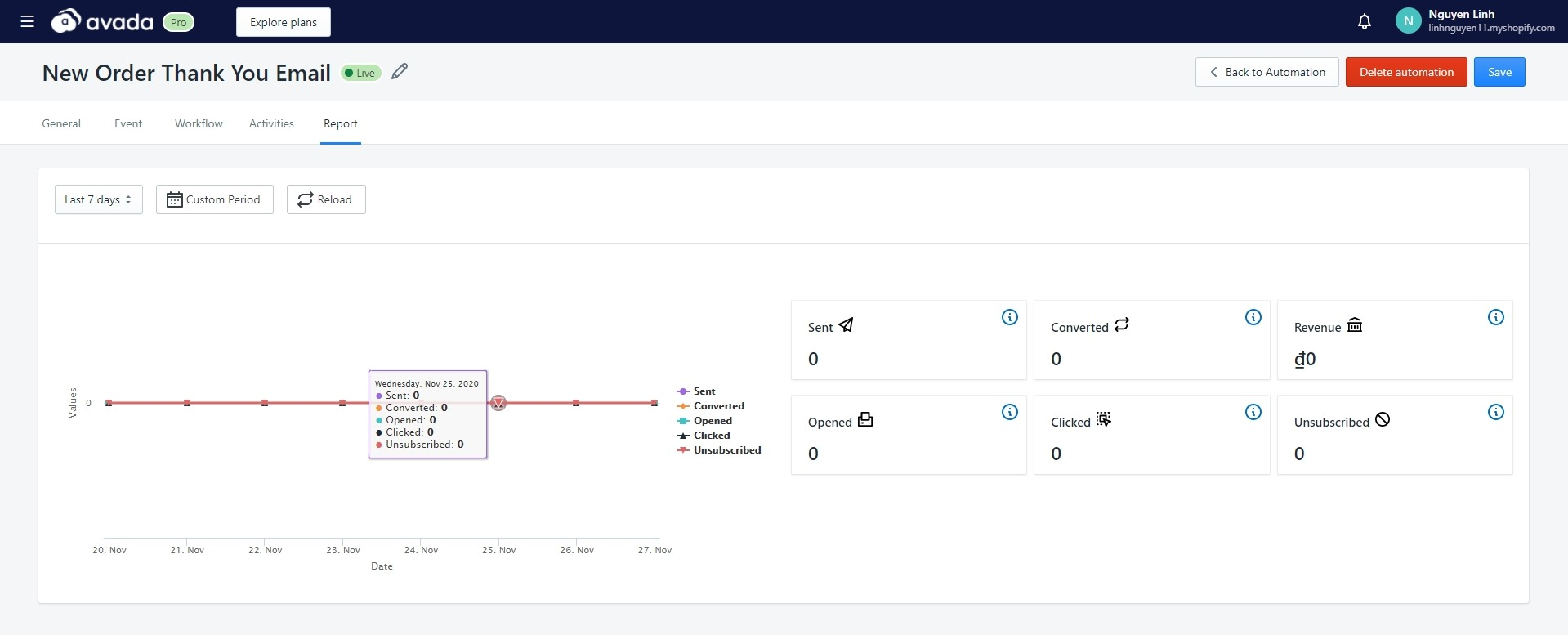 After that, when clicking on the campaign, you can see reports on the number of emails sent, conversion rate, open rate, clicked rate, revenue, and even the unsubscribe rate. This will help you further improve your campaign and know which message matches your target audience more.
5 Fantastic eCommerce Thank you email templates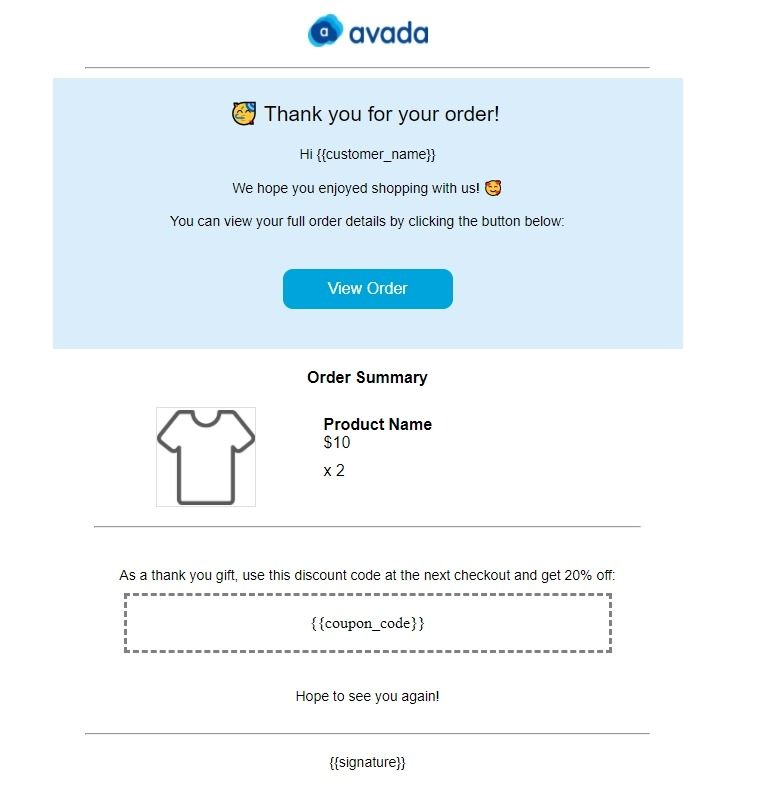 Although thank you emails serve as an appreciation message, you should save time and don't bother your customers with a long email that takes forever to finish reading. Not saying that long emails are bad, though, it is just that they are not suitable for eCommerce stores.
Tip: If you want to write a long and extended thank you note, consider printing it out and adding it into the product packaging. This can be a small surprise that adds more value to the shopping experience.
Back to emails, your copy should be straight to the point with the thank you message. You should also think if you want to add some calls to action such as "follow us on social media" or "leave a review". The best email layout will help you show gratitude in a relevant way while making customers take the next step with your online store.
Here are some fantastic thank you email templates to help you do that, you can copy and paste these into our app AVADA Email Marketing to automatically replace your store's name and customer's name into emails.
New order thank you email template
🥳 Thank you for your order! Hi ,
We hope you enjoyed shopping with us! 🥰
You can view your full order details by clicking the button below: View Order Order Summary Product Name $10 x 2
As a thank you gift, use this discount code at the next checkout and get 20% off: [coupon_code] Hope to see you again!
Sincerely,
Parcel delivery day thank you email template
Thank you for choosing us!
We appreciate your trust and want to serve you better. As soon as you get your parcel, feel free to tag us on your photos and we will highlight them in our stories.
If you have any questions, keep in touch with me through this email!
[CTA – social icons]
Sincerely, at
Receipt email with a thank you note template
Dear ,
Thank you for your order.
We always value our loyal customers. Thanks to you, we can become who we are now! As a token of appreciation, here is a 15% off coupon code for your next purchase.
[CTA - discount code]
This is a receipt of what you've ordered this time: [table with products ordered]
High value customers thank you email template
Hey ,
Recently you have bought a bunch of our products. Thank you for being awesome 🙏! We would like to know how you liked them. Have you had a chance to try them all?
[CTA - Review products]
[table of recently purchased products]
Thanks again, I look forward to hearing your feedback and providing assistance.
– from the team
Order confirmation thank you email template
Your order is on the way 🎁!
We hope you love your new products from , which will arrive on .
[table of purchased products]
Thank for shopping with us, if you have any questions or want to share your thoughts, email us at .
Need to make a return? Check out how to do it here. [link to return policy]
Thank you email examples from eCommerce companies
Below, you can find the most creative, original, and genuine thank you email example from eCommerce companies around the world.
Kate Spade's thank you email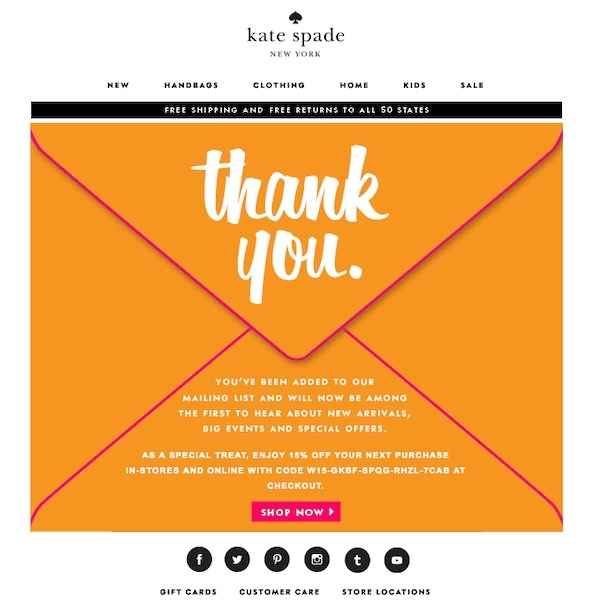 An email that is designed to look like an envelope. This email helps Kate Spade thank their new subscribers in the signature orange color. It is the first step to turn new users into customers. Thanking just for signing up shows appreciation for the trust people have placed in you, and you are a trustworthy business.
Tinker's thank you email template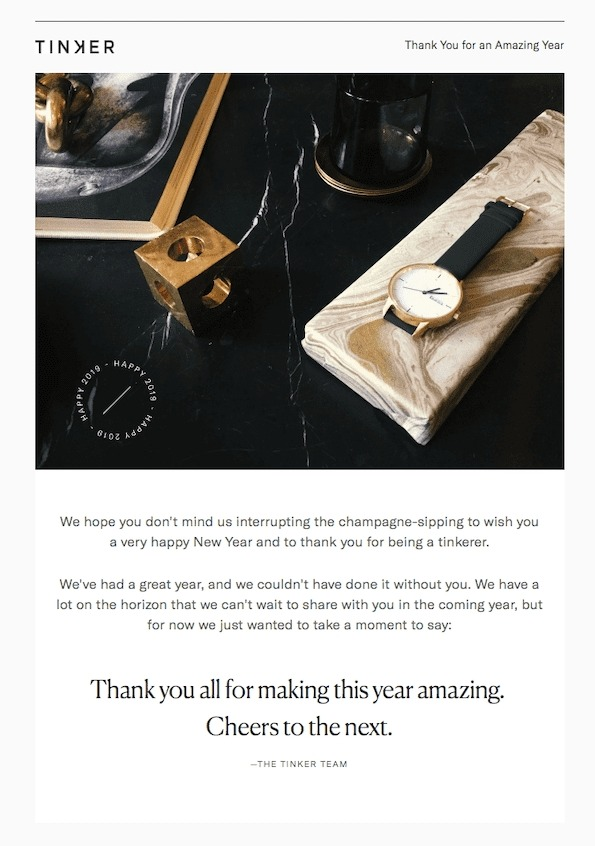 The New Year's Eve is a great time to send appreciation so a good thank you email is great for those who have supported your business along the way. Wishing your customers a happy new year also helps build a relationship and boost the customers' engagement. In the example, Tinker simply sends a thank you note, but you can include a sale offer if you wish. A simple straight up thank you email is already good to improve your brand's image.
Google's thank you email
With customers that are generous enough to spend time writing a review for your products, it is a good idea to show some appreciation. Like Google, you can send thank you emails to send gratitude, and maybe a little reward for the customers' next purchase. If it is a bad review, you can still send thanks and contact for feedback.
Tarte's thank you email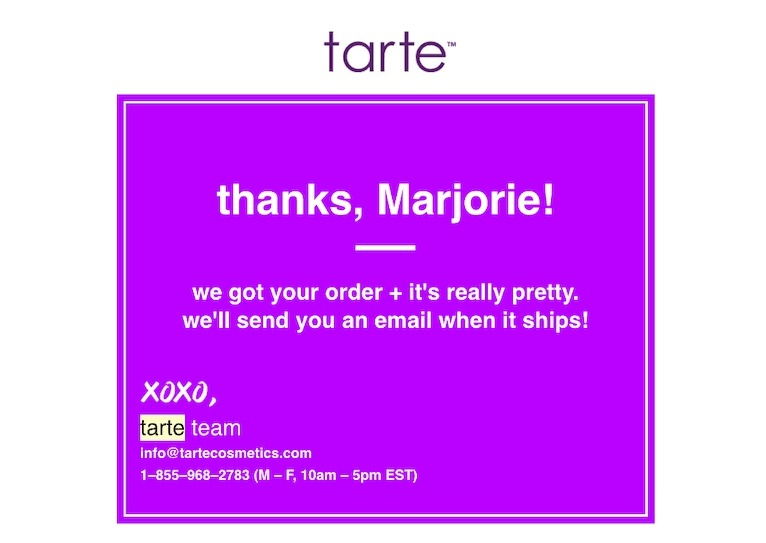 As an order confirmation email, Tarte's thank you email lets customers know their orders have been processed. While the email lacks details on billing, purchased products, and shipping information, it stands out with a huge personalized thank you message and pop out colors. Making the customer's name stand out in the thank you email is a great way to boost engagement that not many eCommerce stores have been able to do. You can learn from this design and add some more elements, such as a CTA.
Fitbit's thank you email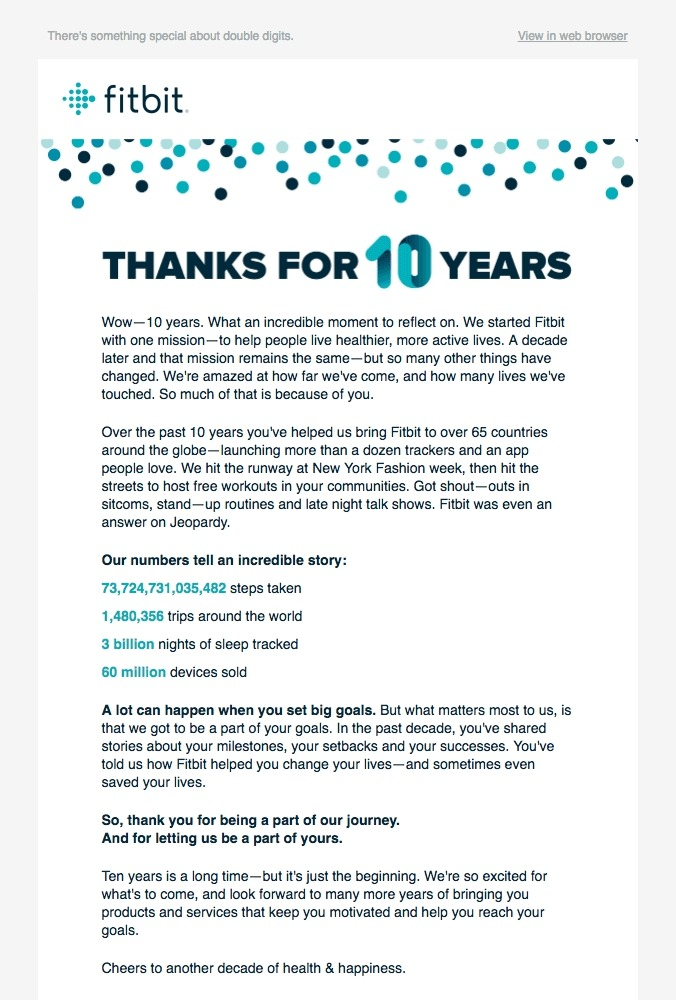 Your company's anniversary is also a perfect opportunity to show some gratitude. Keep in mind that these emails should serve as an appreciation letter to your community, not to sell anything. Fitbit emila shows only the thank you note with no CTA in the email, and then highlights the achievements their users helped them make, which is helpful to increase customer loyalty.
Thanks for reading!
Saying 'Thank You' may seem like a basic thing, yet it is super important to a good customer experience. Your thank you emails let buyers know they are more than just shoppers, they are also friends and help your store grow every day. This kind of appreciation can elevate the relationship between you and your customers, and also contribute to:
Customer lifetime value
Average order value
Overall revenue
So, thanks for reading, and please enjoy more of our articles. If you want to try out our app AVADA Email Marketing and send gratitude to your customers in an easy way, feel free to contact us!
New Posts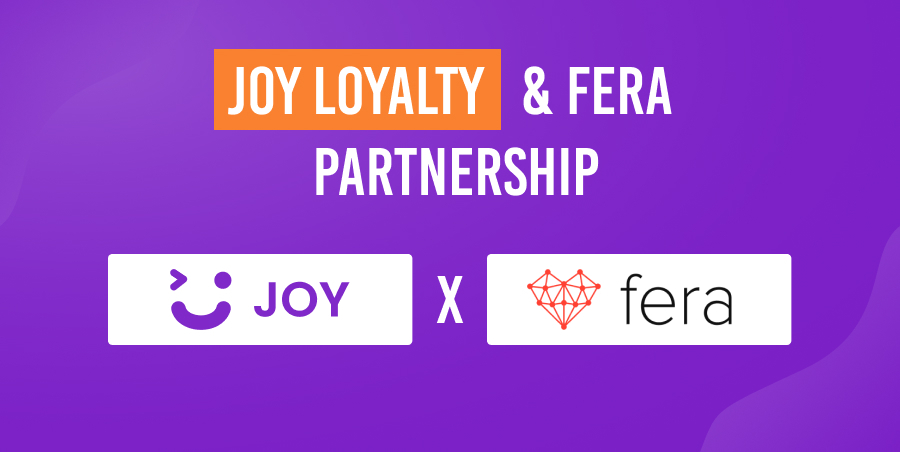 Subscribe
Stay in the know
Get special offers on the latest news from AVADA.
40k
subscribers has been joined!
Earn $10 in reward now!