How to Dropship from Aliexpress to Shopify?
For everyone who is still new to Shopify, dropshipping is a simple and incredible way to help your online business get started without being worried about shipping or inventory. The main function of dropshipping is to list products for sale on your site, then send emails to the suppliers to ask them to ship items on behalf of you whenever you have an order.
While dropshipping is of great importance to mark your eCommerce business's milestone on the world's online market, finding out a reliable supplier can be difficult. Nevertheless, online merchants can spot millions of items you can dropship such as products from AliExpress with Oberlo.
Hence, in this article, you will be completely instructed on how to dropship from AliExpress to Shopify.
What is AliExpress?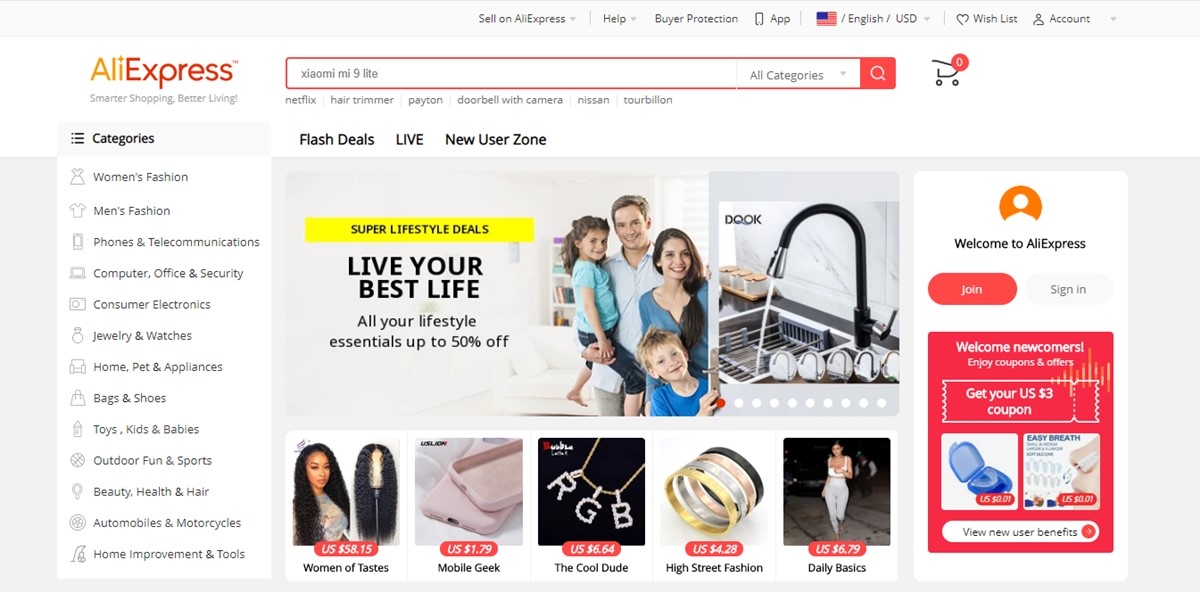 AliExpress is widely known as a big marketplace with a variety of products. AliExpress's product prices are very competitive since its sellers come from overseas manufacturers. With AliExpress, you can find any kind of item from women's jewelry and clothing to home decor and electronics.
AliExpress makes it simple and easy to spy products to sell on your online store without being worried about shipping and inventory. All you need to do is to insert products you want to sell from AliExpress, set price for them with markup, and when you receive orders, you pay for those products at the wholesale cost, then AliExpress sellers will do the rest of your work by directly shipping orders to your own customers.
Like any other dropshipping, AliExpress also has its pros and cons that will be presented as below:
Pros of AliExpress Dropshipping
There remains a big quantity of products from many Shopify Dropshipping suppliers ranging from fashion, kitchen wares, housewares, accessories, apparel and many more.

AliExpress users will have 14 free trials to run their store and take a chance to know more Shopify. After this period of time, you can opt for going with and paying Shopify or giving up.

Shopify will provide you with a wide range of high-qualify themes that allow you to customize your blogs and online stores. This is to make sure that you can build and run a competitive store that can successfully grab customers' attention.

Shopify users can enjoy customers' service and they will instruct you on how to build their online store and how to go with business on this eCommerce platform.

Thanks to AliExpress, you are able to apply multiple payment gateways, including credit cards, PayPal, and other payment methods to make shopping become easy.
Cons of AliExpress Dropshipping
Besides AliExpress's advantages, it contains some drawbacks that you had better bear in mind.
You might have to pay higher fees to flow traffic into your store.

You might have to pay monthly fees for several helpful applications. They are considered effective in growing your online store.

You will not possess complete ownership of your store with AliExpress Dropshipping. Additionally, you will not have any option of closing your store and you are unable to transfer to other platforms.

You will need to spend a big amount of finance to pay monthly fees if you would like to get the best of Shopify for the Dropshipping services. This can make difficult for every business on a small budget to meet the monthly fees' requirement.
How to set up an AliExpress dropshipping store
Aliexpress has a dropshipping plugin called Alidropship. This is an automated solution whose process is similar to the traditional dropshipping model, but it also offers support services such as software development and marketing consultancy.
Integrate Shopify with AliExpress
In this part, we will show you how to integrate Shopify with AliExpress by using Oberlo for dropshipping. It is certain that when you have a fundamental knowledge of Shopify on how to install a store on this platform, everything will be straight forward.
Step 1: Head to the Shopify site and enter your basic details such as email, password, and store name. It will also generate a store URL for you.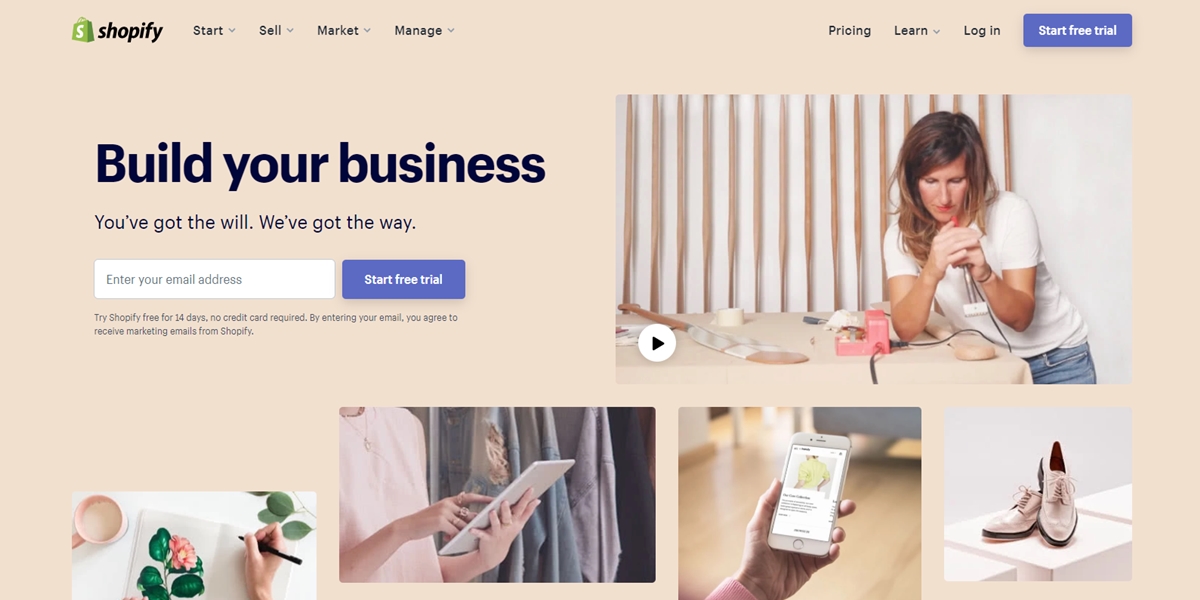 When being at the dashboard, you can see that there is a button that connects your Shopify store to the Oberlo. You can click on this. As clicking on that, you can be requested for your permission. Give it your permission as well as install the application.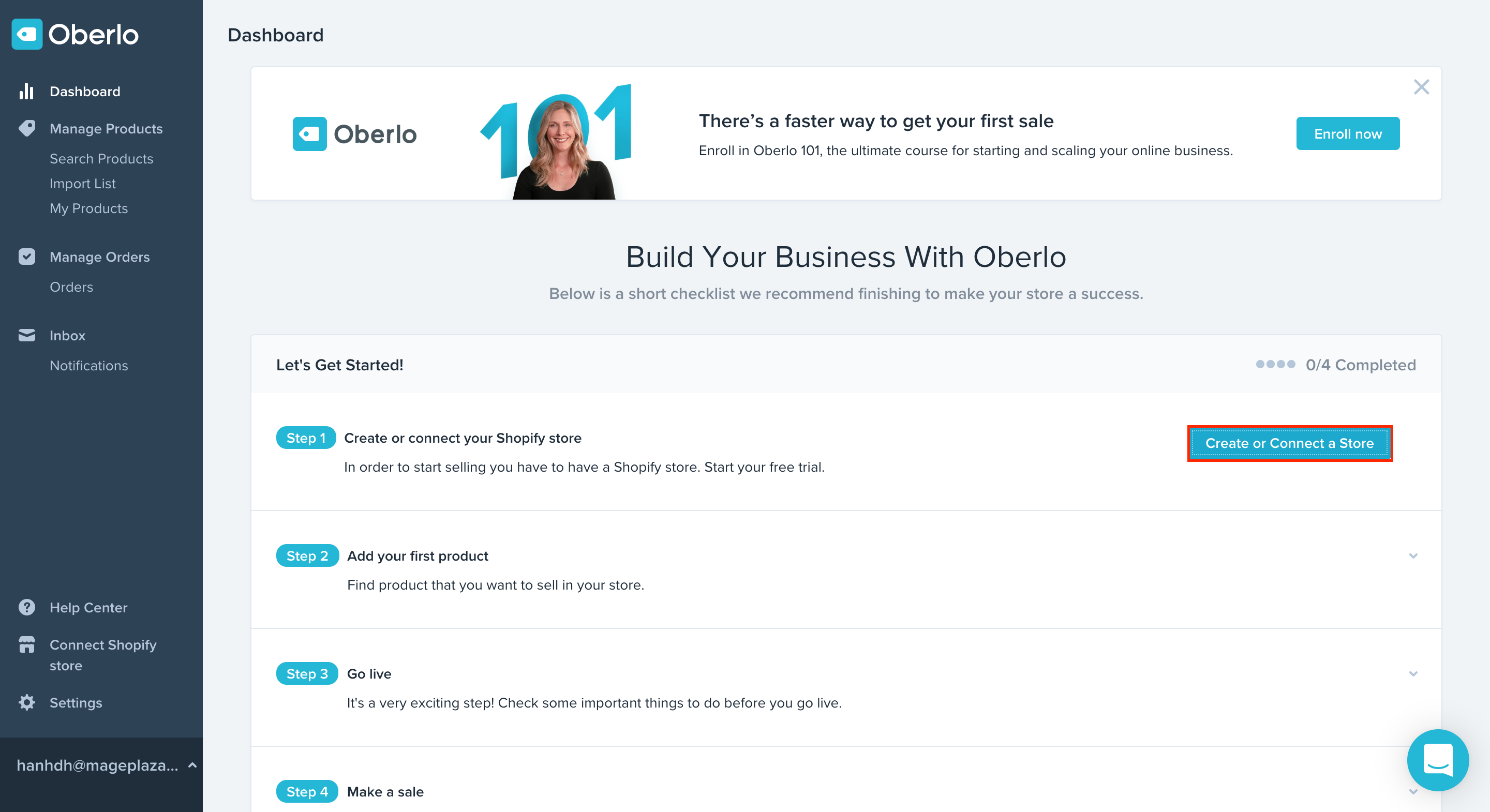 Step 3: As you finish installing the application, you will be directed to https://app.oberlo.com/settings/shops and you will see your store on the list.

Step 4: Access to https://app.oberlo.com/explore to help you import from AliExpress to Oberlo, then Oberlo can push these products to your online store. After accessing the link, you are able to search for an item you like or in case you possess a URL to AliExpress or ID products, you can use it to search for them.

Step 5: Right after the URL is imported, you can click on https://app.oberlo.com/import page. At here, you can check your new imported products. Let's customize those products.
You are allowed to edit your product information, images, description, and variant details.
Step 6: When finalizing every detail of the product, you can push it to your Shopify store. You can push multiple products or a single product at a time by checking the check-box located on the left of the corner and press on the Push all products to Shop button. Now, you can go back to your store and you will see them on your store products list.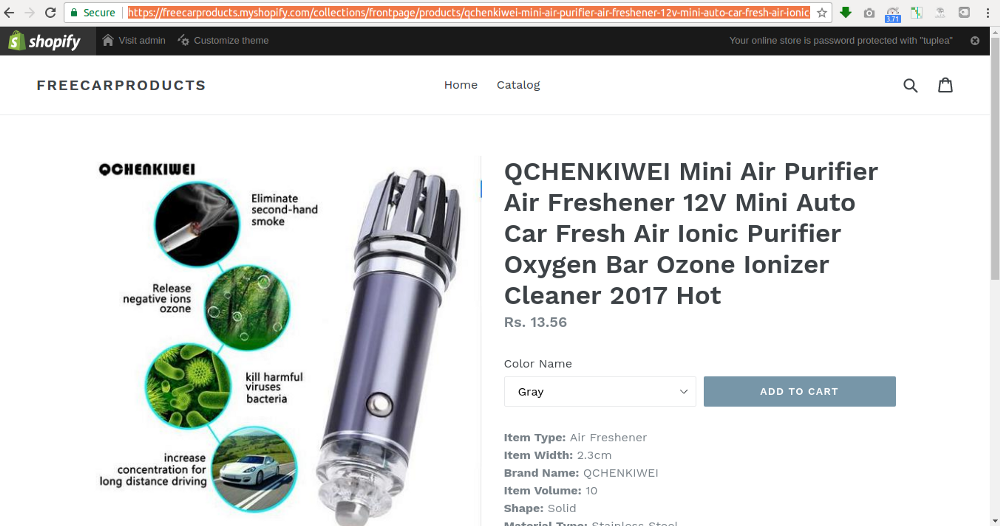 Keep in mind that you can see those items in the product list on Oberlo. Users can set price rules for their Shopify store from the Oberlo store; hence, as pushing things to Shopify, the prices will be automatically set, which is based on rules you set on Oberlo. You can perform that in the Global Pricing Rule tab.

Step 7: It is time to create your own account on AliExpress by heading to https://www.aliexpress.com and choose Joint AliExpress. You are asked to finish your details and whenever you have done with your account, you will be directed to the dashboard page.

Step 8: To connect the Oberlo account to AliExpress account, on Oberlo, head to Oberlo > Settings > Supplier. You can set up a default shipping method to the AliExpress Standard Shipping.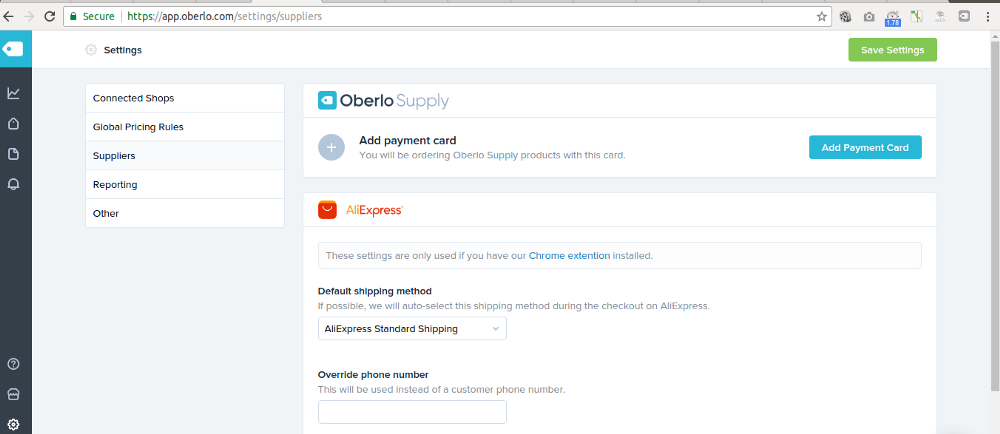 Step 9: Now, there are three ready connected accounts up to now. You have to note that any products which are not available on AliExpress will not on the display in the Shopify store and you need to control auto-update settings. Oberlo will sync product details every six hours.
You can be back to Oberlo app, click connected store, then select store before coming to Auto Updates. Choose Set Quantity to Zero for variants and items. At the same time, you can check Notify me so that you will stay notified as an item is out of stock or its prices change.
Select your niche
When it comes to Shopify AliExpress you are very wide-minded to a big market place with a wide range of products. The first thing to start your business is choosing your favorite niche, along with available products on this eCommerce platform.
Read more: How To Find A Profitable Niche For Dropshipping
Add products to store
The next thing you need to do is adding products to your online stores after you select them from various products available. You will perform this right after having completed to set up your own Shopify online store.
Add product photos
After that, you are strongly recommended to add images of products to show them on your online store. You are able to search high-quality images from Shopify form stock that is available on this platform. Select high-quality products that show real products. If necessary, you had better insert more pictures.
Add product description
Description of products should be added and you should not copy it from AliExpress. Spending time reading the products carefully and understanding its quality will help you cause an impression to your customers with an incredible description. As you are done with setting up a product description, then you are now finished with the whole setup of products and are ready to get it live on your online shop.
How to use Aliexpress to dropshipping on Shopify?
Now, you might wonder how to use AliExpress to dropship on Shopify. Don't miss out on this part.
In fact, dropshipping with AliExpress works both simply and similarly to every regular drop shipper. As you receive orders, you can buy the products on AliExpress and type your customers' name as well as their shipping address. Then, AliExpress will handle the rest.
In case you would like to do it manually, it can be a good idea to get a spreadsheet with your product list on your sites, the amount you sell them and the amount they can cost on AliExpress, and a link to AliExpress listing. Then, as you get orders, it will be easy for users to spot out suppliers and follow the price changes.
Another way is to use Oberlo that can make it easy for you to buy products on AliExpress and keep track of the price changes. Going with Oberlo is not only easy but also time-saving. It lets your business develop without being worried about ordering manually a ton of products on AliExpress. Besides, Oberlo will let you know as any supplier on AliExpress changes their price or not or run out o stock to advise other suppliers. Oberlo can become a dashboard for your own AliExpress dropshipping business, enabling you to get all of the orders tracked as well as monitors the delivery's status.
As you have an order on AliExpress, it can be good to allow sellers to know you are dropshipping. In such cases, the suppliers will not add invoices or promotions in the package that is sent to the customers. On the check-out, you can leave messages for the sellers. Here is an example: We are dropshipping. No promotions and invoices, please!. Bear in mind that Oberlo can do the same to you as you purchase on AliExpress.
Depending on the processing time of the seller, you can get an email to inform you your orders have been shipped out. In order to track the order number, you can click on the link in this email to see the order. Go to your Shopify admin, then get that order fulfilled. Make sure to type the tracking number.
If you use Oberlo, this order will automatically fulfilled for you, consisting of the tracking number and customers will be informed their orders have been shipped out.
Refunds and returns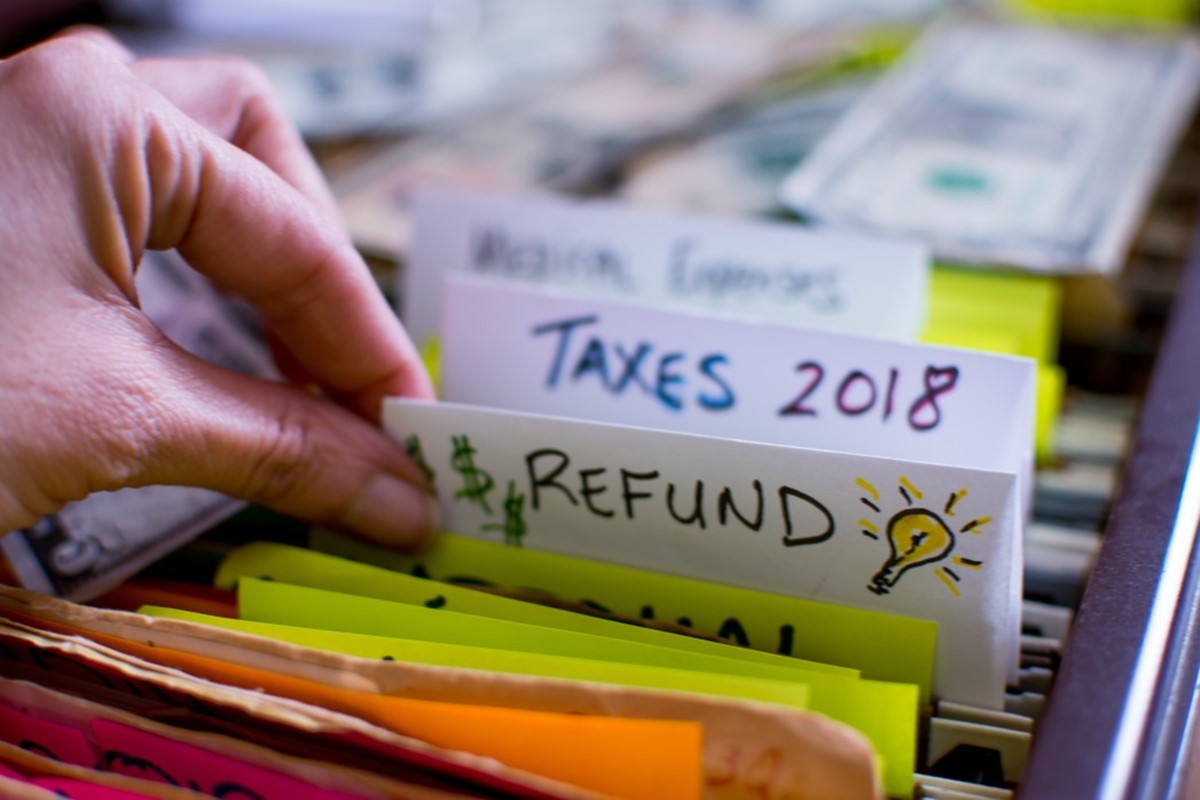 You should keep in mind that many AliExpress suppliers do not have the policy of returning. It means that you have to handle refunds and returns. When there is a problem with orders customers place in your store, it is because the order will not arrive or your customers will not become satisfied with their buying.
For the initial case, you have to present this problem to your AliExpress suppliers. You should contact the suppliers to address this issue or use the AliExpress' Buyer Protection.
For the second case, your customers are not happy with their order. It relies on the expectation. It means what they get was not as well as they expected. In this situation, you are highly suggested to offer them a refund and wait to see if there is any changes you can make to your marketing in order to deal with their feedback. In case the products are broken and damaged, you had better ask your customers to take some photos and send them to your AliExpress sellers to seek for help.
Conclusion
By reading up to this part, we are sure that our article is helpful enough to aid your understanding of how to dropship from AliExpress to Shopify. If you have questions or feedback, don't hesitate to contact us for further discussion. AliExpress is here to help you grow your business without being worried about shipment and inventory.
New Posts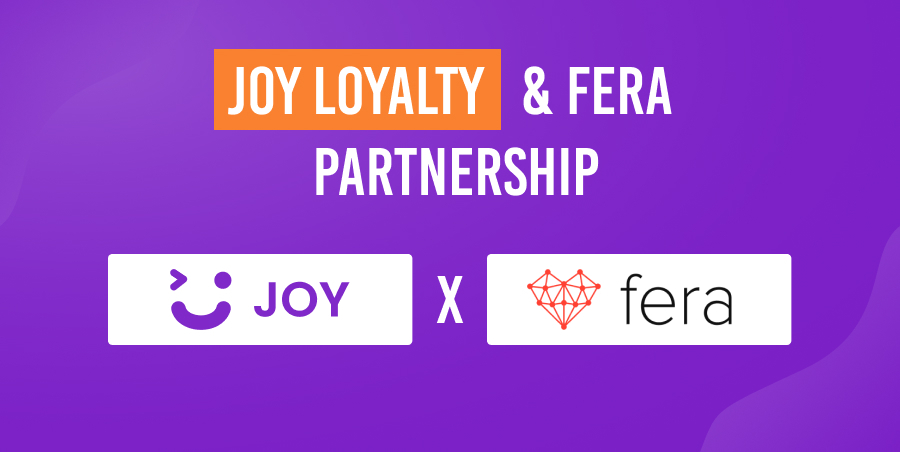 Subscribe
Stay in the know
Get special offers on the latest news from AVADA.
40k
subscribers has been joined!
Earn $10 in reward now!