What is Direct Response Marketing? How to Maximize Its effectiveness?
When it comes to online advertising or marketing, businesses are used to using traditional brand advertising. According to this, eCommerce companies expect to boost brand awareness and brand engagement, which leads to an increase in sales in the future. The main objective of brand advertising is to make a product or a brand remain on customers' minds when they are about to make a purchase.
However, this advertising type seems to hold many drawbacks. Besides traditional brand advertising, another primary category is Direct response marketing. This type will bring about the return on investment right away, and customers are sure to get results now instead of waiting.
Knowing the importance and advantages of direct response marketing, we have this post today that will cover everything you need to know about Direct Response Marketing, which ranges from the definition, the pros, examples, techniques, etc.
Let's begin!
What is direct response marketing?
As the name says, Direct response marketing is a type of marketing technique. The purpose of it is forcing people to take action and run to final decisions immediately by offering an ad. Evoking an on-the-spot response, this type of marketing encourages readers to opt for the offer of advertisers. Businesses trying out direct response marketing are often those expecting a strategy requiring little or no time waiting to see measurable outcomes.
Advertisers or marketers may get results right after the campaigns get started. By conducting a direct response marketing strategy, businesses can easily deliver a "call to action" via direct or online interaction.
The basis of this form is very simple. That is, you start a campaign to elicit an immediate action (also known as a direct response). Those responses will lead to a specific increase in sales.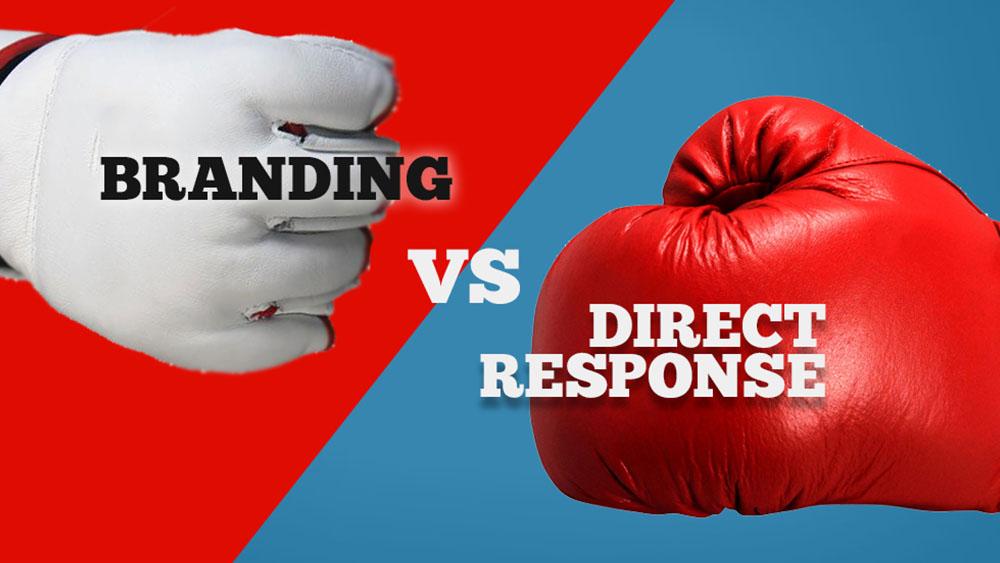 Two primary forms of online marketing are traditional branding and direct response marketing. Branding focuses on raising brand awareness, brand image, and brand engagement. This type refers to long term goals, but businesses often hesitate to conduct a branding campaign. It is because this strategy takes months to years to motivate consumers to make a purchase. The process in which customers remember one brand and decide to use solutions from it will also take a large marketing budget.
On the other hand, direct response marketing campaigns look at the return on investment right after launch. Being about instant deals, direct response marketing saves time and money for marketers. That's why it is suitable for all sizes of business. The direct response can be used not only to make a purchase but also to download a resource, plan a demo, register for an account or free trial, etc.
Direct response marketing can be used in multiple channels with different advertising forms such as television ads, print marketing (magazines, newspapers, etc.), radio spots, websites, and online ads. Each direct response campaign is designed to complete a specific goal. When reaching the desired goals, those campaigns will provide the clients with an attractive offer.
Related posts:
Examples of direct response marketing
Old Dominion University
The first example is the ad from Old Dominion University. They add in the important information of the audience they target who are into healthcare and desire to start a career with their dreams. Also, they inform readers of themselves as well as the data related to their offered classes.
Moreover, the reason why the ad of the Old Dominion University gains success is that they display the CTAs clearly so that prospects can easily understand. To be more specific, they encourage the audience to register immediately to start their dreams.
Microsoft Dynamics
Microsoft Dynamics' example was conducted on the Facebook platform with the help of Facebook Ads. Targeting Sales&LinkedIn Sales Navigator that concerns closing more deals, Microsoft Dynamics lists the possible issues their prospects face and immediately offers the relevant solution. One special feature in their campaign was that they include a free demo to help users try out the relevance of their product. Its call-to-action was also clear and straight, which convinced users to start a demo to empower their sales team.
Salesmate
Salesmate is a great example of a brand that used direct response marketing not to sell anything but to build trust and form a mailing list of potential customers. They create a list of cold email templates that are effective in increasing revenue for consulting agencies. They target those companies that have difficulties in developing. Therefore, they offered CTAs, which asked customers to download templates to get an email address. Direct response marketing is somehow as effective as brand marketing in terms of increasing brand image.
Characteristics of direct response marketing
There are many different types of online marketing. To tell the difference between direct response marketing and the others, eCommerce businesses should look at the following elements. They are also factors devoting to the success of a direct response campaign as well as relevant advertisements. The four elements include:
Customer centrality
Customer centrality is the key demand that they expect from your brands. Since this type of marketing campaign will look at the direct response instead of brand awareness, you need to focus on your customers' problems. You shouldn't include too much information about your brand to promote yourself but the important data showing your customers' things the most. In this way, you can quickly inform your customers about the solutions you provide and that they are beneficial to them.
Once your customers are attracted and understand your ad, they are more likely to respond to it, and you will generate better results.
Personalization and Targeting
A successful direct response marketing campaign should include personalization and targeting process. The majority of online consumers share that they tend to respond to businesses that offer personalized interactions. Therefore, it is essential companies should target their ad to specific groups. In this way, they can easily personalize the messages that are likely to bring about the best results.
A simple CTA
CTAs stand for "Calls to action". Direct response marketing is all about a technical tool asking the audience to do something so the offer is an indispensable part of the ads. Effective direct response advertising campaigns often have clear and understandable calls to action. Their offers are surely singular and easy to be accessed. Reading those clear CTAs, customers will know exactly what to do next, which avoids readers' wrong actions to be taken.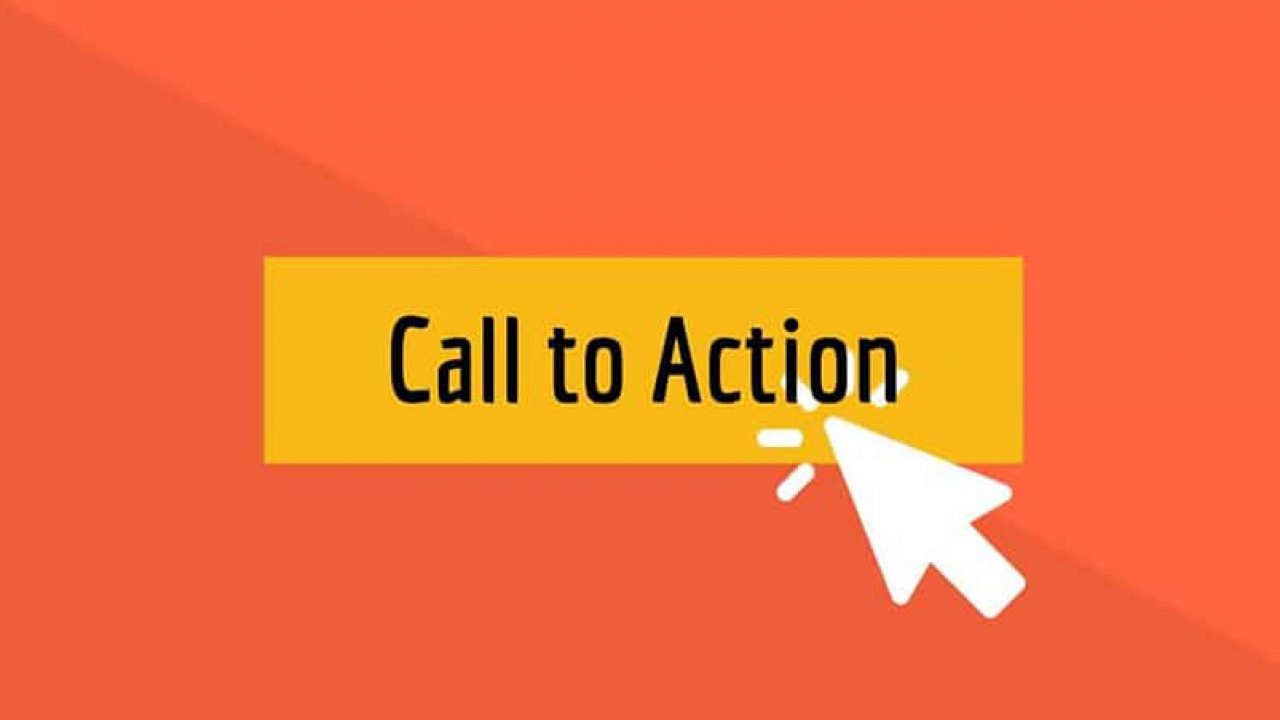 Nowadays, direct response advertising doesn't tell customers to purchase at the moment. On the other hand, they try to persuade the audience to take the next action. For example, they are asked to download a white paper, sign up for the newsletter, or attend an event. The clearer your CTAs are, the less time and money your direct response marketing strategy takes to yield positive results.
Urgency
To increase the number of conversions and persuade consumers to respond to your ads, let's create a sense of urgency. When the time is limited, and the number of good deals left decreases, people tend to close the deals more quickly.
Usually, businesses often emphasize urgency with the following techniques:
Time limits such as "Discount code expires on the next Saturday" or "30% off today only."
Scarcity of stocks such as "While supplies last" or "Only two in stock. Buy now."
Competition such as "Whoever gets the most social shares receives a prize" or "50% off for the first ten customers."
Benefits of direct response marketing
There are multiple advantages of direct response marketing over other types. They include:
Building a direct line of communication with customers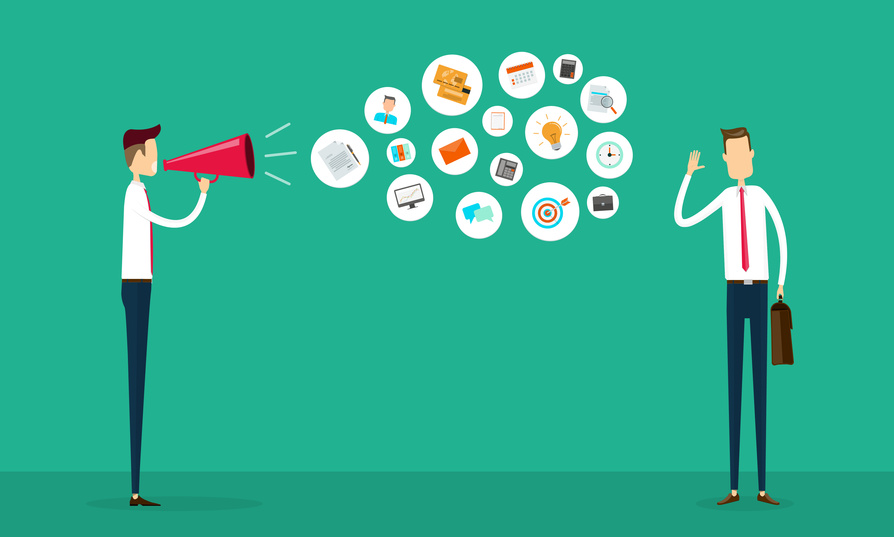 The first benefit that direct response marketing offers is that it helps create a direct communication line with your clients. As a result, relationships between businesses and customers will become stronger and deeper.
It is because direct response advertising is personalized, which is different from brand marketing, focusing on boosting brand awareness. Direct response advertising looks at the information on the products and the ways they can help solve particular problems of customers.
Instead of gradually developing brand engagement, direct response marketing makes customers feel comfortable and connected to the brand when they view the ad. When finding the data, you provide valuable and useful to themselves; customers will want to respond to you, leading to an open communication line.
This communication line will result in a valuable client base that wants to be connected by your brand.
Providing immediate ROI (Return on investment)
Branding can be useful in promoting brand engagement in the long run. To conduct a brand advertising campaign, businesses should be ready to invest a large amount of money and time. While it's not a big deal for giant brands with huge advertising budgets, the brand advertising method is not suitable for smaller ones owning fewer means. Many have tried brand advertising to boost their images, but their means are not sufficient to rank with these other major brands. As a result, they run out of budget and resources before getting a return on investment.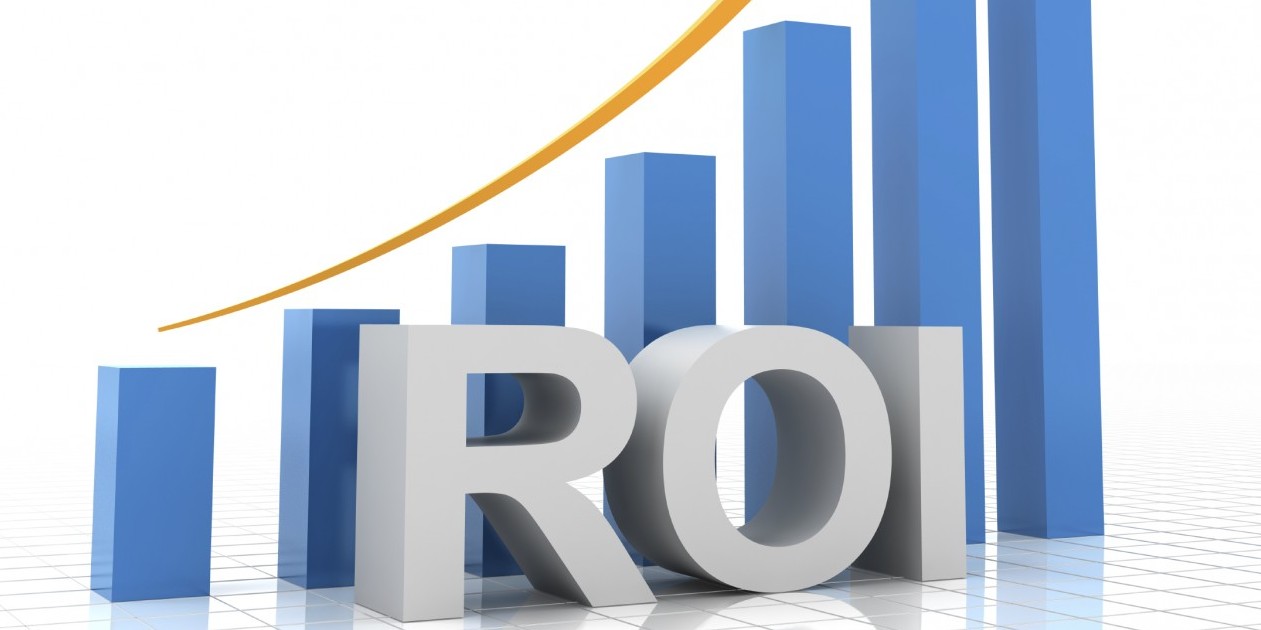 That's why they switch to direct response marketing to gain immediate ROI without waiting or losing money. Direct response marketing brings about immediate revenues from instant sales, so you can apply this type no matter which size of business you are.
Make sure you invest in paying for clicks; you will surely have a high chance of getting a return on investment. To help evaluate the price for one impression to bid on the right one bringing value, media buyers often use programmatic advertising.
Generating easily trackable and measurable results
For those who don't know, tracking and measuring results effectively will take an important part in optimizing marketing strategy. If you take online advertising seriously, you should find tools or methods helping you track the results. When knowing the number of conversions you gain from each ad campaign as well as where those conversions come from, you can measure the general situation of each ad. It is because direct response marketing often has unique correlated actions, which allows you to adjust or delete any ads that are not likely to yield ROI.
Easily tracking performance: That means you can know exactly when and who respond to your ads (maybe by clicking, signing up, and more). Also, you can track which channels are bringing those conversions. Additionally, if marketers use DSP (Demand-side-platform) to provide ad campaigns, they will have a chance to find out the effectiveness of each ad, which group of customers is most impacted by the ad, the updated engagement level, the number of clicks and impressions gained daily, and more. Marketers find it even easier when all those data are performed logically and systematically on the dashboard.

Easily measuring revenues: As a result, knowing the effectiveness of the overall ad campaign will allow advertisers to know how much revenue is generated by each ad. Nowadays, before taking an officially full-volume campaign, businesses tend to test out the scale of consumer responses in small campaigns with the help of direct response marketing tools. DSP's granular becomes more popular with businesses taking digital marketing who want to compare the different metrics and evaluate the campaign outcomes.
Strengthening relationships with customers
Some may find direct response marketing is less effective than brand marketing in terms of building brand preferences and real relationships with clients. However, since communication is taken openly and comfortably as we mentioned before, relationships between businesses and customers can possibly be developed and strengthened.
Moreover, when the ad campaign lasts for longer, direct response marketing can improve the purchasing experience of target consumers. Clients gradually build trust and remember the brand providing ad they view every day.
Targeting interested audiences
Different from brand marketing that targets everyone using the Internet with an attempt to promote brand awareness, direct response marketing helps businesses target specific audiences. When your ad is displayed, only those who are interested and have the related problems respond to it. Once they make an impression, sales teams will update the list of clients who have shown interest in your product or your business.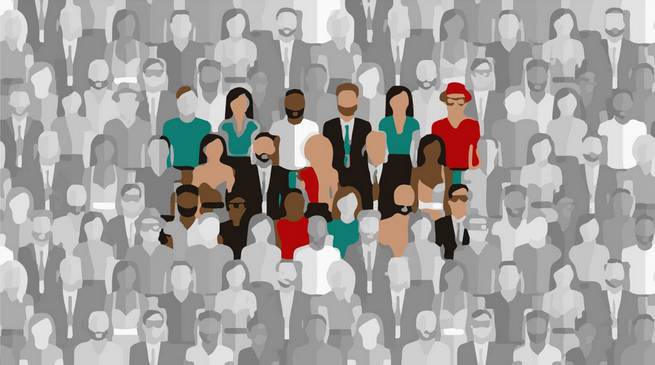 In this way, businesses and sales teams in particular can spend attention on the correct group of customers that can bring about positive ROI rather than wasting time and effort on the cold leads. Moreover, businesses have a chance to deliver relevant ads to the right audience in the right context at the right time thanks to RTB (Real-time bidding). When taking the right actions, marketers can save much time but gain rewarding results.
In case your brand provides different product categories targeting different groups of customers, direct response marketing can help you gain precise segmentation. Via programmatic advertising, businesses can easily update each list of potential customers. Each list has different interests, demographic, or behavioral data, which allows advertisers to create the relevant types of content to meet their needs. In this way, advertisers can systematically control their groups of customers.
Techniques to maximize the effectiveness of direct response marketing
Using Facebook Ads
The first channel that can be used to optimize the effectiveness of direct response marketing is Facebook. Facebook is a giant among multiple social media channels with nearly 2.7 billion users around the world. That's why using Facebook Ads is a classic tool of direct response marketing in order to drive eCommerce sales.
Since there are a ton of Facebook users seeing your ads, you should use targeting data to choose who you advertise to. The things are similar to any other channels, you display the offer and the products you would like to promote and explain some special features of them that customers should look at. When someone responds to your offer, they will be taken to your website where the conversion is officially made.
When making a direct response marketing campaign via Facebook Ads, remember to use high-quality photos and direct copy that shows the list of advantages your products have. Also, you can add in other terms to help your process of tracking the results and calculating ROI.
Nurturing action with phased campaigns
Knowing customer persona is extremely important when it comes to direct response marketing since it will not offer only one CTA but some additional actions before the customer decides to make a purchase. In fact, the specific action with CTA will be transferred from one phase to another of a campaign.
For example, at the beginning of a direct response marketing campaign, you can use various calls to action like "read my post" and progress to "sign up for our newsletter" or "schedule a demo". Then, you can provide the main offer that says "Buy our products" or "Buy now" to close the deals.
By driving different actions as well as different phases, businesses can nurture their customers if necessary. It is because not every customer can run to buying decisions at the first offer. Multi-phased campaigns will help persuade unconvinced buyers to buy products and in turn, generate higher sales.
Here are why tracking user behavior is essential for any business when it comes to direct response marketing:
Businesses can target the right customers who indicate an interest in the service or product.

Businesses will know when to stop the campaign in order to protect the brand image. You need to stop delivering the CTA that boosts sales right after the customers complete their purchase. If you don't, customers will be sent an email or notification that informs "New customers will get 10% off", for example. Then, they will become disappointed and are likely to call off their order right away.
Therefore, when starting a direct response marketing strategy, don't forget to take this tracking process and create relevant content that customers can engage with.
Using direct response marketing for recruiting
Direct Response Marketing is not always about sales. Sometimes, it is used for recruiting purposes. That means the audience you target is not your customers but the employee or partner you are about to feature with.
Nowadays, the economy is gradually switching into the on-demand and sharing platform in which businesses take the middleman's role of connecting buyers and suppliers. They work to attract not only consumers but also suppliers joining their platforms.
You can encounter many examples of direct response marketing to recruit in daily cases. One of those is vehicle providers that use direct response advertising to do driver recruitment. Their ads are displayed both on online channels and billboards where the audience can respond to by dialing the number appearing on banners and directly call the business.
When it comes to digital marketing, the direct response method is not used just to gain profits and market share from customers by providing products. It also allows you to employ audiences and ask them for working relationships when you pay them in exchange for time, effort, or competence.
Using Refer-a-friend programs
Refer-a-friend programs are those when businesses offer something to the audience in exchange for more friend invitations. That means, companies applying refer-a-friend programs will give you free products, discount codes, or any appealing offers if you send your friends invites to their specific landing page. Once you invite a friend to their page, your friend will also receive similar offers. That's why refer-a-friend campaigns are mixed with direct response marketing to grow the customer base effectively.
Moreover, this program makes sure the marketing is personalized because customers approach the businesses thanks to the invitation of their friends.
One of the companies that is surprisingly successful with the refer-a-friend program is Harry that is a men's grooming organization. According to its marketing team, Harry focused only on viral and direct response marketing instead of growing brand awareness or image via brand advertising.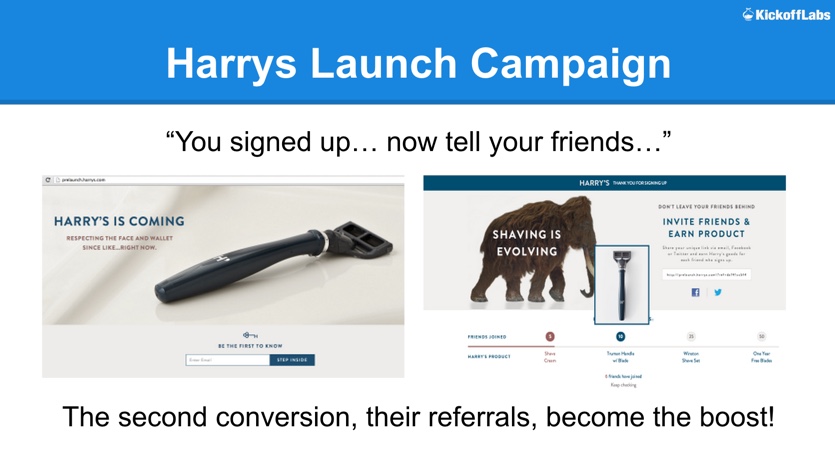 With the help of the direct response marketing tool, the business created a specific action of "Invite your friend to join Harry's launch list". They attracted many consumers by offering them free products or services and opened the customer base up to one million in just two years. This was a great move that boosted the sales and brand preference of Harry while its competitors were taking traditional marketing types.
Using direct response marketing to drive upsells
A small percentage of revenue comes from the initial sale while most of the closed deals are made by existing customers. That's why upselling is an important step while offering products for sales. Businesses will try to convince a customer to purchase something additional, something at a higher cost, or get another offer that can bring about more money.
According to GrooveHQ, the probability of successfully selling again to an existing customer is nearly 90% while this probability of new client buying is just 5-20%.
Direct response marketing is an ideal tool to help drive upsells. After successfully selling the products, businesses can give customers an excuse to send them a friendly reminder email every month. Those emails then will include information on the shipping process of the incoming box and ask to send even more products along with it. Also, businesses can offer to give away or discount codes and add in a sense of urgency to force customers to action immediately. When direct response marketing is used at the right time with the right clients, revenue is likely to grow surprisingly.
Using direct mail
When the Internet has dominated all other marketing platforms, most marketers and advertisers are looking at digital media like social media channels, emails, displayed advertisements, and more. However, traditional media still brings about high results when it comes to direct response marketing. Here you can go old school with direct mail which leads to more digital conversions.
How to do that? Let's take JJ Marketing and RCI Financial Services for example.
At first, RCI suffered from troubles in terms of customer numbers who signed up to use their online portal even though they had offered car financing to a large number of customers in the UK. Realizing the existing campaigns lead to no revenue the company decides to launch a new strategy that was more personalized with an attempt to bring consumers online. They took advantage of customer's information from the old one to conduct the mail campaign.
Then, they mail a letter to their customers and inform them of the possible benefits if they register their account. However, those emails were too wordy and theoretical, which didn't bring direct responses immediately. To convince the customers who still hesitated to buy, RCI Financial offered a bonus incentive. That was customers would automatically have a chance to join a contest to win £250 worth of car-wash vouchers.
Finally, they decided to add more detailed database information to their direct mail campaign to make it more personalized. Their campaign was successful with a 9.67% conversion rate and the number of customers signing up rose up to 7,000 people.
Using TV commercials
Yes, television is also a channel to use direct response marketing. Being one of the most classic platforms to advertise products, television commercials are still effective, especially when CTAs are displayed on the screen all the time. Moreover, the number of adults watching TV every day remains stale so TV advertising is a great tool to drive direct response.
Let's take a look at Proactiv which is regarded as the champion of direct response TV ads. Being a brand of skin-care products based in the USA, Proactiv earns for itself nearly one billion dollars in sales each year. The majority of its sales come from direct response TV marketing.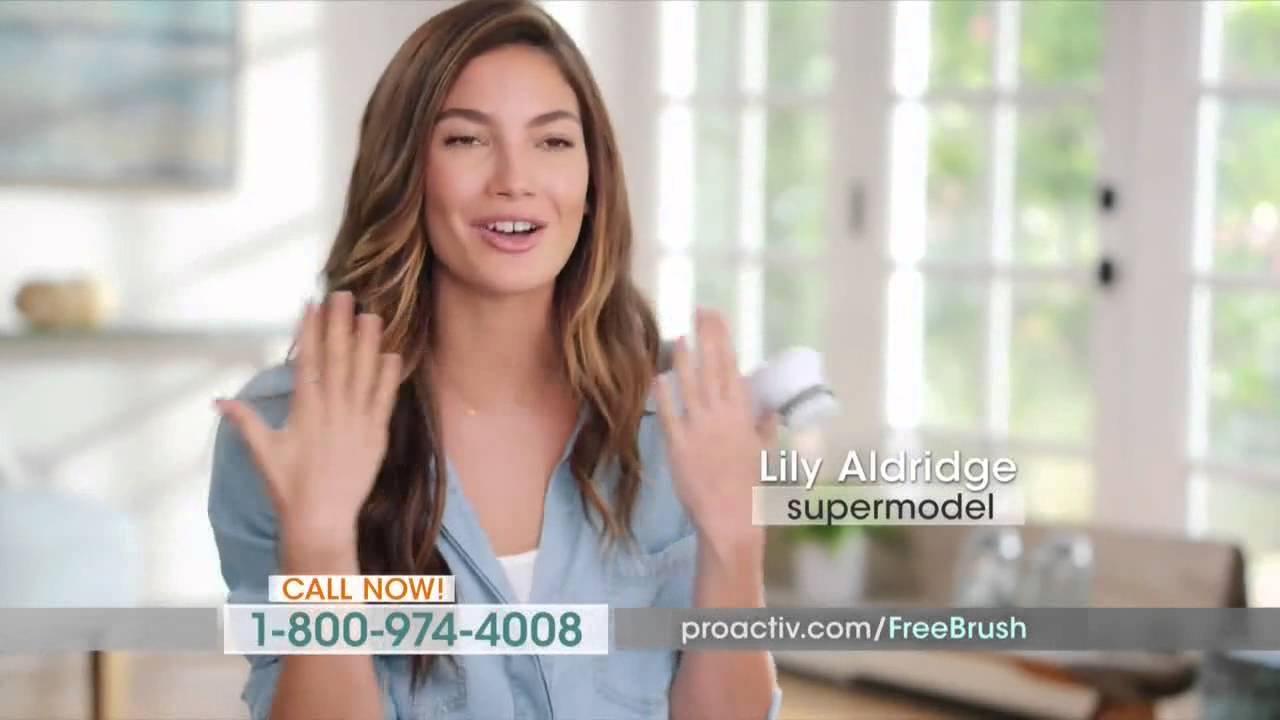 Here are the main reasons why Proactiv is successful in TV commercials:
Social proof: They maximize the effectiveness of social proof by showing "Thousands of new users every week" and introducing multiple testimonials from customers. That makes the brand trust-worthy and easy to convince watchers to respond to.

Displaying the CTA at all times: They try to remind you of all the CTA and urge you to call by displaying their website and phone number on the fixed position of the screen at all times.

Creating a sense of urgency: They create a fear of missing out for watchers by providing time-sensitive bonuses, which makes them run to buying decisions more quickly.
Related posts:
Final thoughts
Branding which is building a brand image can take a long time as well as a big deal of investment. Branding is just suitable for large and high-volume companies. Being a small or newbie in the online business industry, you cannot rely on just branding expecting an increase in sales. Therefore, direct response marketing is an ideal option for almost every company since it results in action and outcomes right away rather than waiting for the customers to be attracted enough.
Direct response marketing is used in multiple channels (social media networks, direct mail, TV ads, radio,…) with an attempt to boost e-commerce sales, account registration, referrals, and more.
Hopefully, this post can give you something essential for your success in eCommerce business work. Give direct response marketing a try if you haven't applied it before. State a clear offer, add in important information, provide means via call-to-action and you now have a complete direct response marketing strategy.
Good luck with your business!
---
Sam Nguyen is the CEO and founder of Avada Commerce, an e-commerce solution provider headquartered in Singapore. Sam aims to support more than a million online businesses to grow and develop.
New Posts
Stay in the know
Get special offers on the latest news from AVADA.