Commerce Inspector Review: Is it Trustworthy?
Undoubtedly, e-Commerce has become one of the most popular ways to build a profitable online store. But just setting up a store and selling whatever products would not guarantee the stability in sales. Finding the right products to sell is a complicated process that takes a lot of effort into market research and analysis.
Fortunately, technology has drastically evolved enough for us to take advantage of it. Nowadays, there are numerous tools to let you find the high-converting products and automate any time-consuming dropshipping-related tasks. In this article, we would like to share our honest views on one of the most famous hunt tools: Commerce Inspector.
Related posts
What is the Commerce Inspector?
Simply speaking, Commerce Inspector is one of the most optimal e-Commerce tools that can be installed in browsers (especially Google Chrome, Mac and Window) as an extension or a spy hunt tool to help you with your business analytics. Commerce Inspector collects data from different public sources then analyzes them to come up with possible product insights for a particular store.
How does Commerce Inspector work?
Commerce Inspector is significantly operated dependent on Artificial Intelligence (AI) and Google Analytics to collect information. Commerce Inspector uses a customized AI algorithm to grasp market trends and customer insights. Google Analytics also offers a helping hand for Commerce Inspector to collect data from different sources.
The tool gathers data mostly from public sources such as Facebook, Instagram, Pinterest or Google, and many other commonly-used sites. Once the data is collected, the Commerce Inspector will analyze it to suggest predictions about potential sales, revenues, and profits. This analysis can be extremely helpful to develop future strategic moves for your business, such as market segmentation, audience targeting or product engagement.
The data sourcing processing undergoes verified authenticity as well. Commerce Inspector can be called a site-properties identifier for e-Commerce stores as it scans through every store, sending signals and automatically matches these signals with the researched and existing data.
Commerce Inspector key features to notice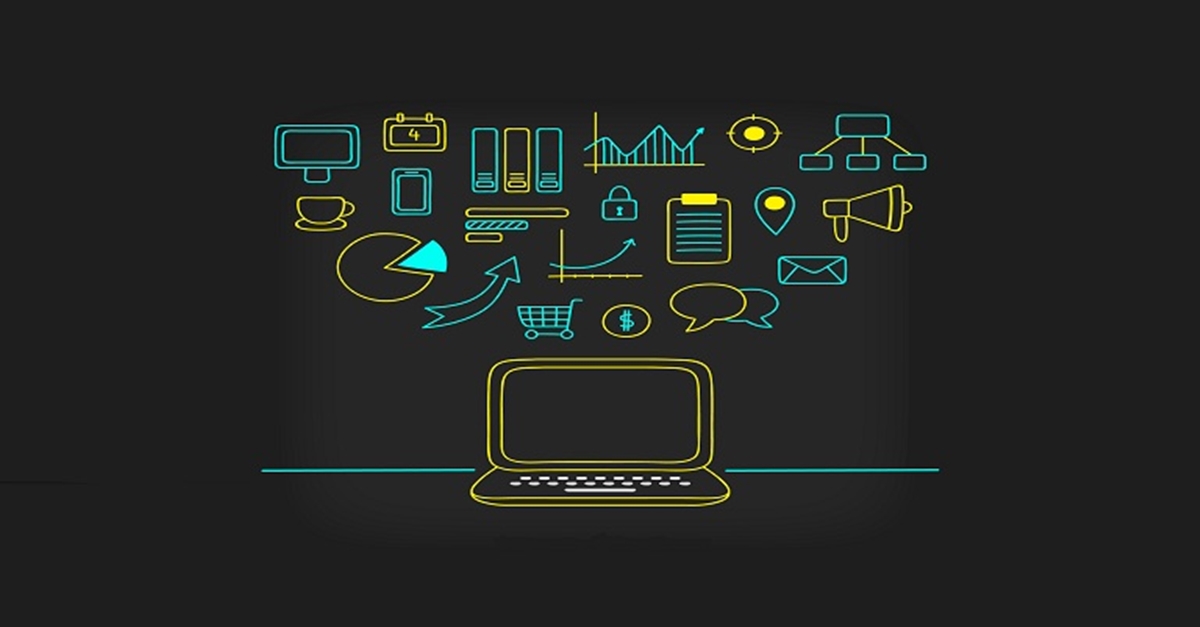 As the massive growth of e-Commerce goes on, there are many more data analysis software offered in the market. But after all, Commerce Inspector remains its superior position as one of the leading spy hunt tools for beginners. Here are some of the most important features ofCommerce Inspector to explain why.
Ease of use
There must be a reason why Commerce Inspector is ranked among the top hunt tools for e-Commerce beginners. The tool is provided with a user-friendly interface, especially the search feature is extremely simple and clean. All your needed information will be displayed once you click on the product (or the extension button on Google Chrome), and the Commerce Inspector will show all the relevant details about the respective online store, from product trends to store traffics or social links.
Comprehensive tracking
You can track the metrics from any of your competitor's online stores with Commerce Inspector, from trends, product catalogs, web traffics to other relevant information. In addition to the product-related data, Commerce Inspector also shows you information regarding different apps, tools, and themes adopted by your competitors on their e-commerce websites.
Besides metric tracking, the tool also helps gain a competitive edge and inspiration from your competitors' ads campaigns whenever they are launched. These can be onsite promotional activities, SMS campaigns, email advertisement campaigns and all other types of advertisements.
Product niches
Product niche searches on Commerce Inspector is totally comprehensive. You can search for products in categories and sub-categories. The categories include toys, beauty and health, family, and pets. The sub-categories are not 100% related to your niche, but the tool will do its best job to match them as closely as possible.
After you get the search results, Commerce Inspector will allow you to filter your searches in many sections. These include the newest products, most orders, Facebook Ads, most Facebook Ad likes, Facebook Ad shares, and Facebook Ad reactions.
Product insights
Commerce Inspector's powerful product insights allow you to get inspiration from fast-selling products and many reports from big digital platforms such as Facebook Ads reports, AliExpress reports, Amazon reports or eBay reports. The product-level insights gathered include sales volume, launches, and categories. You can search for products by keywords across all shops.
Apart from the products and reports, you can also get to see the Geography and Device details as well as Targeting suggestions. This information can help you make decisions on planning your ads campaign for the highest potentiality of conversion.
Product sorting
The tool offers great assistance in locating the best products you can. And while exporting those product categories, you can readily locate the products on the left-hand side. If you are using its free version, then you are going to see that a number of the products are being locked by them since these are the distinctive goods and they only offer access to its premium and ultimate members only.
Commerce Inspector Pricing - Is it worth the price?
Commerce Inspector offers two pricing plans: a free version on the Google Chrome extension and a premium version.
Free Chrome extension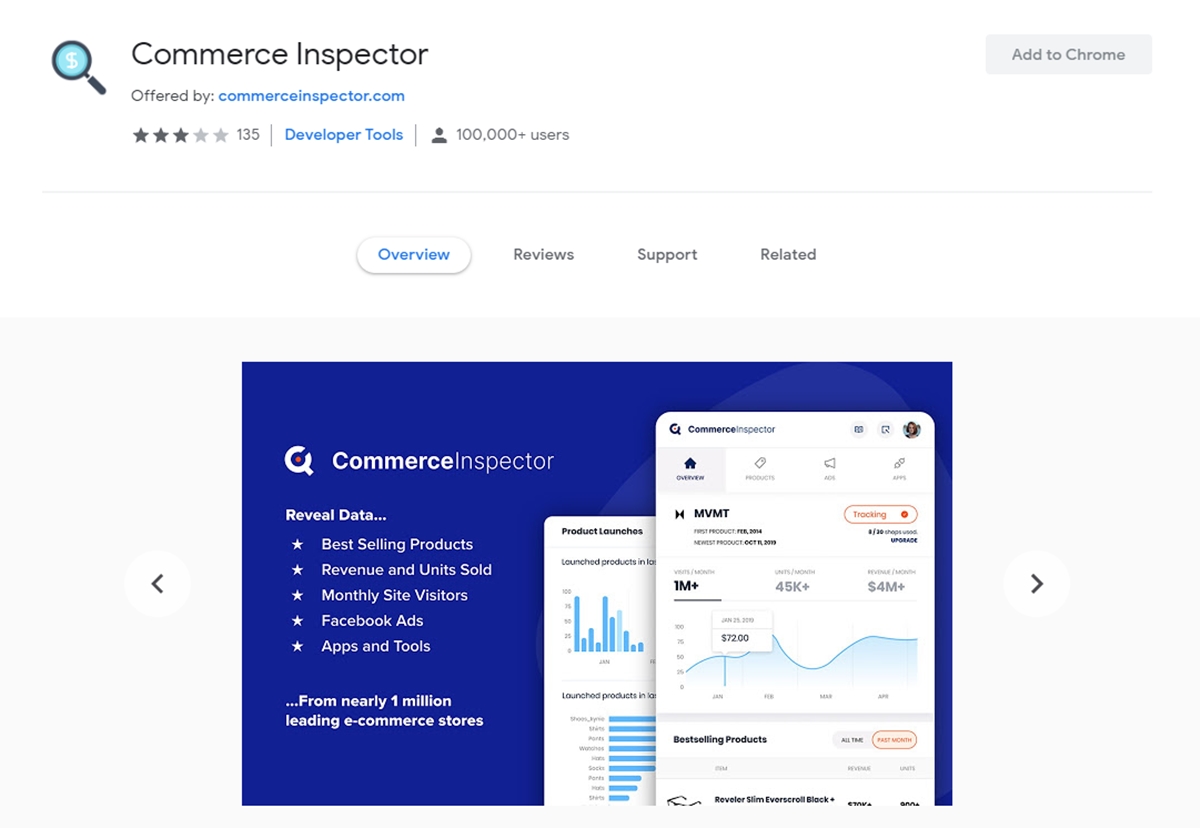 This Chrome extension is totally free to install. Once you've downloaded this plugin, the Commerce Inspector will start scanning through the data of stores you have made a visit to. For first-time users who want to see more details about a certain e-Commerce store, you can click on this extension and let it present all the information about that store, from the latest updated product, a list of high-converting products to the weekly revenues or the number of units sold. However, not everyone can get free access to these details, and usually, you will need to upgrade to the premium version to avoid getting blurred content.
Generally speaking, the free plan of the Commerce Inspector Chrome extension does have an attractive offering of features for the clients, in terms of details providing to help them make better consideration and decisions. However, more useful information will be revealed in the paid versions, such as traffic resources, product launches by tags, product launches by day or recent product launches. This information appears more competitive to help you plan your strategic movements to maximize your store's profits.
Premium version
The premium version is a set of plans. All these plans share the same amount of features but vary in prices based on the number of stores tracked - from 3 stores to all stores available. The most highly-recommended plan is the "Grow" plan with $99 per month. Especially, Commerce Inspector is offering an attractive deal of 3-day trial for $1 only, so make sure not to miss it out!
About the features, the premium plans offer all the components from the Chrome extension feature list, and add many more advanced features for paying customers that you can see below:
Shop-level revenue
Product-level revenue
Last week's best sellers
Search products across shops
Search apps across shops
Top selling and trending shops lists
Current ad creative live
Historical ad creative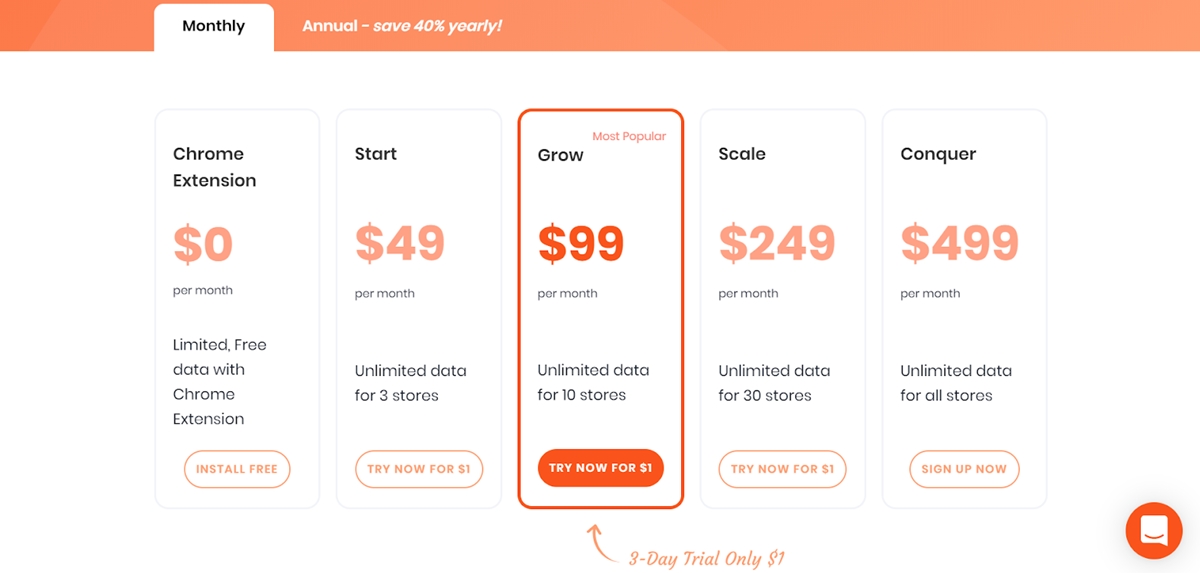 Commerce Inspector Pros and Cons
Let's sum up the review with a list of pros and cons to get a general look at the Commerce Inspector.
Pros
A comprehensive extension with over 16 features to experience
Easy to use
Offers a user-friendly interface
Provides outstanding platform analytics for product insights
Cons
The free plan is limited in the number of features
The premium versions are quite expensive
There's no tutorial available on the internet
Further readings
Final Words
Overall, Commerce Inspector is one of the most optimal tools offered in the market. There are many other spy hunt tools which have existed in the market for quite some time, and offer more insights and precise predictions. Commerce Inspector is relatively new compared to the big names, but the tool has soon rocketed to where it is now. Commerce Inspector has the potential to take the leading position in the industry. They even offer a free version and a free trial with $1 to test the monthly plans, so it's quite worth a check-out.
---
Sam Nguyen is the CEO and founder of Avada Commerce, an e-commerce solution provider headquartered in Singapore. Sam aims to support more than a million online businesses to grow and develop.
New Posts
Stay in the know
Get special offers on the latest news from AVADA.