How to Calculate Cart Abandonment Rate?
The shopping cart abandonment rate is the biggest headache in all market eCommerce. From Amazon, eBay, and Zappos to small online stores, everyone has to deal with this issue. According to various estimates, this rate ranges between 60% and 80%, implying that three out of every four customers do not complete their order. This is obviously a major issue for eCommerce.
So, how is the shopping cart abandonment rate calculated? This is a frequently asked question by those considering starting an online retail company. Its measurement is simple, but its analysis is more difficult since it must first determine what the average rate of a given industry is. In this article, I will share with you how you can measure your cart abandonment rate, along with some industry benchmarks so you can have an idea of how your campaign performs. Let's jump right into the details.
What is Cart Abandonment?
Shopping cart abandonment is a term used in the online business world to describe the situation in which consumers leave a store's website after adding products to their shopping cart but do not complete the transaction (paying for the product).
Formula to Calculate Cart Abandonment Rate
To calculate the percentage of customers who leave the store empty-handed, divide the total number of abandoned carts by the total number of shopping carts and multiply the result by 100%.
Cart Abandonment Rate = (Total Number of Abandoned Carts / Total Number of Carts) x 100%
Examples:
Assume, for example, that in the previous month, a store had 100 abandoned carts and had 200 shopping carts. What you need to do now is divide 100/200 and then multiply the result (in this case, 0.5 ) by 100%. In this particular case, the cart abandonment rate is 50%. The greater the rate of cart abandonment, the greater the financial loss for the company, unless you have a cart abandonment saver, which will be discussed shortly, in your toolkit to recoup those lost orders.
What is the Average Cart Abandonment Rate?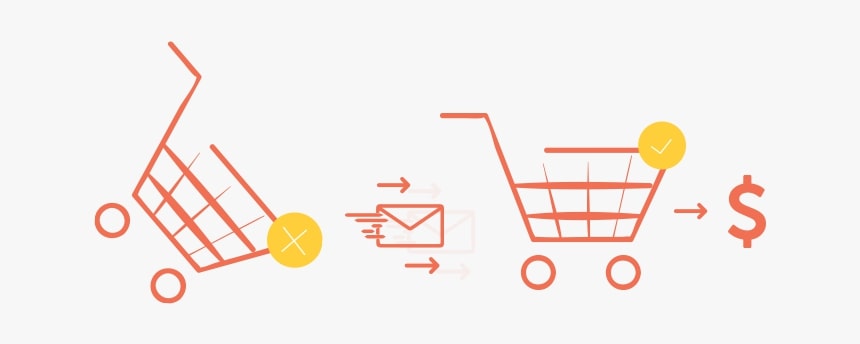 Be cautious when using average rates in any form of statistics. Your customers' technological capabilities, connectivity, or competition can differ. While this is an excellent starting point, I would focus more on the pattern of your shopping cart abandonment rate.
Cart Abandonment Rate – The global average rate of cart abandonment is 75.6 percent.
Mobile Average – The average abandonment rate for mobile phones is 85.65%.
Sales Loss – Brands lose up to $18 billion in sales per year as a result of abandoned shopping carts.
What are Average Cart Abandonment Rates by Industry?
This data is derived from over 500 ecommerce sites and tracks abandonment rates across six primary industries from Salescycle.
Finance – has a cart abandonment rate of 83.6 percent.
Non-Profit – has a cart abandonment rate of 83.1 percent.
Travel – has a cart abandonment rate of 81.7 percent.
Retail – has a cart abandonment rate of 72.8 percent.
Fashion has a cart abandonment rate of 68.3 percent.
Gaming – has a cart abandonment rate of 64.2 percent.
Why Do Shoppers Abandon Their Carts?
Aside from the valid reasons, there are several things you can do to reduce your rate of cart abandonment:
Improve the website speed. 47% of shoppers expect a website to load in two seconds or less.
High shipping costs. 44 percent of shoppers abandon their shopping carts due to high shipping costs.
Time constraints. 27 percent of shoppers abandon their shopping carts due to time constraints.
No shipping information. 22 percent of shoppers abandon a shopping cart due to a lack of shipping information.
Out of stock. 15% of shoppers would abandon a purchase when an item is out of stock.
Poor product presentation. 3 percent of shoppers will abandon a purchase due to ambiguous product details.
Payment processing problems. Due to payment processing issues, 2% of shoppers do not complete an order.
I'd like to suggest my own technique, which I call the 15 and 50 test. What you can do is ask a 15-year-old girl and a 50-year-old man to buy something from your website. Take note about how they did it as well as how difficult it was for them. You'll learn a lot just by watching them! You can't completely stop abandonment, however you can minimize it.
How to Reduce Shopping Cart Abandonment
Overcoming the above-mentioned issues is critical to reducing shopping carts. All of this can be changed by making improvements to your checkout page.
Performance. Evaluate and enhance your page's performance on both desktop and mobile devices.
Mobile. Ensure that your mobile experience is both superior and easy. Clear, big, contrasted buttons, as well as clear pages and process flows, are crucial for increasing mobile conversion rates.
Instruction. In order to avoid frustration, use a progress indicator to show your shopper how many steps are required to complete the purchase.
Calls To Action. It is important to have straightforward, contrasted calls-to-action that guide the shopper through the buying process.
Navigation. clear navigation that allows a visitor to return to the previous page or shop without confusion.
Product information. provide multiple views, zoom, use, and user-submitted product specifics and photos to ensure shoppers get exactly what they want.
Help. provide phone numbers, live chat, and assistance for customers.
Social proof. Use social proof signs such as popups and customer feedback and testimonials to show that other customers trust you.
Payment solutions. include all payments to reduce payment processing problems.
Security certificates. include badges from third-party audits that inform your customers that your site is being externally validated for protection.
Shipping. provide a method for entering a zip code and receiving approximate shipping schedules and costs.
Save for later. Create a way for visitors to save their cart if they want to check out later such as a wishlist, or send email reminders for out-of-stock products.
Urgency. Provide time-related discounts or exit-intent offers to boost conversion rates.
Registration. Don't ask for any more information than needed for checkout. Ask for a registration once the customer has checked out, but don't force them during the buying process.
Recommended Tool For Reducing Cart Abandonment
Having trouble with recovering lost sales? AVADA Marketing Automation can help you automated your cart abandonment emails and recover those lost sales.
Final words
That's it! I hope this article has provided you with valuable information about how to measure your cart abandonment rate. Please feel free to leave comments below for further discussion on this topic!
New Posts
Stay in the know
Get special offers on the latest news from AVADA.