Bulk SMS Marketing: Definition, Benefits, Examples, Tips, and Services
The fact that hundreds of big brands are choosing to incorporate bulk SMS marketing into their overall strategy should be a good indicator of its success.
Studies have shown that:
Generally, customers respond to a text message in only 90 seconds, while they take around 90 minutes to respond to an email.

SMS marketing has a positive impact on brand awareness.

Customers actually prefer text messages to other forms of mobile communication.
Bulk SMS marketing campaigns are simple to create, affordable and have response rates much higher than most other marketing channels.
So, in this article, we'll explain all about bulk SMS marketing, including definition, benefits, examples, tips, and services.
Let's get started!
What is bulk SMS marketing?
Simply put, bulk SMS marketing is a form of mass communication allowing businesses to engage with their contact database via an online SMS platform. To implement bulk SMS marketing, marketers must pre-craft text messages containing marketing material (often a timely offer or special promotion) to send to a database of numbers.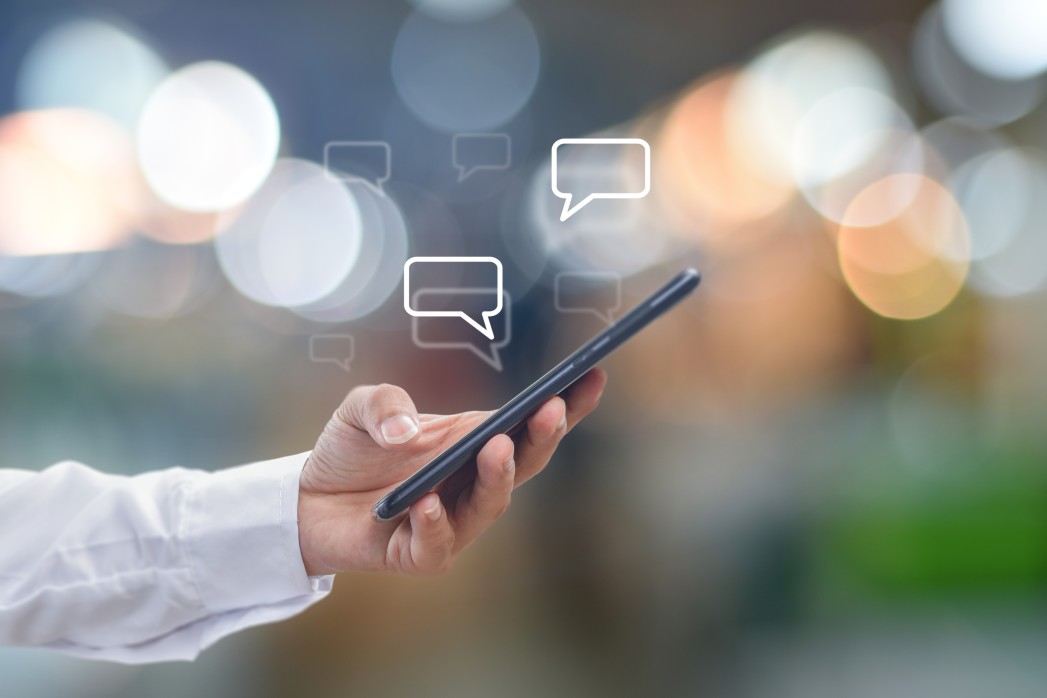 While businesses regularly use bulk SMS as part of their marketing strategy, it is common to utilize the service to communicate with customers, shareholders, and employees in various ways. The simplicity and effectiveness of bulk text messages benefit companies and customers alike; whether SMS is used for confirmations, alerts, and reminders, one-time passwords, two-factor authentication, and much more.
Related topic: SMS Marketing General: The In-depth Guide for Your Business
Benefits of bulk SMS marketing
There are currently more than 6 billion smartphone users worldwide, and this number is projected to increase year on year. Unsurprisingly, companies are increasingly using bulk SMS marketing as part of their customer service and engagement strategies.
Bulk SMS marketing lets you schedule and broadcast customized messages to groups or individual recipients. It is a great way to capture the attention of your target audience and encourage an immediate response.
We may not all be on our email 24/7, but many of us are inseparable from our smartphones. Should you invest time and money in bulk SMS marketing? Is it right for your business? We have put together the top benefits of bulk SMS marketing to help you decide.
Instant impact. Unlike email marketing, which may not be picked up for days, or direct mail, which may take days to deliver, bulk SMS marketing takes less than 7 seconds to reach the intended recipient. Provided that you have the correct number, you can rest assured your text message will be delivered, and ultra-fast, too.

High open rate. SMS marketing's open rate has been reported to be as high as 99% compared to around 20% for emails. Of course, not everyone that receives your text will respond. However, it stands to reason there's a higher chance of someone responding to your marketing if they have seen your message than if they haven't. People open nearly every SMS message they receive, while many delete an email without opening it.

Customizable campaigns. Bulk SMS marketing lets you target your whole database of contacts, a sub-group, or individuals. Personalizing your campaign is key to its success. You will want to send a different text to existing customers to prospects, for example. It is quick and easy to set up templates and customize an SMS each time you send one out. Customers are more likely to respond to a text message that appeals specifically to them than a generic or irrelevant message.

Few barriers to delivery. Due to spam filters, marketing emails often never reach their intended recipient. This is not the case with SMS. There are often no barriers to delivery, so SMS marketing is highly reliable.

Impressive conversion rate. At about 60%, response rates for email marketing are notoriously low. Nevertheless, a response rate of 45% for SMS is not unusual and may even be higher. Whatever the objective of your marketing campaign - sign-ups, promotions, or surveys - you'll receive a higher response rate than with any other marketing strategy with SMS.

Cost-effective. When compared to the cost of other marketing methods, like TV, radio, or pint, bulk SMS marketing is more affordable. Messaging is low-cost and delivers a higher ROI (Return on Investment) than many other marketing strategies, making it a sustainable and cost-effective option.
5 bulk SMS marketing examples
If you still have not decided if you want to invest in bulk SMS marketing yet or are unsure if it'll work for you, keep reading and see how some of the most popular brands are using it to get new customers.
1. Domino's Pizza
The area director for the franchise at UNC-Charlotte - Ryan Swanson - started the SMS marketing campaign with two clear goals:
To market his Facebook group
To grow his SMS list in a measurable way
He knew that he had a captive audience at the nearby college campus, and he could easily reach more than 3,000 students by running ads on the screens in the basketball arena.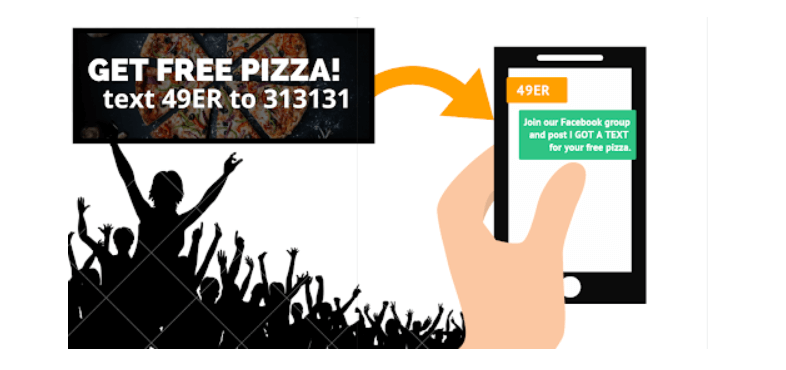 That's where his multi-channel marketing approach came into play:
He used the display screens in order to run an ad that attracted viewers by advertising a free pizza to anyone texting "49ER to 313131."
Then, when someone did that, they received a reply telling them that to get the free pizza, they needed to join the Facebook group at UNCCDominos.com and post a message (I GOT A TEXT).
With one campaign and two marketing channels, Ryan increased the number of members in his Facebook group and grew his SMS subscriber list.
He added more than 2,000 new Facebook fans and more than 850 students to his SMS list.
He continued to market to them using messages such as:
"49er Fans get 50% OFF ALL MENU PRICE PIZZAS & Bread Sides All today TODAY for playoffs! Coupon Code (FACE50). Call us at xxx"
This message reached roughly 500 or so students, and it resulted in 125 new orders. To achieve the same results, learn to include other offline and online channels to build, promote, and manage your SMS marketing promotions.
2. Chipotle
Beyond just reaching customers, Chipotle takes advantage of SMS marketing to seek out new employees. With more than 2,400 restaurants, and new ones opening approximately every 3 days, looking out for new employees to help them grow is a constant challenge.
Brian - a Chipotle recruiter - believes that their text-to-apply technology is changing the game for job seekers. They desire to make applying for a job at Chipotle as "quick and easy as building a burrito in their restaurants."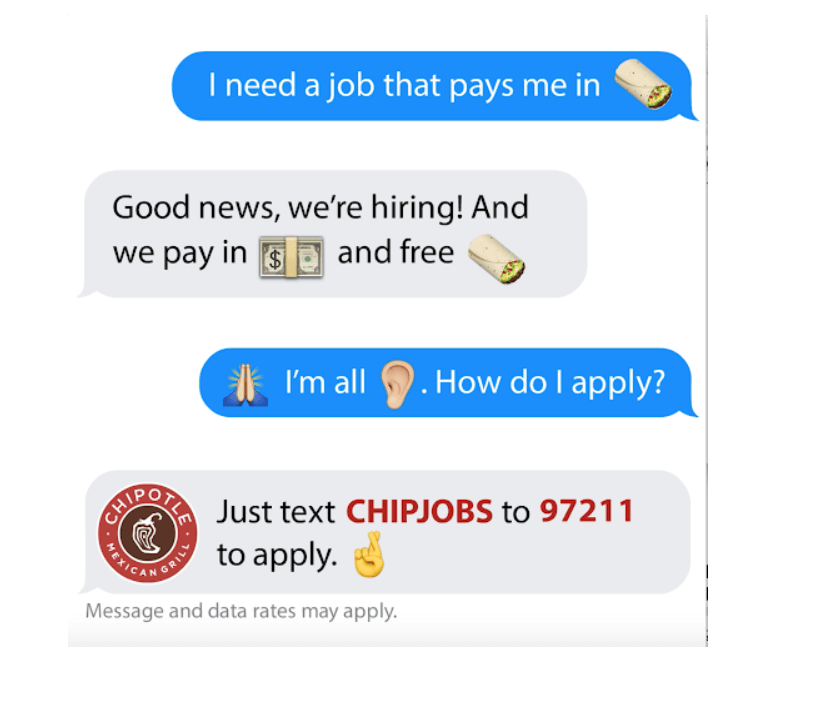 When you send the keyword "CHIPJOBS" to 97211, the automated recruiter - Ari - greets you and walks you through the process. She'll start by asking about your ZIP code and finding the locations nearest you. From there, you are able to choose which location that you would like to apply for and then you are off and running.
This strategy works because the brand examined its target market and identified a way to remove friction.
Generally, applying for a job is a tedious and time-consuming process filled with a lot of paperwork and frustration. The brand eliminated this usual friction by utilizing a channel that everyone is already familiar with. After several minutes and messages, job seekers can quickly put in their applications.
3. Subway
Subway was considered the first brand to really venture into the bulk SMS marketing space, and they saw amazing success. Since their initial campaign in December 2015, Subway now has more than 5 million subscribers with a retention rate of 85%.
They also realized:
26% of customers return more often
13% of customers spend more at each visit
15% of customers make more purchases than before they joined the SMS marketing campaign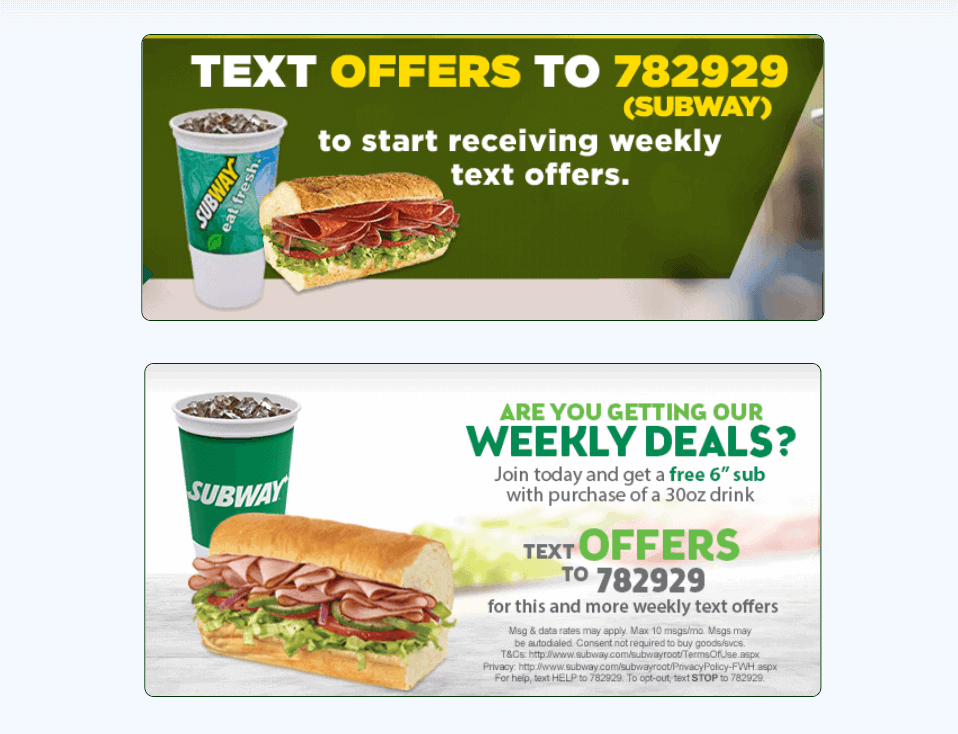 The brand recognizes that people will come back in to buy meals again. By using bulk SMS marketing, Subway has a way to stay in front of its target audience, remind them of current specials, and send them limited-time promotions.
This ensures that the brand stays top-of-mind while providing value to regular customers.
So, think about your target audience. What can you do to offer value to encourage repeat purchases? What can you do to generate an exclusive, members-only environment?
4. Jack in the Box
Jack in the Box knows how to combine bulk SMS marketing with websites. By simply visiting their website, clicking on offers and stuff, and providing their information, visitors can receive discount coupons directly to their mobile device or email.
The brand even teases you with a locked image of the special coupons that you'd receive after signing up. Jack in the Box realized that their SMS redemption rates for coupons are 3-5 times higher than those of email marketing.
This strategy is similar to that of Subway as it provides additional value to repeat customers. These campaigns motivate customers to purchase more frequently and make larger purchases.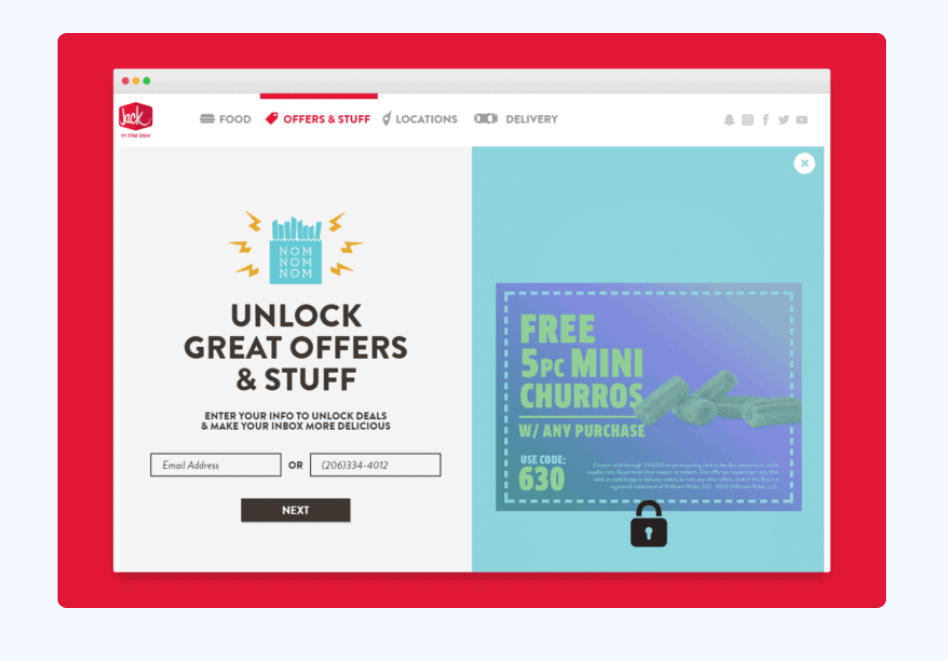 Think of the additional value that you provide to repeat customers, however, take that a step further. How can you make it simple for customers to take advantage of these additional values?
Like Jack in the Box, you can integrate it with your website or include opt-in messages on in-store signage.
5. 7-Eleven
During the 2010 elections, 7-Eleven introduced its Slurpee Peacemaker campaign, which motivated consumers to take a break from the heat of the election as well as chill out with a Slurpee. The unifying purple drink symbolically united the blue and red sides of politics.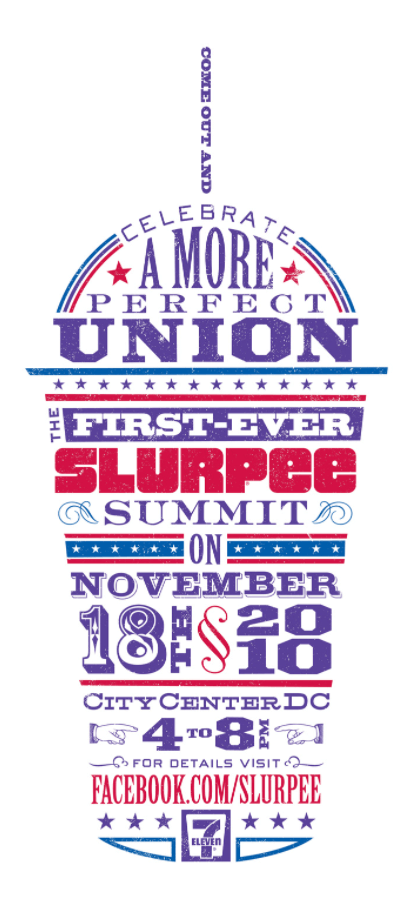 The brand used bulk SMS marketing to invite people to text a keyword to a short-code to discount the new flavor.
This was a really successful campaign for some reasons:
By offering a coupon, 7-Eleven could entice consumers to come into a store to buy the Slurpee
The brand tied into relevant and timely events to generate interest in the new flavor
The brand increased the SMS subscriber list to use for future promotions
The brand utilized other advertising channels, like social media, to drive consumers over to a landing page that provided instructions on how to opt-in through SMS
The landing page also made it easy for visitors to share content through Twitter or email, so they could encourage family and friends to opt-in and receive the coupon as well
So, think about recent events that you can tie into. How can you utilize these events to create more awareness for your brand, and bring them into your stores?
Also, consider using other marketing channels to make your campaign even bigger. By connecting various channels, you can broaden your reach.
7 bulk SMS marketing tips for boosting your campaigns
Below are the top 7 tips for creating a successful bulk SMS marketing campaign and making the most of your mass messaging service solution.
1. Create an engaged list
With so many free bulk SMS marketing services available today, it may seem tempting to bombard phone numbers with a text message blindly. It may appear like an excellent way to reach as many people as possible.
However, this can increase your chances of sending a message to the wrong customer and have disastrous consequences.
Think about the clients you want to target and why he or she would want your product/service. Your bulk SMS marketing campaign will perform much better when you spend time and effort creating an engaged list.
So, before sending any message:
Create a contact list of your past, existing, and loyal customers
Collect all the information you have about your contacts
Identify your objectives for each of these groups
Take their location and history into consideration
Keep updating your contact list by paying attention to the metrics of your campaign's performance
Delete all inactive numbers from time to time.
2. Offer value to your recipients
Your text messages will be far more effective if they offer value to your customers. If someone receives an SMS message that has no value for them, they will quickly opt-out of your contact list.
There's no point in using bulk SMS marketing to senselessly spam recipients with irrelevant messages. Think about how you can make your bulk SMS campaign less intrusive as well as give more control to the recipient.
An excellent way to facilitate this is by using text keywords to send messages like "Text OFFERS to xxx to receive coupon codes." Here you're allowing the recipient to decide whether they want to opt-in to receiving messages from you or not.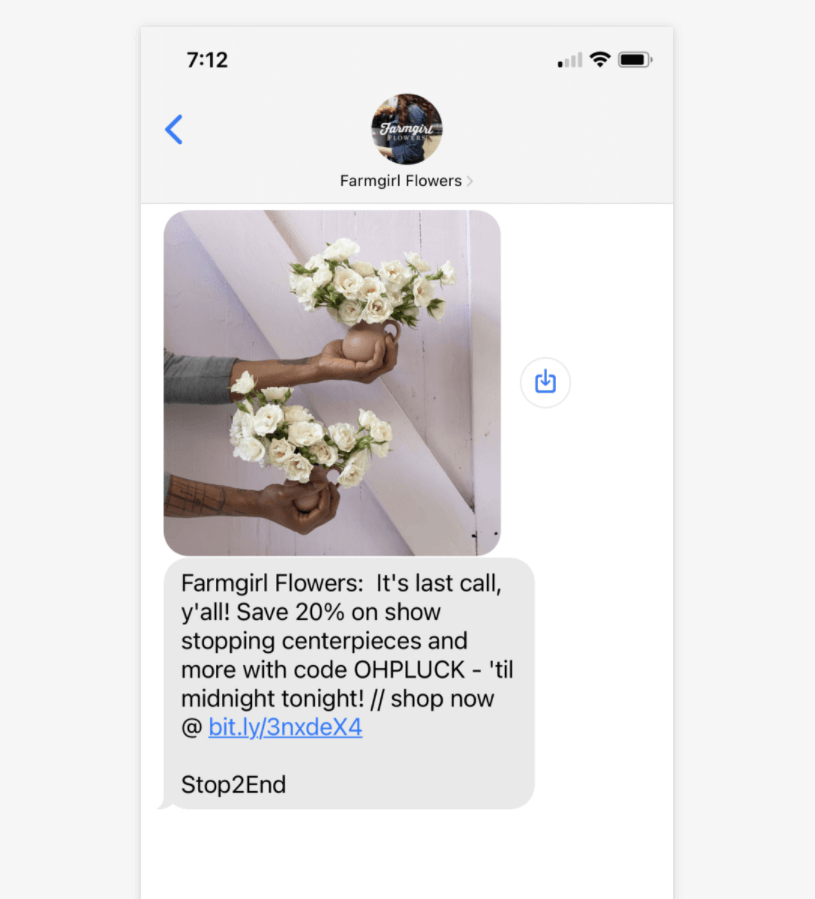 If they text, it means they're interested in your product/service and don't mind receiving messages from you. Remember, your message must always provide genuine value to your customers.
3. Build personalized bulk SMS marketing campaigns
To really capture your recipient's attention, you must attempt to personalize your messages as much as possible. A word that addresses a recipient by the first name appears far more attractive than one that addresses the recipient as a "client" or "customer."
Traditionally, text messages were a means to communicate with families, friends, and colleagues. By using a recipient's name and personalizing your text messages as much as possible, you can make your message seem to come from a friend or a known acquaintance.
To do so, you should segment your contacts carefully based on purchase history or demographic data. Create targeted, personalized messages for each group to ensure maximum conversion. For instance, it's pointless offering a male customer a discount on a product that women primarily use.
Most bulk SMS marketing services come with a mail merge feature that lets you insert names and customer-specific details in your messages. Personalized messages make recipients feel special and go a long way in establishing a relationship with your brand.
4. Stick to the point
An SMS message is limited to 160 characters, meaning you must keep your message as short and concise as possible, while clearly conveying what you want to say. You must stick to the point but avoid being too direct at the same time.
It's better to convey your point quickly to facilitate a quick conversion. Don't overdo it with capital letters, abbreviations, and emoticons. Your message must be understandable and easy to read. It's best to employ a conversational, pleasant tone in your message.
5. It's all about the timing
Imagine you're in your office. It's close to lunchtime, and you receive a message from your favorite restaurant announcing a new dish in its menu, a discount code that waives off delivery charges, and a link to place the order quickly.
Do you want to order immediately?
Chances are, yes, of course!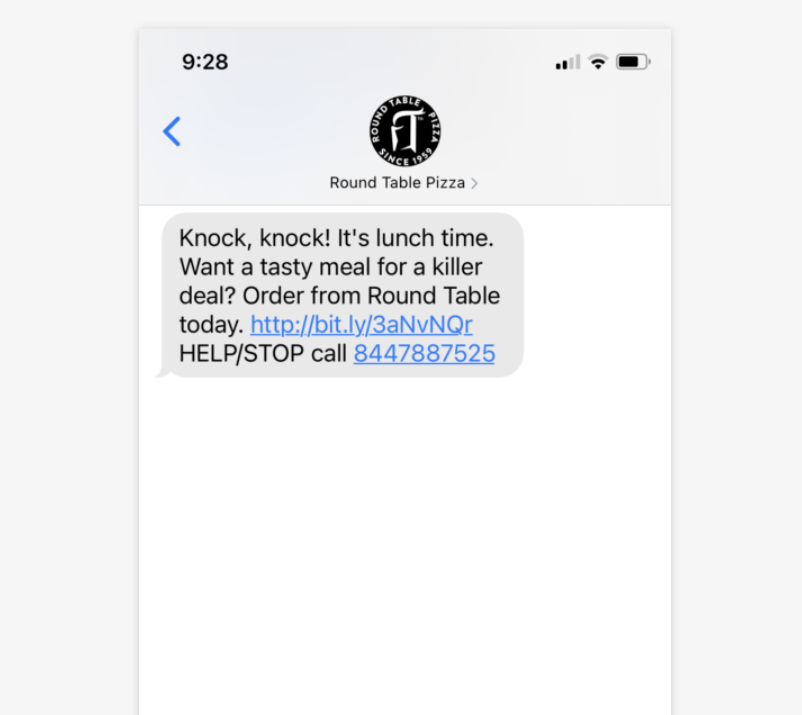 Timing can enhance the impact of your message. If customers receive your message at the perfect time, they will not see it as spam.
Avoid sending messages too early or late in the day. Besides, there's no point in sending a customer a message about a hot new club opening on a Monday morning.
Also, pay attention to your sending frequency. If you send messages too often, you'll risk irritating your customers and leading them to opt-out of your list. On the other hand, in case you send messages too sparingly, recipients may not recall your brand quickly and may forget why they opted to receive notifications from you in the first place.
Actually, there's no right or wrong answer in this case. It all depends on trial and error. When deciding on the timing and frequency of your messages, you should consider factors such as your business nature, target audience, and the purpose of your bulk SMS marketing campaign.
Pay attention to the campaign performance metrics available with your bulk SMS marketing services to understand what's working and what isn't. Many services come with scheduling capabilities that automatically send messages based on predefined timings and frequencies.
6. Use powerful CTA (call to action)
Send a text message with a clear goal in mind. Think about what action you're expecting your recipients to take after they read your message. Open-ended statements may leave everything unclear and create unambiguity. CTAs develop a sense of urgency and prompt the recipient to act.
Plus, you should include any links or telephone numbers in your message to make things convenient for recipients. If the essential connections and contact information are actually available in the word itself, recipients will be more likely to act quickly. Ensure that all the links are device-friendly.
7. Be mindful of marketing laws
There are different data protection regulations to consider when gathering personal data for marketing purposes. You must get permission from all subscribers before sending marketing messages to their devices.
Data protection laws vary depending on the country (or countries) where your recipients are based. For example, if your recipients are based in Europe, you will need to abide by the principles of the GDPR (General Data Protection Regulation). In the US, the TCPA (Telephone Consumer Protection Act) applies.
Read more: SMS Marketing Laws/Rules: The Ultimate Guide
3 best bulk SMS marketing services
The last section will introduce 3 best bulk SMS marketing services. Read on and find the best one for your business!
1. AVADA Marketing Automation
Do you want to send bulk SMS messages automatically?
Do you want to combine different marketing channels just in one platform?
Do you want to skyrocket your revenue?
If the answers are yes, you should look for AVADA Marketing Automation. This is the best platform to utilize powerful marketing channels and maximize your sales. With the help of AVADA Marketing Automation, you're able to combine SMS and email to amplify your marketing efforts and reach more customers.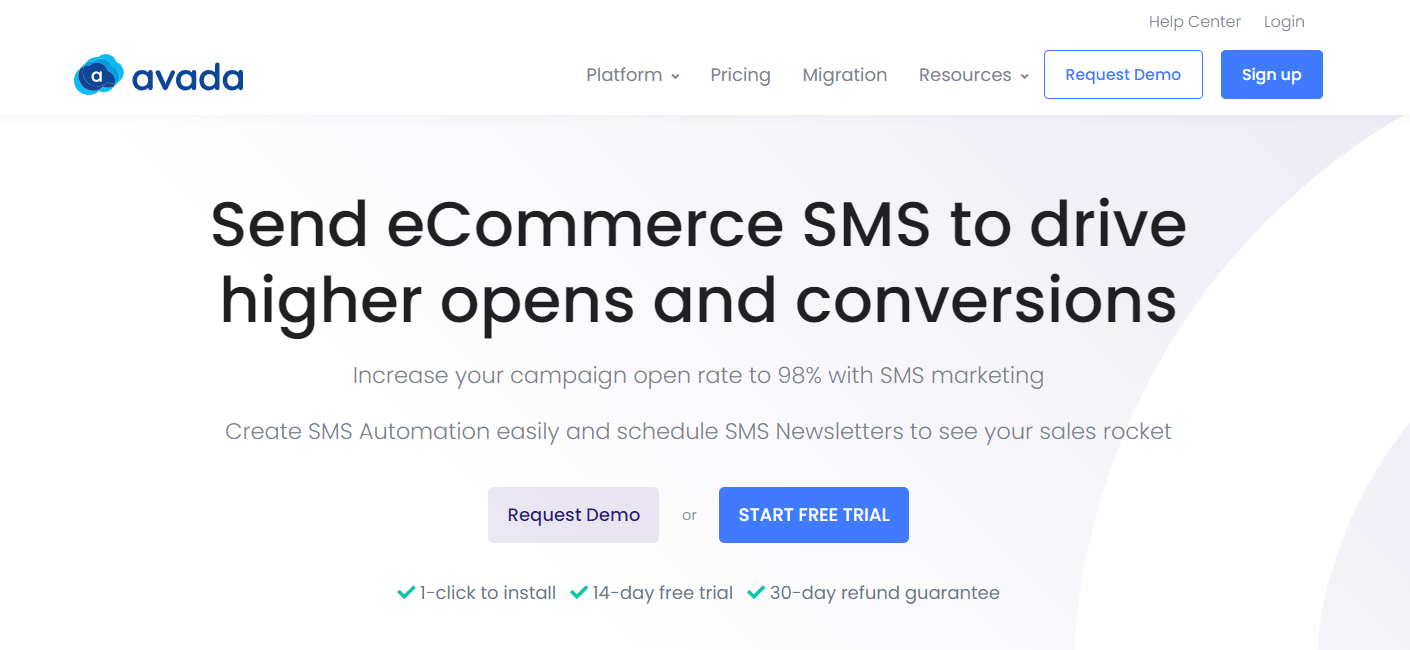 We've talked about the email marketing aspect of AVADA a lot, but for the SMS features, the platform doesn't lack amazing features as well, such as:
Automation to follow up with customers

Various templates for various events, such as welcome subscribers, abandoned carts, cross-sell, upsell, etc.

Both SMS and SMS are supported

Up to 150 countries are available, so you can send messages to customers anywhere

Ready-made sign-up forms help you collect phone numbers quickly

Comprehensive reports of your SMS marketing campaigns for optimization

High-quality support available through emails and live chat
It's free to start using AVADA Marketing Automation, so you should get the best of both worlds in just one service today!
GIVE AVADA MARKETING AUTOMATION A NICE TRY
2. Textedly
Textedly offers various helpful SMS marketing tools for businesses of all sizes.
It offers a user-friendly dashboard and different features, such as free incoming text messages, custom keywords, contact management tools, and a reporting suite. The service includes autoresponders, which means it can send automated replies to your contacts when they subscribe.
With this service, you can also schedule campaigns in advance with the calendar feature. It schedules a single text message or a group of messages to go out at any time you want.
3. SlickText
With SlickText, you can easily go from having little to no experience with SMS marketing to being quite adept.
Its user interface is intuitive, along with videos on the website explaining how to create an account, reserve a text keyword, and set up an auto-reply. These explanations are straightforward and detailed enough for SMS marketing novices to understand.
SlickText support team is available to answer your questions via the toll-free phone number, email, or live chat.
The bottom line
Thousands of brands are realizing the power of bulk SMS marketing. With the right strategies, your business will be the next one to achieve awesome results.
Thanks for reading this bulk SMS marketing guide! If you have any questions, please contact us right now!
New Posts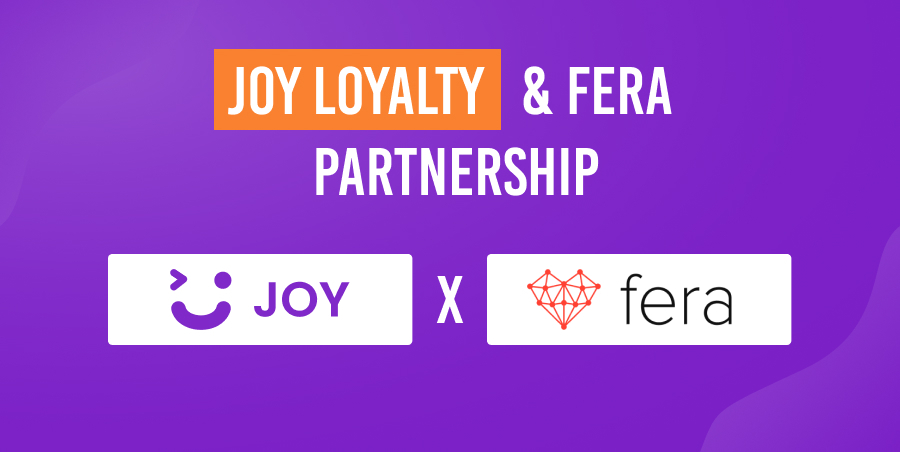 Subscribe
Stay in the know
Get special offers on the latest news from AVADA.
40k
subscribers has been joined!
Earn $10 in reward now!