30+ Best Shopify Store Examples to Learn from in 2021

Shopify is one of the most popular platforms for people who want to start an online business. There currently are about 600,000 online stores and over 1 million people are using Shopify, and this number is continuing to grow with the increasing trend of entrepreneurship.
Are you planning to start an online business? Well, if you are, there will be lots of things you would have to work with. But firstly, let's look at some Shopify Store examples to find the inspiration for your future store.
Here are 35 professional and well-designed Shopify store examples for inspiration that you can use as a reference while developing your own store.
These examples are all successful ecommerce businesses. You will see that each of them is created differently, and will inspire you in various ways. To make you easier to follow, we have broken them down into different categories such as Furniture/Home-decoration products, Electronics/Accessories, Fashion/Clothing/Jewelry, Cosmetics, Foods/Drinks, and Art.
Hopefully, these best Shopify Store Examples can get you inspired about your own online business. Now, let's get started.
Table of content
Shopify stores example for Furniture/Home-decoration
1. Haus - Contemporary furniture store

Haus is a retailer of furniture and home goods. Their Shopify store a sleek and modern design, which matches the aesthetic of their products.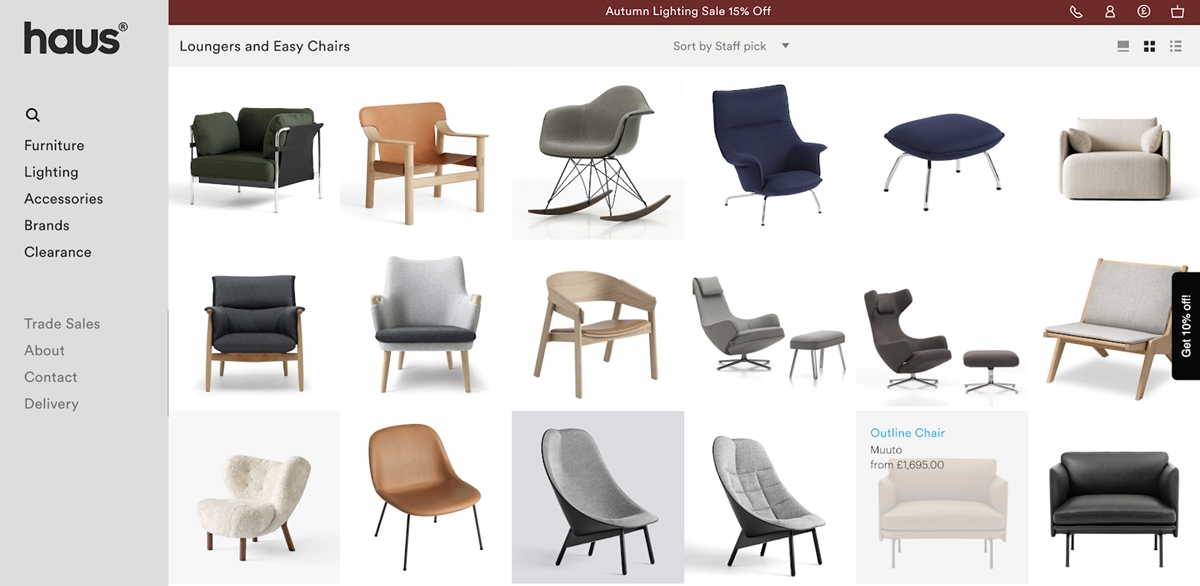 2. The Modern Shop - Modern furniture store
Well, looking at this store, I'm impressed by what Shopify can do. This website is a wonderful example to show you that you can sell hundreds of products on Shopify in a very well organized and categorized way.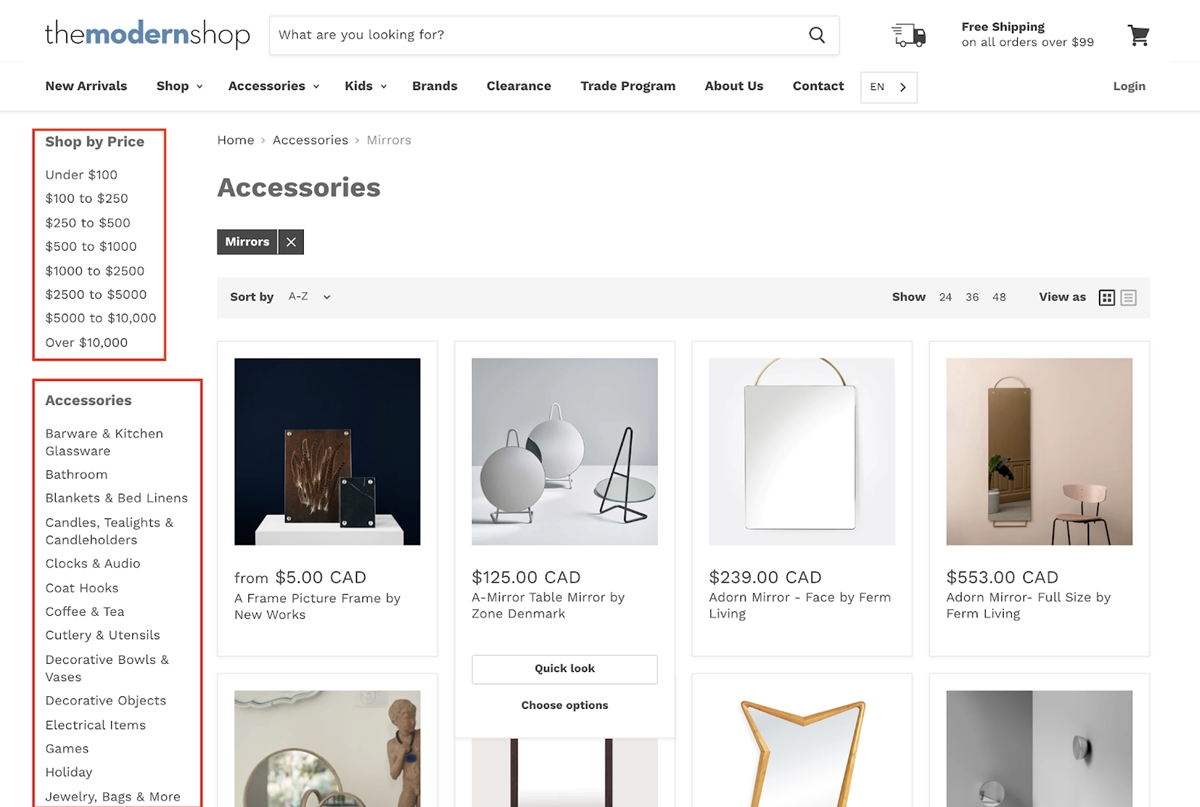 3. Hauser - Canadian furniture store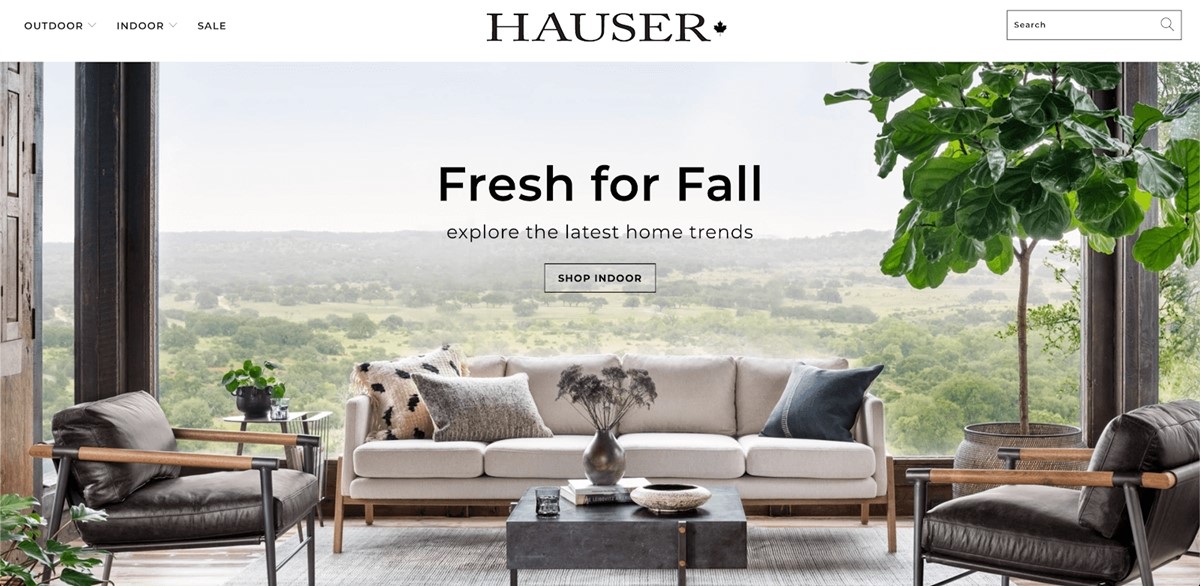 Hauser is a big furniture store. Their website structure is quite mainstream, but if you sell furniture, this can still be a great inspiration.
I notice this little detail here that might help you increase your email opt-ins.

4. Clartes Bohemia - Beautiful glassware decoration store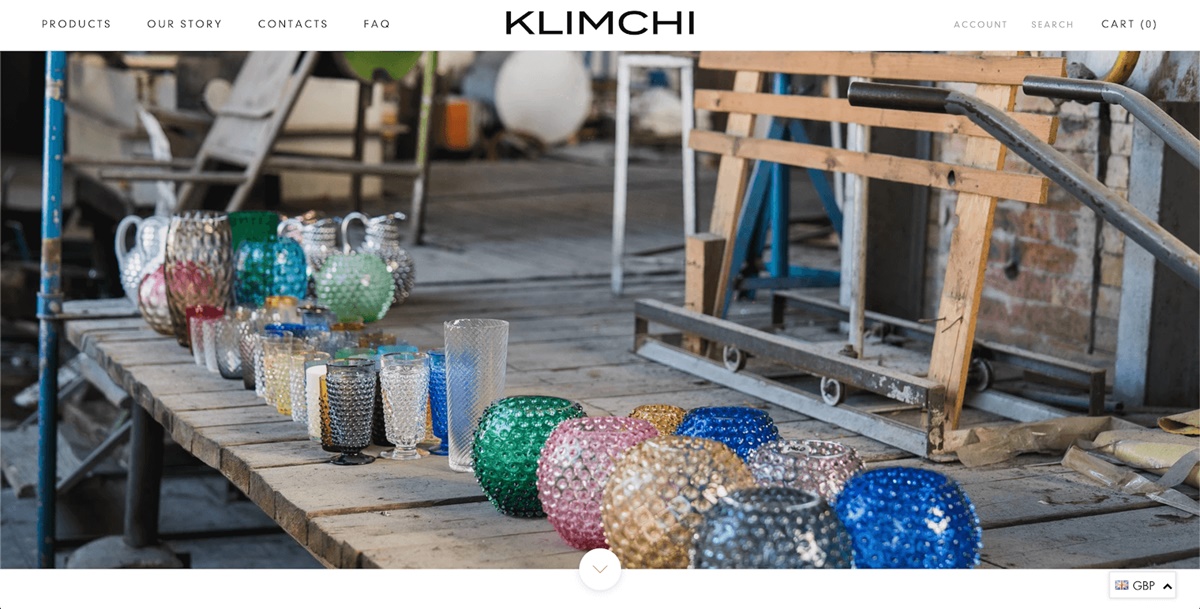 Clartes Bohemia, a ten-year-old traditional family business honoring glassware and lighting artisanship, sells premium glassware products for decoration in homes and kitchens. All of their products are made by hand in their family-owned factory in Bohemia.
When they first moved to the digital space, their conversion rate increased quite considerably from 2% to 8% within the first few months; what Clartes Bohemia did well was consistently telling the story of their family tradition on the marketing channels.
These stories, with the high quality of the products, created trust and interest in the brand. Lukas, the person in charge of growing Clartes and Bohemia online, advises that entrepreneurs should test their product and market first before putting in any greater investment. Once sales start coming in, they should reinvest the revenue to keep the growth.
5. The Home Shoppe - Outdoor and Indoor furniture store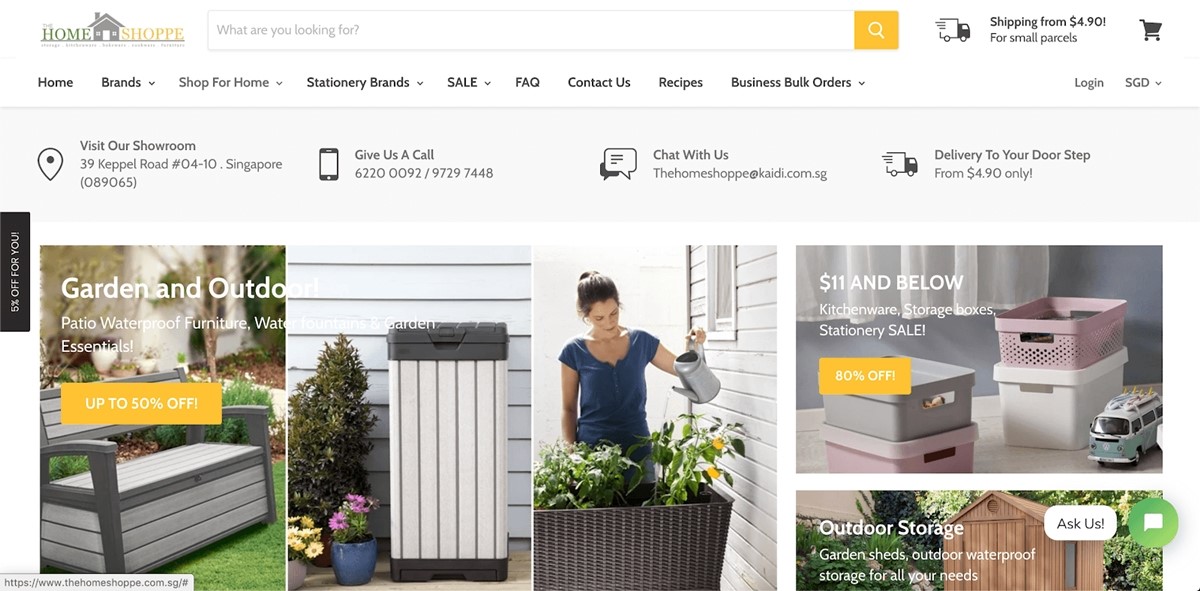 The Home Shoppe is the go-to place for anyone who is passionate in upgrading their homes with outdoor and indoor furniture. Their product range is filled with everything that a house needs; from cleaning accessories, gardening decorations to kitchenware.
Their unique selling point is simply good-quality products at a fair price. On top of that, Xan, Marketing Manager of The Home Shoppe, shares that membership programs, check-out-cart offers, and limited-time offers are the key to their success.
Read More: 10+ Shopify Furniture Store Examples
Shopify stores example for Electronics/Accessories
6. Studio Proper - Simple and minimal accessories store
Studio Proper's purpose is to 'simplify everyday experiences with technology.' The products and the design of their store reflect that tagline very well - simple and minimal.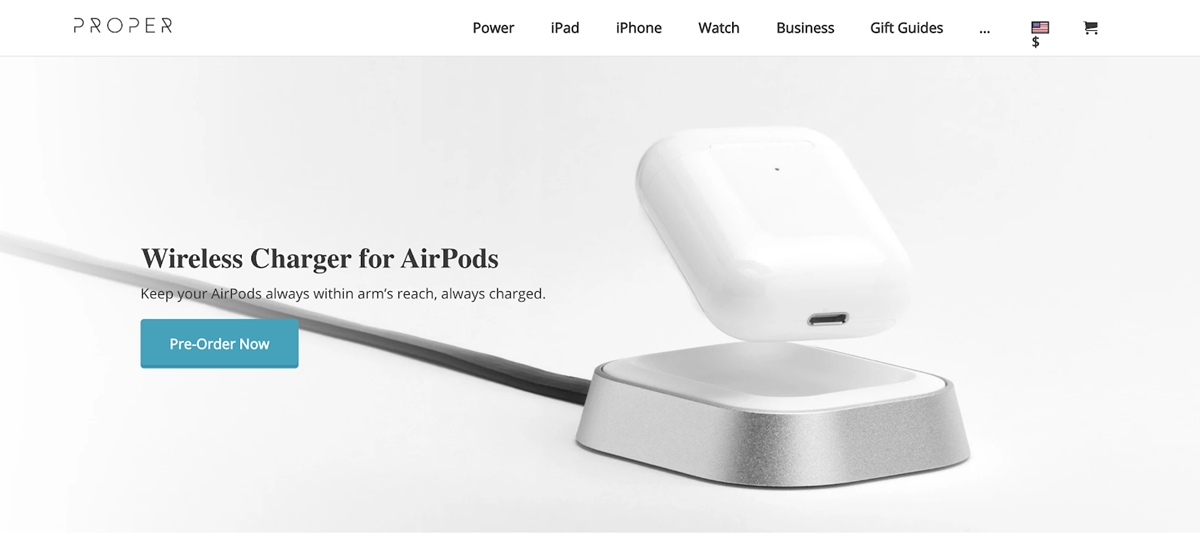 If you're selling a product that has lots of different categories and styles, Haus is a great reference for your web design.
7. Quad Lock - Phone cases store
This store is dedicated to selling phone cases for all sorts of activities. What's great about this website is it's using videos on the homepage to describe better what its product does. Another great feature is the sliding bar that displays product categories right below the main cover.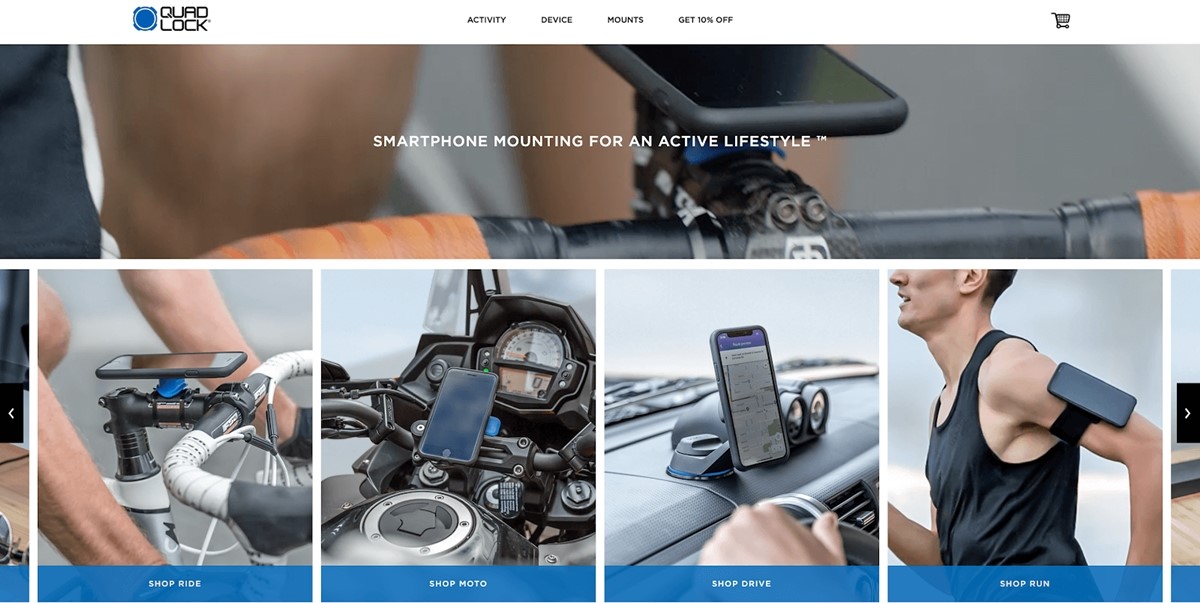 8. Biolite - cooking devices store
Biolite is selling eco-friendly cooking devices. Their website is simple, but on the page of each product, there's this review section, which is definitely helpful to create trust with customers, especially with electronics like these.

Also, they have this section on the front page of what they have achieved.

It's a good idea to add this section to create trust with customers no matter what kind of product you're selling. The numbers can be how many customers you have served, how many locations you have, and so on.
9. Master and Dynamic - Electronic accessories store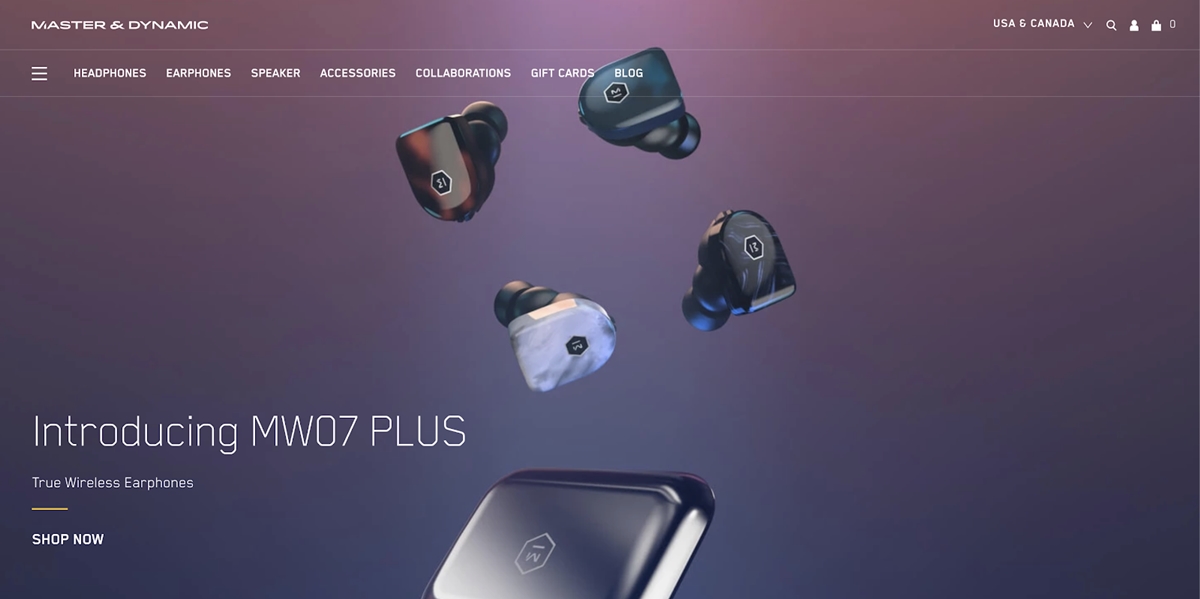 This NYC-based business has a wide variety of high-quality headphones and audio accessories to offer. Having generated millions of dollars in revenue just from their Shopify store alone, Master and Dynamic is making a name for itself and set out to rival against Beats by Dre of the headphone industry. Apart from being high-quality, M&D products sell well thanks to the product photography and display.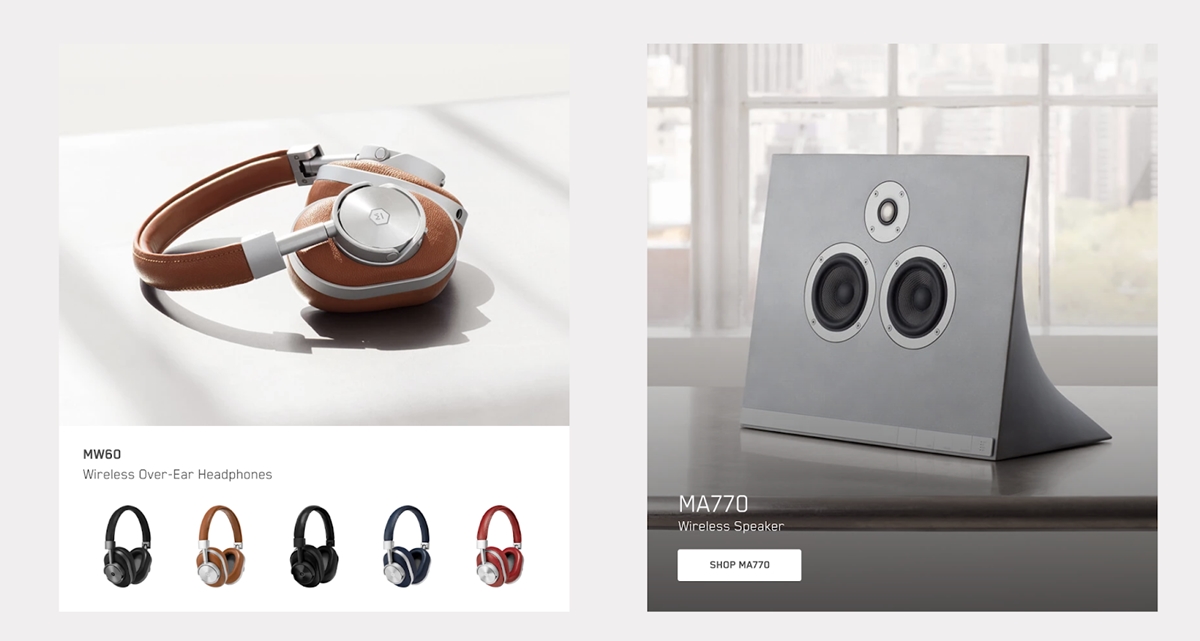 Customers need to see first before deciding to buy anything, especially when it comes to fashion-ish products like headphones. The product photography needs to be well-taken and placed in a lifestyle setting to help customers visualize what it is like to use the products.
To put in another way, people buy not based on your products but based on their imagination of them using your products, so if you can use your product photography to influence that, you will be successful.
10. Crossloop - Earphones store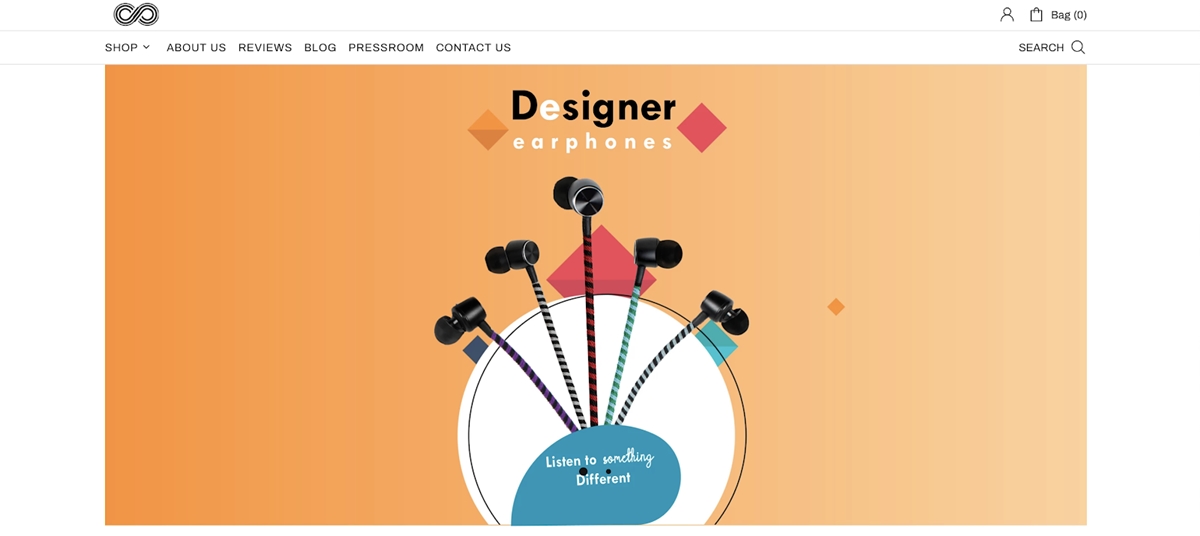 Crossloop is a Shopify-powered store based in India that selling designer earphones. The designs are bold, stylish and trendy. The single purpose behind the brand is to make earphones less boring.
They saw that the majority of people have earphones, but they all look just the same. So they decide to make stylish earphones that sell. The store was launched in April, and after just 8 months, their order volume had gone to 50-80 per day from their website and Amazon. That year Crossloop is featured as Amazon's Select Brand in December. At the moment, the majority of Crosslop's sales come from Facebook and Instagram.
11. Studio Neat - Great and useful products
This store sells nine items in total, but I can't help falling in love with the way they showcase them. If you have just a handful of physical products, this is something you can learn from.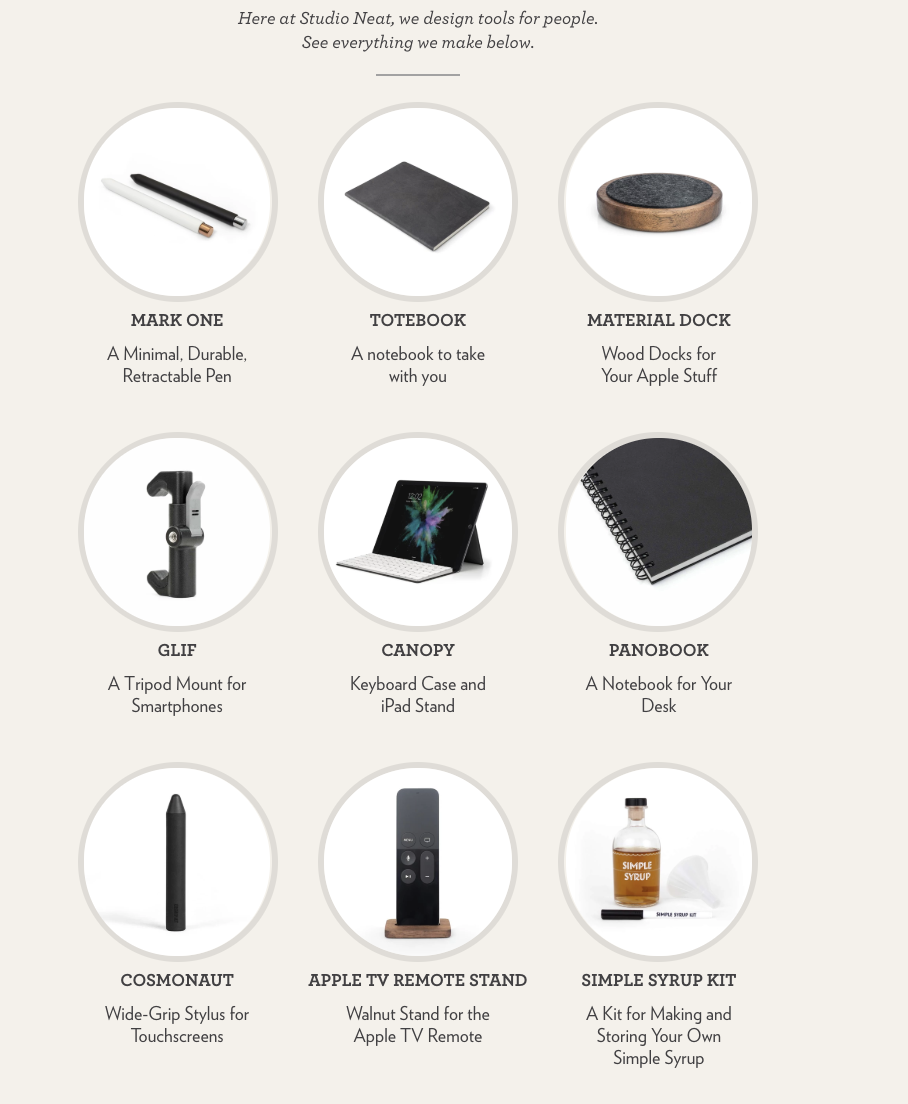 I also love the way they explain the functionality of each product, very clearly and attractively.
Read More: 6+ Best Sunglasses Shopify Store Examples
Shopify stores example for Fashion, Clothing and Jewelry
12. Tluxe - Minimal clothing store
This is a quite minimal clothing store . Their brand aesthetics is taking care of the environment and supporting the local industry with organic and sustainable fabrics. The "earthy" color of the website represents that purpose pretty well.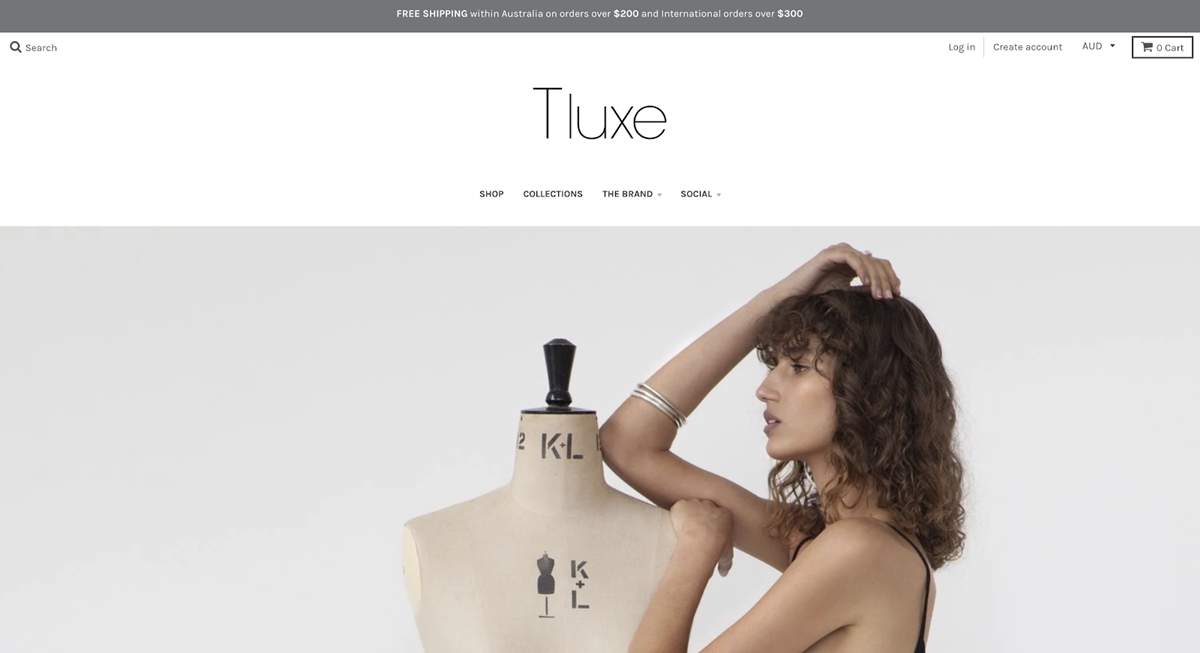 Related Post: 8 Steps to Start an Online Fashion Store with Shopify
13. Luxy Hair - Shopify store for hair extensions
This store is selling hair extensions, and its website has a handful of cool features. First, it's neat and well-structured.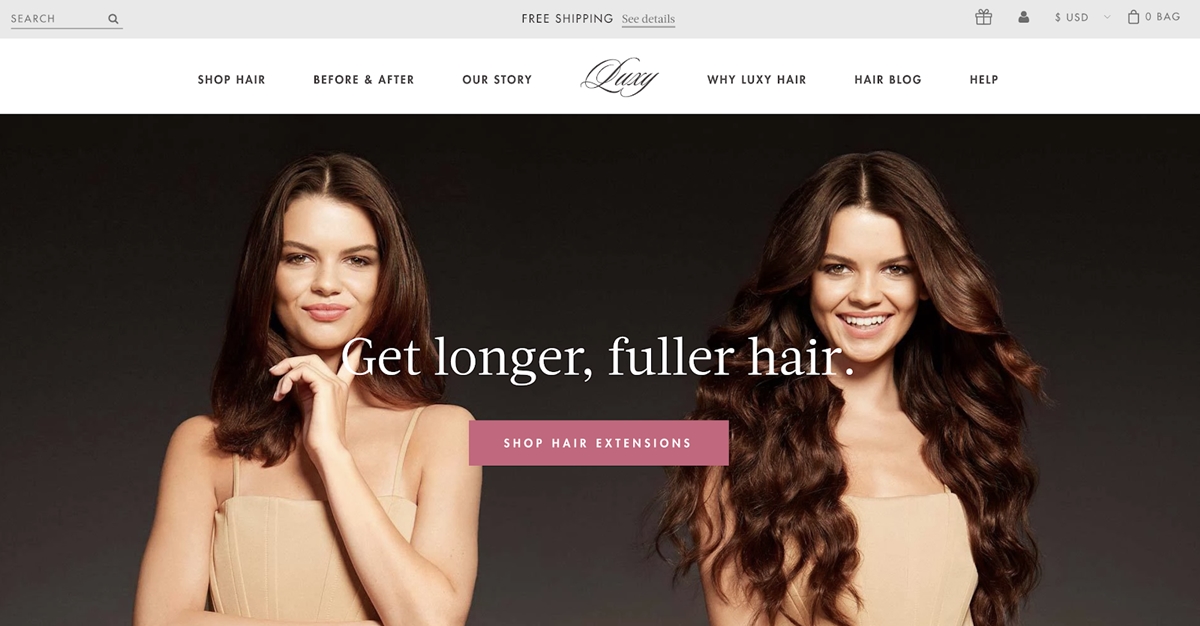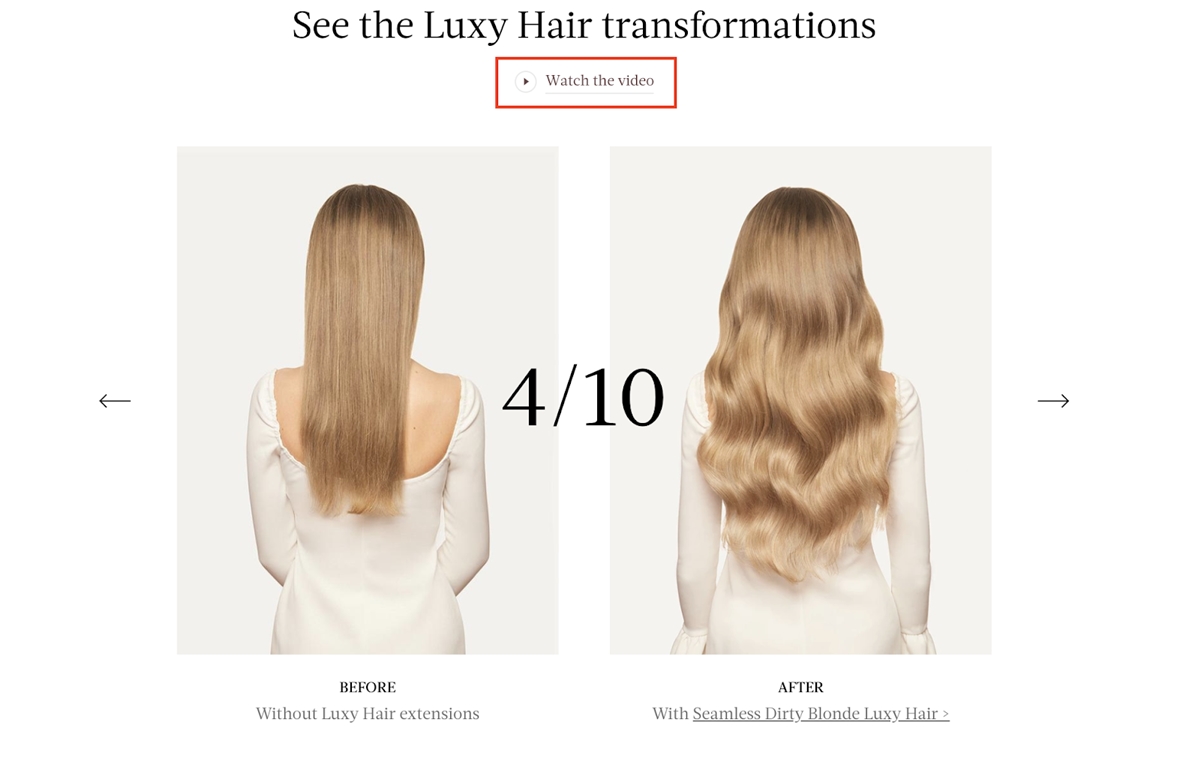 This is a slide bar that shows before-after pictures. That is a video that gets embedded on the website, so customers don't have to go to Youtube.
They also have a dedicated section on the front page that shows customer reviews.
Scroll down to the bottom of the page you'll see this slide bar. To sell better, they embed lifestyle pictures of their hair extensions being used so that customers can see what the product looks like in reality.

Then, if they are interested, they can add to their cart immediately.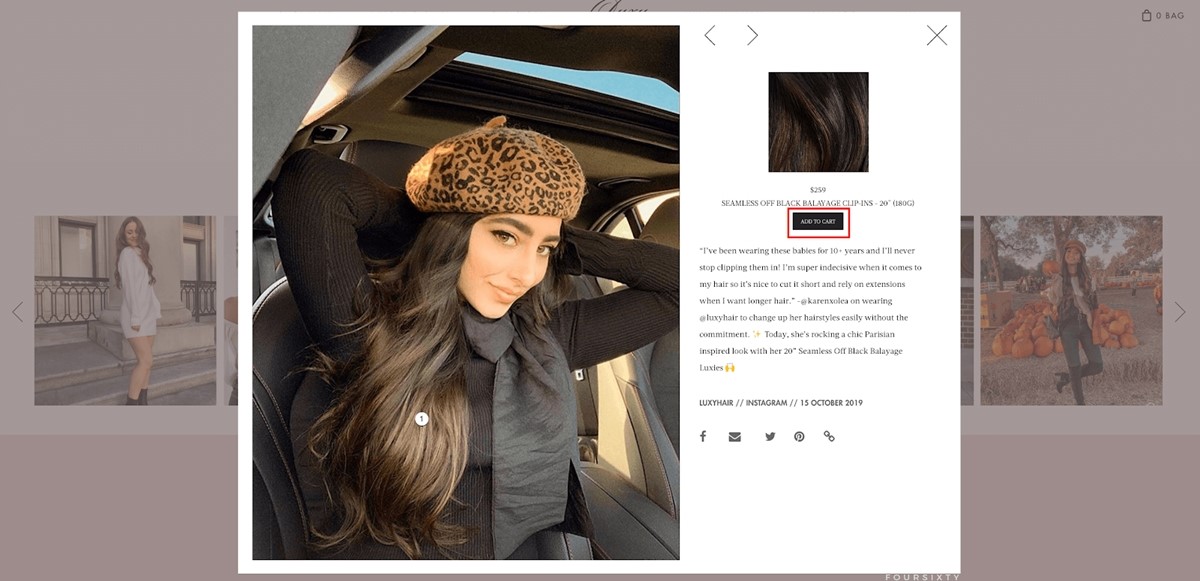 14. Biko - Jewellery store
Biko is a jewellery store.
One great feature the website has is this slide bar with the 'quick view' function.

When you click 'Quick View', a dialogue will show up that allows you to add the product to your cart.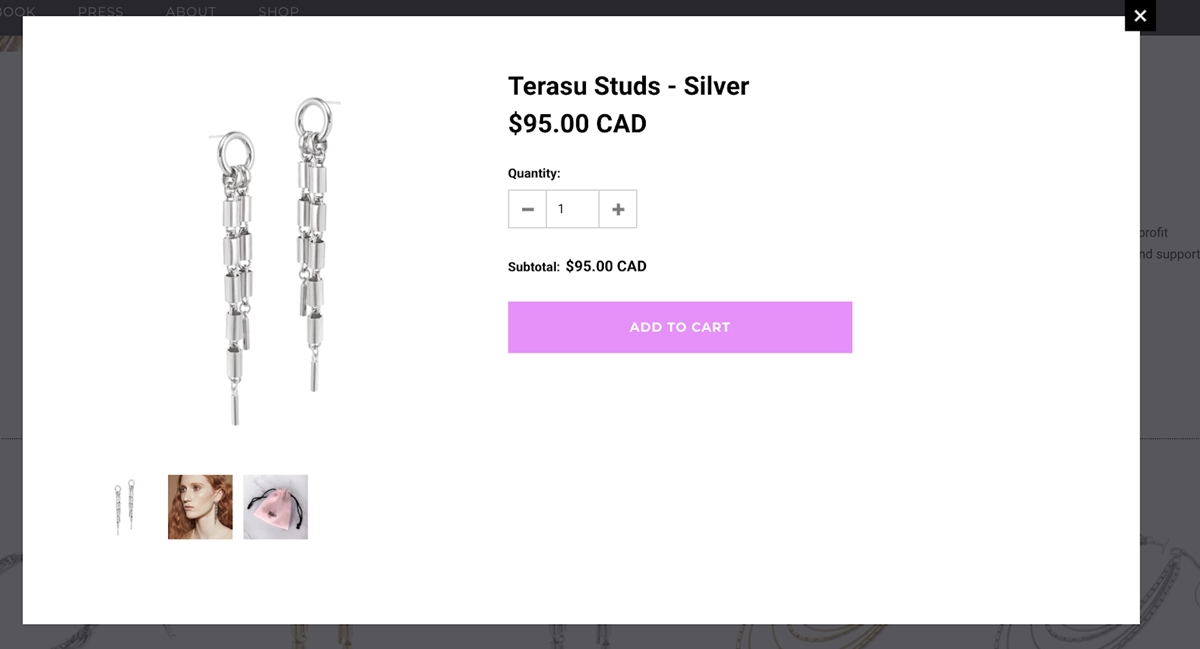 Another great feature is instead of showing their product categories in the top bar, the store shows them in with pictures. This is only possible if you have a small range of products.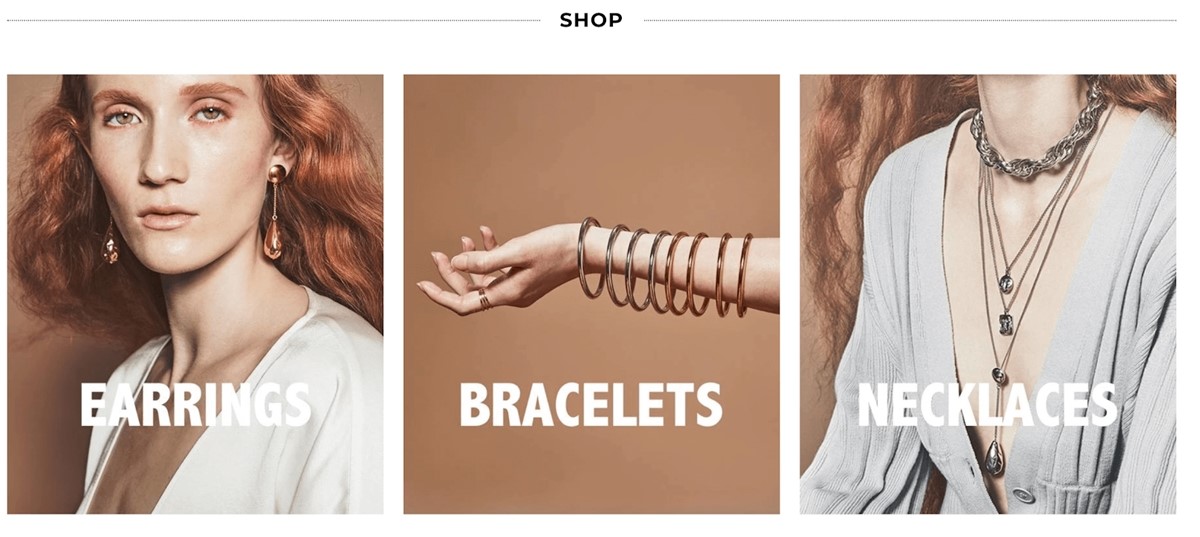 And finally, it embeds its 30k-follower account right on the website to showcase lifestyle pictures of their products.

15. Tanner Goods - Wallets, belts, and bags store

This business is selling wallets, belts, and bags. The entire website is perfect from my point of view; I can't find anything about this website that I dislike.
This company does an amazing job of showcasing their products visually.
It has this section on the front page to showcase which items are popular to encourage customers to make quick purchases.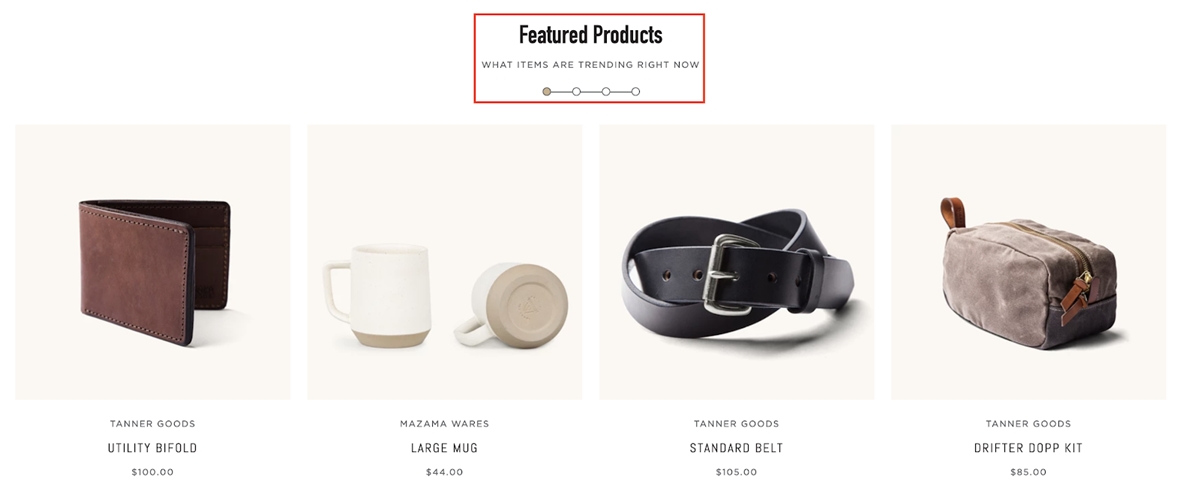 While having lots of products, they categorize their store super well.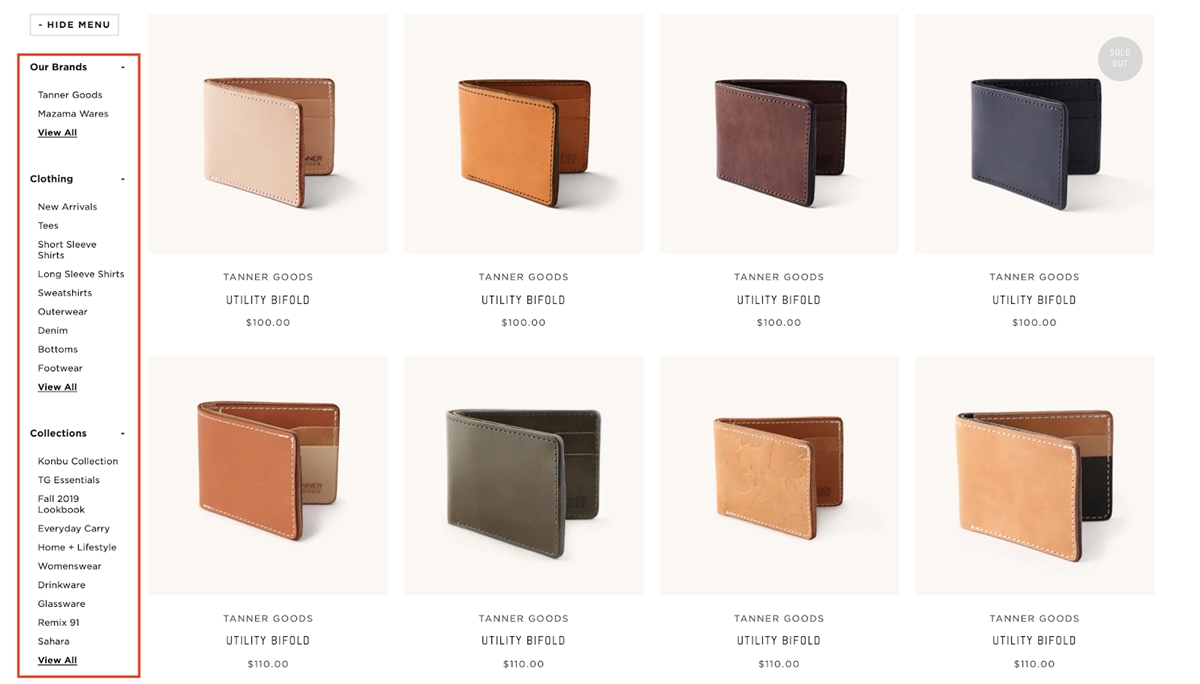 16. Hardgaft - Leather and wool goods store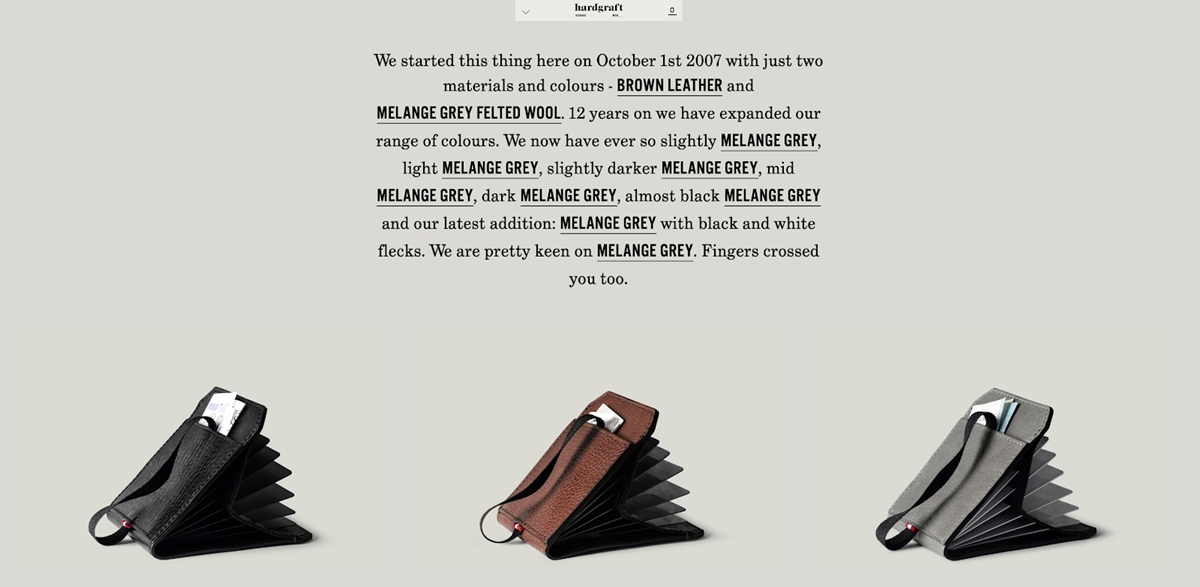 This company has a unique way of displaying its products; everything on the front page, no home page picture, just words.
I mean, buying from them couldn't be easier.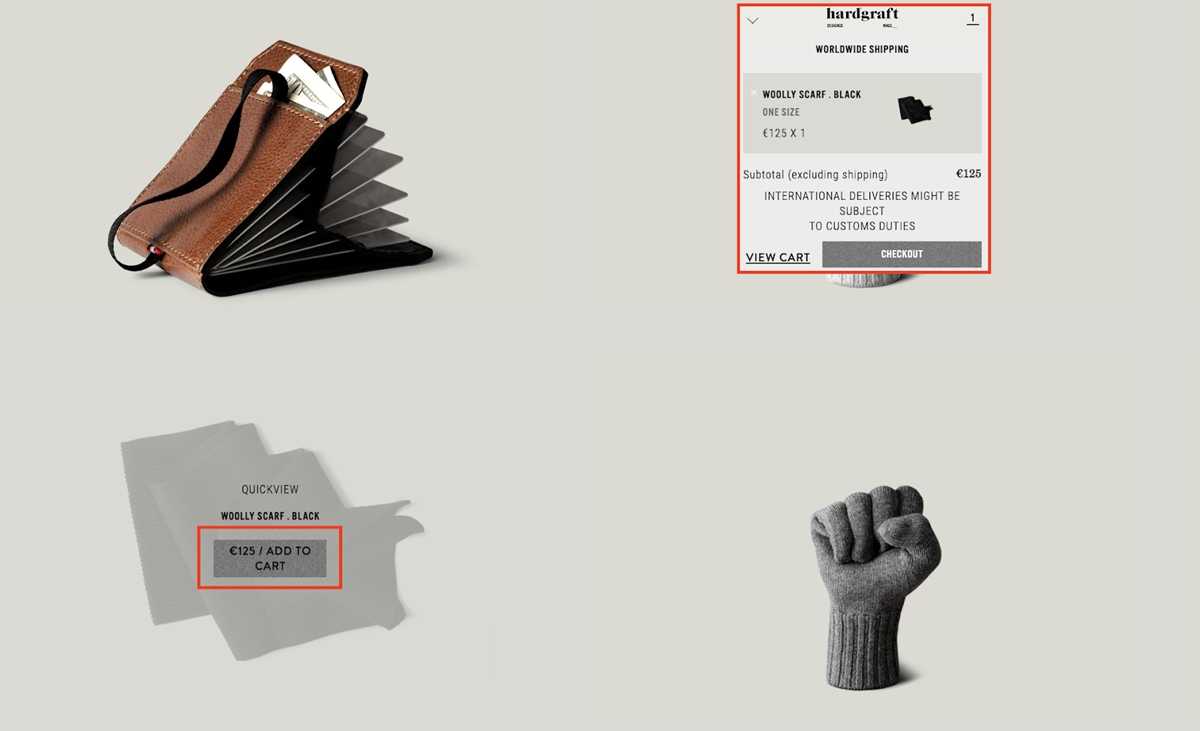 You point at the product, the 'add to cart' button shows up, click it, then check out, everything on just one page.
This guy is not wordy at all, but super visual; lots and lots of pictures are used to describe the functionality of the products.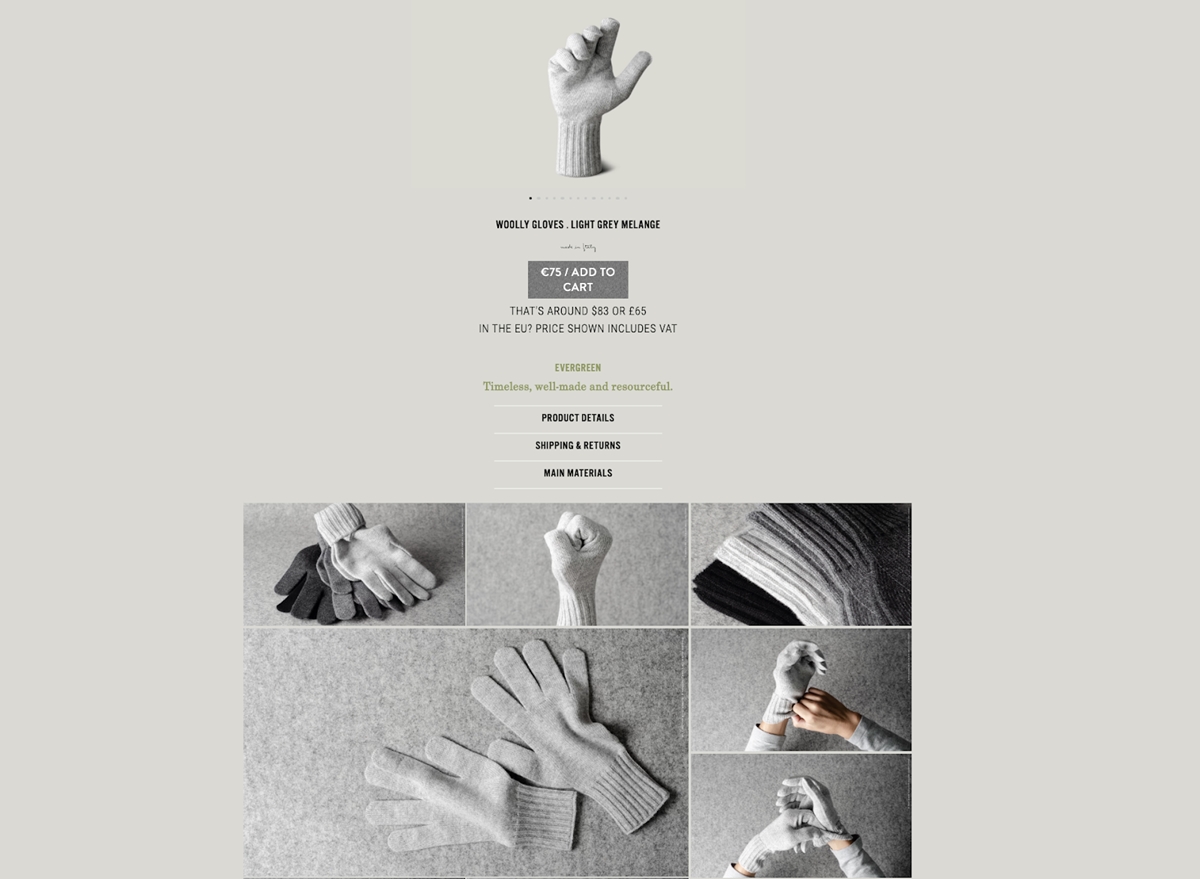 It would be even better if they can add two arrow buttons here for the sliding; I had to slide with my mouse, which was exhausting. You can click on those small points under the picture, but you gotta be very precise.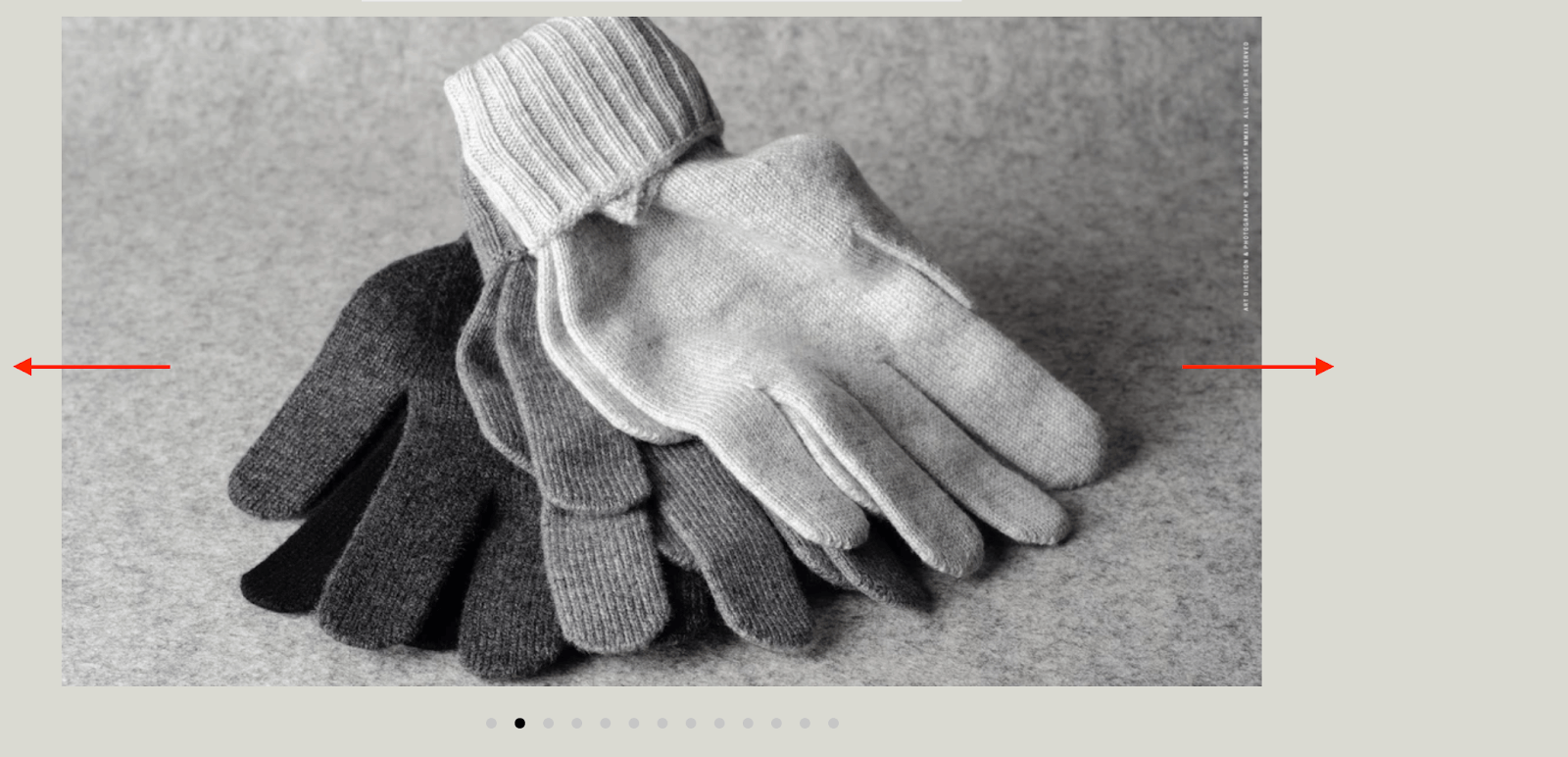 17. Happiness Abscissa - Perfumes store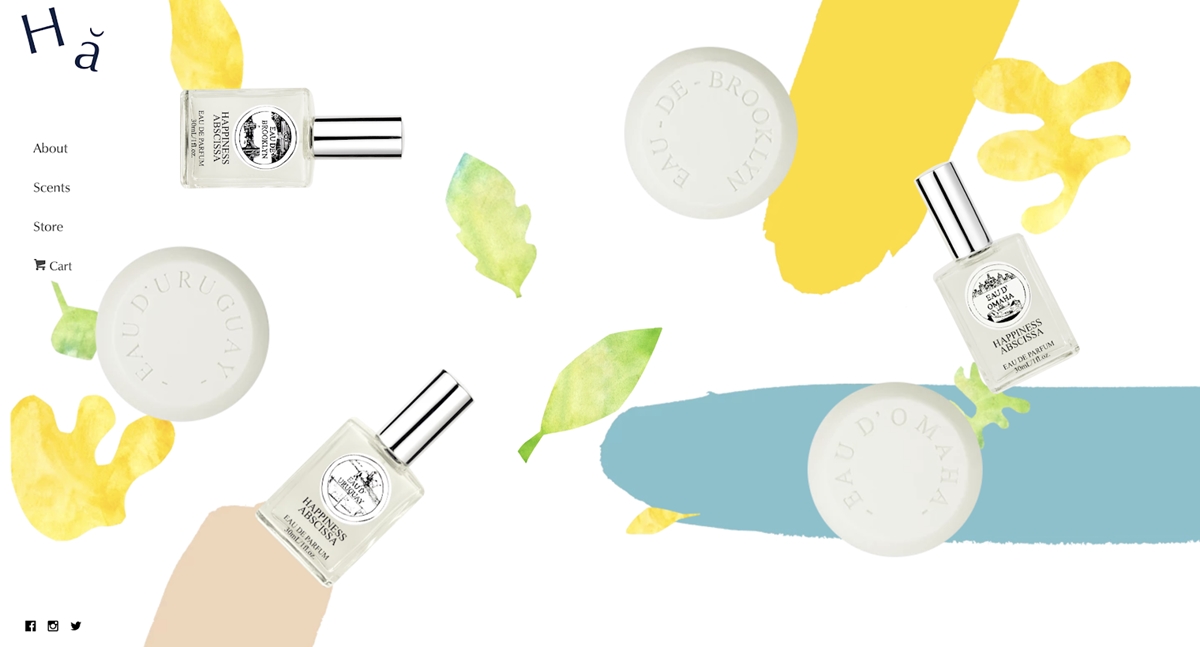 This company is selling perfumes. The product range is quite limited, but the web design is quite cool and playful.
This is a great example of "you don't need a lot of money to open a business." Although the entire imagery is made with graphic design software, probably Adobe Illustrator, it still looks appealing.
18. Madsen - Fashion store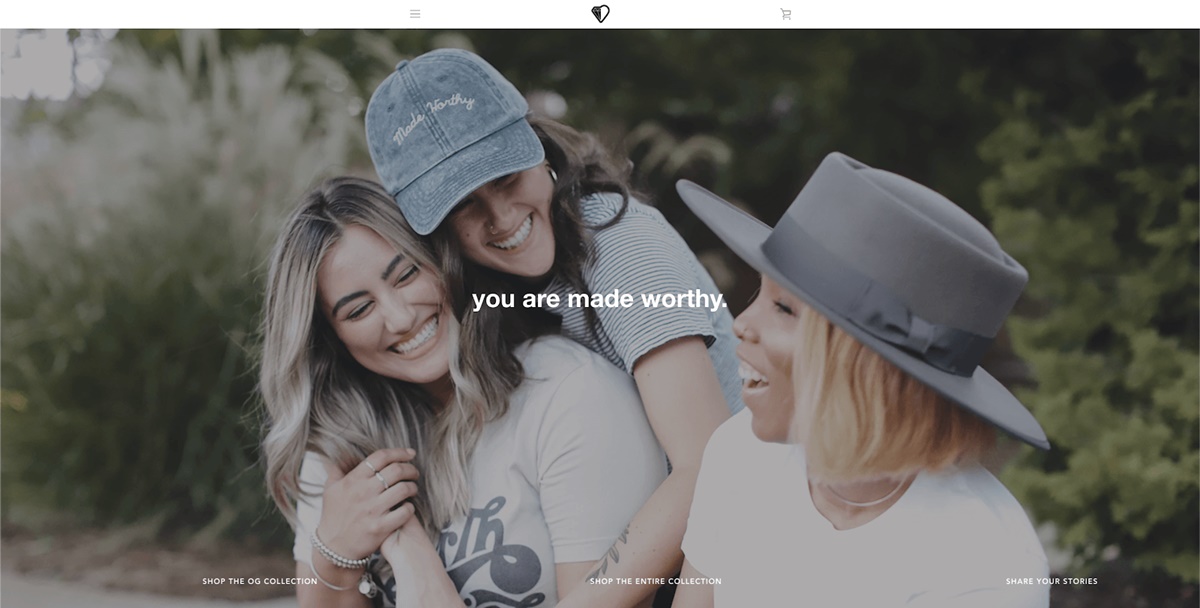 I have noticed a common theme when it comes to Shopify that is stores like to embed a video on their website. This is a great way to showcase their product and impress customers visually. Inventing money in making good-quality videos about your product makes you look more reliable and professional. Madsen has done that too.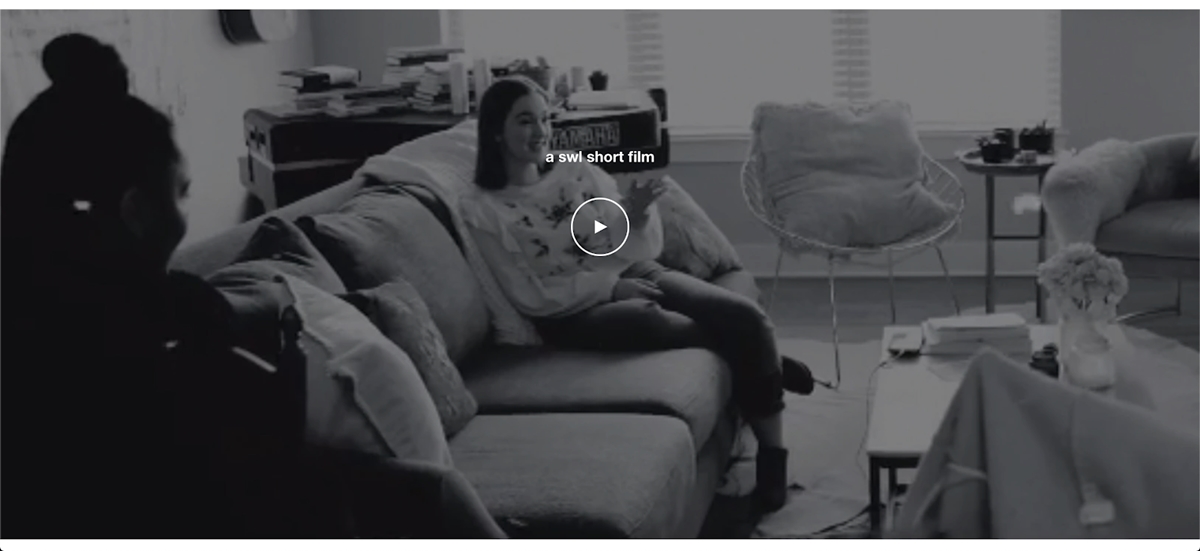 This store does not have any unique features, but I really love the overall design of the website. It looks warm and loving, which I think reflects the brand atheistic.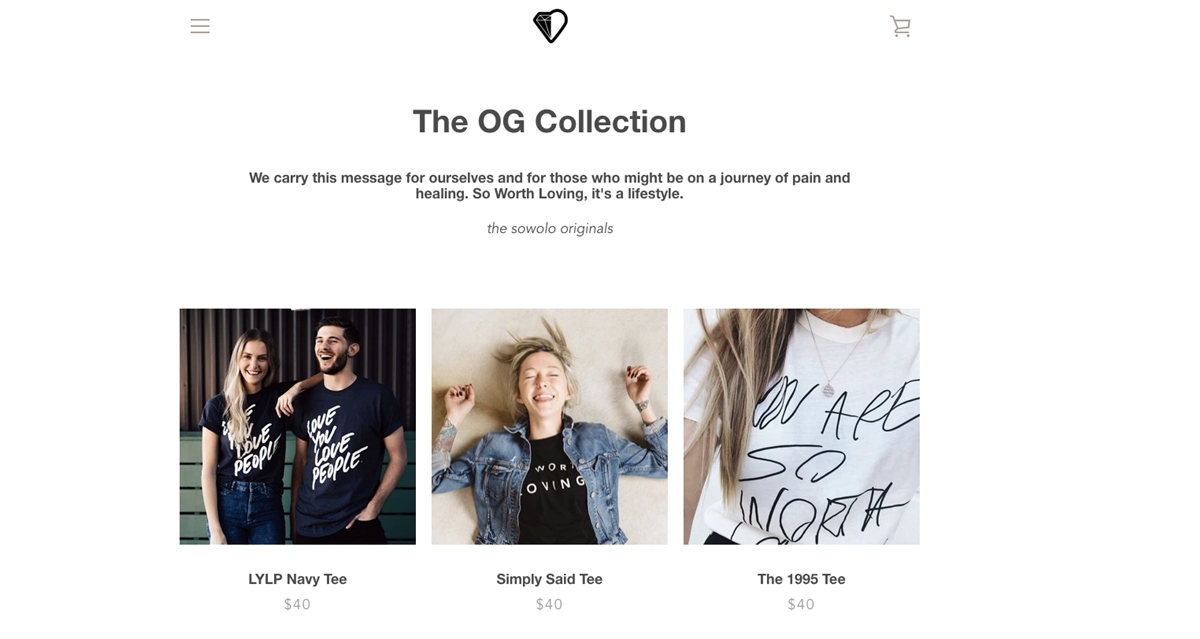 19. The Great Divide - Clothes store
This store is a stockist of several brands. Though the website structure is mainstream, it categorizes its many products very well and has this blog section that every online store should have.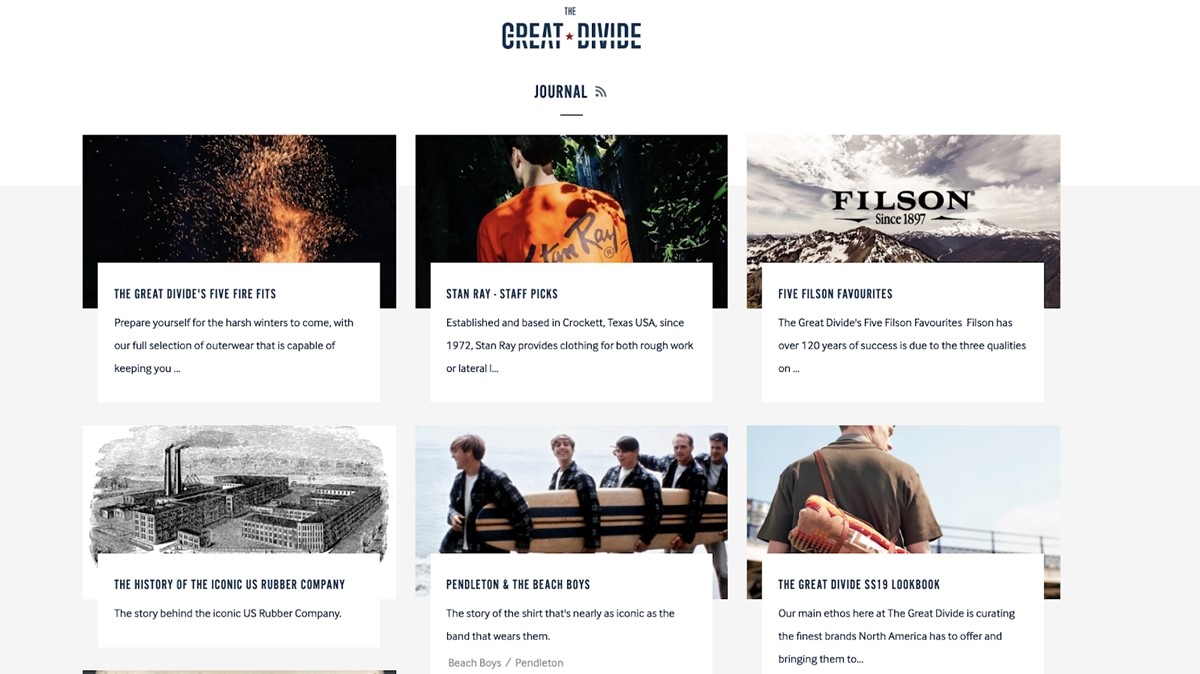 In this blog, the store writes about how to mix and match clothes from their store. This will help increase sales volume because if people know that there's a pair of shoes that matches the pair of pants they're about to buy, they can probably buy it too.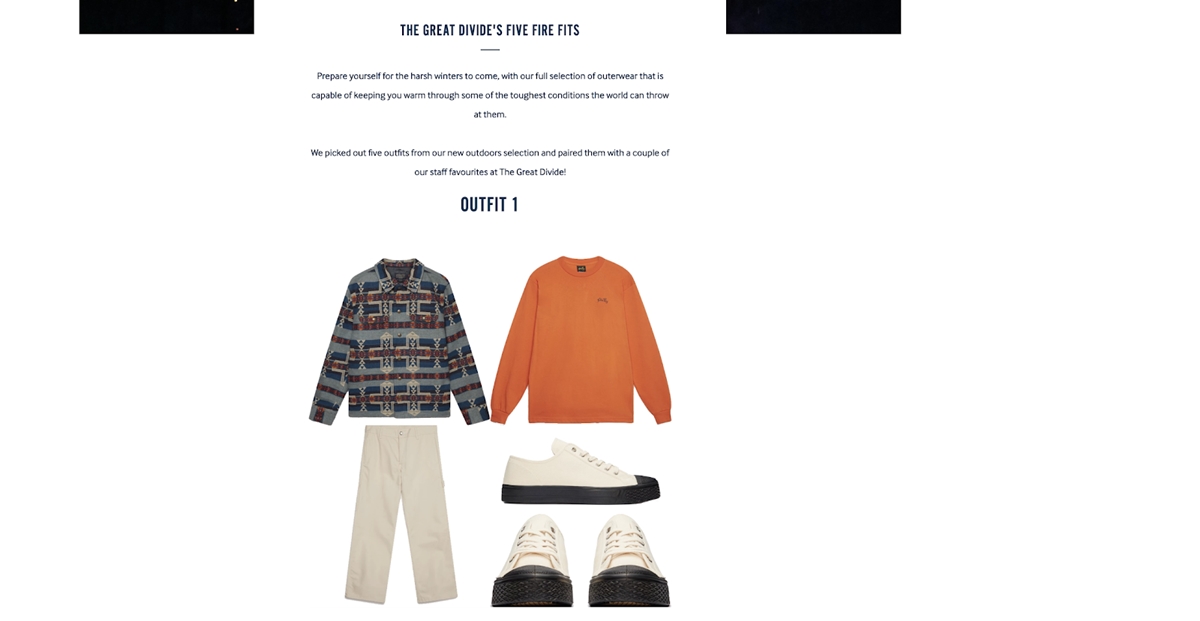 Read More:
20. Yoga Rebel - Yoga clothes store
You can find a lot of yoga pants here. The front page is full of well-taken pictures, which will attract interest a lot easier. They put a little line at the top of their website for promotion, but I think it's better to create a pop-up; this line is quite small and can go unnoticed.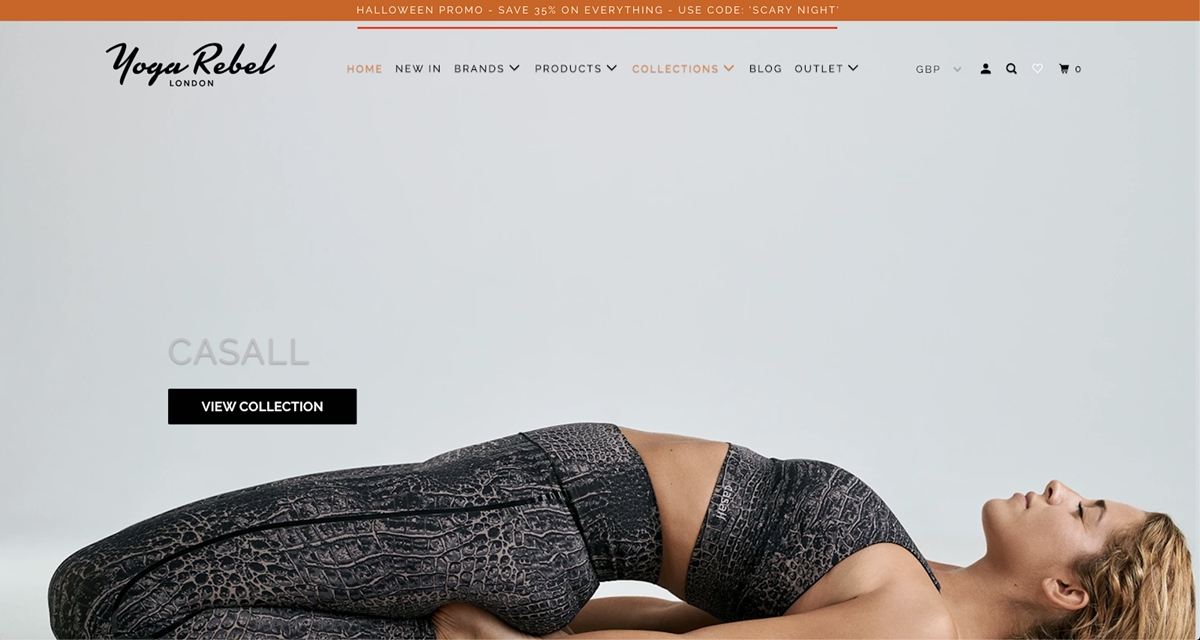 This store goes the extra mile with their social media presence and embeds both Twitter and Instagram on their website. If you are present on more than one social media channel, you should do that too.
21. Destination Towels - Beach Towel store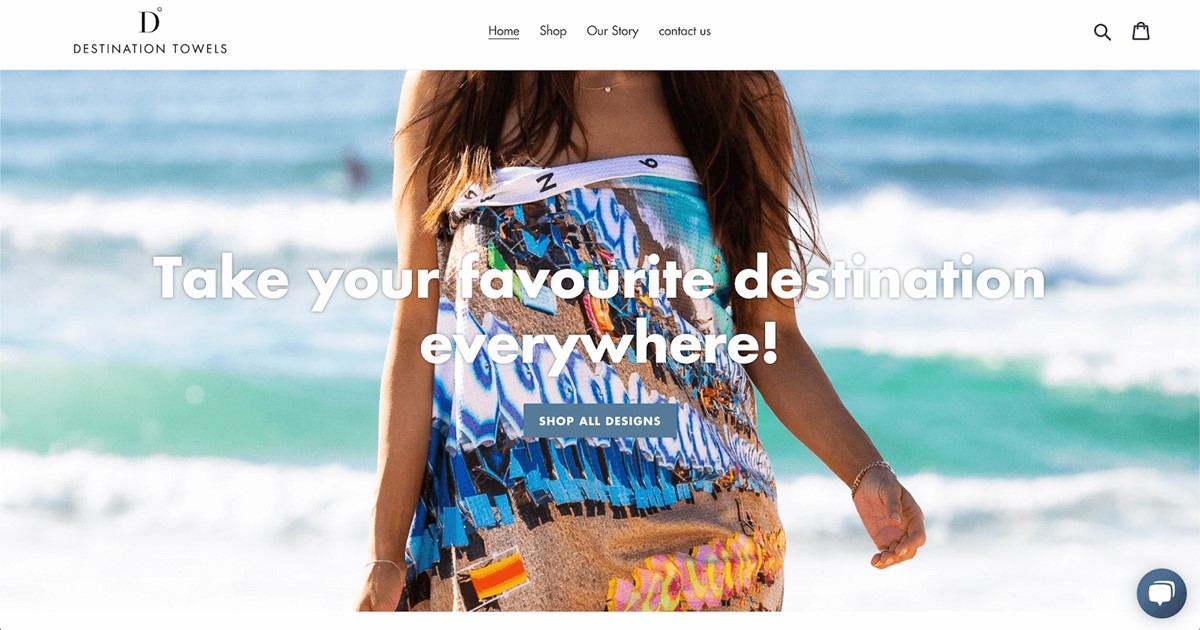 This brand makes a simple commonly-used product, beach towels, into an amazing aesthetic product while still functional and practical. What makes Destination Towels special is the artworks of beautiful destinations from all over the world printed on the towels.
Anthony Glick designs all of his products on his own with his sister's help (a graphic designer). He is a self-taught entrepreneur building everything from scratch by himself, and he emphasizes that Facebook and Instagram are where entrepreneurs should focus on to find customers and develop a sustainable business.
22. Infantnatic - Baby clothes store
Infantnatic started as a hobby of a mother who just wants to dress up her children nicely. Maricel and her business are based in Australia. She officially started her business by building the website with her husband's help. She was not expecting that her business could take off in the first months, but it did.
Maricel wants to advise entrepreneurs that the biggest challenge of running an online business is making sure that customers are happy with the product and the entire experience as a whole so that they will come back and make repeat purchases.
For Maricel, Instagram is the best channel to acquire sales and engage with her customers, and she has been deploying more and more efforts and resources into this marketing channel. She's slowly exploring Facebook ads too.
Recommend: 13+ Best Shopify Baby Store Examples
23. Wallet and Co - Innovative wallet store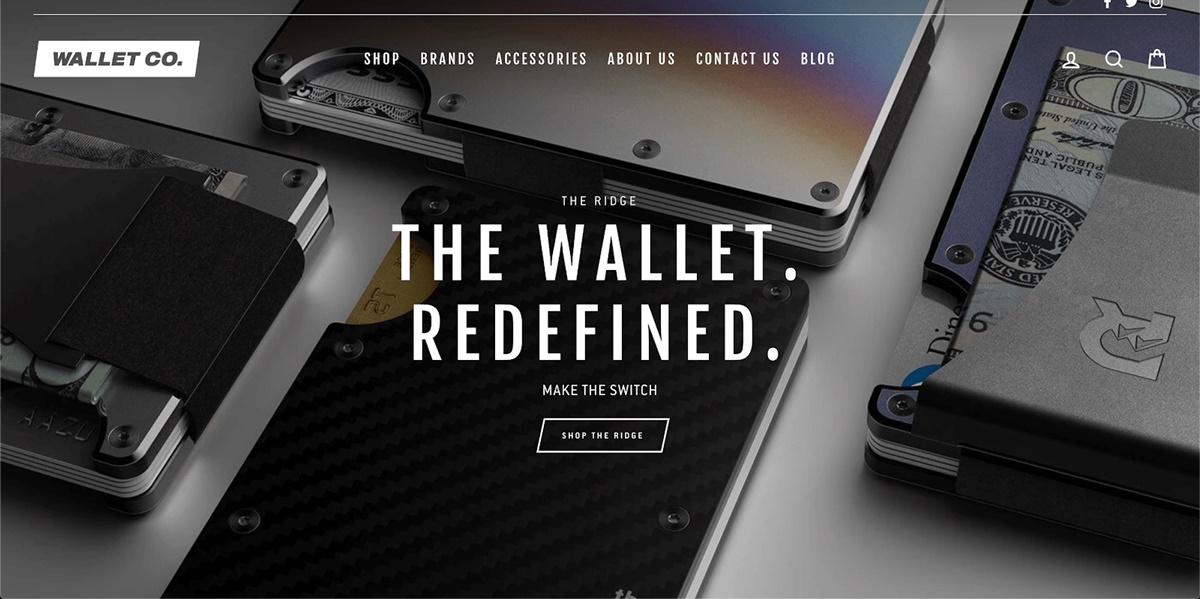 Wallet Co went on and disrupted the wallet market with its innovative compact designs of wallets, which provide customers with the comfort of carrying a thin, lightweight wallet. The black and white theme of their websites gives customers a feeling of minimalism and professionalism that matches the business concept.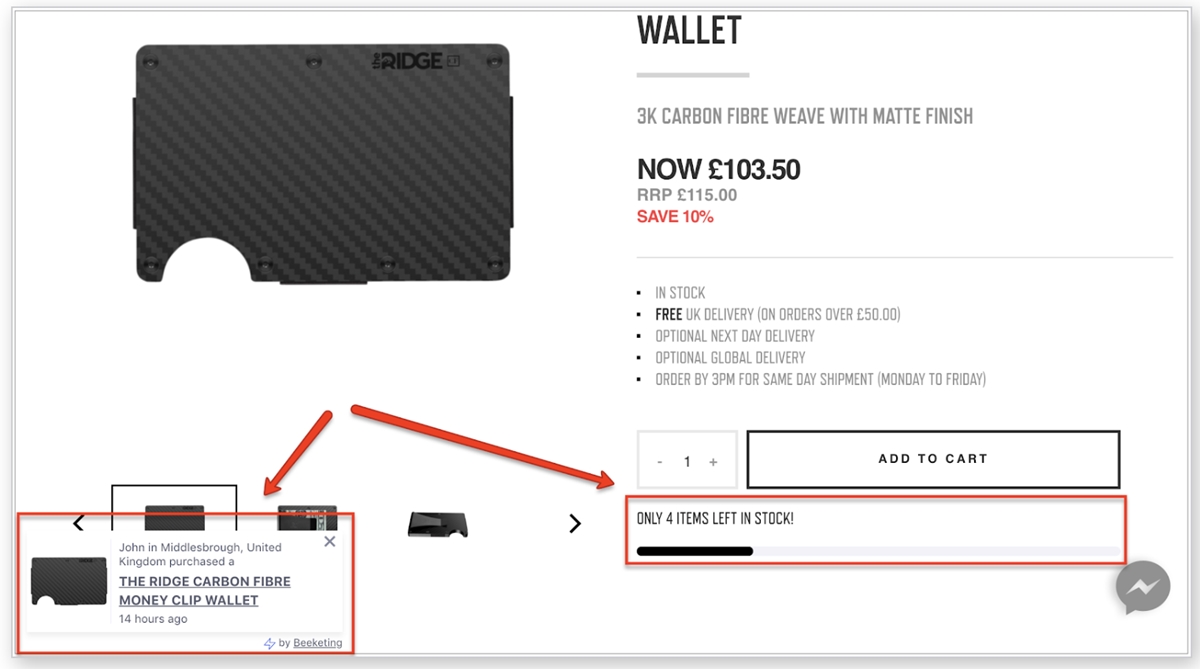 Wallet Co implements these two features to create urgency and increase trust with customers.
24. The Tago Shop - Smart jewelry store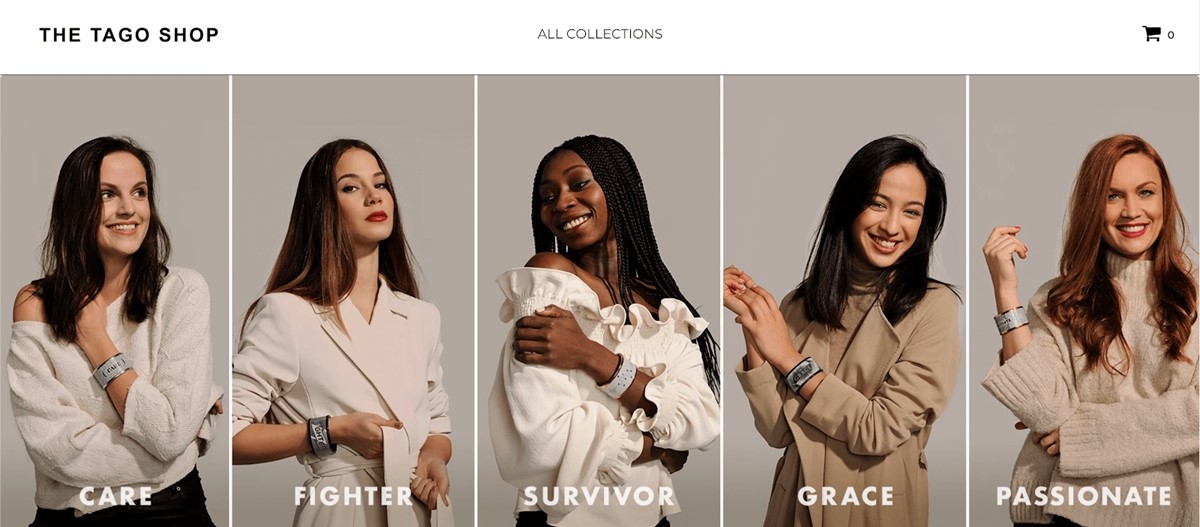 The Tago Shop is selling something that is truly innovative; "smart" jewelry. What this product allows customers to do is personalize the design based on their daily outfit. Their sales revenue is growing at an average rate of 20%. They even have a dedicated sales team who focuses on educating target customers about this high-tech piece of jewelry.
25. Viking Lair - Viking jewelry store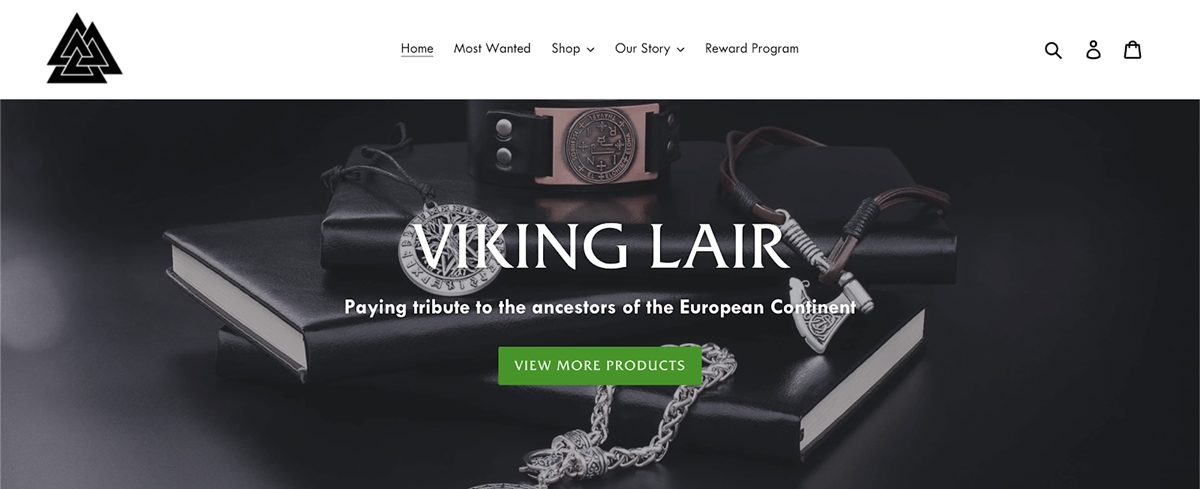 This is where the old Vikings' culture and styles are treasured. Anyone who is a fan of Viking-movies or inspired by this European culture can find a piece of jewelry that they will love in this store.
Viking Lair used to be unsuccessful until it was bought by Titus. After the relaunch, sales started growing; the average monthly sales is $8,000, while the maximum can fall into anywhere between $15,000-$30,000.
Titus usually tests three to four advertising campaigns at a time in order to find which one is the best for his store.
Read More: 10+ Shopify Jewelry Store Examples
26. Maraya's Marketplace Store - Kids accessories and toys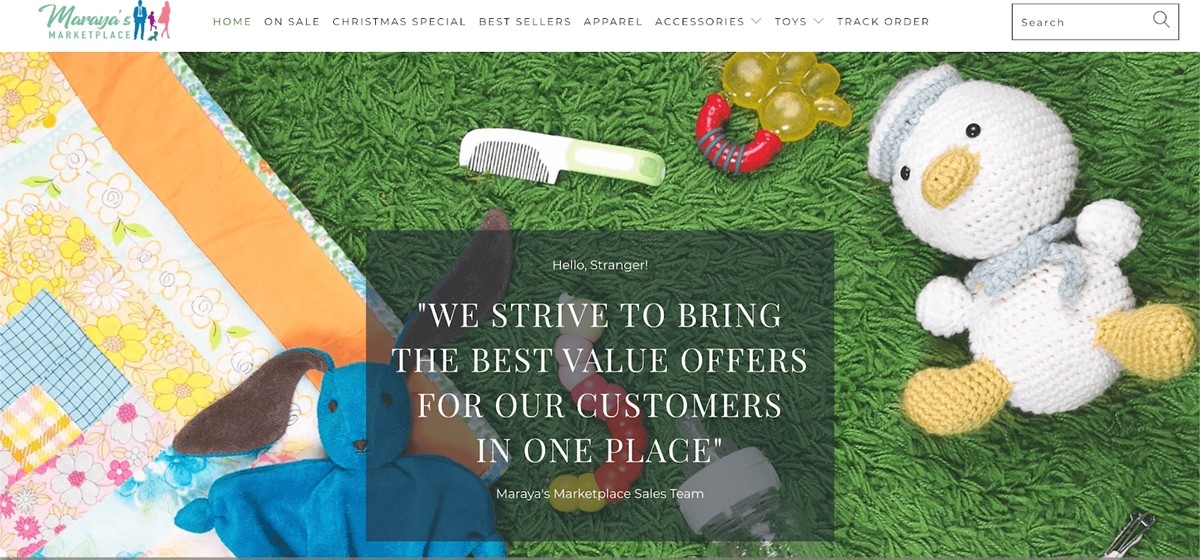 Maraya started a general store not long ago but found no success, then he decided to specialize in a niche that seemed potential: baby accessories. 2 months after that, his business has achieved an impressive result that many entrepreneurs dream of: US$14,000 in sales within a week at a conversion rate of 5%.
Maraya's key to success is that he is not afraid of trying new things to find out what truly works for him, from doing a lot of testing with Facebook ads to implementing tools for conversion optimization.
"Sometimes you have to lose money in order to make money,'' Maraya said.
27. All birds - Shoes and socks store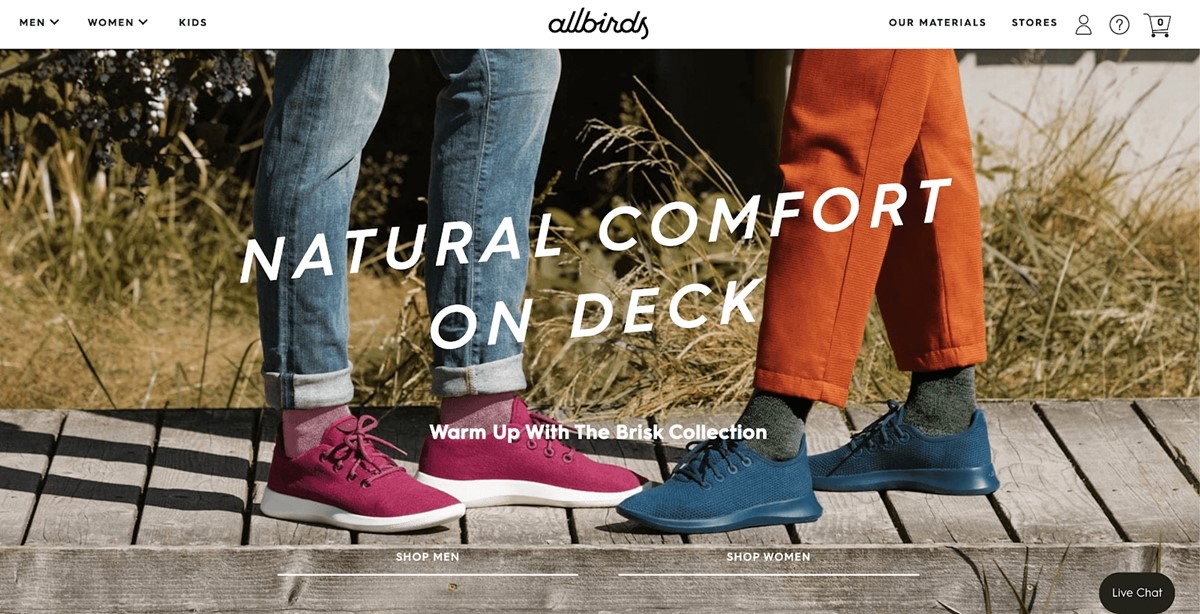 Allbirds is a footwear startup in Silicon Valley that is now worth about US$1.4 billion. The website matches its big personality; large bright well-taken product and lifestyle photos are in alignment with the materials their products are made of and the purpose they follow.
28. Great George Watches - Square watches store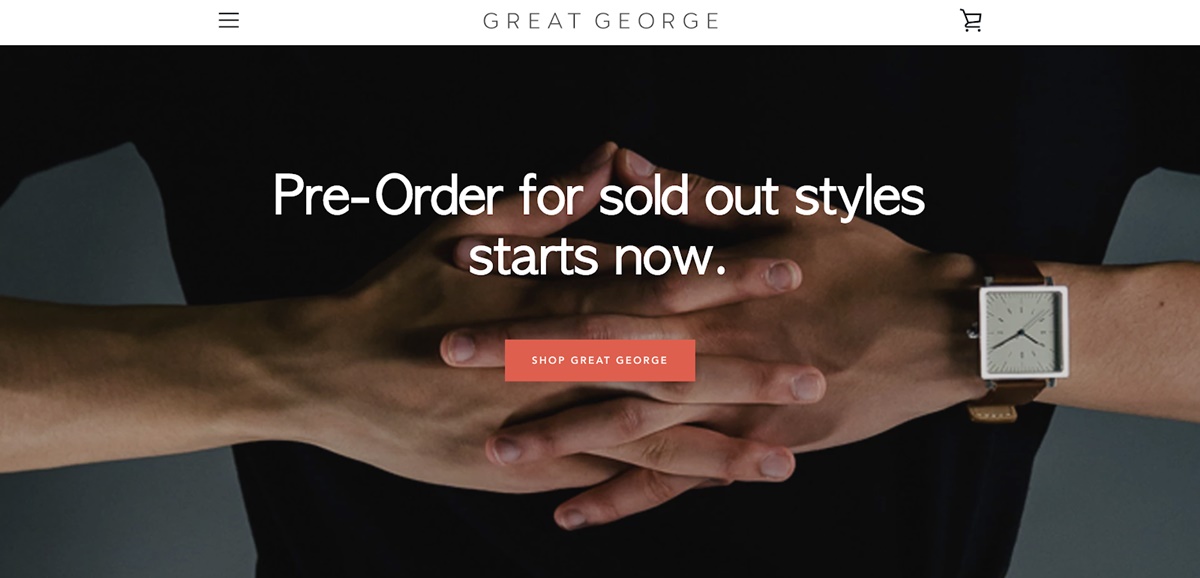 The design and structure of this store are quite basic; nothing I find special. But, if you're selling watches, it helps to note that high-quality product photos that highlight the fine details of your watch are essential. Great George Watches have taken great pictures of their craftsmanship and put them at the forefront of their website.
Shopify stores example for Cosmetics
29. B'DESIR - Cosmetics store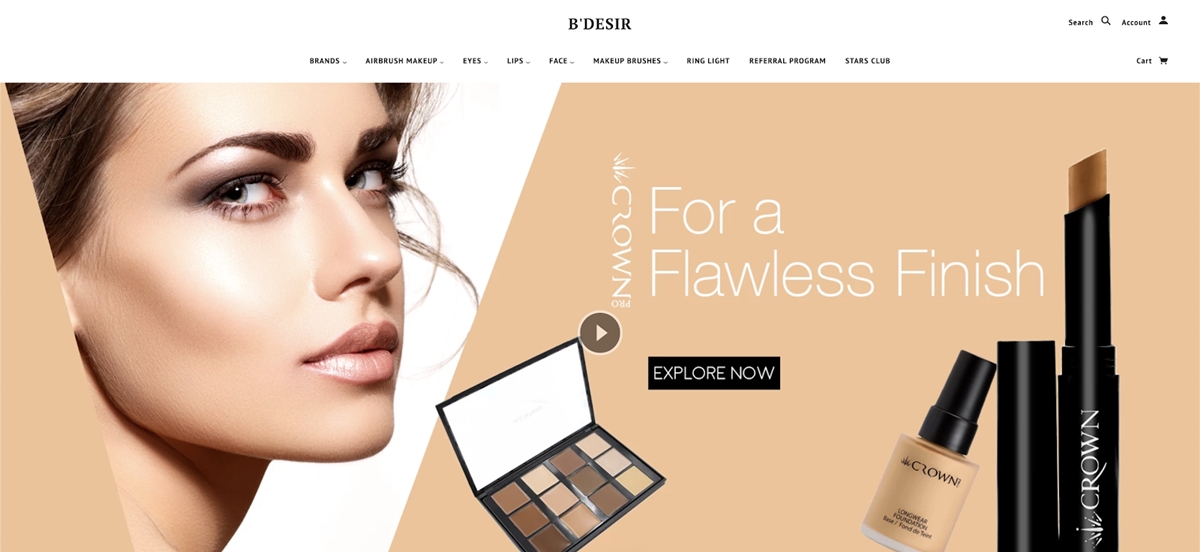 Before expanding to digital space, B'desir had been selling cosmetics in brick-and-mortar stores for five years. When it launched its presence online recently, nearly 400 orders were fulfilled, and that brought about US$40 million in revenue in the first 30 days.
B'desir is pretty aggressive in lowering cart abandonment rate as much as possible, and they have found these two tactics work the best:
Call the unfinished checkouts directly and ask them why they abandon their carts, as well as encourage them to finish the checkout.
Urge customers to complete checkout with a time-limit incentive offer.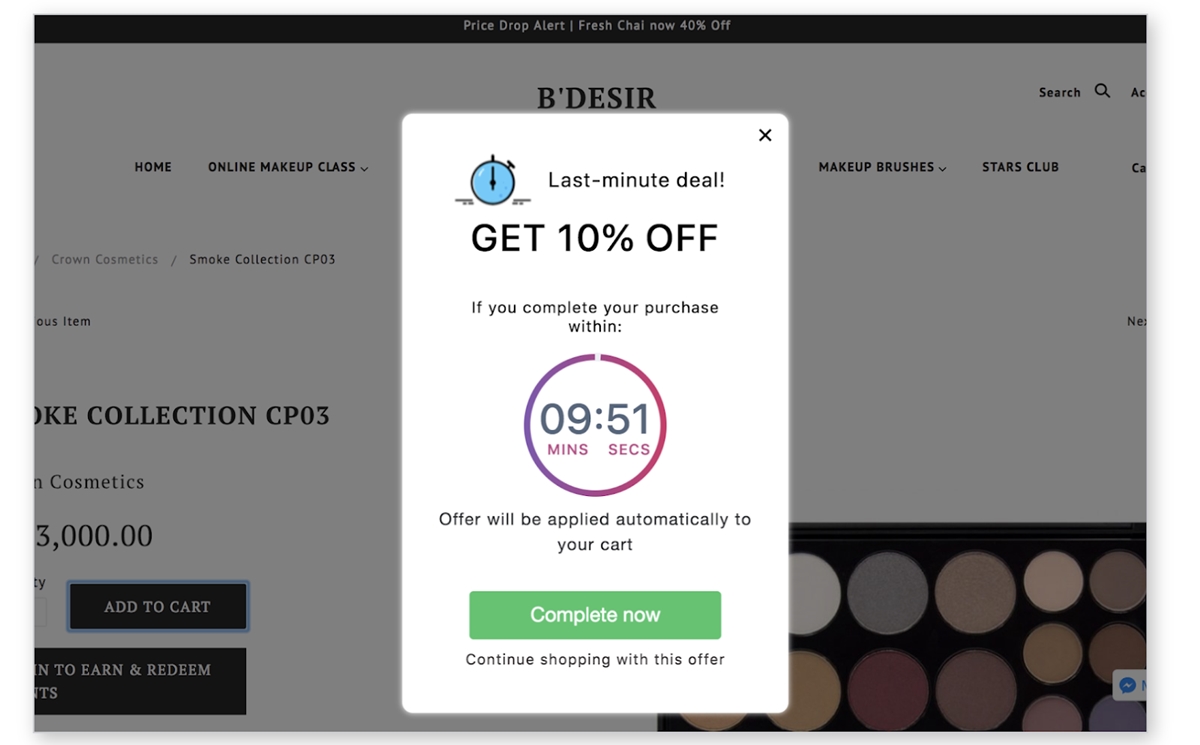 30. KKW Beauty - Best make up Shopify store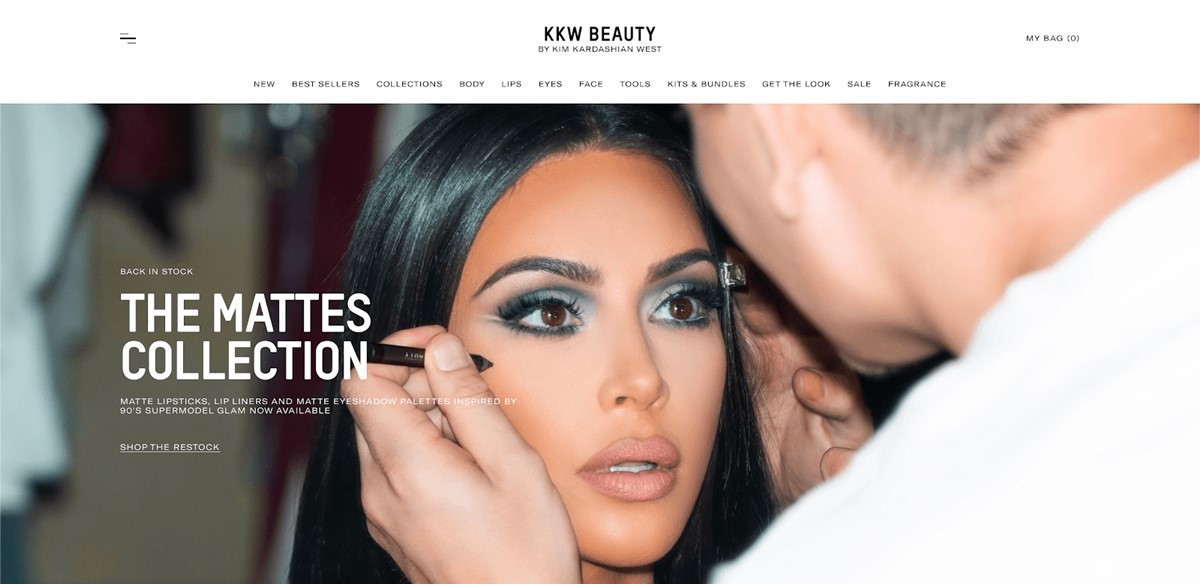 Yes, this store is owned by Kim Kardashian, one of the many celebrities out there who use Shopify to sell their products. KKW is just as famous and popular as Kim herself; periodic sales often sell out in minutes, which makes KKW one of the best make-up Shopify stores on the market. Kim is not the only reason that buyers come to the store; the high-quality products, beautiful product shots and appealing aesthetic theme of the site make purchasing satisfying.
One of the main things that catch visitors' interest when they stumble on your website is the colors and images you use and how they reflect your brand aesthetic. Aligning these two factors will help a feeling of pleasure and harmonization. This is one of the reasons why some Shopify themes are liked more than others - the harmonization of colors and brand aesthetics.
Shopify stores example for Food and Drink
31. Prymal - Healthy Flavored Creamer store

Prymal is a small business selling sugar-free creamers for coffee lovers who suffer from Diabetes conditions, starting with $2,000 in revenue in January 2018 and then growing to $35,000 by the end of that year.
The Prymal story starts with the love a grandchild, Courtney, had for her dad and granddad, who was suffering from Type II Diabetes. The old guys loved coffee so much, and they did not want to give it up for the conditions, so Courtney spent one and a half years to develop this sugar-free coffee. That allowed her dad and granddad to continue to drink tasty coffee every morning without affecting their low-sugar diet.
She got some friends interested in trying her products, and then they turned out to be her early adopters and brand advocates. These people shared their experience with Prymal creamers on Instagram, and the brand was born.
Courtney truly believes in these healthy products and hopes that it can continue to enable people with a low-sugar diet to have tasty coffee. She started developing the Prymal brand by coming up with more great flavors and executing marketing campaigns on Instagram by herself. She officially launched Prymal in 2019, and the brand has been growing strongly since.
32. Wines Wholesales - Singapore wine store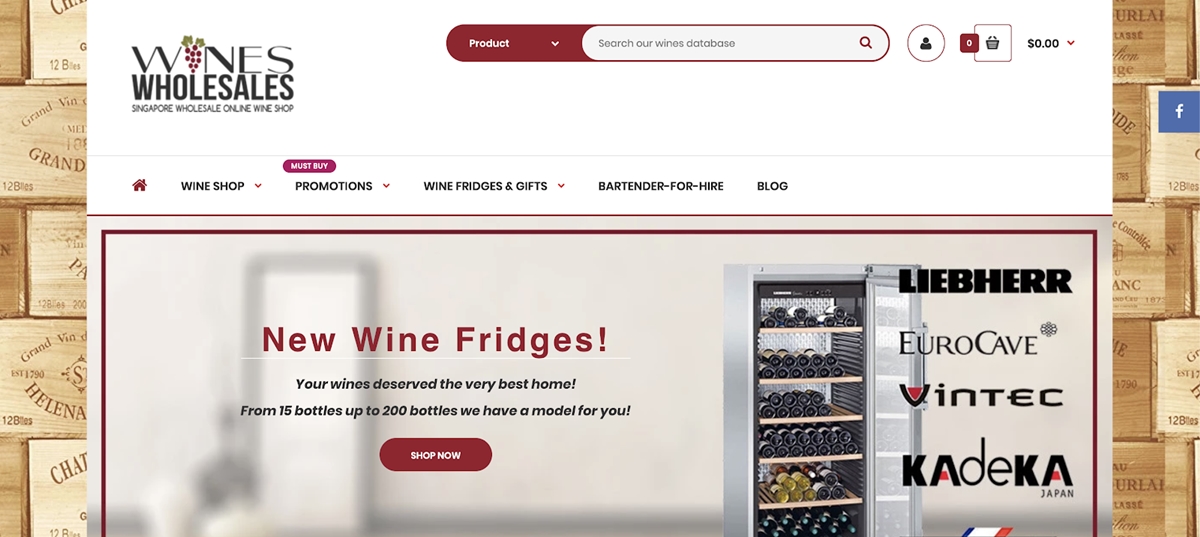 True to its name, this business is selling a collection of over 1,000 products at fair wholesale prices. Wines Wholesales doesn't have a brick-and-mortar store, which enables them to maximize the reduction of overhead costs such as rent and labor.
Kelvin, the owner, shared that as their revenue is totally dependent on online channels, maintaining traffic is his main concern. After having experimented with different digital marketing approaches, he found that Google is the key. He spends most of his efforts on both SEO and Google Adwords to reach potential customers.
33. SkinnyMe Tea - detox teas store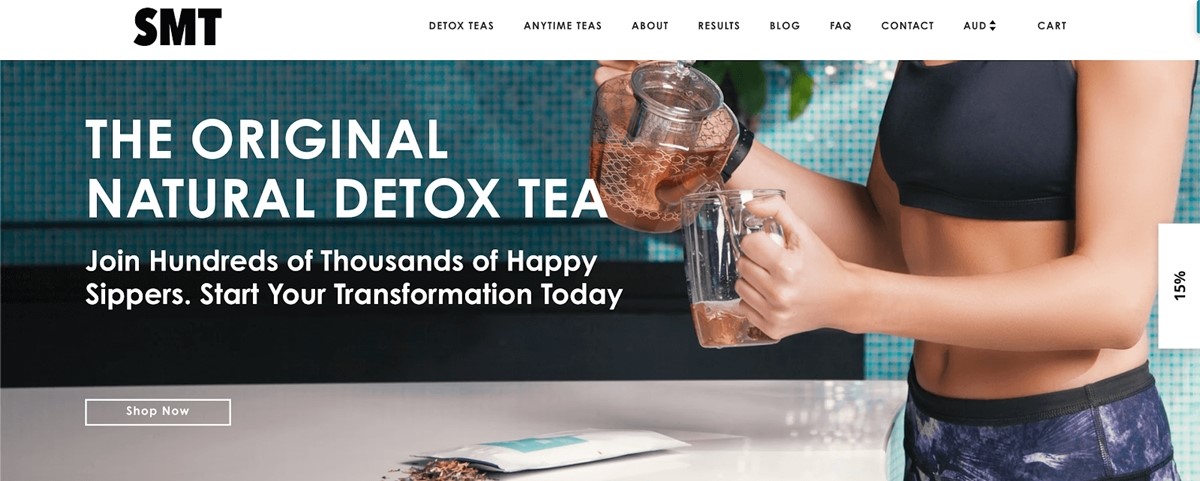 This Austalian-based company launched in 2012 with the mission of helping people who want a healthy lifestyle with its all-natural detox teas. 9 months after that, this Shopify-powered store had earned US$600,000 in monthly revenue and a massive number of followers on social media. Today their teas have become popular worldwide.
SkinnyMe Tea actually does not sell tea, they promote a healthy lifestyle and their tea is the solution to achieve that lifestyle. They have a dedicated blog on their website to write about health, fitness and wellness. Blogging is a great way to build up a community for the product niche you're targeting, and it will help you connect and attract readers who believe in the mission you're setting out to achieve.
Shopify stores example for Art
34. Pop Chart Lab - Infographic posters
This company says they make infographic posters about everything, and I believe so.
I don't know how they do this, but this feature is really cool; when you point to any of those underlined words, a picture represents that category popping up.

Anything on this website is also really big if you consider that an inspiration.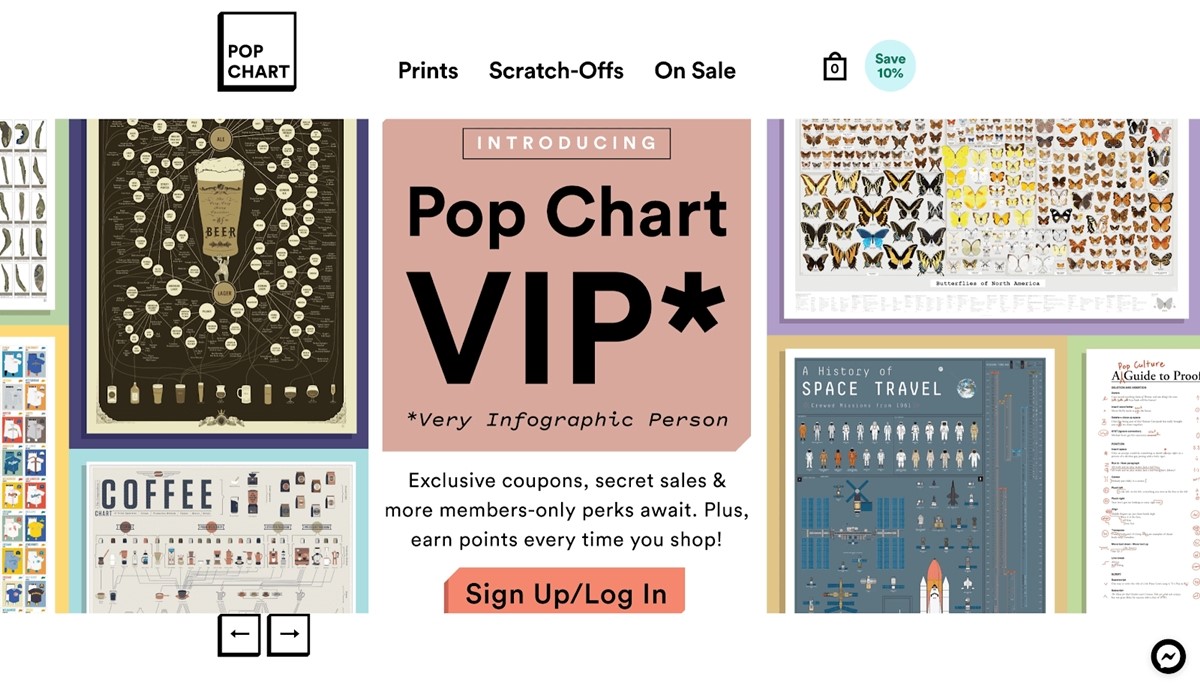 Oh, remember to put this 'go up' button at the end of your page so that your customers don't have to scroll all the way up.

35. Factory 43 - Quality graphic goods store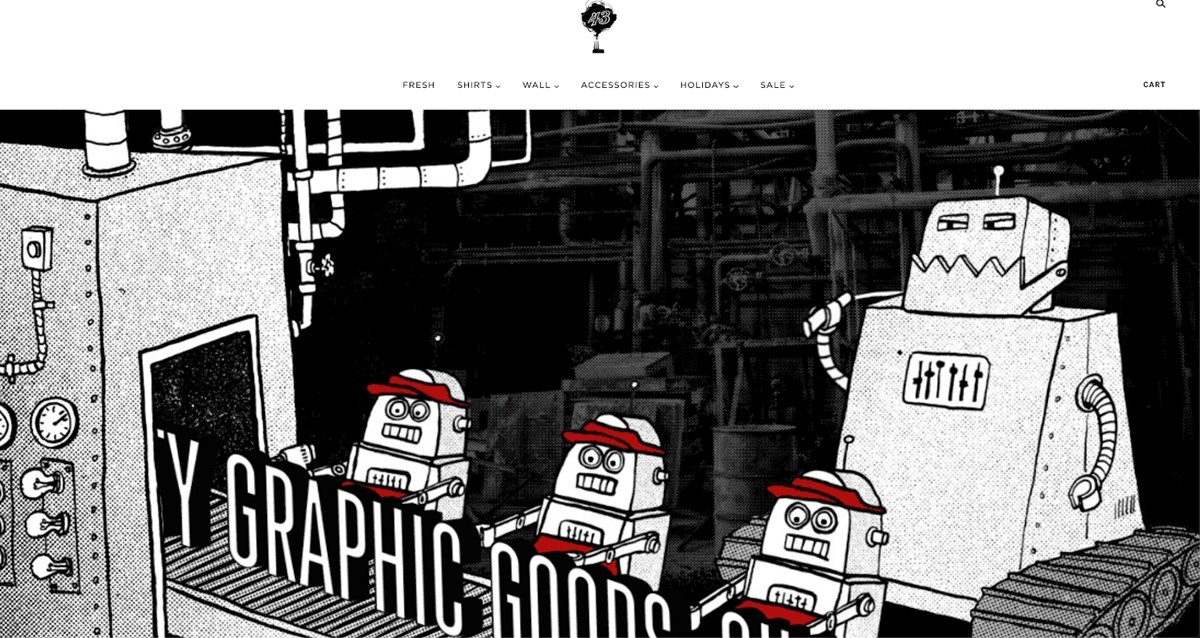 You will love their cover photo on the home page; it's so funny and creative. While their website structure is quite basic (made of several horizontal blocks), the way the store displays its product and content is really attractive lots of well-designed pictures).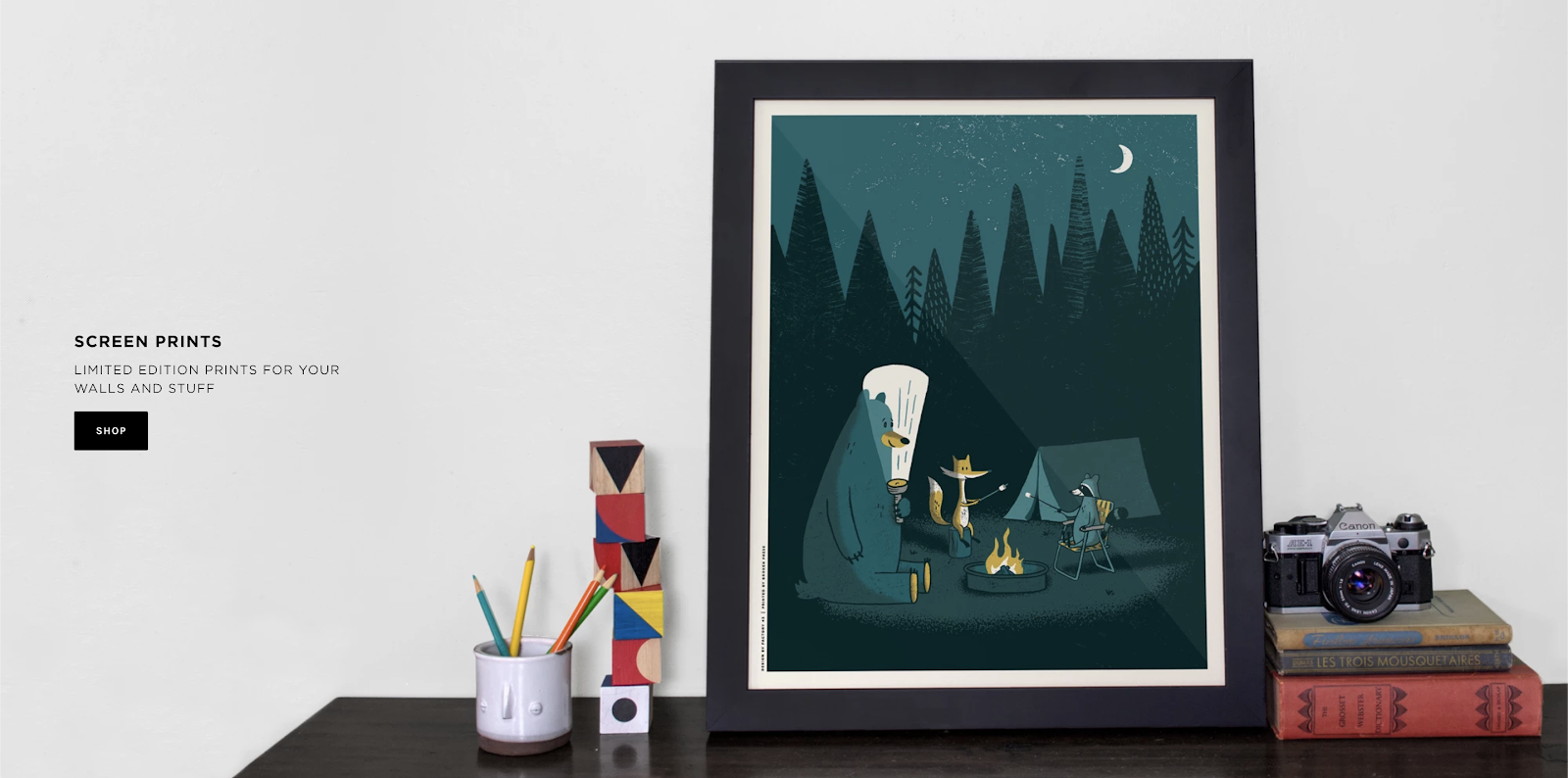 One cool feature it has is this; you don't have to click on the product to see what it looks like, and you can see the entire collection without having to be in and out of the product page.


Final words
To summarize this, here are the top 5 things that these successful store examples have
These are all great sources of inspiration for you to look up to. Most of these examples make thousands of dollars every month. I hope that this article has given you insights into useful features that a top shopify store should have, and the successful examples have inspired you to take action.
And if you think there is any inspirational store example on Shopify that we haven't added to our list, feel free to let us know in the comment box below.
Good luck on your journey!
Related Posts:
Subscribe
Stay

in the know

Get special offers on the latest news from AVADA.
40k
subscribers has been joined!
Earn $10 in reward now!