19+ Best B2B Email Marketing Templates To Drive Revenue
B2B email marketing is, without a doubt, the most successful way to reach out to other organizations. You may create leads, distribute product information, and cultivate long-term partnerships. However, there is one major stumbling block.
Everyone utilizes something that works so nicely. In fact, email is used by 85 percent of B2B marketers to generate leads. To stand out as the most popular digital marketing technique, you'll have to fight your way past all of the other B2B marketing emails in your contacts' inbox.
Rather than going over a long list of best practices, I'll show you some of the best B2B email marketing templates to demonstrate what works. This way, you'll have a better idea of what strategies to apply and can receive ideas from B2B firms that are clearly succeeding.
Let's get started!
What do you need for a good B2B email marketing campaign?
Before we see the templates, here are some steps to make sure that your B2B email is good enough before sending.
1. Make sure the email has an exciting subject line:
Because the subject line is your gatekeeper, you should devote half of your email work to creating and testing multiple subject lines. You want to produce an intriguing subject that is both thrilling and credible (not spammy or sales-y).
Make your subject line interesting and informative to stimulate the recipient's interests in the email body — and do some research on the prospect so the subject line is tailored to them.
2. Include an enticing offer:
Give your prospects a compelling reason to reply, as well as a straightforward call to action. "Almost double their monthly sales rate", who wouldn't want that? Mentioning your previous success with a client they've heard of makes this offer seem more feasible and reasonable. To make your offer even more appealing, include pertinent data and statistics.
3. Make the copy feel personal and natural:
When you're excessively formal, you come across as stiff and more like a salesperson than a human.
Try to make the email less aggressive and more in line with where the receiver is in their buyer's journey. Do a last read-through of the email before sending it to ensure that it has a conversational and natural tone.
19 Best B2B email marketing templates
Many of the ideas listed below can be used as a B2B email template for your email marketing campaigns. Examine the email's design, structure, and content.
While reviewing these emails, consider the following questions:
Is this an email that has been tailored to the audience?

Are the campaigners aware of their target audience?

Is there a clear call to action?

Is the language useful?

Is it a feature list rather than a benefit list?
Take note of what resonates and what doesn't in your B2B email design because it can have a huge impact on lead generation.
1. Welcome email from Marketing Sherpa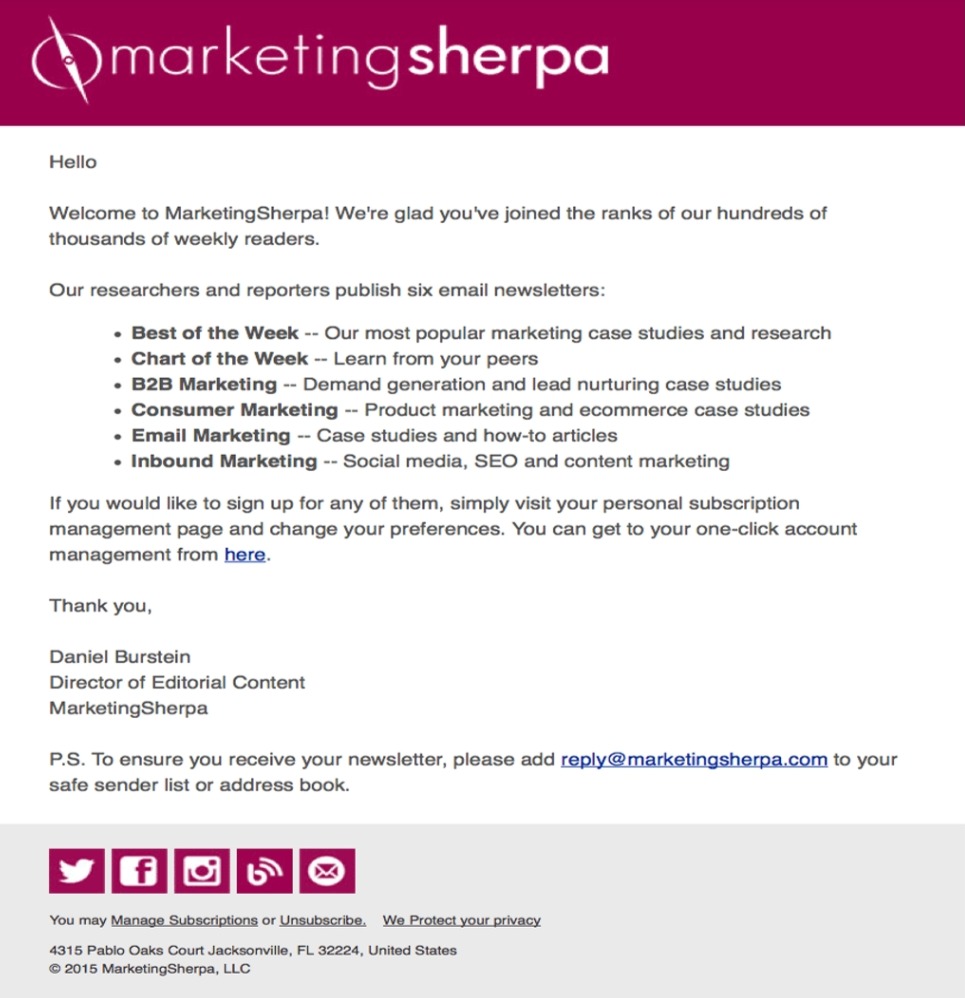 The first impression a company creates on new subscribers is through a welcome email. Welcome emails have a 4x greater open rate than typical promotional emails, and they produce 320 percent more income per email. Set up an automated email to say "Hello" and set expectations when a subscriber signs up.
In the example above, MarketingSherpa welcomes new subscribers to the community in the subject line of their email, followed by a list of all the newsletters available to the reader. MarketingSherpa segments its new subscribers by providing a variety of possibilities.
It's straightforward, personalized, and a clever approach to remind your new leads why they joined up in the first place.
2. Announcement email from Atlassian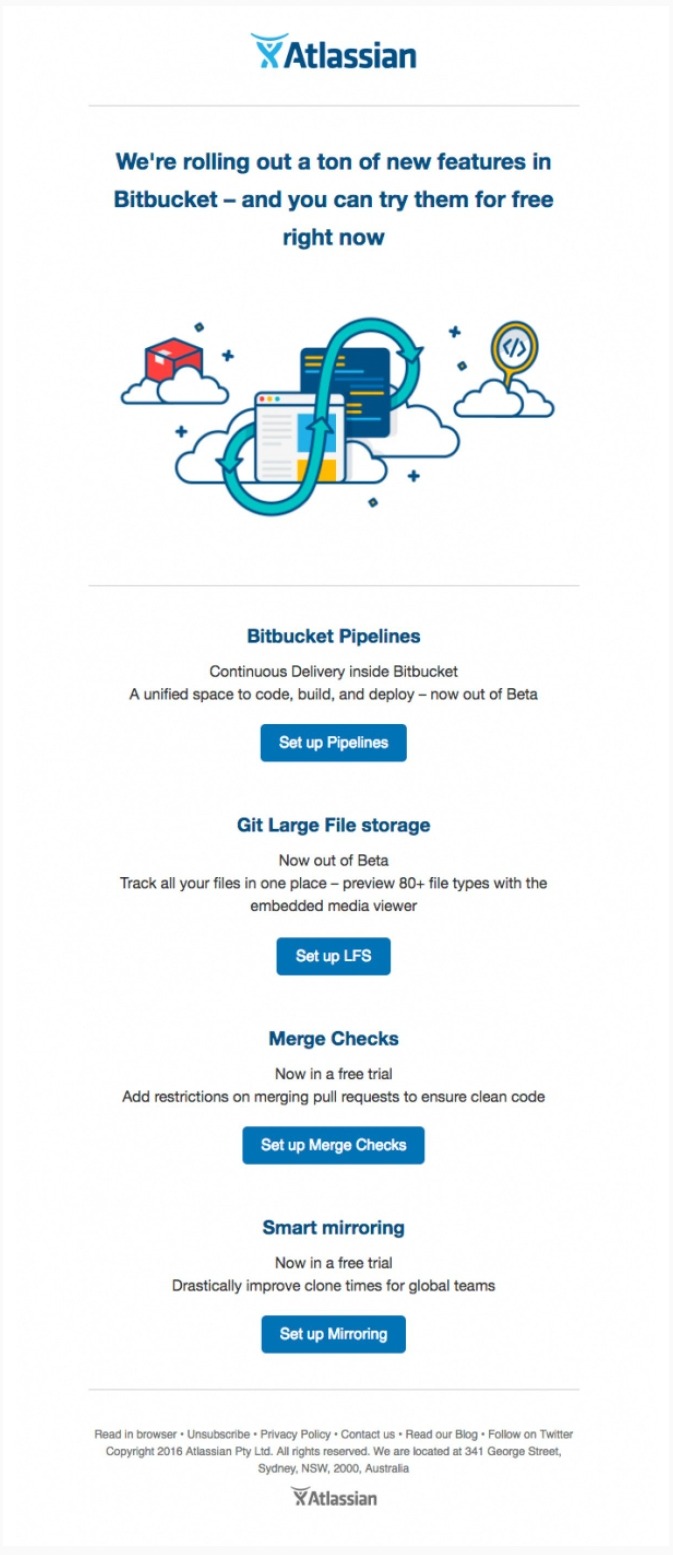 Have you added a new feature to your website? Have you created a limited-edition item? Do you want to set up pre-orders? It's something you should share with your audience! An announcement email creates excitement and encourages your readers to participate. You may even include CTAs, like Atlassian did below, so that subscribers can click straight to the content that interests them.
Atlassian's well-designed new service announcement email summarizes all of the company's recent developments. The blue call-to-action buttons stand out against the white background, and clear, brief captions explain what each new feature delivers and how it will benefit their clientele.
3. Product announcement email from PixelMe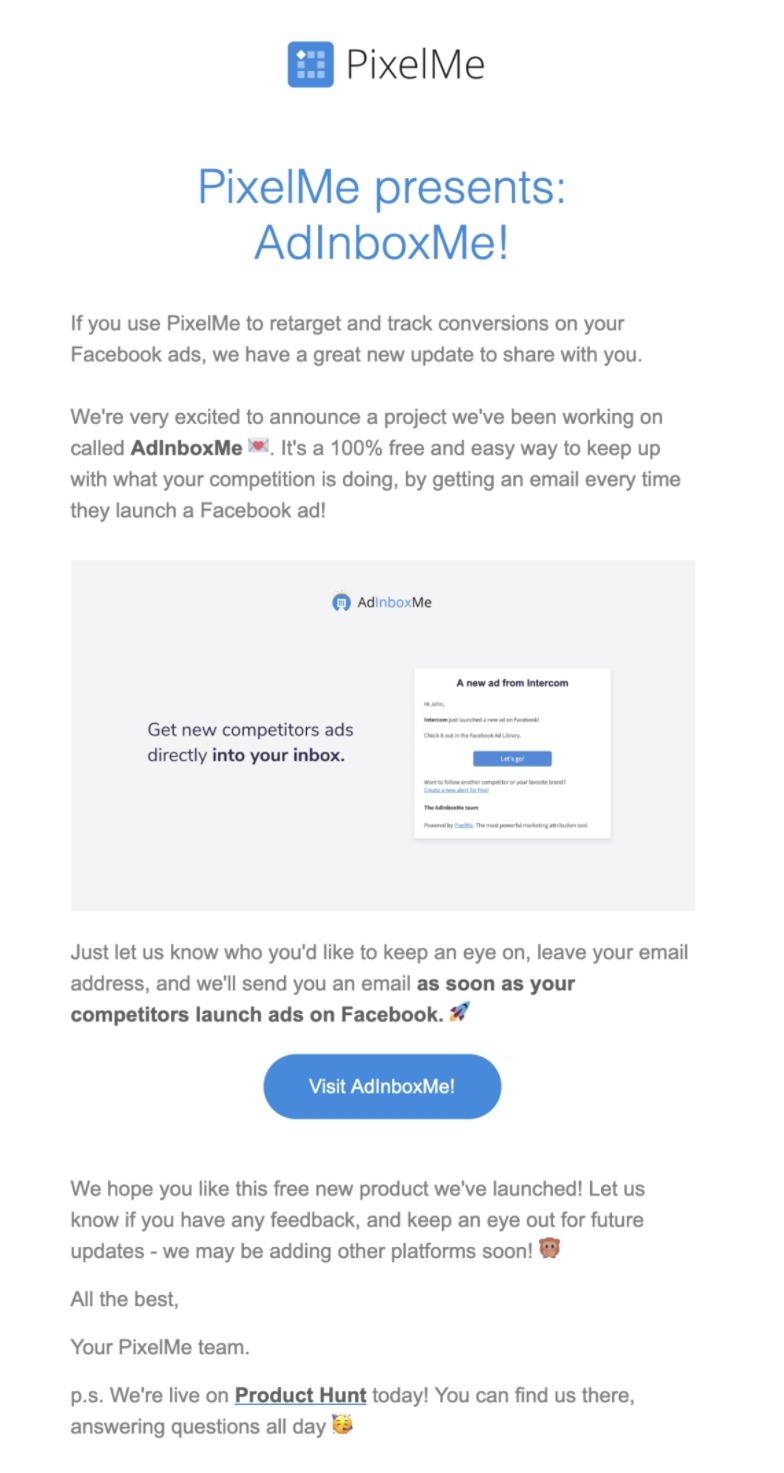 We send an email blast to anyone who has already signed up with our service when we have a major new product release or new tool. In this example, PixelMe unveiled AdInboxMe, a free application that lets users receive email alerts whenever a competitor launches a Facebook ad.
As an effective method for improving knowledge and acceptance of new products, features, or updates, email marketing helps PixelMe send valuable announcement for existing users and any lead who's signed up but may haven't been a paying customer,
Also, as long as it's on-brand and helps better highlight a key point, you can use emojis in a B2B marketing email. Experian discovered that brands that included an emoji in the subject lines had a 56 percent higher unique open rate.
4. Content newsletter email from HubSpot
HubSpot sends out a daily email promoting a single blog article and sharing a nugget of advice from it. They also have a fun and educational pop quiz for Facebook Advertisers including in answers when users hover over each answer option.
Rather than sending out many blog articles or suggestions over the course of a week or a few weeks, HubSpot employs a daily email strategy that focuses on a single blog post. This is a fantastic approach to market the information you've worked so hard to create. It also gives you more data to A/B test and analyse your emails, such as the most popular forms of content, subject line open rates, and the most active days of the week for your audience.
Because the finest marketing teaches as well as entertains, you can create your own version of HubSpot's pop quiz by including vital statistics or implementing marketing gamification through contests and giveaways.
5. Free feature email from Invision

InVision is a digital product design platform that assists businesses in improving consumer experiences.
The first thing you'll notice about this email is how graphically appealing it is. Using a jaw-dropping image like the one used by InVision above is your ticket to getting your foot in the door and persuading subscribers to read your email in depth.
Naturally, you'll want to include enough text to make your point and inform subscribers about the deal, but compelling images should be your bread and butter.
By using clear and succinct language and bolding key features such as Sticky Notes, Diagram template, and Presenter mode, InVision makes it apparent to subscribers what they're getting. Subscribers will be able to swiftly absorb key information without having to comb through lengthy paragraphs.
The last feature of this email to mention is how well-structured it is. InVision doesn't do anything too much.
Instead, they employ a logical layout that presents their offer in a seamless manner, provides subscribers with the information they require, and encourages them to take action by downloading a template.
6. Event newsletters email from Charity Ball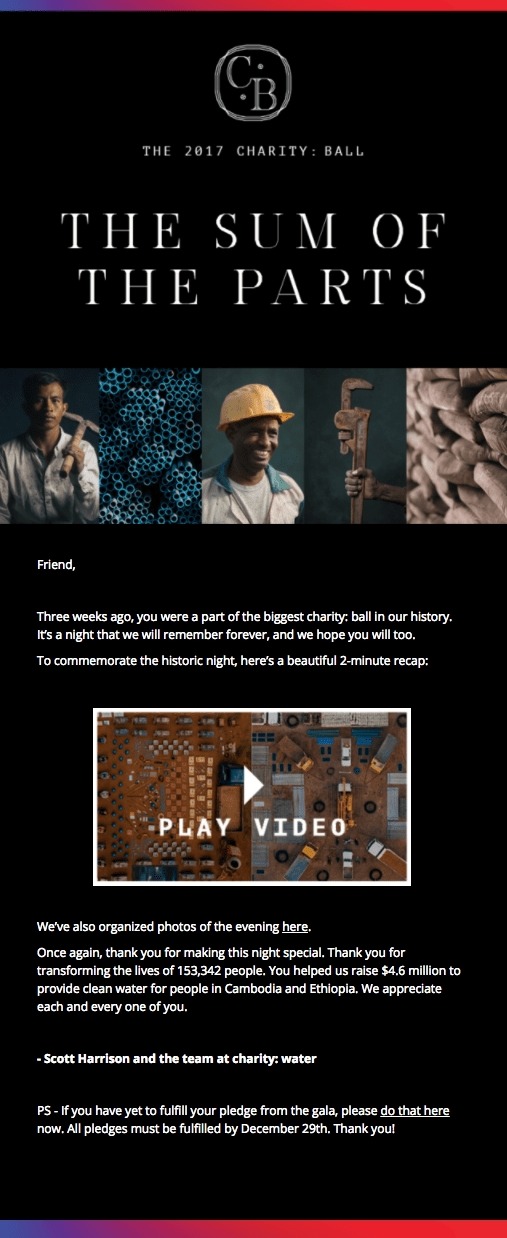 In B2B marketing, events generate the most leads. Let your audience know if you'll be attending conferences or business-to-business events. Inform your clients on what's going on and assist them in improving their skills.
However, it's likely that not everyone in your audience was able to attend. As a result, it's up to you to be their eyes and ears, give significant insights, and establish yourself as an industry expert.
Even if your post-meeting email merely provides a few key points, it demonstrates to your audience that you're current and interested in the field.
The Charity Ball newsletter includes a 2-minute video and a link to a photo gallery of the event, which may be found below.
7. Webinar email from G2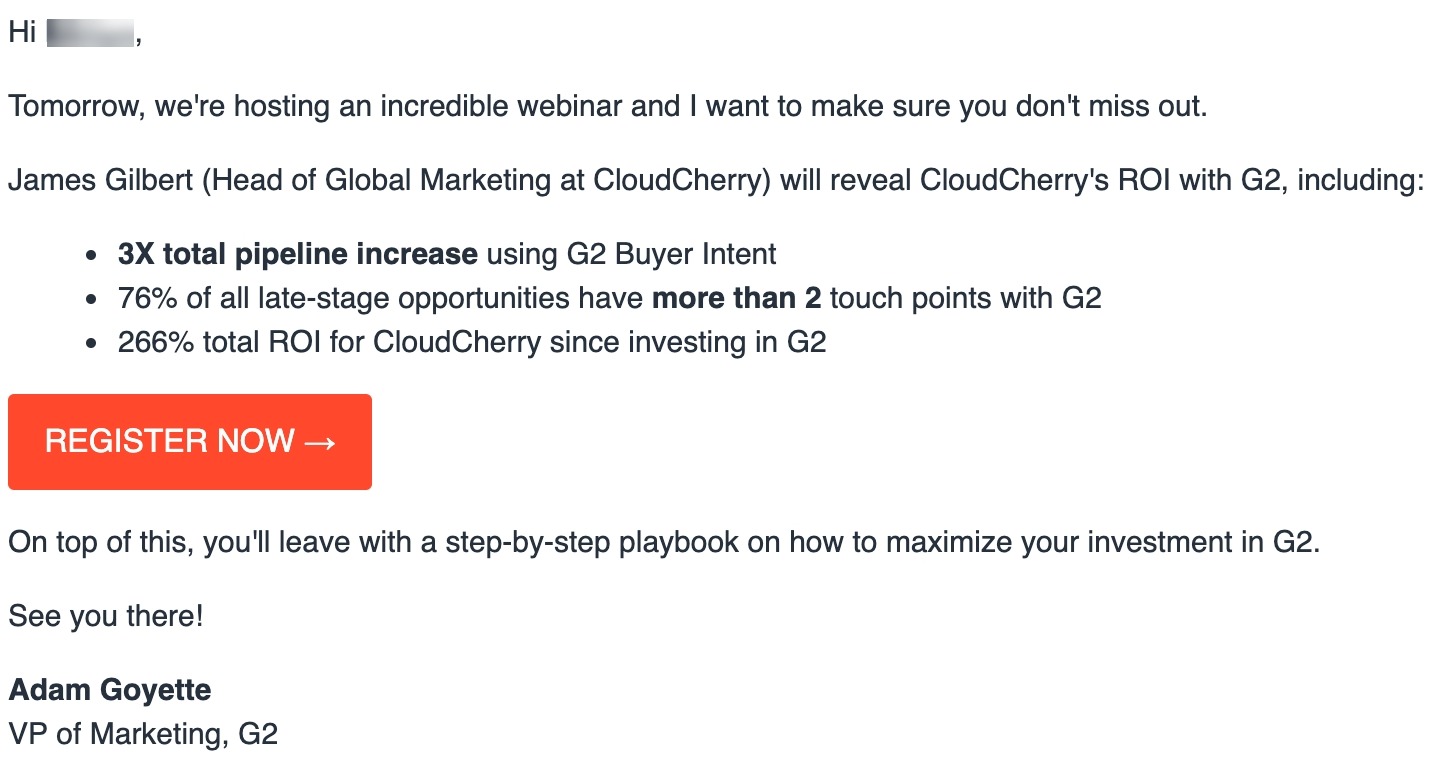 G2 notifies users who have created an account about future webinars and events. In the email example, their webinar focuses on how one of their clients, CloudCherry, evaluates ROI with G2, which is a KPI that many marketers care about.
While having your own continuing webinars to onboard leads and demo important features is a smart idea, like G2, you can also consider working with industry leads or even customers. This can provide you with a variety of content to test and allow others to share their experiences with your services.
G2 also makes the message more personal by having it come from Adam Goyette, the company's VP of Marketing. They also keep their message brief and to the point, with a clear call to action.
8. Survey email from Uberflip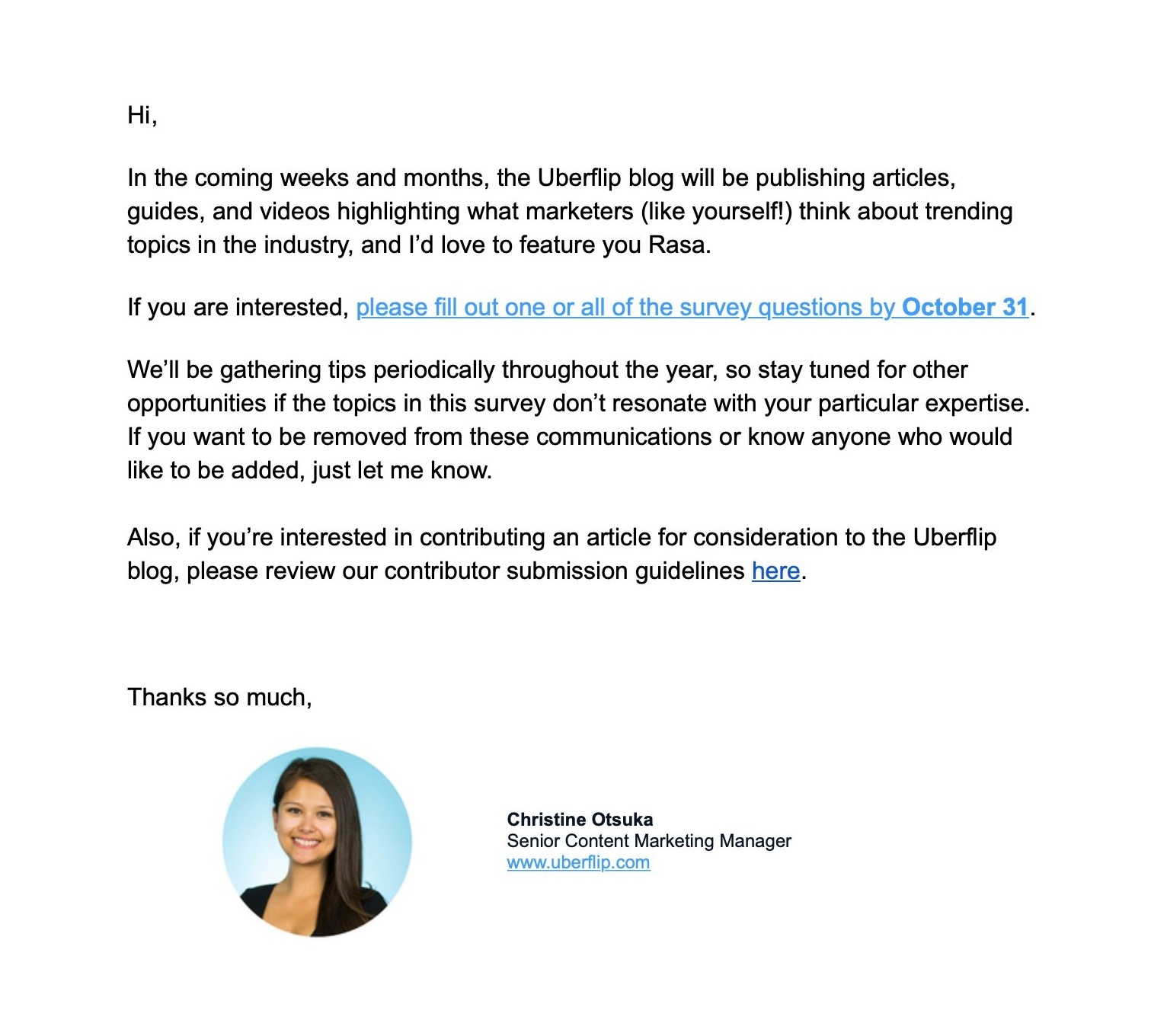 As a B2B company, you have access to the most fantastic source of knowledge in the industry: your customers.
Most of your current or potential consumers would appreciate being acknowledged as thought leaders. So, instead of sending them a survey invitation email, why not ask them to share their knowledge?
The Uberflip content marketing manager establishes credibility with the email recipient while also attracting material for exclusive content. Anyone who shares their thoughts will obtain visibility, which can lead to increased brand awareness.
9. Customer referral email from G Suite

Google sends you a welcome email when you sign up for the G Suite Referral Program. It comes with a unique referral link, three steps on how to use the program, and two-sided rewards for both you ($15 per user) and your referrals (20 percent off first year).
You can make your own referral program two-sided, with incentives for both the referrer and the "referee," or only the customer who suggests someone.
Affiliate programs are also a fantastic idea - allowing anyone to promote your services and share a percentage of the revenue generated by new clients.
10. Demo email from Instapage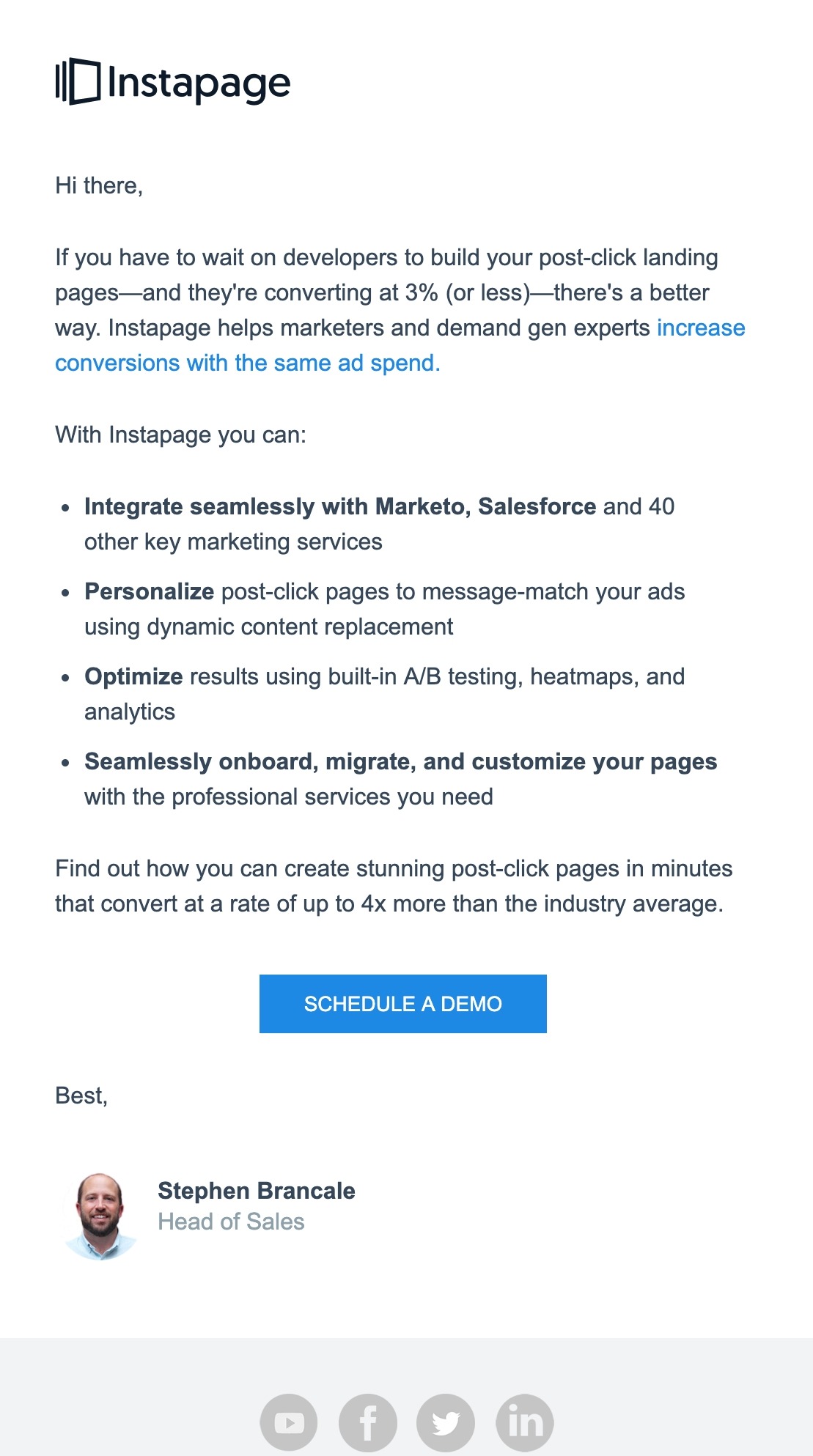 Instapage sends emails to people who have shown interest (for example, I asked for additional information about their Enterprise plan) but have not yet scheduled a demo or signed up. If your product isn't entirely self-serve and you have a sales staff that generates leads, this type of email is a wonderful way to follow up 1:1 with folks who are likely to be high-quality leads because they contacted your team first.
Instapage finishes with a small thumbnail image of their Head of Sales, which adds a lovely personal touch and gives you a look at their personnel.
You can try sending follow-up emails to let customers book a demo with your Sales team if you have leads who have joined up for a newsletter, downloaded content, or taken actions that signal they're interested but aren't yet customers.
11. Exclusive content email from Digital Marketer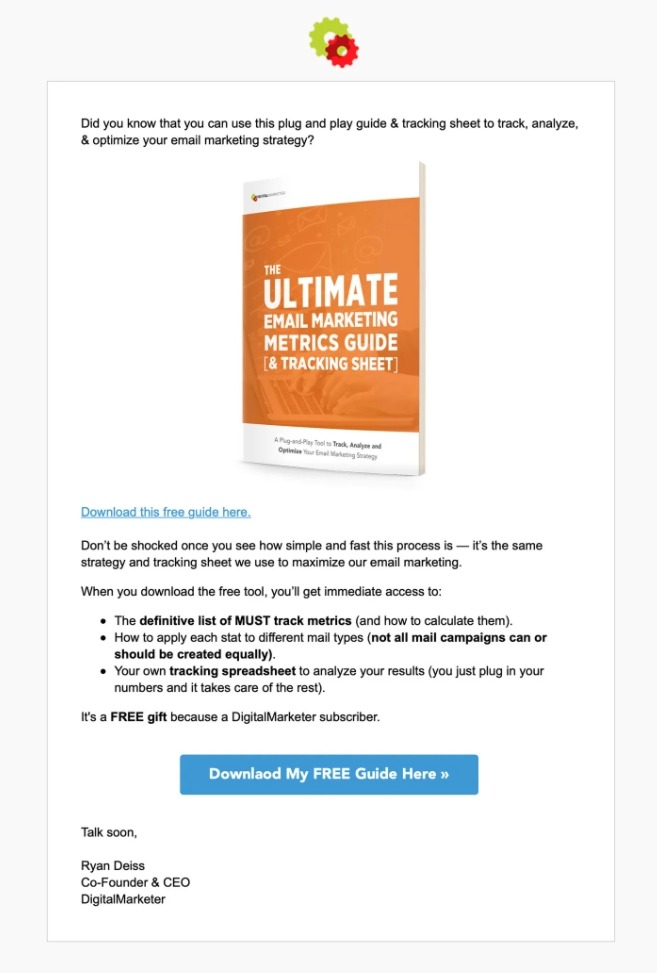 Knowledge is key to business success, and one way your B2B audience tries to keep ahead of the competition is by having access to the most up-to-date information.
So, if you have information or insights that your consumers can't acquire somewhere else, take advantage of it! Create a report or other information, and one of the distribution channels should be an email marketing campaign.
To assist its subscribers in optimizing their email marketing approach, DigitalMarketer provides a handbook and a tracking sheet. It's presented as a free gift to their subscribers.
12. Re-engagement email from Grammarly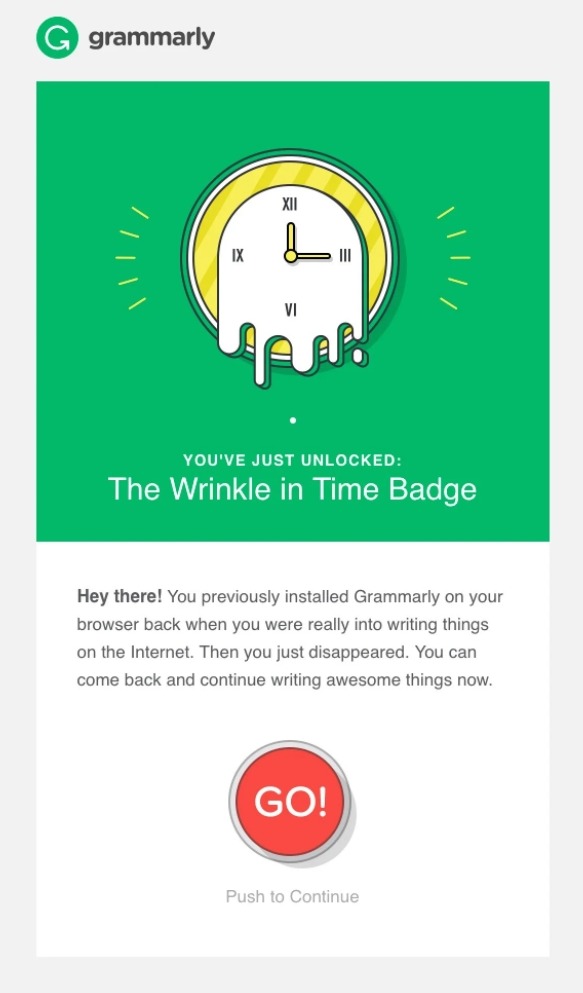 You may discover that some subscribers are becoming inactive months after you launch your B2B email campaign. What went wrong? First and foremost, don't be concerned! It occurs to even the most well-intentioned of us.
Inactive subscribers are frequently either A) too busy at the time or B) no longer interested. In either situation, there is reason to be optimistic. A B2B re-engagement campaign targeting inactive subscribers can be set up.
Grammarly features a "wrinkle in time" badge, which is a creative way of recording the time the user has not used the app. They also use a bold red call to action to encourage clients to re-engage with their product.
13. Unsubscribe email from SendFox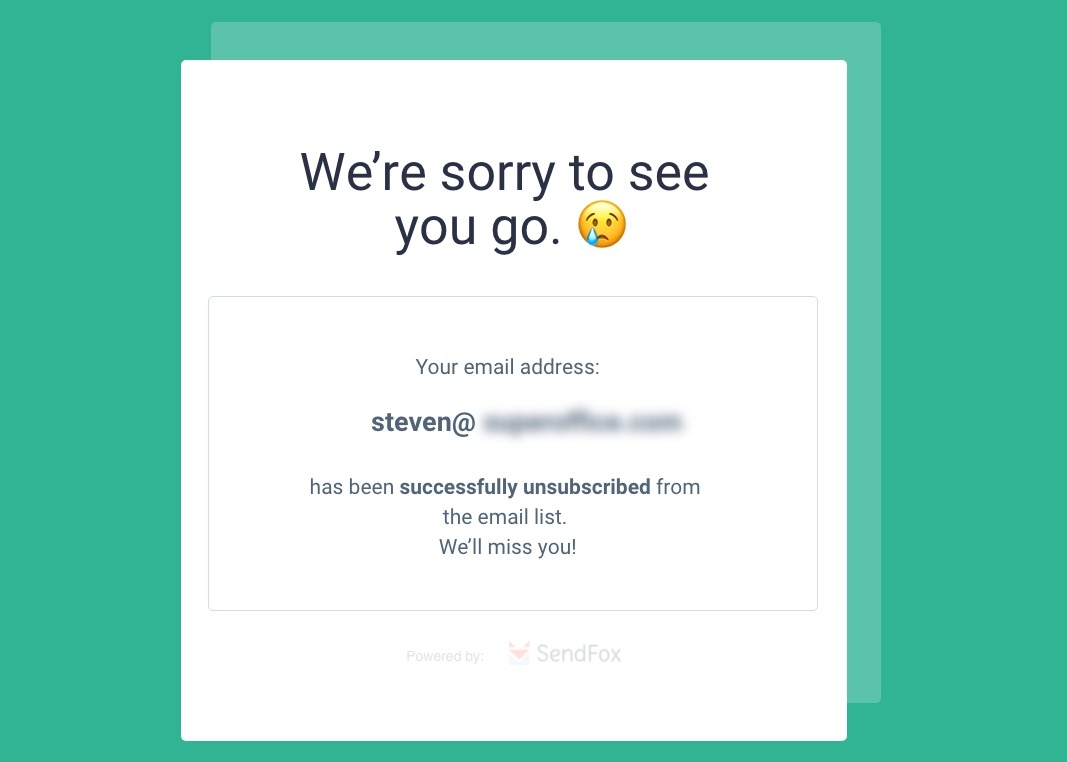 Hey, it happens, but people sometimes wish to stop getting your emails. It's possible they've progressed from where they were when they first signed up, or the issues are no longer of interest to them. When someone wishes to be removed from your mailing list, you must comply. You risk being punished if you don't comply with the GDPR.
When someone unsubscribes, it's a good idea to send an email as a confirmation like SendFox. Too many businesses fail to recognize their clients. When you send an email right after someone unsubscribes, you're alerting them that their request to stop receiving emails has been confirmed (the emoji doesn't hurt, either, because it's in accordance with their brand).
14. Upselling email from Zest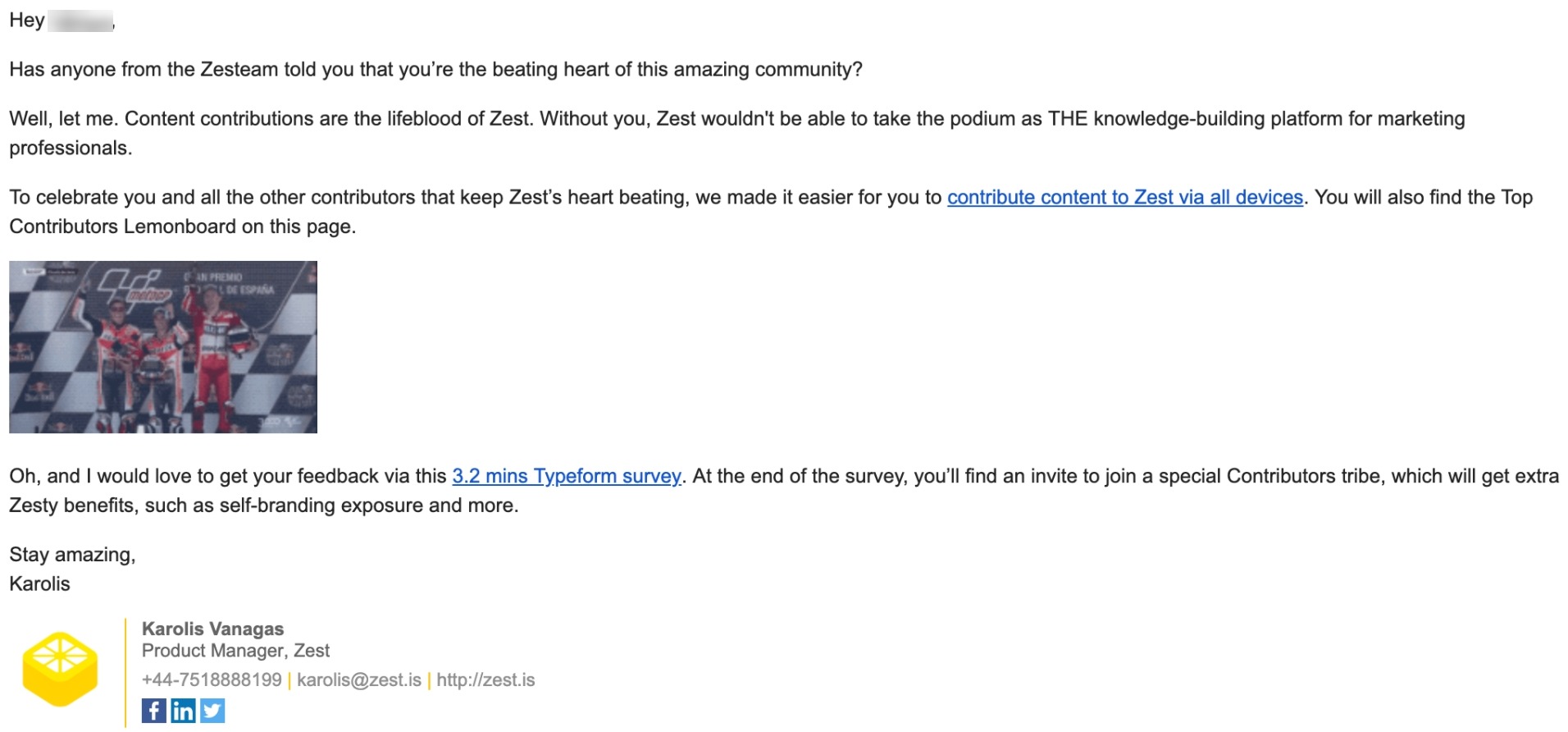 Zest sent out a lovely customer email promoting some new features, including multi-device compatibility. In exchange for being added to a privileged group with greater benefits, they also ask for product feedback on the new features via a Typeform survey.
Personalized email messages like this can boost your email CTR by 14% and conversions by 10%. They also include a unique and appealing subject line that makes their consumers happy and can assist raise open rates.
To learn from them, make the email about the consumer, as Zest does, but also incorporate critical product news to boost usage. Asking users to fill out a form in exchange for something of value also helps here.
15. Account set up email from Pinterest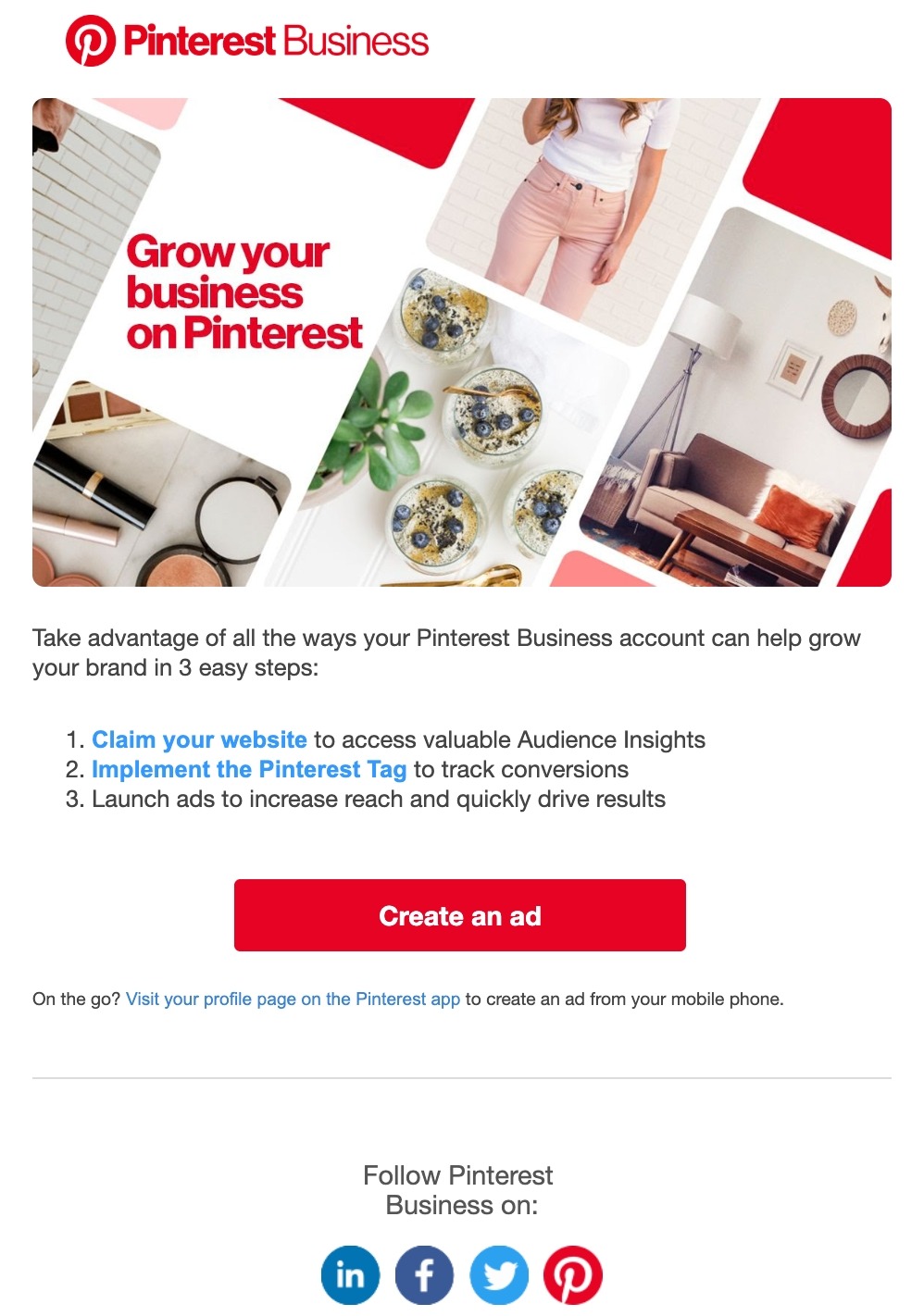 When you register a Pinterest Business account but don't yet create an ad (or take other actions), Pinterest sends you an email with instructions on how to finish your account setup and launch an ad.
Direct and tactical emails can help you increase conversions by making them more actionable. Pinterest's email content is also highly concise and clear, with only three simple and short actions and a prominent CTA.
Setting up an email onboarding series when someone establishes an account is an excellent idea. You can experiment with different email content and timing between each one.
16. Case study email from Animalz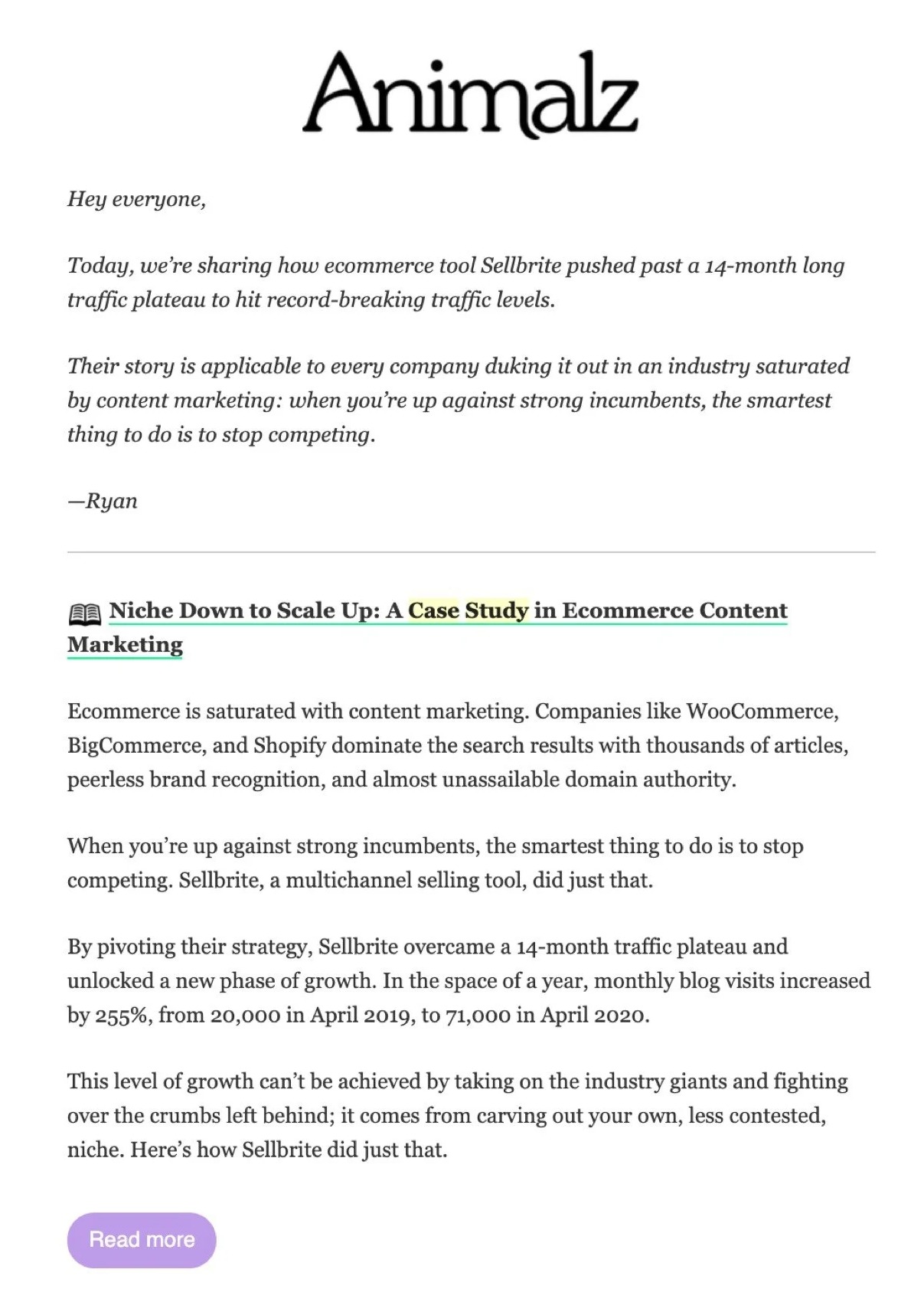 A B2B case study allows you to share your story while also demonstrating your skills through a real-life success example. You could:
Describe how your product or service made a difference in a customer's life.

Demonstrate your influence in your field.

Make a presentation about your contribution to a project.
Case studies are beneficial to B2B marketers because they demonstrate how your solution works. In the example above, Animalz begins with a powerful first sentence that explains why their subscribers should keep reading. Then, instead of using a CTA button, they begin presenting the story right away in order to grab their readers!
Everyone enjoys a good story. Tell your story and demonstrate to your subscribers how you provide value to your customers.
17. Cross promotion email from Inside Design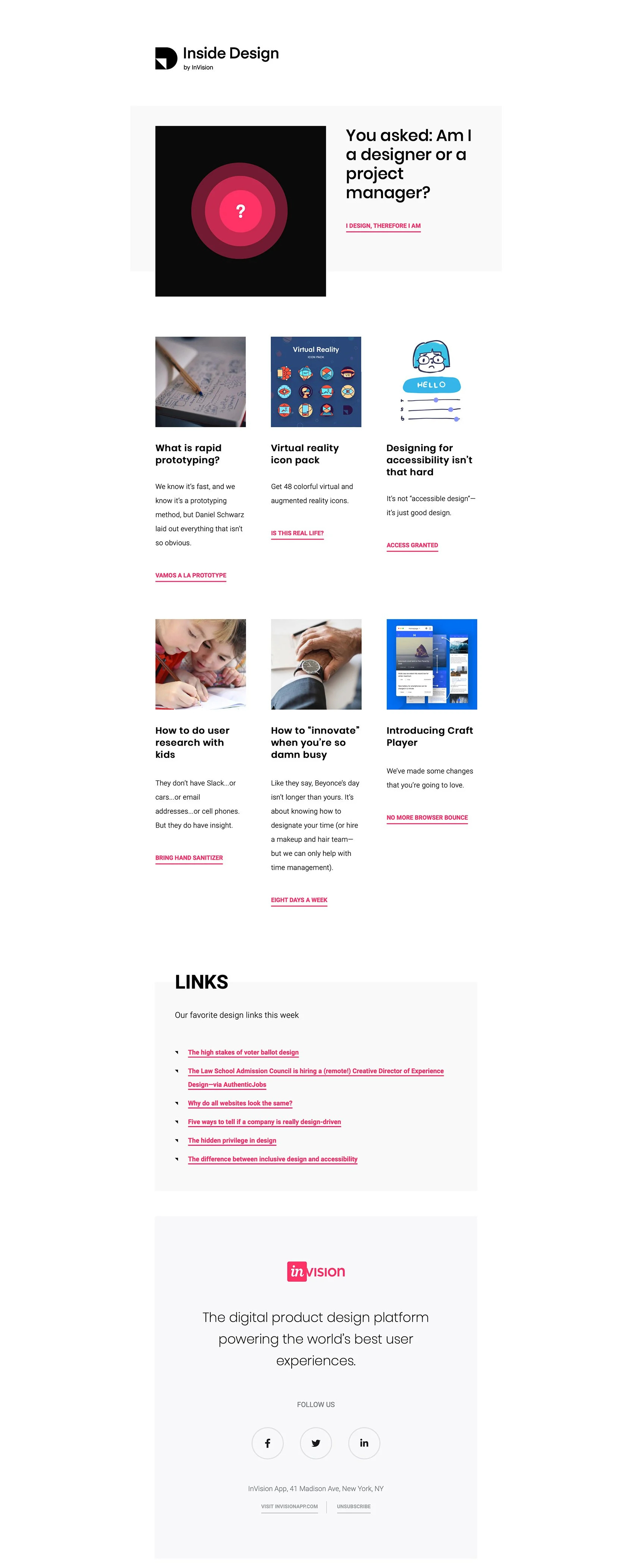 To attract visitors to your other content sources, use B2B email marketing campaigns.
Create links to your website, corporate blog, or other online resources, such as surveys, to add value to your customers and improve your relationship. It's all part of your overall plan of staying relevant and assisting them in becoming better at their jobs.
Inside Design has provided links to a number of relevant articles so that their members can choose the stuff that most interests them. This way, readers can easily access articles that they found interesting and also provide more traffic to the website.
18. Thank you email from UnBounce

A thank you email is a terrific way to engage with your audience after they download a content piece or complete an activity on your website.
When you download a piece of content — in this case, a white paper – Unbounce sends you a thank you email. Unbounce's email is sent in plain text rather than an HTML-designed email template, which works effectively for them. It appears and feels real, making the reader feel important.
You can use an auto-responder to send this type of email — "when a visitor does this, we send this" – or you can send it manually. Begin by thanking the reader and, if feasible, including a direct link to the material so that they may get it right away. You can include a link to your resource page and a link to your product page in addition to the thank you (just like Unbounce do).
19. Year in review email from LogMeIn
A year in review email is a fantastic way to show your clients what you have helped them achieve throughout the year. Also, an organization can use this statistics to review their performance with your company as well.
This email is intended for LogMeIn Central clients who utilize the platform to allow their workers to work remotely while maintaining the highest level of security.
I like it because it combines two key strengths—strong pictures and a bullet format—into one big email to keep users updated on LogMeIn's accomplishments throughout the year and to thank them for being a part of the community.
And the graphic theme continues throughout the body, with data on the overall number of remote sessions held in 2019, preventative maintenance was performed, platform enhancements that were made, and so forth.
This is a fantastic method to show data, and it employs an infographic technique with icons to make the information more digestible.
Instead of writing four or five paragraphs of text, you could use an infographic framework and combine icons with short bits of text to deliver the same information.
20. Tips and tricks email from Asana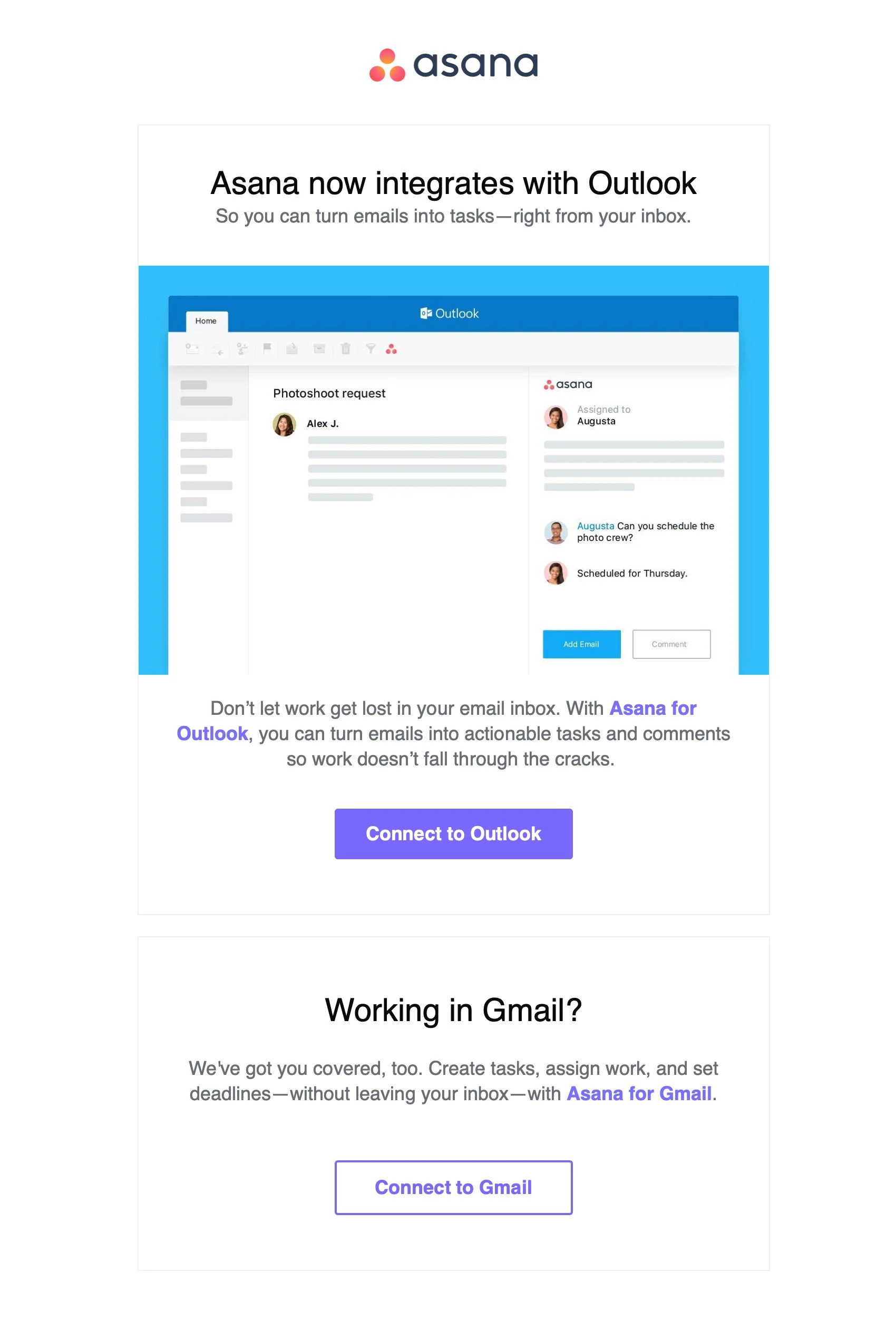 The sale isn't the end of B2B email marketing! In fact, after a sale, B2B email campaigns should keep nurturing the customer connection. That means you should keep clients up to date on changes, share new products, and provide tips on how to get the most out of your service.
Customers will be more satisfied with your product if you send emails like the one below from Asana. They also make certain that your company is at the top of the list when their company's next procurement cycle begins.
Final words
Now you're ready to go! This selection of inspirational email marketing templates from top B2B brands shows you how they nurture leads and upsell and cross-sell clients.
To get started, utilize any of these email marketing templates to come up with your own unique email campaigns, or combine methods that you think will resonate with your target demographic.
Each of these B2B email marketing examples has a distinct goal and a slightly different strategy, but they all follow the same basic formula.
Basically, it's:
Using jaw-dropping pictures to pique readers' interest

Educating readers on the brand's offerings and why they should be interested

Using a logical, well-thought-out structure

Making content more consumable, using short chunks of text.

Using bullet points whenever feasible.

Following the CTA's best practices
If you do that well, your email engagement and click-throughs should be excellent.
New Posts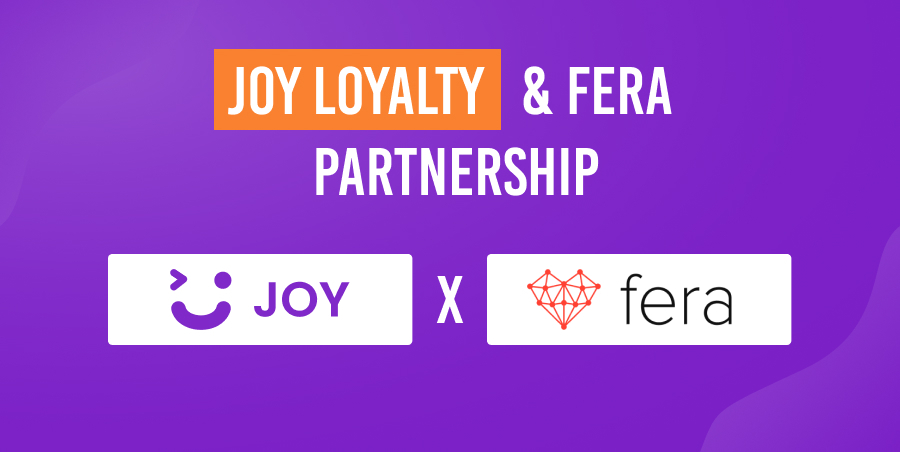 Subscribe
Stay in the know
Get special offers on the latest news from AVADA.
40k
subscribers has been joined!
Earn $10 in reward now!