BigCommerce WordPress Plugin Review
BigCommerce WordPress Plugin Review: What makes it stand out from others?
If you are looking for more details about the new WordPress Plugin - BigCommerce, you are reading the answer. It must be challenging for you to get used to BigCommerce for the WordPress mechanism if you have not heard about the term "Headless commerce".
However, in this BigCommerce WordPress Plugin Review post, we will cover everything you need to know about the new plugin of WordPress - BigCommerce, its features, the reasons why you should use it, how different it is from others, and some common questions related to the plugin.
Let's get started!
What is BigCommerce for WordPress?

BigCommerce is familiar with online businesses. Being a popular cloud-based eCommerce platform, BigCommerce has integrated WordPress and released a new plugin called BigCommerce for WordPress.
So, what's this for?
WordPress is designed for those who want to organize the content and design. Besides, BigCommerce is created to fulfill the missions of eCommerce and infrastructure. When two platforms combine, users can get the following things:
Get the flexibility of design tools of WordPress and make use of the commerce functionality of BigCommerce at the same time.
Expand, personalize, custom users' online stores, and scale eCommerce which cannot be done on WordPress before.
Make use of API-driven Commerce-as-a-service platform and build online websites with the help of content management systems and a central catalog.
In general, by installing only one plugin, you can approach the useful functionalities of both BigCommerce and WordPress. Are you ready to advance your businesses with WordPress on the front-end and BigCommerce on the back-end?
Why WordPress?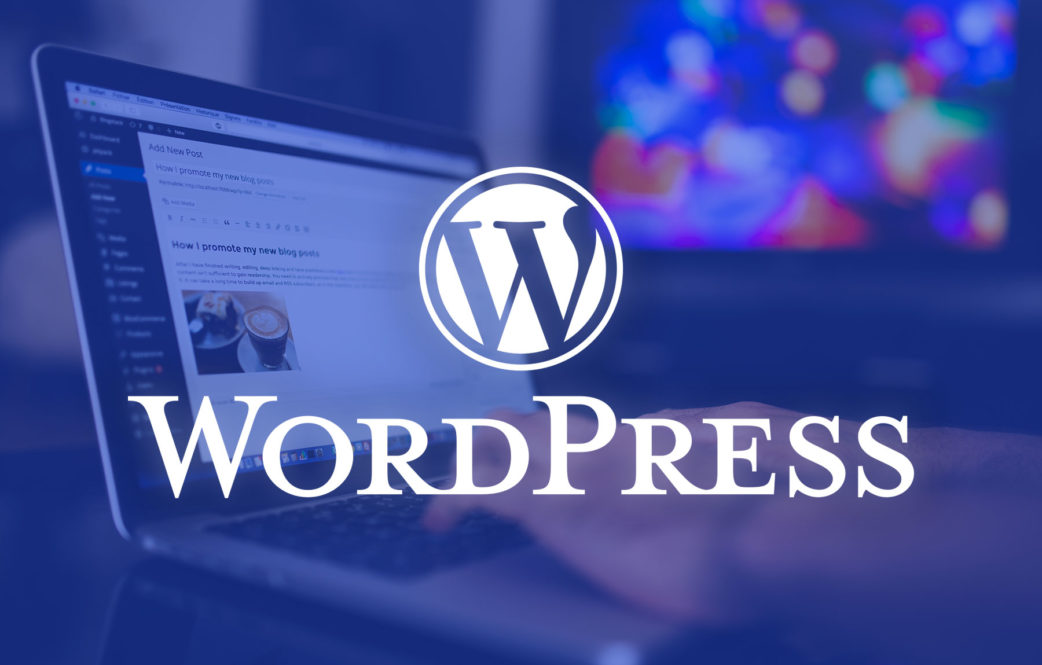 As an online business, you can find that there are multiple plugins of BigCommerce. However, this integration is noticeable, and BigCommerce seems to prioritize WordPress.
Both WordPress and BigCommerce have their own advantages and drawbacks. Coming to this new plugin, two platforms complete each other perfectly.
According to users' experiences, this integration brings about features that they have never had before. They are what they always desire in the past. For example, a laboratory, customize tool, and more.
Now, let's dive more closely into what BigCommerce WordPress Plugin's features are.
BigCommerce WordPress Plugin Review
Ease of use
You must wonder how to use this new plugin, right? If you are not good at coding, don't worry because it is super easy to use BigCommerce for WordPress plugin. When coming to this integration, knowledge or professional skills related to iFrames or Javascript is not that important to approach most of those functionalities.
Except for some advanced tools, you can easily access all your catalog data without your WordPress dashboard. Simply install and open the BigCommerce plugin. Then, you can now custom and design your storefront based on your demands and businesses' characteristics.
What's more, you also do not need to negotiate in terms of customizing the design of your online websites.
Unlimited Access to BigCommerce's Plugins
What if your team has a complicated designed WordPress theme? It's still possible since you have unlimited access to most of BigCommerce's plugins.
Users installing BigCommerce for WordPress plugin are enabled to expand and customize the integration to match your specific demands. Being an open-source, WordPress is designed with BigCommerce as developers at the storefront of their design.
That means you have all rights to adjust any elements of your ECommerce stores which include product lists, product cards, cart information, and so on. After spending time and effort designing a perfect theme, you can make sure BigCommerce for WordPress plugin will not undo your creations.
Product catalog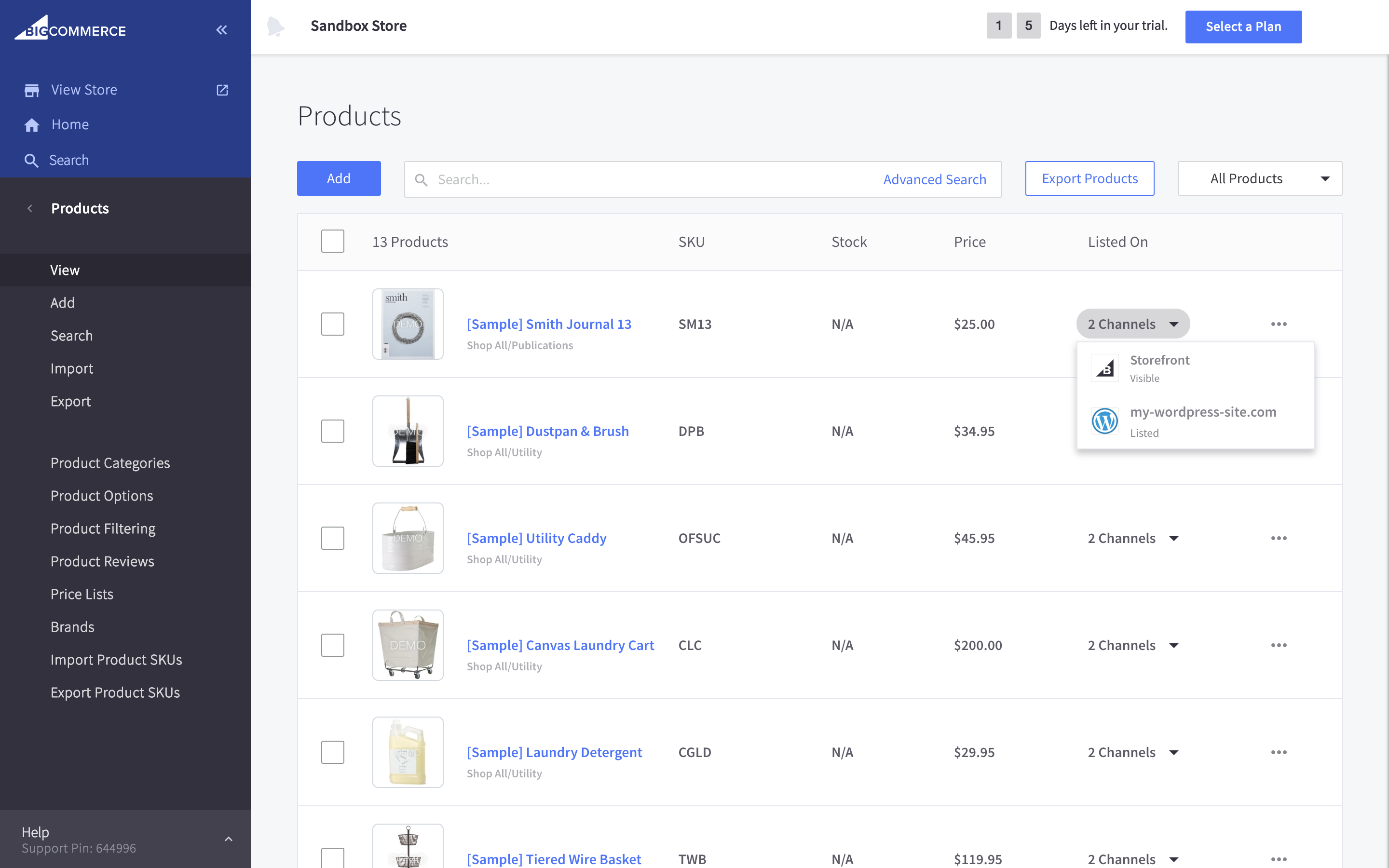 A noticeable feature when coming to BigCommerce for WordPress plugin is large catalogs. You can build up extensive and complicated catalogs and handle large volume orders. To be more specific, you are allowed to reach 600 SKUs per product and up to 250 product values for a single option.
That means you are free to build up a fully customized product catalog as you wish. This new plugin paves the way for the process of making inventory syncing with ERPs, PIMs, and WordPress to be quicker and smoother. It is thanks to the native catalog structure of BigCommerce regarding each product including variants, information, SKUs, and more as a single API call.
What's more, in terms of product catalog, a product page will be automatically built for each of your BigCommerce products right after installing the plugin. You can create custom product details as well as listing pages since the integration has added new tools to the page of WordPress and post-editors.
Analytics
It is beneficial for those who don't know it is beneficial for users like you to make use of products and order reports displayed in BigCommerce's ECommerce Analytics. This will surely bring about helpful analytics that you can rely on to evaluate your performance.
Order report
Firstly, BigCommerce's ECommerce Analytics has Order Report. You can get the following advantages if you control the report well:
Get photos of all orders in any channels
Know more about the way your orders turns into products
Know more about the way your orders are discounted
Get the general average order value which is, in short, AOV
Get a deep understanding of the influence of your orders over sales increase
Therefore, having Orders Report in hand, remember to check these statistics often and monitor any changes over time to take full advantage of this feature.
Merchandising report
Next, the Merchandising report refers to your product catalog. It is also beneficial because:
The report gives you information of performances of each product
The report gives you an overall view of not only saving but also making money
The report brings about the chance for you to take control over revenue, orders, the number of sold at both the product levels and variant one
The report helps you measure your products' pros and cons. In this way, you can come up with ideas to develop more
Customer report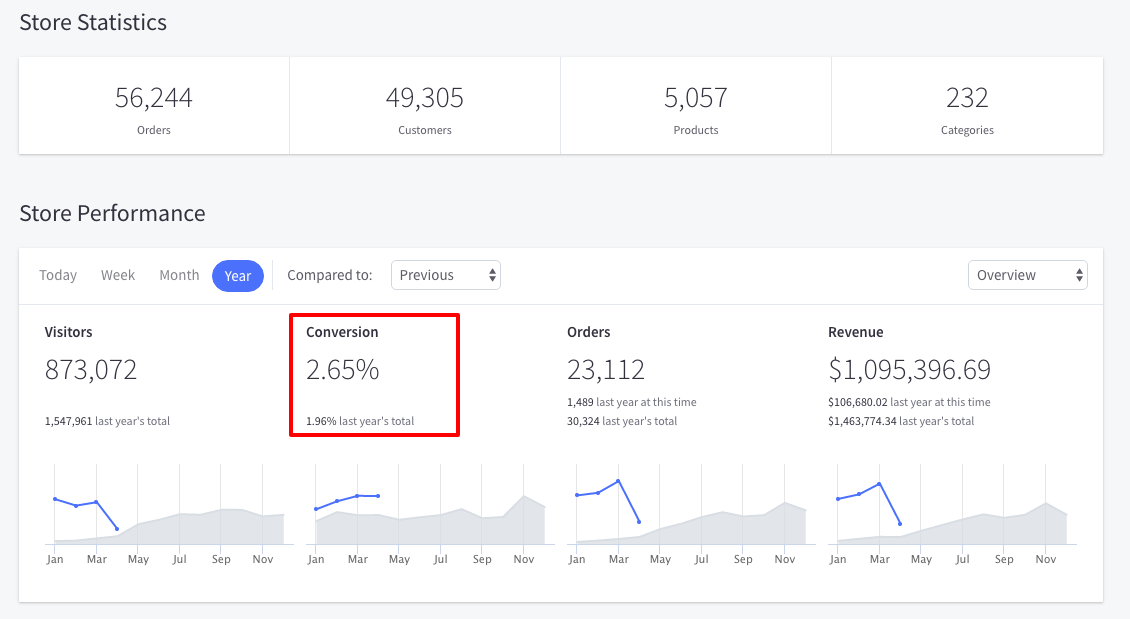 When the mentioned reports are about orders or products, the customer report looks at customers' persona. In particular, you will have a better understanding of customers' behaviors, the percentage of new versus returning customers, how much customers pay, the time customers purchase a product.
What's more, you can dig into customers' profiles to know every other they have set and every item they have bought.
If you know how to use this report smartly, your businesses will certainly build up strategies and campaigns which are suitable for them. You can rely on data from this report as well as their buying history to create more programs focusing on brand engagement. In fact, engaging those who have purchased your products before will be more effective and faster than finding and approaching new visitors every day.
Sales tax report
Business owners tend to neglect the practice of managing the collection and reporting of sales tax as well as related costs. In fact, it is important to control these processes and prices since you can balance your accounting over the year, especially tax season. Luckily, BigCommerce ECommerce's Analytics includes a Sales tax report which will help you with all of these.
Storefront metrics
Finally, you will get information related to purchasing funnel, real-time data, store search by looking at Storefront metrics provided by the WordPress plugin.
Checkout experience
A checkout page will be created automatically for you right after installing and activating BigCommerce for WordPress plugin in terms of the checkout process. This page uses the Embedded Checkout at the beginning.
Additionally, you will have two choices of checking shopper checkout when you use BigCommerce for WordPress plugin which are:
Embedded Checkout
Redirected Checkout
In order to choose the method you want, you should go to the BigCommerce platform and click on the Settings button in the plugin.
For more information related to each checkout experience including their features, pros and cons, how they work, you should visit Checkout experience in BigCommerce for WordPress.
Checking orders
When you want to view orders from WordPress, simply open the View Orders page, which is on the control panel of BigCommerce. They are all located here. Remember that the order source is the channel name that was set when you install and start using the plugin.
Besides, you can search orders by channel or create a custom view to view only orders from WordPress in a quicker way. This is also applied to viewing orders from other channels.
PCI Compliance

It's pleasing to know that BigCommerce's plugin has full control over your whole checkout process. Thanks to this, you can prevent your businesses from a bunch of threats. You now do not have to worry about PCI compliance.
Customer services
In terms of customer support, BigCommerce provides all users with basic support methods, including 24/7 live telephone, live chat, and email support.
The platform also offers a help center that brings about advanced series of support, helps, and ultimate guides and advice if you have complicated troubles.
If you are wondering who will be in charge of customer support in BigCommerce, they are all from its headquarters, which are located in Austin and Texas.
For those whose businesses are high-volumed, BigCommerce will provide them with a dedicated account management and implementation management services. They are one part of customers' pricing plans.
Lower credit card rates
You can also reduce costs and save money by having access to pre-negotiated credit card rates. By doing so, you will get the lowest fee that you can find in the SaaS ECommerce industry.
Also, BigCommerce has pre-negotiated special credit card and debit card processing rates with PayPal, which Braintree powers. Many online businesses choose this payment method since they can utilize Apple Pay and Visa Checkout thanks to Braintree.
What's more, if you want to develop your business and upgrade your BigCommerce plan, you don't have to worry about higher costs anymore since the more you grow, the lower your credit card rates will be.
Payment gateways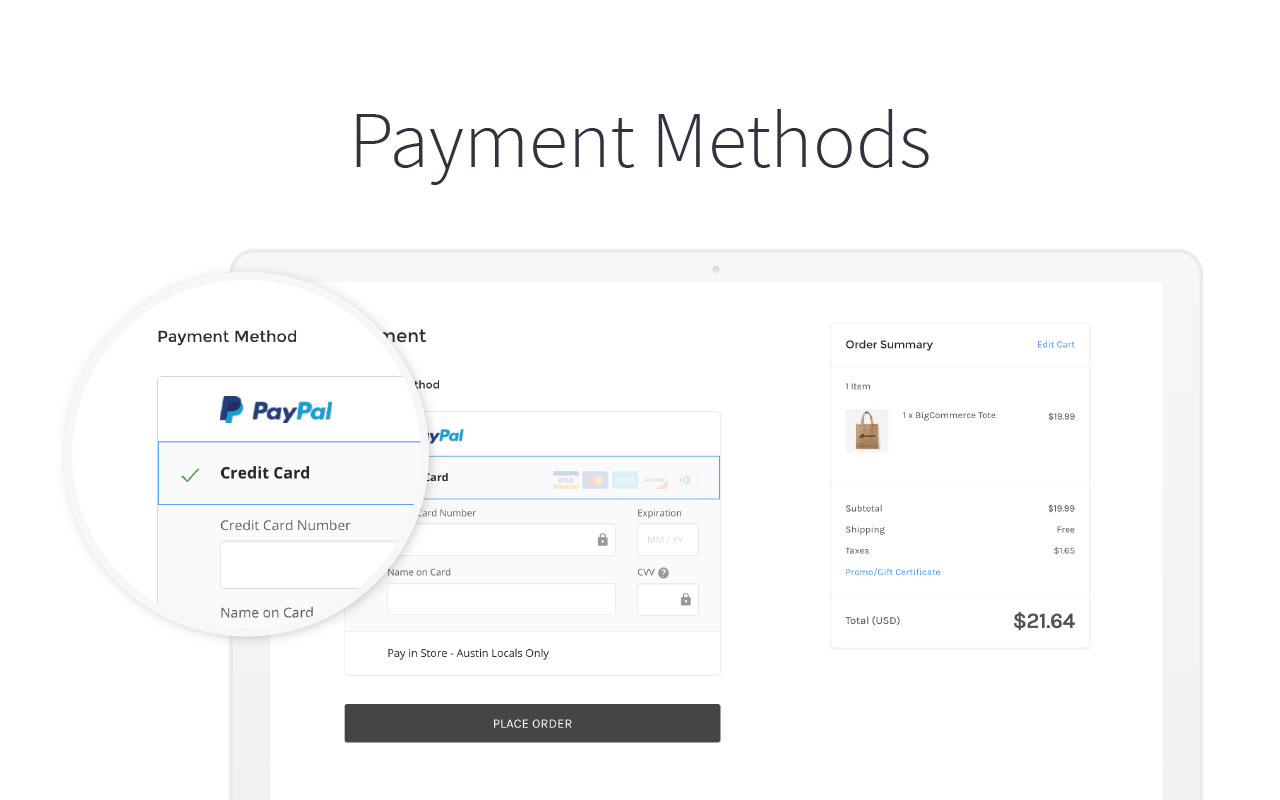 When installing BigCommerce for WordPress, you have an opportunity to approach more than 65 payment gateway integrations available. Moreover, this platform serves more than 100 countries around the world and paves the way for over 250 local payment methods. In this way, online businesses can easily fulfill all needs of their customers.
Community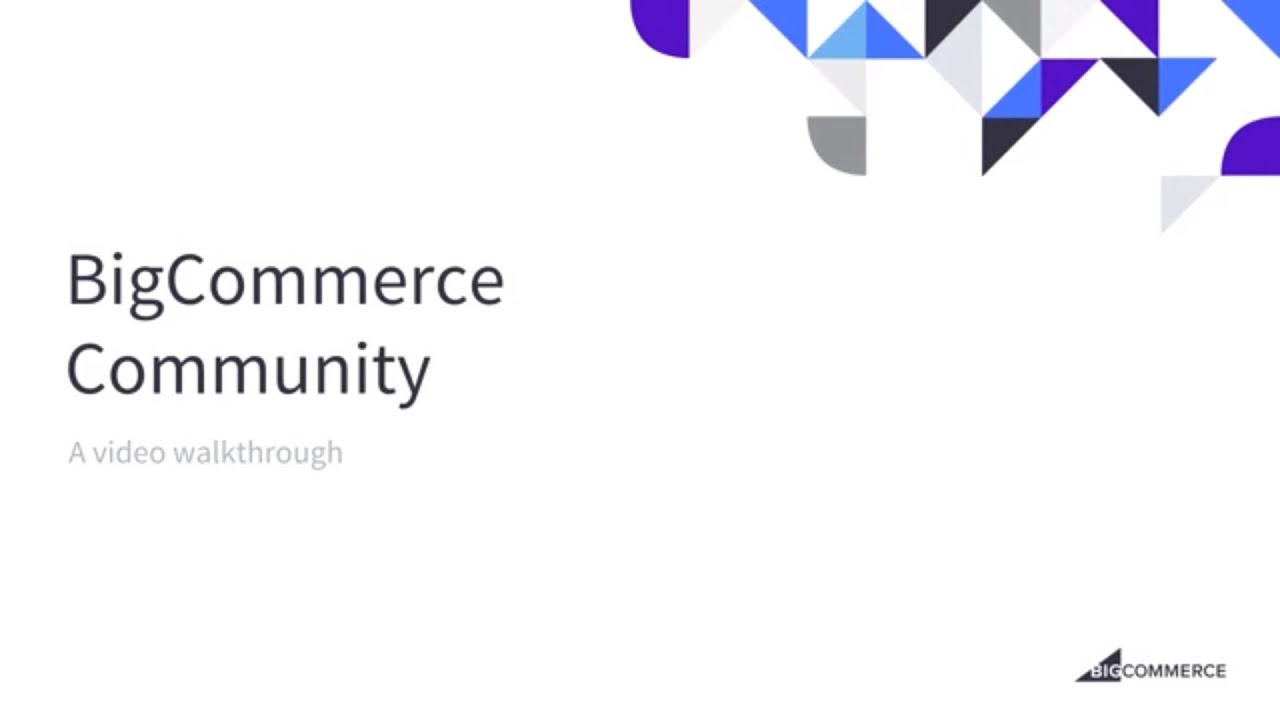 In case you need urgent answers to your troubles, BigCommerce also provides you with its huge community. Any users can get access to this online community. When coming to this, you will have opportunities to:
Get quick answers from other businesses and online store owners using BigCommerce and face the same problems as yours now. Getting advice from experienced entrepreneurs who have similar needs and goals may be more effective than reading how-to guides.
Send help and answer questions of other entrepreneurs.
Know more about the latest product updates.
Contribute ideas and knowledge to the newest industry updates.
Discuss eCommerce plans, trends, and more.
If you want to contribute to BigCommerce for WordPress, you can also visit the GitHub Repository of BigCommerce.
Manage Multiple Sites
When installing BigCommerce for WordPress, you can save time and effort selling across multiple WordPress websites. You now do not have to manage each of your sites in different places. You are provided with a single control panel to be in charge of your catalog, order information, shipping process related to all your stores from just one place.
Thanks to this feature, users can simplify their administrative tasks, save time and effort, and waste managing various eCommerce sites. You can now use this time and energy to boost your online business performance.
Besides, BigCommerce Control Panel also helps you start a site in React, developing a mobile app, and integrating with an in-house POS.
What makes BigCommerce WordPress Plugin stand out from others?
BigCommerce prioritizes WordPress, and the new plugin perfect both drawbacks. According to BigCommerce, this integration was built with WordPress experts to bring value to the community and create a better experience for developers and business owners.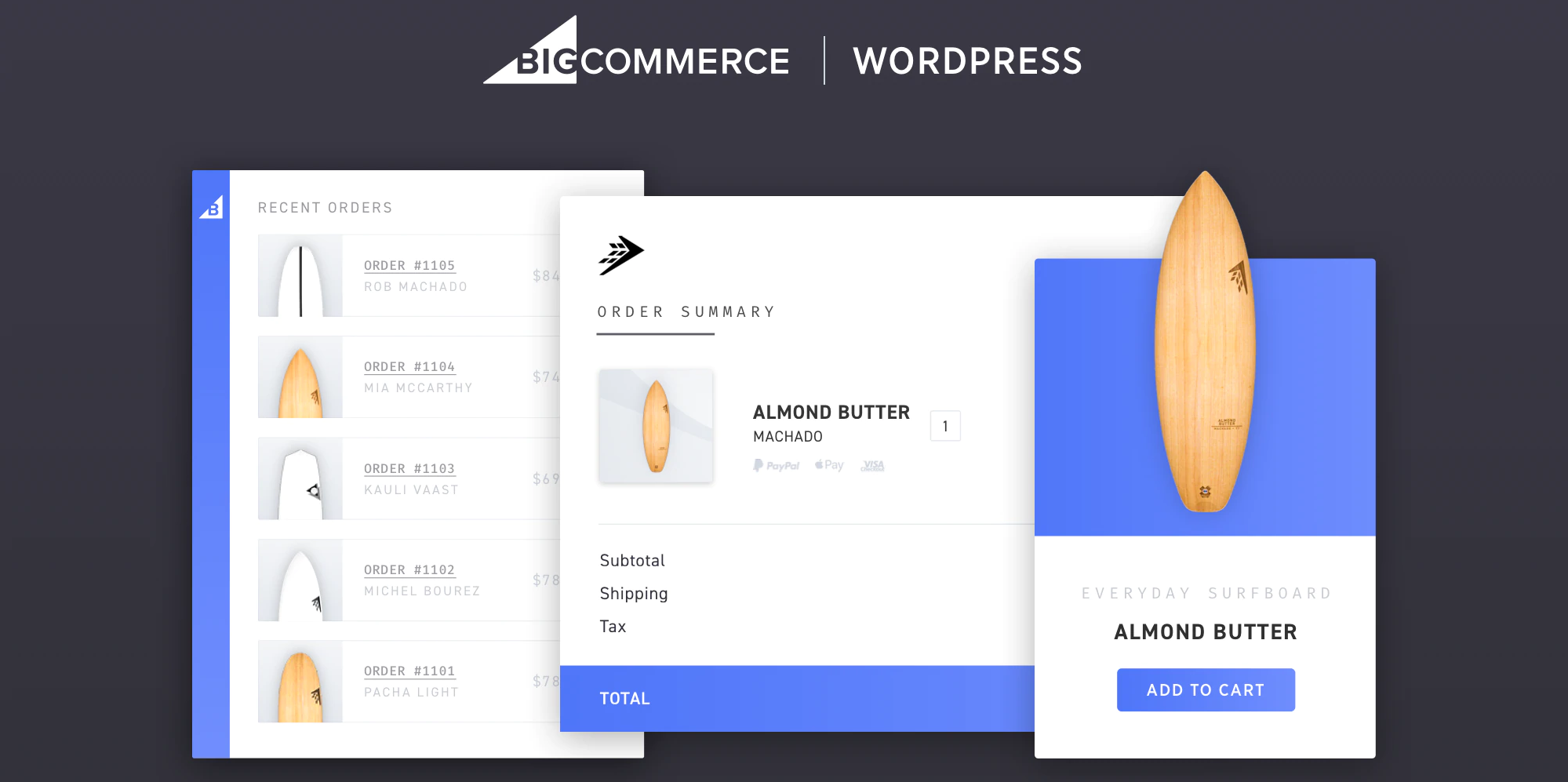 When installing BigCommerce for WordPress, you will find that the plugin consists of the best features of both platforms. **You can now have WordPress to manage content, design aspects, and BigCommerce to manage eCommerce aspects at the same time. **
Compared with traditional plugins, this integration differs from others by approaching controlling and handling with eCommerce stores in WordPress. With the help of BigCommerce for WordPress, business owners can now bring their brands and content to life.
FAQ about BigCommerce for WordPress
#1: Is it possible to connect many WordPress online websites to only one BigCommerce store?
As mentioned above, it is totally possible!
When activating BigCommerce for WordPress, you have an opportunity to use the integration with a network of various sites. That means multiple WordPress sites can connect with one BigCommerce store only.
#2: I can't find my WordPress orders? How can I find them?
They are located on the View Orders page, which is on the control panel of BigCommerce. You can search orders by channel to find them.
#3: Are there any product rules put over WordPress?
Some people assume that product rules work with WordPress. In fact, they are not. SKU-level pricing and image adjust are supported.
#4: Can I change product names and information of them for each of my WordPress channels?
Yes, totally. You are enabled to customize the names and descriptions of your products as you wish. Those adjustments will continue on subsequent catalog syncs.
#5: Can I assign and unassign products on each of my WordPress channels?
Again, yes. You can specify any products you want to be displayed on each of your WordPress sites because the View product page in the control panel of BigCommerce is automatically upgraded to the Multi-Channel Product List after you connect the channel to the BigCommerce account.
#6: Can I use another currency for each of my WordPress channels?
Yes, you can assign any currencies enabled in the BigCommerce control panel. Then, you can use a different currency for each WordPress channel after multiple ones are enabled.
#7: Can I custom prices of catalog for my WordPress channels?
For now, you cannot do that. However, BigCommerce tends to release this feature in the next version.
#8: Is Abandoned Cart Saver functionality available for me?
Yes, you can use this feature. To be more specific, anywhen your customers visit your online store but leave the carts without buying, an email with a link will be automatically sent to them to persuade them to recover their carts.
#9: I don't know the way user accounts work between WordPress and BigCommerce?
There are three cases which are:
When the customer account exists in WordPress but not in the BigCommerce store: A customer account will be created in the BigCommerce store for those who do not have it after they verify their account on the WordPress channel.
When it is the first time for the customer to create an account on the WordPress site: An account will also be created automatically in the BigCommerce store for them.
When the customer account exists in the BigCommerce store but not in the WordPress site: An account will be created for a customer in WordPress after they log into the WordPress site via their BigCommerce account.
#10: I have the error of "Content Security Policy - Frame Ancestors". What should I do?
When you see this error, that means your WordPress domain has just changed after installing the integration. Don't worry since you can handle it by uninstalling and reinstalling the plugin.
#11: Can I integrate Google Analytics with WordPress using BigCommerce?
Unfortunately, no. The Google Analytics integration is only for tracking activities of BigCommerce storefronts. If you want to find WordPress plugins for Google Analytics, simply visit the WordPress Plugin Directory.
Conclusion
To sum up, BigCommerce for WordPress is a brand-new plugin that is different from the traditional one. When installing the integration, you will have the best features of both platforms. Having WordPress in charge of stores' content and BigCommerce in charge of eCommerce is a great choice. That is the reason why BigCommerce for WordPress has received various compliments so far.
Hopefully, in today's post, we have given you the needed information about what the plugin brings about as well as common questions related to it. If you also have a question, do not hesitate to leave us a comment below. We will reply to you as soon as possible. If you find this topic interesting, share it with your friends and visit us for more articles.
Wish you success with this new plugin. Remember to use it wisely so that you can take full advantage of its feature set.
New Posts
Subscribe
Stay

in the know

Get special offers on the latest news from AVADA.
40k
subscribers has been joined!
Earn $10 in reward now!