7+ Best BigCommerce Jewelry Themes for Your Online Stores
Last updated: December 01, 2023
BigCommerce is a website builder where you can start your online business without needing a web developer to design your store theme. Ease of use, beautiful themes, convenient management system, and third-party integration opportunities are outstanding features as people mention BigCommerce platform.
Thus, it is a potential platform that you should consider, especially if you are supposed to operate a jewelry store online. With an elegant interface, BigCommerce design is highly loved by many users.
In order to reinforce this idea, we would like to give you some best BigCommerce jewelry themes as different options for you to take into account. Indeed, you won't be disappointed when reading this article as a suggestion!
What is the BigCommerce theme?
The theme is the store design, in another word - the overall look. It represents the feel and style of your website. The theme covers the color scheme, layout, and style elements.
When a user comes across your store, the design depicts the kind of products you are selling and how spiritual the products are displayed. In essence, your website theme is a direct representation of your brand and has a direct impact on your users' experience.
If you make a decision to build an eCommerce website to sell rings, watches, necklaces, bracelets, or earrings, you need to have a look at BigCommerce themes.
One thing you had better get about BigCommerce themes is that these are from the Stencil framework. In addition, they are multipurpose themes that can be utilized for any kind of online store. Most of the jewelry themes based on stencil framework give you a looking-good view through its clean and fresh design. All sub pages are customized.
The best BigCommerce jewelry themes
Once you run an online business selling jewelry and accessories, you are selling details and final touches. It means that the details as well as the final touches on your site, are going to matter more. Eventually, what visitors see increases their trust in any site they are on. Trust will win your sales for sure.
Implicitly, it acknowledges how important the features of the theme are, so you really have to focus on choosing an appropriate theme to sync your ideal design. The BigCommerce themes are optimized for:
Sales & Discounts

Large Catalog

Multi-Purpose

Mobile, Tablet, and Desktop
The common outstanding features of all BigCommerce jewelry themes are:
Fully Responsive

Frontpage Slideshow

Complex Search Filtering

Customizable Product Selector

Cart Suggested Products

Free Customer Support and Theme Upgrades

Product Filtering

Advanced Quick View

Product Showcase, Comparison, and Videos

Persistent Cart

One Page Check Out

Mega Navigation

Google AMP and Google Analytics Enhanced Ecommerce

Customized Check Out

Quick Add-to-Cart

Multi-Tiered Sidebar Menu

Storefront CSRF Protection

Saved Payment Methods PayPal Support
Now let's together view some of the best BigCommerce themes available on BigCommerce marketplace, which you can purchase, download, and apply to at once.
1. Tribes Fashion & Jewelry
Step into the world of elegance and style with the Tribes Fashion & Jewelry BigCommerce Theme, exclusively from HaloThemes. Designed to radiate sophistication, this theme seamlessly marries aesthetics with functionality, creating a luxurious online shopping destination for fashionistas and jewelry connoisseurs.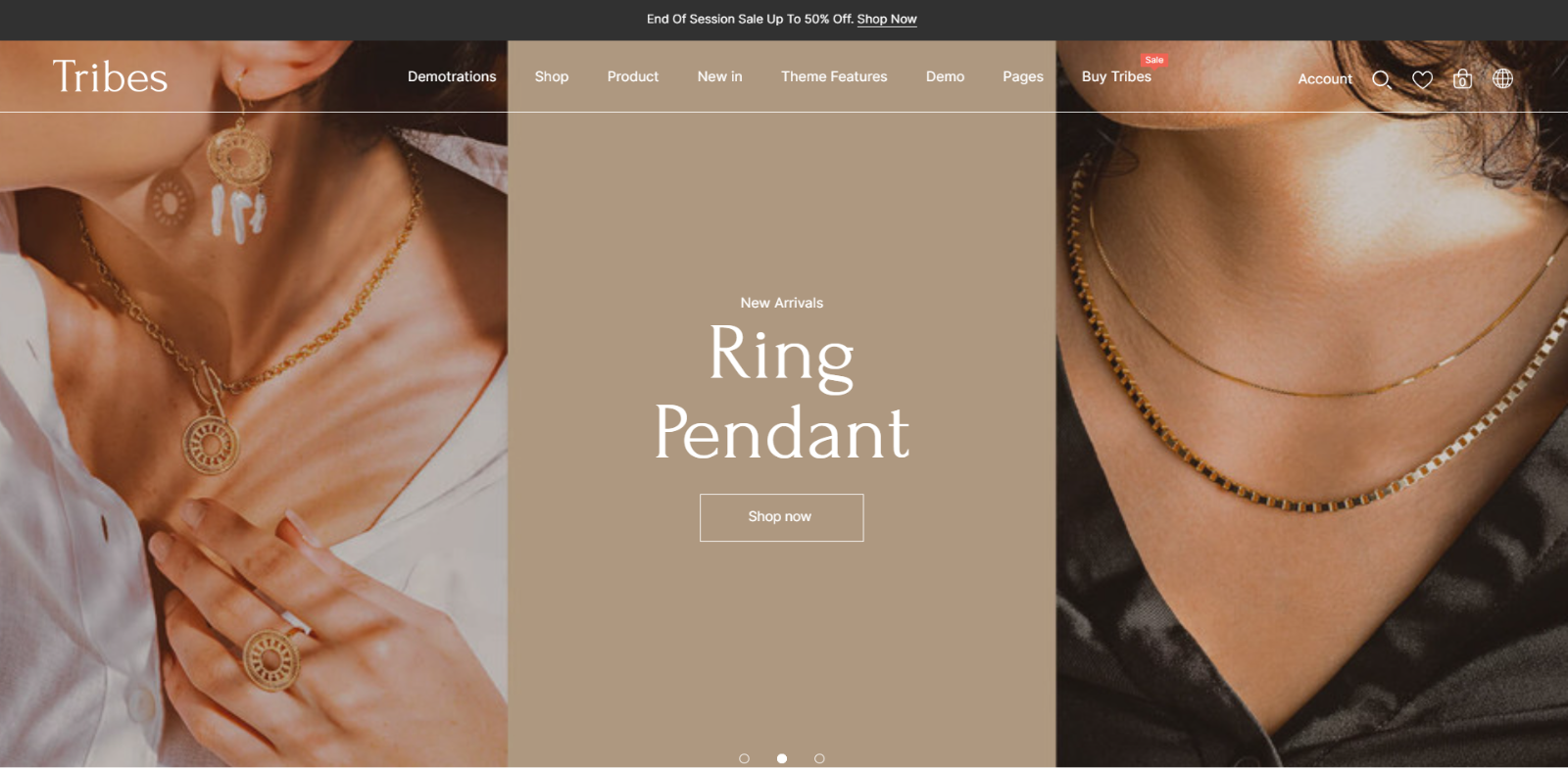 Elevate your online fashion and jewelry boutique to a realm of opulence and allure with the Tribes Fashion & Jewelry BigCommerce Theme (including 4 different theme options).
Price: $300
2. Artify Jewelry
Here is a Stencil BigCommerce theme built with purely jewelry stores in mind. Artify is a great addition to the Theme Collection that has a stunning parallax effect and elegant typography. That surely succeeds in capturing the attention of your shoppers.
This theme has 4 different styles in total where you can easily customize the size of the container, elements, fonts, color, and others. It is recommended for the new retailers who run the online business for the first time and do not require them to spend a huge budget.
Price: $150 (the cheapest theme)
3. Artisan Original
With a clean and elegant design, Artisan puts your brand front and center. It is made for jewelry stores and it comes with a compact sticky header, a responsive layout and a theme editor for color and font customization. The theme gives visitors a vibe of luxury of your products.
Moreover, a unique feature from this theme out of others is that a versatile navigation system is suitable for small, medium, and even large catalogs. Artisan is a great choice for many types of businesses including jewelry, food & beverage, and hand-made items.
On the other hand, such a pity for you that there is only one style to select and customize. Don't worry because this theme - a top suggestion from jewelry retailers - proves to you that buying this style is gorgeous enough for designing your website already!
Price: $195
4. Merchant Classic
With the same price as the Artisan Original theme, if you want to have more than one scheme option, Merchant Classic is a great alternative for you.
Merchant is also a versatile and scalable theme that grows with your store. It gives off a similar vibe to the previous theme, with a clean design and 4 stylish interfaces - facilitating a space for your products to shine.
Don't forget that the Merchant is ideal for large and small catalogs solely. Additionally, like most of the BigCommerce themes, it is easy to set up, a pleasure to browse, which helps to get your customers to checkout conveniently.
Price: $195
5. Kings Road Bijou
Optimized for conversions by Baymard Institute certified designers, Kings Road is made for jewelry stores and homeware-focused stores. It features a clean and temporary theme for a quick view of the product showcase, which is a typical characteristic of BigCommerce jewelry design. There are 4 styles to choose customization, which is up to your preference.
This theme price is much higher than the first three themes we have discussed above. Counting from this theme, the latter designs are matched with medium-sized and large-sized businesses. Thus, you should figure out which is the fittest theme for your store.
Price: $295
6. Terra Light
With 4 different theme options, the Terra design is versatilely suitable not only for jewelry but also for any other products such as food, furniture, equipment, or plant.
Like Kings Road design, it is a total conversion rate optimized style that is flexible and packed with more features than anything you might have seen. They have couple of customizations and integrations that support businesses to offer a better shopping experience.
Price: $300
7. Orbit Dark
All high-price themes have four various schemes to design as the retailers desire to; apparently, Orbit Dark is an inclusive theme to consider for building a jewelry store.
Overall, the Orbit has a modern and luxurious design, you can turn it into a dark design while doing customization if you want. These features are as many as other theme ones in the BigCommerce marketplace. If you favor creating a classic and simple concept that goes well with your stylish jewelry, this is a good choice for you.
Price: $300
8. Luna Warm
You do not want a conventional theme but a brighter one to shine your products, Luna Warm is a good alternative. It gives us a feeling of the young, modern, and fresh vibe, which is a little bit novel for an ordinary jewelry theme. Without a luxury design, coming to this design, we view this as a fashion store selling lots of product types. But don't worry because you can still customize it again to look like an online jewelry store.
This theme is easy to see, use and clear in terms of allocating the product categories logically. A big plus for Luna Warm that we highly recommend buying this comes from its optimization. Besides the general optimization for most of the designs, it can be used by:
Chrome, Firefox, Safari, IE 10+

Mobile/Cellphone
Indeed, it makes the users convenient to access your store through any devices they have. Therefore, if you have the same amount of money to pay for an expensive theme, among Kings Road, Terra Light, Orbit Dark, and Luna Warm, this is the best selection to purchase with 4 styles to easily customize.
Price: $300
Conclusion
BigCommerce is an awesome choice for eCommerce stores with ideal pricing for each user demand. It is user-friendly and has plenty of features to help you showcase your products in an intriguing way so you can increase your sales. In this article, we shared the best BigCommerce jewelry themes in order of ascending pricing based on the store budget.
It is such a pity for jewelry themes there is no free design to apply immediately. However, with many amazing additional characteristics that only paid themes have, BigCommerce won't let you down once you purchase!
We hope that our review helps you to find the appropriate jewelry theme for your BigCommerce store. Now is the choice to build an impressive website depending on your final decision of purchase. Remember that the spirit of your business is what you customize your website - the look of the store.
---
Sam Nguyen is the CEO and founder of Avada Commerce, an e-commerce solution provider headquartered in Singapore. Sam aims to support more than a million online businesses to grow and develop.