Great benefits of Size Chart
Size guides on the product page support customers to specify the fit size. They would be more confident to check out without the size confusion.
Stores will avoid the abandonment rate related to size issues.
The user experience can be improved significantly when they feel clear with the size guides even though they are shopping online. Besides, after they make an order, the product is well fit, which enhances the experience and the trust of your store.
If your product page lacks the size chart, it is very likely that customers can choose the wrong size and claim returns. This not only decreases your brand credibility but also wastes time to process returns.
Highlight features
Ready-to-use size charts
Store admin can instantly apply the size charts to the products with 11 available presets: Men's Shoes, Women's Shoes, Men's Top, Women's Top, Men's Bottom, Women's Bottom, Kid sizes (Boy's Top, Boy's Bottom, Girl's Top, Girl's Bottom, Kids' Shoes)
The presets are designed to suit the standards of the most common products which are related to size guides.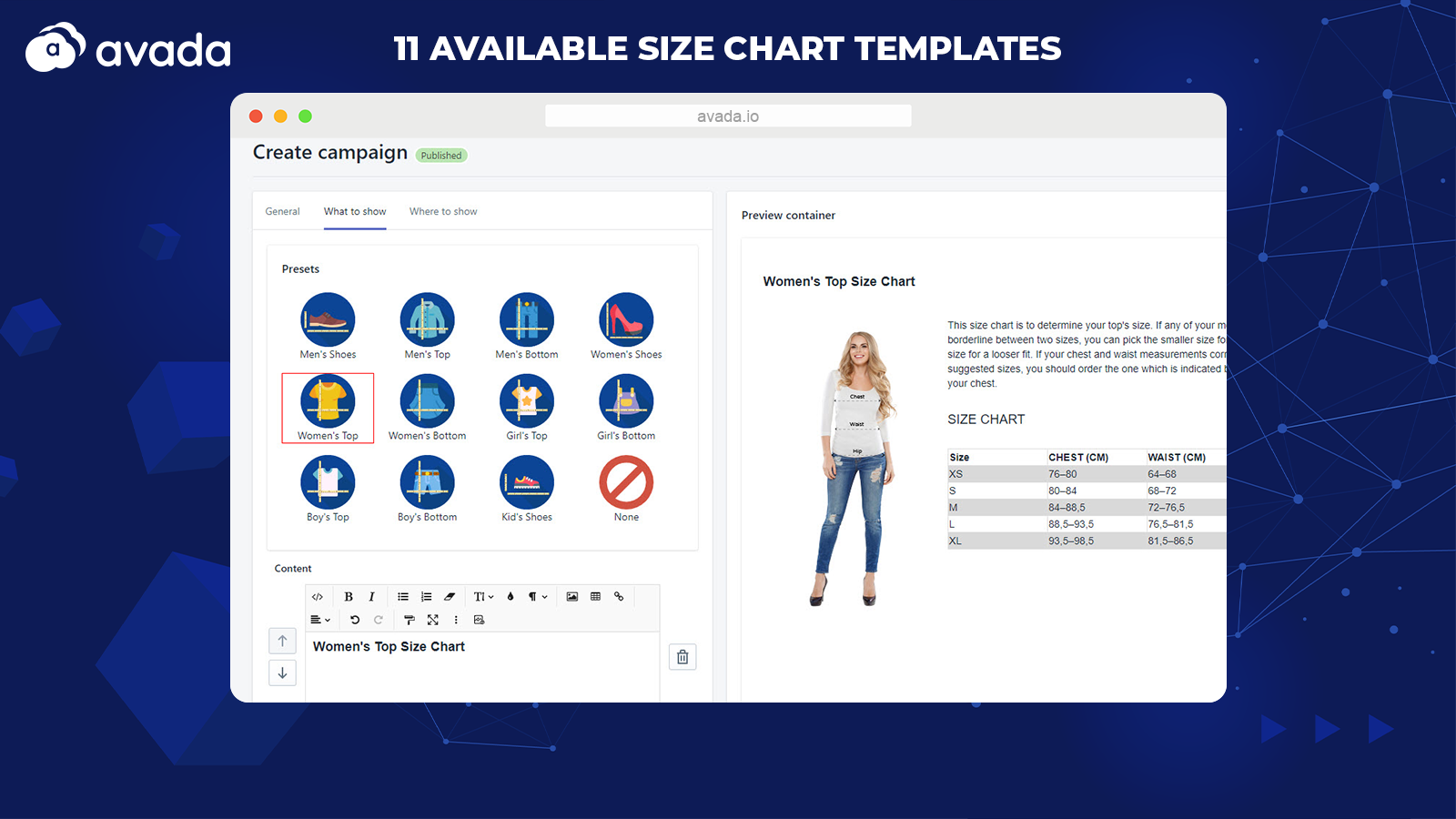 Easy to customize with your taste
There is no limitation if you want to customize the size chart from the content to the design to meet your requirements. You can fill in the guide details for a size chart, set the title easily.
Besides, to make the size chart more lively, you can upload any images or videos to illustrate the products to help customers better understand the items. The customization is also applicable to any other elements such as Icon, Background color, Text color, Overlay color, Border radius, etc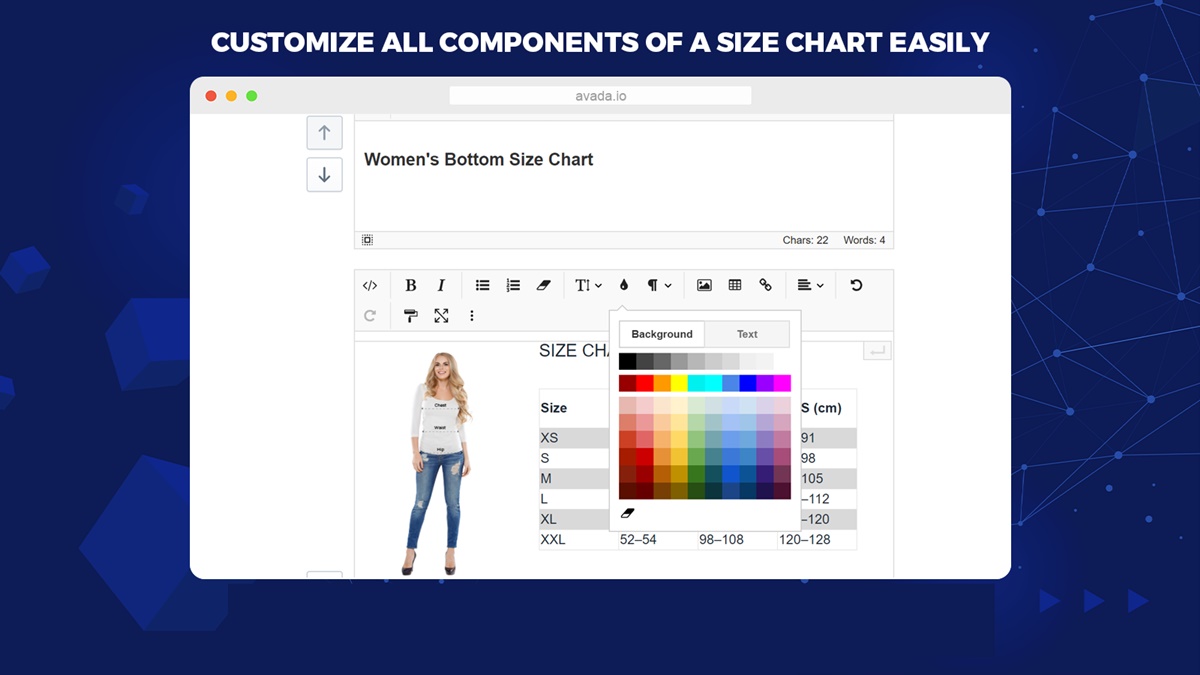 Condition size chart
Store admins can apply size charts to certain products by using conditions. There are 3 options to show size chart on product pages:
Apply for all products

Apply for assigned products

Apply by product conditions: Product title, Product type, Product vendor, Product tag or Collection.
Also, it is allowed to show size chart on Homepage, Product Collection & Search Page as well.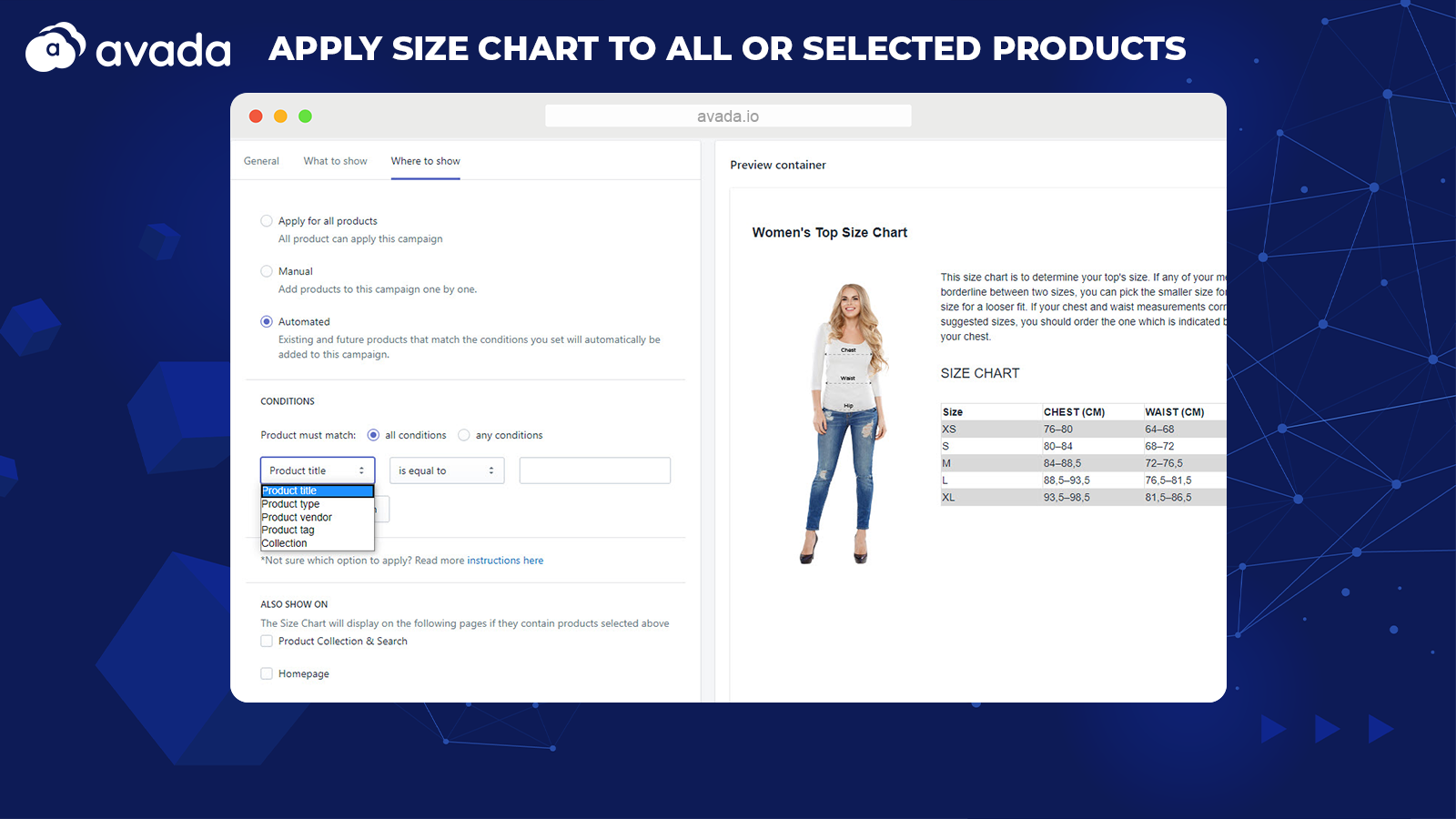 Full Features List
Create unlimited size chart campaigns
11 templates available to apply instantly
Customize all size chart guide and design with ease
Allow attaching images and video to the size chart
Apply to all products or certain products by using conditions
Apply size chart on Homepage, Collection and Search
Place size chart button on any position on the product page
Support two styles: Inline Link and Float Button
Preview all settings at the backend
Record click total of each size chart campaign
Support Google Analytics
Support Custom CSS
Find the right plan for your site
All kinds of plans that inlucdes unlimited usages
FAQs
No. There are no setup fees or any other hidden costs.